If you follow design trends, you know that Millennial Pink has been going strong for at least a few years now, especially in the realms of fashion, interior design and social media (think Instagram posts). Wondering what Millennial Pink is? The short answer: a very appealing shade of peachy-pink. The long answer: there are many different renditions of this color (from the pinker to the peachier), and it's hard to agree on one ultimate hue/shade. The image below shows a widely accepted version. Fun fact: Millennial Pink is also known as Tumblr Pink! [photo below via Urbanist]
While this color took awhile to evolve and is definitely not disappearing from our lives anytime soon, it may have some competition from lavender, the pastel purple shade we all know and love. And it's not just because Pantone named Ultra Violet the Color of the Year for 2018! While the design world is definitely ready for some new color inspiration, it's hard to imagine a trend being as enthusiastically embraced by our homes, wardrobes and social media accounts as Millennial Pink. After all, this shade of pink is warm, welcoming and almost organic in the way that it mirrors fleshy tones and complements natural greenery.
But get ready! Lavender will definitely be making some major waves as a new color trend, and the ultimate power of its popularity remains to be seen. One last point before we dive into the newest "it" color… If you don't like sudden transitions, take heart in the fact that lavender and Millennial Pink can totally coexist in one space, as shown in the image above [via Urban Outfitters].
Decorating with Lavender
So you want in on this lavender trend?! The good news is there's a LOT out there to explore when it comes to decor. Our honest advice: if you love lavender, embrace it wholeheartedly. If you're not sure, start small and see if it enhances your design style. [metal planter below from Urban Outfitters]
People who painted their living rooms Millennial Pink simply because it was the new "it" color aren't going to be in great shape when it's officially played out (which some say might be now). But those who truly love the hue might decide to keep the blushy undertones alive! Below: the pinky-purple iridescent glow of a Crosley Lavender Ice Cruiser Bluetooth Record Player.
We predict that just as Millennial Pink is a cheeky nod to a color that was once seen as frivolous, lavender will be given some sort of new spin. Sure, having a living room that looks like this will always be awesome [image via Dulux]:
But in terms of the trendiest effects of lavender's popularity, expect more of the unexpected when it comes to this hue at home, such as vivid pops of complementary colors (hello green!), or a fresh take on clean-lined style [image via Urban Outfitters]:
Starting Small
Ready to go shopping? If you're curious about lavender but you don't want to take any big steps just yet, start with smaller decorative items, such as glasses, bowls and planters. We've rounded up a few of our favorites…
Marta Lilac glasses from CB2:
Optic Carafe from Anthropologie:
Fleur-De-Lys Tumbler from Anthropologie:
Oar Small Enamel Light Purple Bowl from CB2:
Pitch Purple Planter from CB2:
Make a statement with a fun, playful piece, such as a wall sign, shelf or work of art! Intriguing features such as lavender framing on a mirror can serve as powerful focal points. Check out the selections below.
Stay Awhile Hook from Urban Outfitters:
Arc Mirror Set from Urban Outfitters:
Vinyl Record Storage Shelf from Urban Outfitters:
Dip-Dyed Macrame Woven Wall Art from Anthropologie:
Large Lavender Statements
If you're ready to welcome lavender into your life on a large scale, textiles such as bedding and curtains are a great place to start. Here are a few of our favorites…
Leaf and Flower Print Pillowcase from Zara Home:
Lavender Duvet Cover from Urban Outfiters: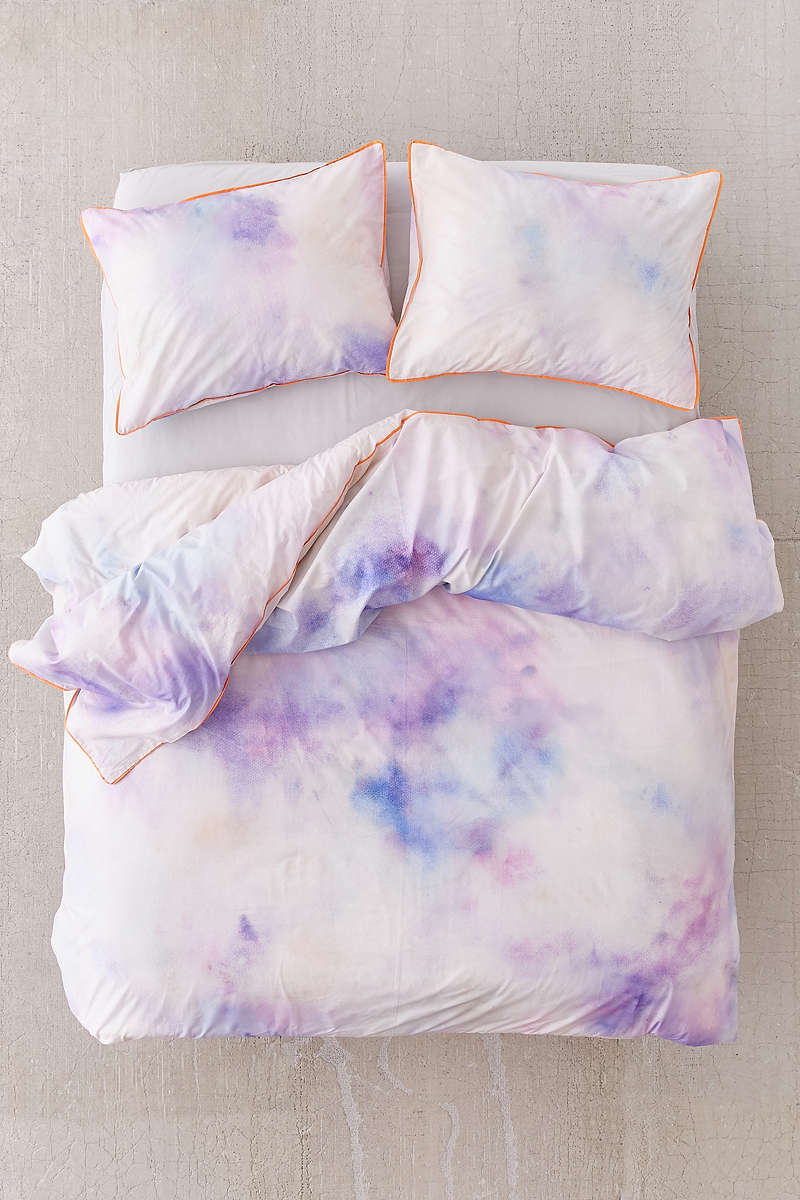 Bren King Duvet Cover from Crate & Barrel:
Lavender Window Curtain from Urban Outfitters:
If you're still reading and ready for more lavender, you're in the big leagues now! Check out the lavender furniture finds below.
Minimal Platform Bed Frame from Urban Outfitters:
Piper Petite Velvet Sofa from Urban Outfitters:
Melange Knit Lavender Pouf from The Land of Nod (for kids):
Now who's ready to paint a lavender accent wall?! What do you think of lavender as the new "it" color? We're excited about the possibilities, and we hope today's post has piqued your interest.