There's no denying that wood flooring is a top kitchen trend, but tile has the power to offer the ultimate in durability. While the focus is often on tile backsplashes, some very interesting possibilities are gaining steam when it comes to kitchen floor tiles. Cement tile and hexagonal tile are just two of the many options that are making a statement in today's culinary spaces. New and exciting shapes and colors are also catching the eye of design lovers. If you're on a limited budget or unable to switch out your flooring at this time, scroll down for details on how to give your current tile a makeover. Keep reading as we highlight the top trends in kitchen floor tiles… [hexagonal tile below from Shaw Floors]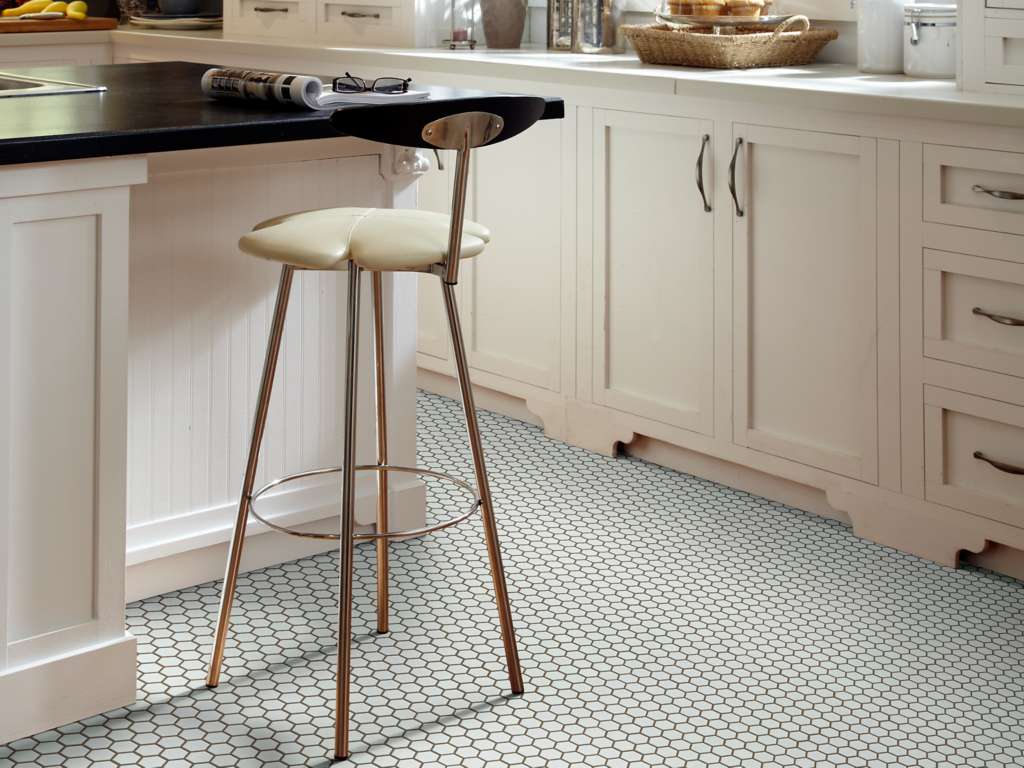 Eye-Catching Patterns
There's no better place for patterned tile than in the kitchen. There's something about a pattern that evokes the feel of a cafe, and you can take the look in a charming direction, or a sleek and modern one. Below we see the kitchen of Angela Tafoya, editorial director for Lonny Magazine. The space showcases Fireclay Tile's Palmera pattern.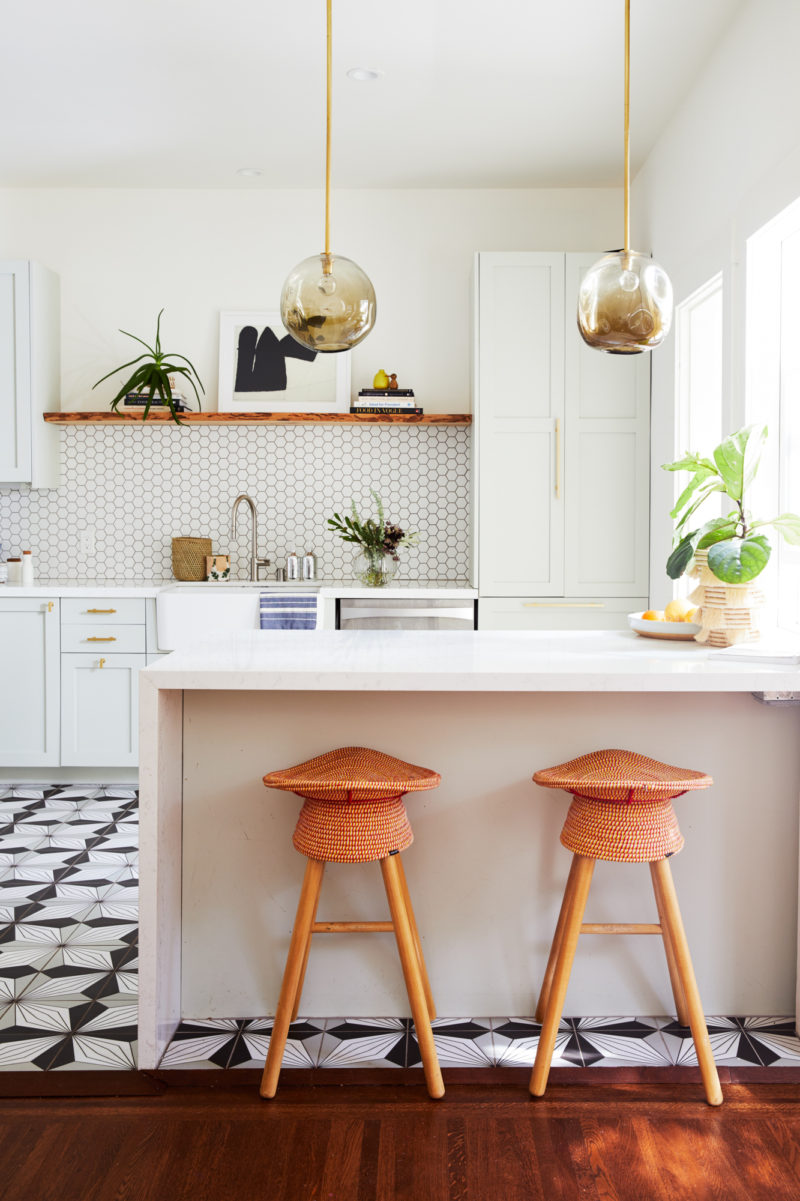 Another take on black and white tile: Fireclay Tile's Handpainted Agrarian tile, featured in the kitchen of blogger Anne Sage. Geometric forms reign as they come together in unexpected ways, drifting between circular designs and abundant rectangles: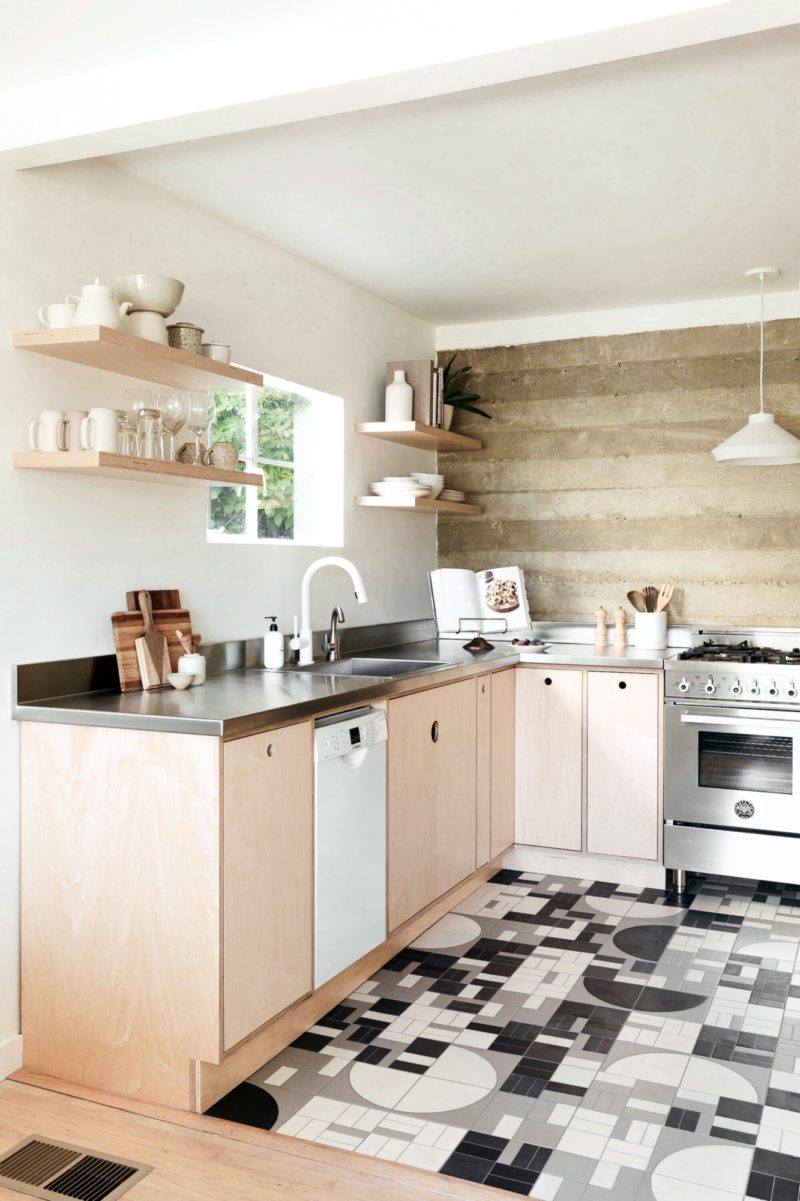 Floor tile that features a combination of dark and light tones is grounding and classic, while also being undeniably striking. One of the most popular materials for today's patterned floor tile is cement. In fact, cement tiles are very durable, although they require a home devoted to maintaining them through methods such as regular re-sealings (cement is prone to staining). Below we see Rustico's Handmade Encaustic Cement Tile: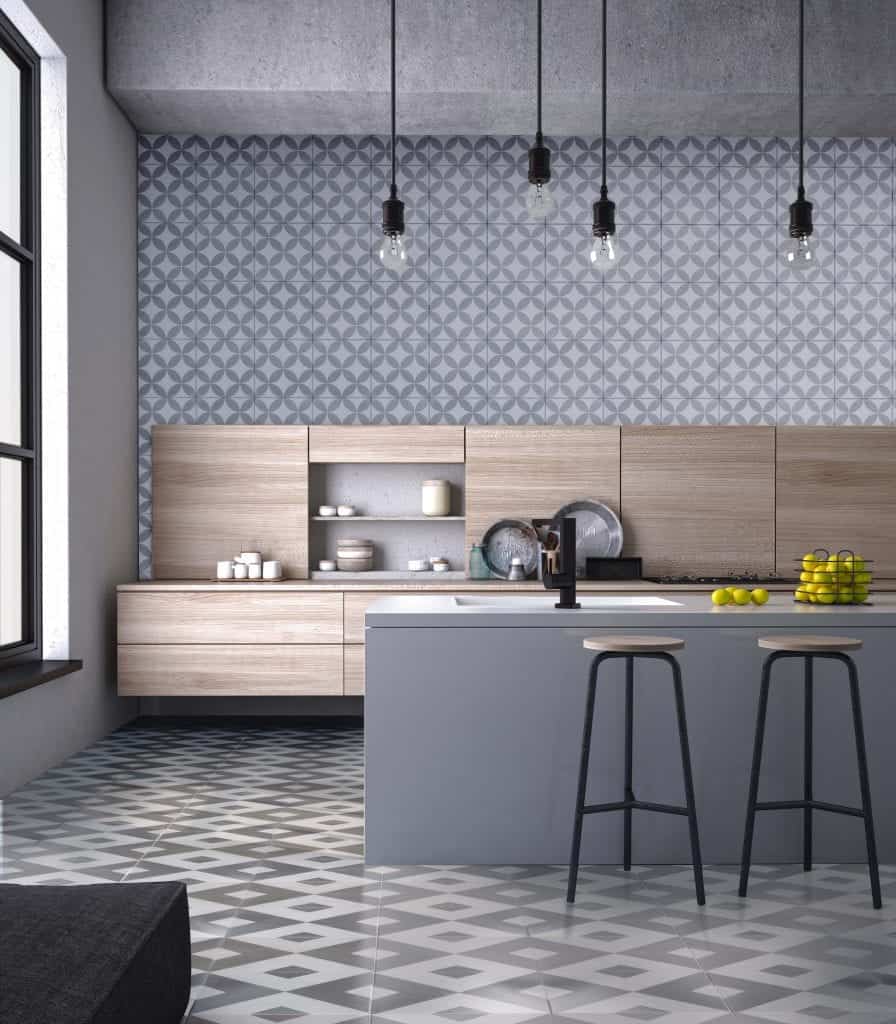 Cement tile may develop a patina over time, as well as signs of wear. This is part of its character. However, being vigilant about wiping up spills can help prevent other changes, such as staining due to its porous nature. Is it worth the trouble? Many homeowners absolutely love it, especially given the character and longevity cement provides. In the next image, Granada Tile's Badajoz tile is featured in a kitchen designed by Caitlin Murray of Black Lacquer Design.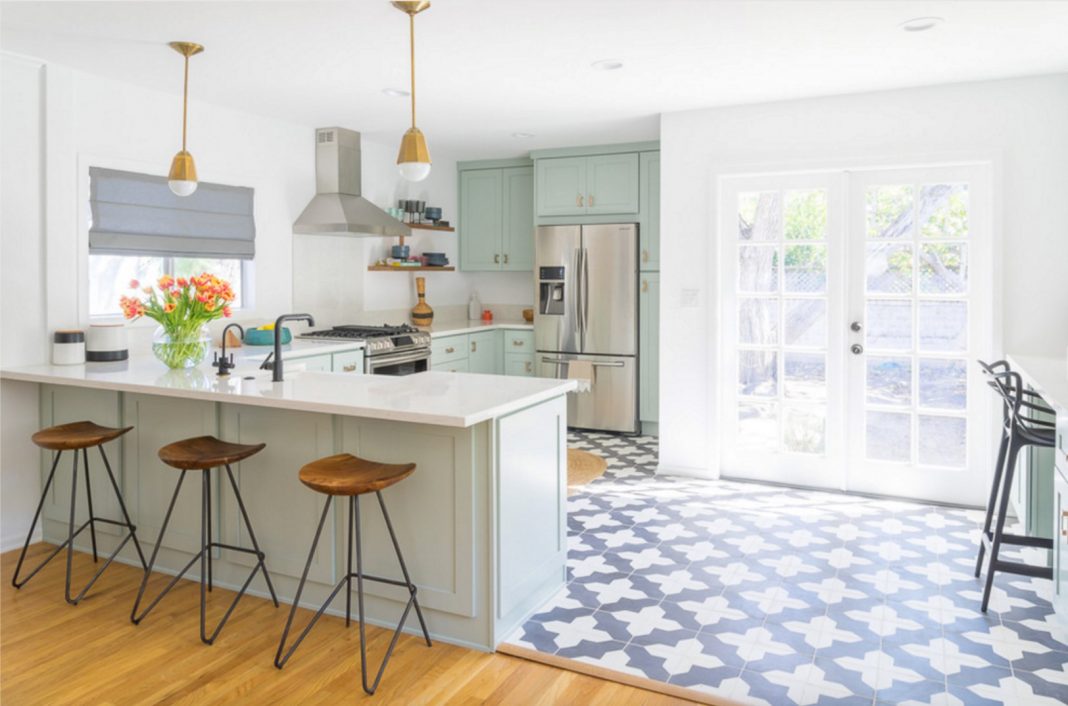 For a colorful take on cement tile, check out the hexagonal tile in the next image, designed by Reinpintado and manufactured by Mosaista. Featured at Dwell, the tile is placed to evoke the look of a rug. Mosaista offers an array of vibrant cement tile (also know as hydraulic tile).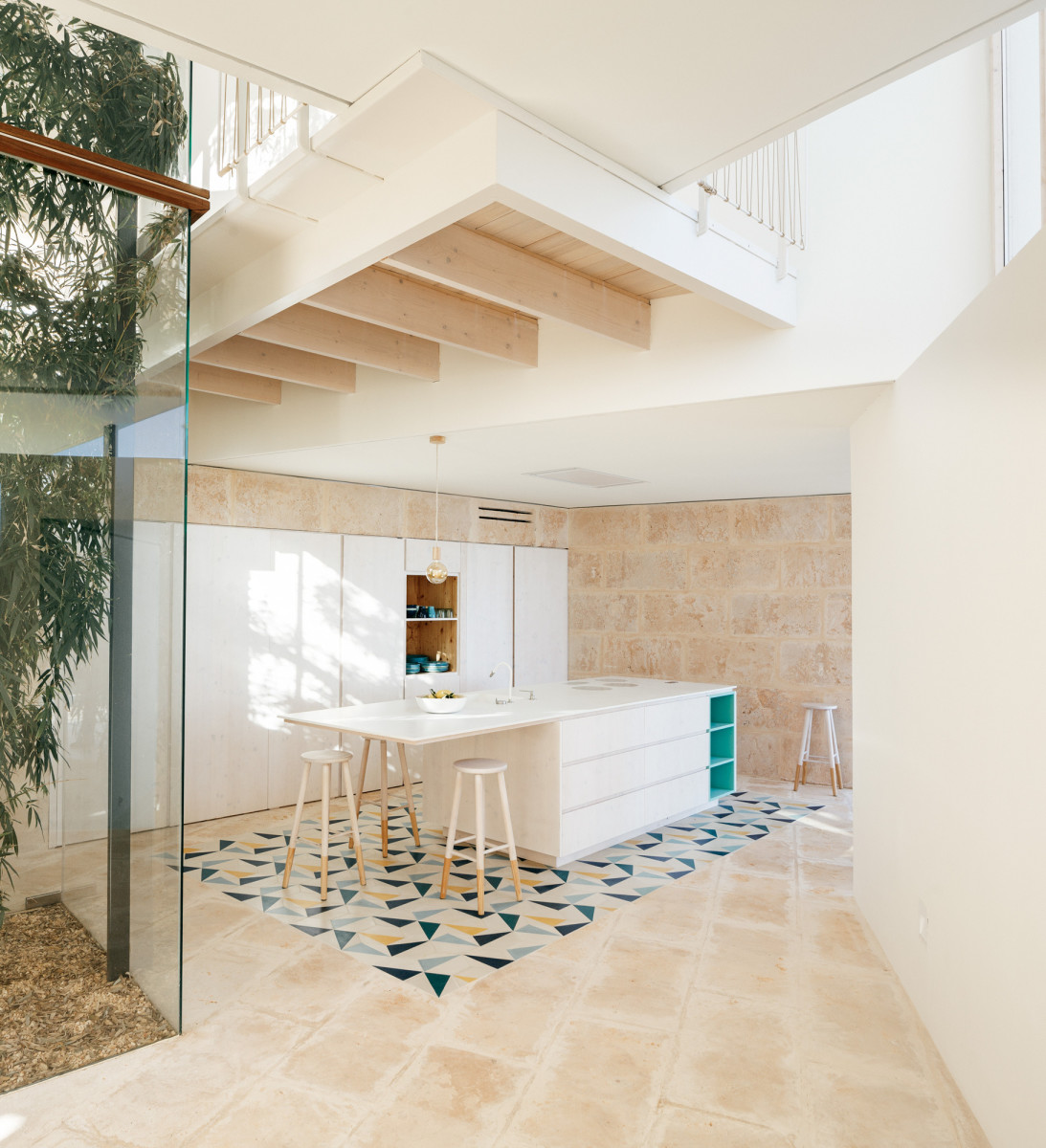 Two more of Mosaista's hydraulic tile designs can be seen below: the brilliantly blue Sport and the red-striped Three Times. There's no denying that tile this vivid is the equivalent of artwork for your floor: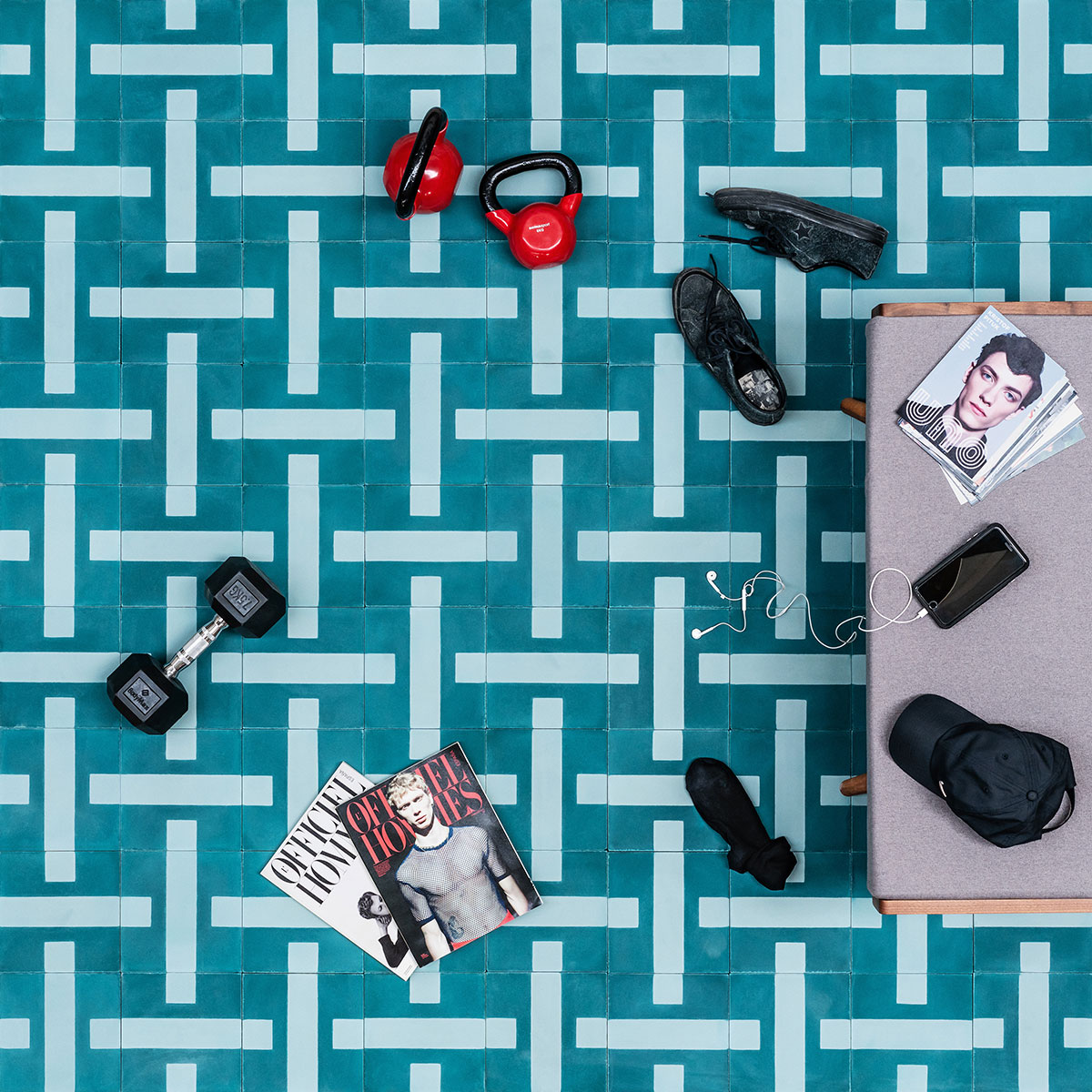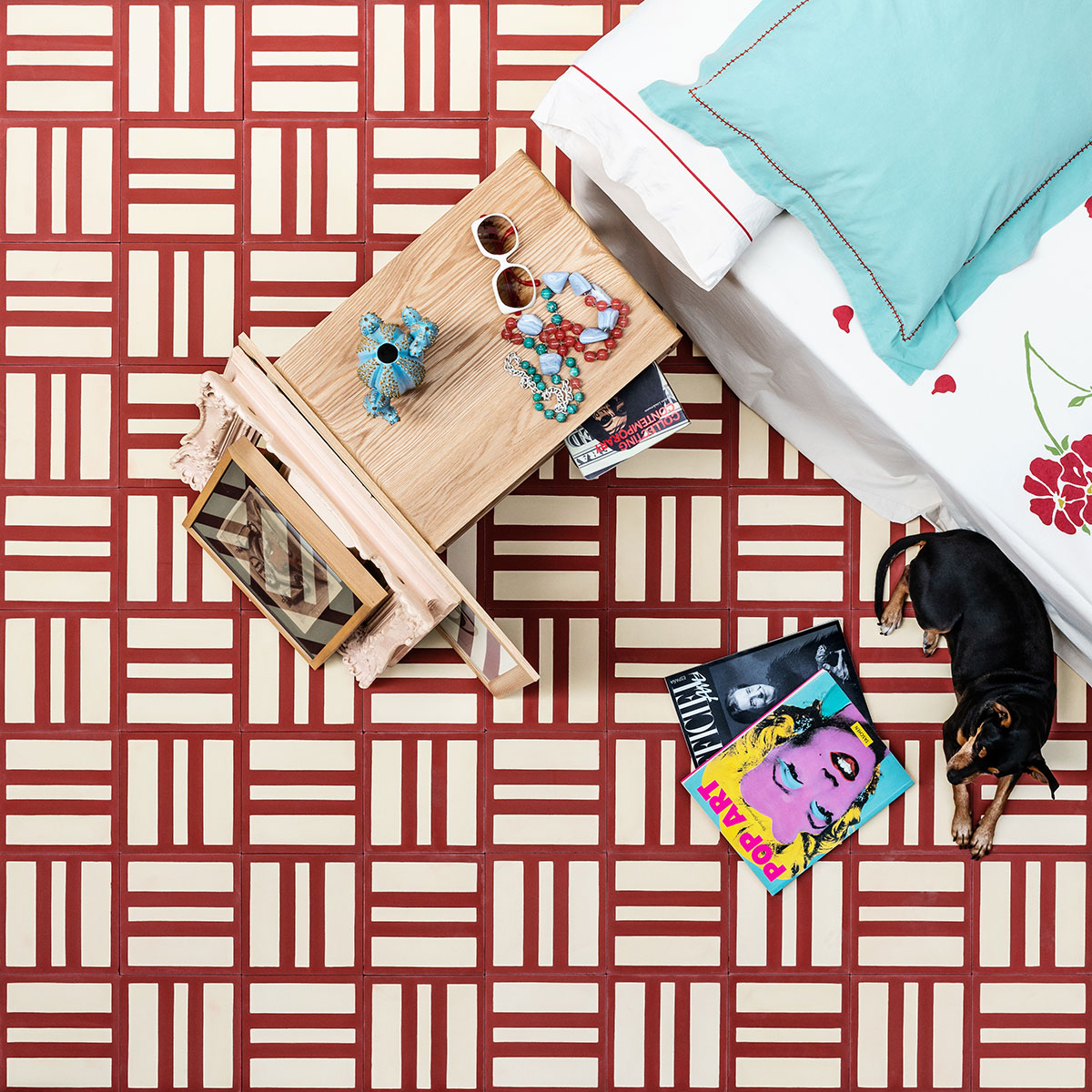 Don't forget that the word "pattern" can also refer to the arrangement of tile, as shown below with Fireclay Tile's White Herringbone Non-Slip Floor Tiles. Note how the tile, arranged in a herringbone pattern and combined with elements such as gold drawer handles, creates a classic look that pairs beautifully with the more modern elements of the kitchen: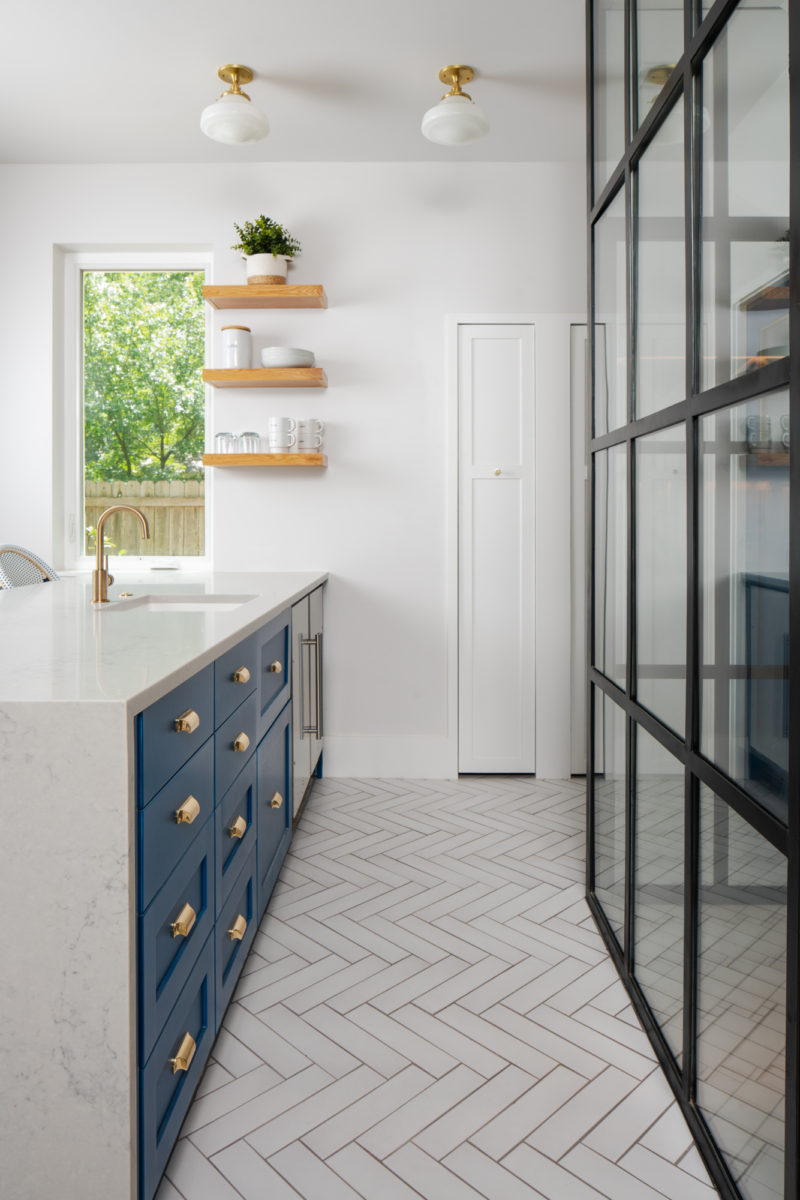 Fabulous Forms
While square tile will always be timeless, and long, rectangular kitchen floor tiles are becoming increasingly popular, there are some unconventional tile selections that turn heads precisely because they're so unique. Take Fireclay Tile's Chaine Homme tile below, featured in the kitchen of blogger and stylist Joanna Hawley. The "H" pattern is striking, while the blue tone is wonderfully unexpected: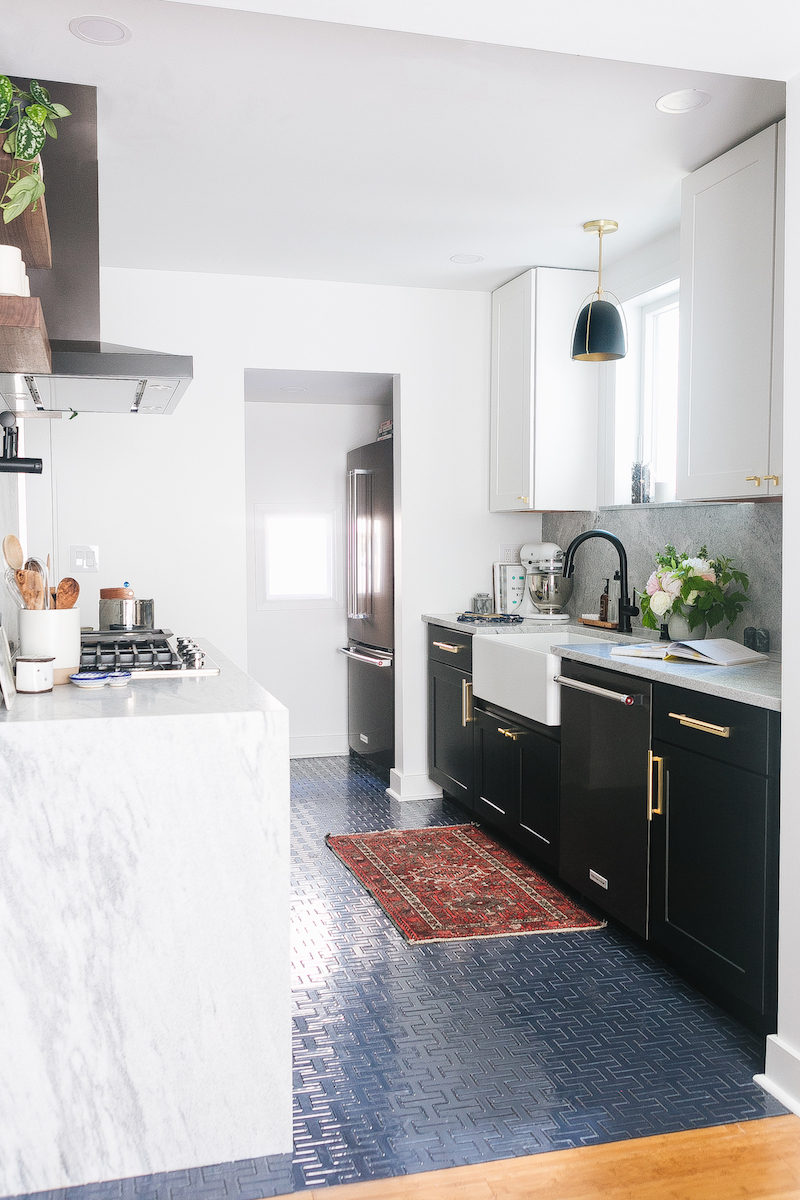 In this case, the choice of tile has added significance. The selection is a special way to honor Hawley's late grandfather, Harvey.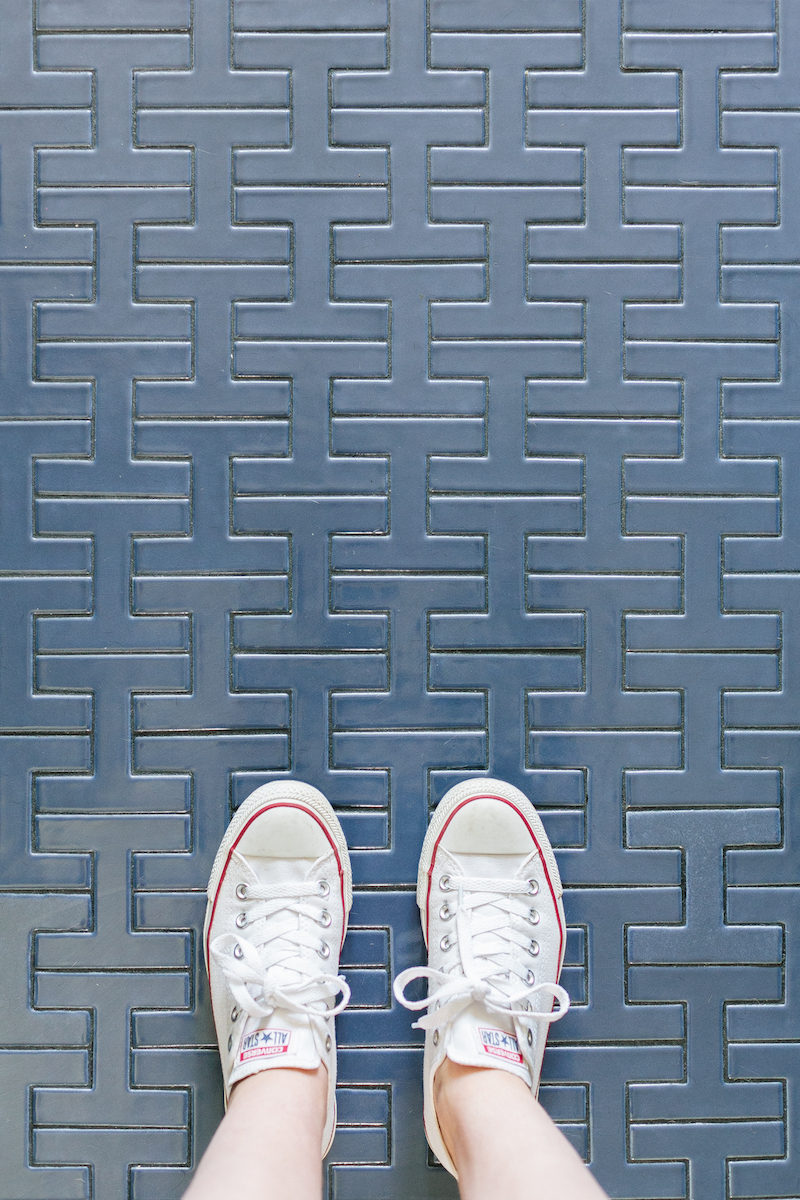 Hexagons rule in the design for Tilebar's Paige Antracite 10″ Hexagon Matte Cement Look Porcelain Tile, featured at Salt Pepper Skillet. If you like the look of cement but aren't sure whether you're up for regular maintenance, note that cement-look tile is a great way to get the aesthetic while choosing lower-maintenance materials. This porcelain tile is classic and interesting at the same time: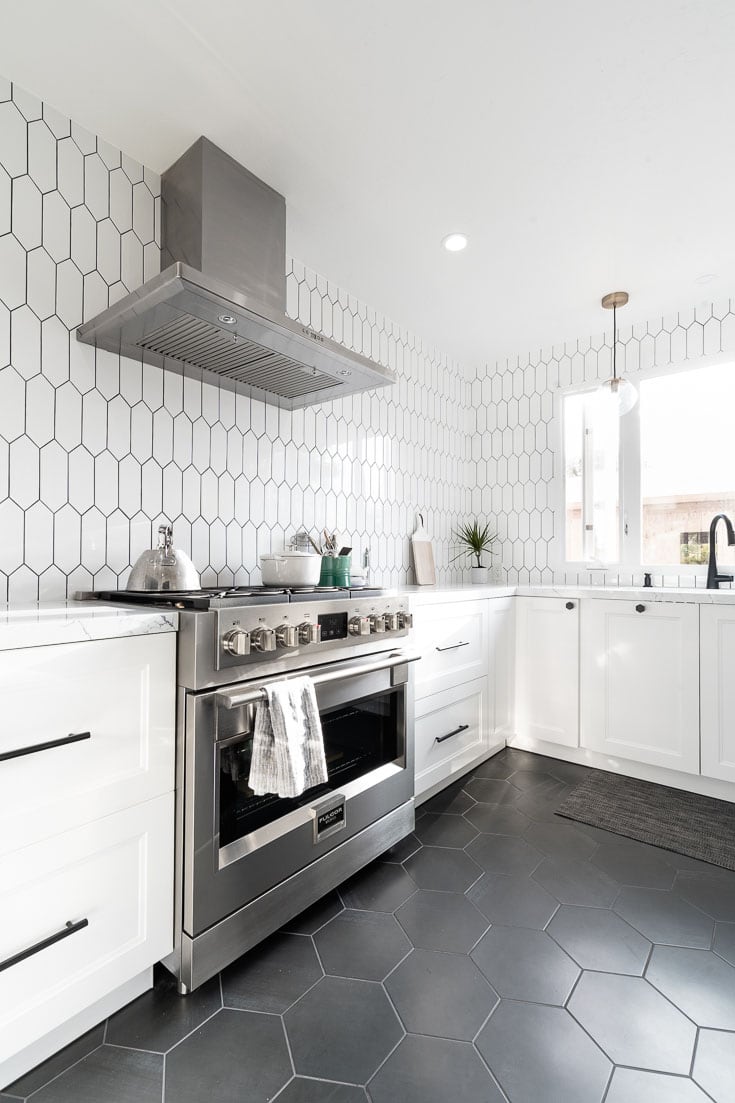 DIY Solutions
If you're smitten with the latest in kitchen floor tiles but you're not able to replace your flooring at this time, don't lose heart. DIY solutions await you. It may not be as easy as snapping your fingers, but investing some time and creativity can have a big payoff. Would you guess that the patterned tile below has been painted?! Yes, you can paint right over ceramic floor tiles. It's important to note that painted tile can begin to show wear, especially in high-traffic areas. In other words, painting over your tile might not be your "forever" solution. But it sure beats staring at a floor you can't stand while saving up for a permanent replacement!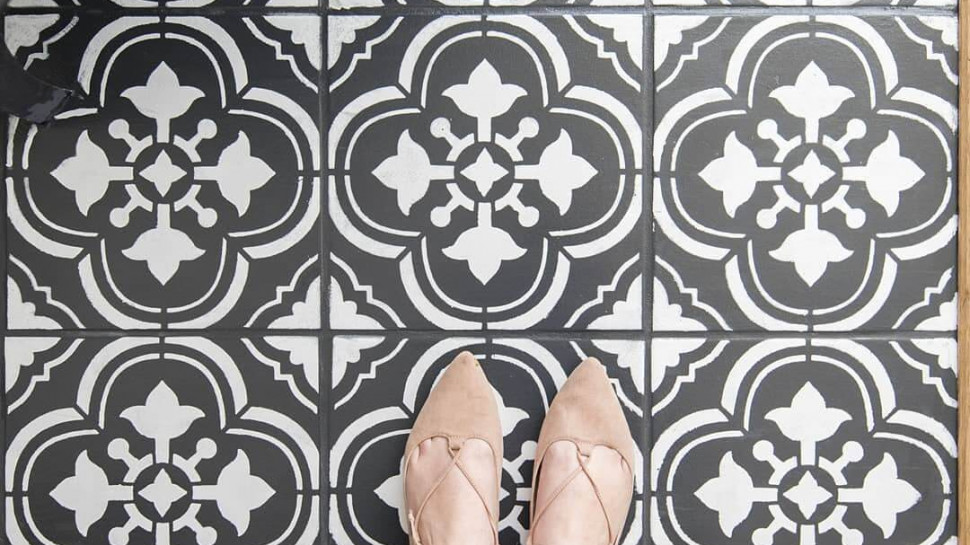 Above we see painted tile from DIY Mommy, featured at British Ceramic Tile. Below is a DIY project from Rust-Oleum. By painting over the entire floor with the color of your choice and adding a top coat or two, you can create a durable finished product that upgrades your kitchen. A simple change of color can do wonders, and this project has the potential to be a longer lasting solution. Check out all of the DIY details at Rust-Oleum.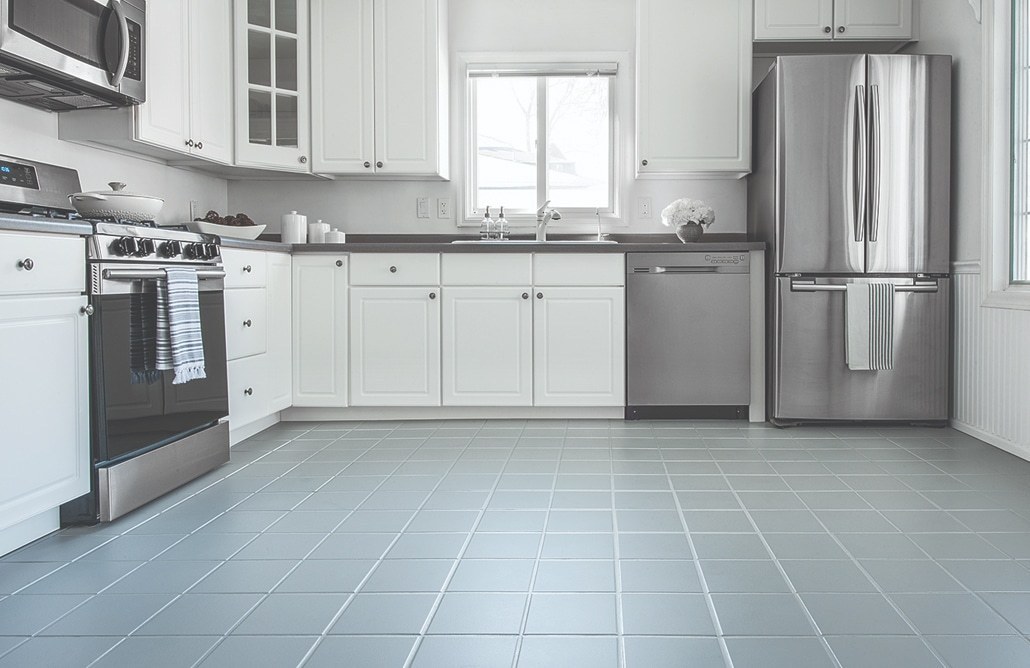 While we've showcased some bold tile choices in today's post, note that classic designs are still going strong. Many homeowners are choosing rectangular tile over square tile for a more updated look, but perfect squares never go out of style. If you're feeling adventurous, consider exploring some of today's top trends in kitchen floor tiles.
Interesting colors and bold shapes reign, and tile retailers are creating infinite possibilities by introducing specialty selections such as patterned tile that can change its look depending on how it's arranged. Cement is making waves in the world of design, and DIY options await those who have the time and patience to paint over existing tile. When it comes to kitchen flooring, would you be open to a bold color or an unconventional shape? How about a pattern that adds another dimension of style to your floor? Happy decorating, and thanks for reading!