The amenity of your dining corner is not to be underestimated. The place where you eat most of your meals should have high levels of comfort, there's no doubt about that. It will contribute to the feeling of coziness while you are dining, not to mention keep your guest comfortable any time you are hosting a gathering. Banquettes are surely the easiest way to turn your dining space into a highly comfortable seating area, giving your comfy living room some serious competition!
Here are some amazing banquettes for your kitchen; no matter if it's big or small:
The Right Size and Space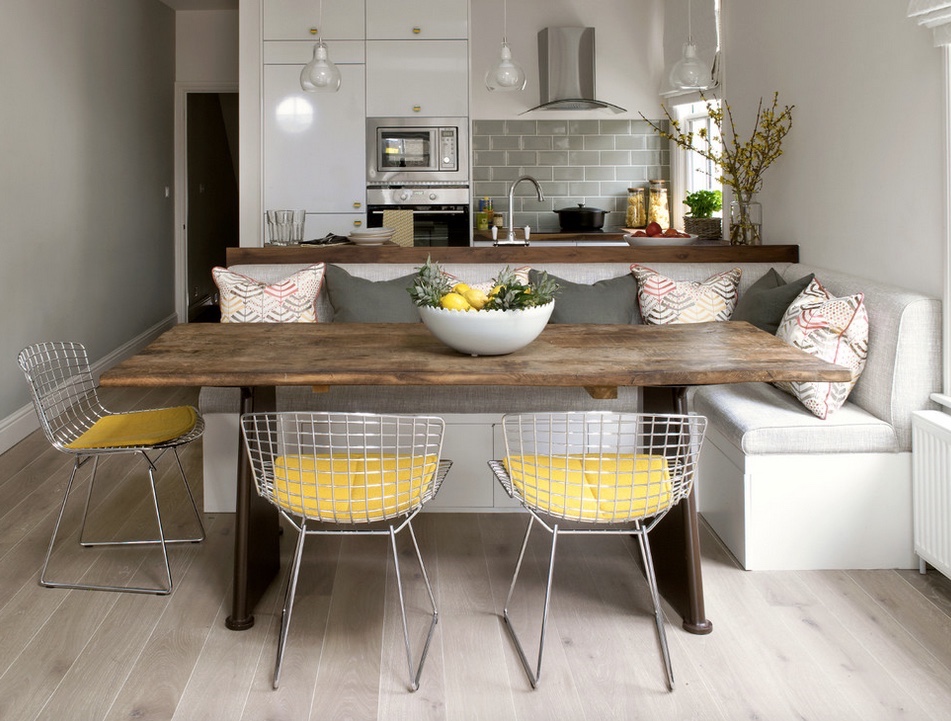 Small kitchens have a feeling of coziness already in them, but adding a banquette instead of a normal sitting arrangement will only heighten the feeling of "home sweet home", as seen on Houzz.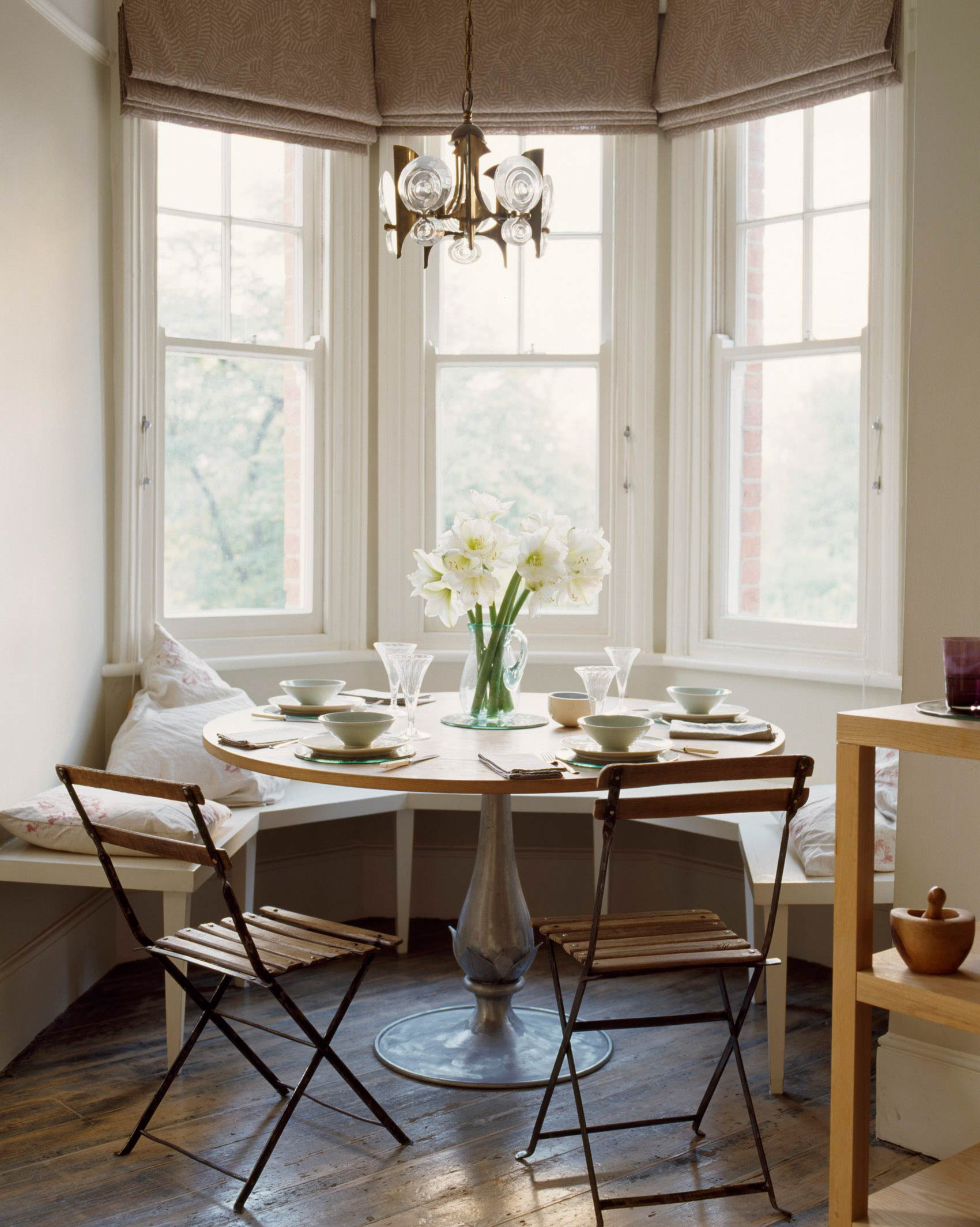 Place the banquette next to a big window and eat your meals in natural light. Your dining space can become the second sunroom, surely a decision that will have you reaping benefits for many years! There's no such thing as vitamin D! We love this setting by Elizabeth Zeschin.
RELATED: Refined Simplicity: 20 Banquette Ideas for Your Scandinavian Dining Space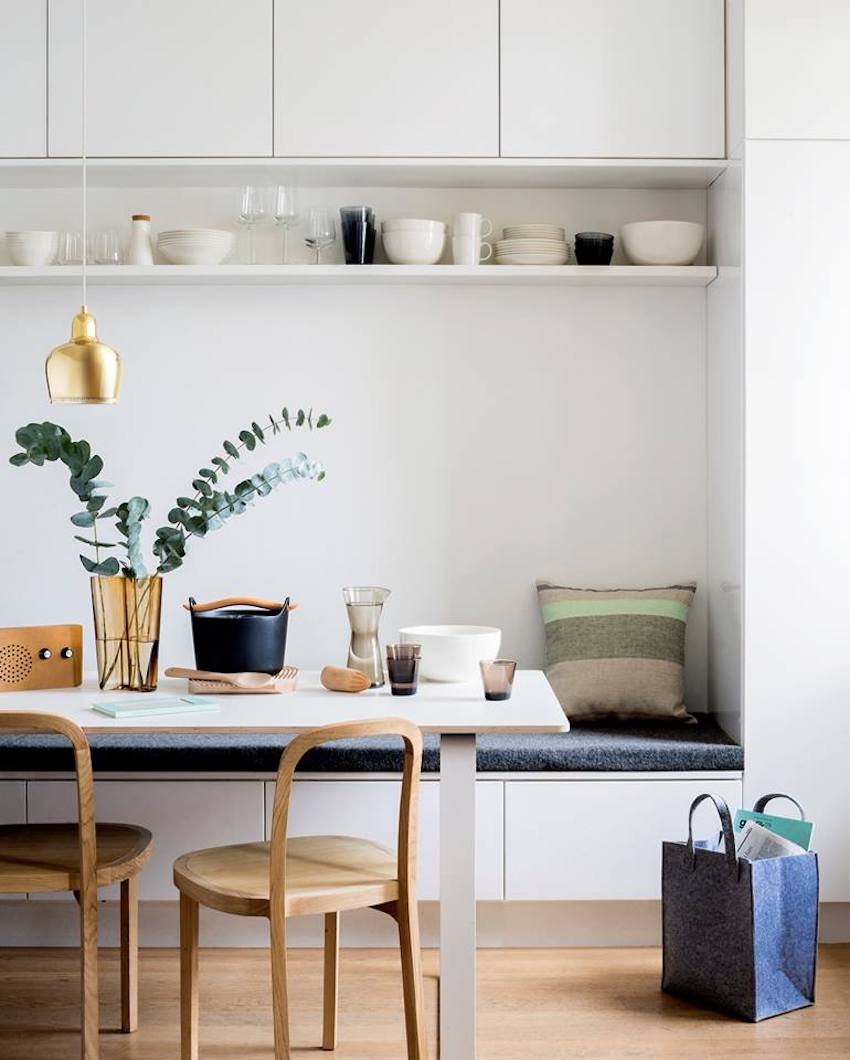 A banquette will fit into any dining space, no matter how simple. You can absolutely keep things minimal and subtle, only adding a simple cushion to it and allowing the open space to remain as is. Idea by Chic Deco.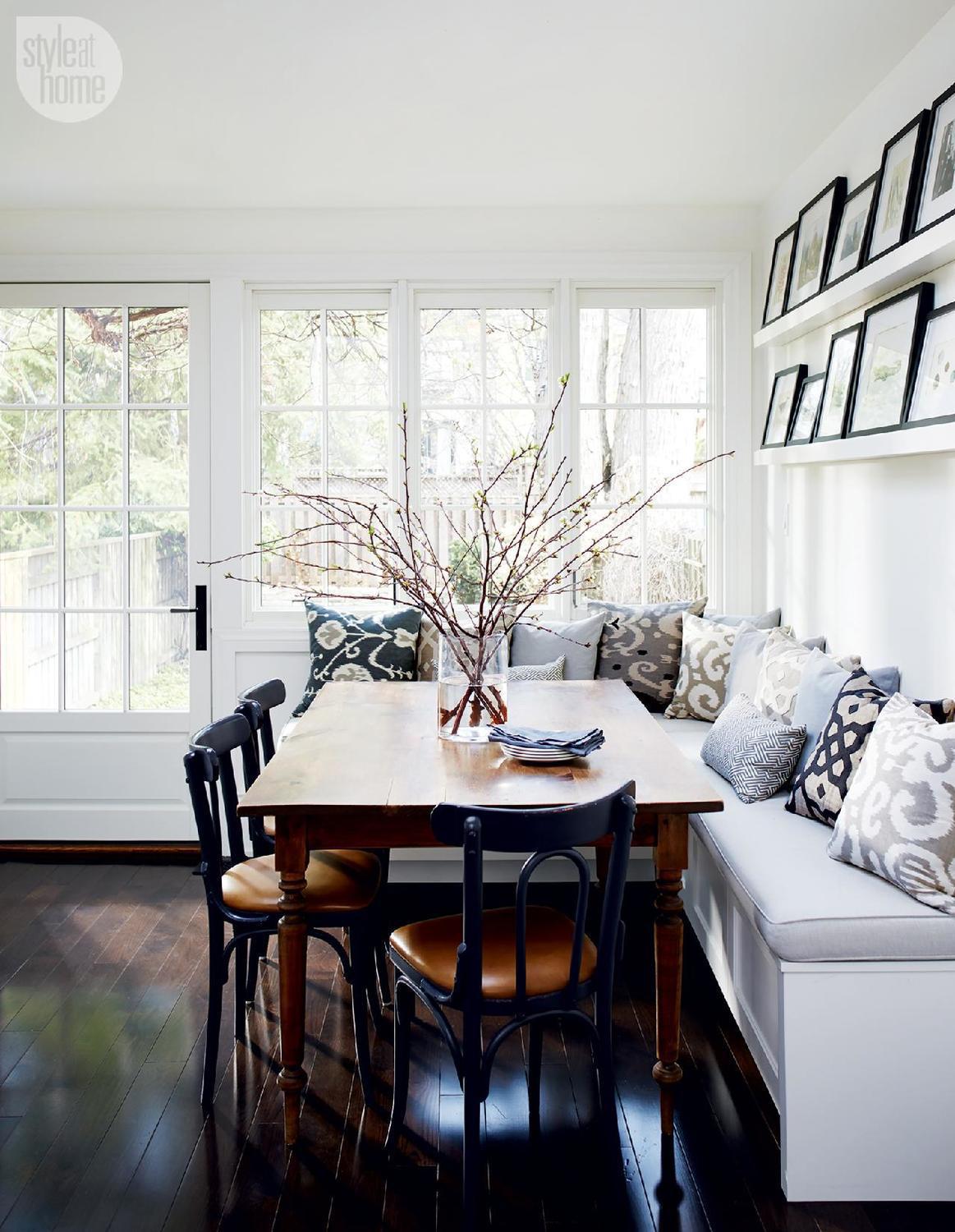 But if you shudder at the thought of only one cushion on your banquette, by all means, fill the seating space with as many pillows as you possibly can! When have pillows ever been a nuisance? Look to Style at Home for inspiration!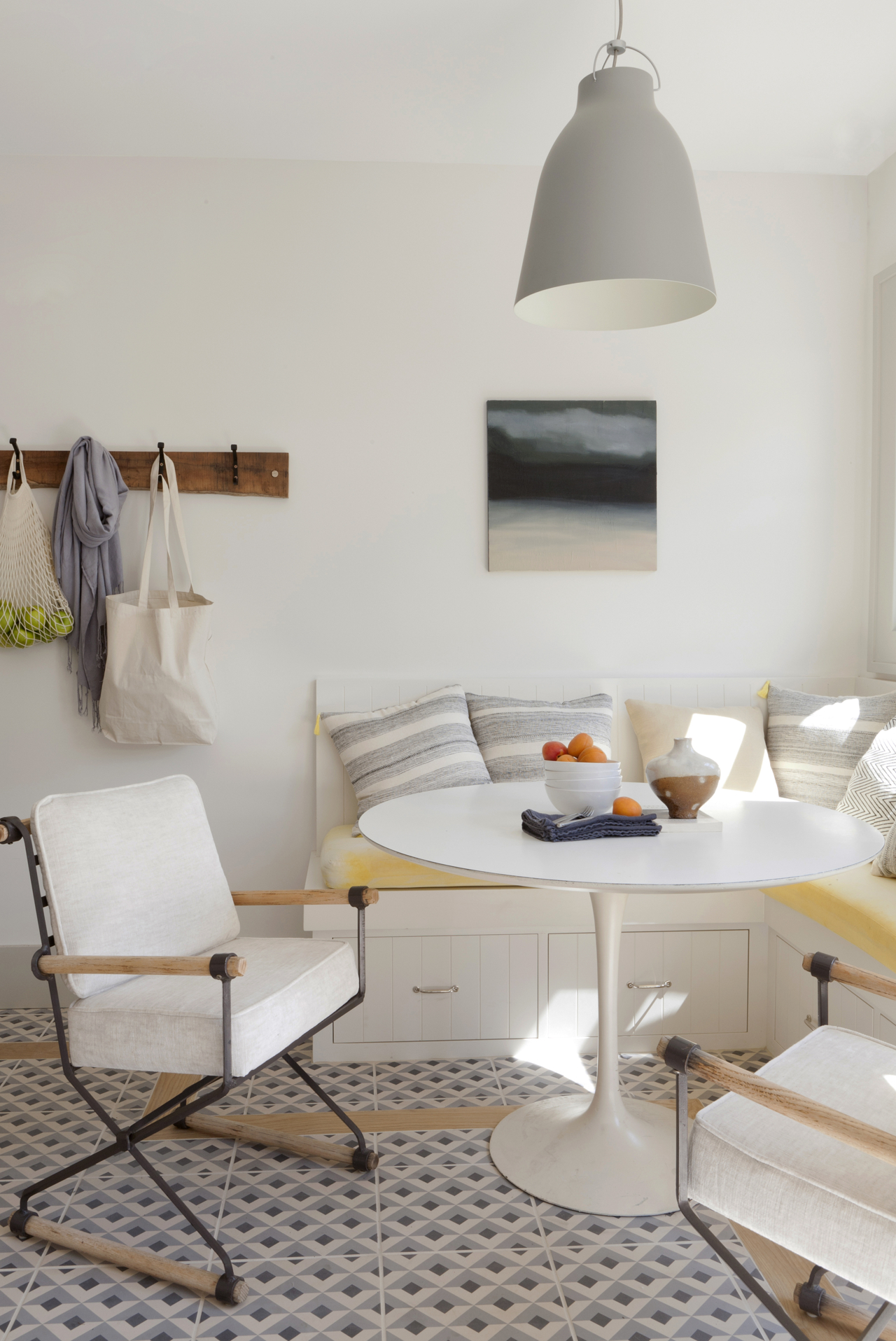 Sometimes smaller tables don't allow for many chairs around them, which is why banquettes are incredibly convenient. You can gather much more people around a small table for drinks, rather than having them bumping their chairs together! Decorating with vision is the smart choice, as shown by Simo Design.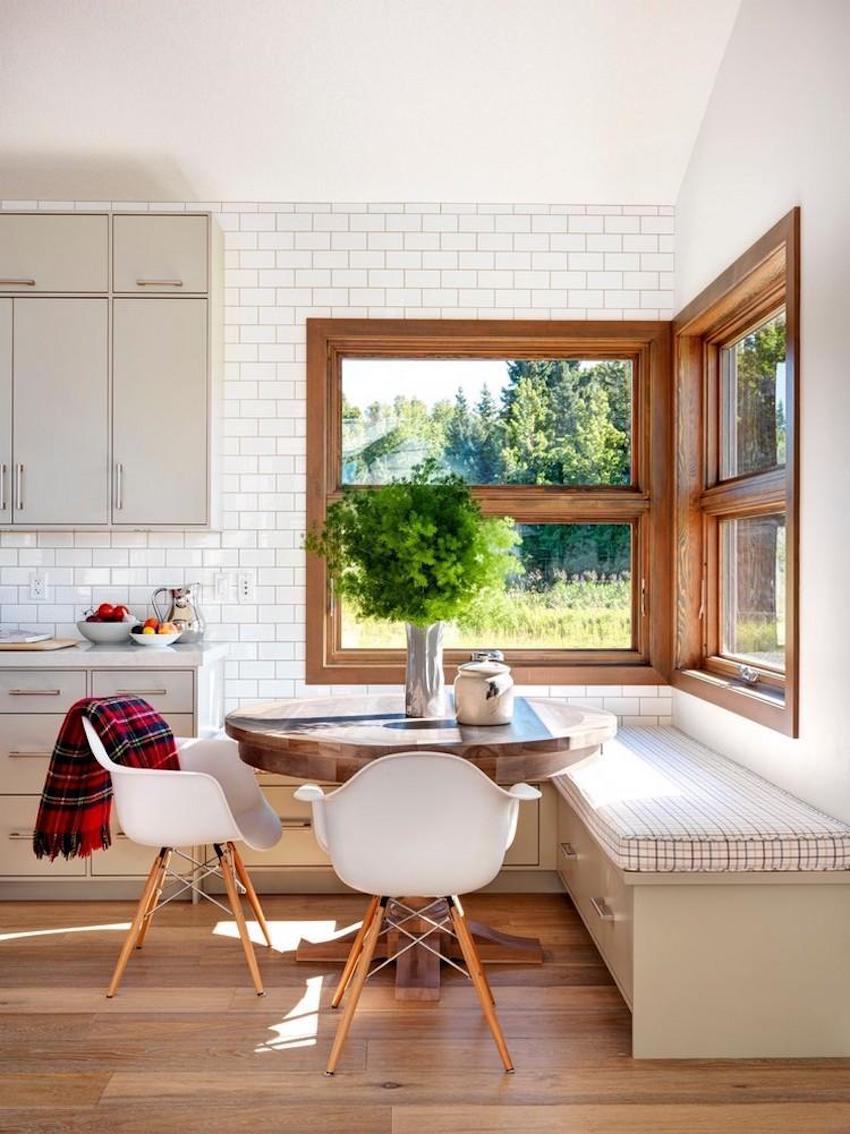 Imagine drinking your morning coffee in this cozy dining space found at WL. The farmhouse vibes are making us want to wrap ourselves in that plaid blanket, sit on the simply decorated banquette and gaze out the window to the beautiful nature!
Color, Comfort and Wood!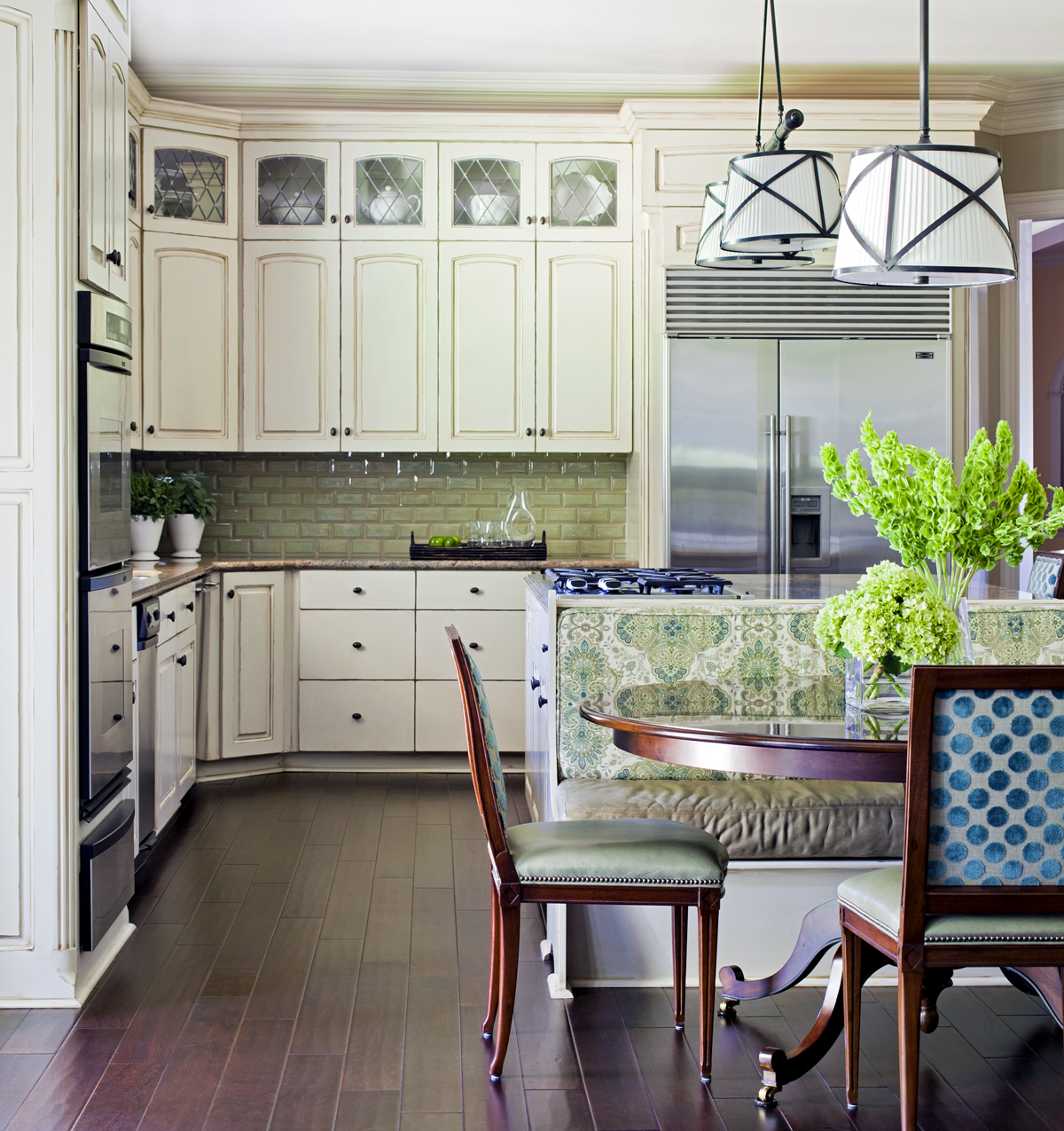 The beauty of this dining space can easily be attributed to the dark wood of its furniture and the neat combination with the wonderfully embellished banquette, glowing in green. Admire it at Tobi Fairley.
RELATED: Space-Saving Design: 25 Banquettes with Built-In Storage Underneath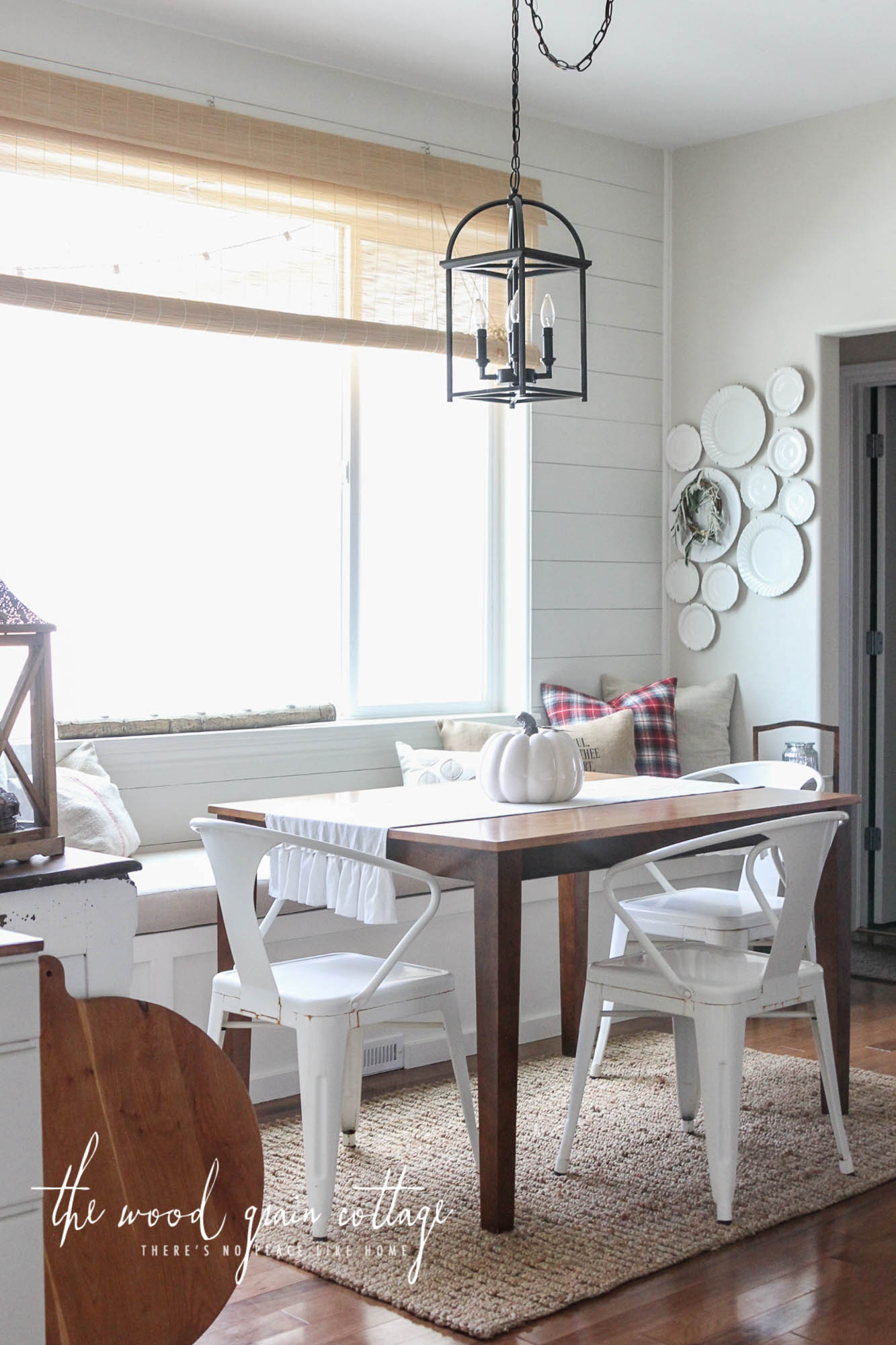 A perfect cottage setting, decorated with gentle color tones, not straying away from white and wood, only made more comfortable by the banquette near the window. We love this look by The Wood Grain Cottage.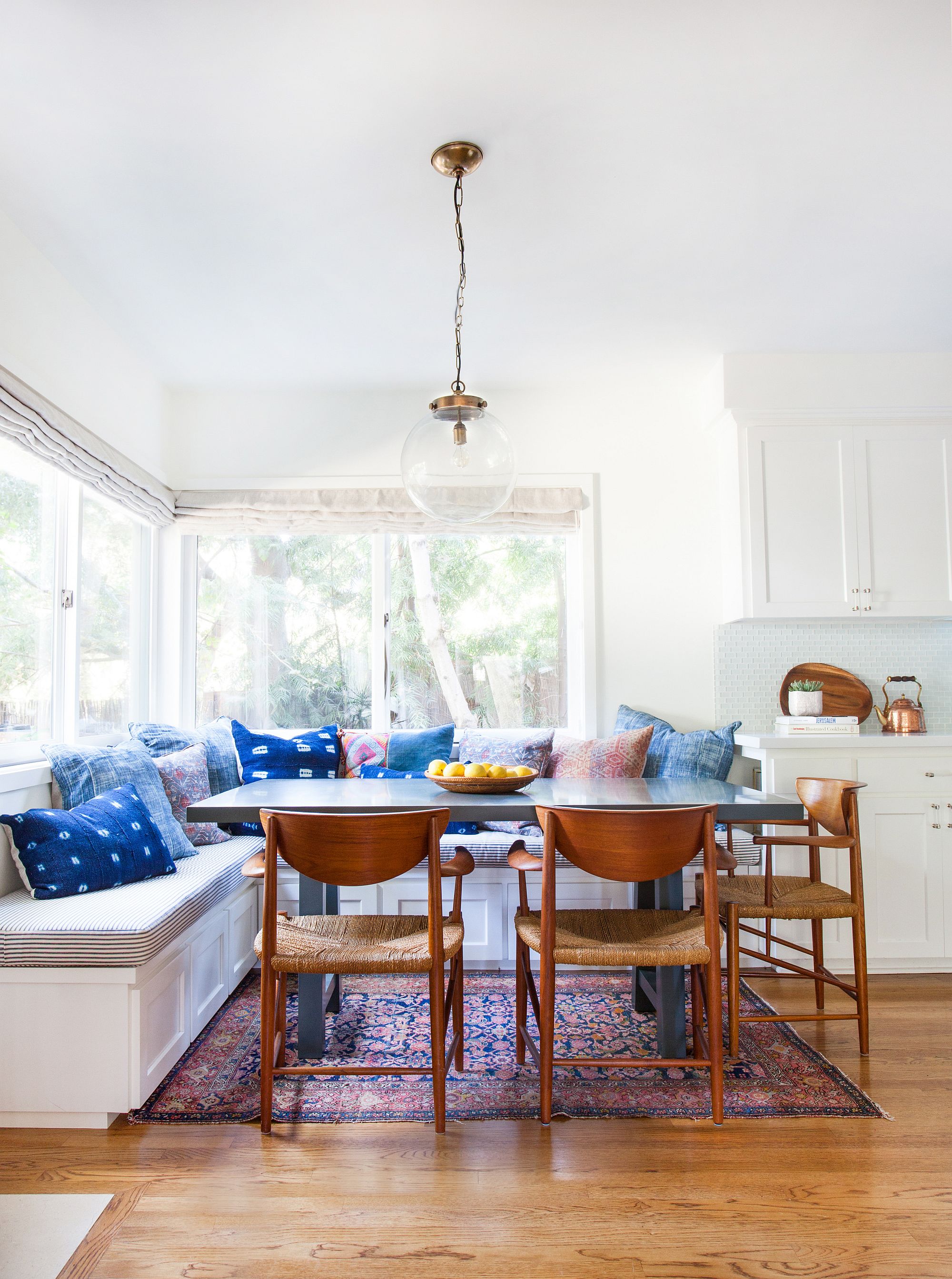 Finally a banquette that fits a family big in size! Eating your meals together shouldn't be taken for granted, so build a banquette big enough to fit everyone and enjoy many more family moments together! Picture by Amber Interiors.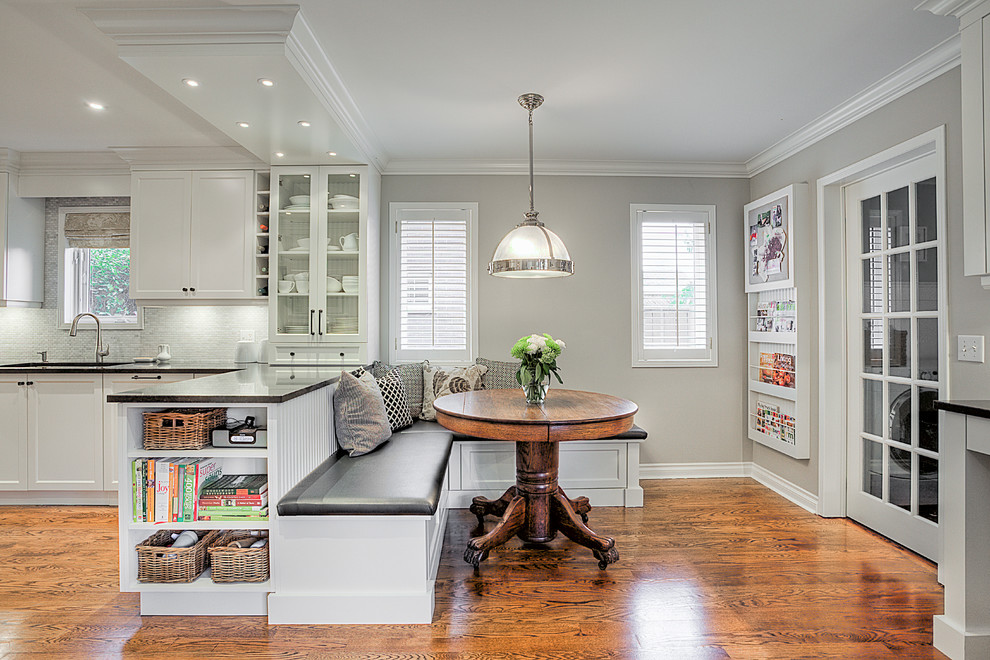 You can even completely ditch the chairs and allow the banquette to embrace the table from two or three sides, leaving much room for easier reach! When it looks good and has handy features, you know it's a superb choice! Great idea by Beeyoutifullife.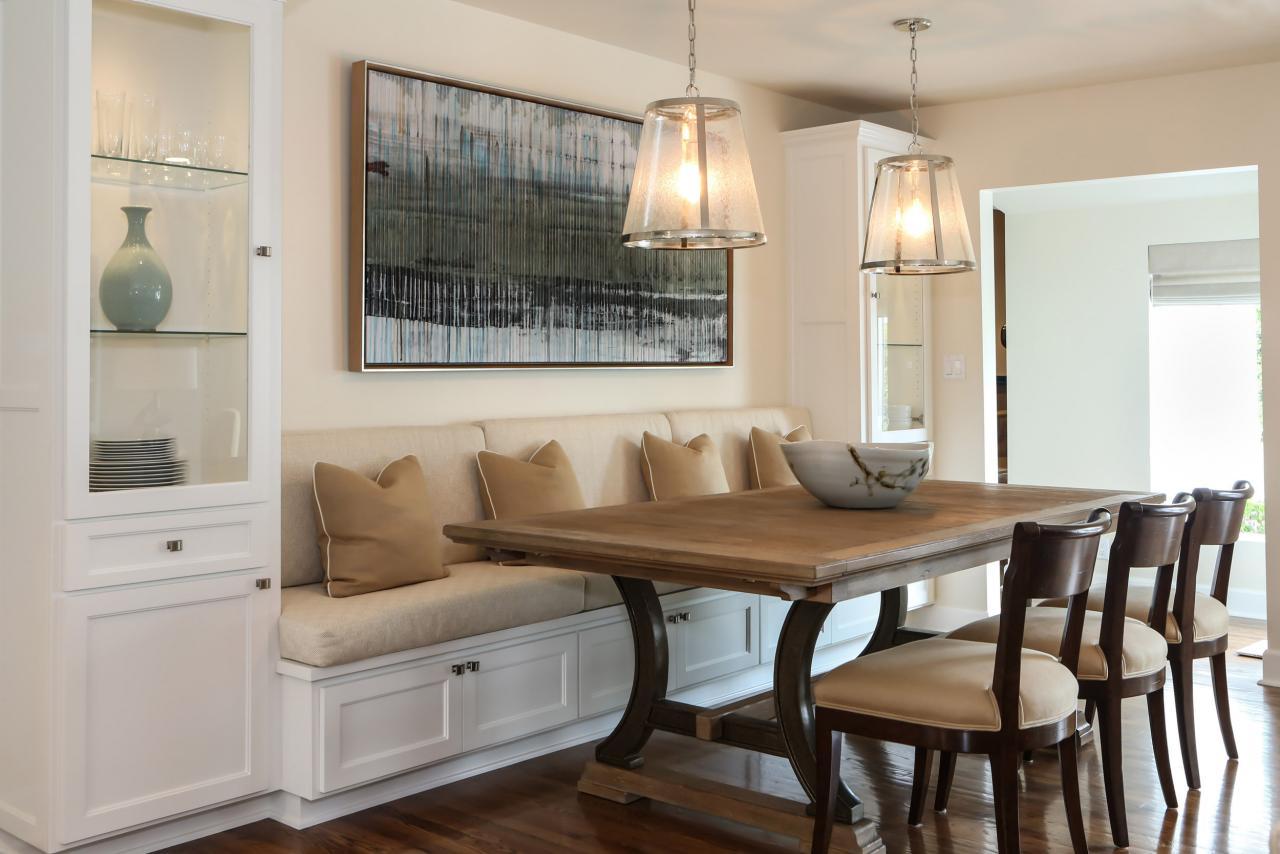 If you like dining spaces with strong continuity, have your banquette cushions match the chairs and the table. This particular dining space, by HGTV, looks pitch perfect! All in beige tones, it's the epitome of simplicity and cohesion.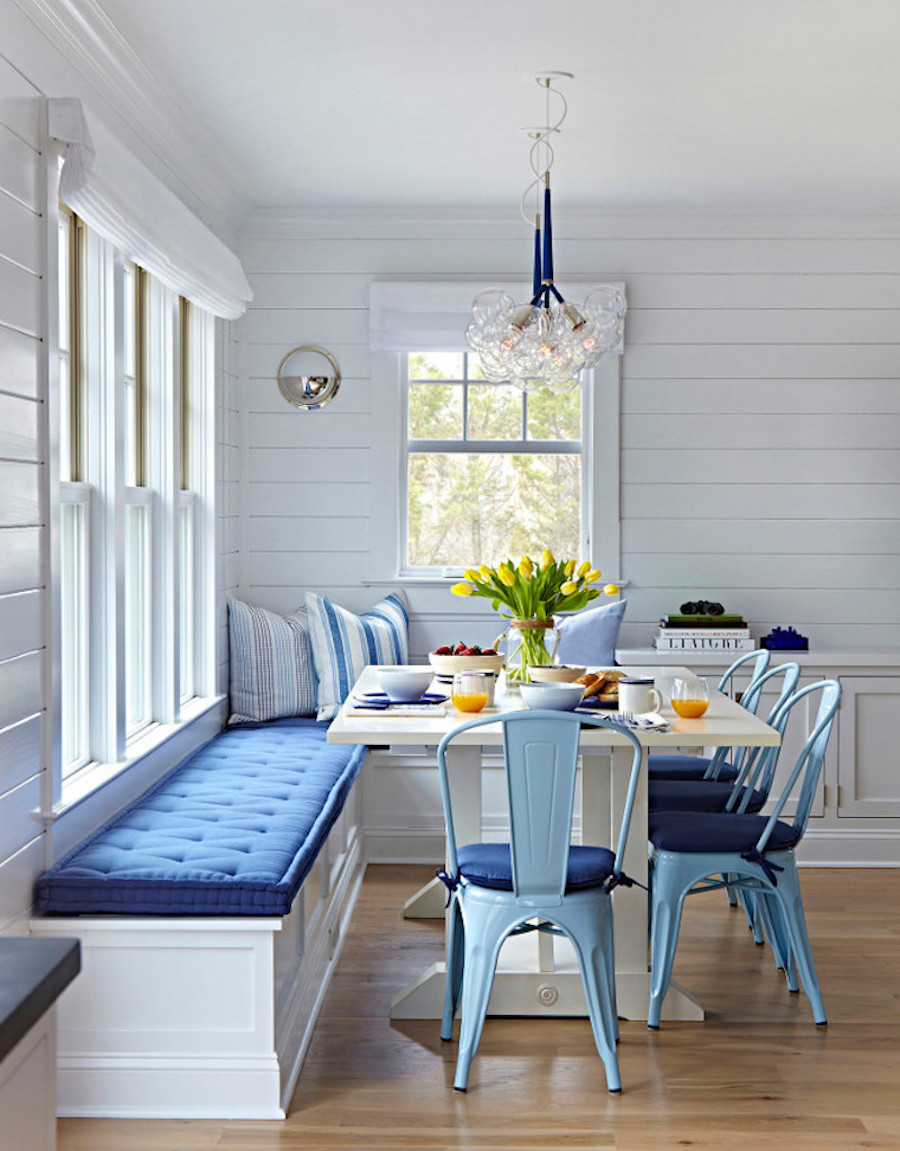 Here's another lovely, thoughtfully styled dining corner, found at Home Bunch. The blue color gives it a coastal vibe, perfect for beach houses, but it's the banquette that acts as a cherry on top with its element of coziness.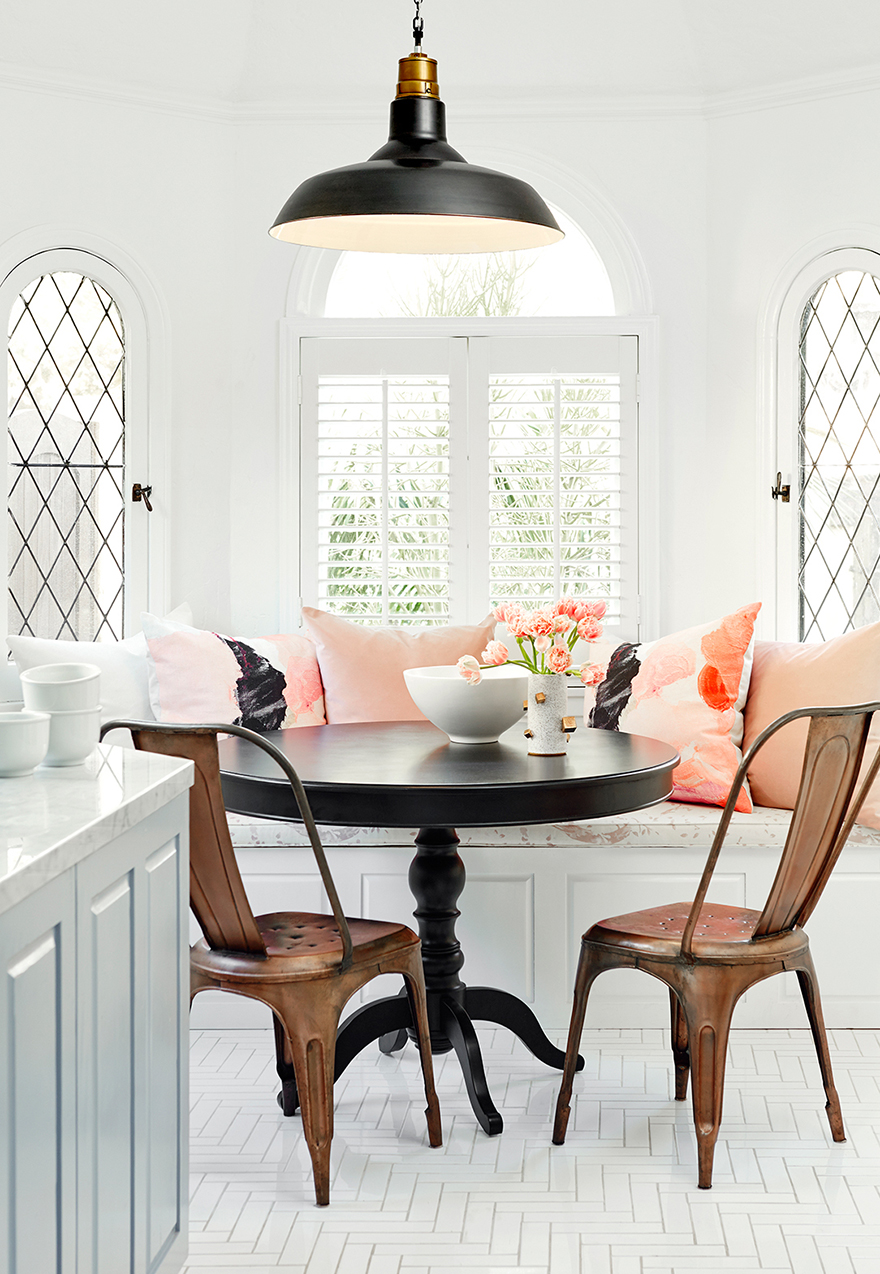 In a bright kitchen, your banquette should be the thing that stands out! Decorate it with colorful pillows and create an outstanding dining corner! Picture by Consort.
Lighting it Right!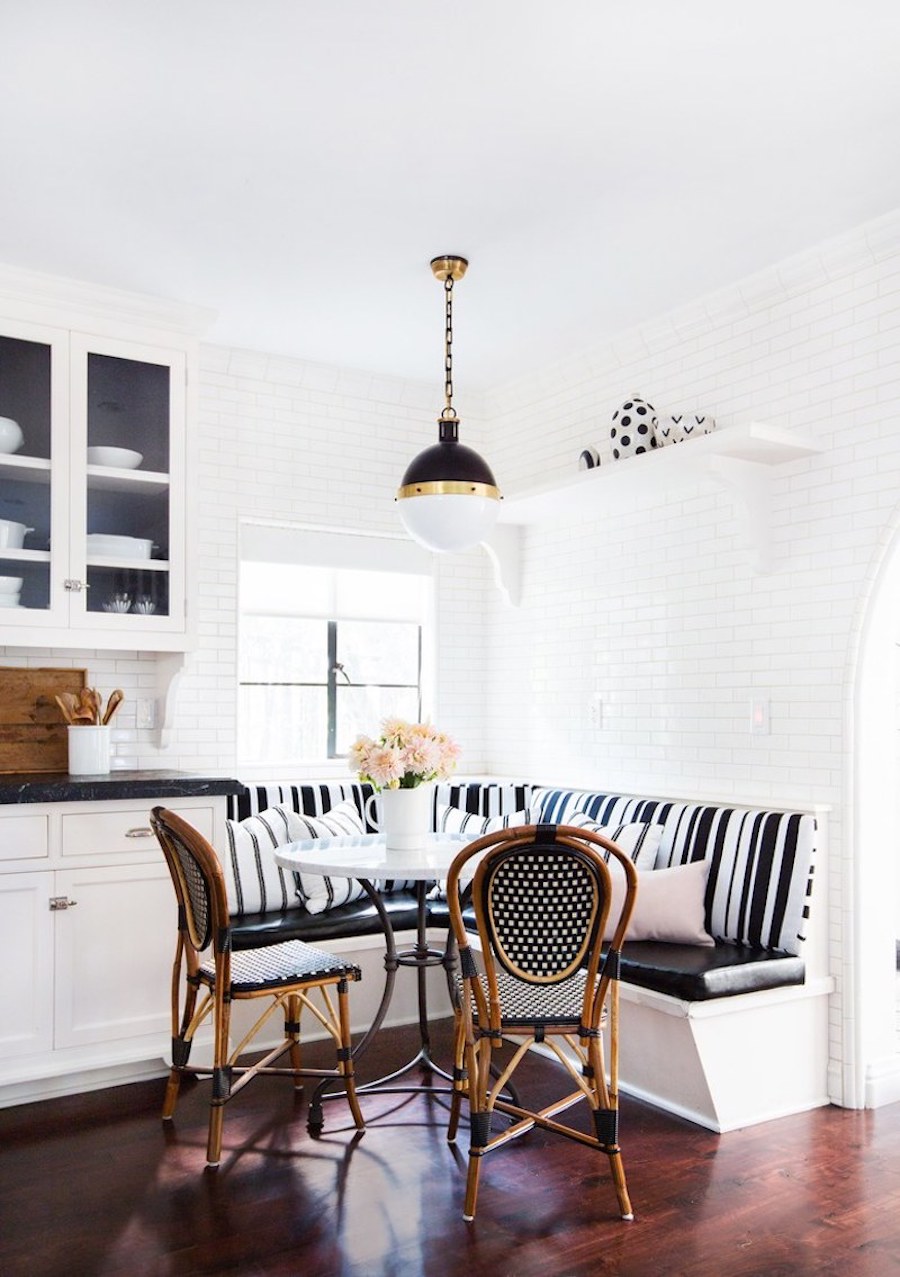 Love the monochrome interior? Bring it into your dining space with this black and white striped banquette that will add a significant amount of character to your entire kitchen! See how it looks at Architectural Digest.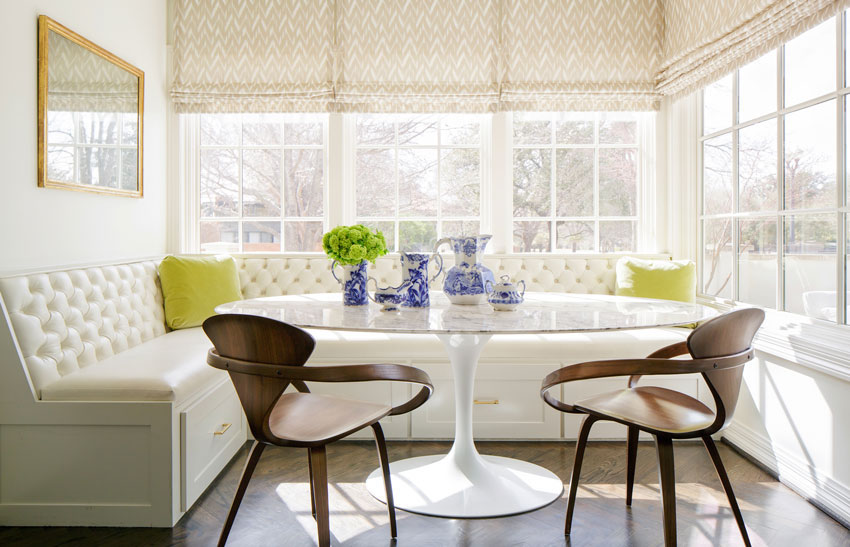 Take a look at another dining corner that easily rivals any sunroom! The rays of sunlight upon the cream banquette make this the perfect corner to start your day in! See it up close at Carrie Hatfield.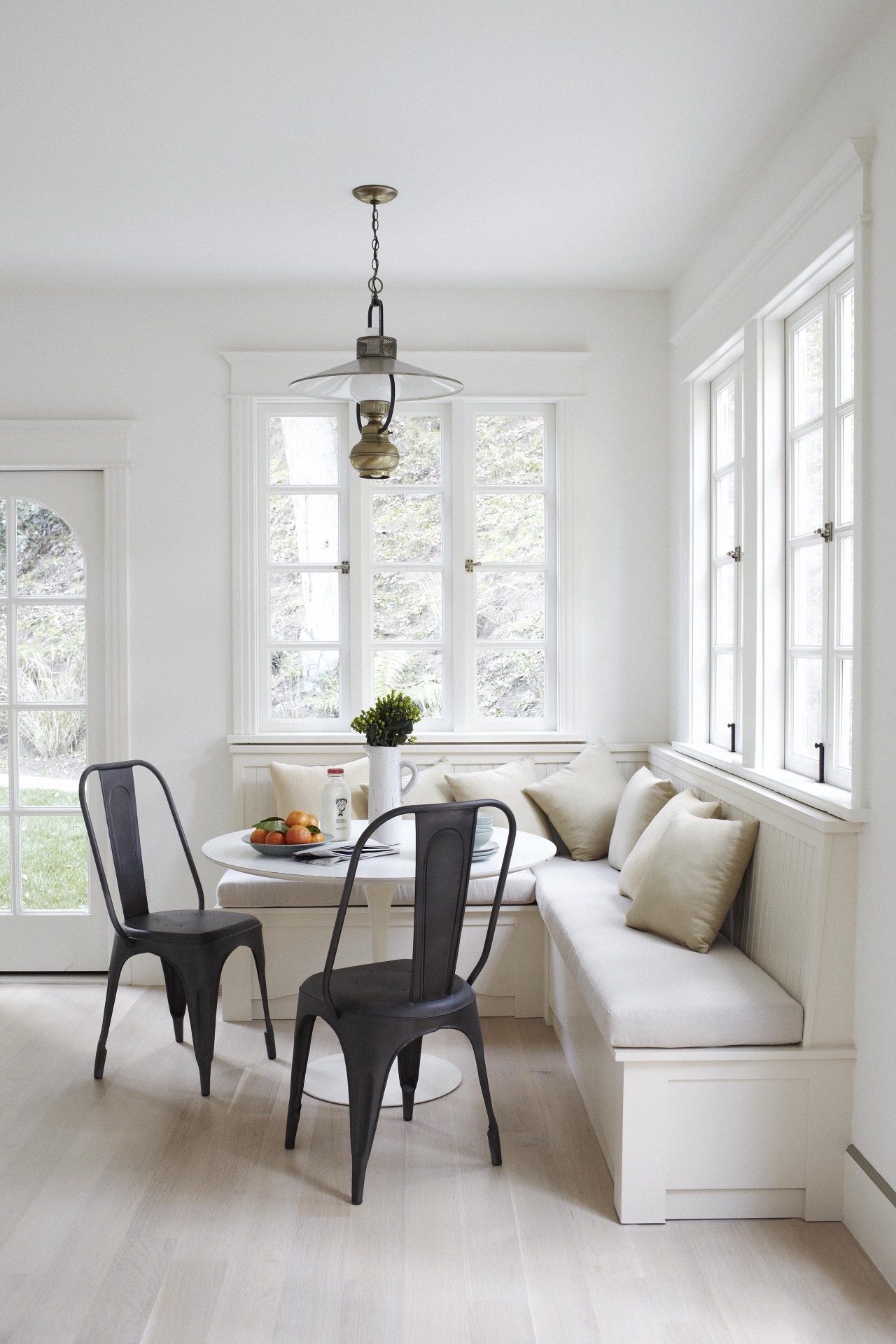 The simplistic tones of the banquette paired with the dark chairs create a calming environment with just a dash of edge. Suitable for minimalist homes with uncluttered decor! Take a look at Simo Design.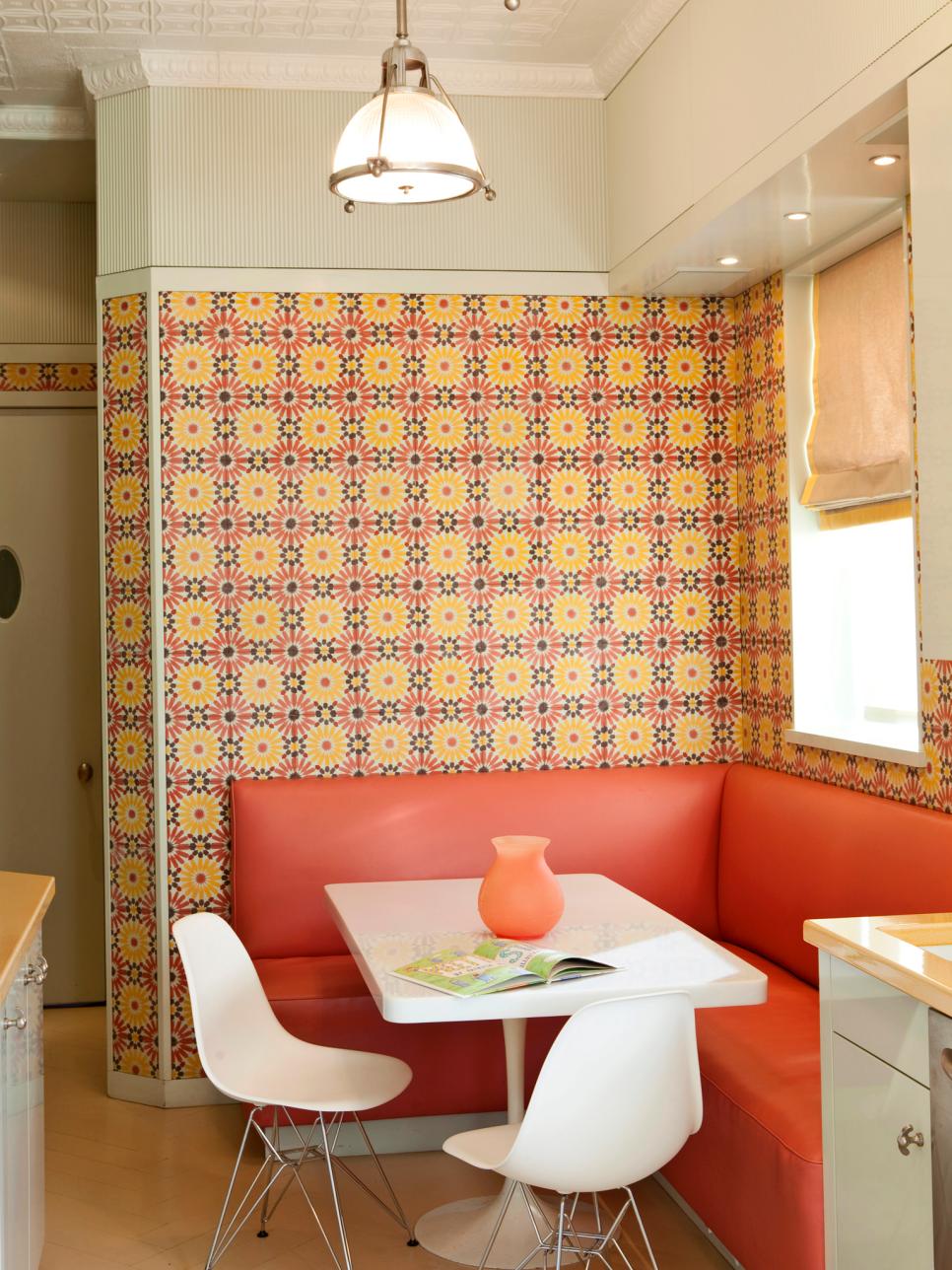 You can always bid farewell to the neutral tones and opt for vibrant ones instead! This red banquette is perfect for those who wish to have a dynamic and daring kitchen corner! Picture by HGTV.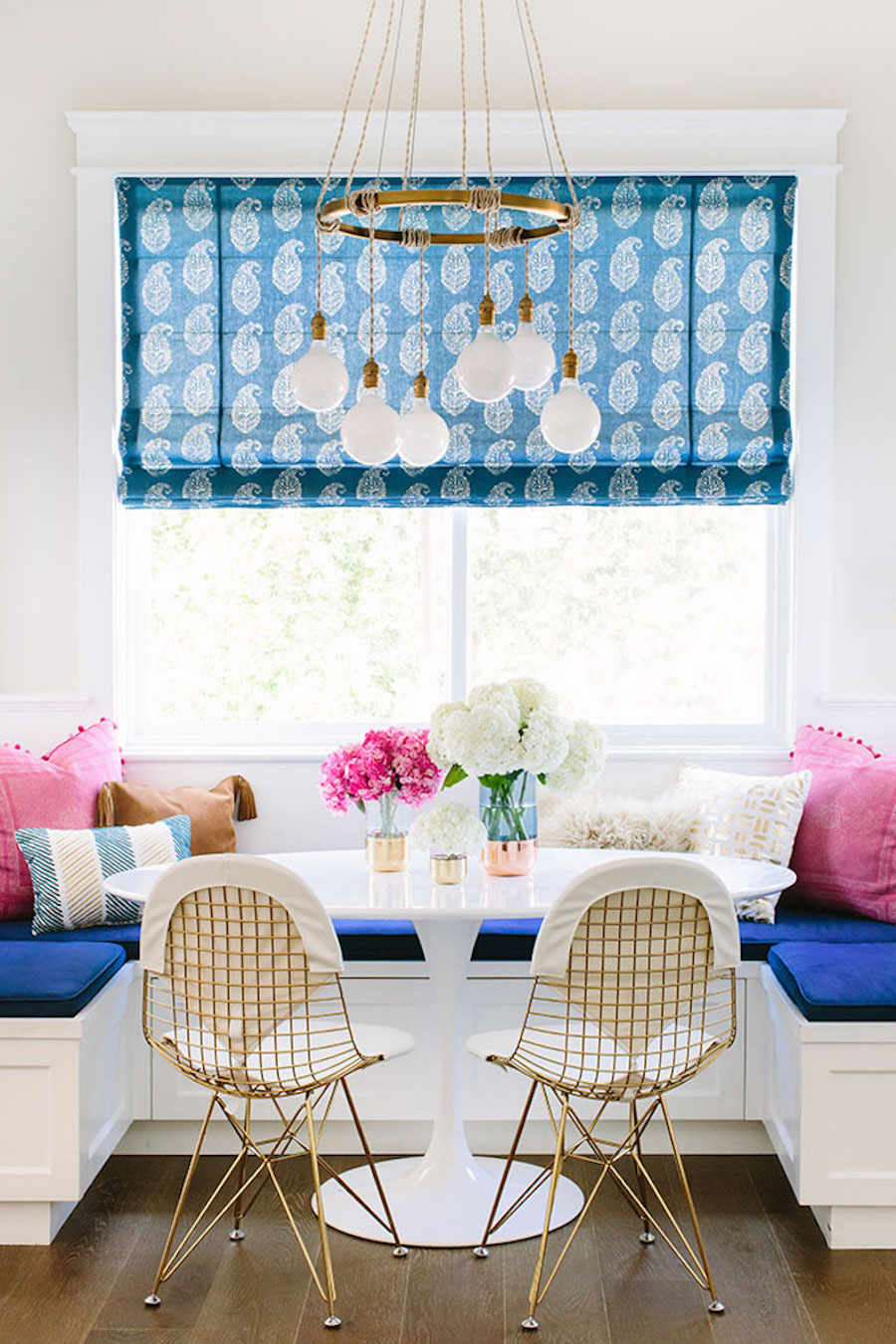 Lovers of modern interiors will find themselves infatuated with this banquette that is dressed up in bright and energetic colors. The combination of blue and pink clearly wins this round! Glitter Guide provides the inspiration!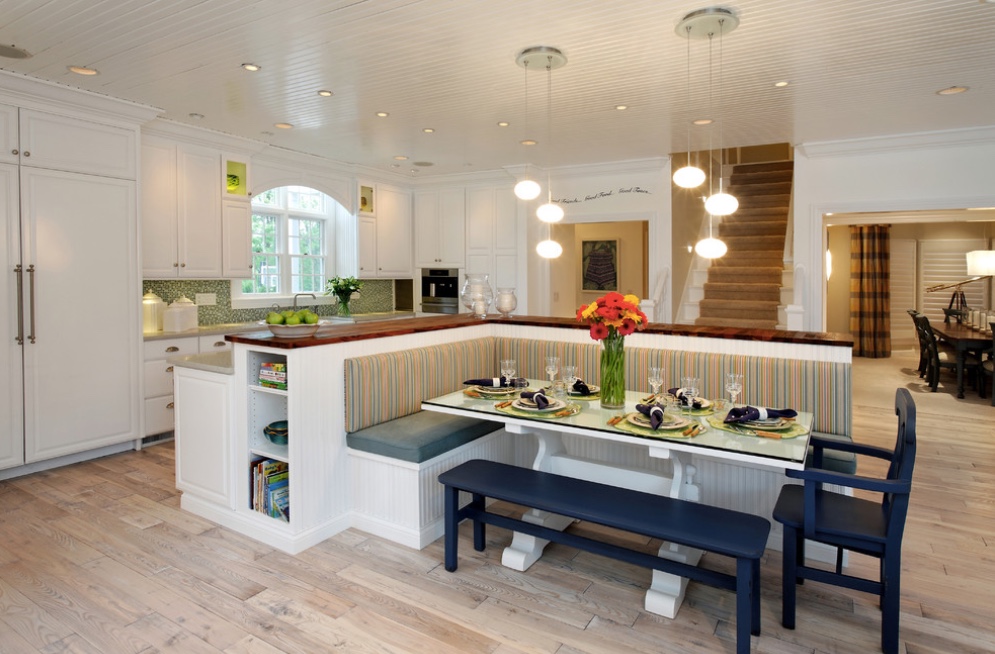 This contemporary banquette has the power to create the feeling of having a little restaurant right inside your kitchen. It breaks the dryness of a big open space and creates just the little corner the rooms needs to feel more welcoming. Photograph by Homedit.
RELATED: Colorful Zest: How to Add Retro Glam to Your Dining Room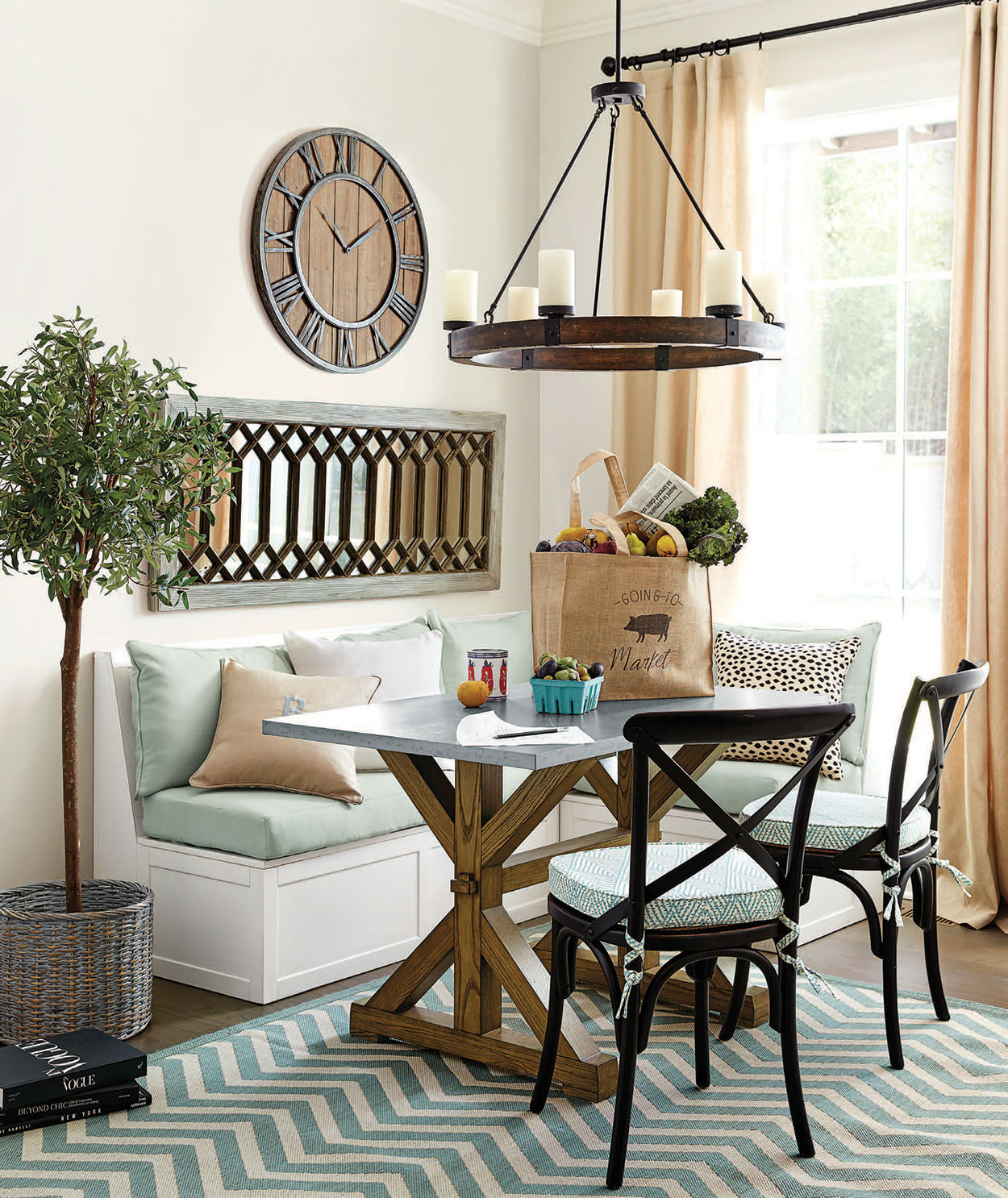 Cushioned banquettes are all the charm! They help utilize the small size of the dining space to create a corner of comfort and homeliness. Eating your every meal in a state of relaxation is what dreams are made of! Inspiration by How to Decorate.
A Happening Social Zone
The peaceful and calming energy of this dining area we found at Luxury Busla cannot be overlooked! The soft white banquette calls for resting on it comfortably, as you are reading the Sunday newspaper and eating breakfast with the family.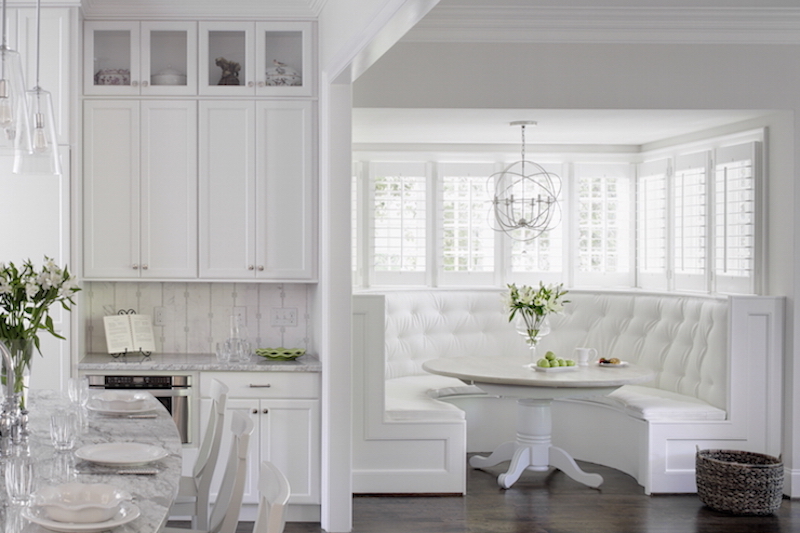 This banquette corner looks so pure it's almost hard to believe it's real! You can separate your main dining table from the banquette and use the latter for special occasions only, such as tea time with friends! Peek at Kitchen Studio of Naples.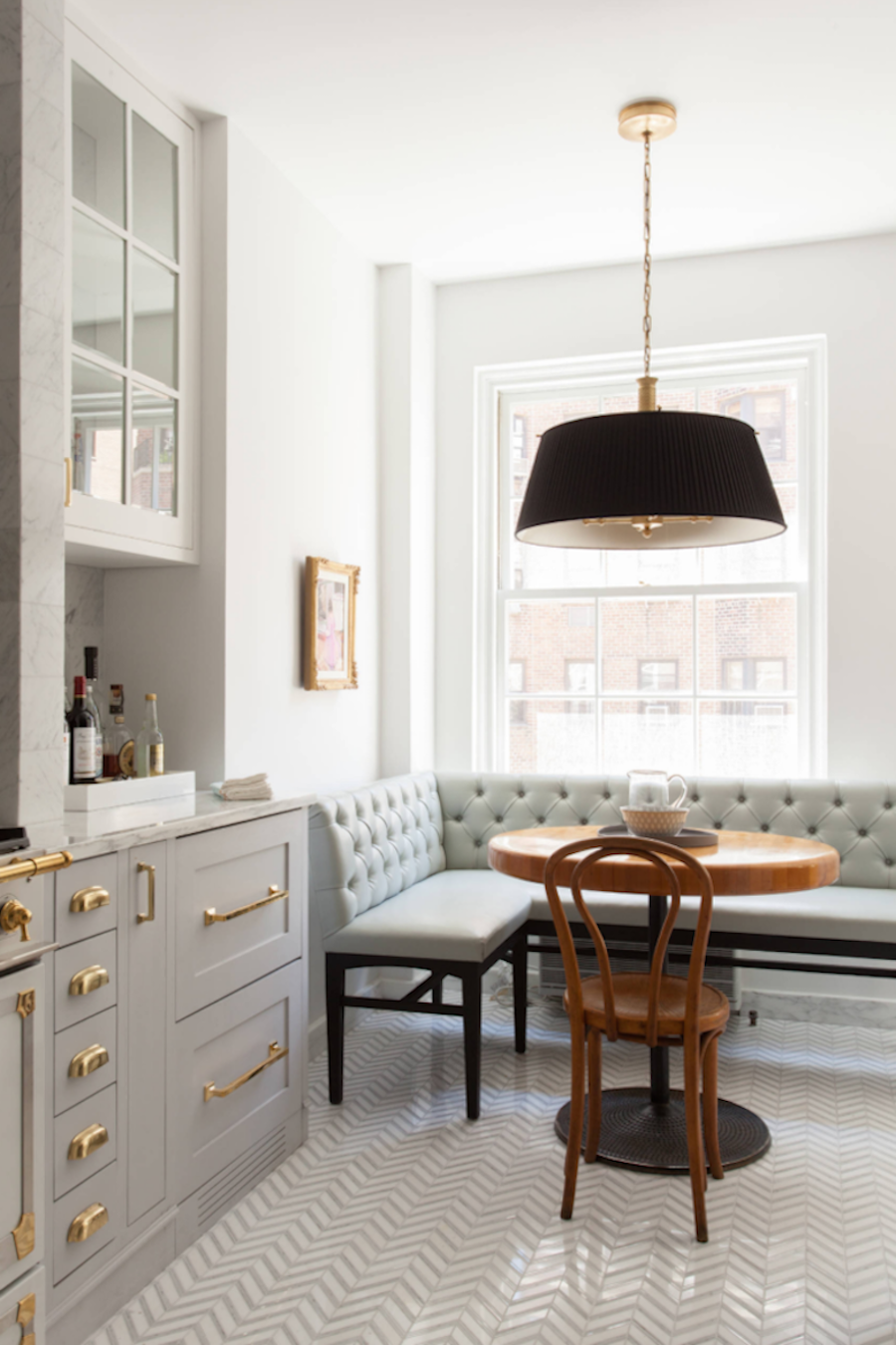 If you enjoy gray decor, and surely you must, this choice of banquette seems suitable! We love how it goes with the wooden chair and table, creating a balanced color palette, channeling the look of a serene cafe! Spy the look at Elements of Style.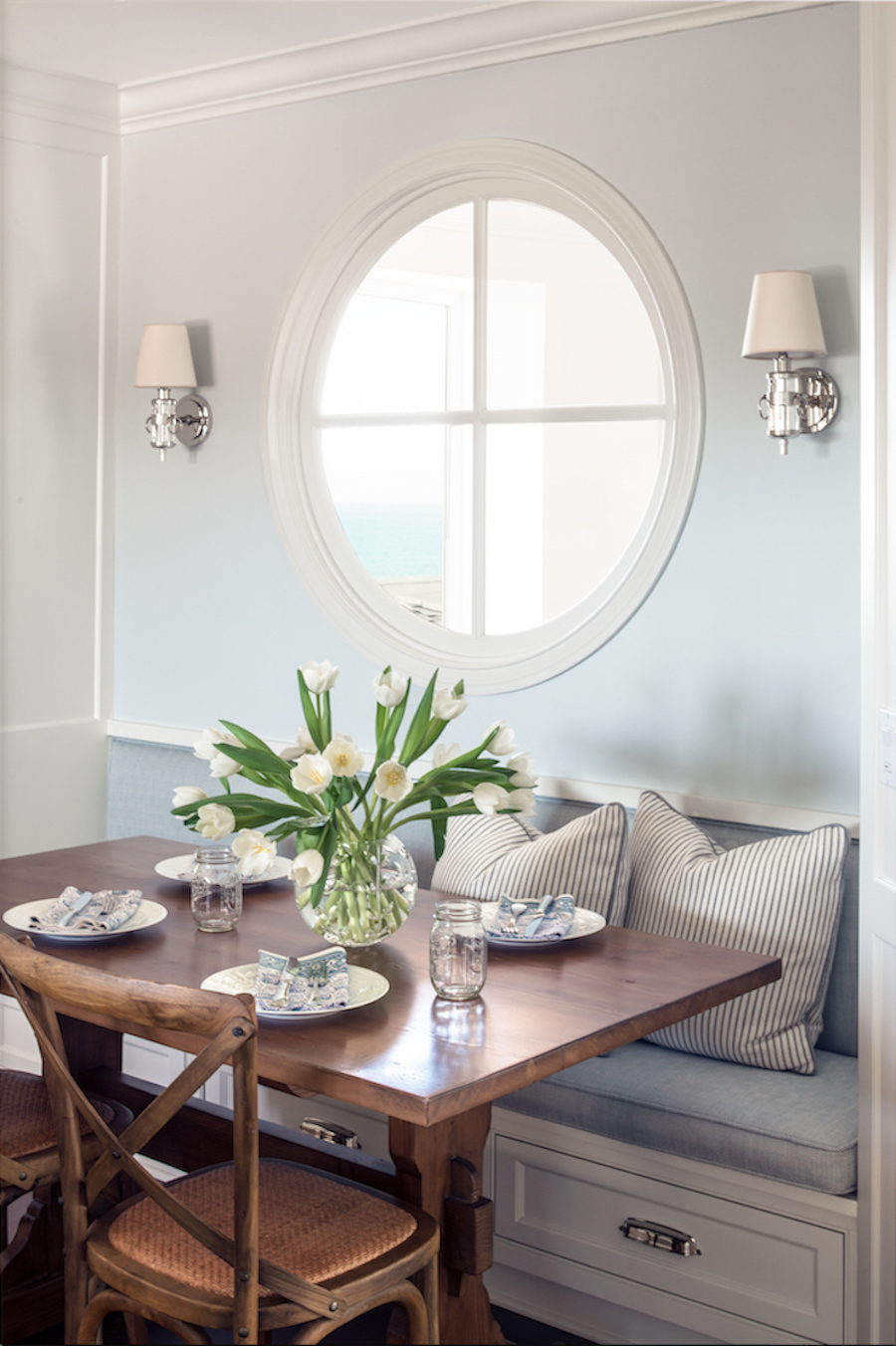 However tiny in size, a banquette can always look grand; the secret is in the styling. Gentle color tones of this little corner create an appearance of spaciousness while the denim blue banquette softens the presence of wood. See how it looks at House & Hound!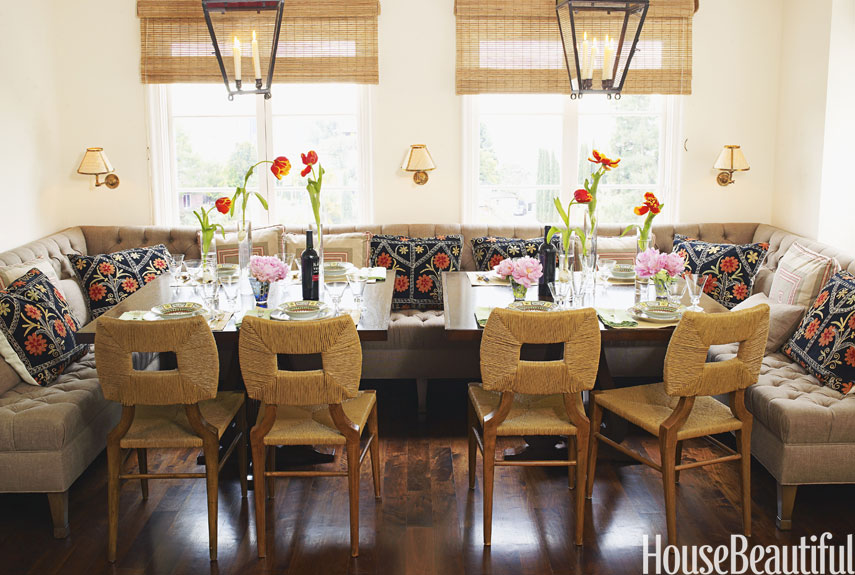 This heavily cushioned neutral banquette is the center of attention in this family corner. The floral decor breaks the simplicity of the styling and give so much liveliness to the dining space. You can even switch one big table for two smaller ones, as shown at House Beautiful.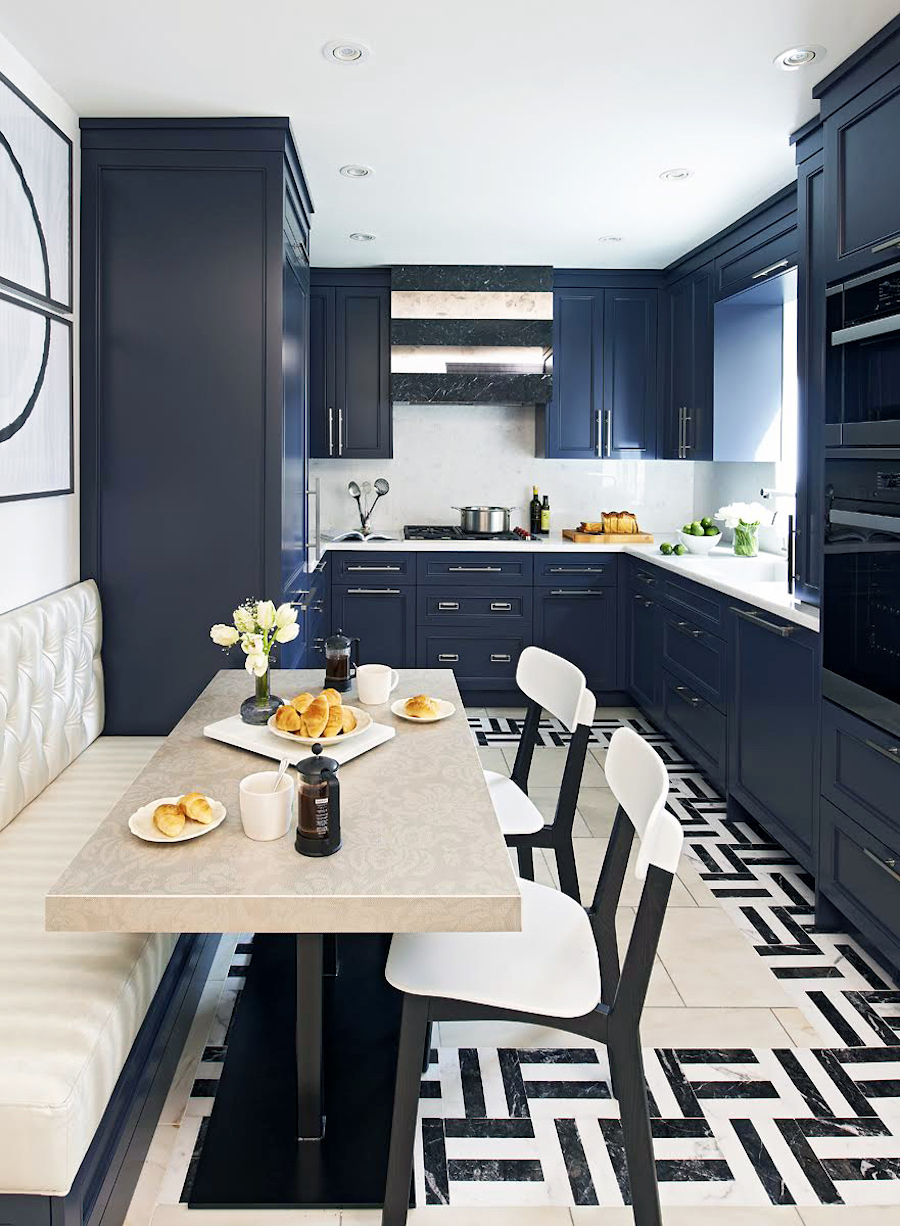 In a black and white setting, we have to be careful not to make the interior look too repetitive. Having a cream colored banquette will do astoundingly well, adding just a pinch of warmth to your kitchen and its otherwise exquisite decor! Check out the look at Rue Daily!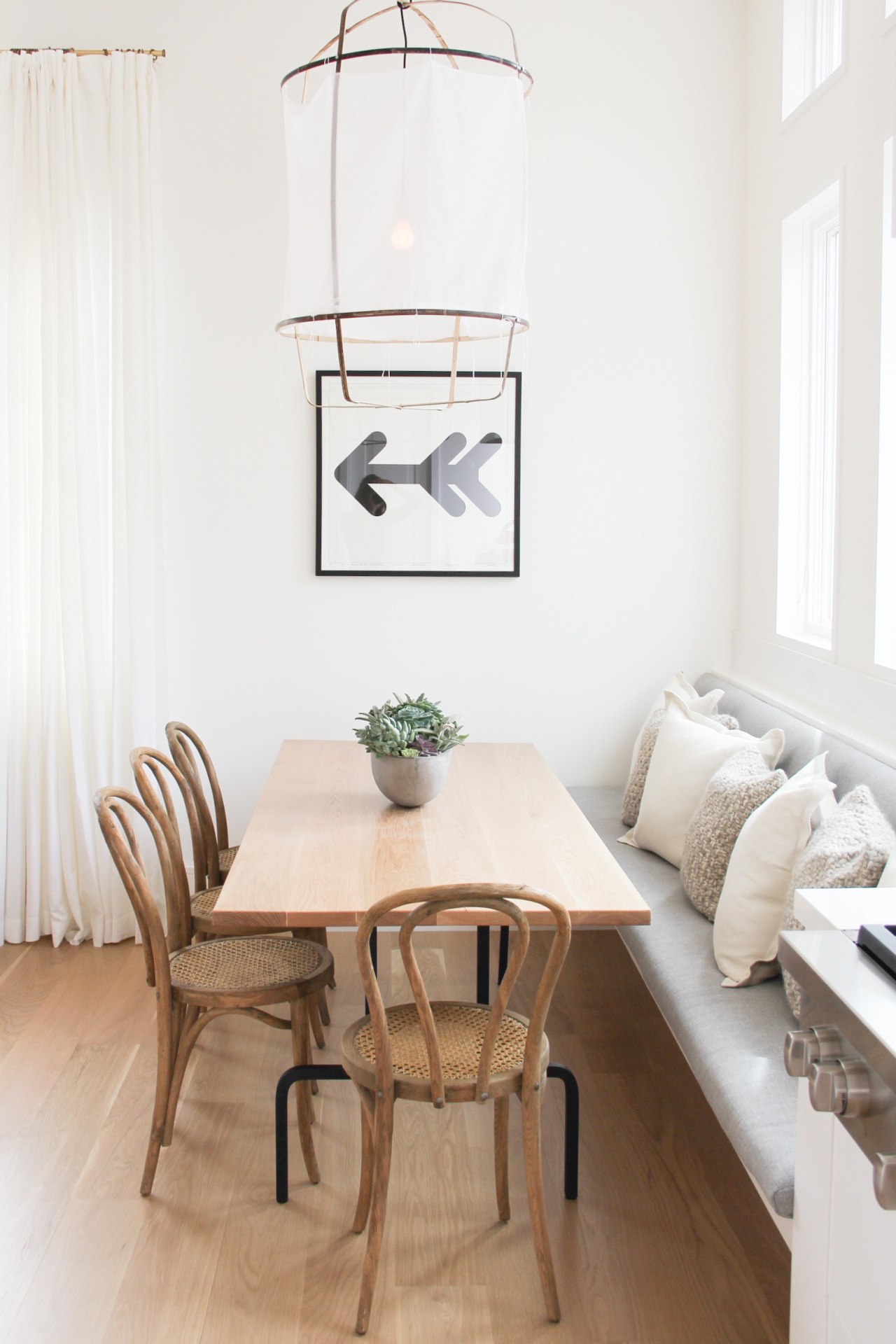 Simple and breathable is what comes to mind when admiring this lovely kitchen corner, found at A Gentlewoman. The neutral toned banquette plays an important part in the minimalist setting of this adorable space.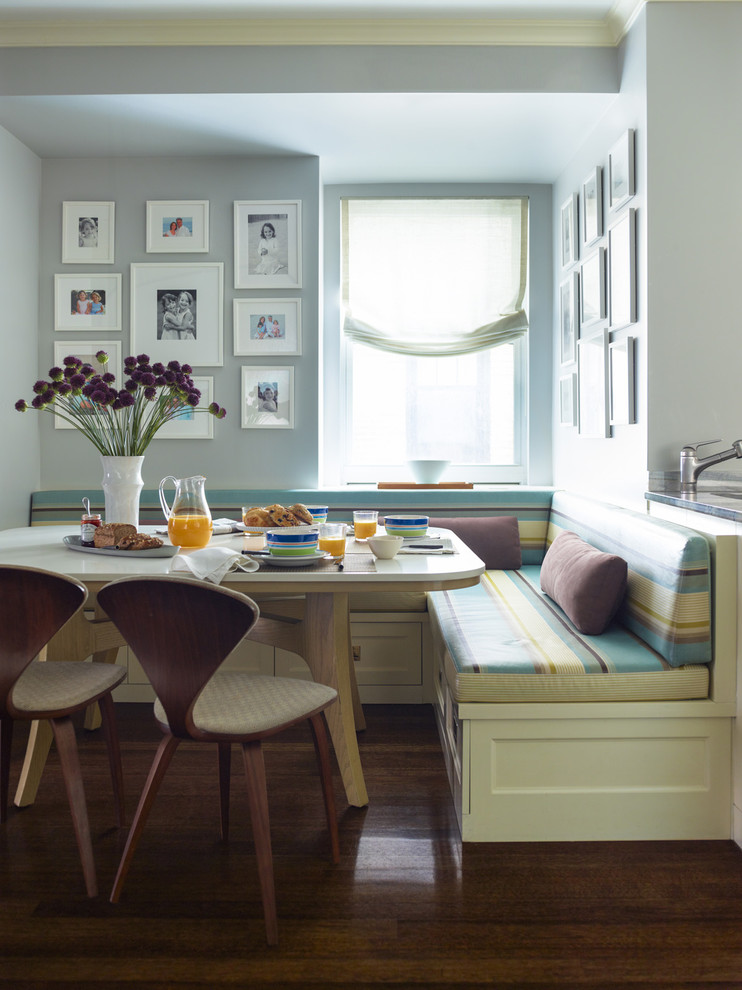 This is the perfect breakfast setting, one that truly feels like home due to the mixture of a snug banquette and the family photos it is surrounded with! Find the domestic inspiration at Beeyoutifullfe.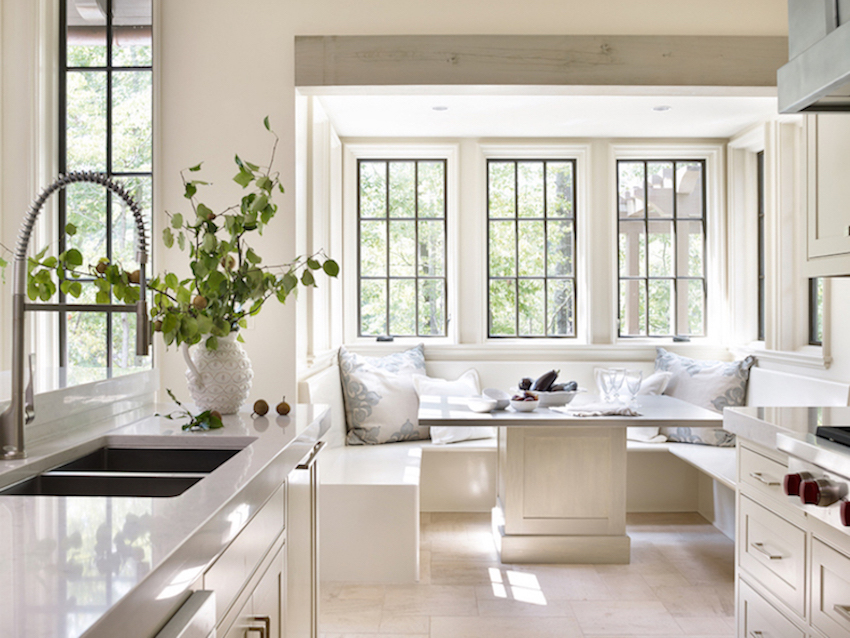 The view of this dazzling kitchen corner is something anyone would wish to have in their home! The simple banquette fits right in with the rest of the luminous decor! Check it out at Decor Pad.