It's a wonderful time to be decorating kids' rooms! Not only are many of the top trends mirror images of trends for design-loving adults, they are undeniably child-friendly. From earthy accents to animal themes, the resulting motifs and materials are both eye-catching and relaxed. Ready to see more? Keep reading for a look at our favorite items and spaces… [nursery below from A House in the Hills]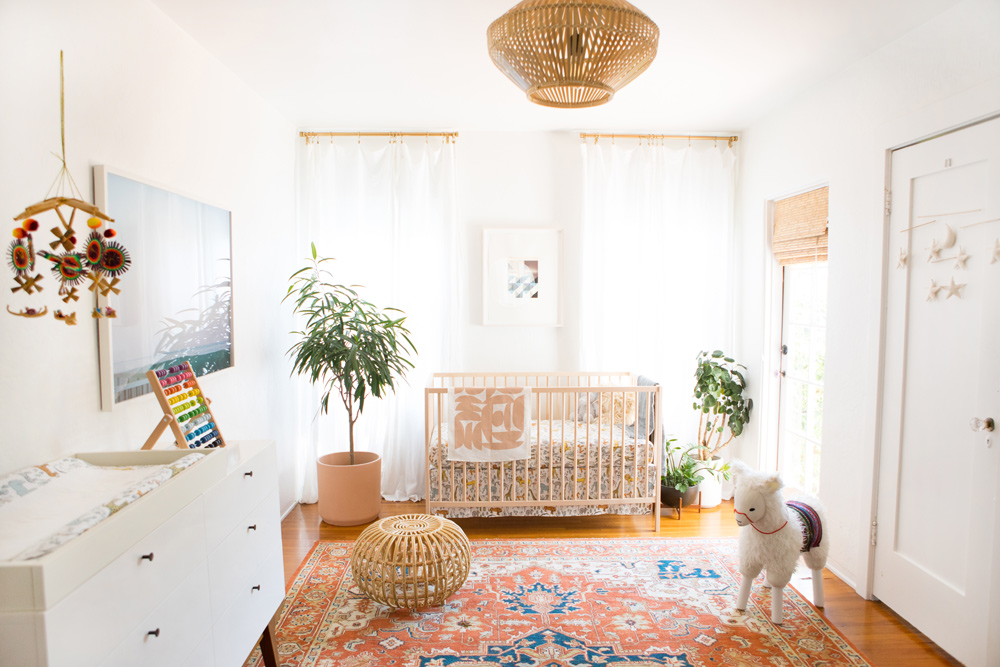 Wallpaper
If you're a fan of design, you're likely aware that a wallpaper revival is in full effect. There's no place like a nursery or child's room to showcase a wallpapered accent wall. And thanks to today's assortment of no-hassle wallpaper selections (including the removable kind), the addition of a pattern doesn't have to be permanent. Below we see Chasing Paper Black and White New Moon Removable Wallpaper from Crate & Kids: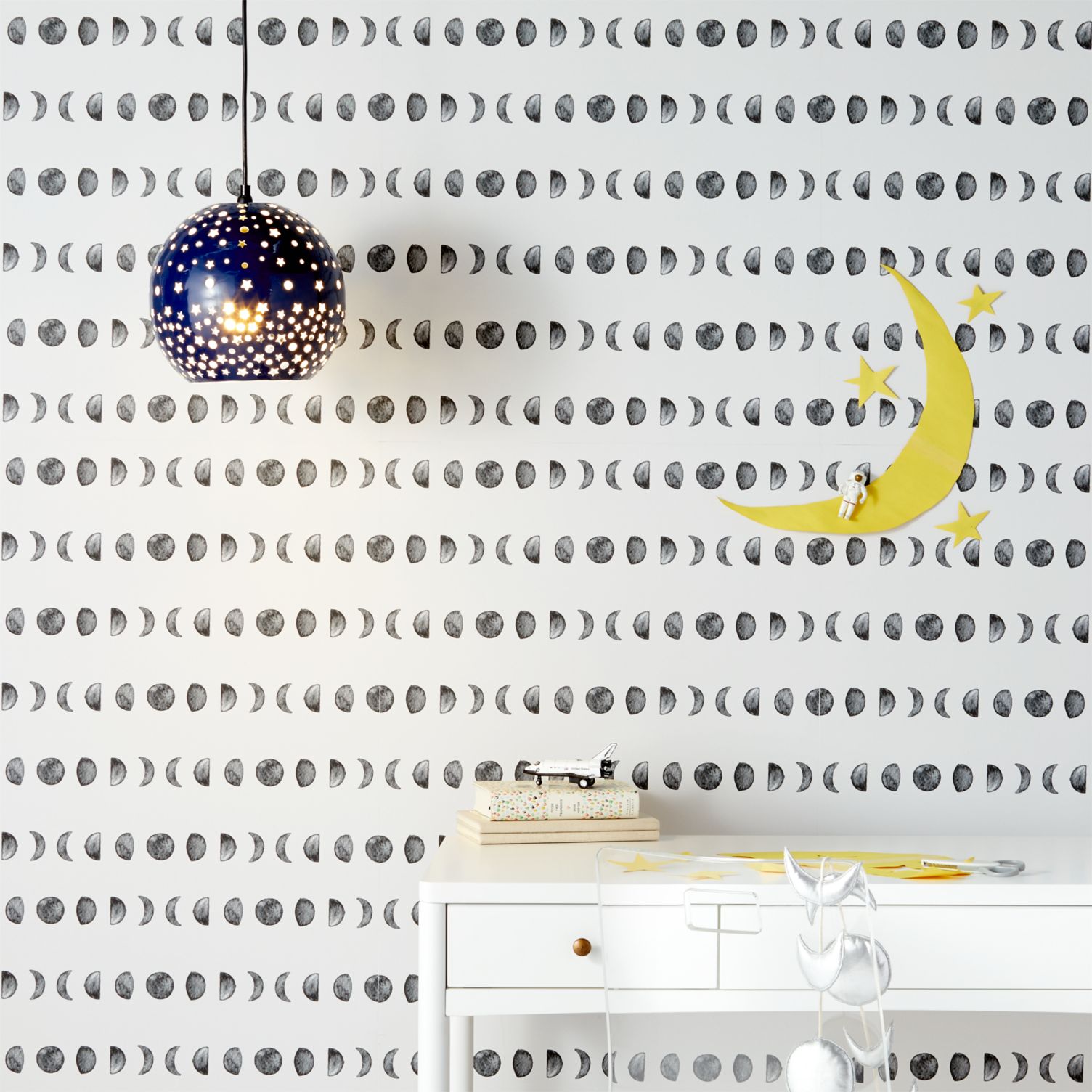 Also from Crate & Kids is this blush Chasing Paper Pink Leaping Bunnies wallpaper, a whimsical reminder that animal motifs are alive and well in the realm of kids' rooms. Much more on animals motifs to come later in the post!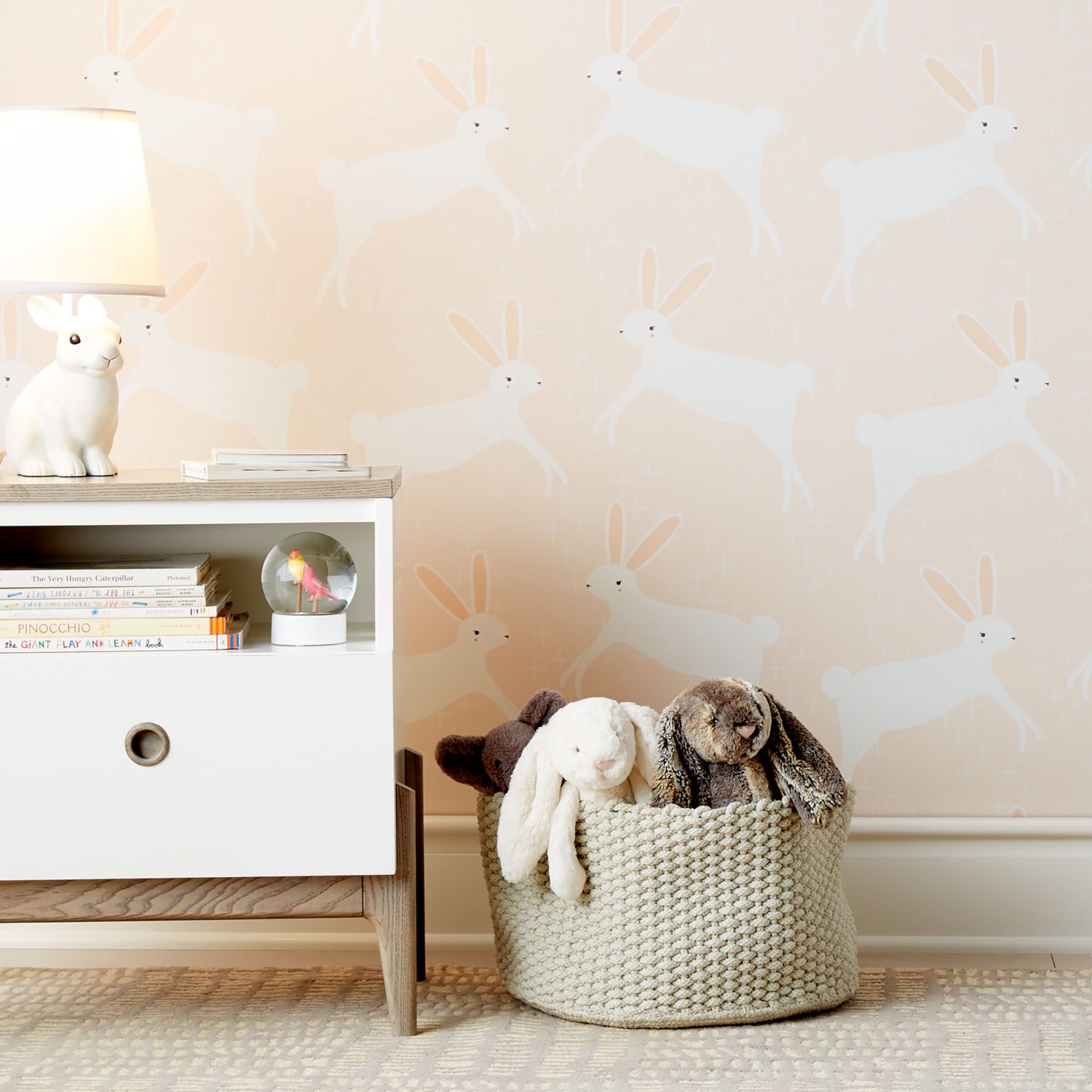 Animals, animals everywhere! When your walls are covered with trees and koalas, it's easy to have an active imagination. This Koala Wallpaper in Mustard from ferm LIVING is the perfect backdrop to a room for adventurers and dreamers: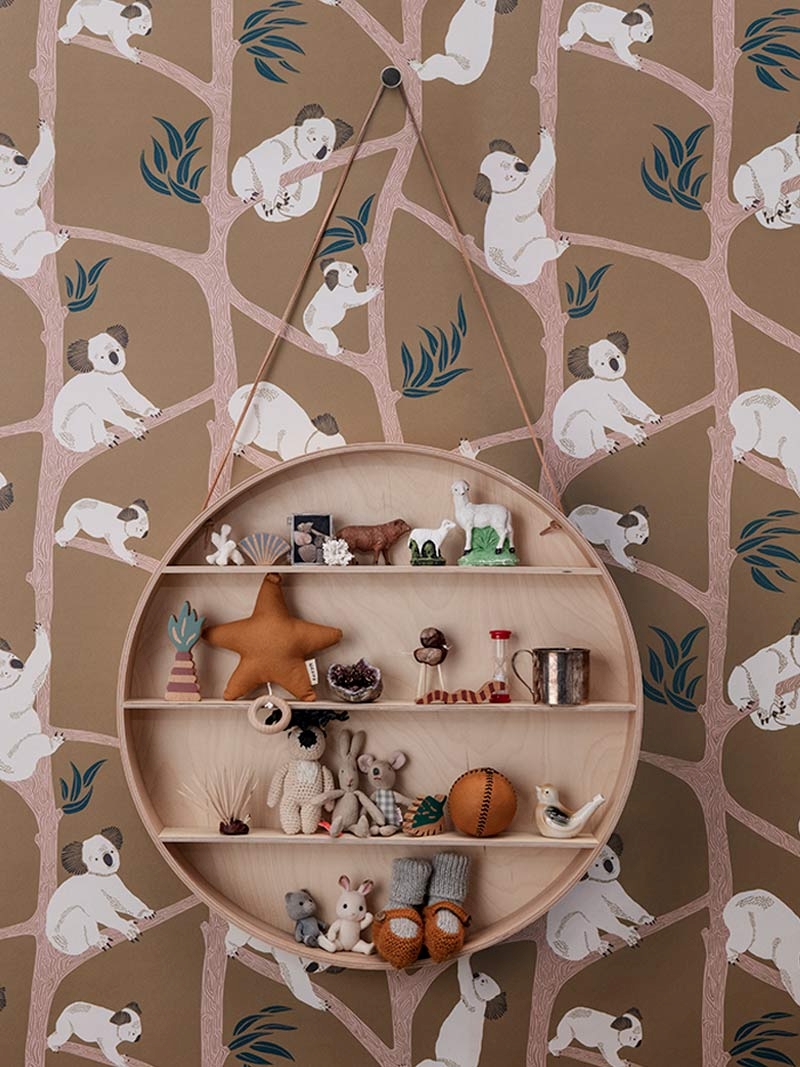 Also from ferm LIVING is Animal by Katie Scott (in Blue), which showcases animals of the land, sky and sea. It's hard to imagine a wallpaper that features a larger number of nature's creatures: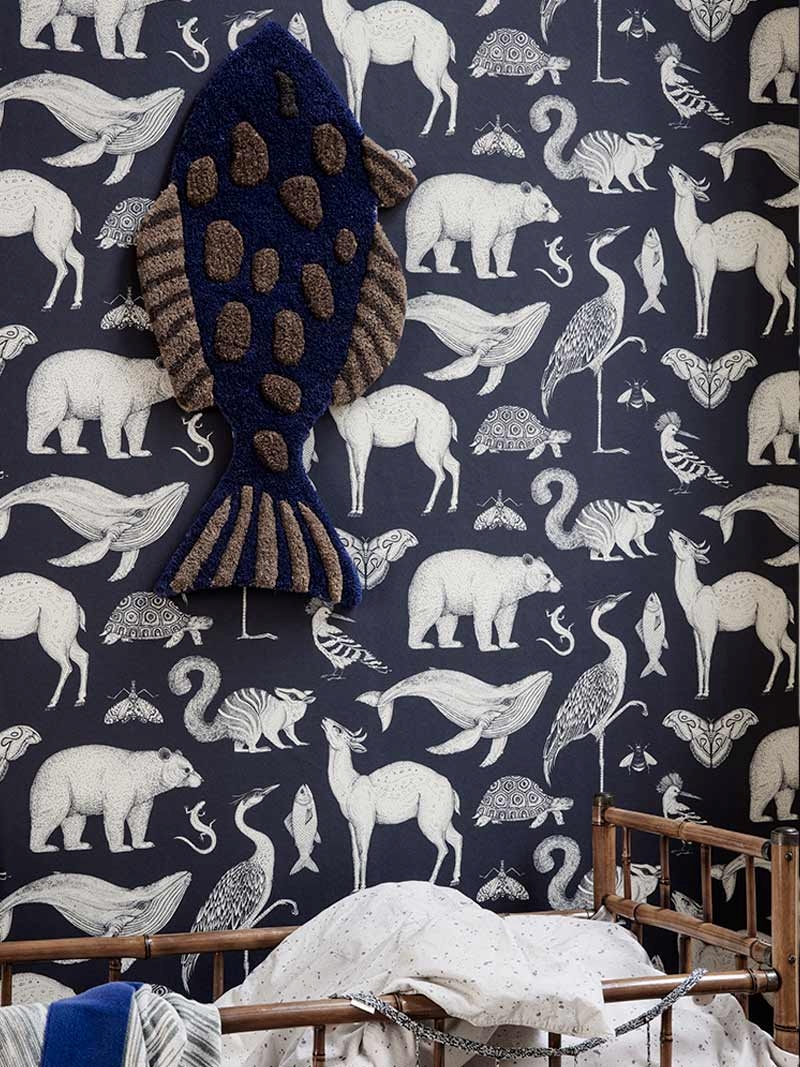 Natural Materials
Earthy textures and natural materials ground a child's room, often with eco-friendly materials. This carefully curated nursery from A House in the Hills is a beautiful vision in neutral tones, including an crib from IKEA and an ottoman from Wayfair: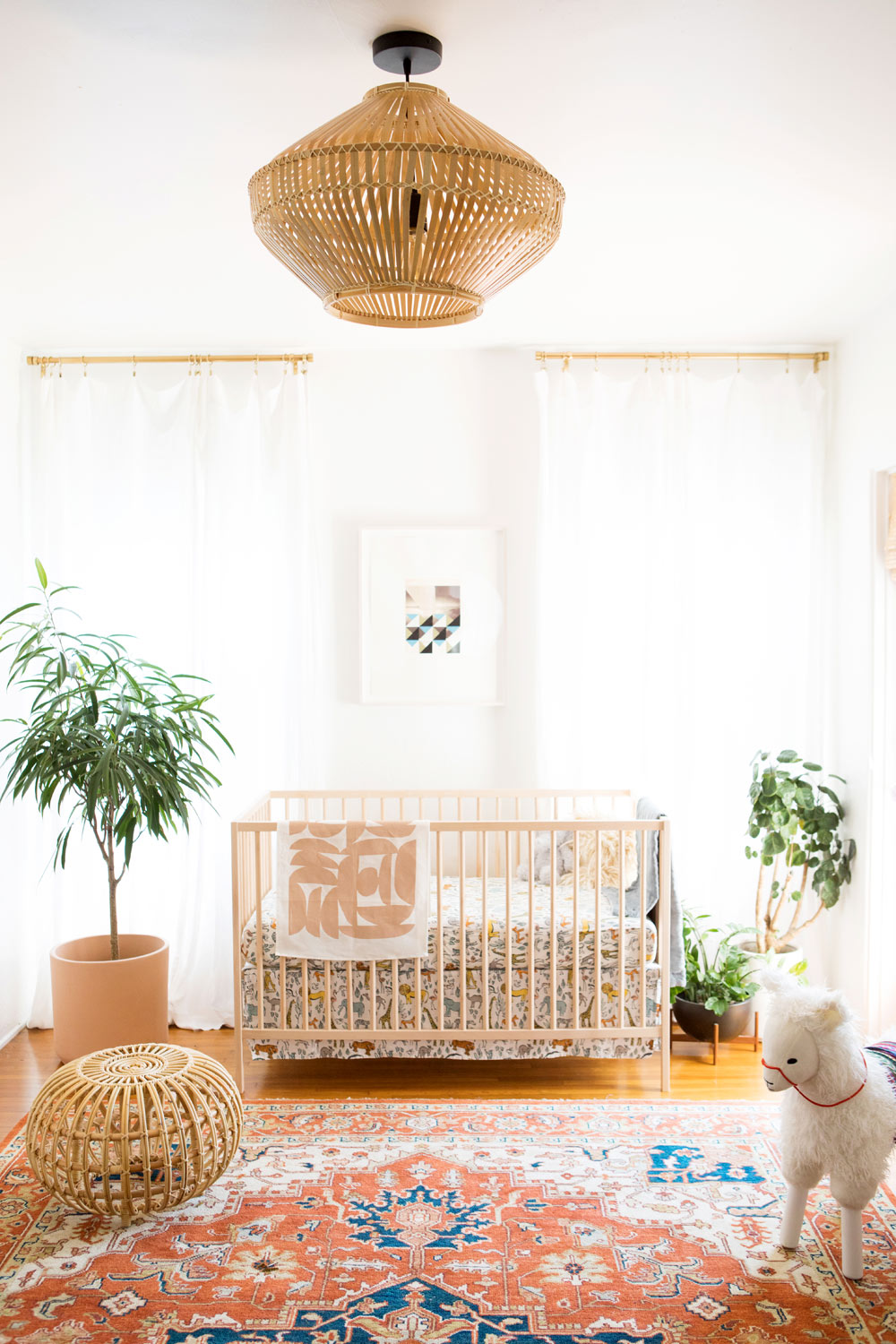 A wicker headboard and vintage giraffe planter are two of many highlights from this toddler's room designed by A Beautiful Mess. With neutrals all around, the space is soothing, and vibrant pops of color truly stand out.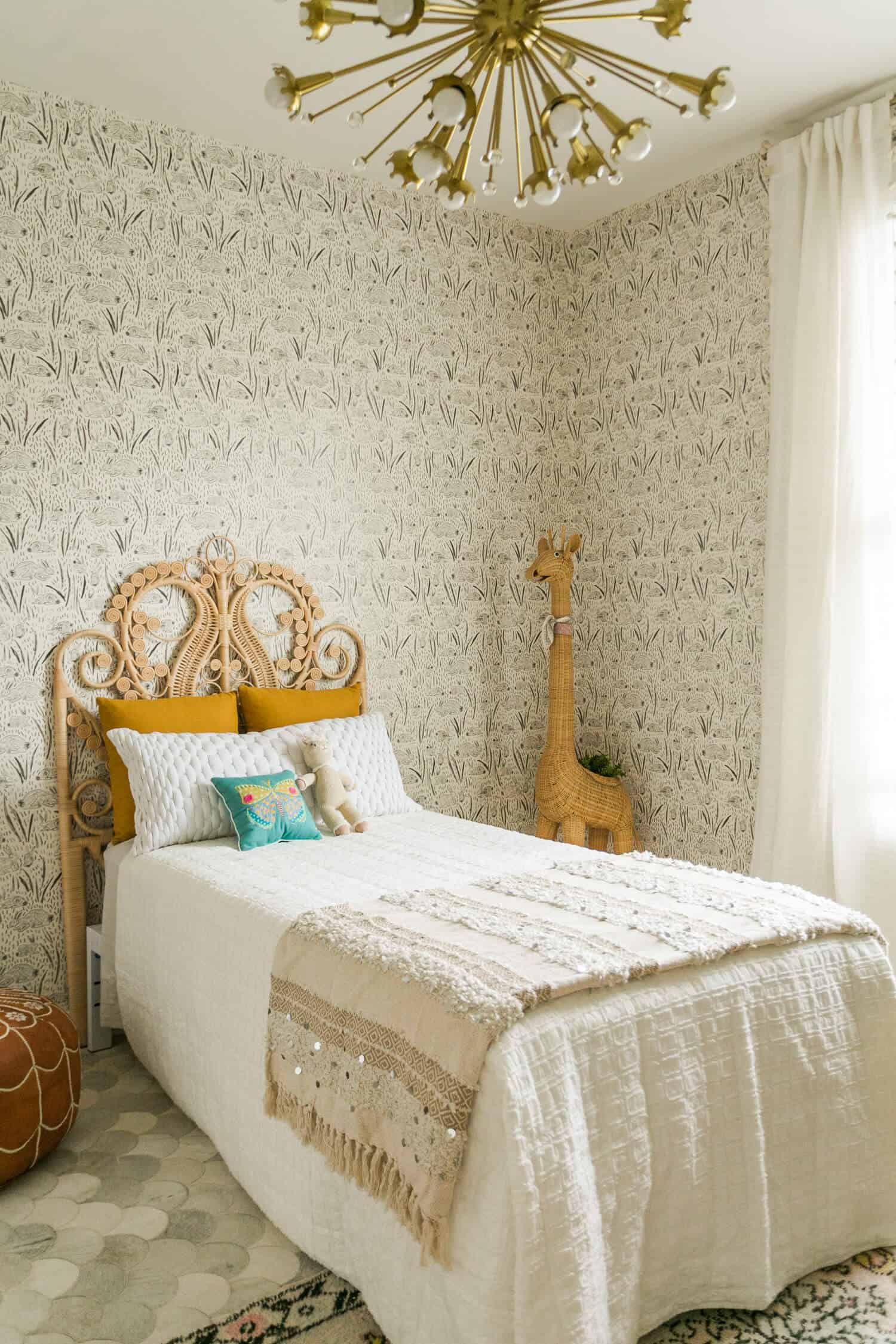 If you're interested in details on that headboard, it was an Amazon purchase, hand-crafted from naturally grown rattan!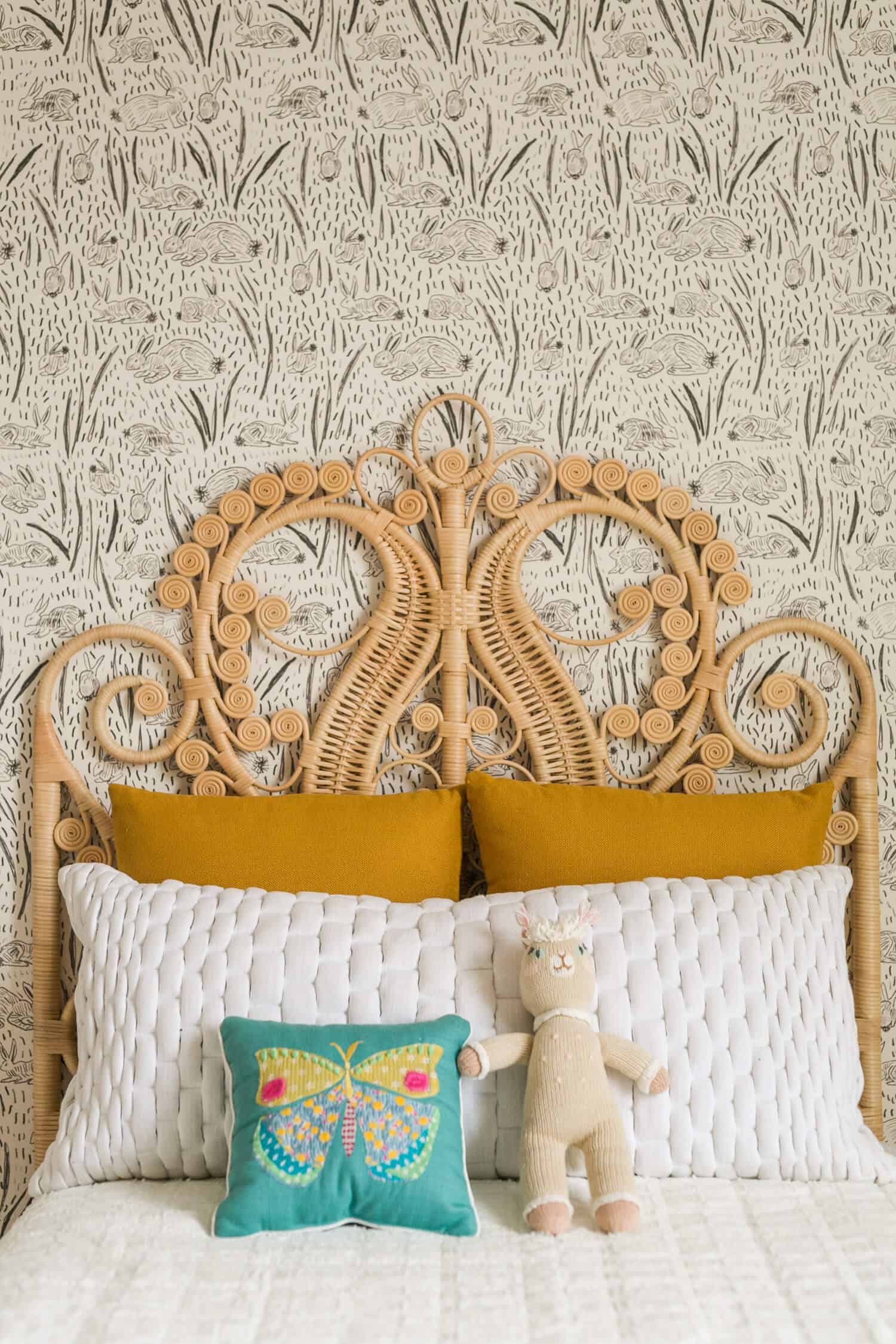 These seagrass baskets from Xinh & Co. are a top seller and one of our all-time favorites. Maybe it's the way the blush pom poms add extra texture without overwhelming the natural feel of the container…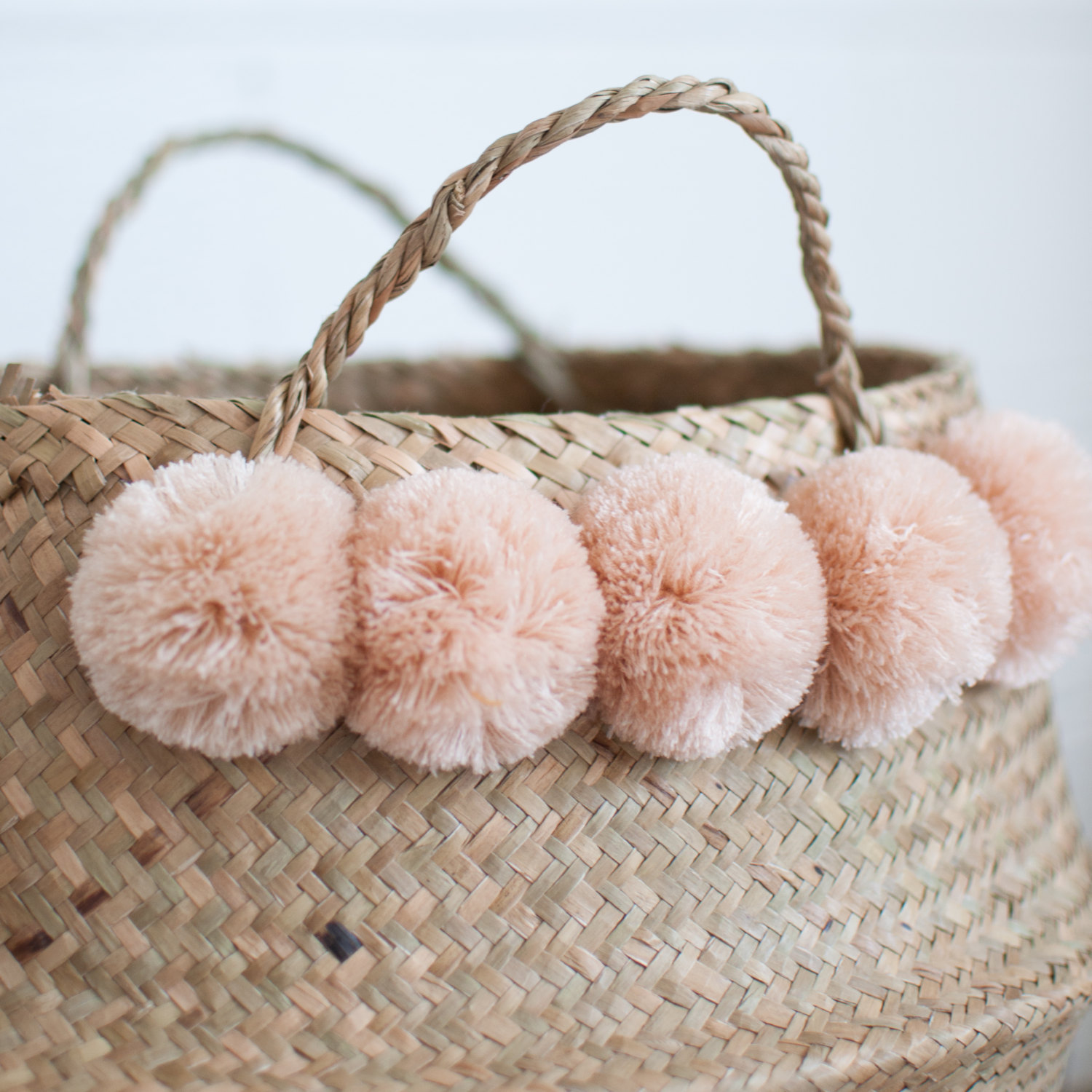 Pom Poms and Tassels
Speaking of pom poms, it's time to revel in the glory of yarn crafts. Pom poms and tassels are undeniably festive, yet they also channel a laid-back feel that's perfect for child-friendly spaces. Can you count the pom poms and tassels featured in this amazing nursery designed by Studio DIY?!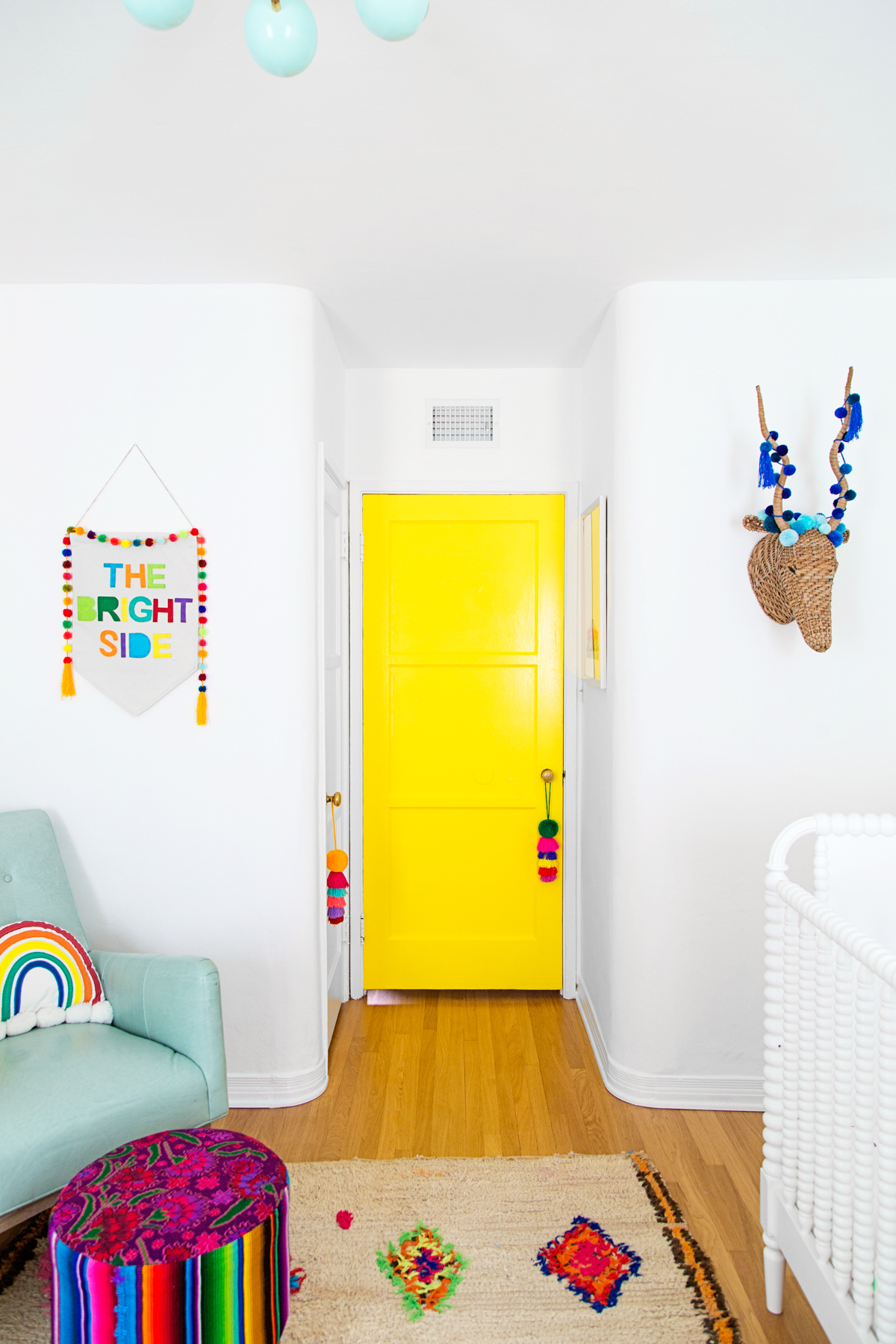 We're 100% smitten with the giant pom pom seen in the background below. Learn more at Pom Pom Projekt.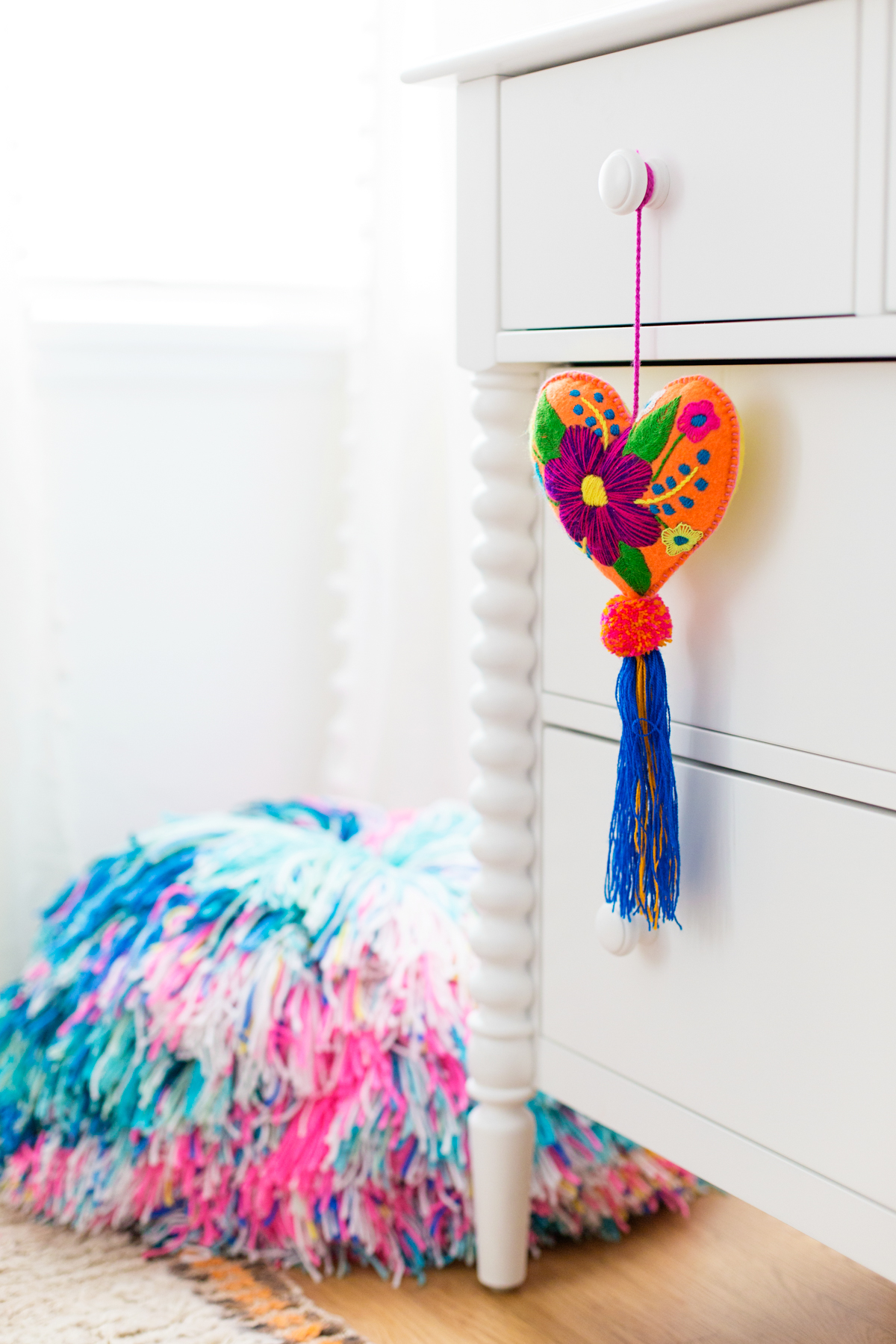 Pom poms on pillows, tassels on wall hangings. There's no limit to the surfaces these embellishments can adorn! The nursery below by Sugar & Cloth features a rectangular throw pillow with colorful poms, as well as a tasseled ABC wall hanging: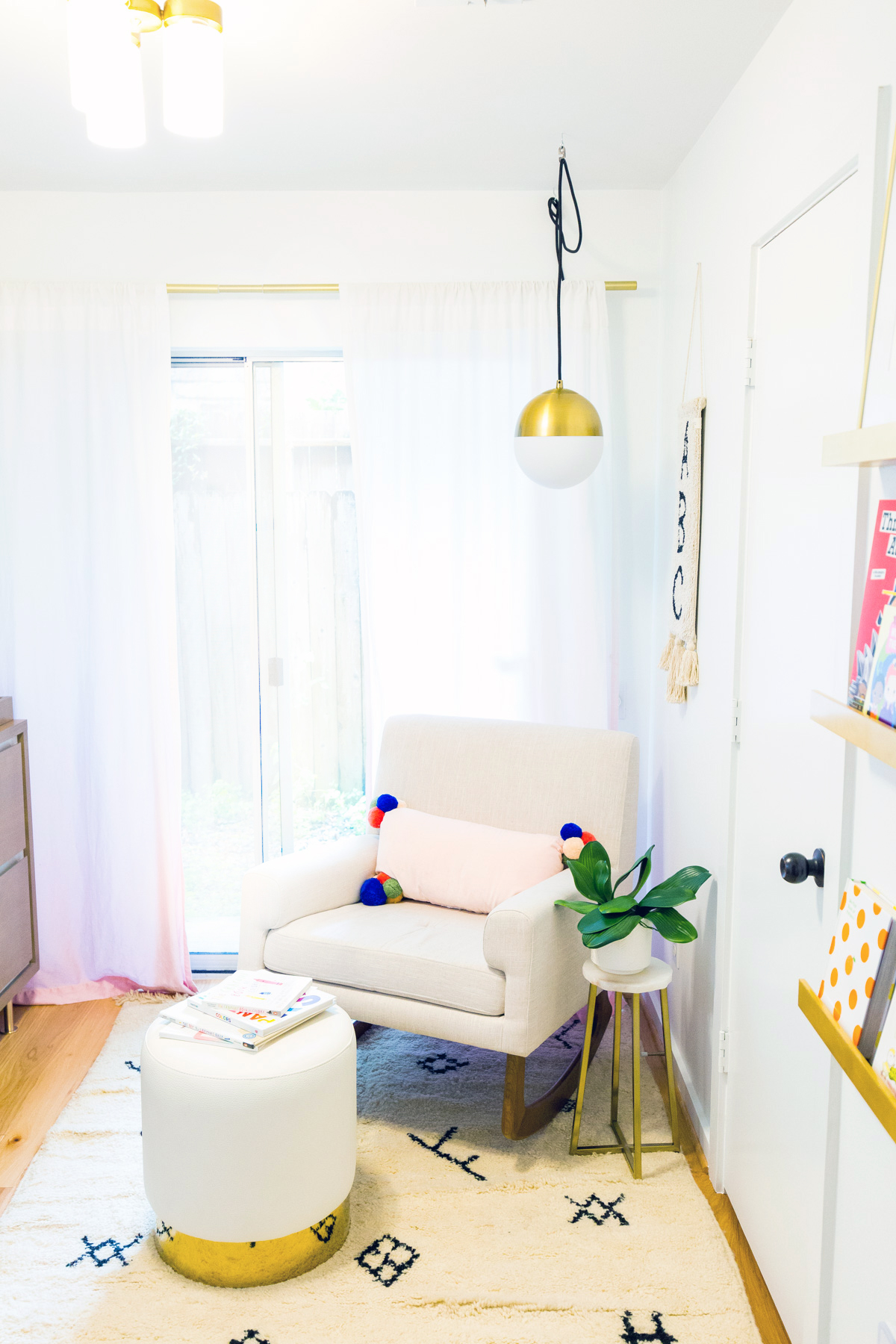 Animal Motifs
We know from the wallpaper section of today's post that animal motifs are alive and well. What better way to celebrate the wonder of childhood, as well as kids' natural curiosity about living creatures?! While animal motifs have always been a natural choice for children's spaces, we've definitely seen a designer take on the theme in recent years. Here we see the previously featured Animal wallpaper by Katie Scott, this time in an earthy shade of Toffee: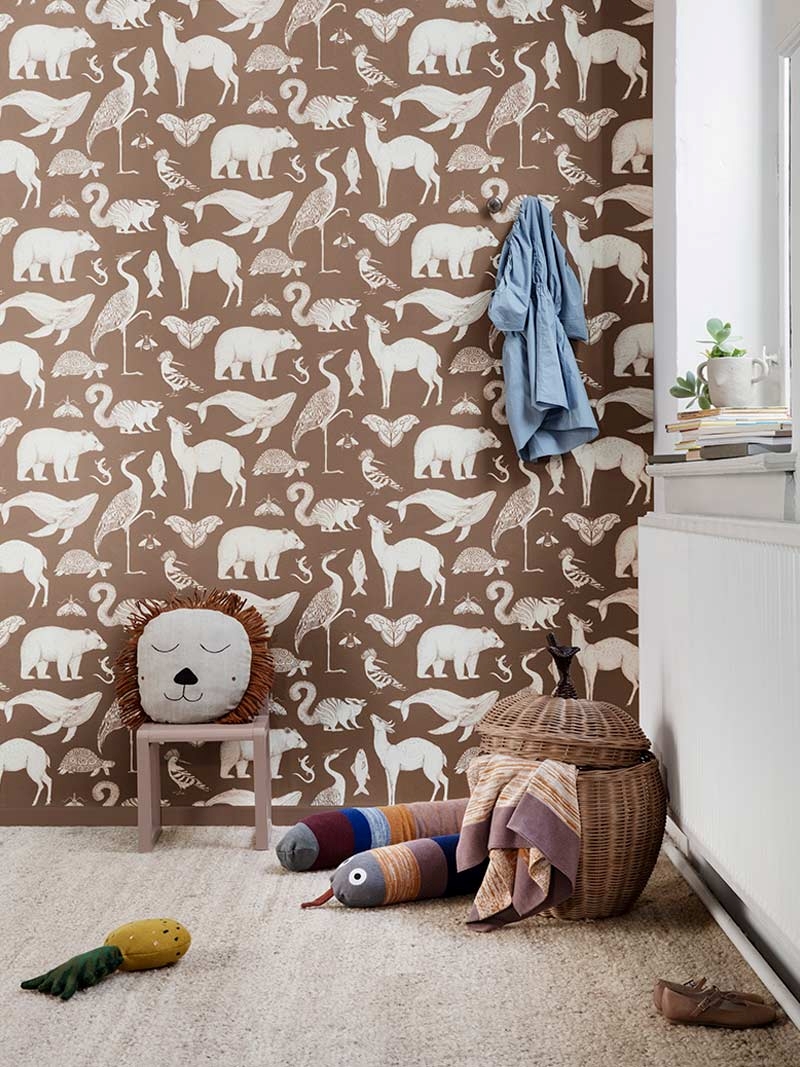 Also from ferm LIVING are these Safari Cushions, beautifully crafted from linen with wool fringe. Available in Rose and Natural hues: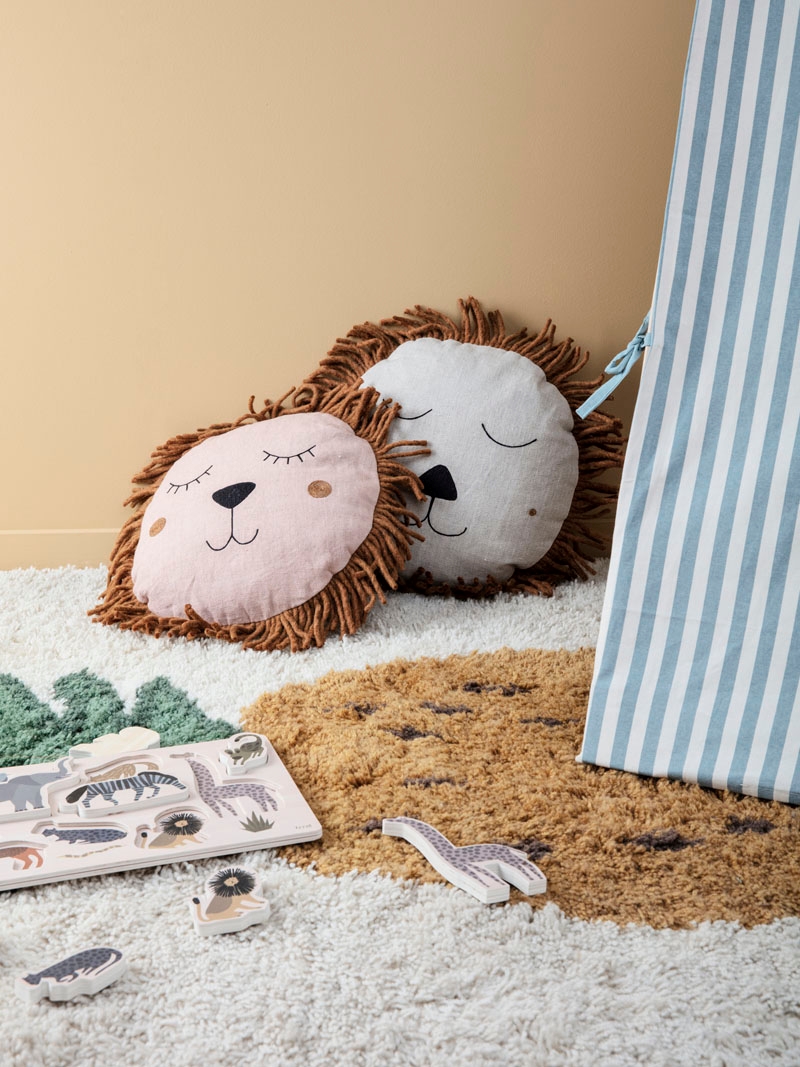 Animal heads created from materials such as fabric and wood are a welcome change for creature lovers who want to celebrate the beauty of living things! This animal head wall decor was designed by Umasqu for Crate & Kids: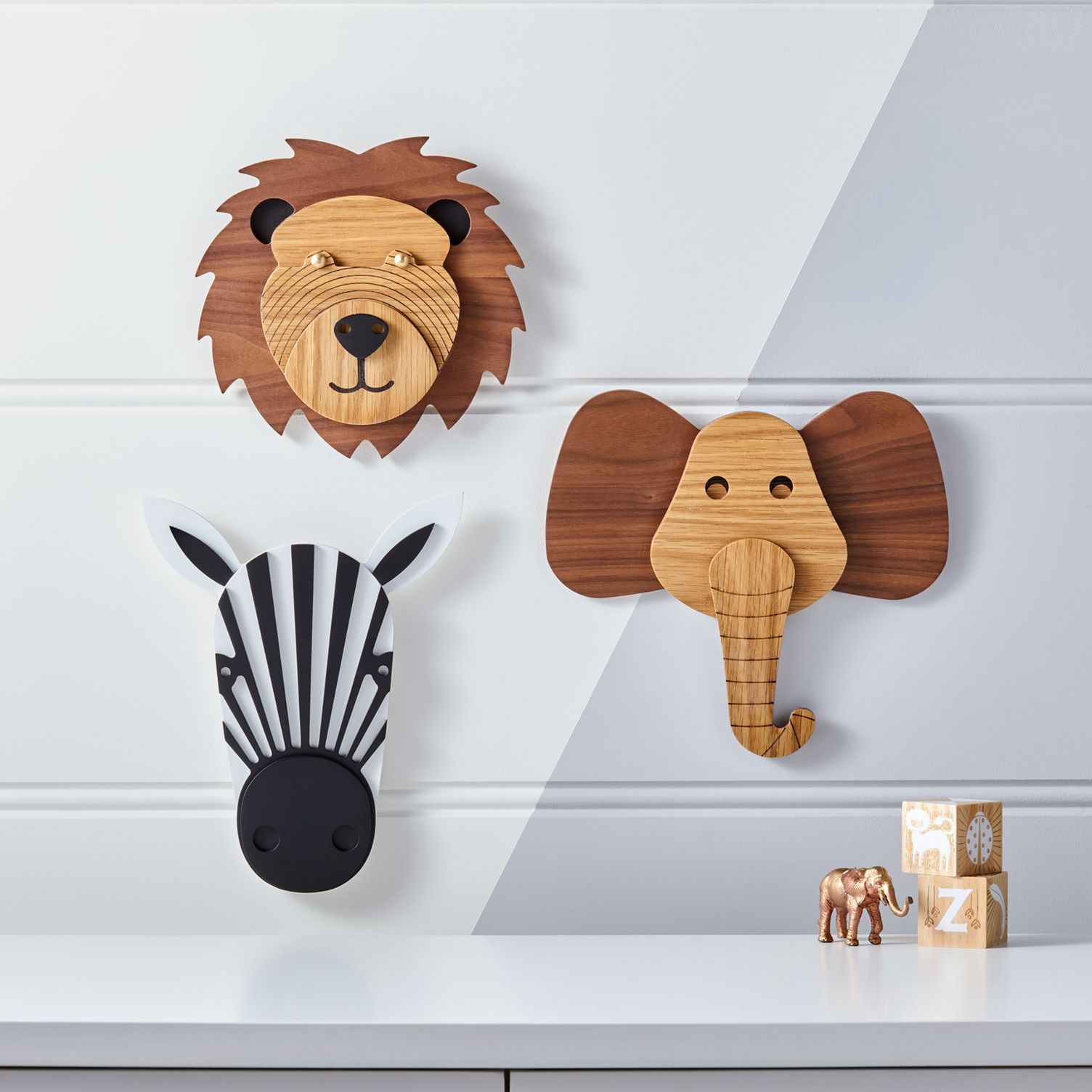 ferm LIVING's Koala Lamp pulls double duty as decor and useful lighting. Bonus points if you mount it on a wall featuring koala wallpaper! Oiled oak veneer is the material of choice.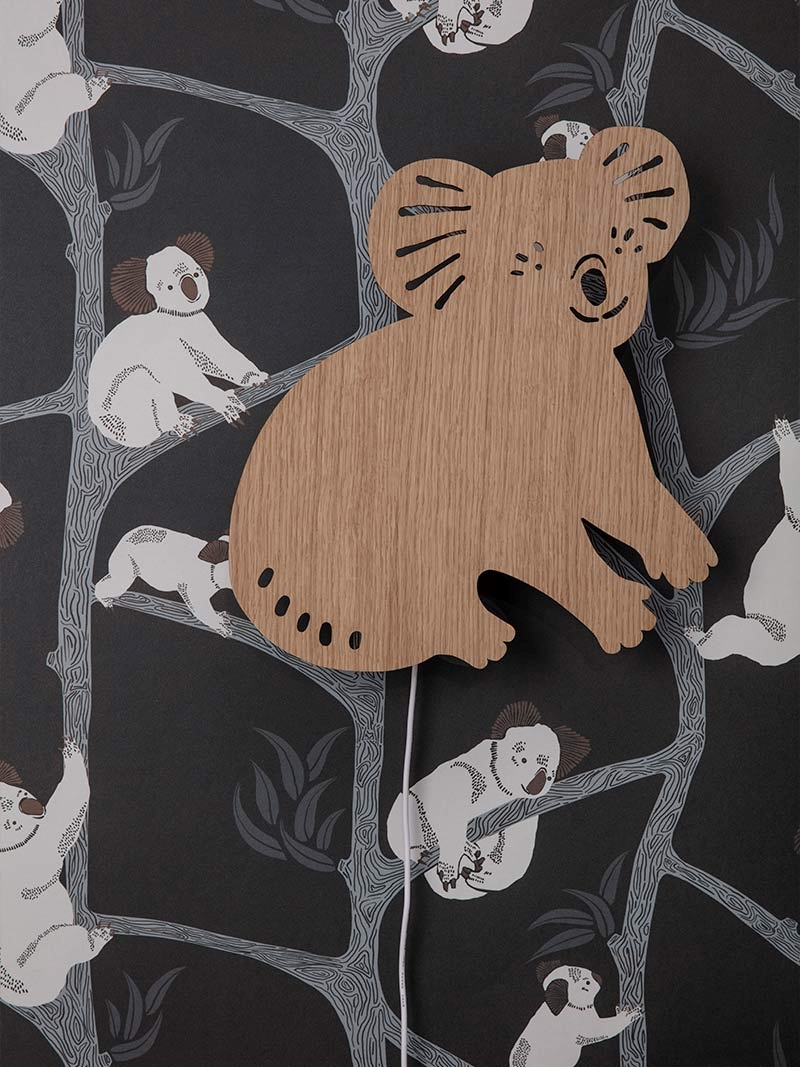 Wall Hangings
While wall hangings have increasingly graced the walls of grown-ups' rooms over last few years, they've definitely been occupying more kids' rooms lately. After all, they're soft and textured, and you can make them as colorful as you like! We recently featured this DIY Tassel Wall Hanging from Honestly WTF in our wall hanging roundup.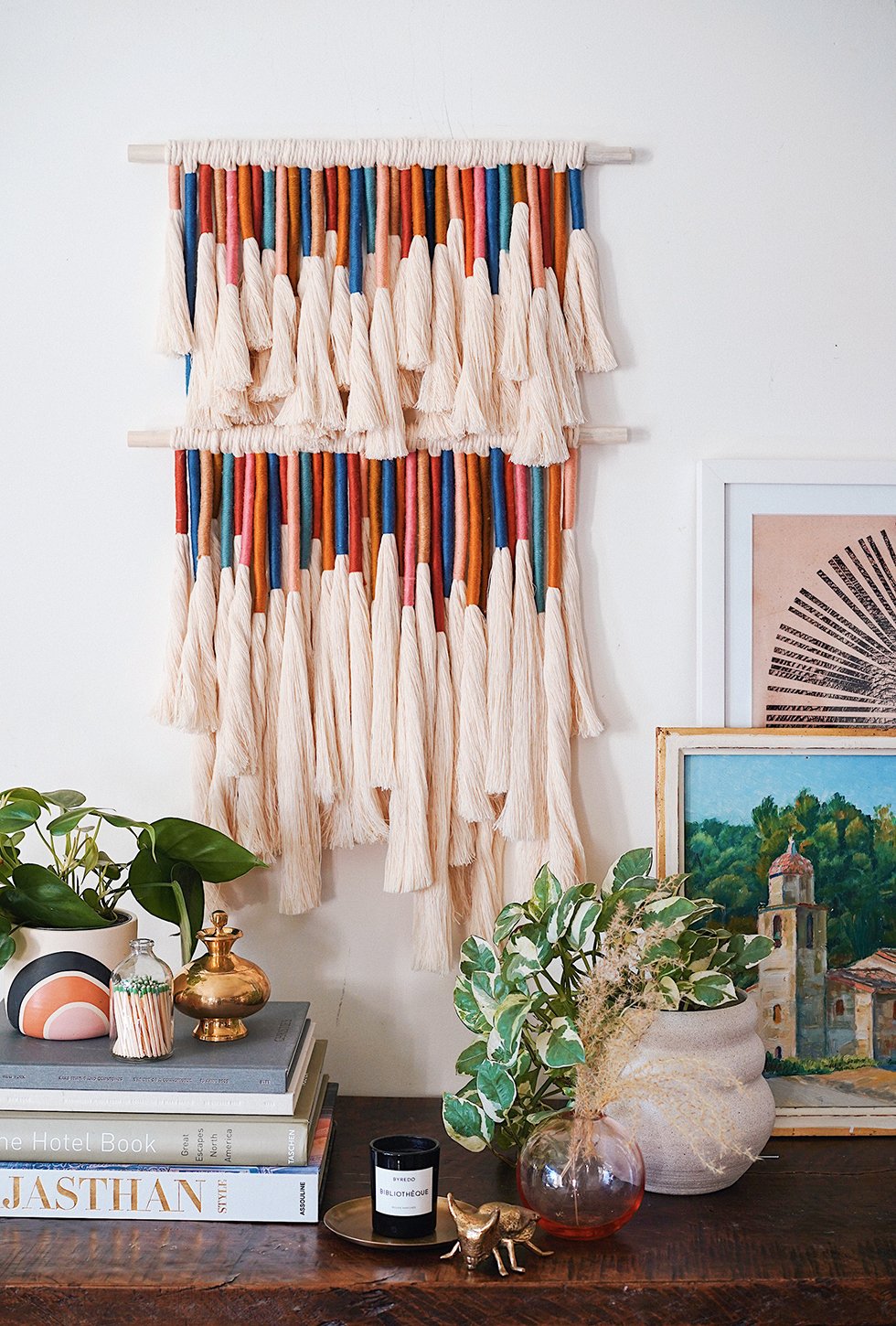 Elsie from A Beautiful Mess was inspired by the tutorial to craft her own, which she showcased in her latest Nursery Tour: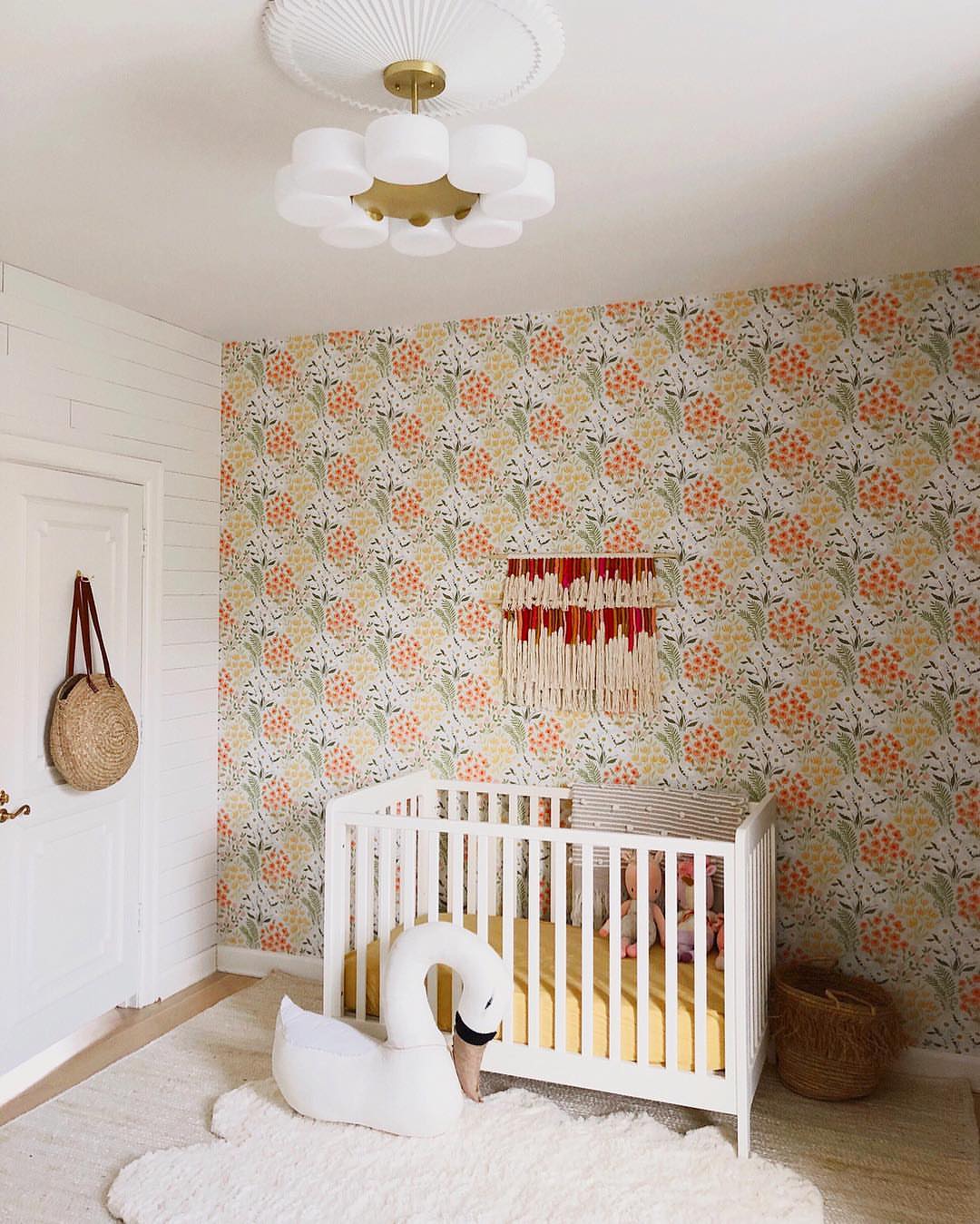 Laura from A Beautiful Mess shared a fun tutorial for a rainbow wall hanging, which was featured in her nursery tour at her own blog, Gummergal. Note the playful colors and retro-modern feel of this project: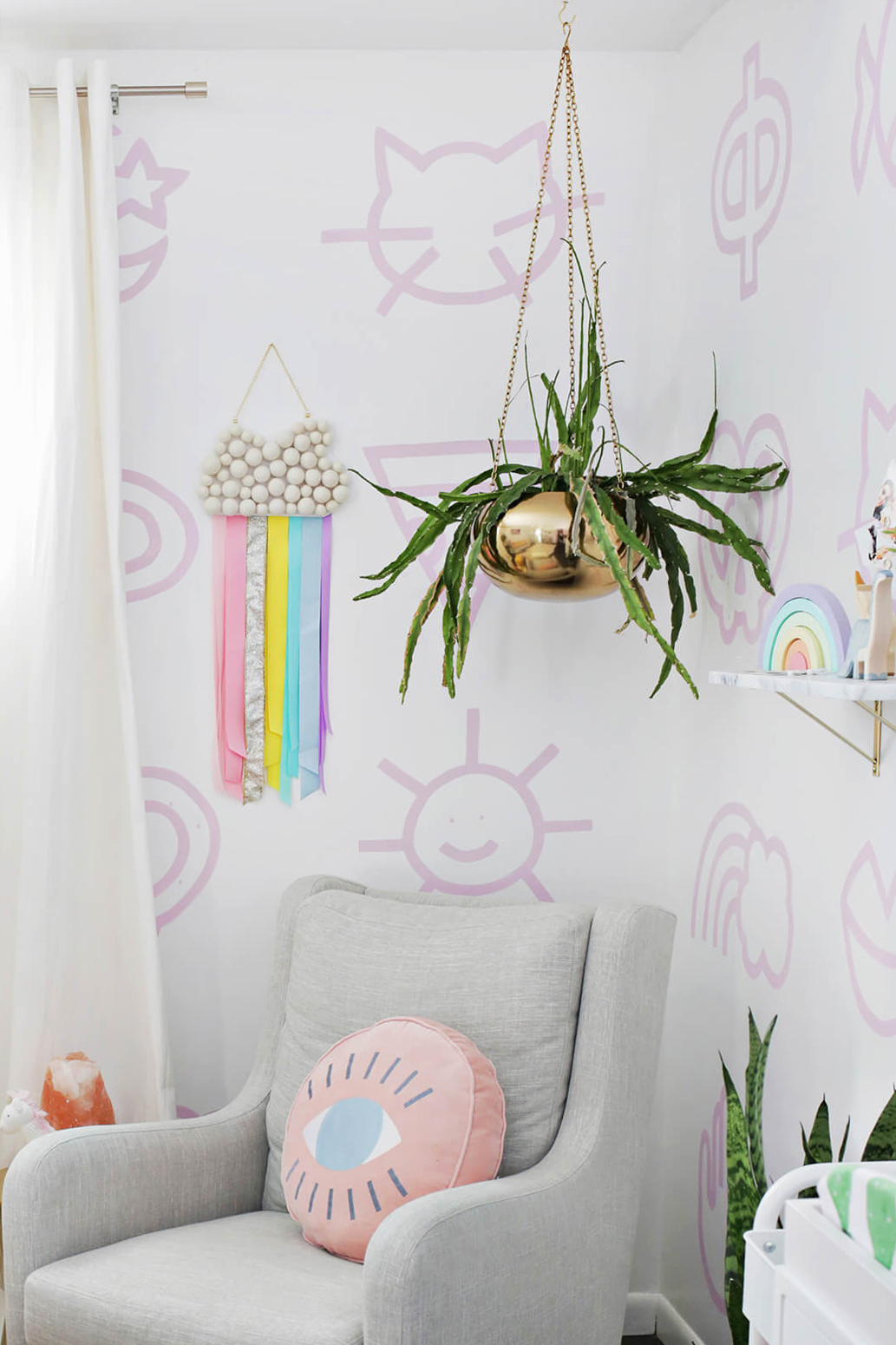 You can also purchase wall hangings if you don't have time to craft one of your own! Which trend featured above is your favorite? Why not combine a few of them to make a statement this season in your child's space? We're already dreaming up a tasseled and pom-pommed wall hanging featuring natural materials… Thanks for reading!