Today we pay homage to the hexagon, as this geo form has carved out its own modern niche in recent years. Not only have design studios and retailers been infusing their collections with hexagons, even DIY bloggers have had fun creating original projects using hex shapes. Check out some of our favorite finds below. Ready to celebrate the power of geometry?…
Hex Style from CB2
CB2 currently offers multiple hexagonal finds with geo flair! We're loving the Hexagon Side Table featured in the image below. Obviously the shape is a winner, but so is the high-gloss rose gold lacquer finish: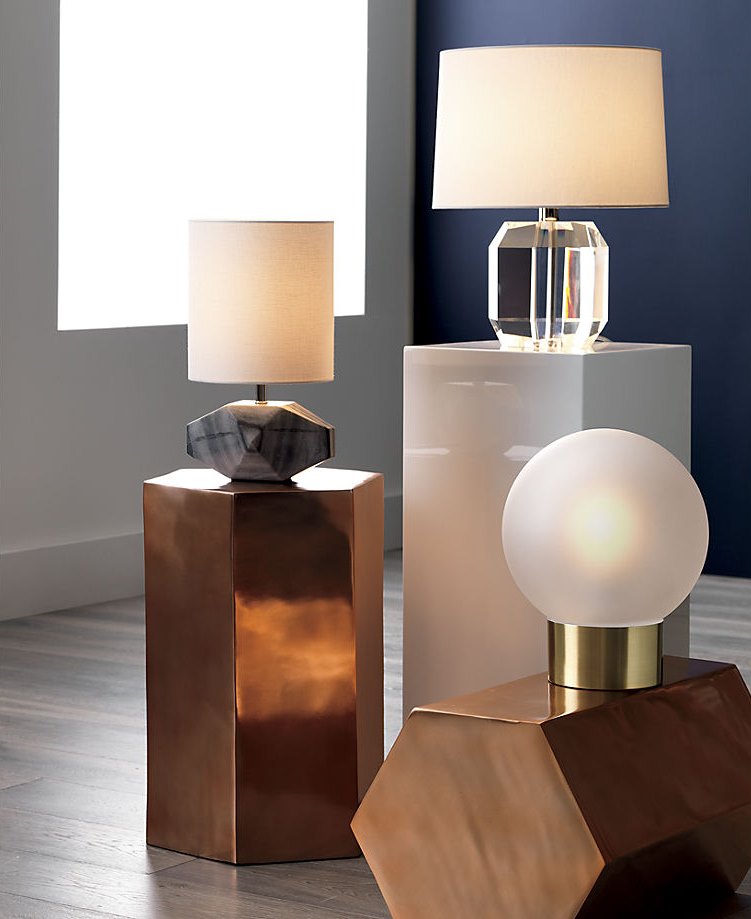 This Set of 3 Swarm 13″ x 15″ Mirrors adds a honeycomb-style grouping to your interior. Arrange the mirrors in the configuration of your choice, or separate them and scatter geo style throughout your home!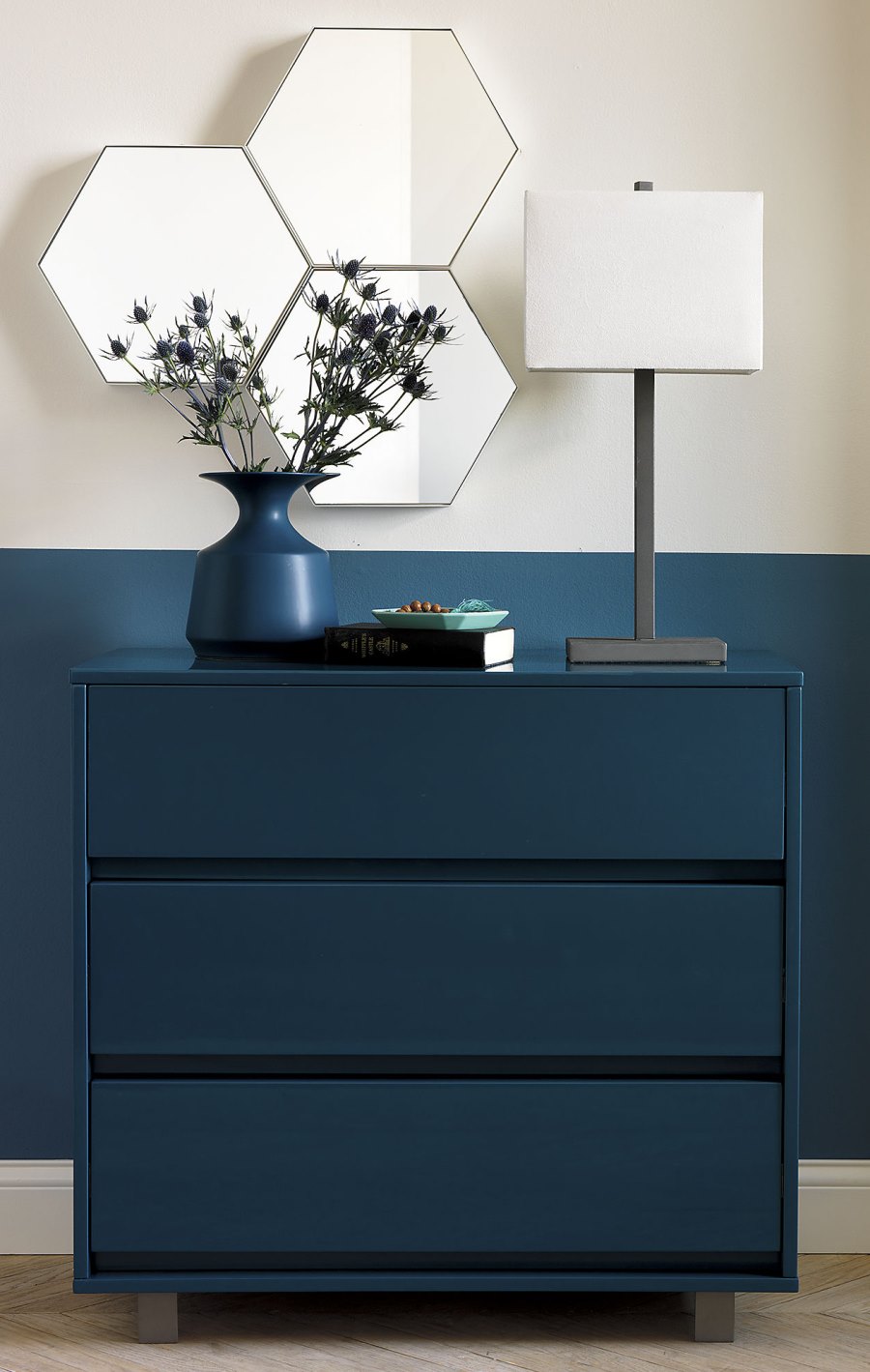 Bring some geo style to your dining table with CB2's Gem Dinnerware. Hexagonal forms + facets = modern design perfection!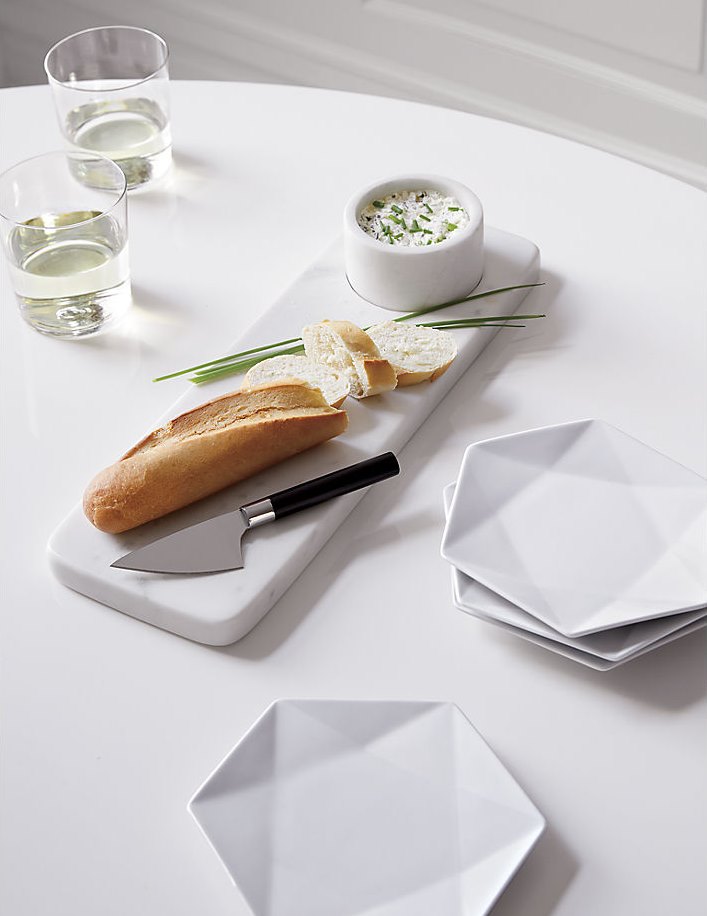 Hexagonal Flair from West Elm
With an undeniably clean-lined style and commitment to modern design, West Elm has been quick to celebrate the hex design trend! These Hex Side Tables are geo-fabulous in a hive-style grouping, but they're bold enough to stand on their own as well. Let's hear it for the power of marble and steel!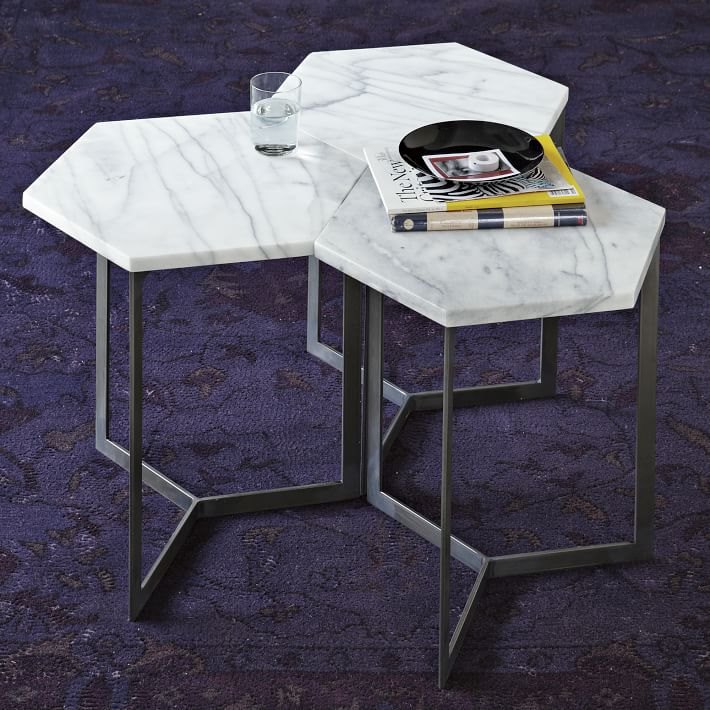 Bring a hex pattern to the floor with the Overlapping Hexagon Rug. This hand tufted piece truly is versatile, as it will beautifully complement interiors ranging from the ultra modern to the Hollywood Regency.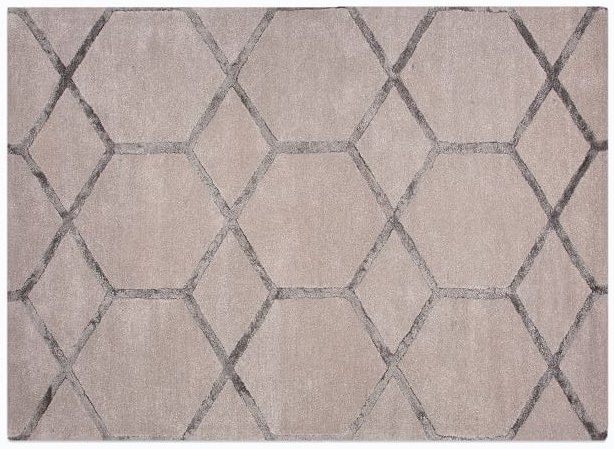 These Marble + Wood Geometric Objects are part paperweight, part work of art! Mango wood and marble are the materials of choice: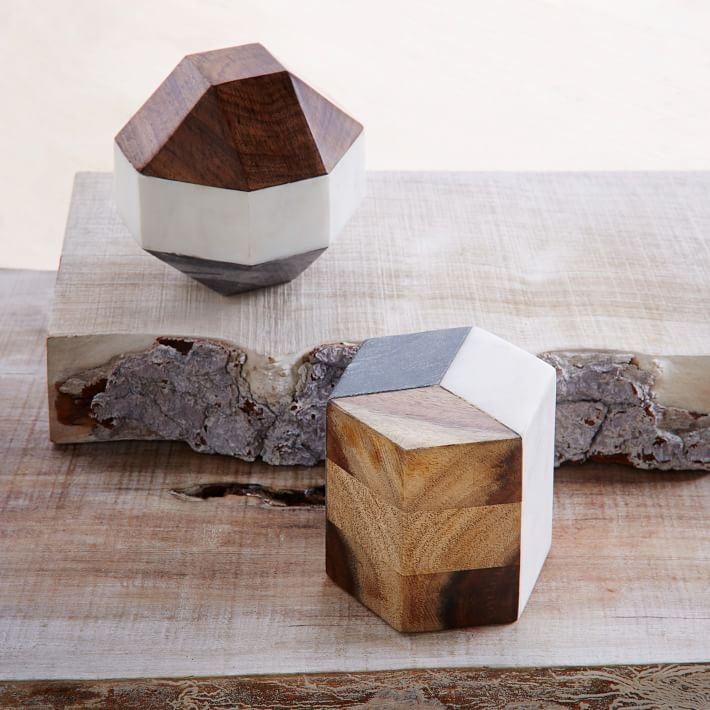 Six-Sided Style from Fort Standard
Oh how we love the flawless modern style of Fort Standard! It's not at all surprising that this New York-based design studio would be leading the pack when it comes to marble hex creations that celebrate clean-lined forms. And these Hexagon Marble Trivets in Cloud Onyx couldn't be more on-trend. Add a leather backing to prevent surface-top scratching and you have the perfect blend of function and style.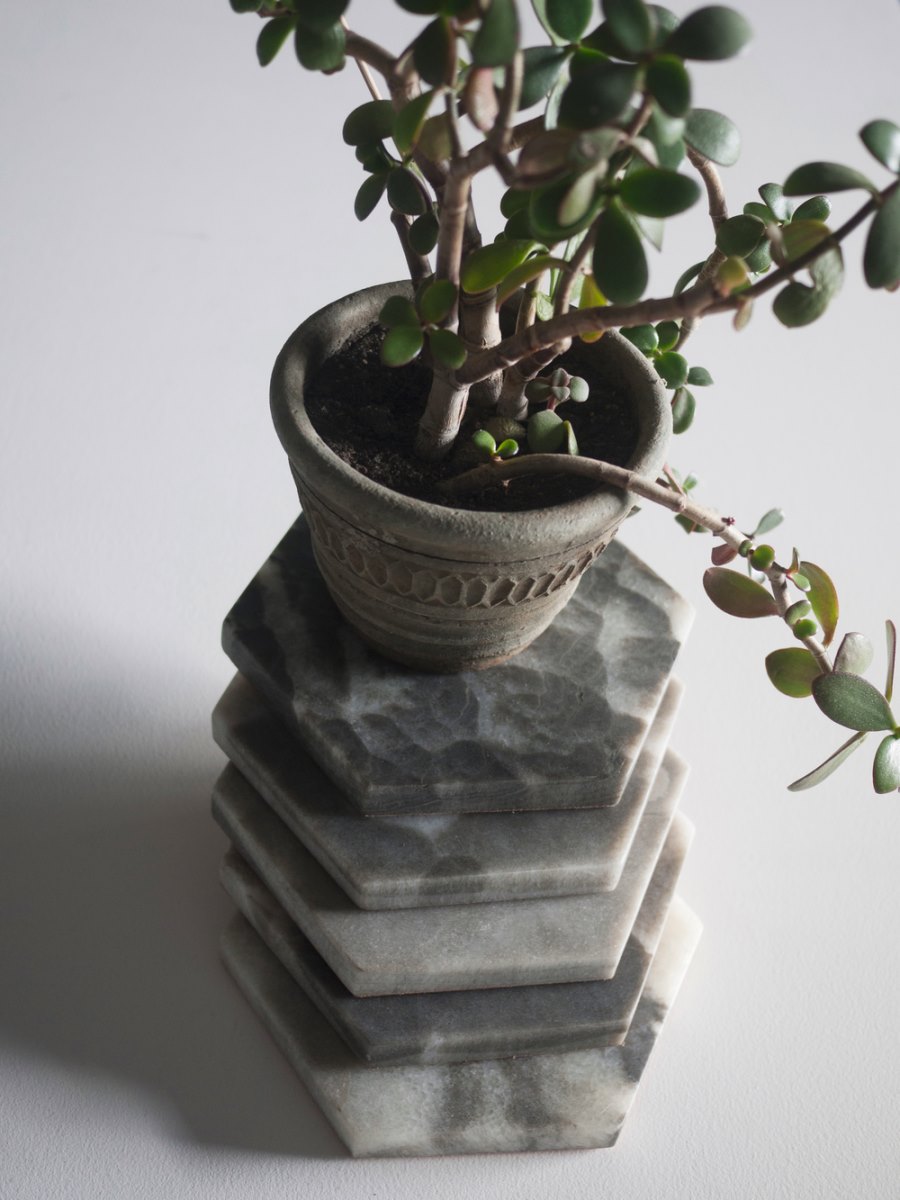 For a lighter look, check out the trivets in white Carrara marble: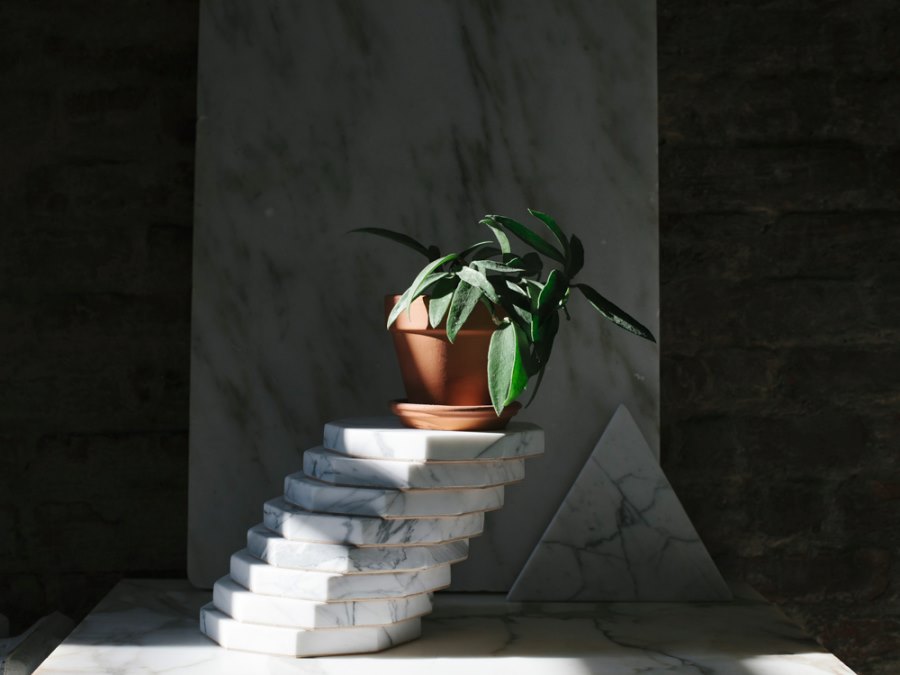 And there's nothing like mixing hexagons with other geo forms! Throw some pentagons and circles into the mix by purchasing a few of these Marble Candleholders: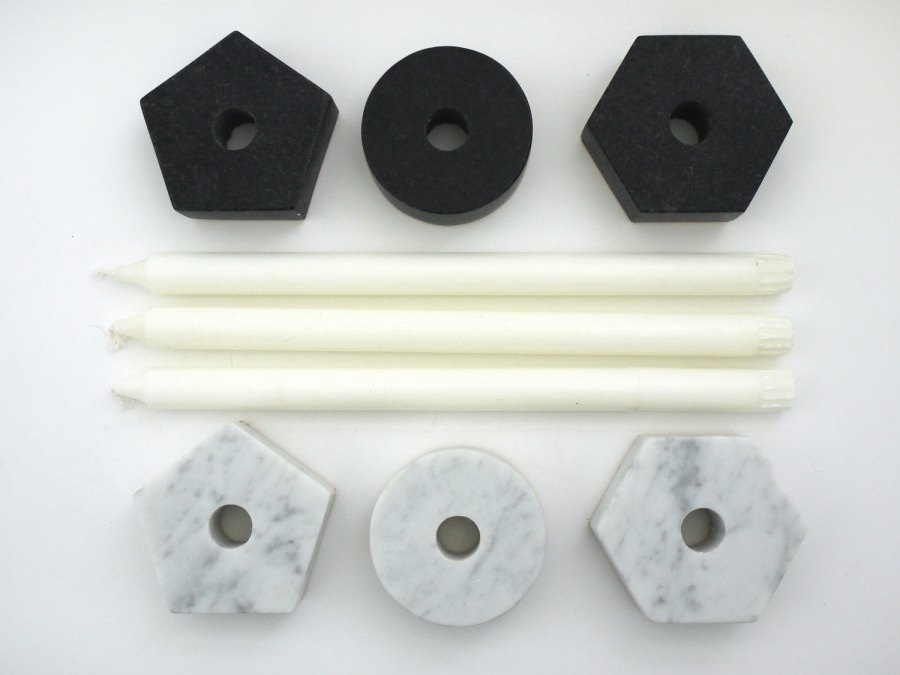 Hexagonal Finds from ferm LIVING
Of all the brands featured in today's post, ferm LIVING has the largest array of hexagonal finds. And brass is where it's at! The grouping below features the Hexagonal Vase, as well as two Hexagon Pots: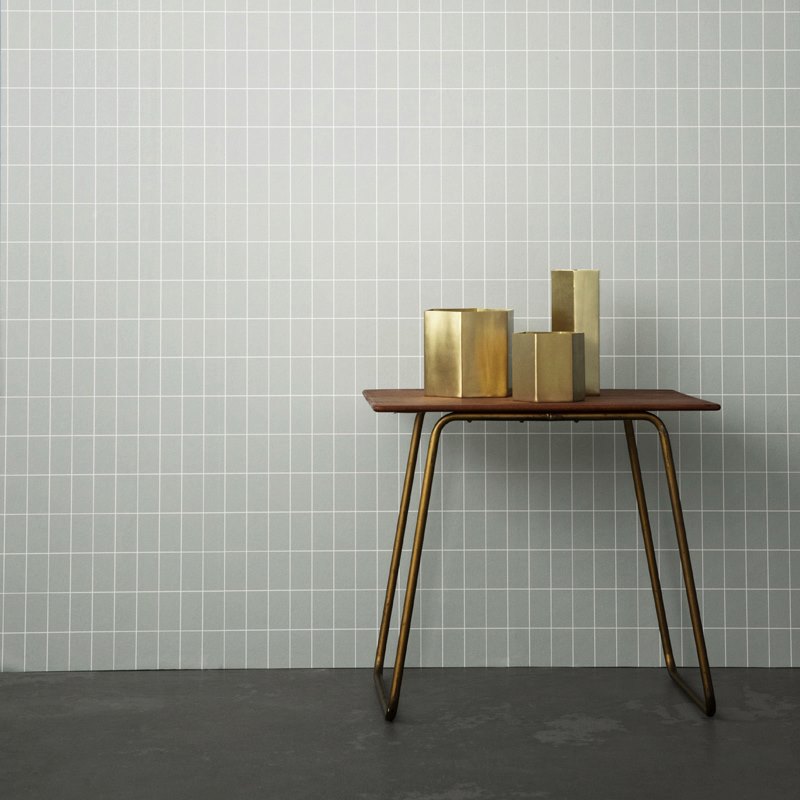 Next we see two sizes of Hexagon Pots, resting stylishly on ferm LIVING's Plant Stands in Small and Large: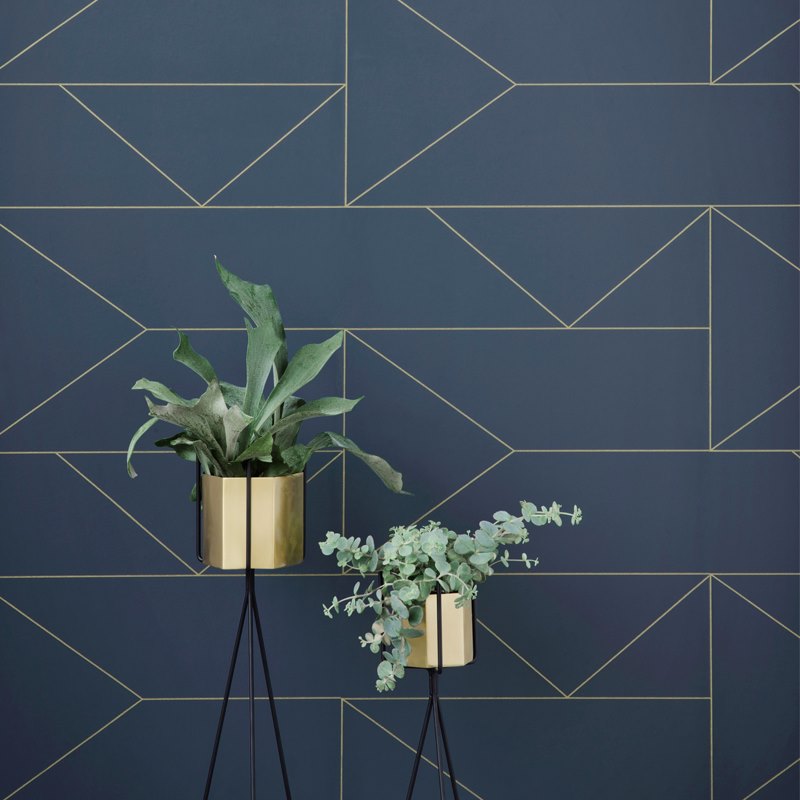 This Hexagon Stand combines two of our favorite items: marble and brass. Use it to add a dash of hex style to the kitchen. And yes, it's a paper towel holder!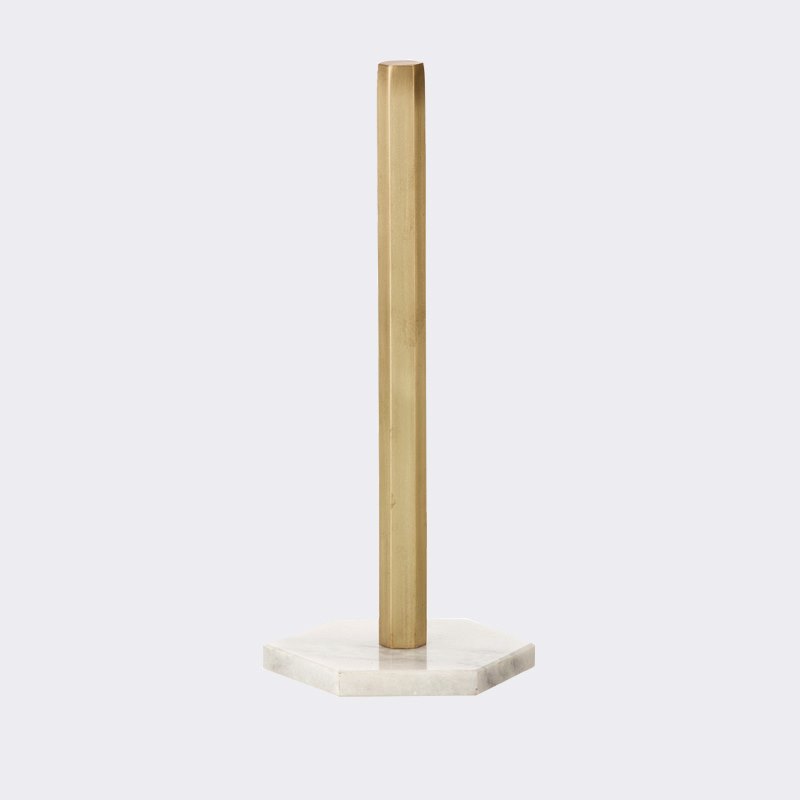 Is it a useful tool or a sculptural object? You're looking at ferm LIVING's Hexagon Bottle Opener. But there's no rule saying you can't use it as a sculptural object! Keep it on display in your kitchen for a dash of neo geo flair: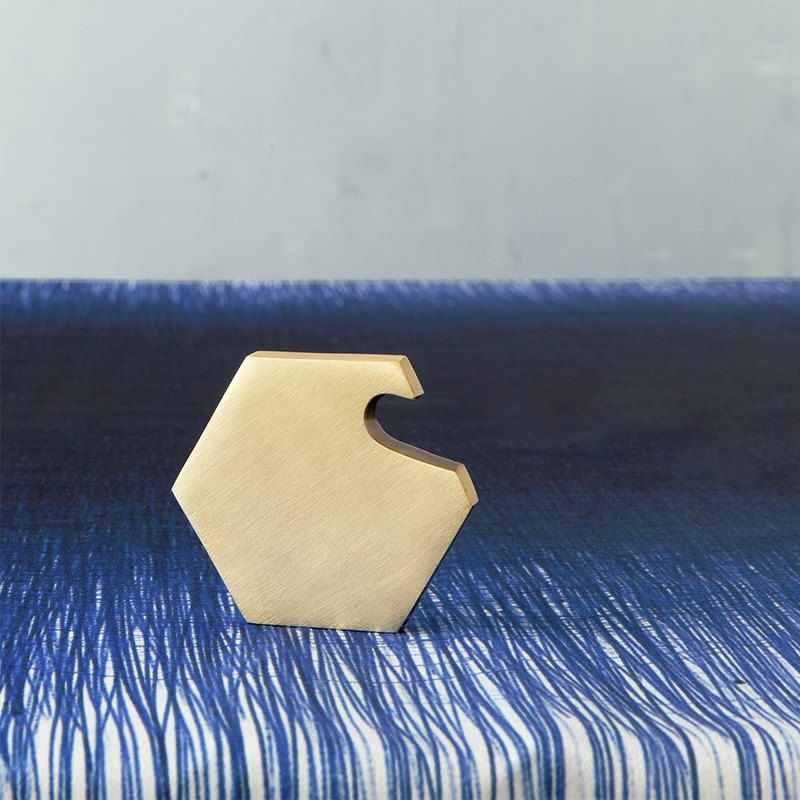 DIY Hexagon Flair
Many of today's featured finds are high end, so if you're looking to celebrate hexagonal style on a budget, this section is for you! DIY bloggers have definitely zoned in on the hex trend, and there are some amazing hexagon-themed projects to choose from if you're feeling crafty. These DIY Marble Coasters are easy to make, thanks to hexagonal tile you can pick up at your local hardware or flooring store: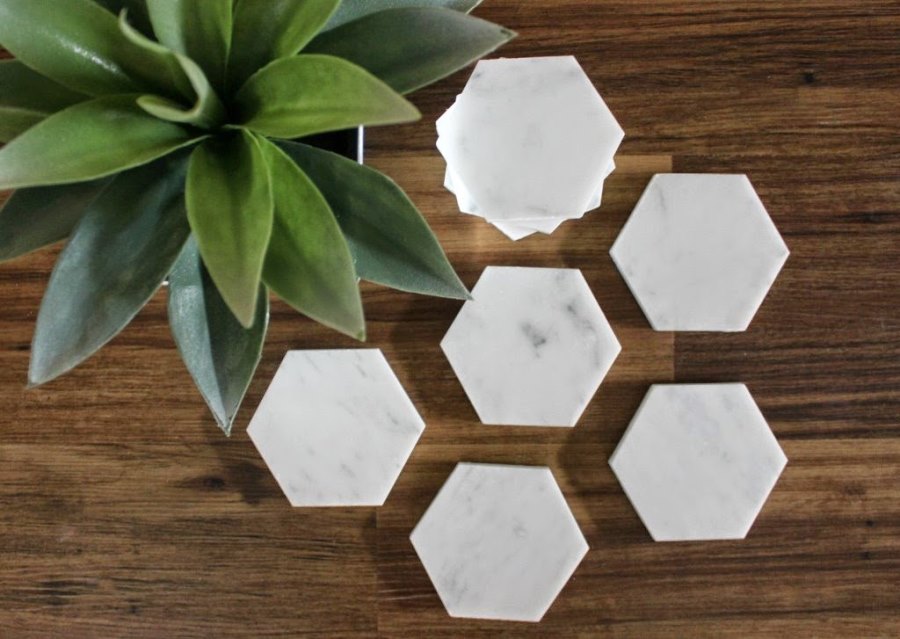 If you like the hexagonal pots featured in the section above, you'll love this DIY from Brittni Mehlhoff for Curbly. Instead of brass, she uses copper-toned contact paper to cover cardboard that's then shaped into hex formations. Clever, don't you think?!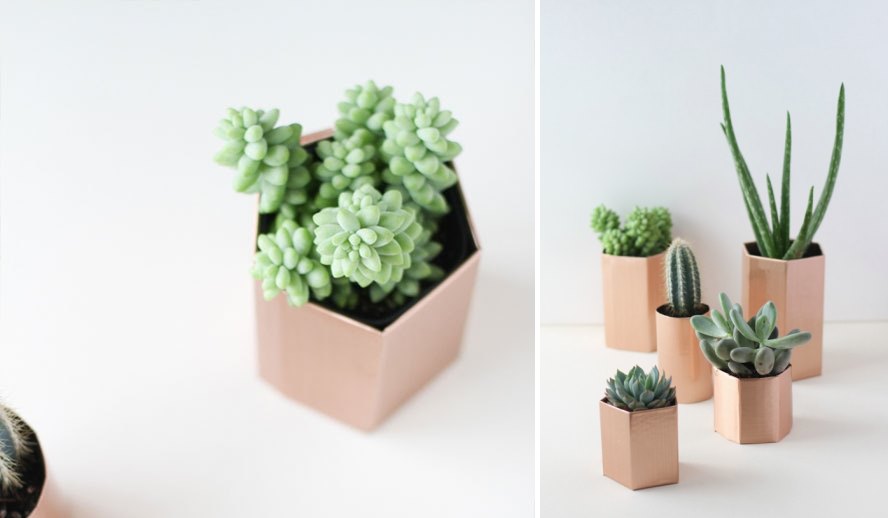 White clay, a gold leaf pen and clear acrylic spray are three key ingredients used to create these gorgeous DIY Hexagon Ring Dishes from Homey Oh My! See the full tutorial here.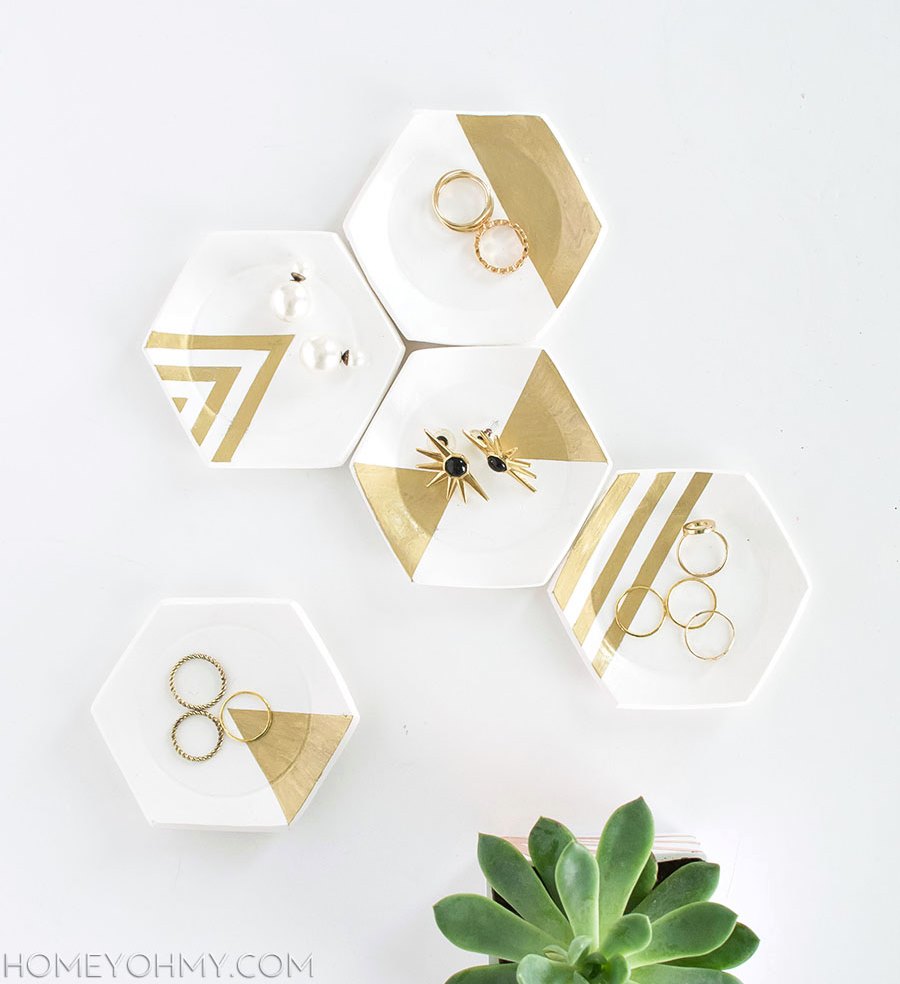 For a final DIY idea that makes a big impact, check out these DIY Hexagon Shelves from Cardboard from HGTV Handmade. You can watch a video tutorial on YouTube for a helpful step-by-step explanation of this striking project.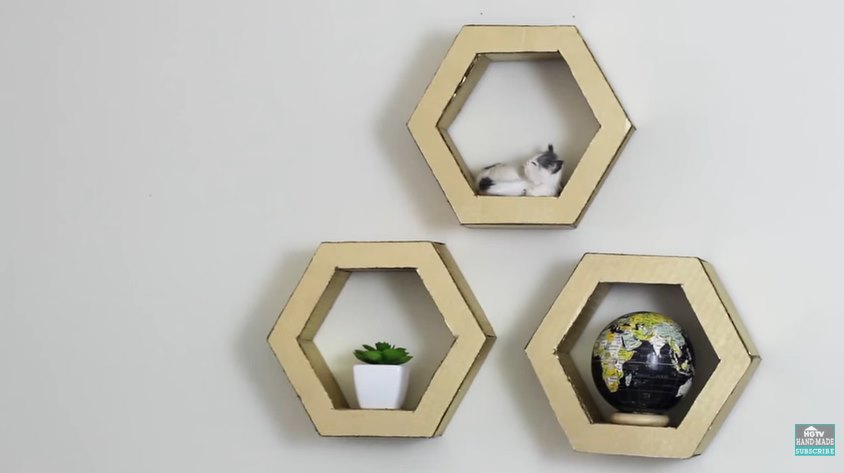 Unexpected Hexagonal Style
We end today's post with hexagonal pieces that take function and style to a whole new level! We can't take our eyes off this Mirage Hex Corner shelving system from Ladies & Gentlemen Studio. Mirror and glass are the featured materials, and together they work to create a kaleidoscopic effect.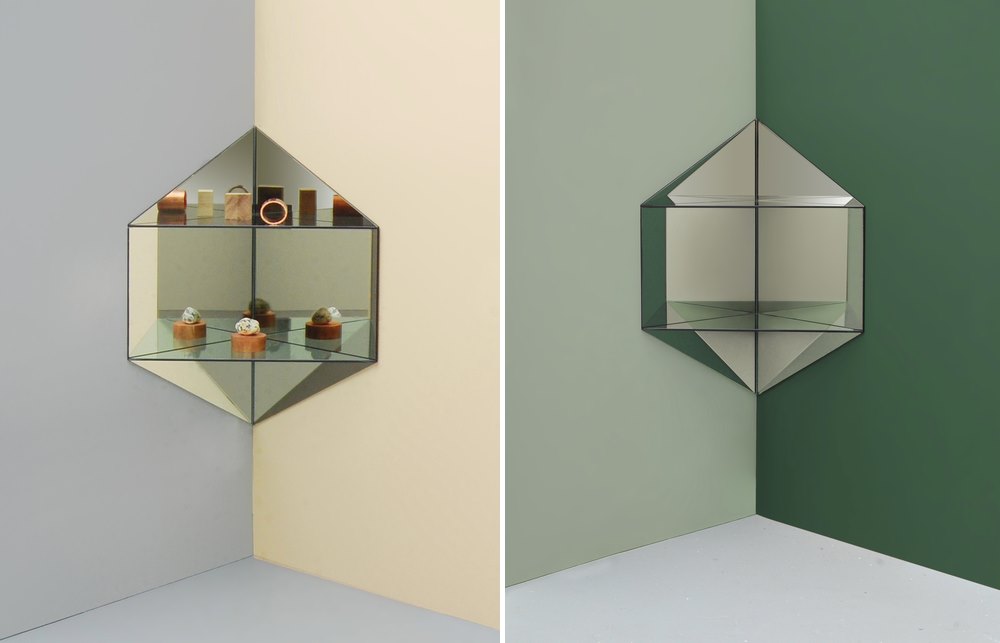 You can even bring hexagonal style to your powder room, thanks to Urban Outiftters' Hexagon Towel Ring. If only that Hexagon Soap Dish weren't sold out…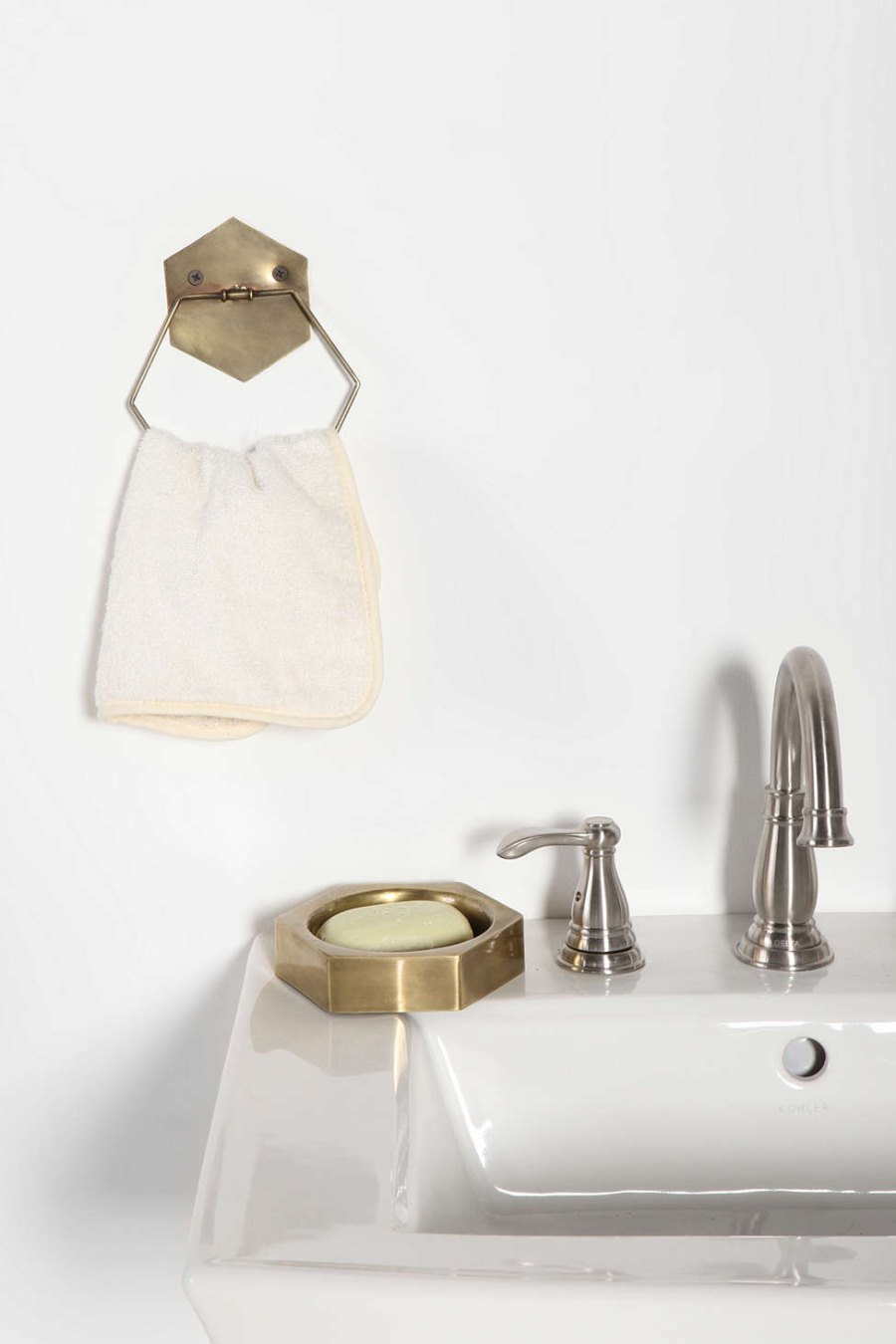 We thought about including these ornaments in the ferm LIVING section above, but they seemed like a great way to top off today's post. After all, there's nothing like looking forward to the upcoming holidays by dreaming of a tree filled with geo ornaments. These hexagon ornaments in brass and porcelain are truly unique: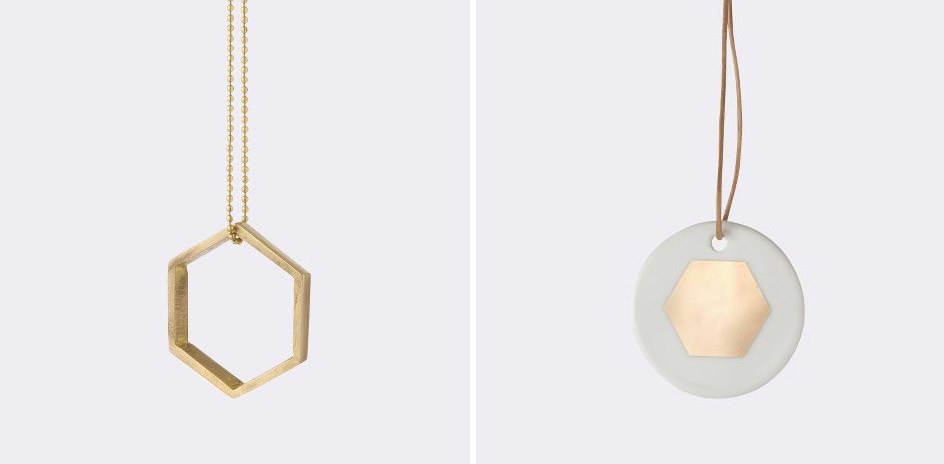 Are you a fan of hexagon decor? How will you incorporate it into your home?…