One of the key components of any living room is the coffee table. It is set right in the center of all happening, usually standing right next to the sofa, holding a tray of baked goods, books or other decor pieces. It is an element that has a big functional purpose, but how it looks plays a very big role. It can be a piece that completely matches the rest of the interior or the one piece that stands out. A glass coffee table is incredibly flexible with its ability to blend in and stand out at the same time. It brings elegance and transparency to the room, sending the message of purity and simplicity.
Glassy and Eye-Catching Designs
Since glass is transparent it does wonders in broad daylight. The sun rays go right through it, resulting in a well lit room that isn't weighed down by the furniture but actually feels bright and luminous. If you like your space to be filled with as much light as possible, almost giving away the illusion of being outdoors, a glass table should be on your top priority list!
RELATED: 30 Live-Edge Coffee Tables That Transform the Living Room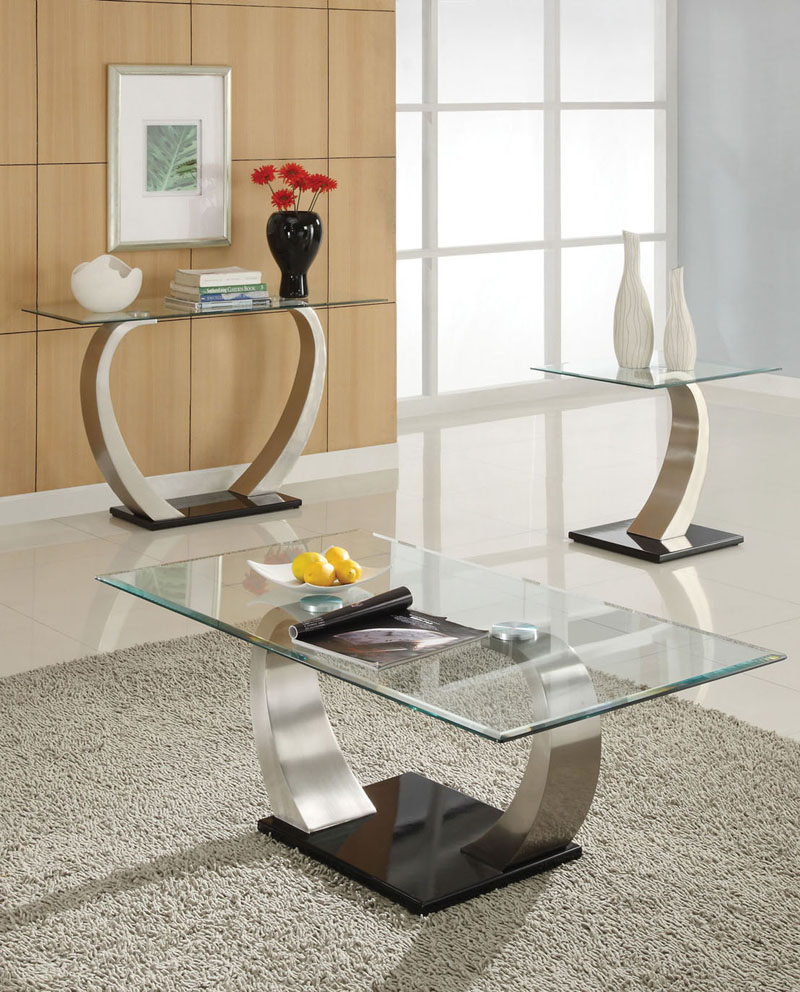 Play around with decorating your coffee table and realize that it can stand alone as a decor piece and be flawless! If you really don't need it for its functionality, it will do brilliantly illuminating decor pieces you'll decide to set upon it!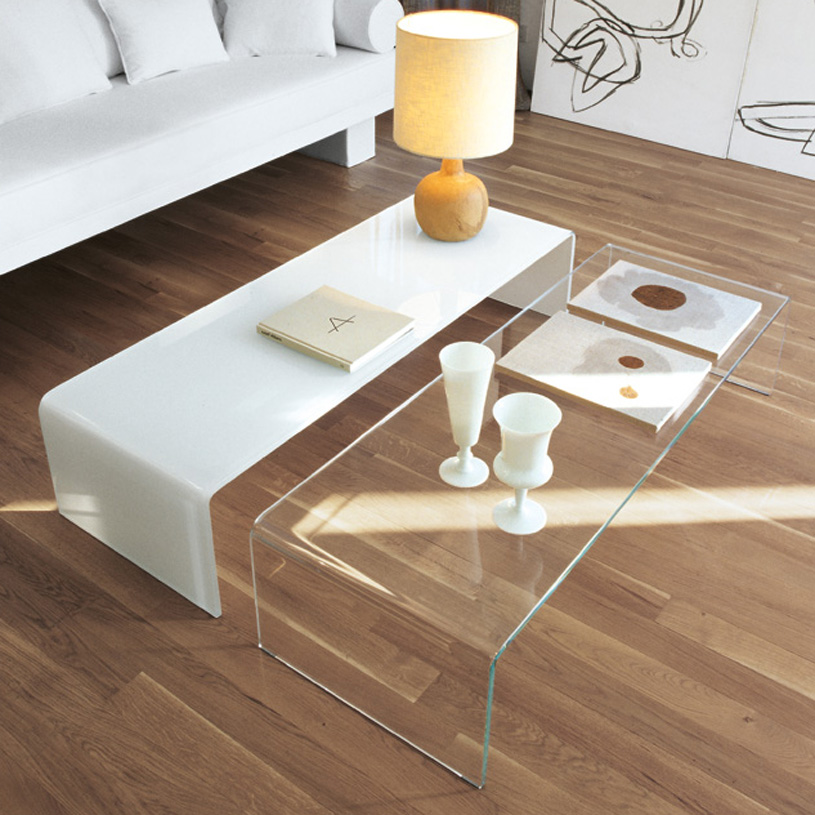 For a mixed and unique styling, pair your transparent coffee table with a white coffee table that radiates elegance and minimalism just as well, but brings a special element to the room!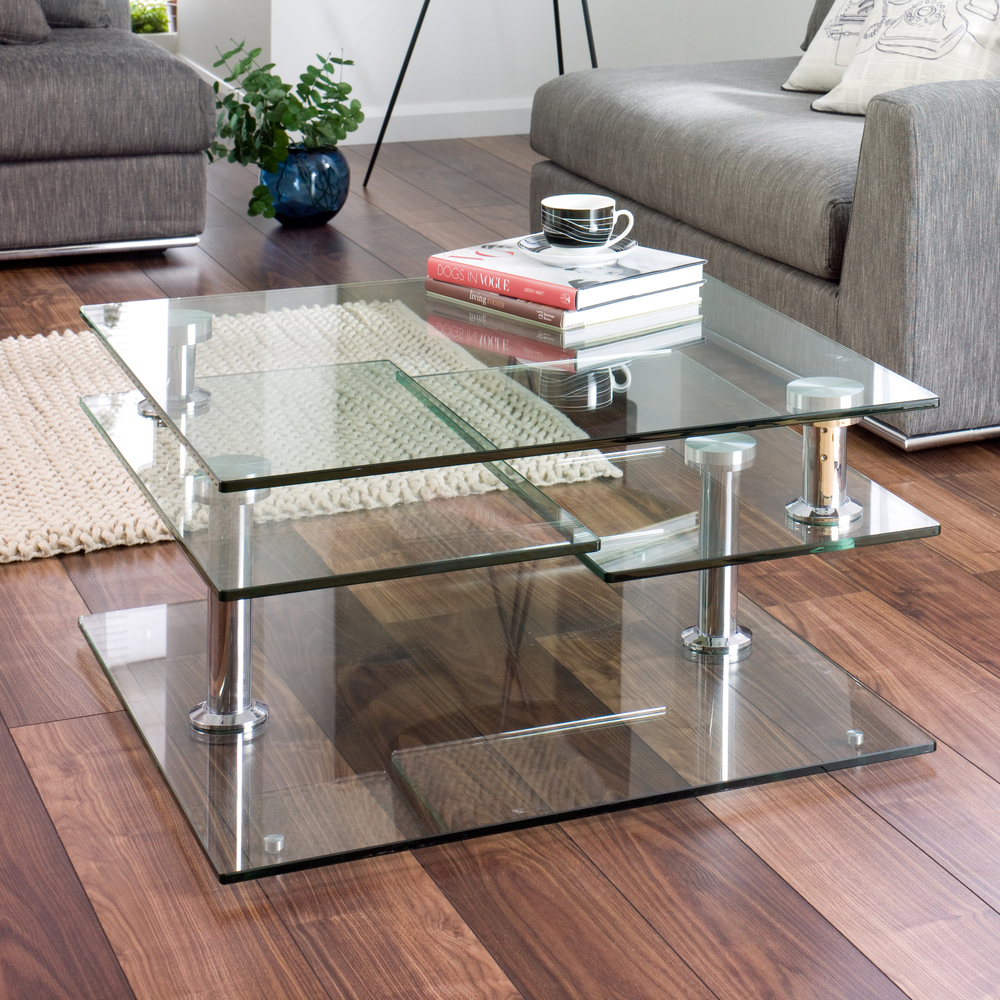 Modern coffee tables are a total hit and not only do they look good, the more levels you get the more storage space you have! When functionality meets the latest trends, the perfect coffee table is born!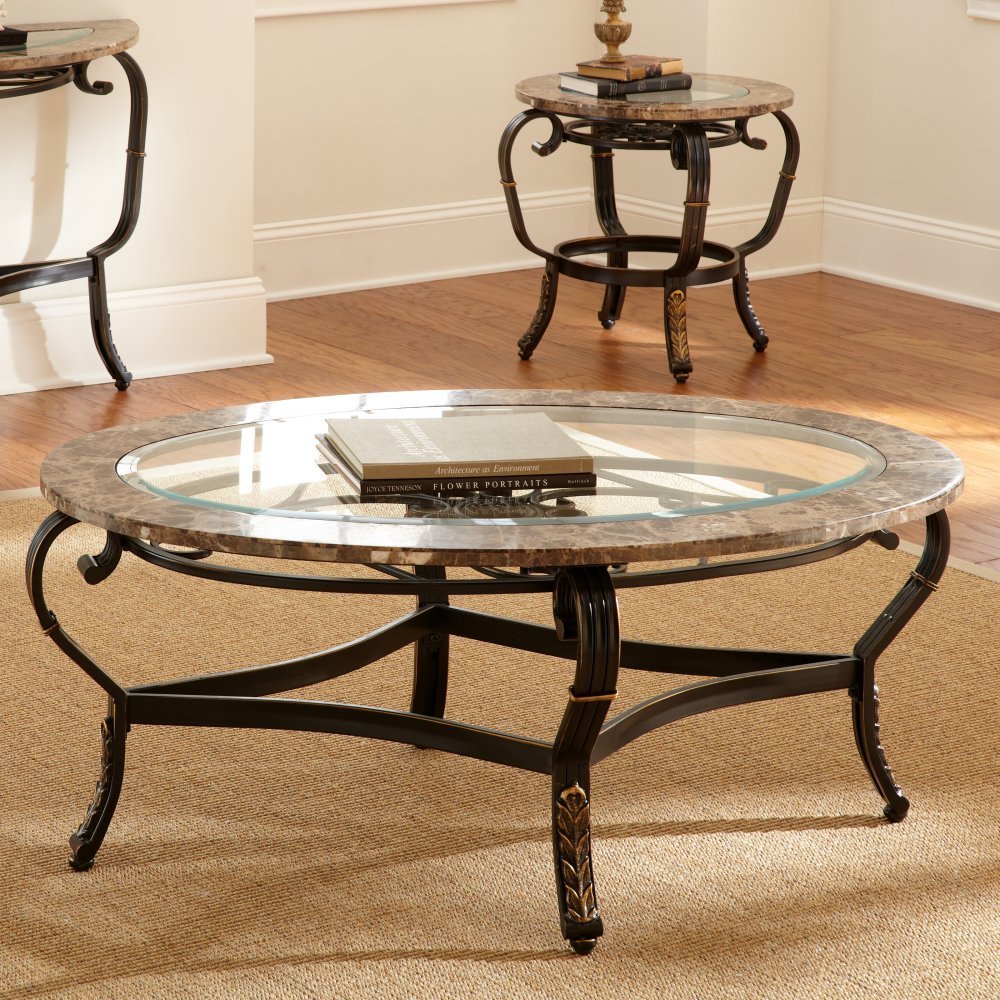 Your transparent coffee table doesn't have to be all glass; it can certainly hold other materials and even have a darker look, but it's the smaller glass surface and the light that shines right through it that makes it an illuminating piece!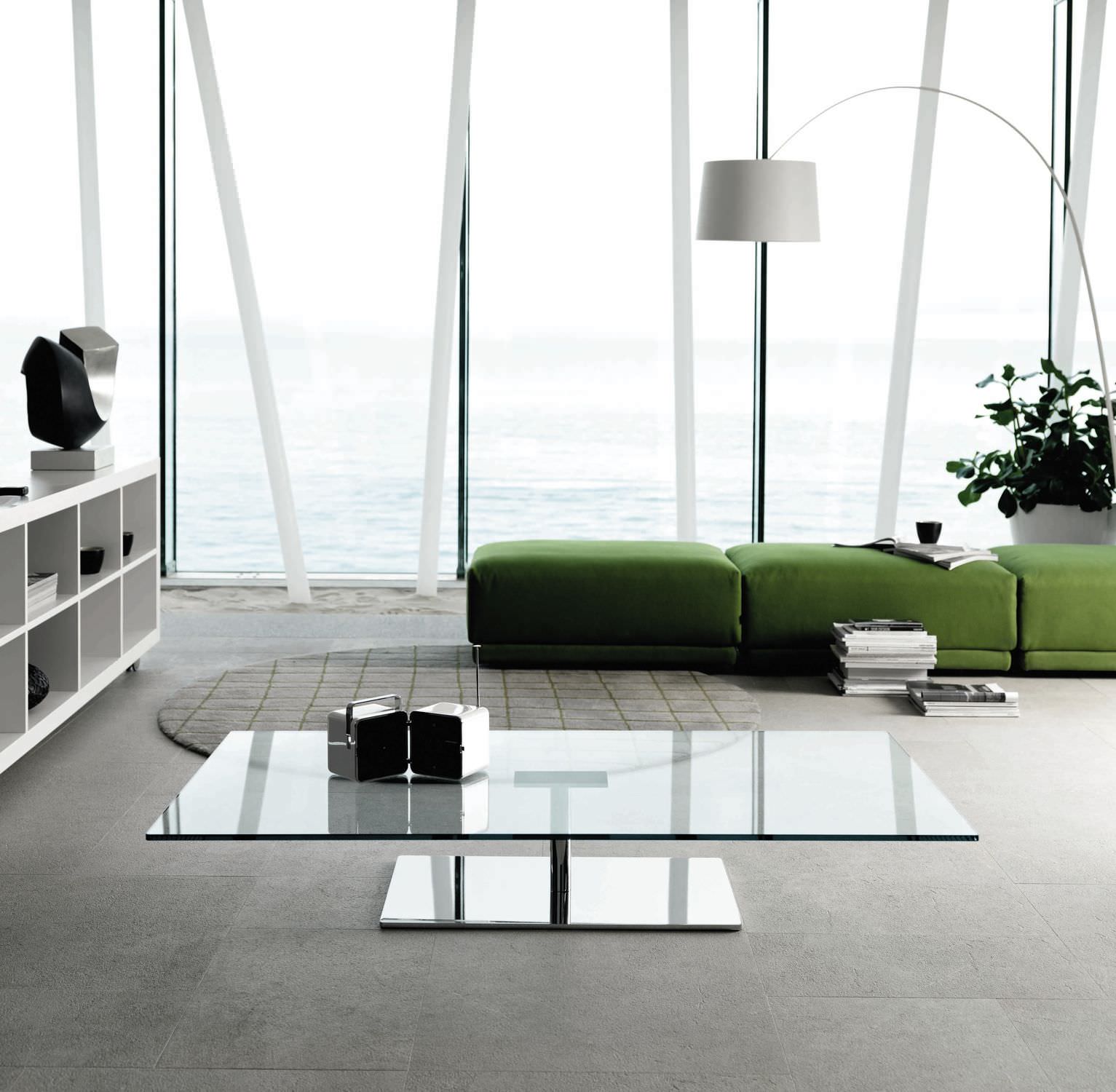 Minimalist look feels peaceful and uncluttered, ideal for people who yearn for serenity within their living space. A low glass coffee table is ideal for a simplistic living room.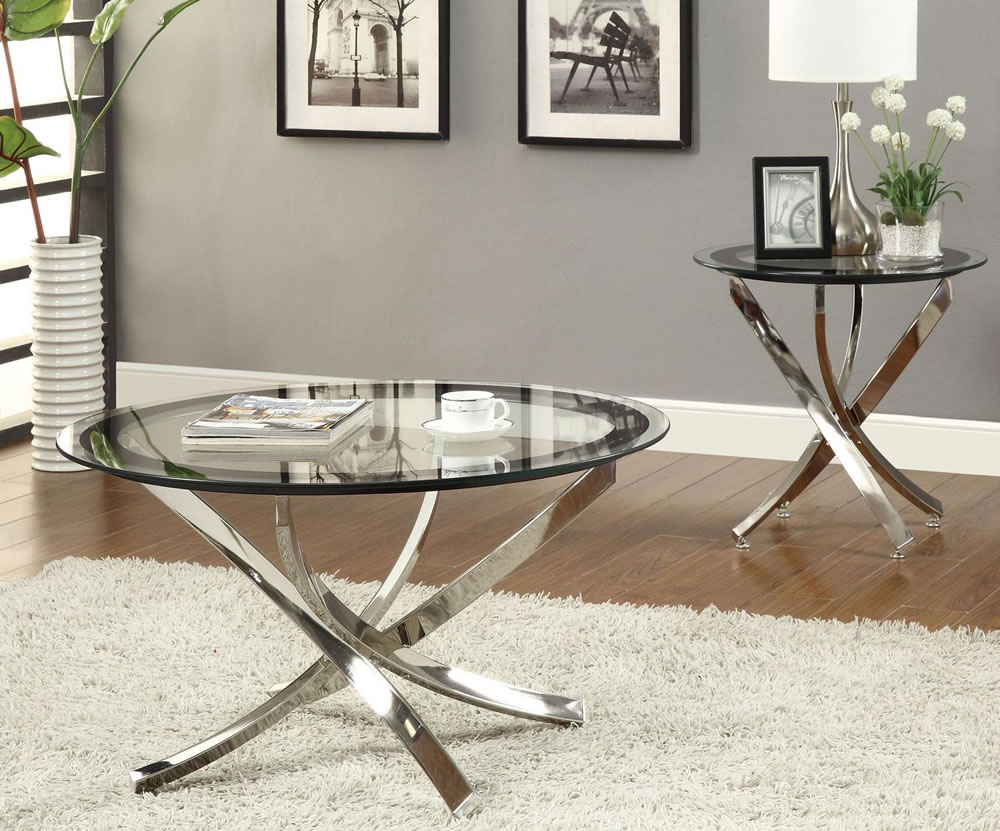 Glass catches so much daylight, but if there is silver in the mix as well, you've got the best combo! This coffee table has the potential to be the most luminous element in the entire room!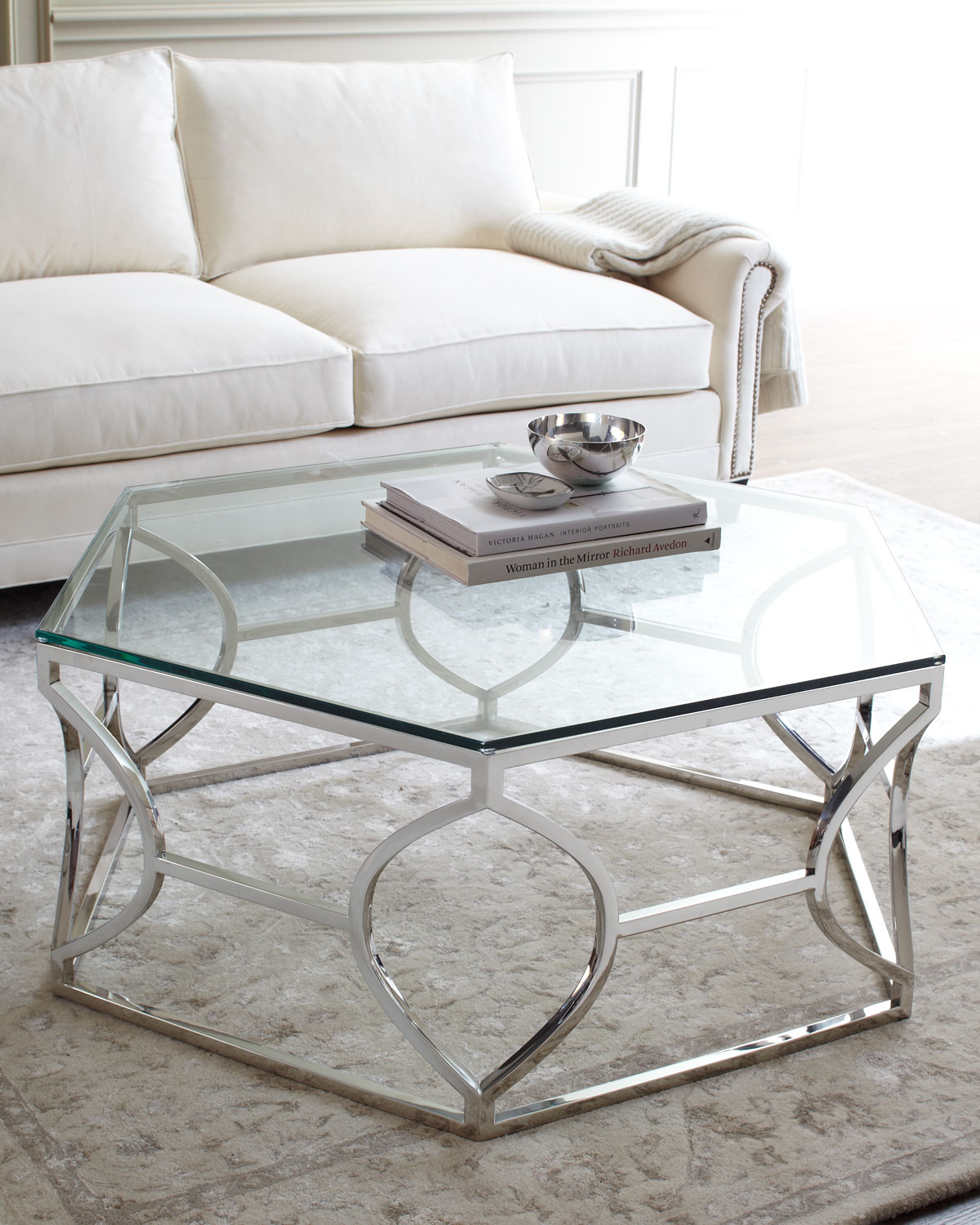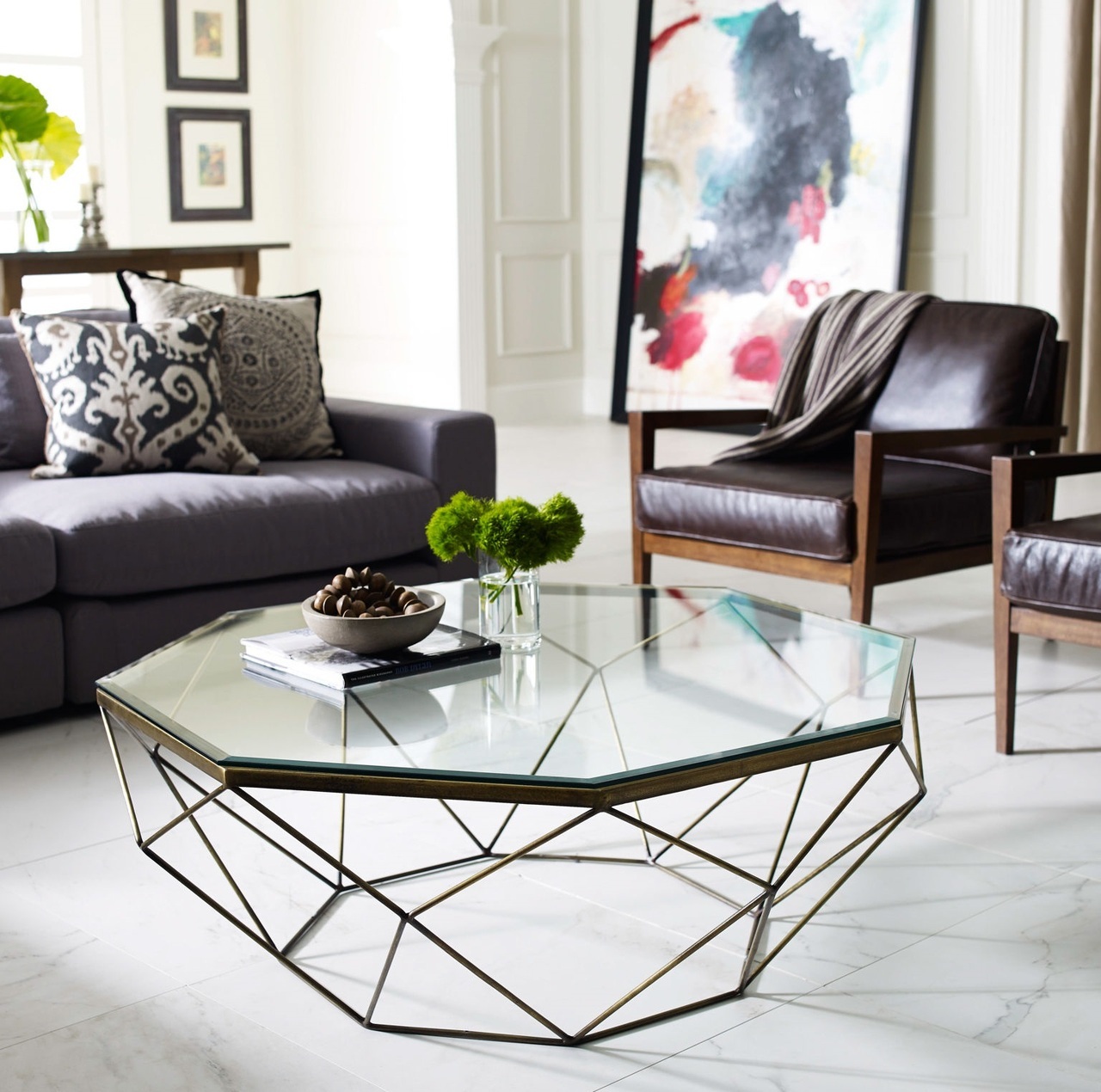 As you well know, the geometric shapes are becoming a must-have item in contemporary living spaces. A great way to bring them into your room is to find a striking centerpiece that draws all the attention to itself! A geometric glass coffee table will surely pass this criteria and add a lot of dynamic and transparency to the room!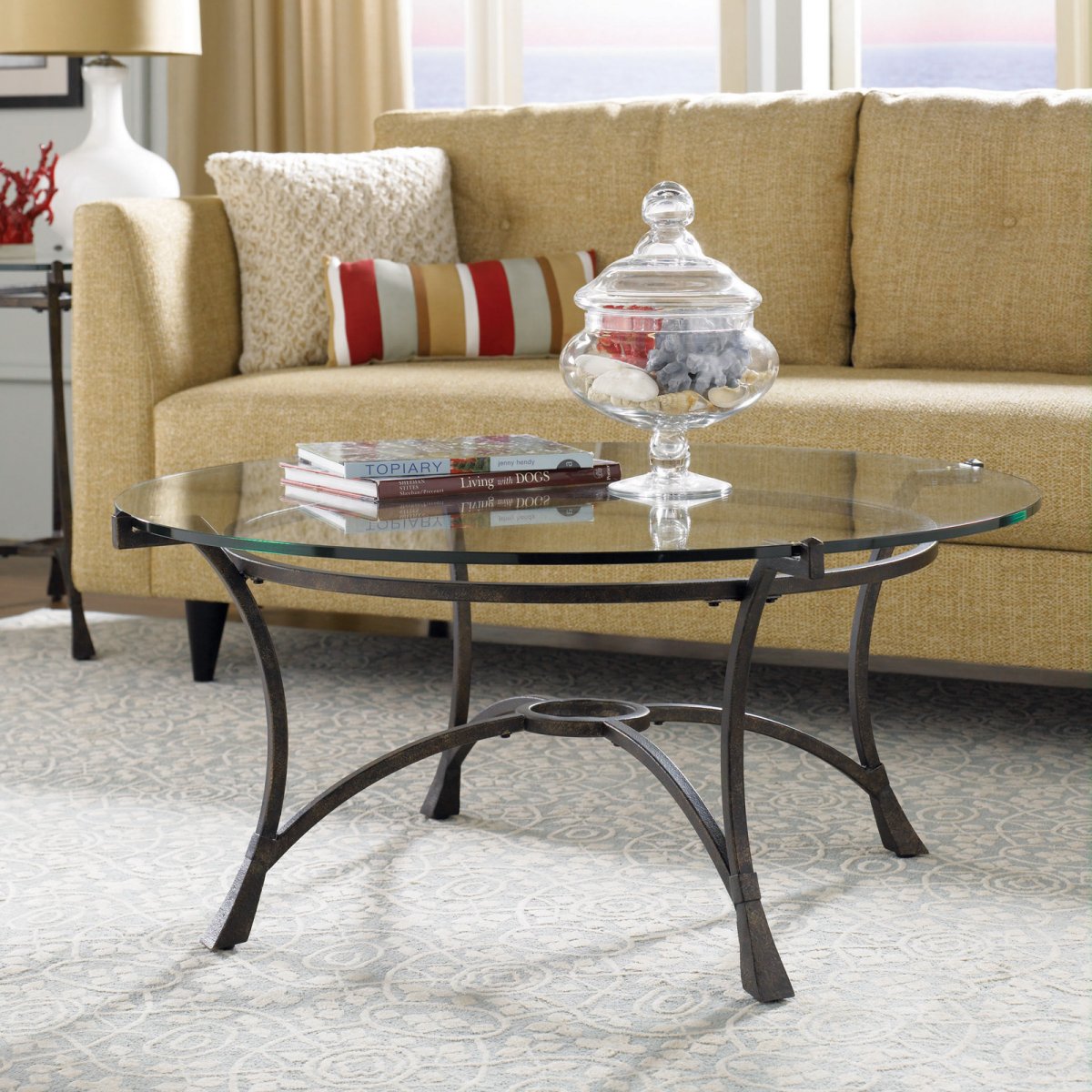 A glass coffee table with metal legs is a daring piece that feels both elegant and industrial, proving once again that opposites attract!

Even if the sun isn't shining in its full might, the glass will capture the most of daylight and reflect it right into the room, lighting it up in a natural and beautiful way!
Exquisite, Transparent Coffee Table
Is there anything worse than a cluttered living room? We all want our living space to feel open and breathable, which doesn't mean we don't want it to be cozy! What may seem like mission impossible can easily be conquered with the addition of a transparent coffee table that doesn't clutter the room but opens it up and instantly makes it feel bigger!
RELATED: Bold and Glamorous: How to Style Around a Black Coffee Table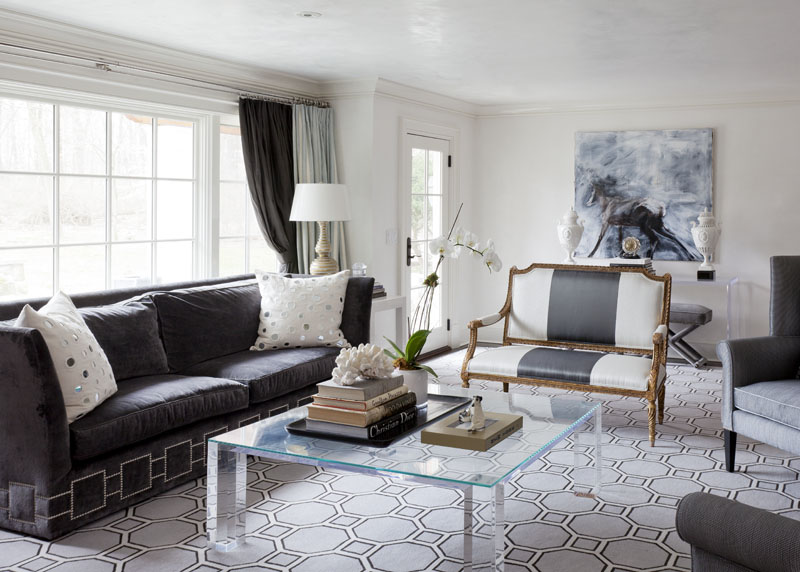 When you have a lot of furniture in your living room, a transparent coffee table seems like the best choice as it allows all of the other pieces to stand out!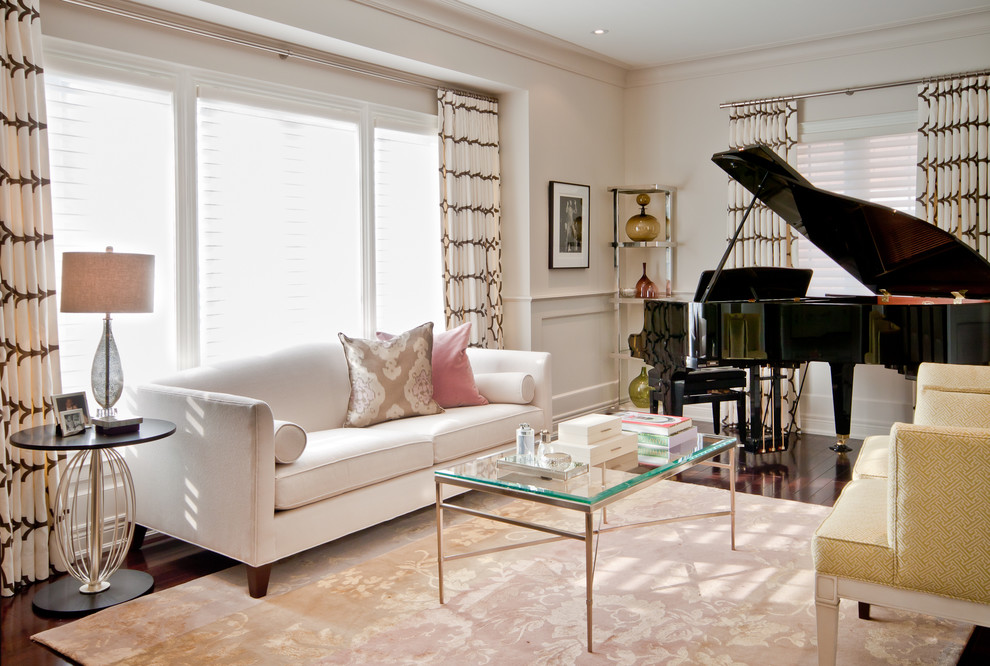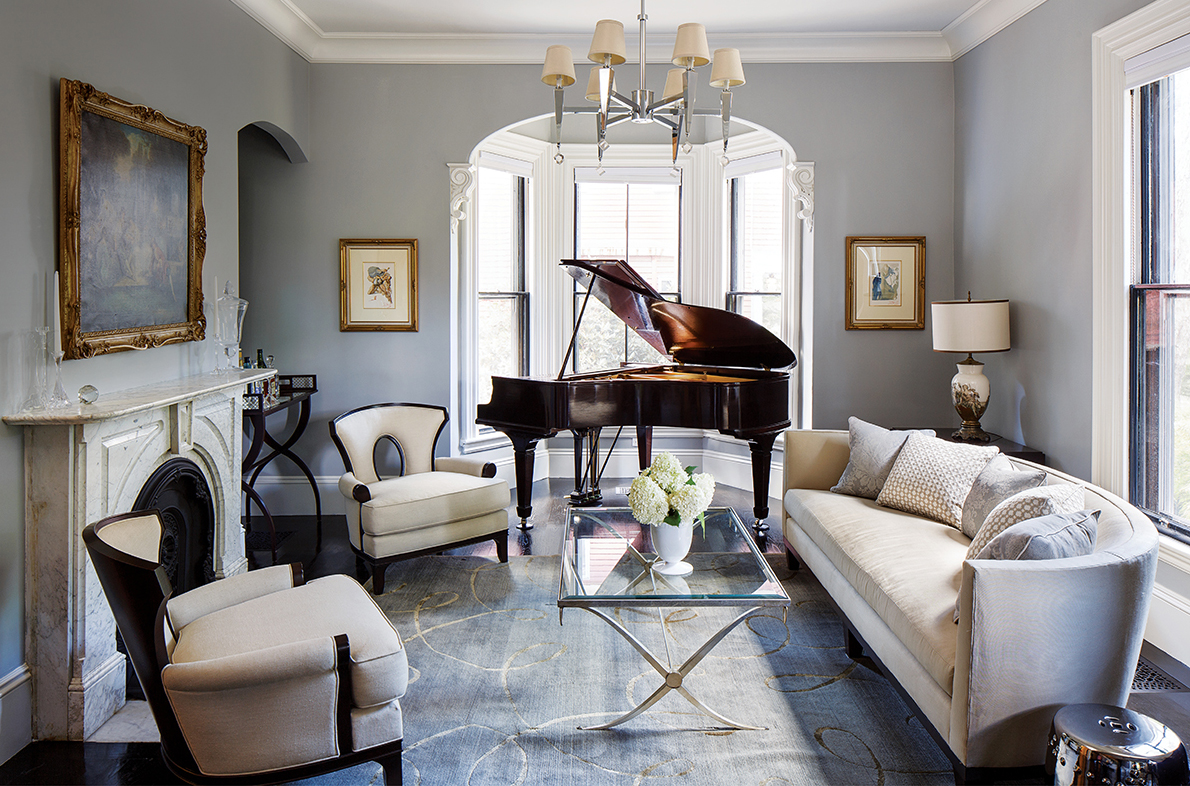 Big furniture elements, such as a piano or lengthy sofas, can quickly close up the space, but if you have a glass coffee table in its midst, you will barely notice the size of the other elements. There's something about glass that makes the whole room airy, breezy and absolutely giant! The transparent table is your golden ticket if you are wishing for a living room that can hold big pieces and remain open!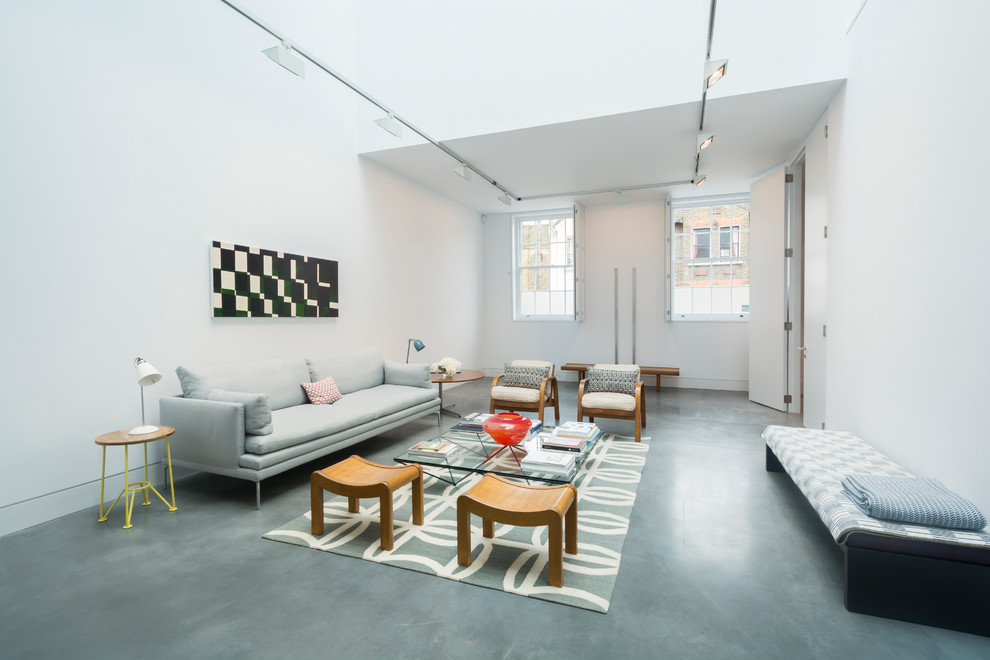 When placed in a room that can already boast with its vastness, the glass coffee table will make it seem like the living room stretches even further. It blesses you with so much open space and light, the room starts to resemble a studio!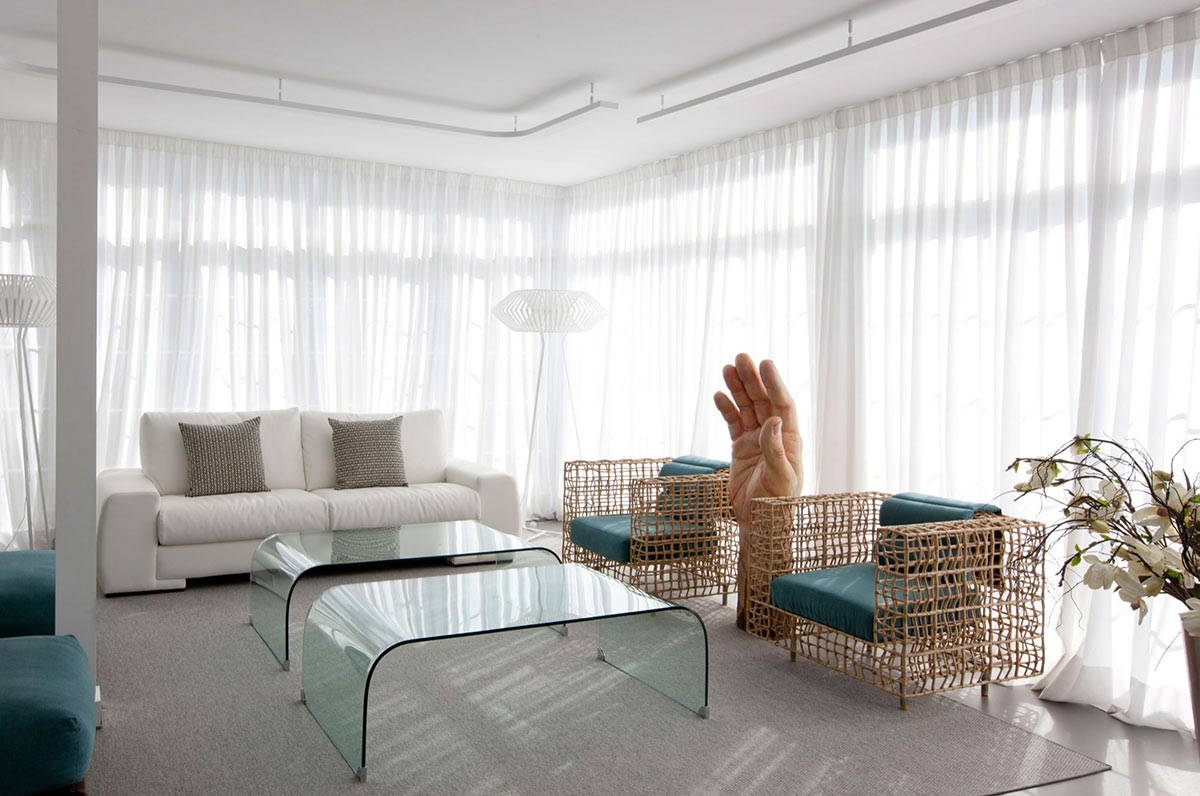 Sometimes one coffee table just isn't enough – either we have too much items we want to place on them or the living room is so big we want to make it feel cozier. Two identical glass tables are an amazing solution, one that will retain the breeziness of the room!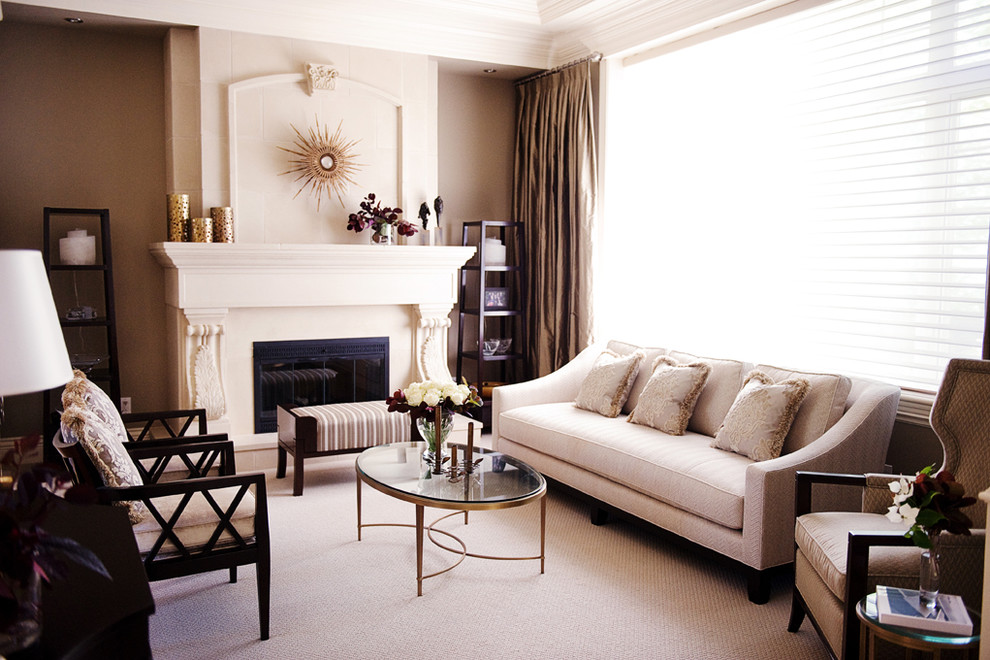 A living room with a dark interior is calling for a glass table that makes the space feel clearer and more spacious.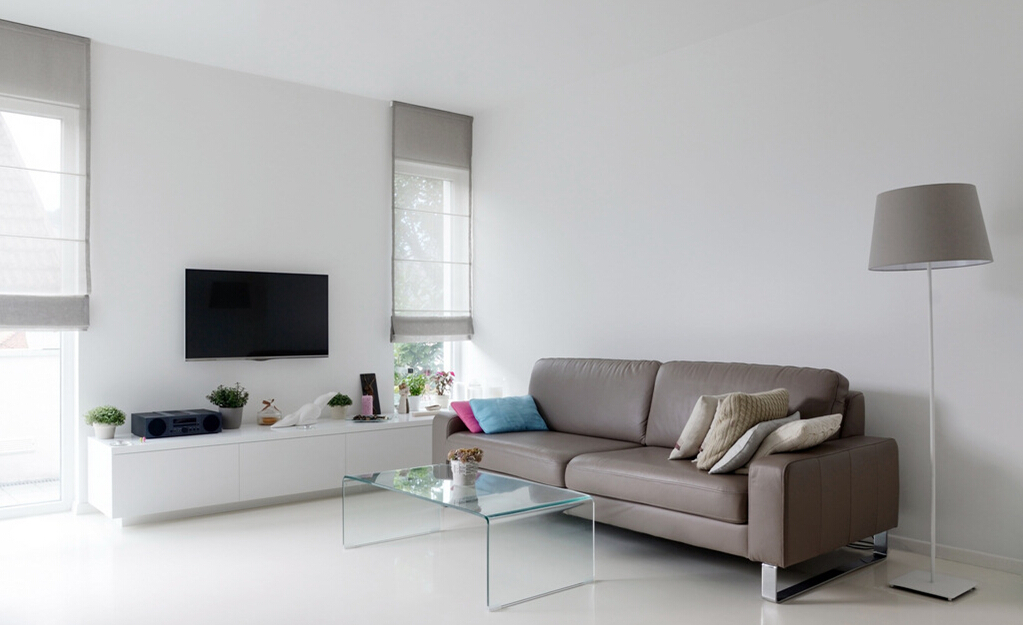 A minimalist living room can be a challenge to decorate, especially when it comes to surfaces that are mainly used to hold other items. Opt for a glass table and capture the true essence of a minimalist look!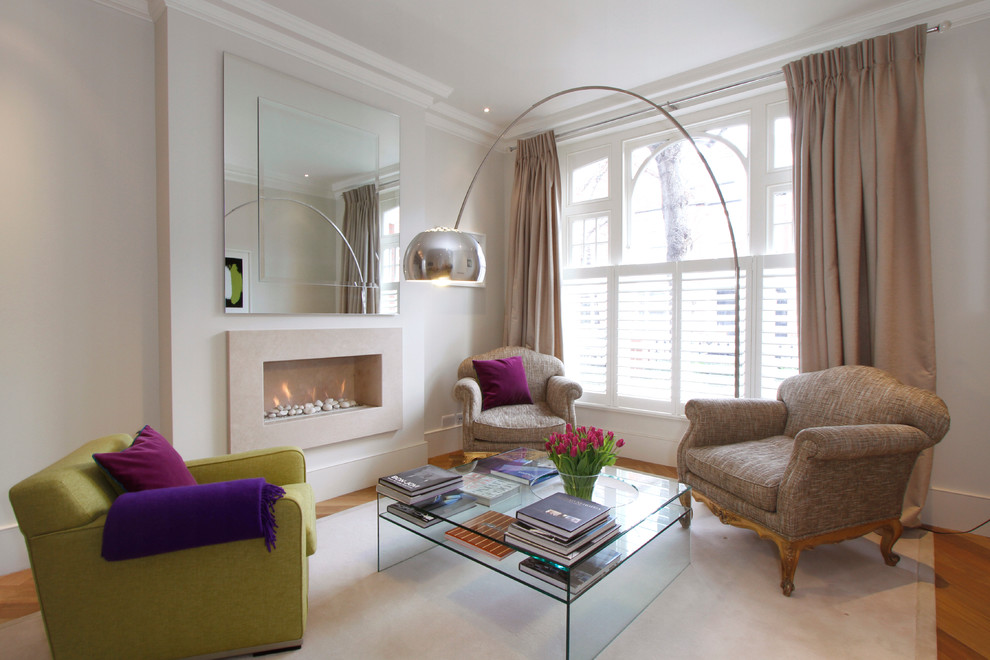 In a living room where colors are bold and bright, a transparent coffee table takes nothing away from them – if anything, it pushes them to the forefront and gives them the clear space to shine!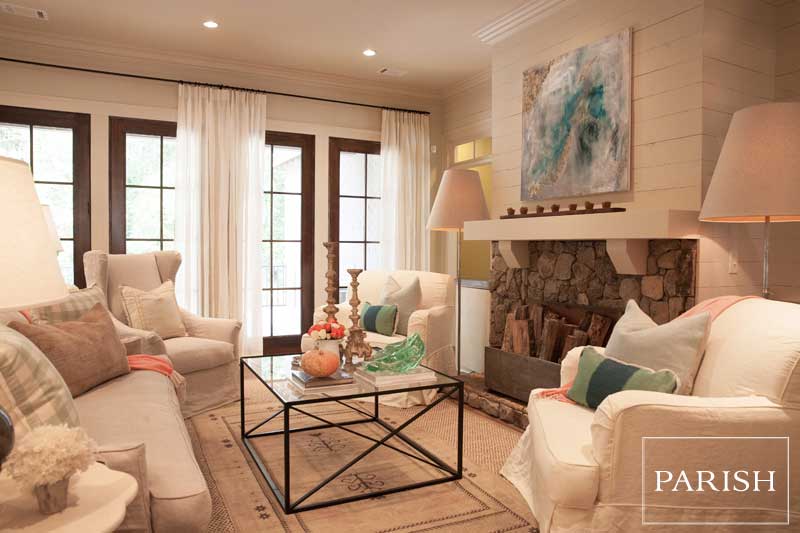 Another great example of how your glass table can be the center of attention but still remain elegant and ever so subtle at the same time! It feels like the absolute perfect balance! [via Parish]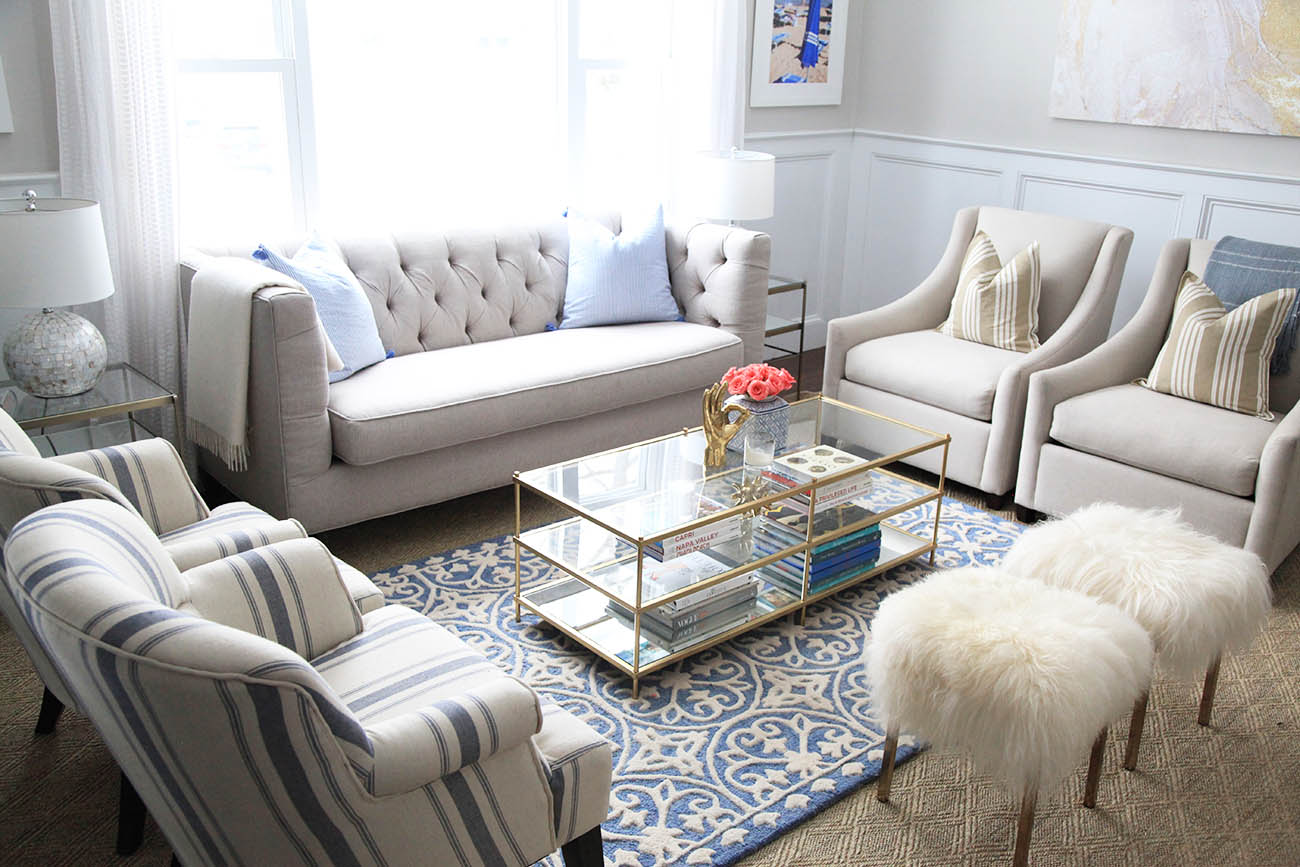 A living room set to accommodate many people comes with a hazard of feeling too crowded, especially when all of the furniture is facing each other, creating the illusion of a closed space. The obvious solution is to place a glass table right in the middle of it and allow it to make the space more open and breathable! [courtesy of LemonStripes]
Blending In With Your Living Room
Sometimes coffee tables really stand out in the room and become the most markant piece of the entire space. Other times, the coffee table simply blends in with the rest of the interior, creating a neat and consistent home. Because of its simplicity and transparency, a glass coffee table can easily blend in with any chosen interior and make the absolute best of the furniture it's surrounded with!
RELATED: 50 Fabulous Coffee Tables That Usher in a Golden Glint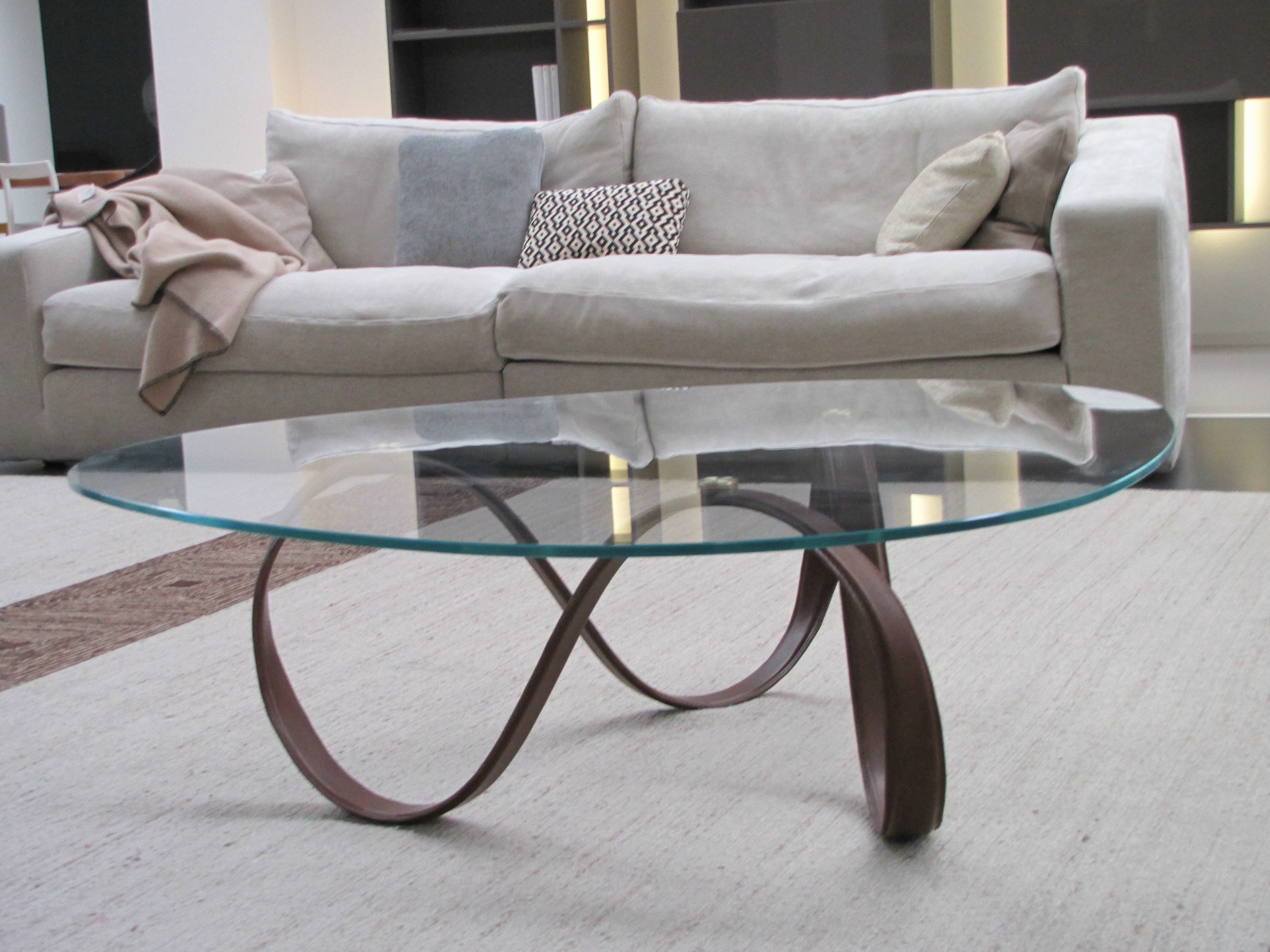 A glass coffee table inspired by the latest contemporary trends is the perfect element for a modern living room that needs a progressive piece in its midst! [BELT by Estel Group]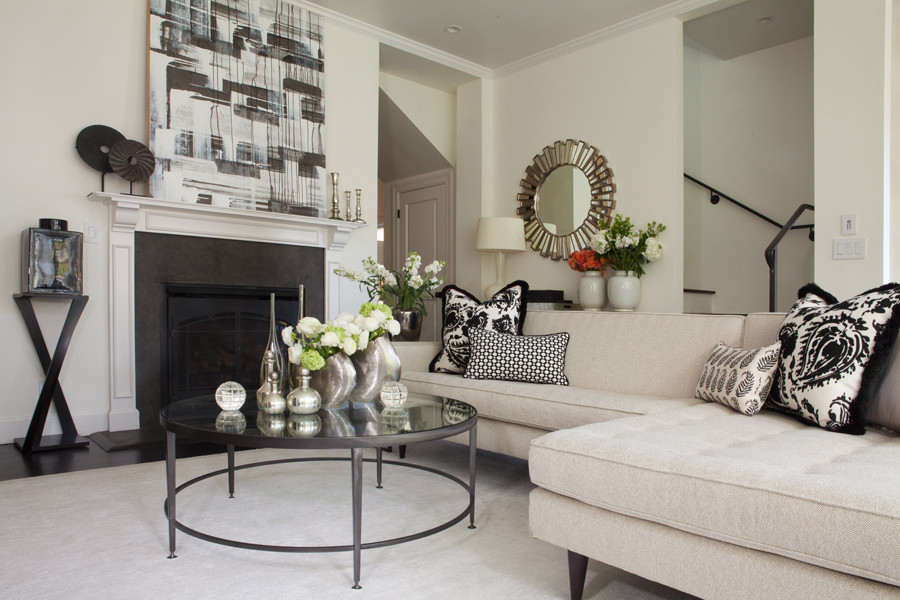 A living room with an orderly look deserves a coffee table that does it justice. An unobtrusive glass table with metallic legs is a great choice for a living room full of neutral tones.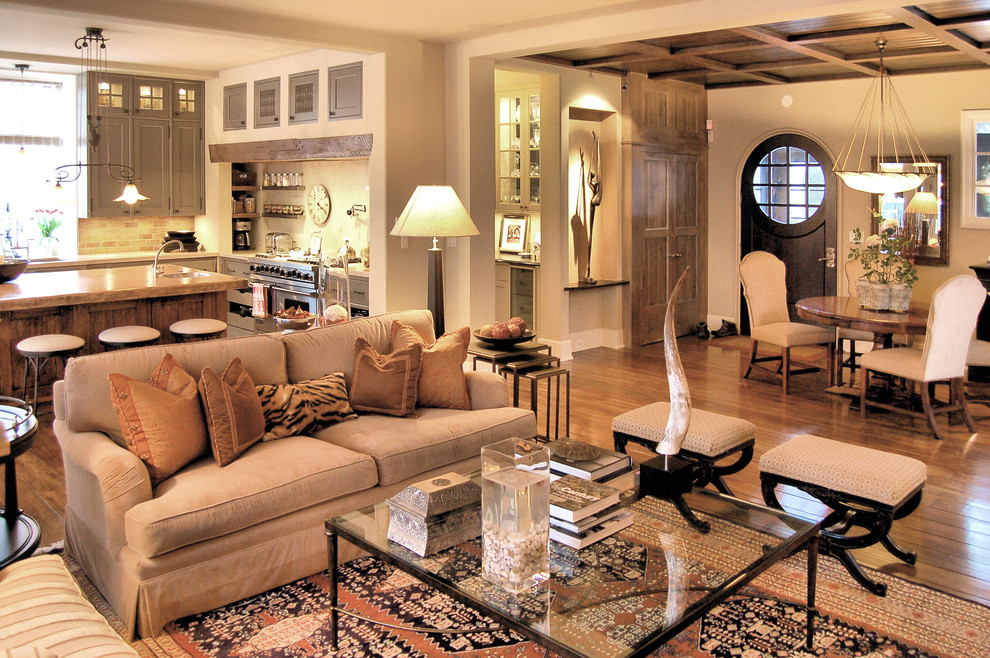 We bet you had to look twice to even spot the coffee table in this living room! The items placed upon it feel like they're floating! It's safe to say that the transparent table can be quite the chameleon!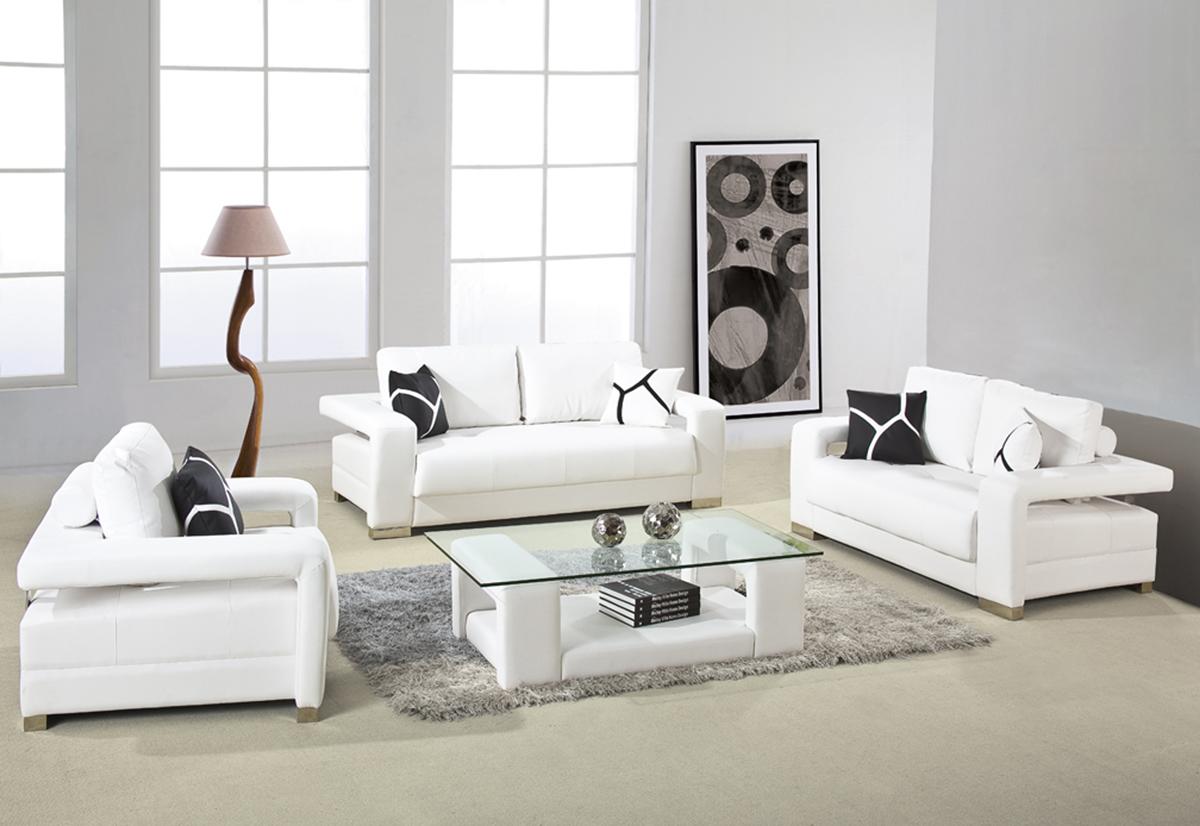 White, plain, minimalist. These are the main attributes of a modern living room that has an incredibly fresh and graceful styling. A bold coffee table could sway the harmony, but a glass one fits right it!
Something Glamorous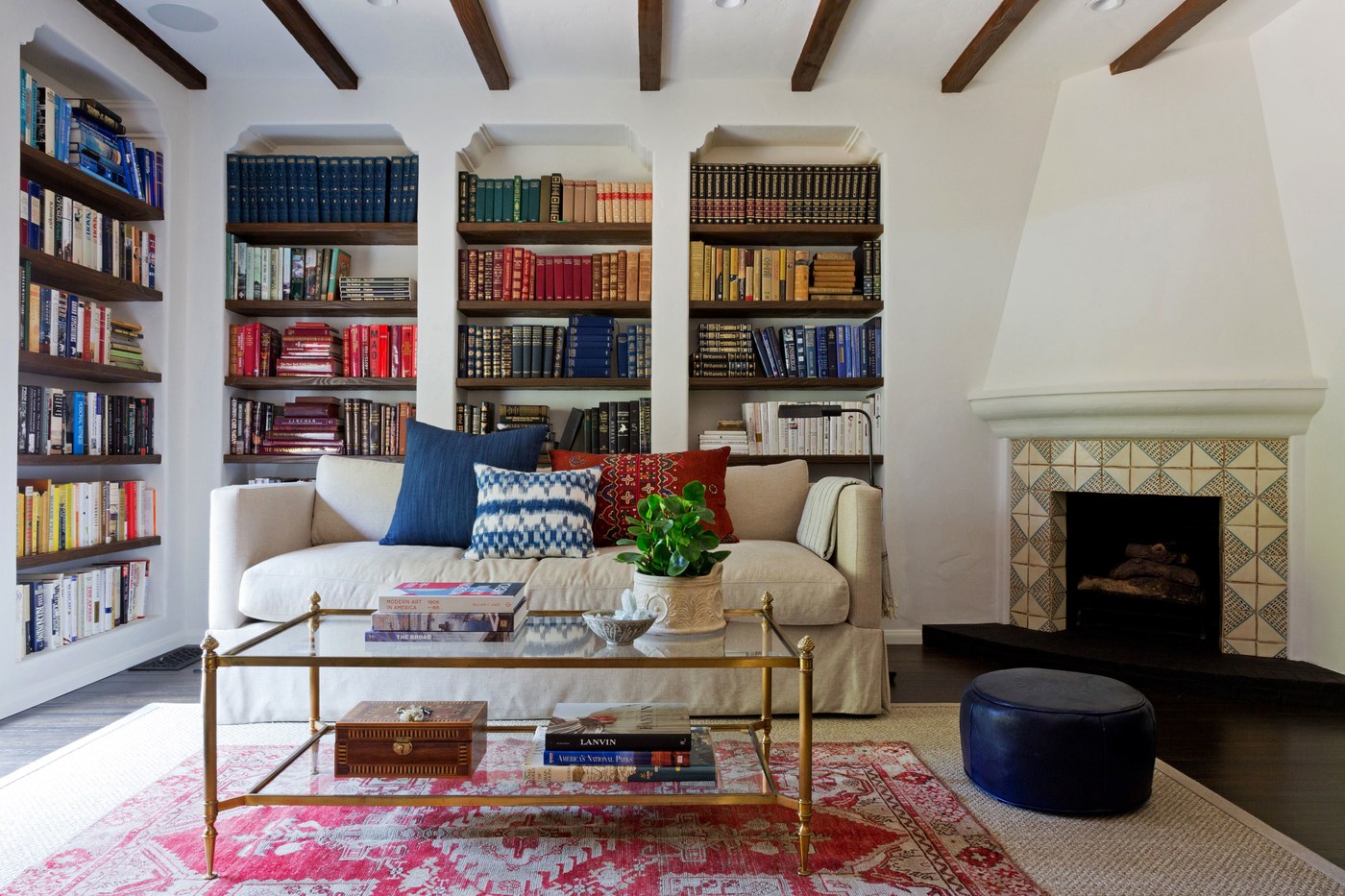 A colorful living room feels very vibrant and alive, offering us a lot of elements that draw our attention. Such a room is in need of a piece that feels subtle; a transparent coffee table is just the one! [Stunning Spanish Colonial Revival in Beverly Hills via AD]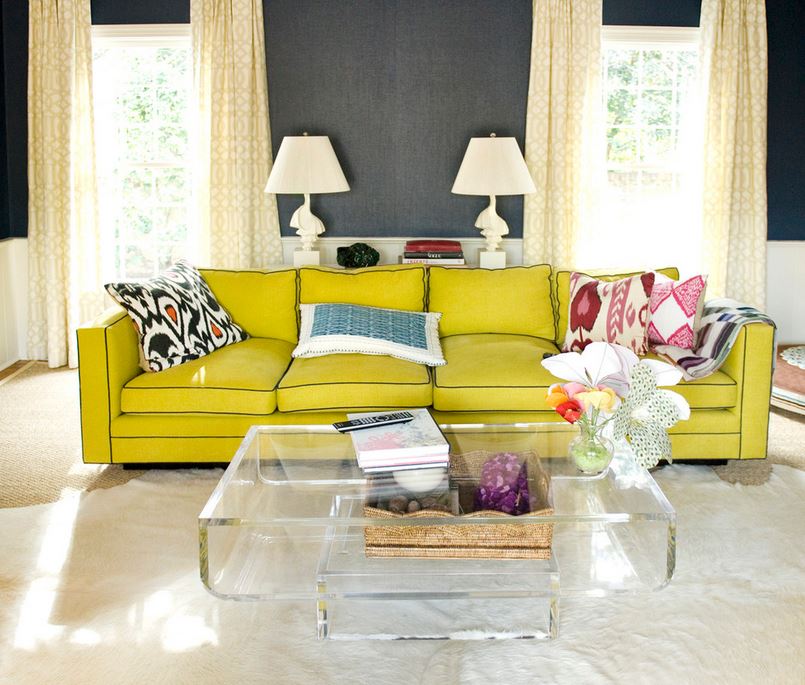 If you have already decided what the ultimate centerpiece of your living room will be, you need a coffee table that will fit in with the philosophy. A striking couch cannot be overshadowed by a coffee table that almost feels invisible do to its complete transparency.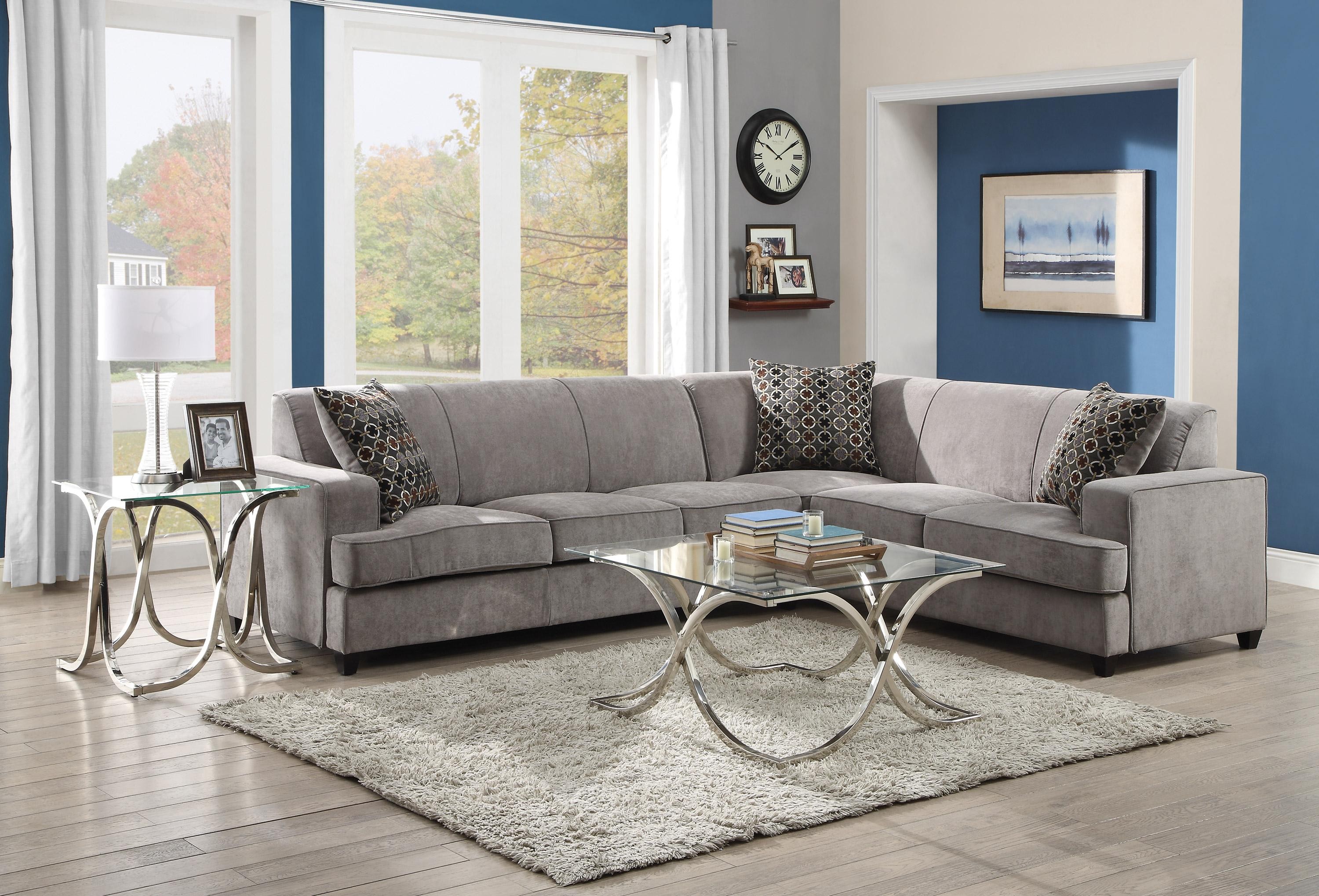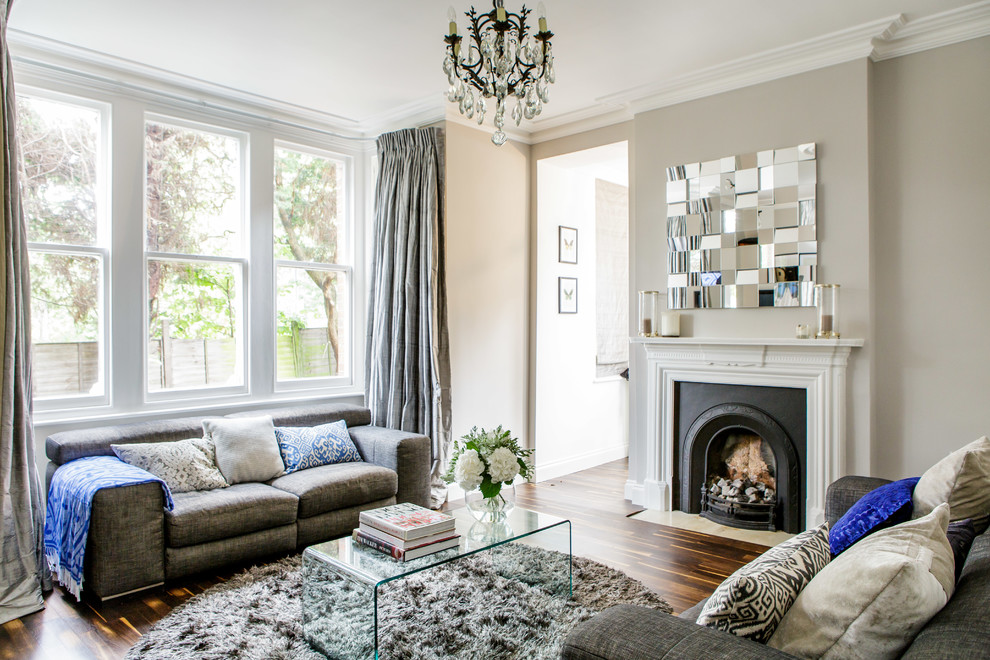 Blue and gray are a lovely color combination for a neutral room with a strong moody vibe. The wrong choice of coffee table could diminish the colder appeal of the room, so a transparent glass table is a fantastic way to retain the room's true energy, seeing as it simply blends in and reflects the calming neutral color palette.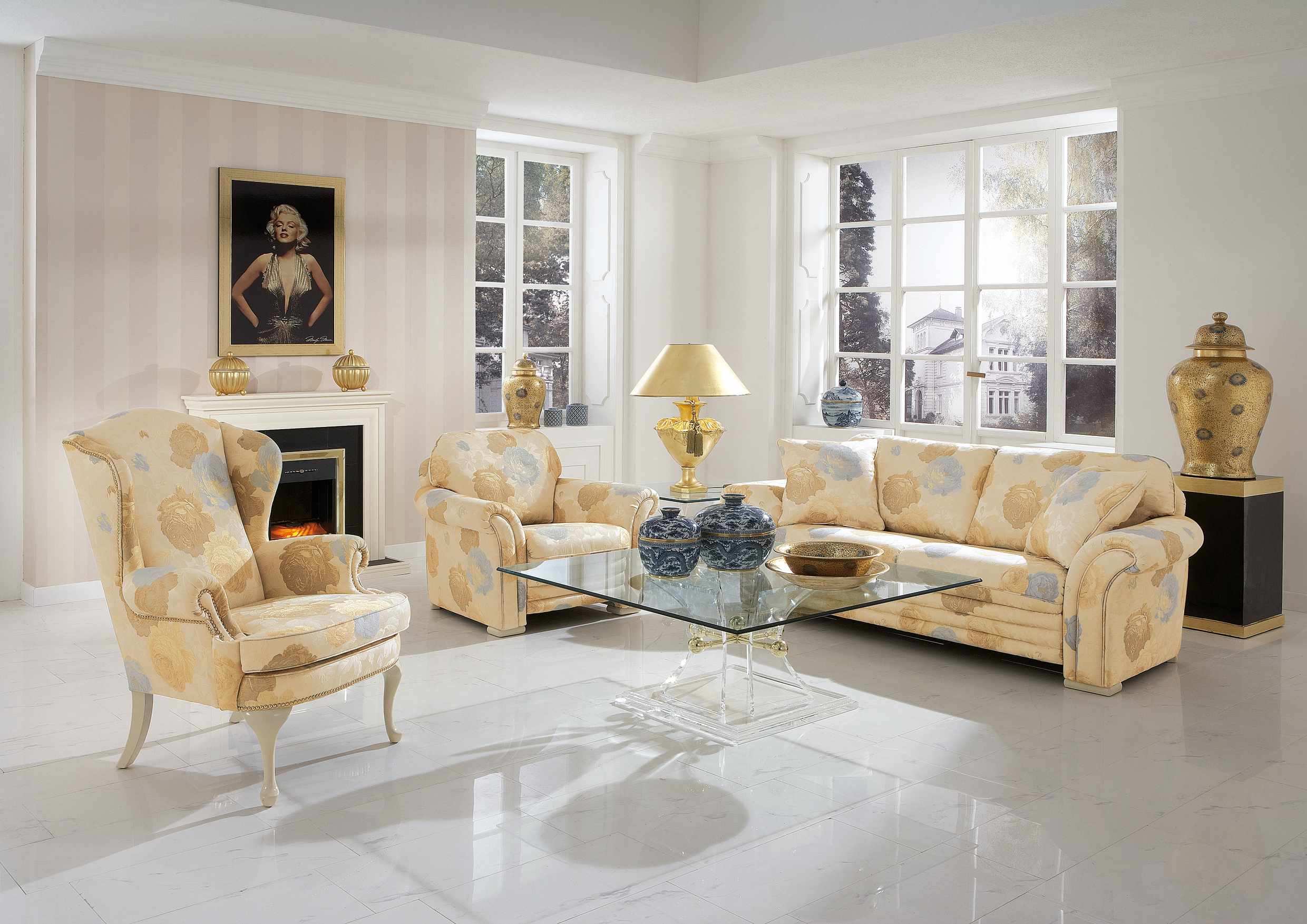 A neat and organized living room with a strong prestigious interior can only do with an inconspicuous coffee table that feels like it has always been a part of it.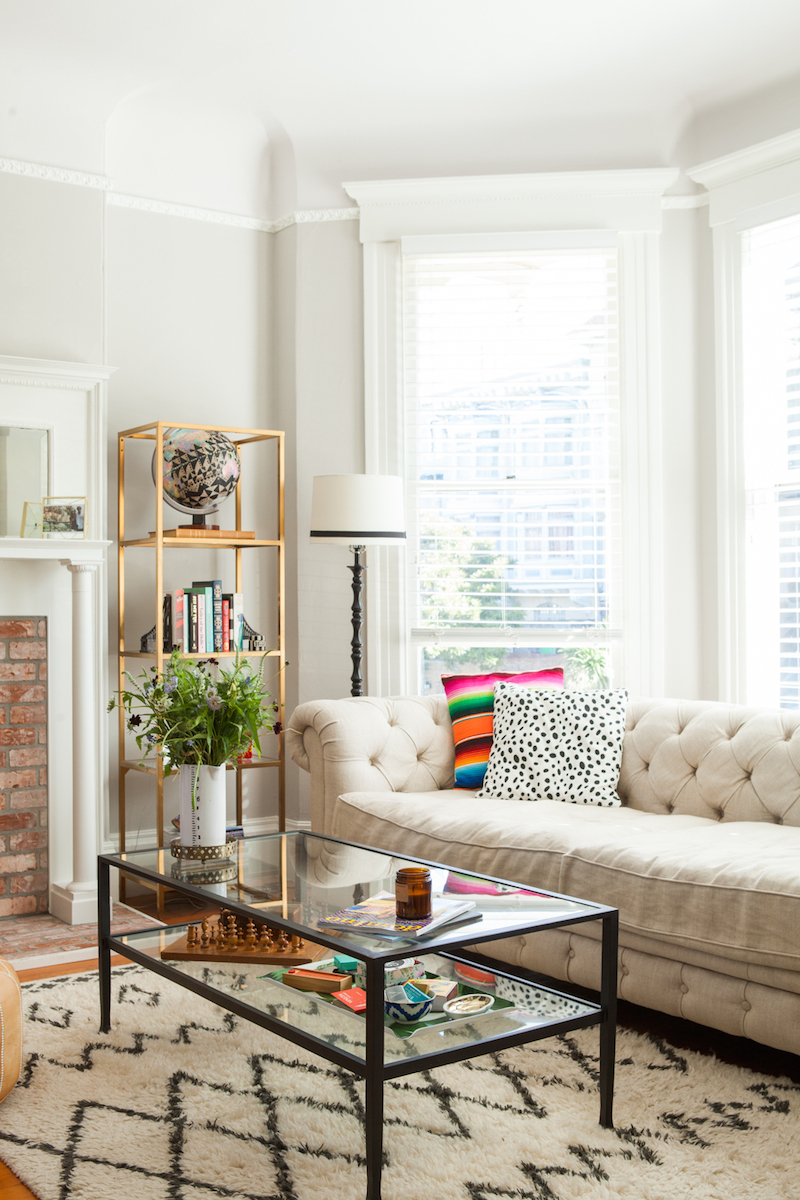 You can choose neutral furniture pieces, such as a cream colored couch, and pair them with vibrant decor elements, such as cushions, to create a mixture between conservative and youthful interior. What could be a better fit for this description than a glass table with a neutral frame! [Rosa Delgado for The Everygirl]