No matter how much you like your interior, you will always be drawn to spend time outside. As humans, we are drawn to nature and fresh air, so having a backyard is on many people's top priority list when looking for a house. It's a way of having a little piece of nature all to yourself. You can host garden parties, relax in the sun, grow a veggie garden and most of all, have fun! Channel a carefree feeling by setting up a swing in your backyard that will always inspire you to enjoy the nature and swing the days away! We'd love to share some amazing and enchanting garden swings!
Channeling Childlike Feeling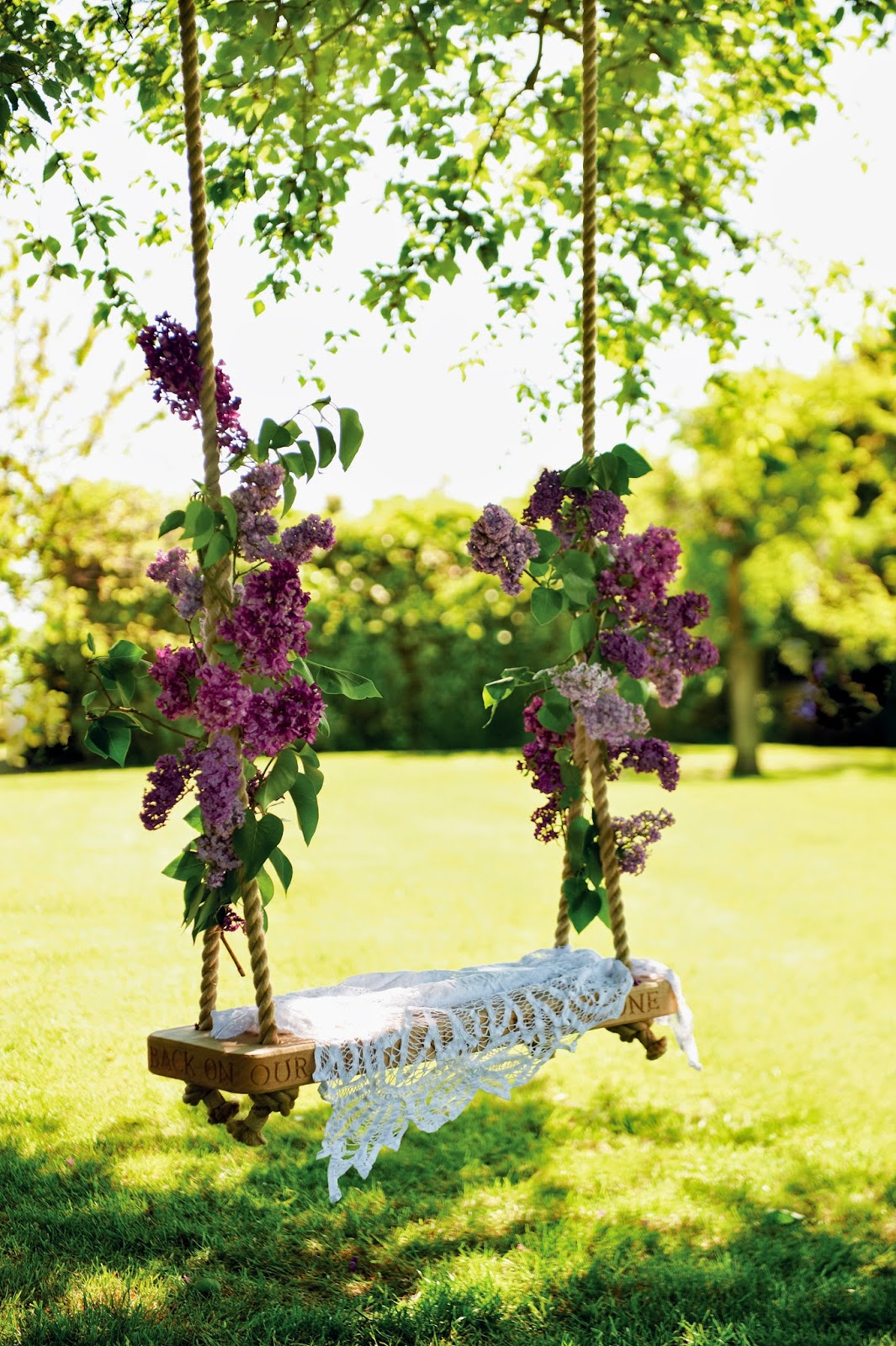 The simple wooden swing is a traditional backyard element adored by both children and adults alike! You can use some fresh flowers to decorate it in a seasonal style. [via ModernCountryStyle]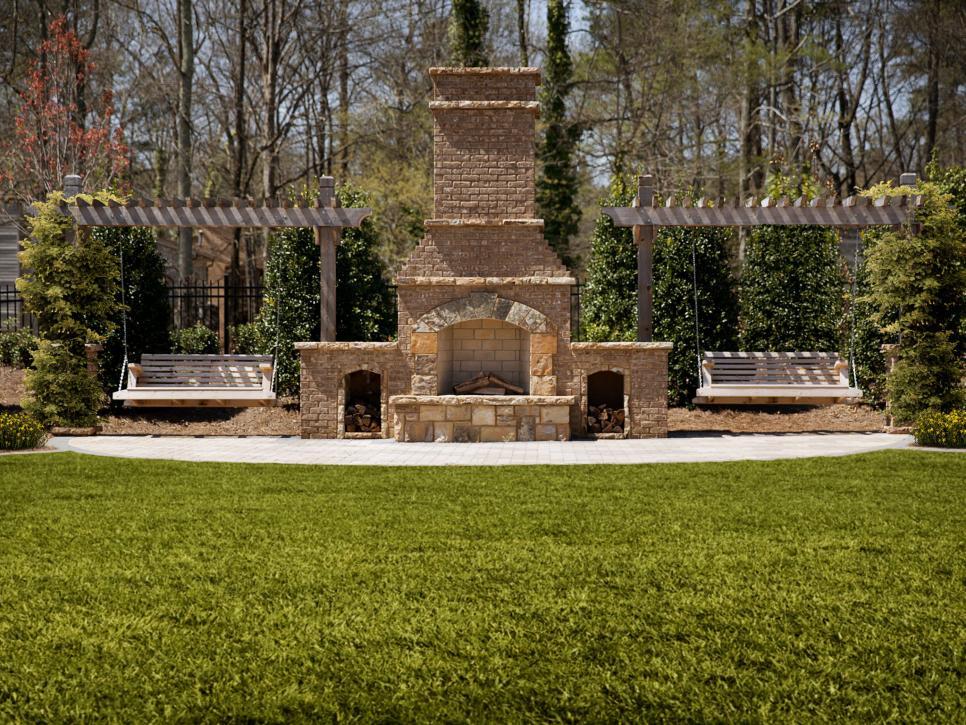 A double swing set will be a magnificent addition to your garden and will take your barbecue gatherings to a whole new level! Your guests will simply love lounging on the swings! [by Eduard Andrew Homes via HGTV]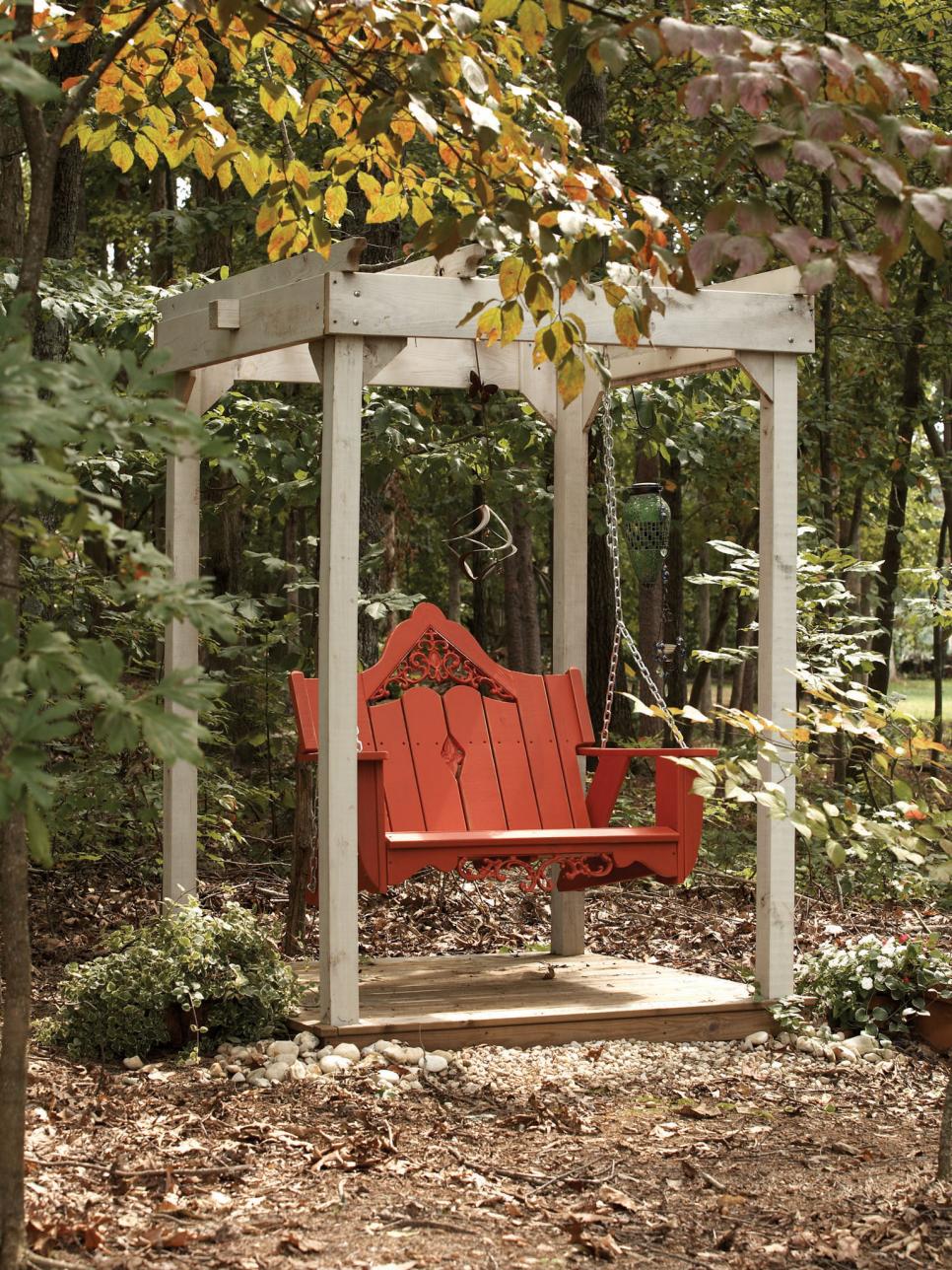 If you're lucky enough to have a lot of trees in your backyard, putting a swing in the midst of them will make your garden look like something out of a fairytale! [Photo: Bo Calilung]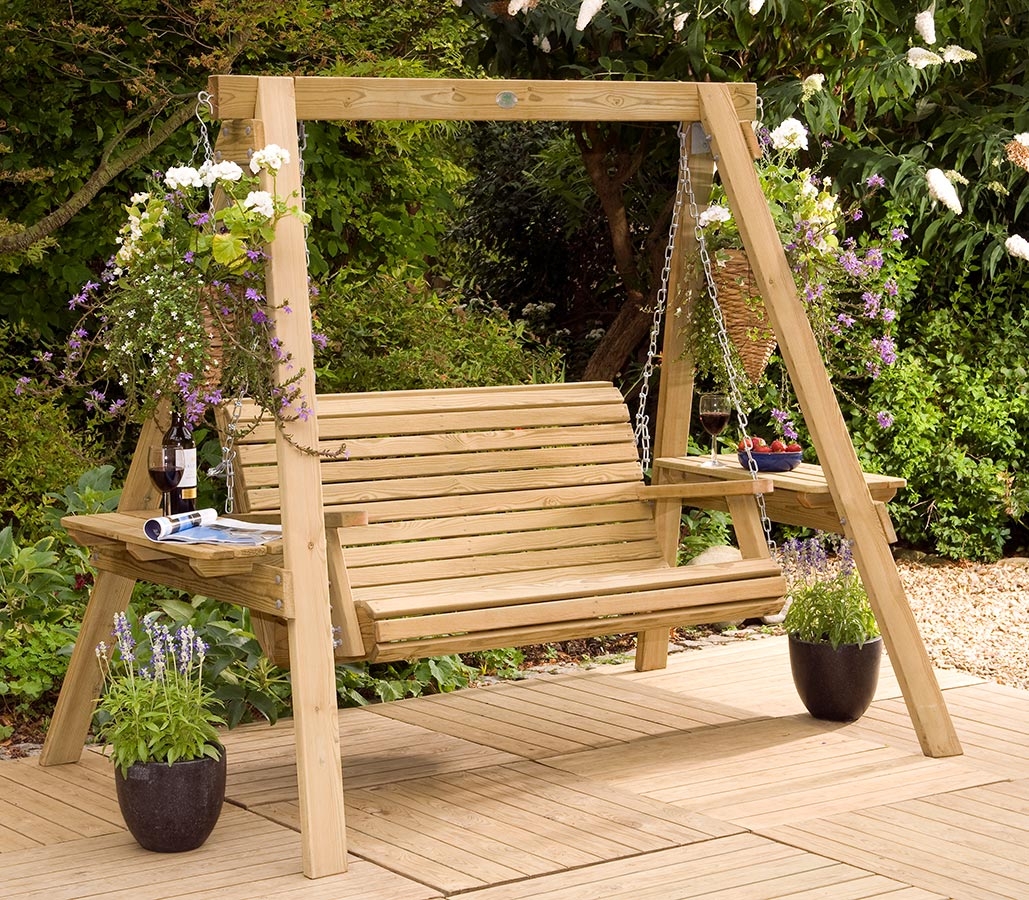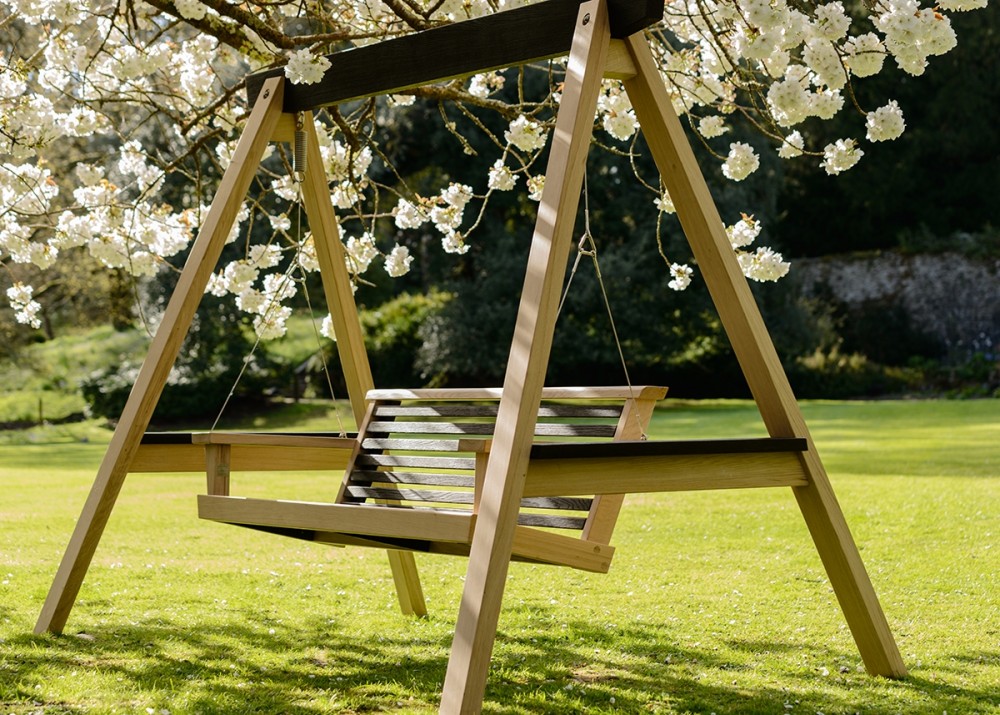 The charm of a simple wooden garden swing will truly come to life in a blooming garden! The floral ambiance with the swing in the midst creates a magical setting where you'll love spending your afternoons! This is the perfect choice for those who wish for a classy garden sitting option, but still want something more than just a backyard bench!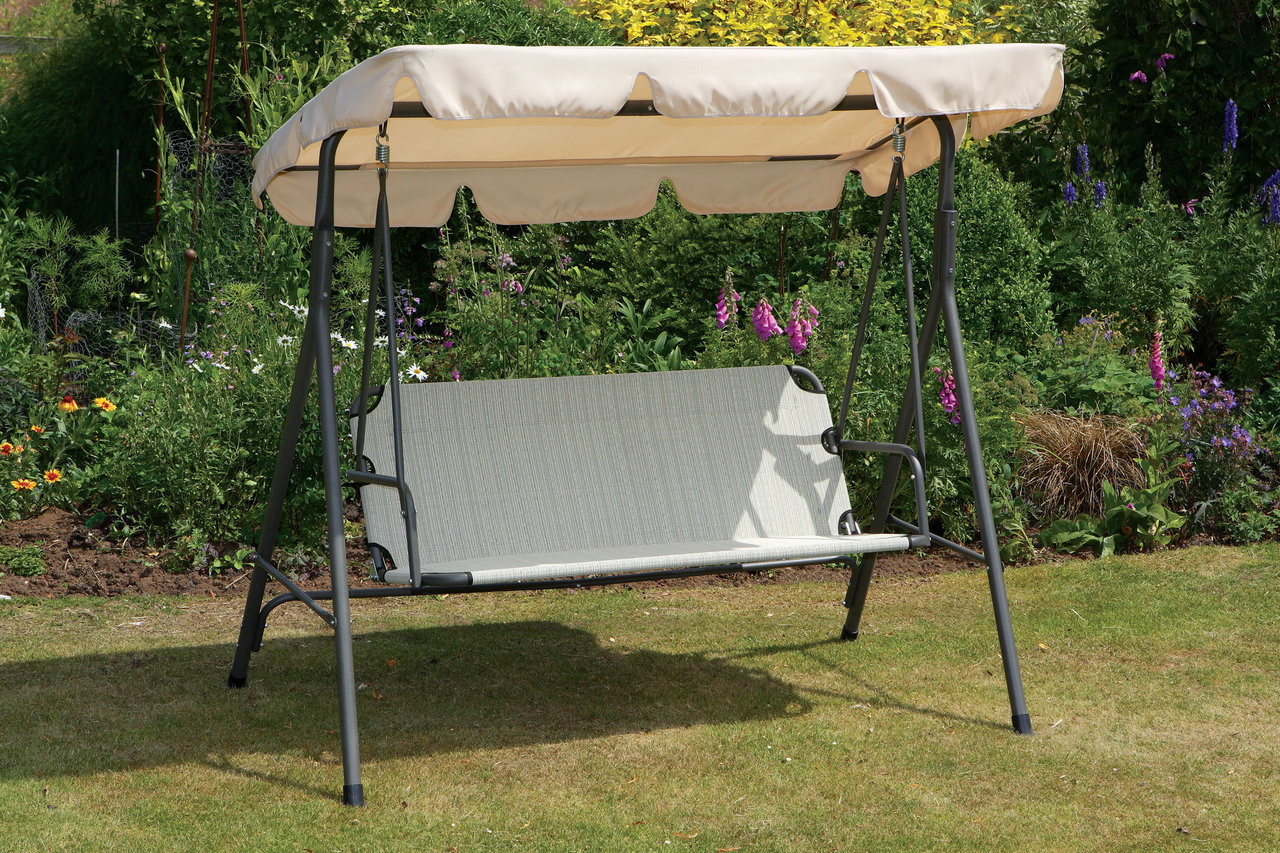 Getting a swing with a canopy is a great idea if you are not too big on suntanning but love to enjoy the warm days in a cool shade, reading books and observing your incredible garden!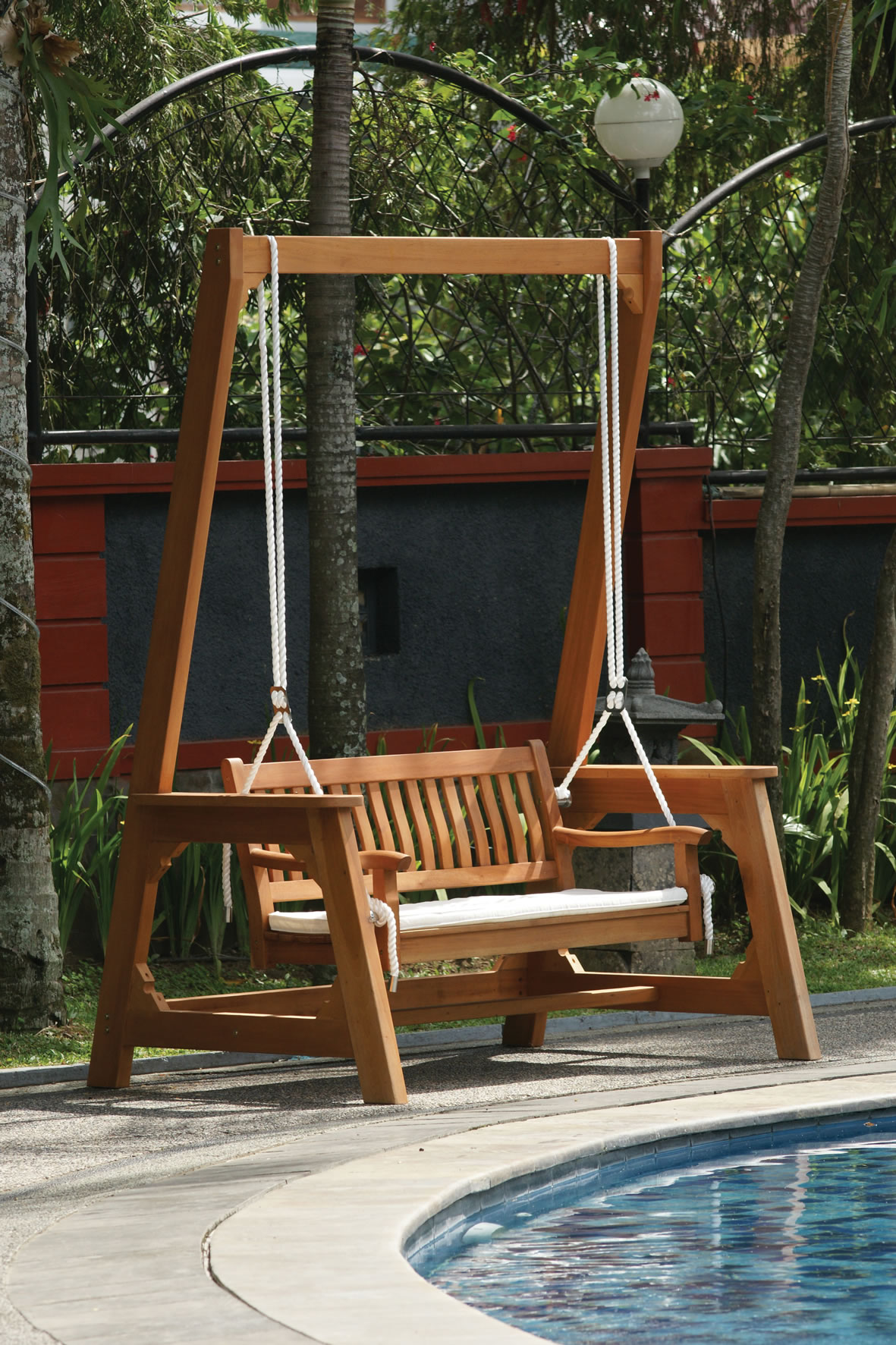 An elegant garden swing is meant to be seen, so don't hide it in the back of your yard – set it right by the pool! You can lounge on it straight after you come from the water and gently swing back and forth as the sun is drying your skin!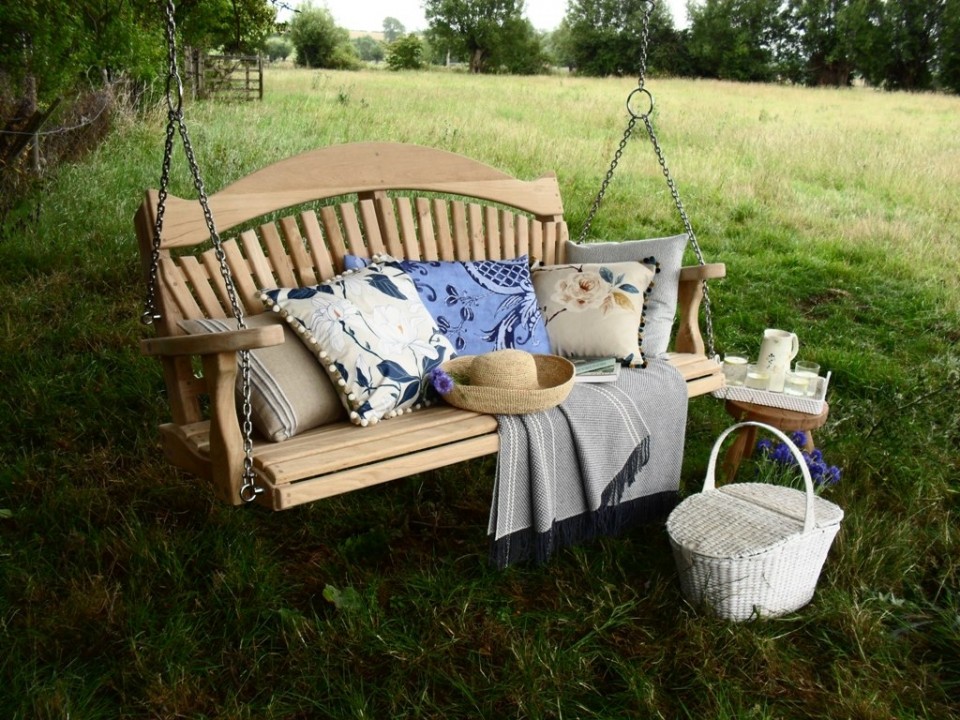 Traditional swings all hung from the trees, so channel the nostalgia by setting it up the old-fashion way! You want to pick a swing that is big enough for at least two people; company is always a good idea, especially on sunny days that are perfect for a backyard picnic!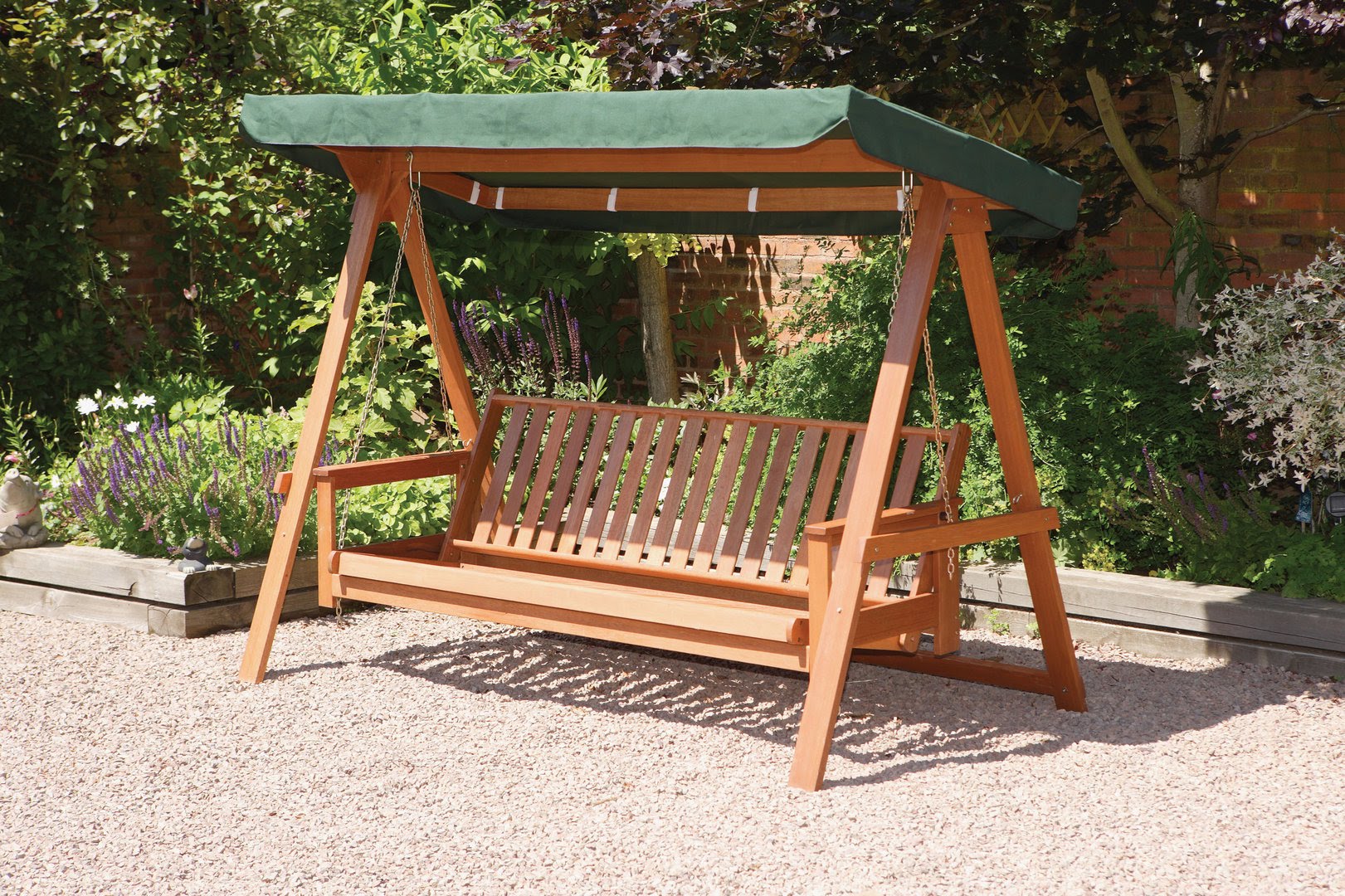 Walking through a big garden feels incredible, but eventually we all want to sit down for a bit and admire the amazing surroundings. This modest wooden swing can be your ideal resting place!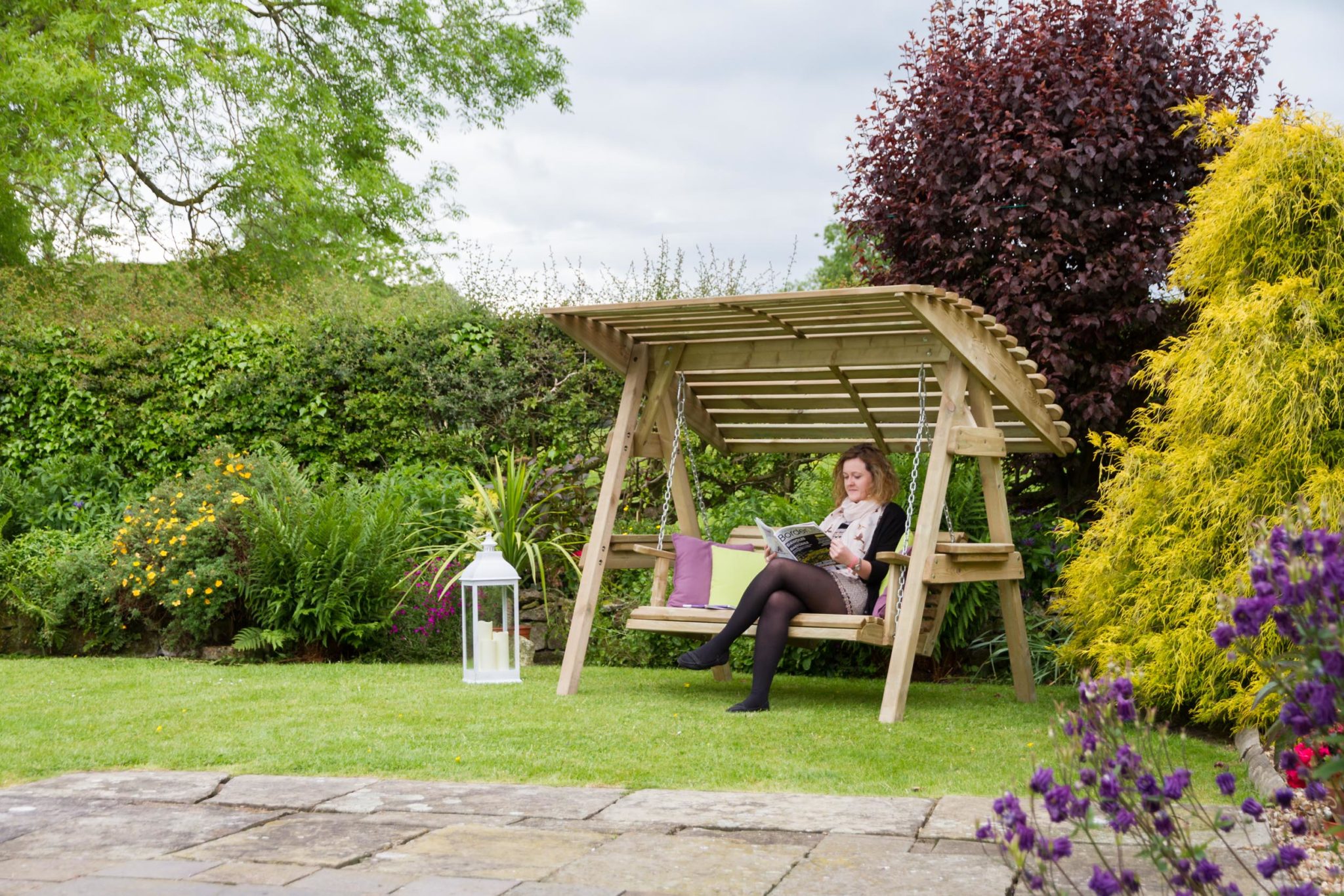 Reading a good book in the safe shade of your wooden garden swing with a wide canopy is what summer dreams are made of! Creating your own little nook within the garden will definitely contribute to a homey feeling!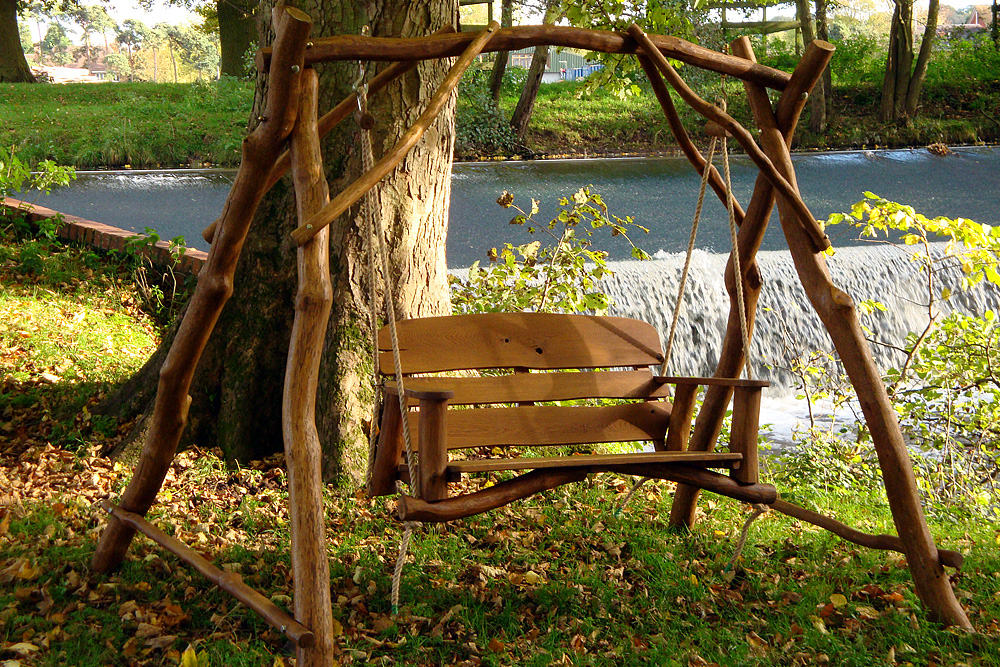 This rustic garden swing embodies the raw beauty of branches and makes you feel like you are a part of nature itself! If you are already living the sweet farmhouse life, this swing is the best addition to your big country backyard!
Lounge in Style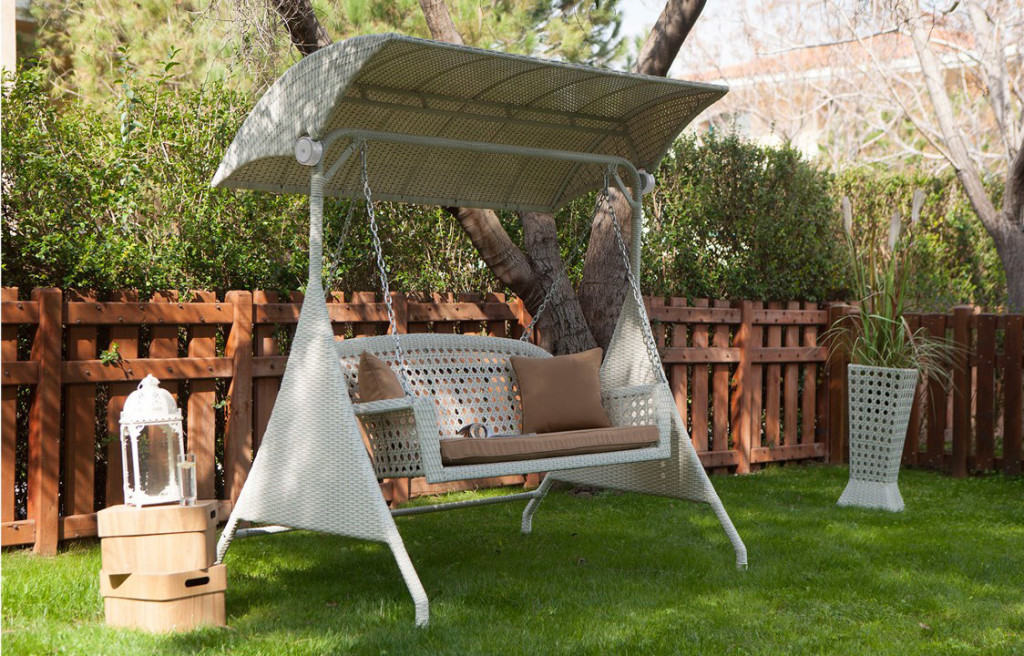 Modern doesn't instantly means uncomfortable. You can have an amazing modern piece in your garden and still feel its incredible comfort. This unique white swing is both trendy and comfy, thanks to its compelling design and the brown cushions!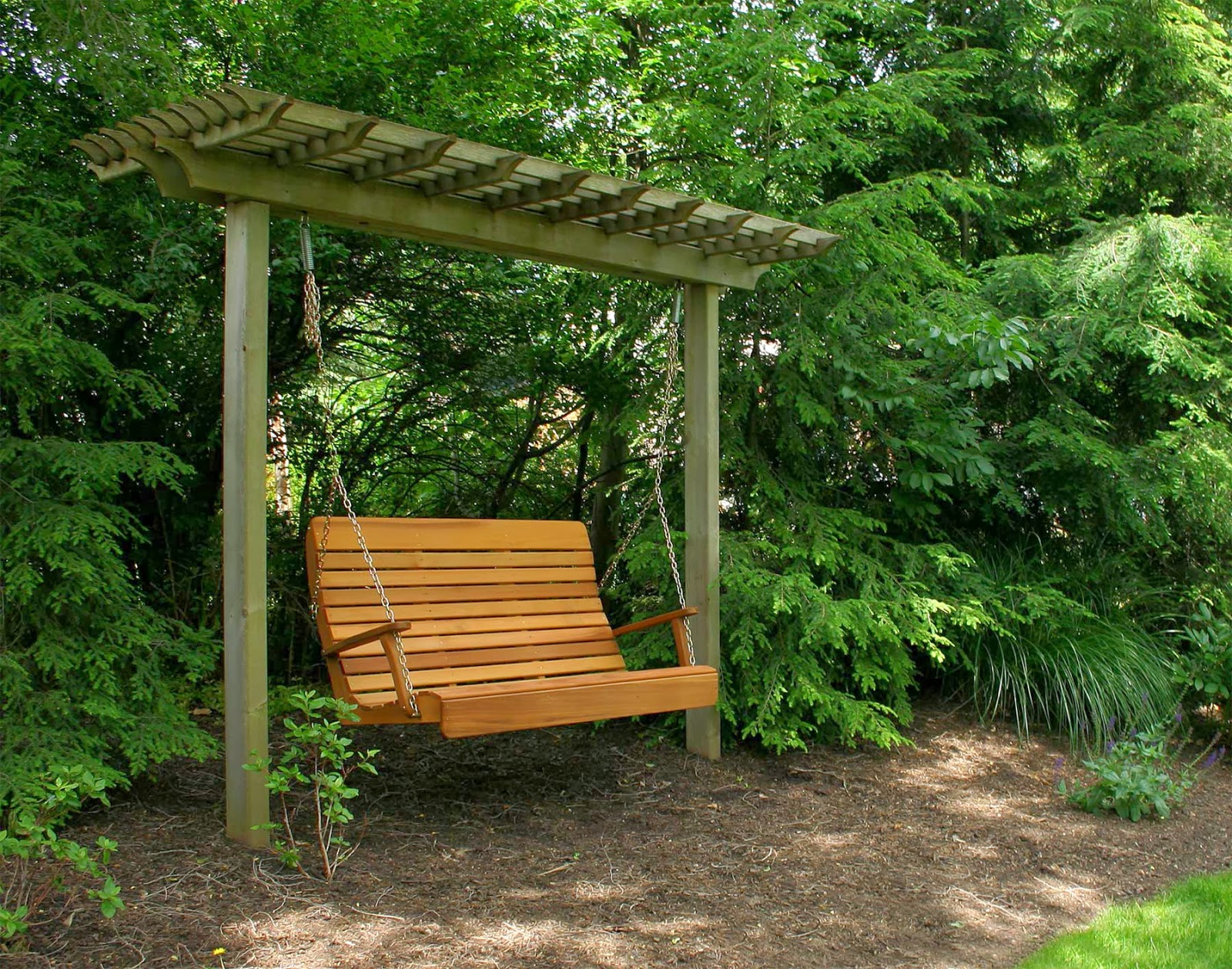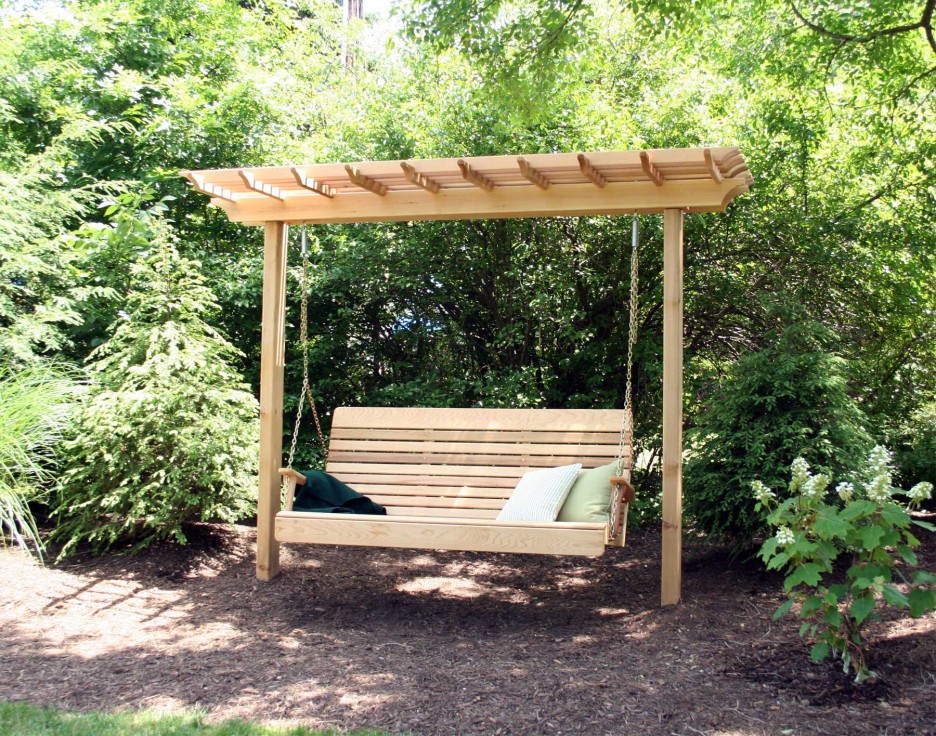 Inside a bushy garden, a wooden swing will feel like it was always meant to be. The big trees that are emitting a powerful shade of green will welcome the wooden element and make it feel as just another part of the natural ambience. You don't even need to heavily cushion the swing – allow its wooden look to steal the show!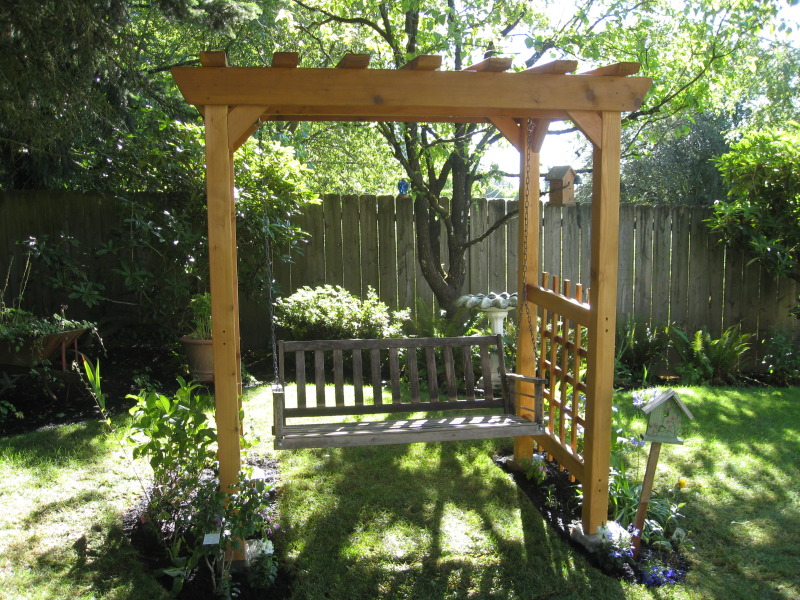 Utilize the space around your swing and plant some beautiful flowers into it! You can even add some chic decor elements, such as a tiny little mailbox or decorative rocks. This will take your garden swing from being just another element to being what your backyard is all about!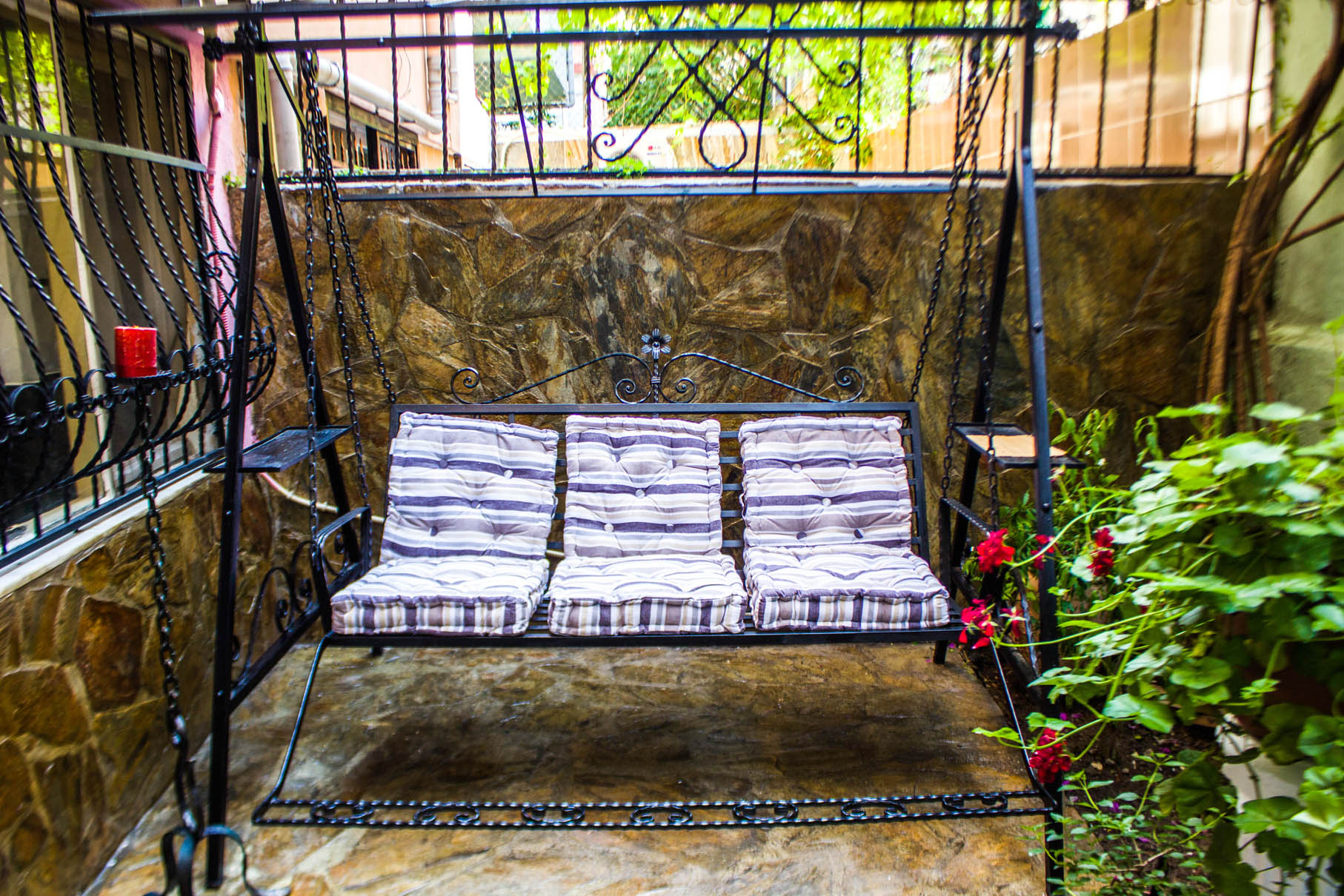 Maybe you don't have a backyard and only have a small garden set up in a terrace or a balcony. You can still have a wonderful garden swing, but make sure it matches the style of your living space. The industrial look is definitely trendy at the moment!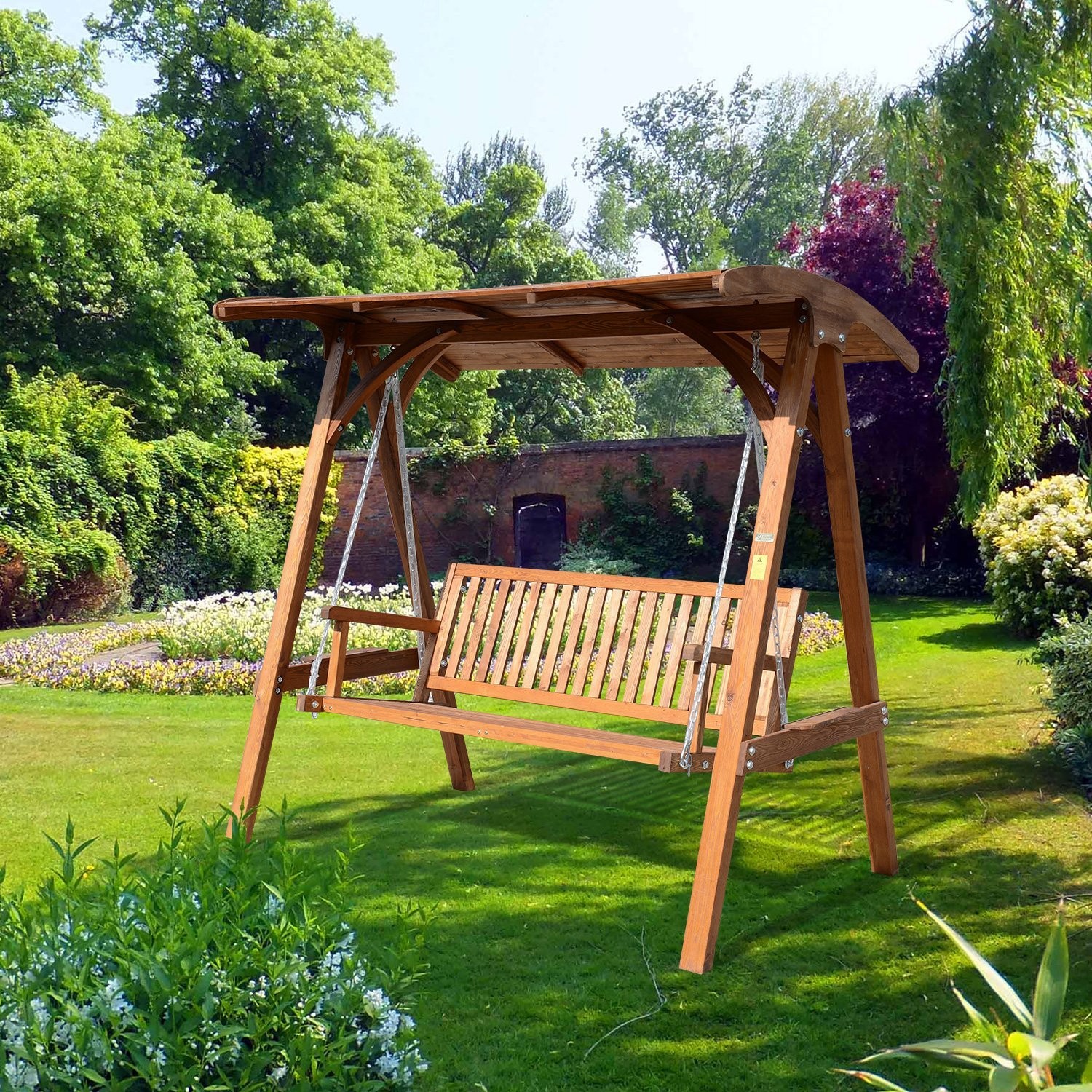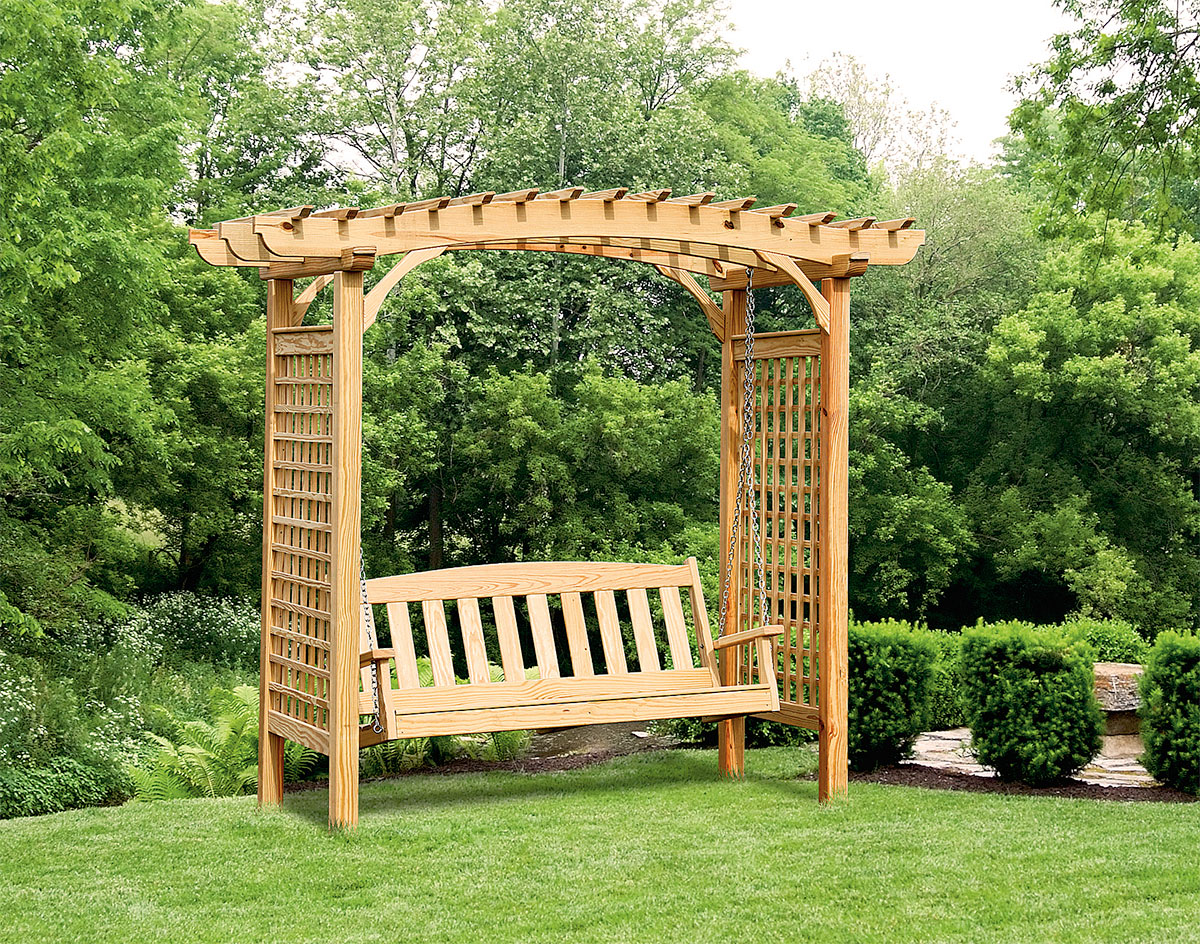 A plain wooden garden swing is very easy to work with! You can set it anywhere within your backyard and it will do just fine! It's amazing how it blends in and stands out at the same time – it's like a superpower! Set it in the center of your garden and make it a clear centerpiece, or put it on the edge of your yard and enjoy the view of the entire green landscape!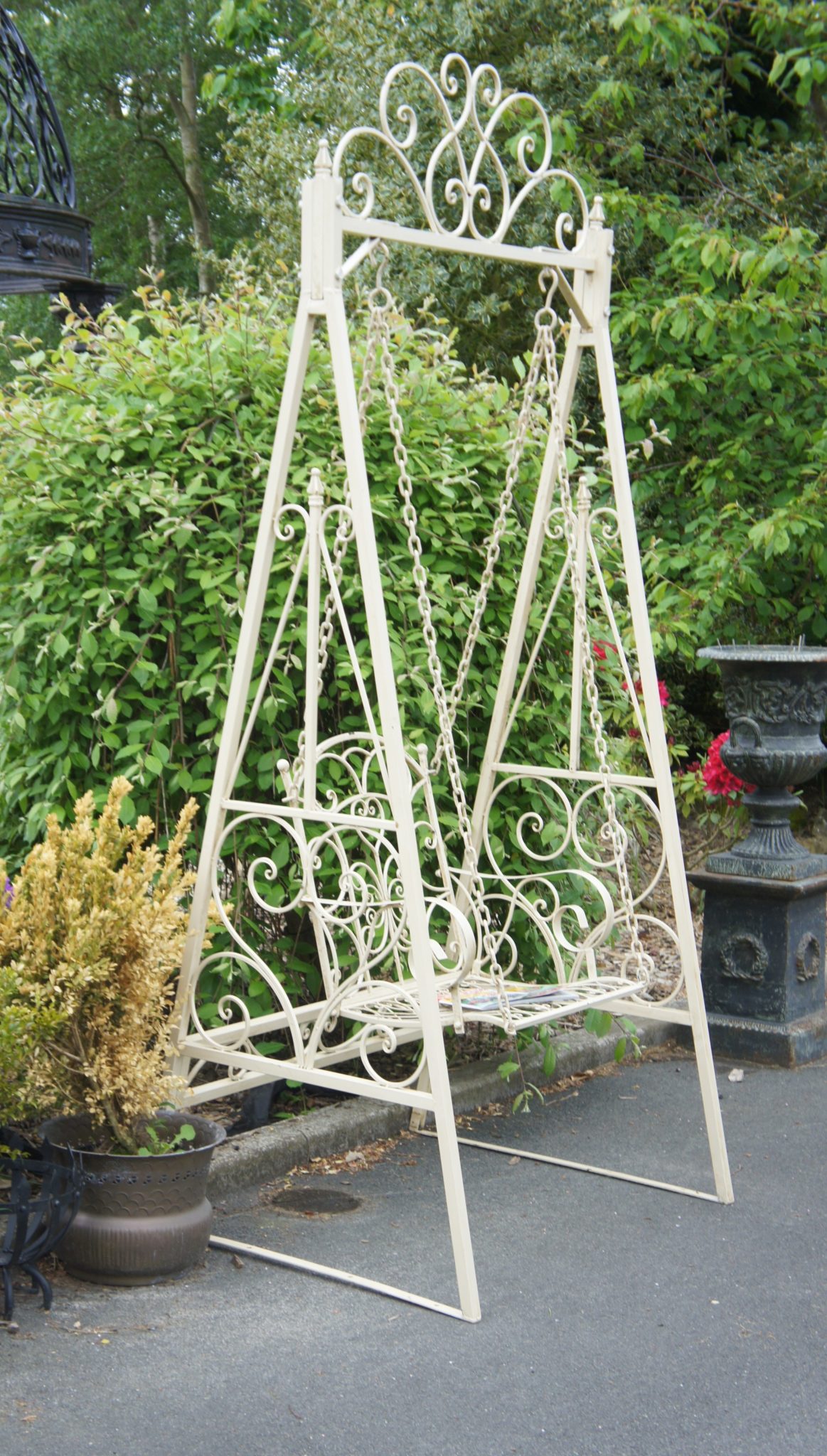 This iron swing is an ideal piece for those who would love to channel some vintage energy within their garden and have a striking element that showcases how much beauty there is in raw materials! No cushions needed, this cream swing is perfect just as it is!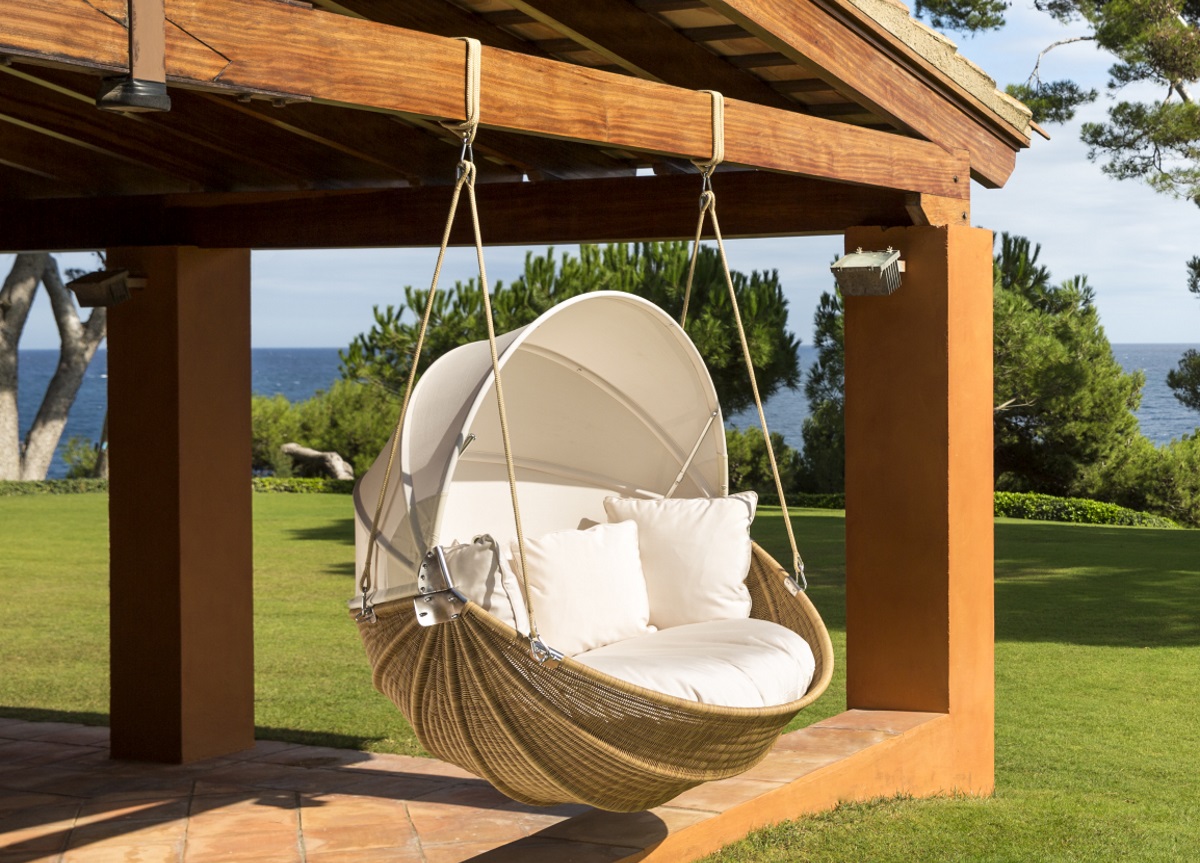 Even a backyard isn't immune to latest trends in modern design, so if you are all about the new and trendy interior, make sure your exterior matches that philosophy too! A big and comfy armadillo swing will easily become the one element in your garden that screams luxury!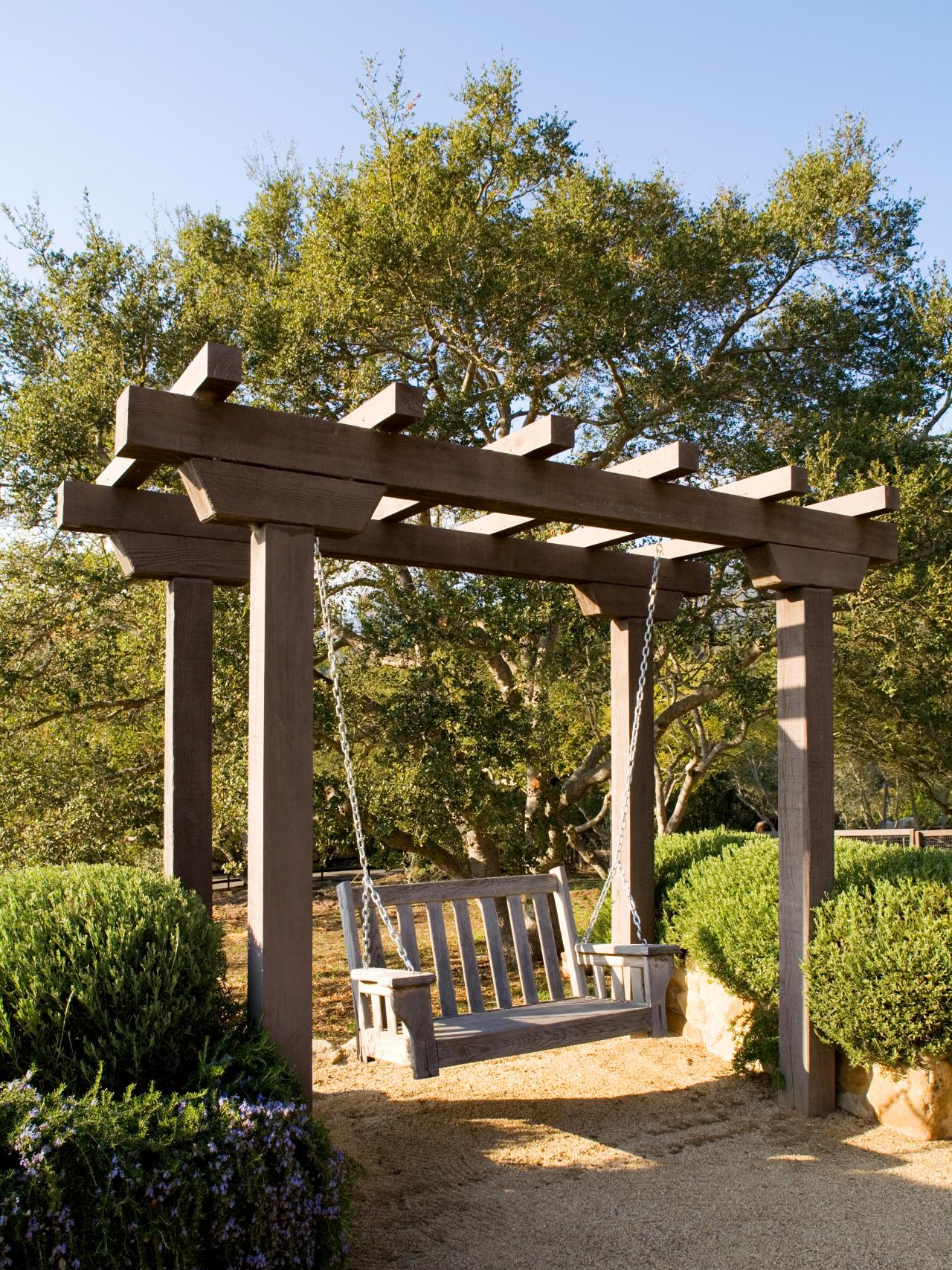 A big garden swing installation isn't just eye-catching, it's also a magnificent piece that lets everyone know you don't joke around when it comes to decorating your backyard! Sometimes bigger really is better!
Magical Ambiance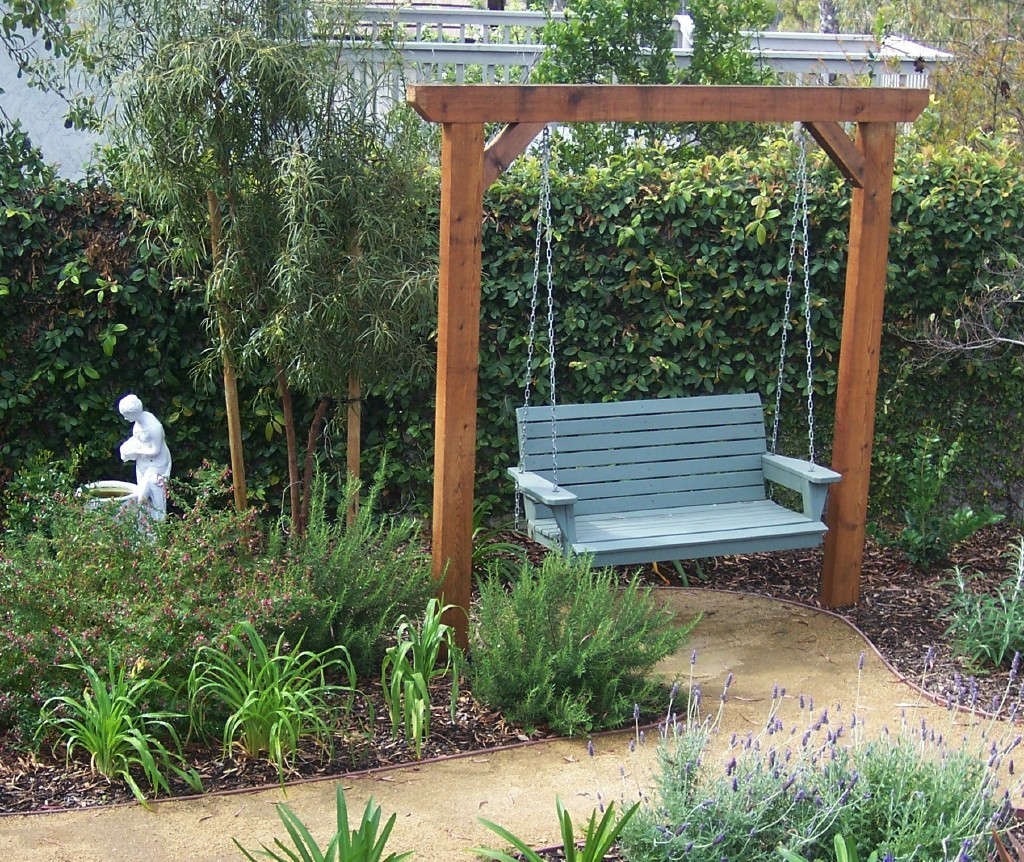 Creating a designated corner in your garden just for the swing is a brilliant idea! This introduces it as a very sacred space and you can even go as far as making a little pathway leading right up to it!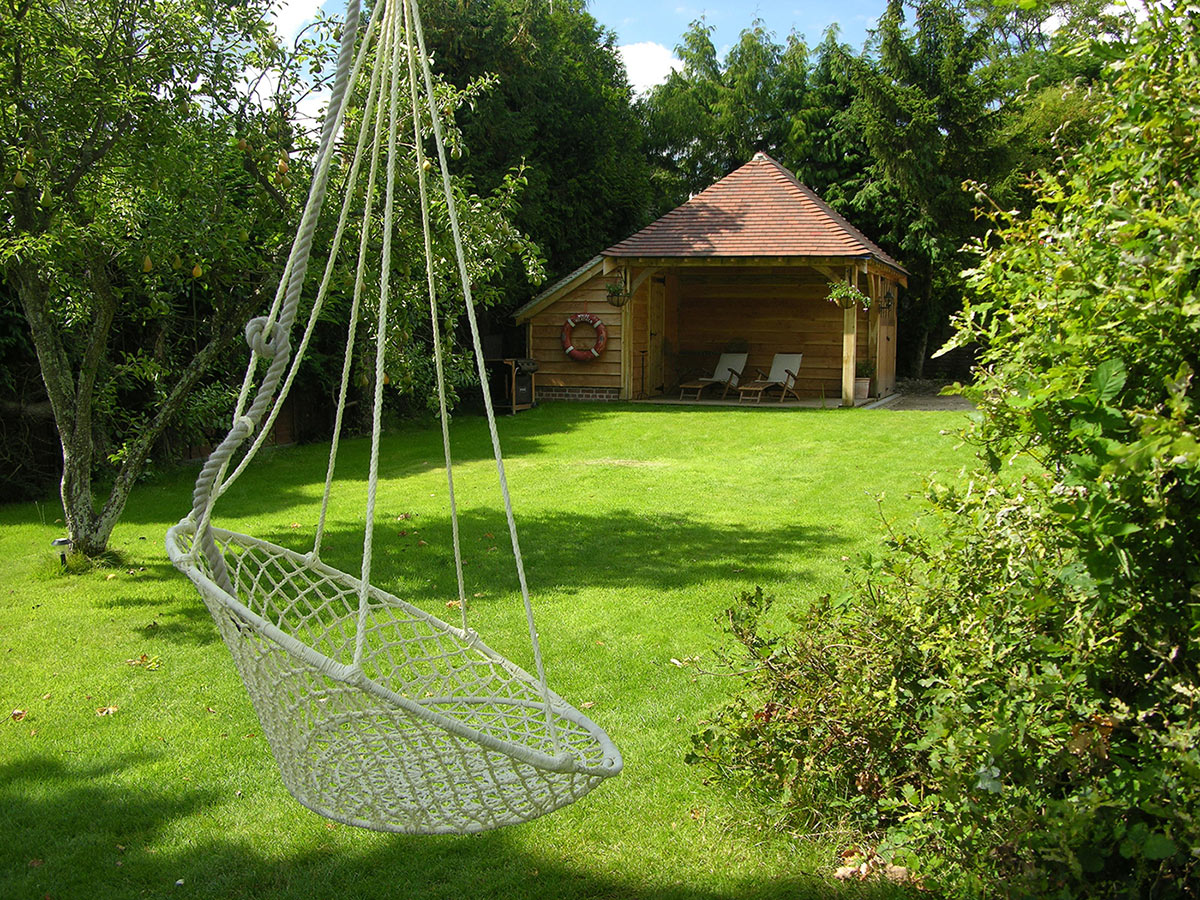 The outdoors feel incredibly free! Why not honor that freedom with a swing that is a total match for free-spirits? Pick a white net swing that has a strong bohemian touch!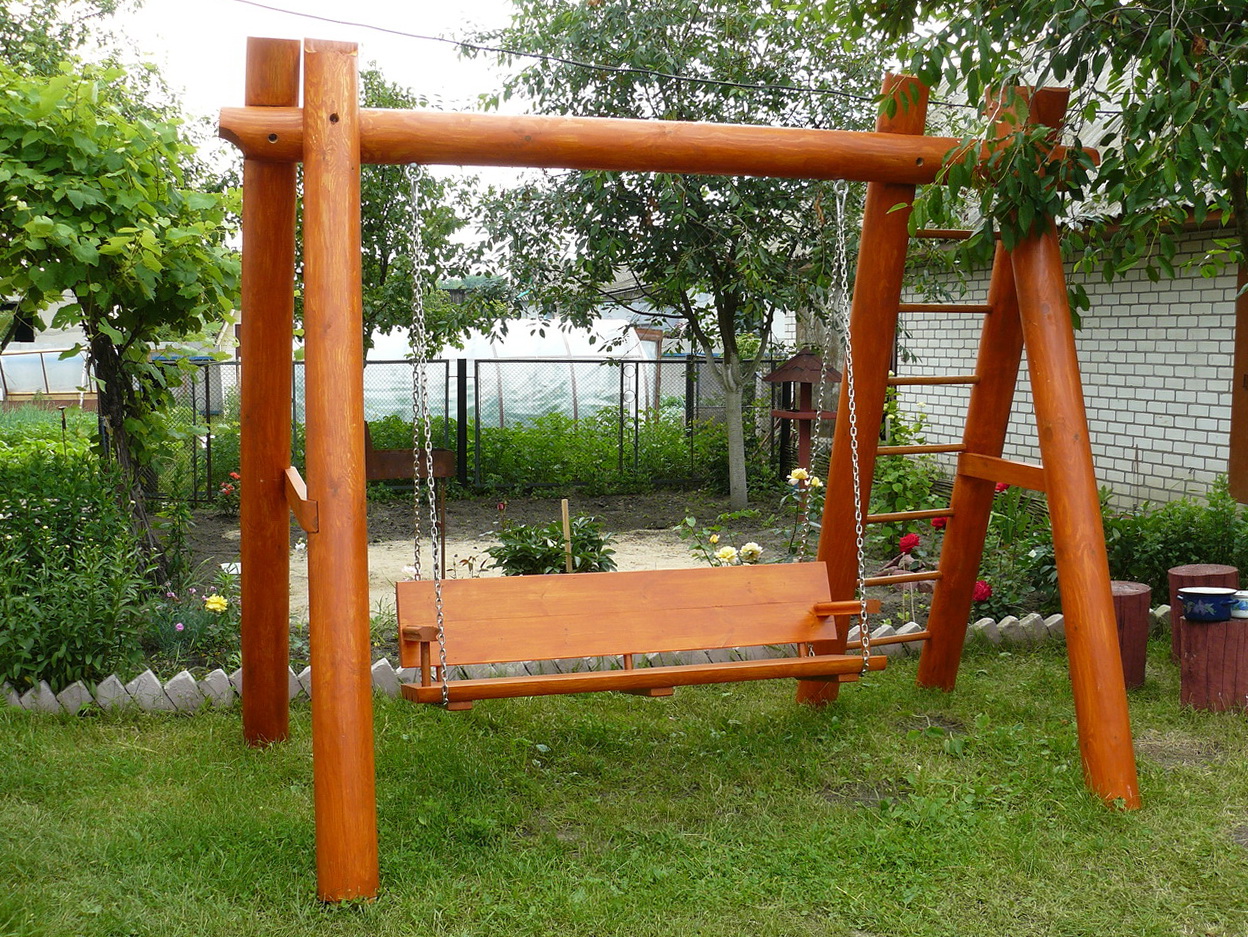 A rustic swing is definitely one of those pieces that stand out in any garden, but if you choose a reddish shade of wood it instantly becomes the element that dominates the backyard and offers an updated view of the traditional country swing.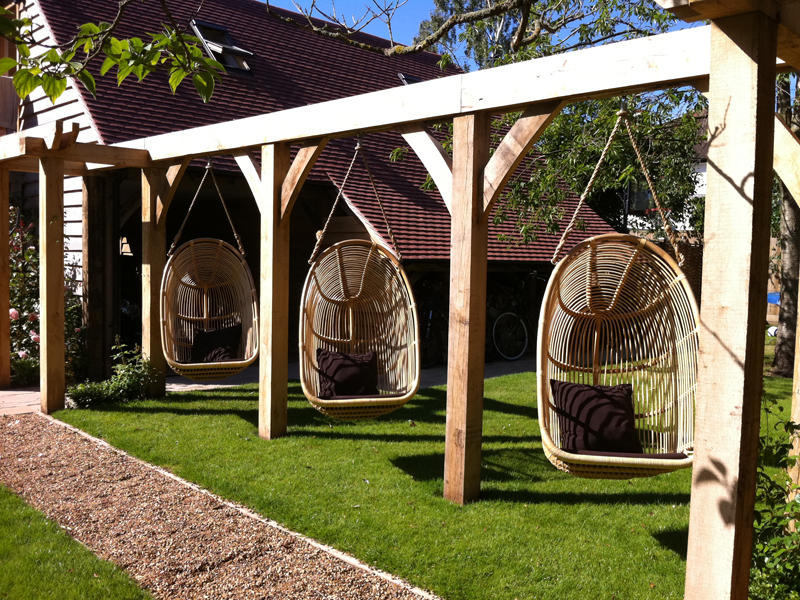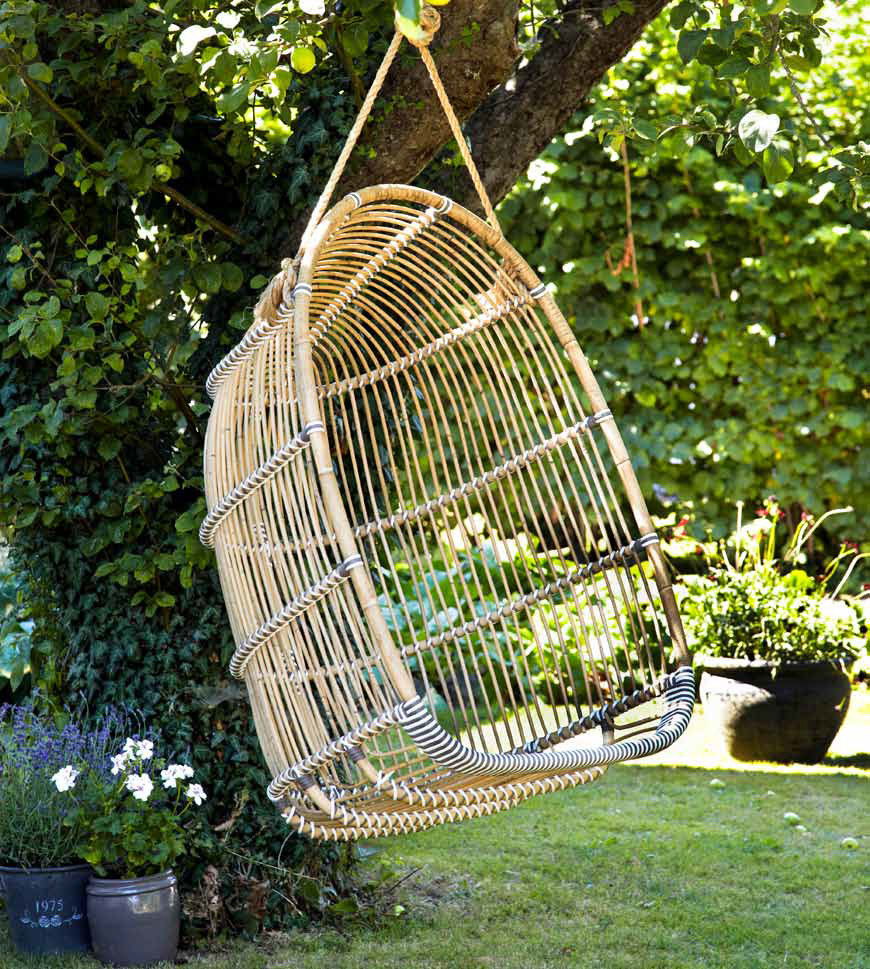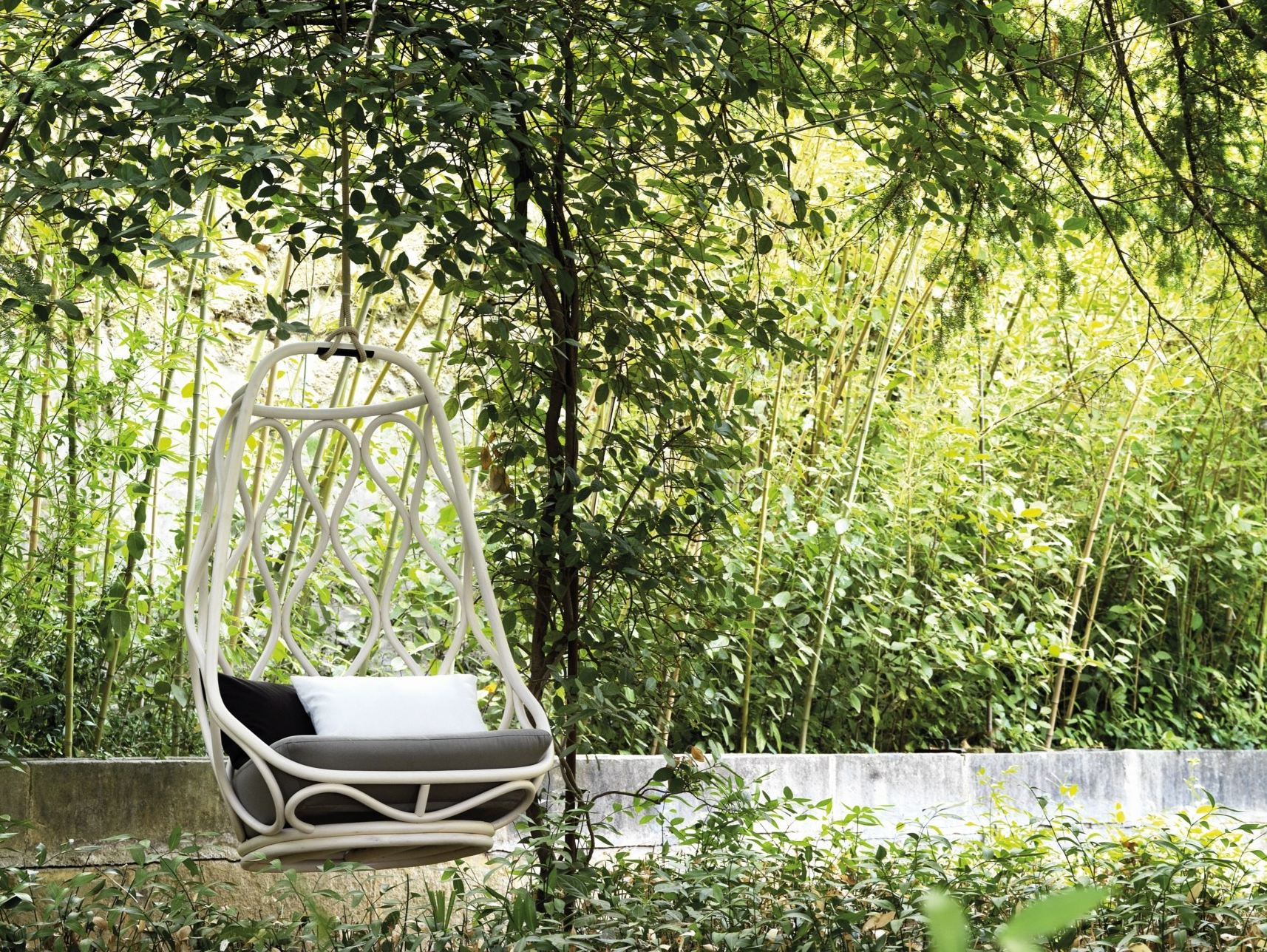 Rattan swings are a really amazing piece to own if you want to combine the coziness with contemporary design. They feel very secure and snug, due to their half-closed form that almost feels like you are sitting in a shell. At the same time, they also feel very modern and elegant, a must-have element in any minimalist garden that wants to have something slightly glamorous within the natural setting. It's understandable why they are people's favorite, seeing as they cater both to our adult and childlike side, combining the passion for trendy decor with the need to feel safe and comfortable!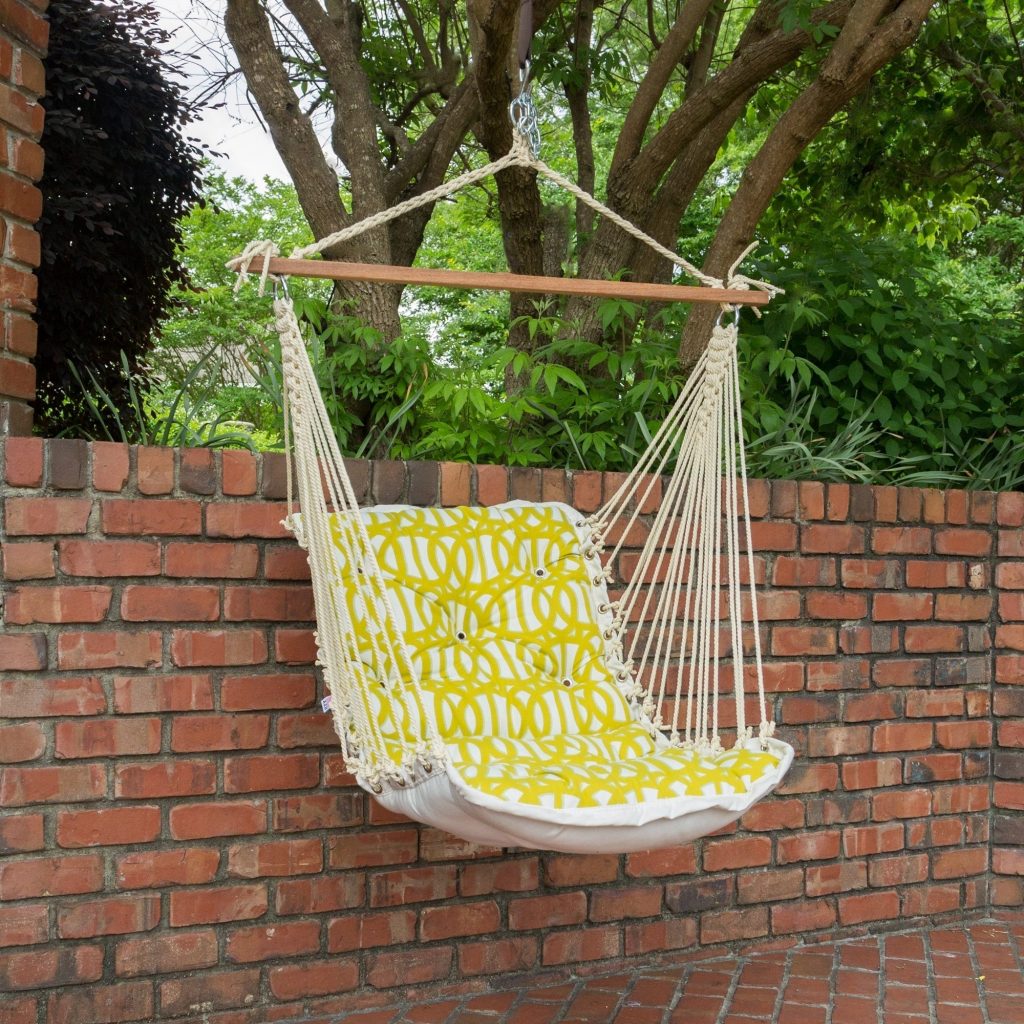 You don't need a huge swing installation in order to enjoy and experience the relaxation of the garden swing. Simplify the backyard design by opting for a hanging hammock chair that you can easily hang on a strong tree branch!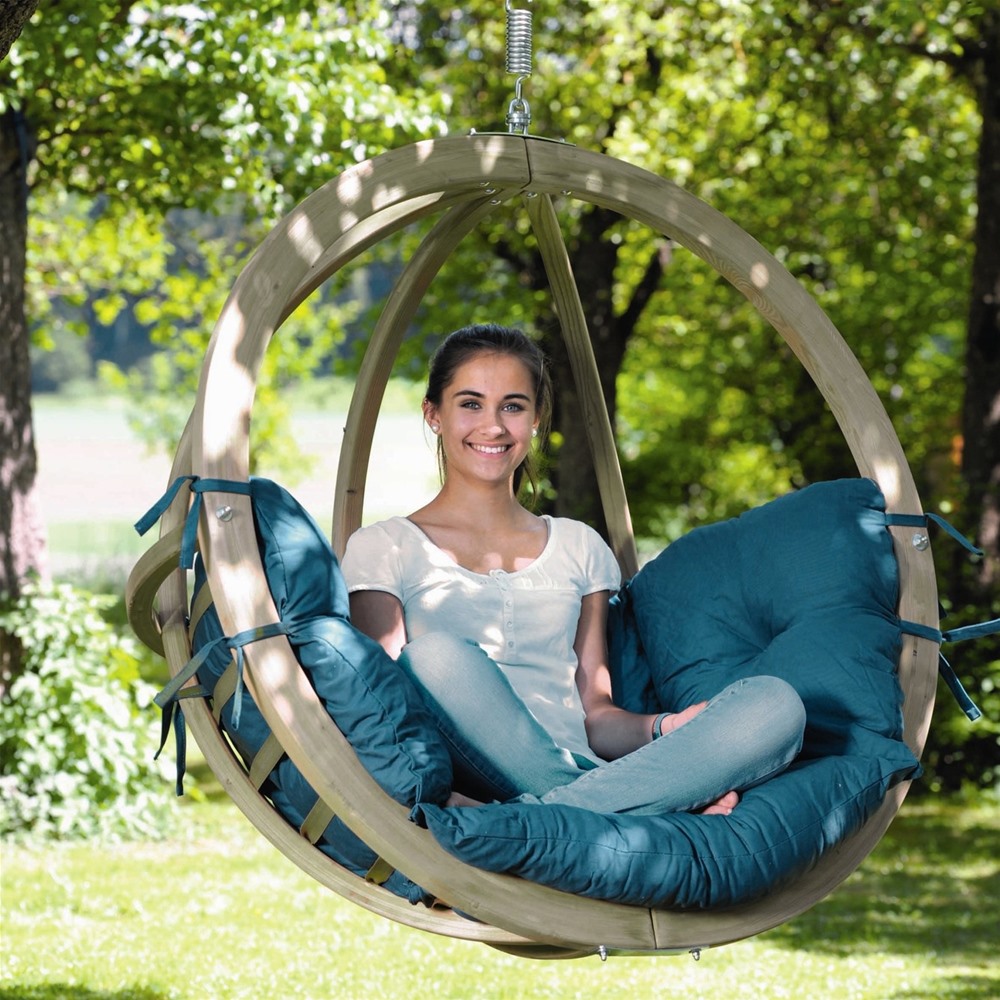 This contemporary globe-like garden swing is one that will not leave you cold if you are head over heels for dynamic backyard decor solutions!
Putting a swing into your backyard instantly makes it special, but if you want the swing to be the ultimate center of attention and really create an enchanting space that feels absolutely magical, you're going to have to bring in some flowers! Plant the flowers so they almost surround your garden swing and experience the blooming floral atmosphere to the fullest!