Welcome to the third installment of our With Kids in Mind series! This week we're focusing on home design that honors both your style and the needs of your children. Balancing both elements IS possible, and below we'll show you how to make smart design choices that are as eye-catching as they are practical. Read on for helpful tips, fabulous photos, and LOTS of design inspiration! [photo by Tim Lee for Daniel Conlon Architects]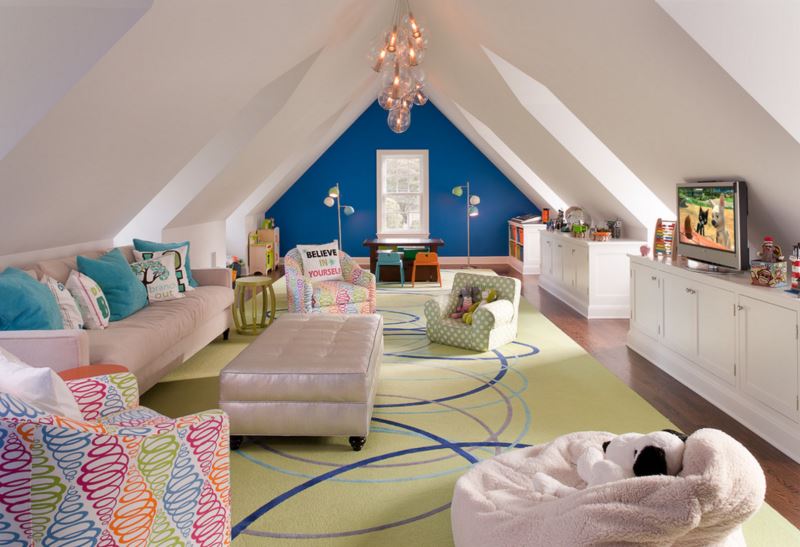 Safety First
We begin with safety, because that should be your top priority when it comes to your kids. Obviously children have different needs at different ages, and we're not going to go into the ins and outs of babyproofing, although there are some amazing online resources to guide you through it when you're ready to investigate. In general, securing large furniture to the wall is a must, as this prevents dangerous (and sometimes fatal) injuries. [Outline Bookcase below from The Land of Nod]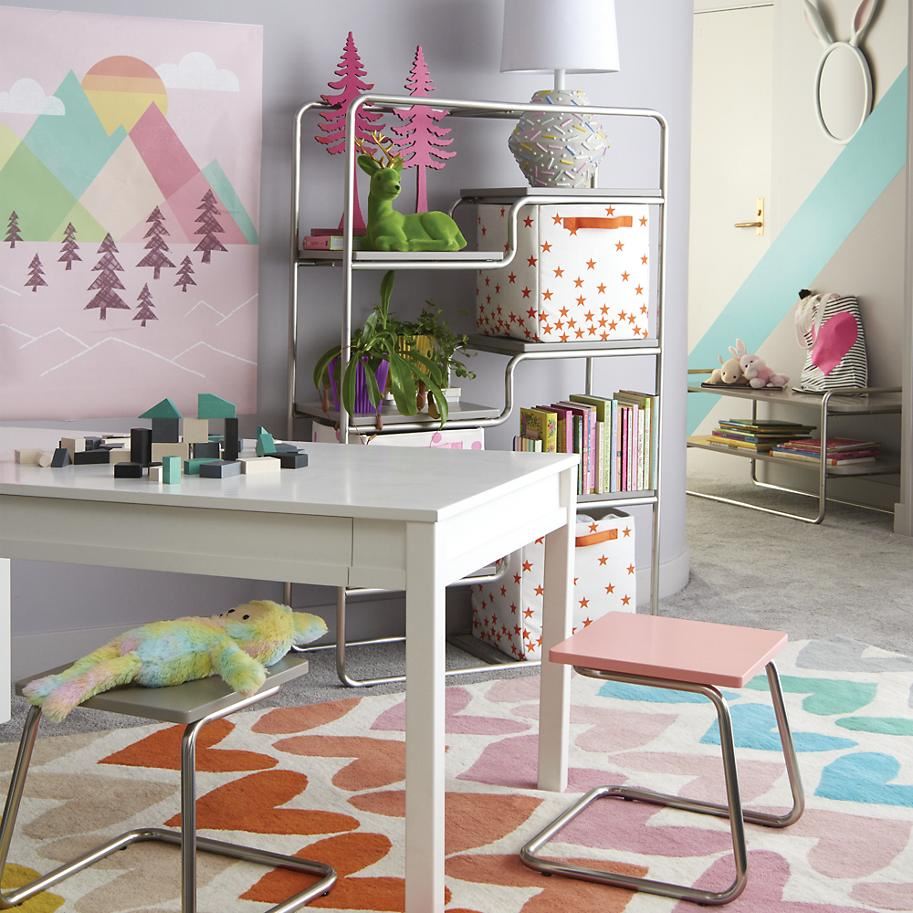 Items such as shelves, dressers and bookcases should be secured, and there are products that can help you achieve this goal. Whether you purchase anti-tip devices, furniture safety straps, or a furnishing that comes with its own hardware for getting the job done, do your research, and most importantly, do what it takes to make your home a safe one! [photo from Homemade Mothering]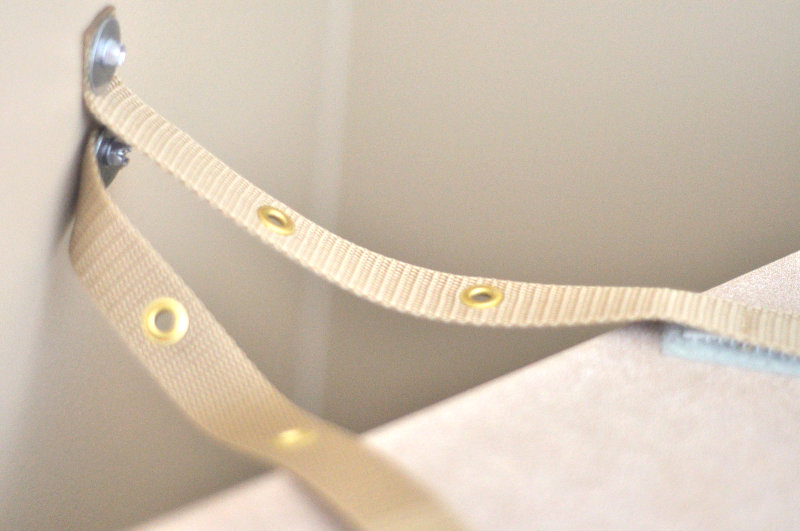 Also consider the safety of the furniture itself. For example, retailers such as The Land of Nod include bunk bed safety information from the Consumer Product Safety Commission, including age restrictions, the importance of guardrails, and mattress requirements. Once again, do your research, and prioritize safety when your little ones are concerned.
For some, safety is about intentionally choosing eco-friendly, non-toxic furnishings, bedding and paint to make the environment a healthy one for children. Brands are increasingly honoring these concerns as more awareness about consumer safety is emerging. Kalon Studios is one such brand, and they offer a range of green, sustainable furnishings for both adults and children. Below we see 3 Blocks, a set of three geometric nesting tables/stools: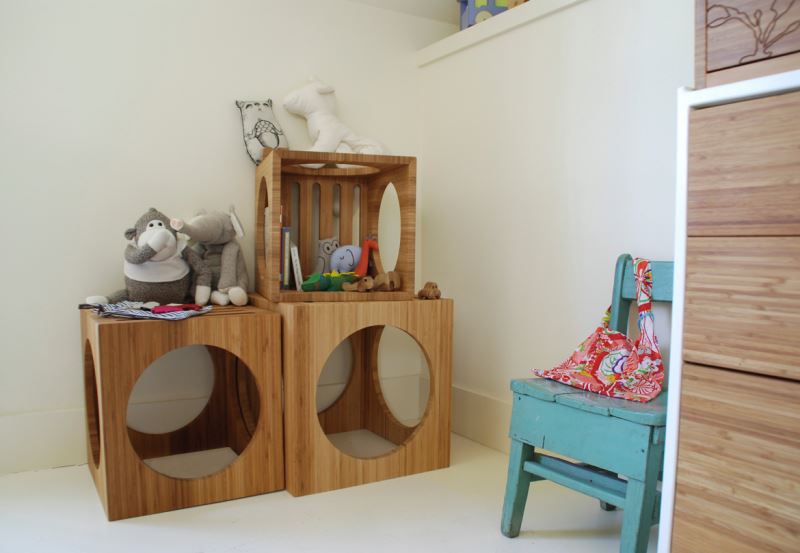 Combine the Stylish with the Practical
In addition to accounting for safety, think in terms of practicality. This doesn't mean that you have to sacrifice style. A case in point: consider adding a beautifully designed art table to the living room so you can enjoy time together as a family. This gives you a chance to unwind on the couch while keeping an eye on your little one (rather than having to go back and forth to your child's room to monitor him or her). [photo by Tom Hargreaves for Barc Architects Ltd.]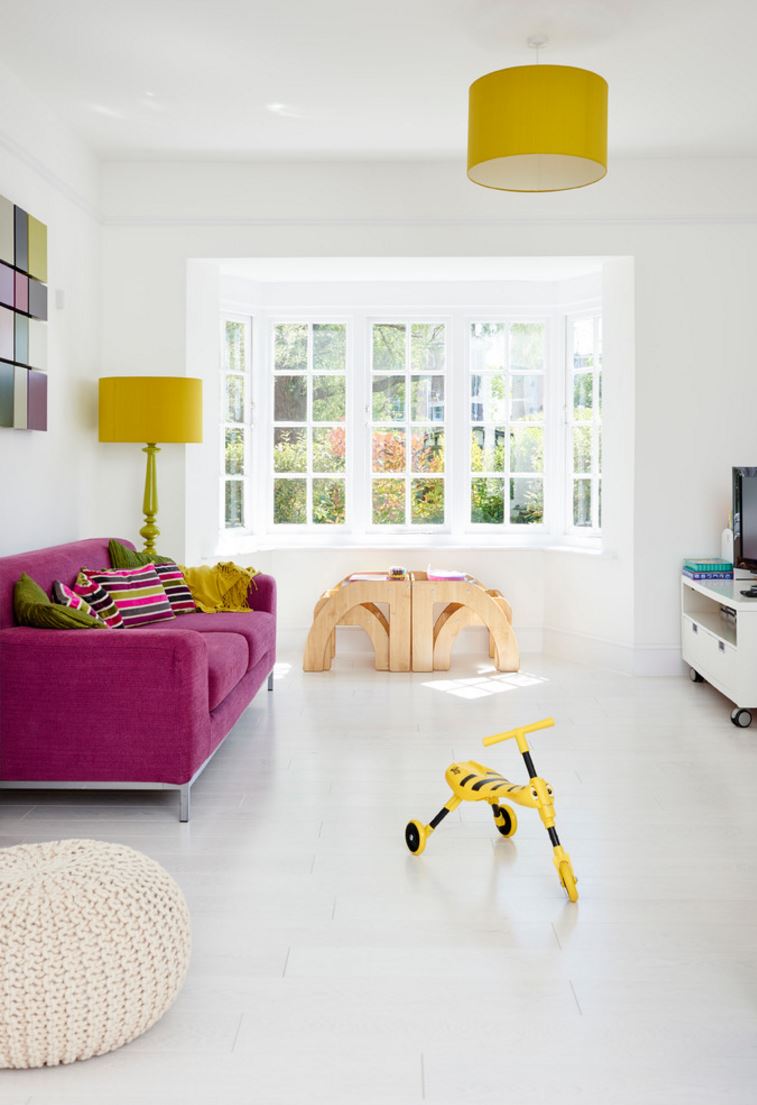 How fabulous is this Campaign 3-Drawer Dresser from The Land of Nod? Complete with roomy solid wood drawers (practical), it also features brass drawer pulls and corner brackets (stylish). See, it IS possible to have both practicality and style!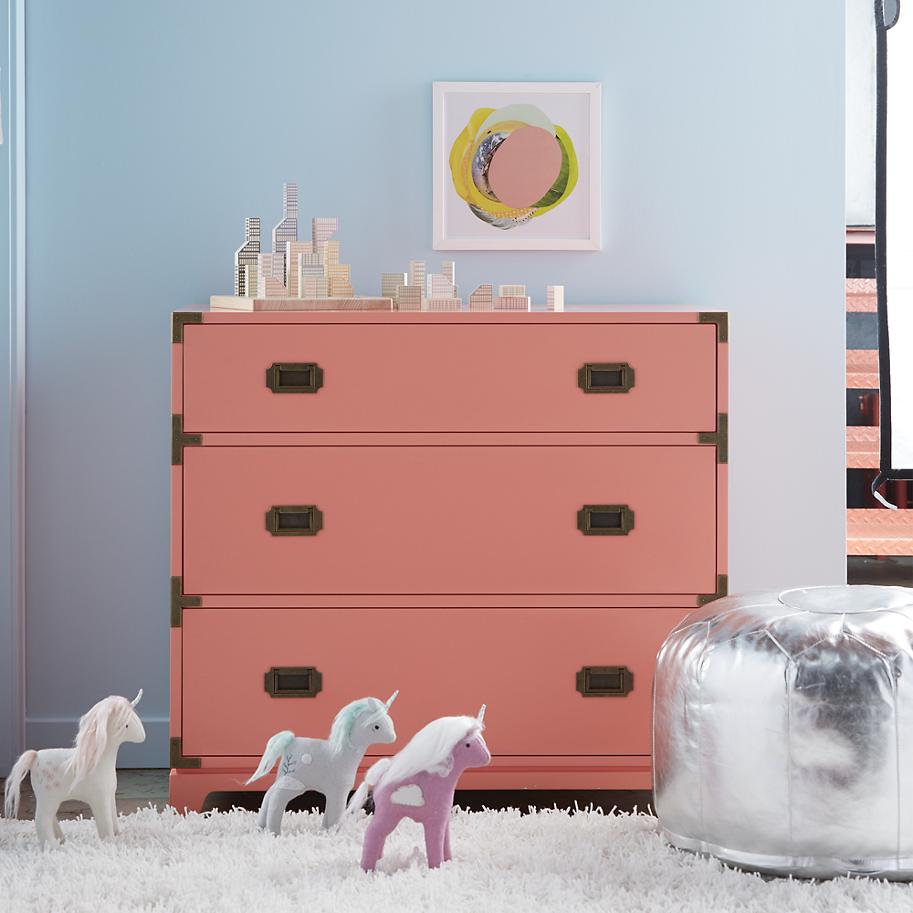 The Wheelhouse Bookcase from The Land of Nod is unusual, eye-catching, and retro-modern. The circular design is unconventional, yet the four interior shelves and small scale make it ideal for storage and display in small spaces (and make it accessible to small people).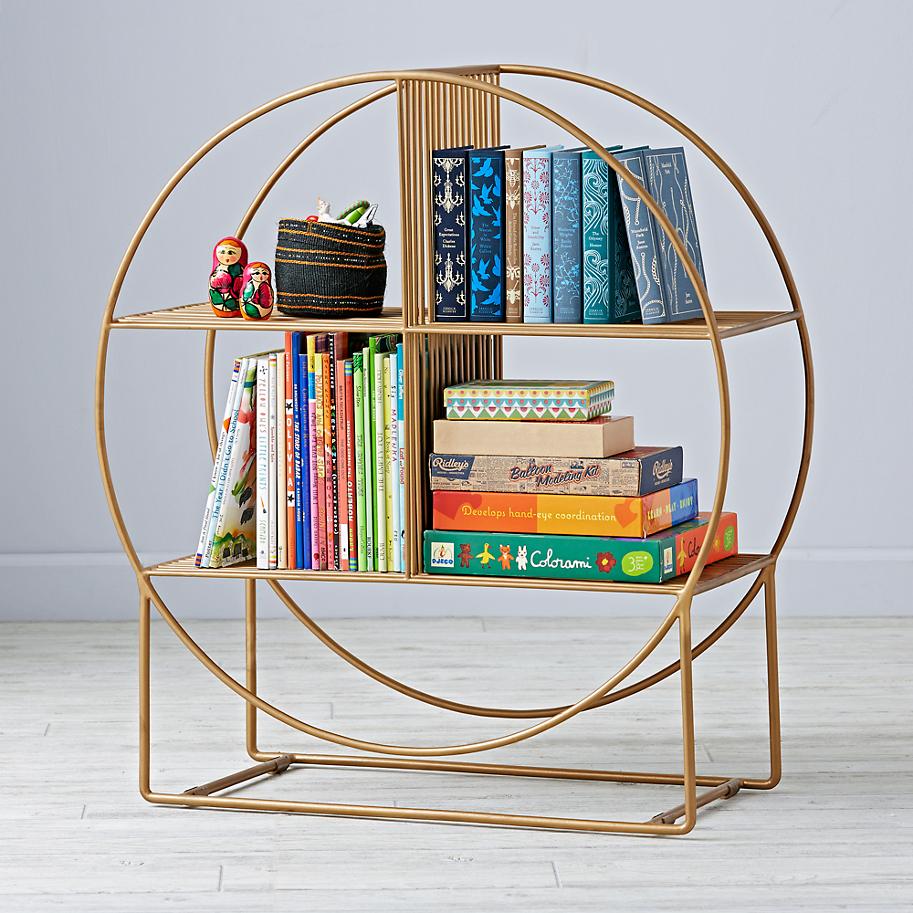 The gorgeous interior below is the nursery of blogger Camille Styles' baby boy – isn't it stunning?! The Victorian Roll Arm Upholstered Daybed is from Restoration Hardware, and it's the perfect place to crash after a late-night feeding. Styles advocates adding one grown-up piece to complement the furnishings designed specifically for kids. Once again, practicality meets style!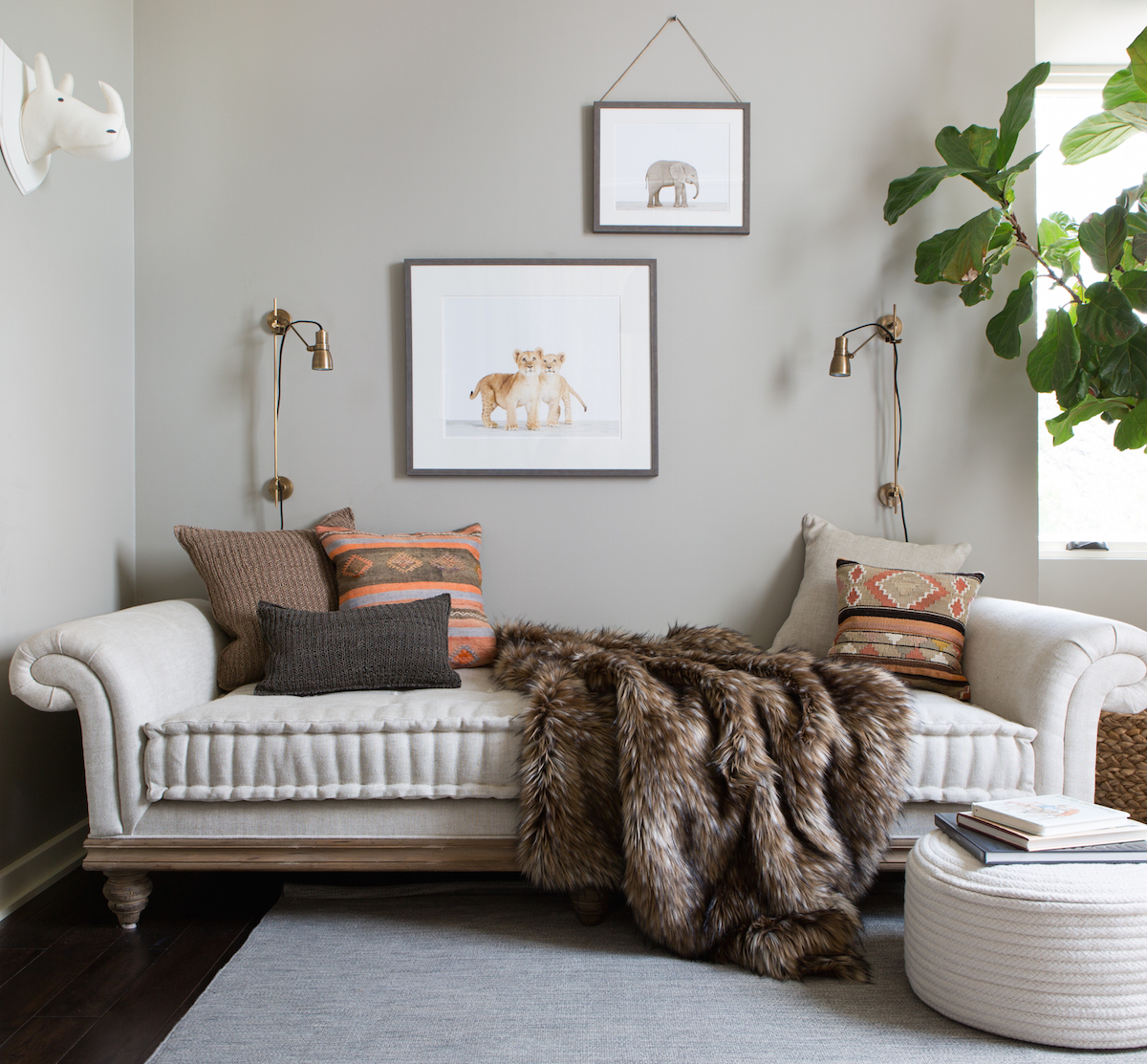 Dual-Purpose Design
When designing your home with kids in mind, incorporate furnishings that can pull double duty. This way, both grown-ups and kids can enjoy them, and you make the most of your available space. For example, below we see a work table in a home loft area. However, you can apply this concept to the dining room if you are short on space, making your dining table a place for the kids to do homework and art projects. [from Julie Ranee Photography]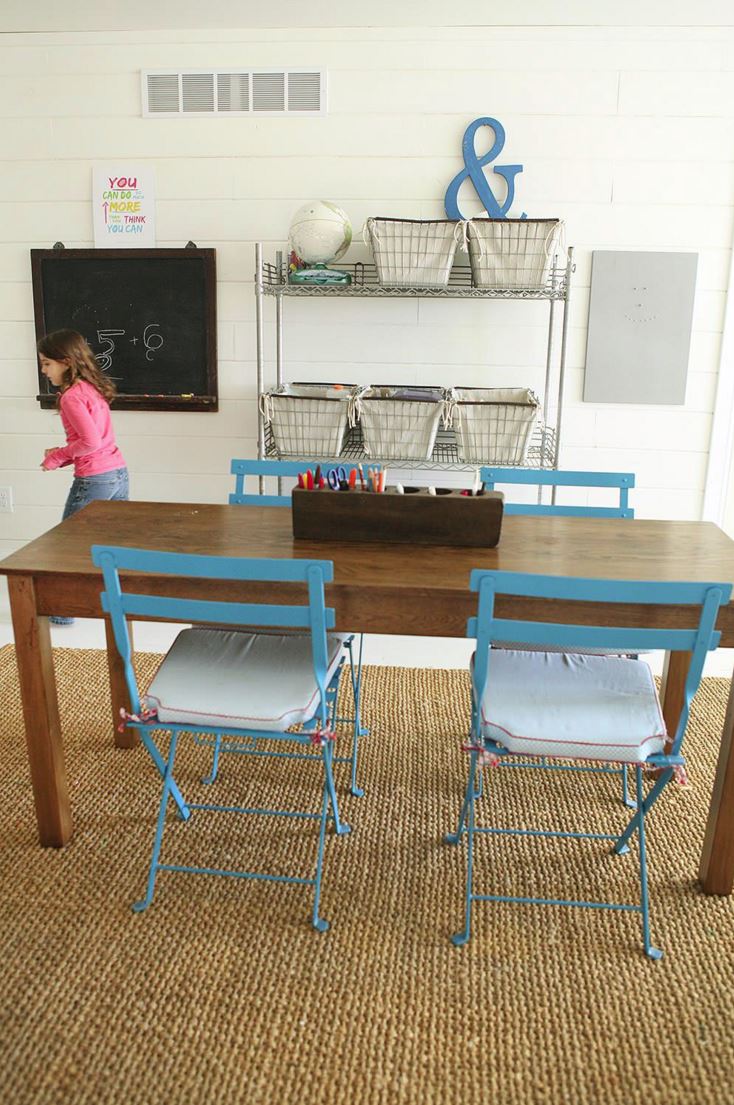 This Cubby Cube Paper Holder from The Land of Nod is both a modular shelf and a paper holder, making it possible to display your little one's favorite items while giving him or her easy access to paper. In other words, creativity is within arm's reach!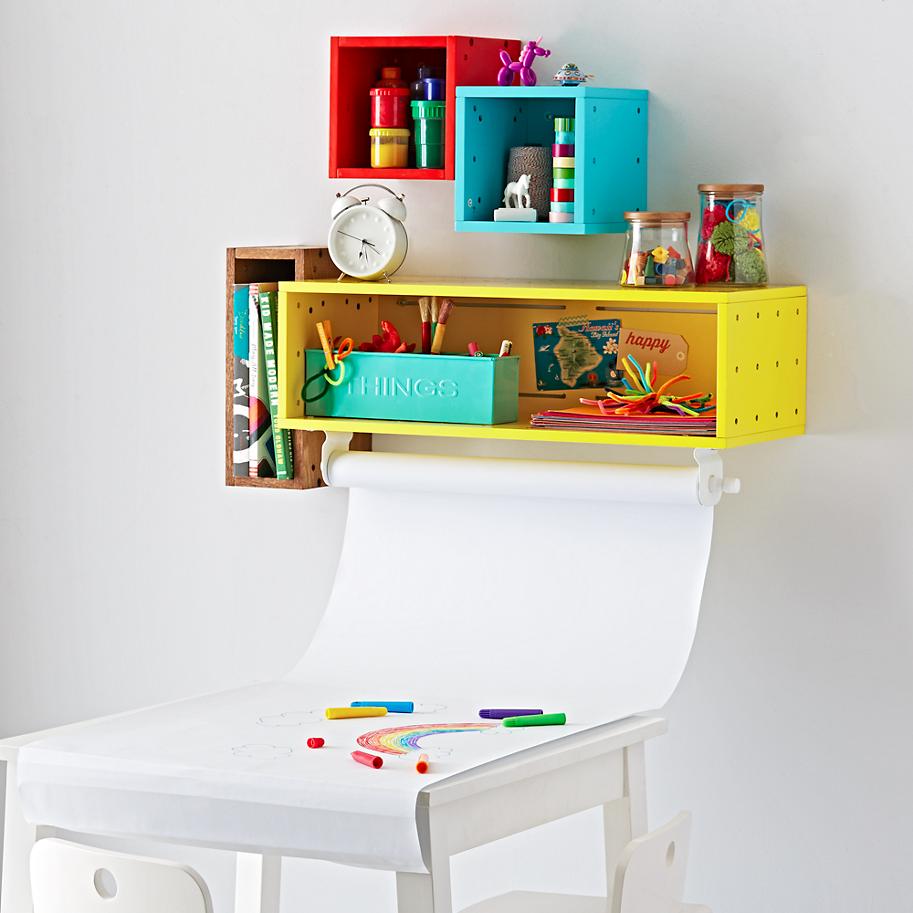 Poufs and ottomans can serve as seating solutions, end tables and even footrests. How's that for multi-tasking?! [from Lonny]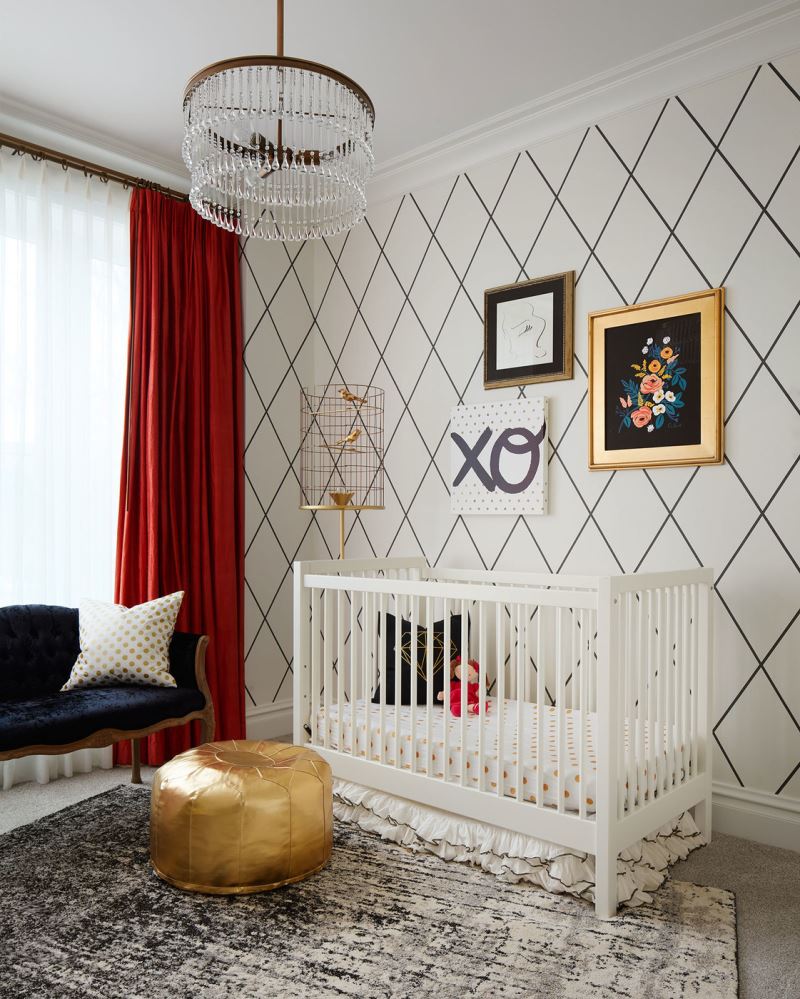 And don't forget that you can opt for display shelves instead of wall art in a section of the room! The books in the space below actually serve as wall art in a way, as the covers are colorful and whimsical. Plus, this solution frees up floor space (which isn't the case with a bookshelf).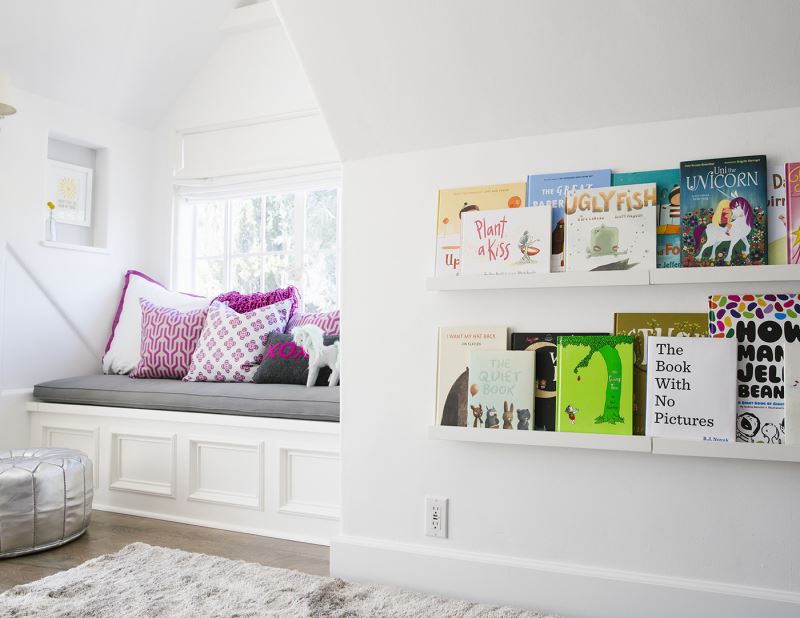 Maximize Storage
We end by focusing on storage, which is always a challenge when it comes to child-friendly spaces. Instead of getting frustrated by the large amount of toys in the living room, make them a part of the living room! The custom-designed shelving below features sunken circles that hold Tubtrugs storage bins. Pick-up is a snap, and storage is stylish. [from Natasha Barrault Design via Houzz]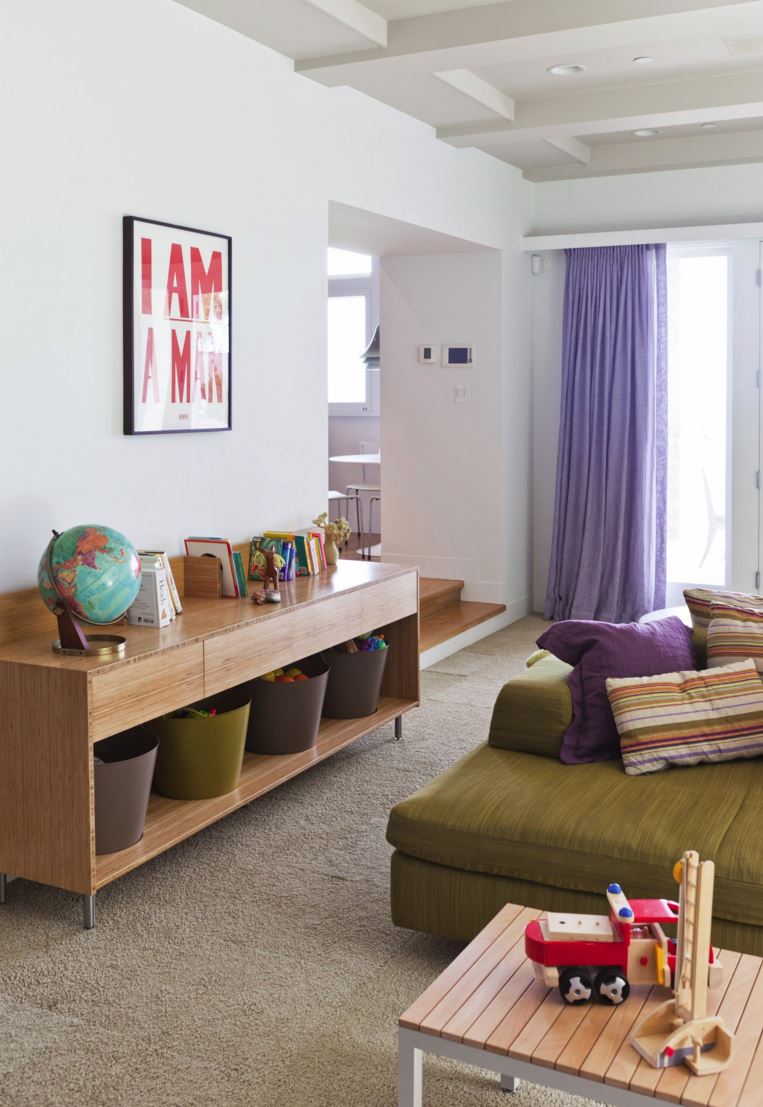 In fact, there are a slew of stylish storage bin options, making it possible for you to find selections that complement the decor in your living room or family room. [photo from Clare Gaskin Interiors]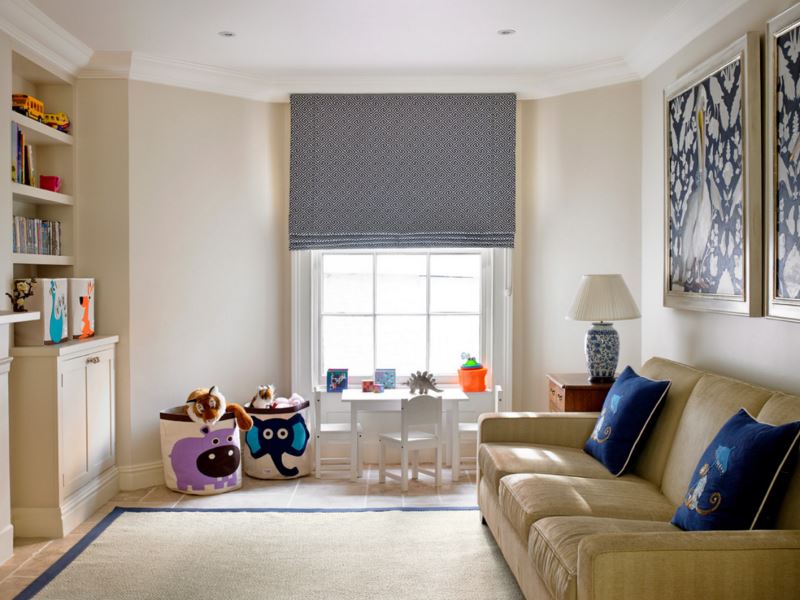 You can always opt for a bench or ottoman with hidden storage. The kids will love the hidden compartment, and adults will love the seamless style. This Upholstered Storage Bench w/ Legs from The Land of Nod couldn't be more on-trend with its soothing abstract pattern (designed by artist Ashley Goldberg). Open it up, and you have a chic solution to your storage dilemma.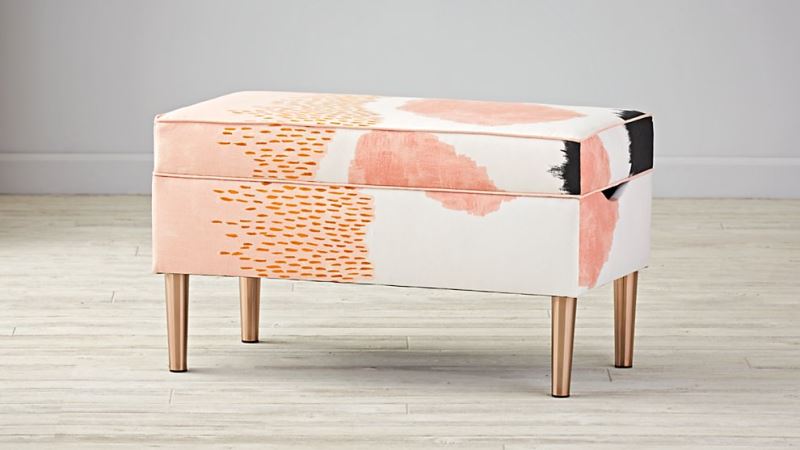 And of course, you can go to town with storage in your child's bedroom or playroom. Great storage doesn't have to cost a fortune. The room below is filled with IKEA furnishings that keep clutter at bay. [photo by Florian Groehn from Elaine Richardson Architect]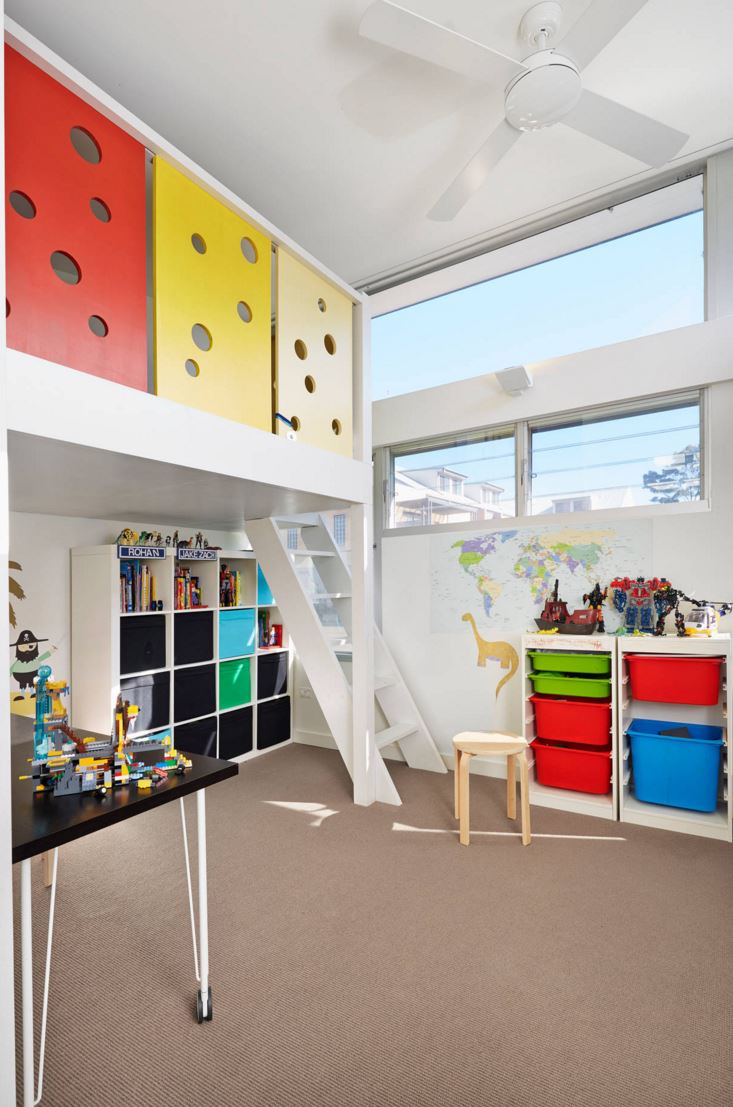 As we've seen today, by combining safety, stylish practicality, double-duty design and ample storage, you can create a child-friendly home that adults will love as well! Happy decorating!