Some shelves are purely functional, while others leave a little bit of room for decorative flair! In fact, the decorative shelves featured in today's post showcase a range of styling possibilities, from the minimalist to the overflowing. Enjoy browsing the images below while taking in a slew of helpful styling tips from top brands and design bloggers…
Geo Shelf Styling Ideas from Urban Outfitters
Let's get started with some styling inspiration from Urban Outfitters, a brand that offers an interesting array of wall-mounted shelving options. Many of them celebrate the best of geo style. Below we see a trio of shelving solutions, including the Bryn Mountain Display Shelf, pictured at the top right of the photo. Note how each of these shelves holds "like items," such as rocks, jewelry and other natural wonders: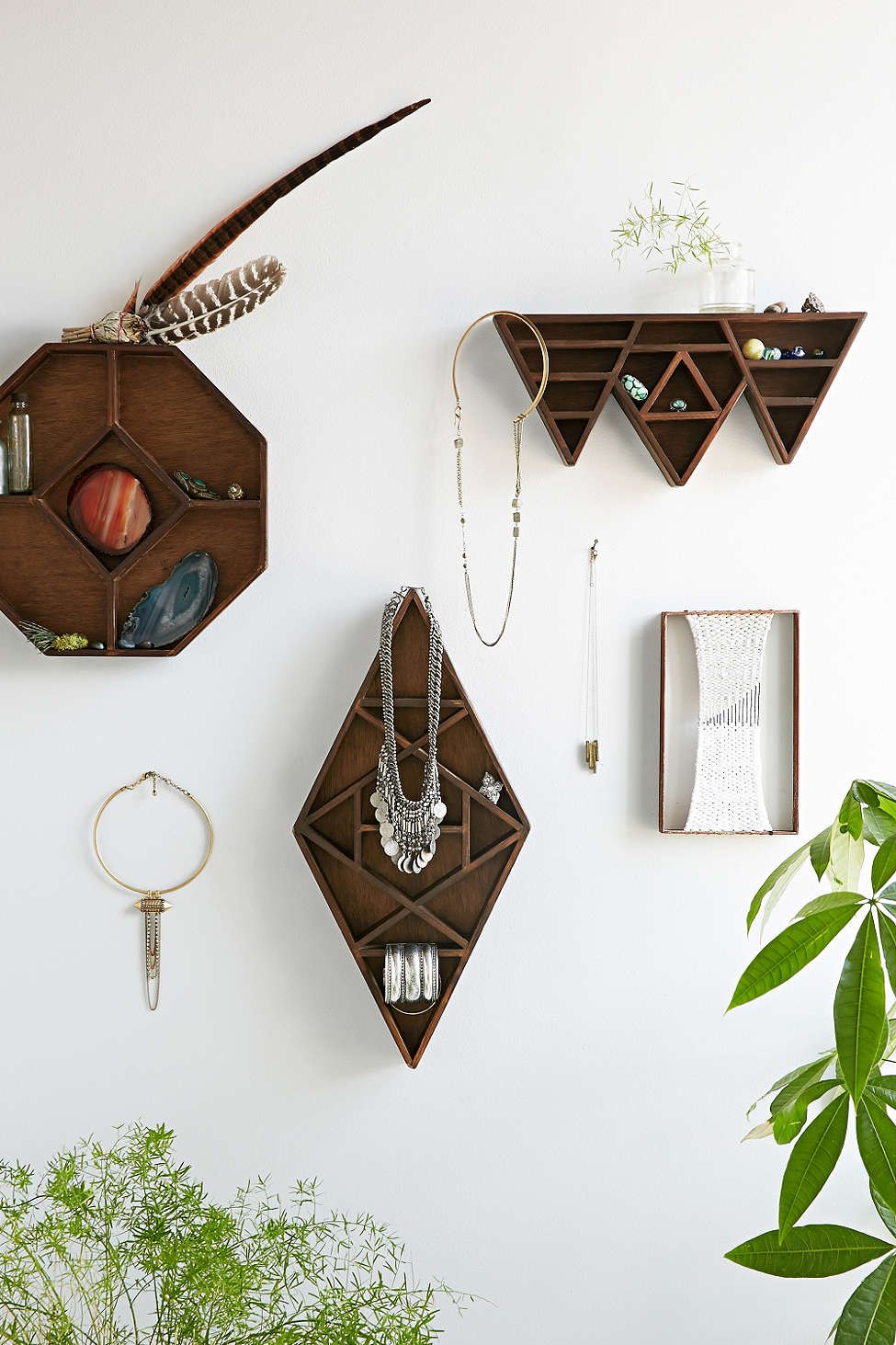 The styling of this Geo Triangle Shelf proves there's power in empty space. You may be tempted to fill every square inch of your decorative shelving, but remember that sometimes less is more.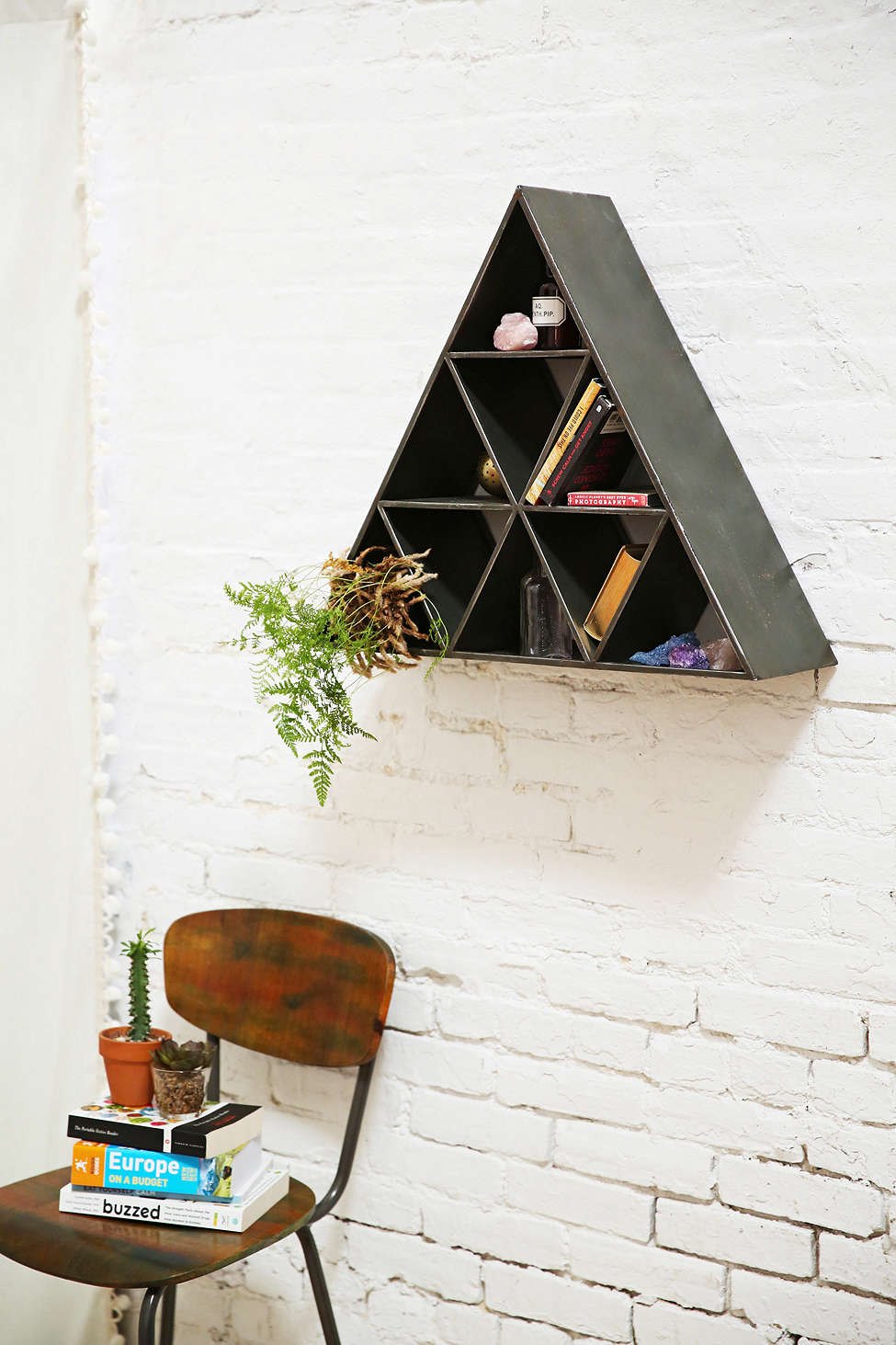 Speaking of "less is more" design, if your shelf offers little display space, consider opting for one or two standout items to showcase rather than a slew of small finds. In the next image, we see the Magical Thinking Peaks Shelf, crafted from glass and aluminum: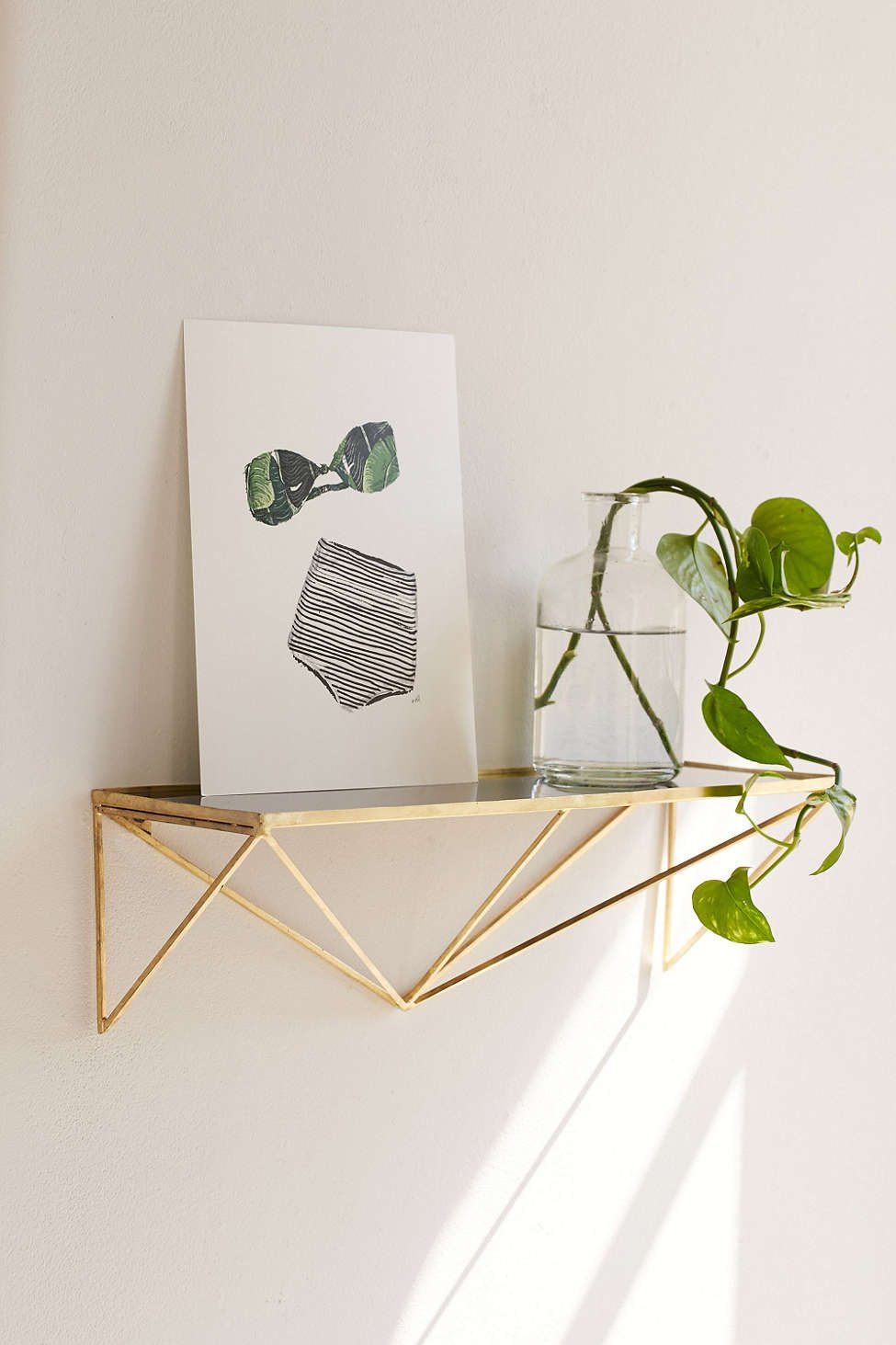 Then again, there's something charming about a curiously cluttered look, especially if items are thoughtfully curated. The Magical Thinking Pyramid Shelf below holds treasures and curiosities: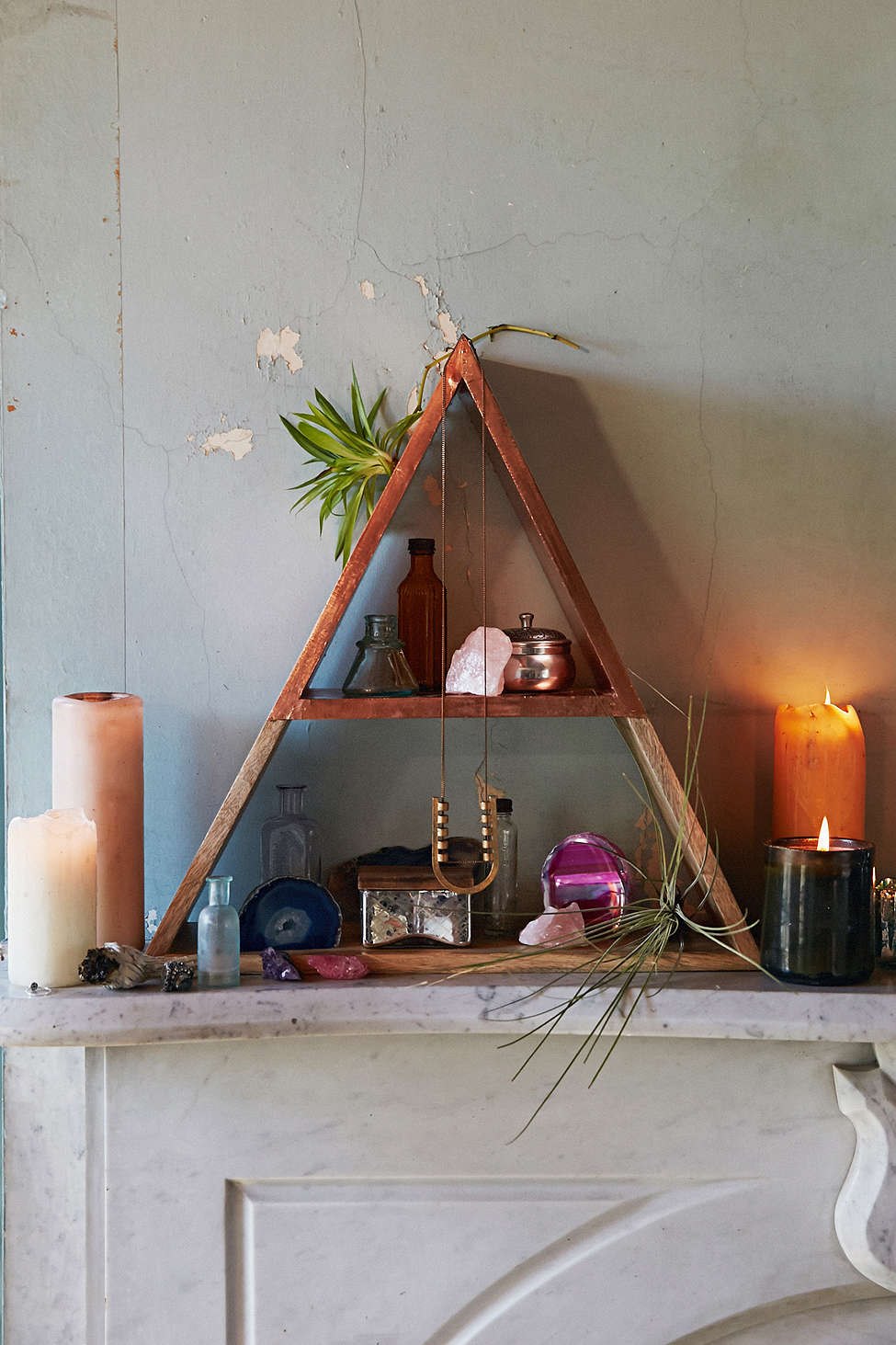 When your shelves make a sculptural statement, don't overwhelm and block them with clutter. After all, when the design is as fabulous as the Bamboo Step Wall Shelf in the next featured image, you certainly don't want to cover up the bold form of your shelving.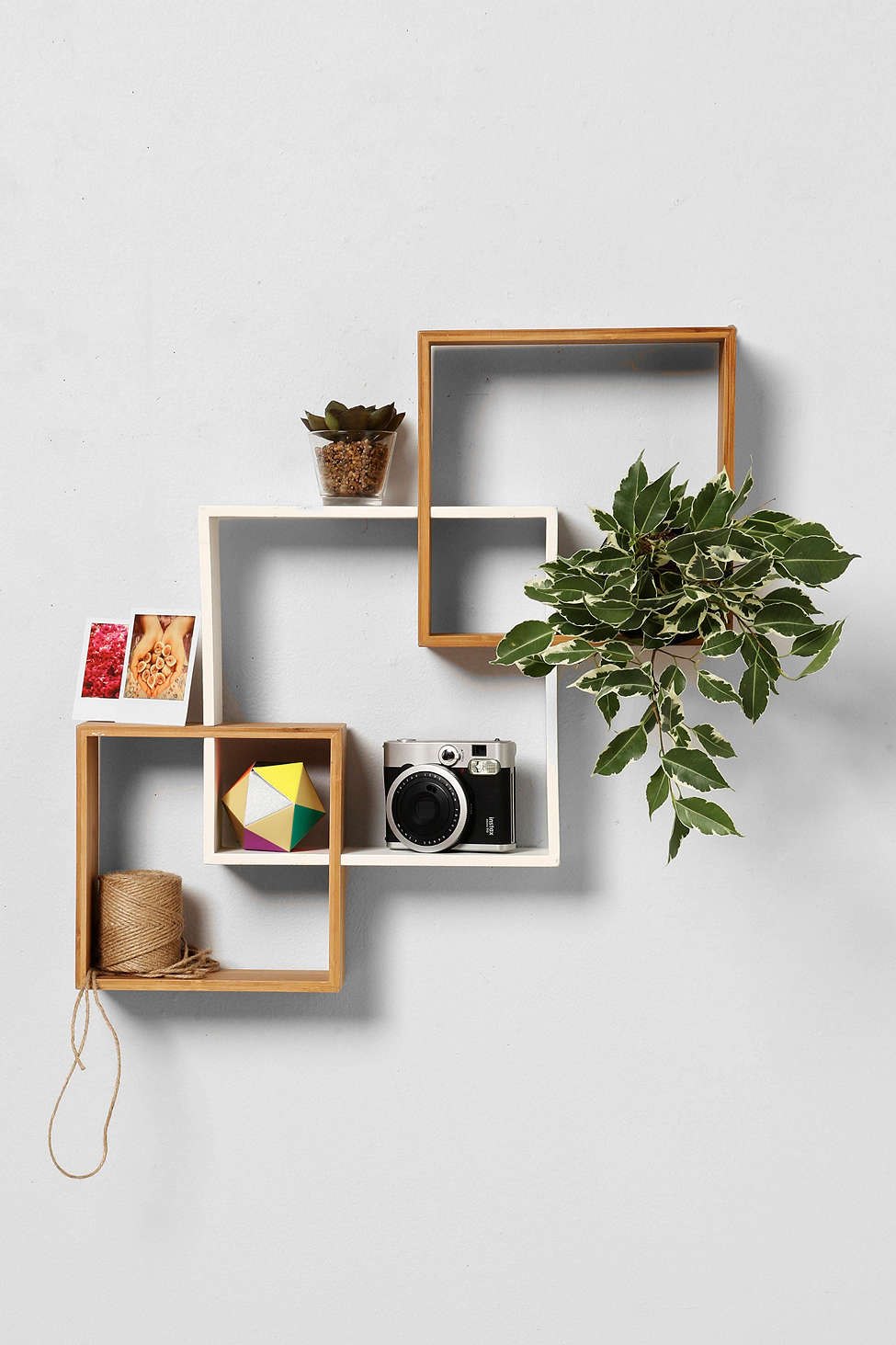 Styling Advice from Our Favorite Design Bloggers
We now turn to top design bloggers such as Ashley Rose of Sugar & Cloth, who has decorated her kitchen shelving with an array of pastel dishware. Don't be afraid to mix function and style when it comes to your decorative shelves. Put useful items on display, but arrange them artfully! [featured at Gray Malin, photo by Jared Smith]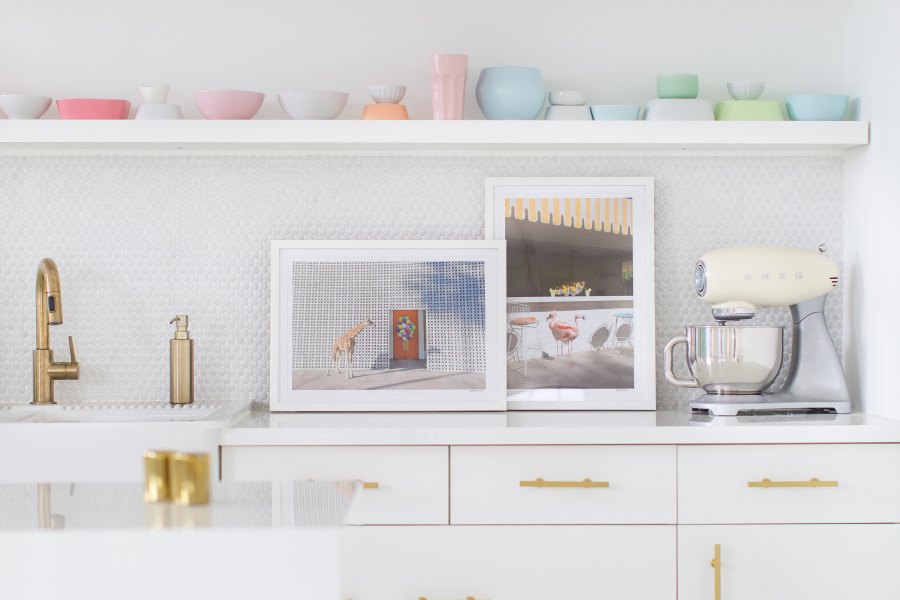 If the shelving is purely decorative, choose pieces carefully. Be selective, as this gives your shelves a curated, artful look, as shown by this DIY hoop shelf from A Beautiful Mess: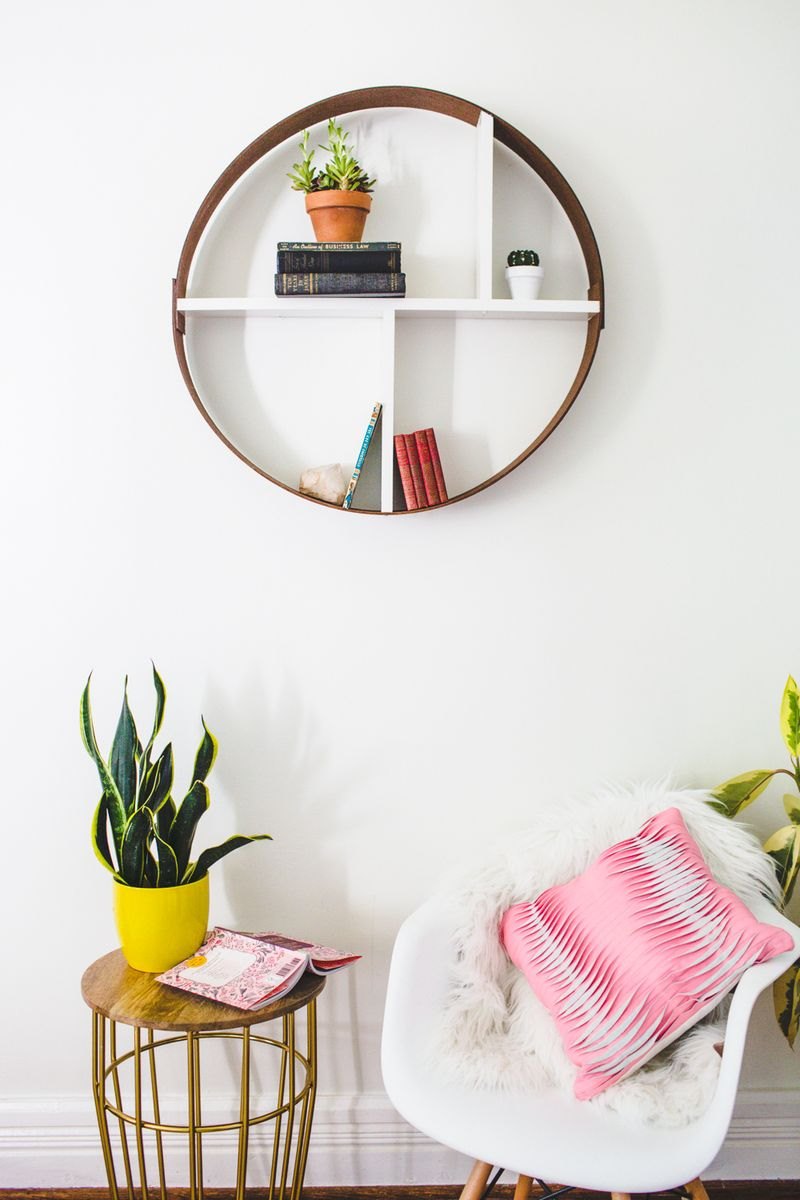 Create height with items such as plants, artwork and books. Alternate taller pieces with shorter items such as peite vases, as shown below in the A Beautiful Mess studio living room: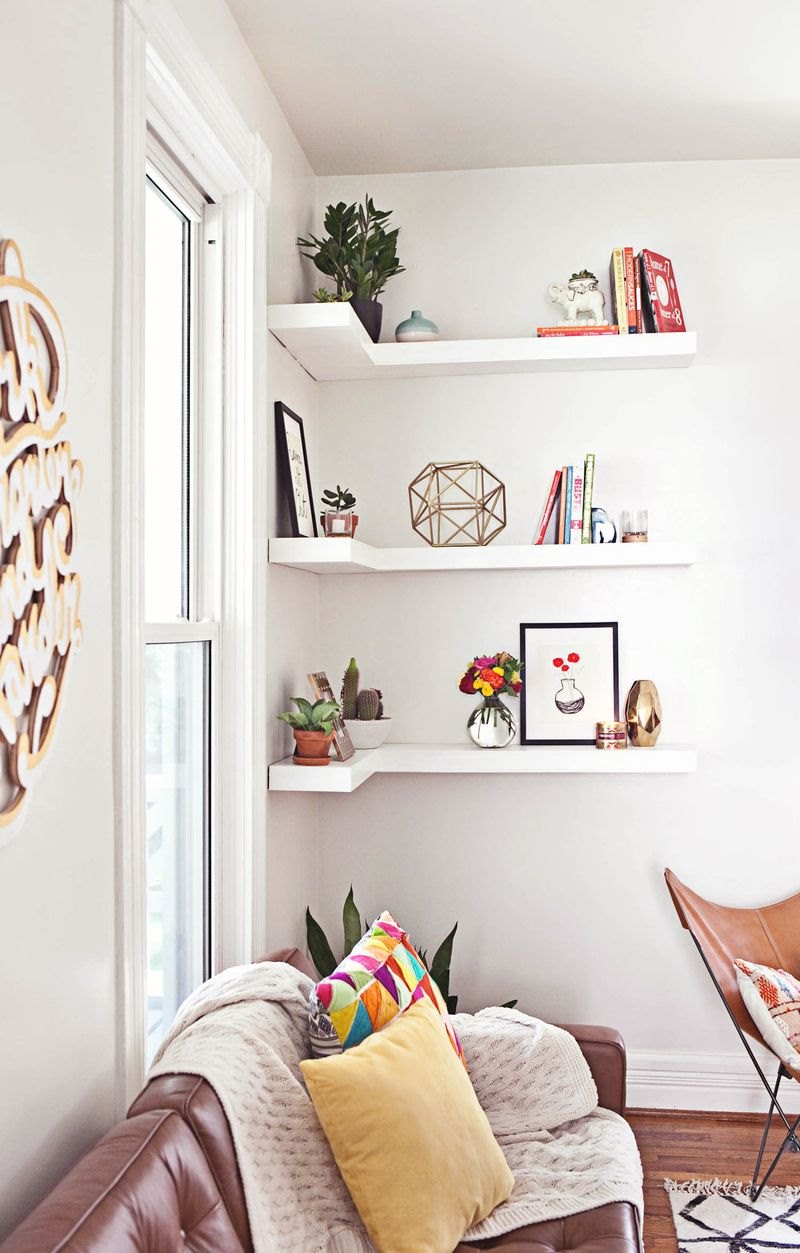 Not sure where to start? Choose a cohesive look and go for it! The next shelf vignette featured at Emily Henderson showcases a "Desert New Age" style, which welcomes earthy tones, tribal patterns, succulents and mineral specimens, among other pieces.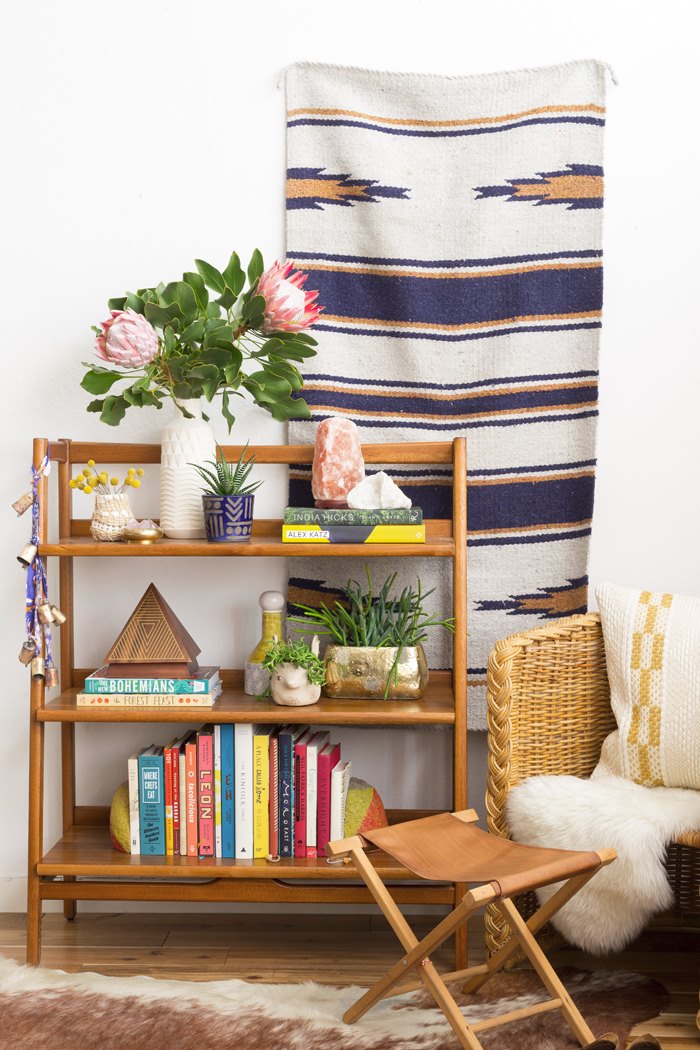 In fact, in the next image we see the exact same shelf, this time styled to create a Playful Scholar look featuring neutral, masculine colors. Note special touches such as a globe and a bust displayed in a cloche. Incorporate a few unique conversation pieces into your shelving display for added interest.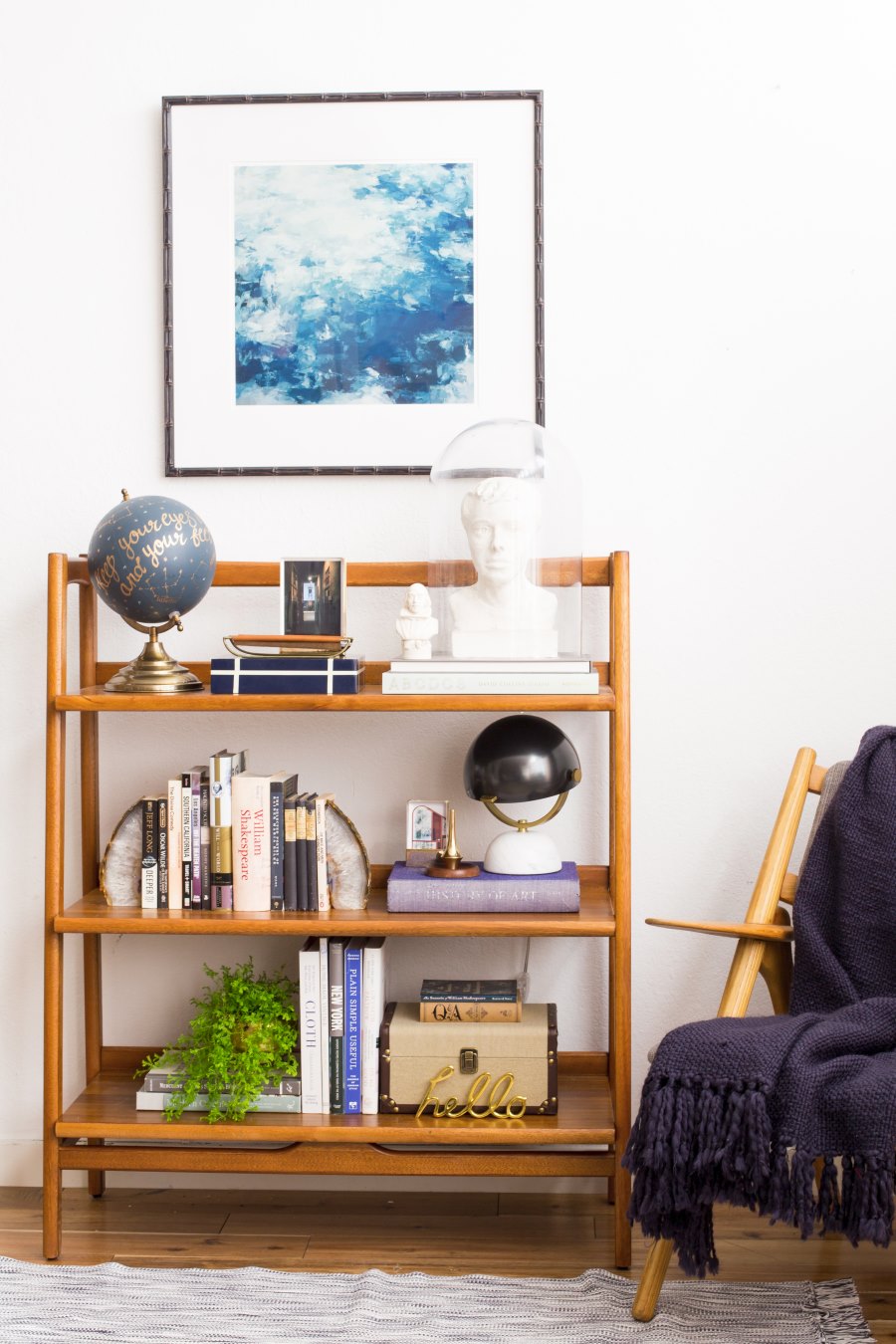 Decoist Styling Advice
Now it's my turn to share some Decoist design advice with you! First up, we see a grouping of small items displayed on the DIY Round Shelf I created for a previous Decoist post. When deciding what to display, avoid overcrowding your shelf in terms of weight and height. For a small round shelf like the one displayed in the two images below, lightweight items are essential. Plus, smaller items allow the shape of the shelf to truly shine!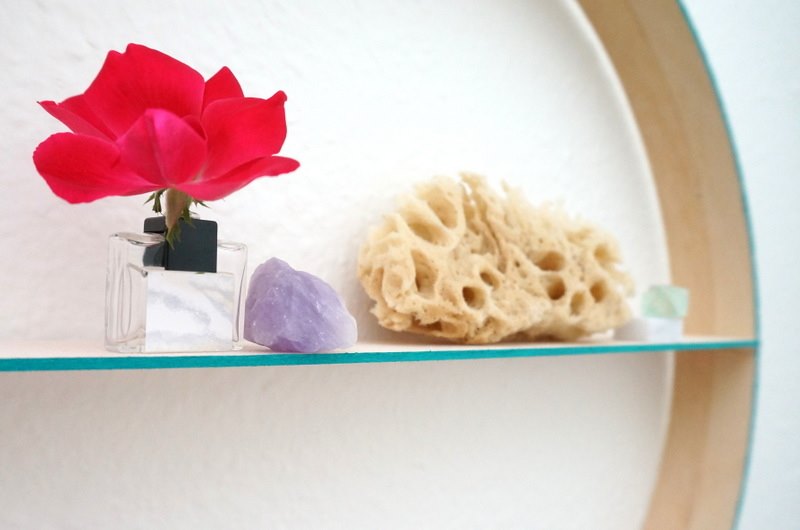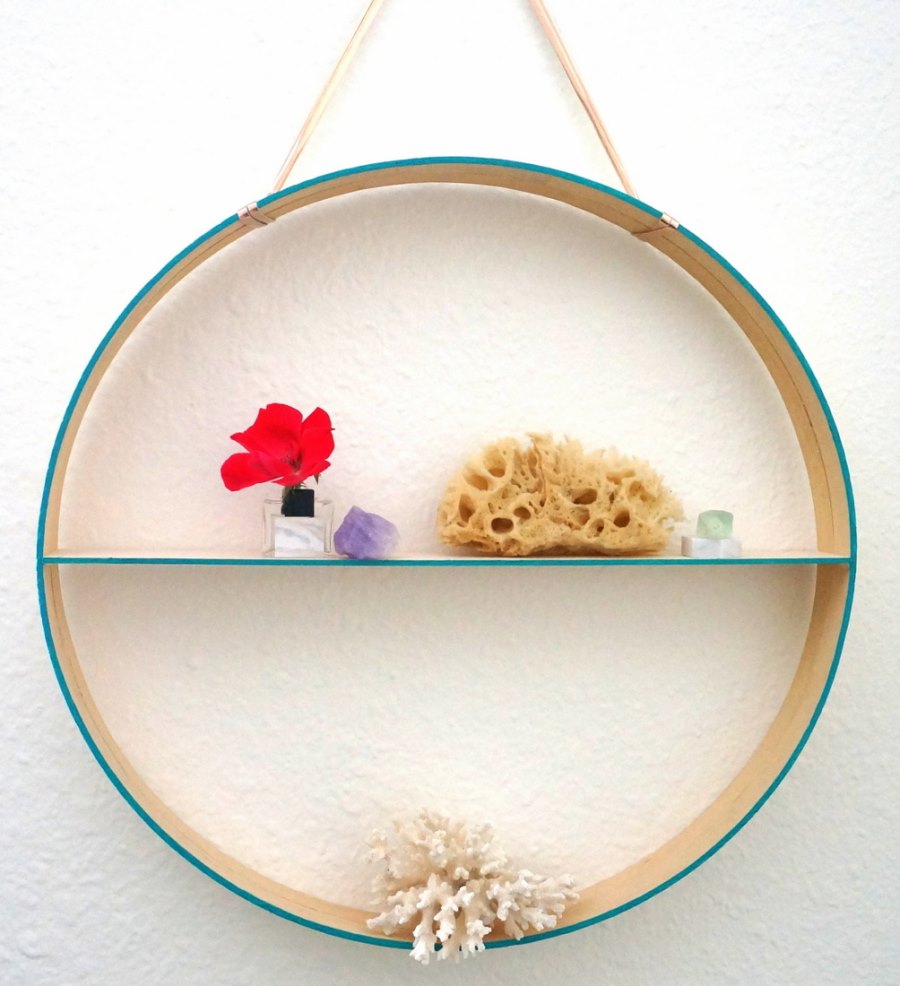 Also consider what's on display near the shelf you're styling. An example is the open shelving featured in my kitchen tour. I've filled it with an array of teapots, coffee pots, cake stands, serving trays and more…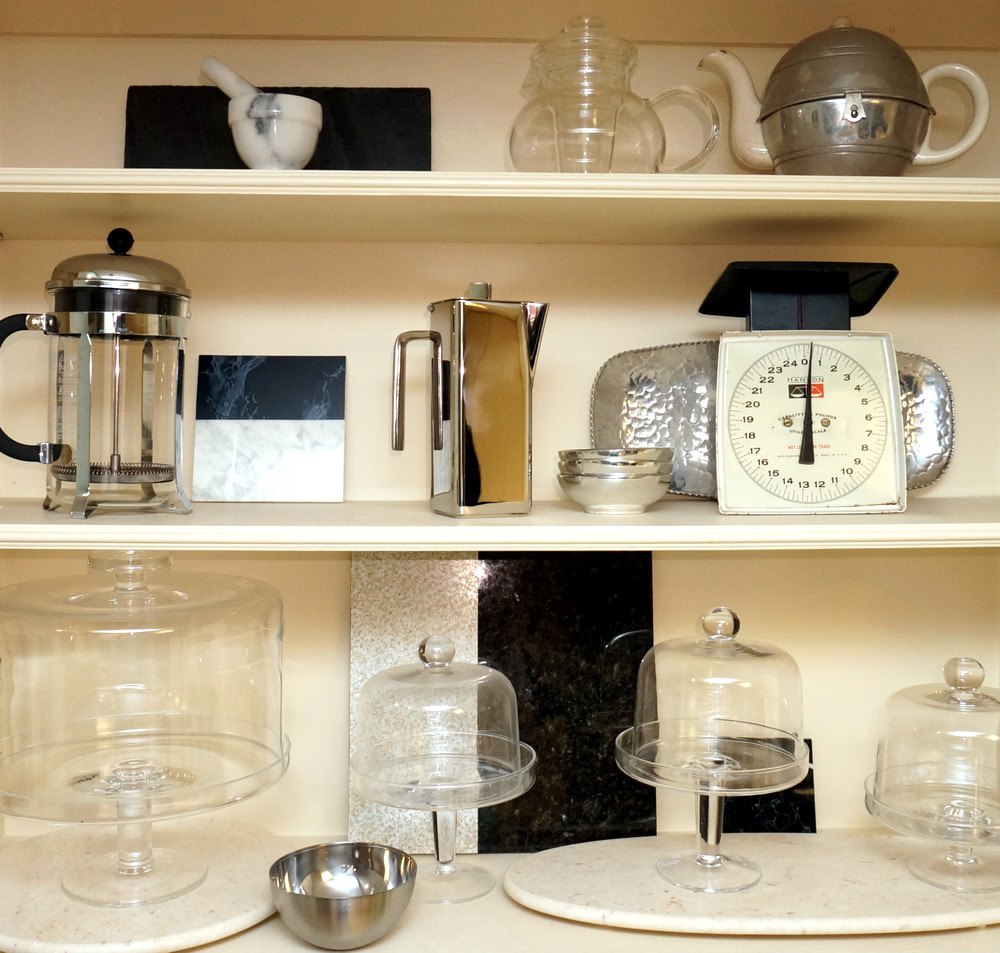 So when it came time to style the shelving of the nearby garden window, I kept it simple. Just a few items did the trick, preventing the kitchen from being overwhelmed by "stuff".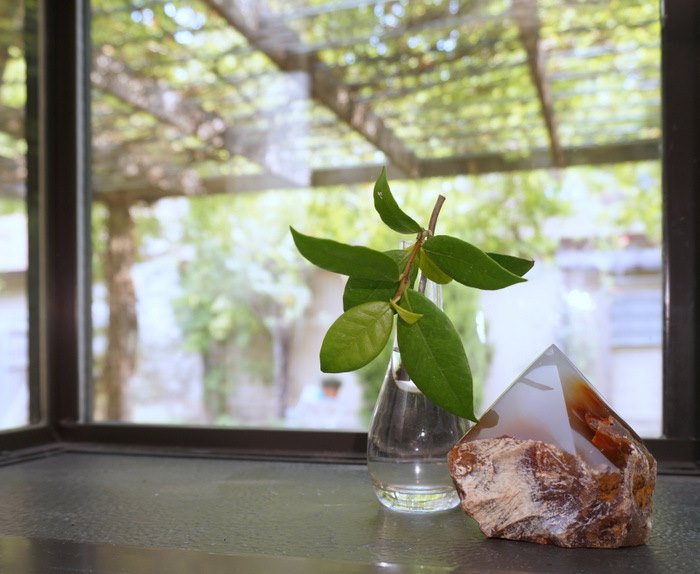 And one of my all-time favorite shelf styling tricks is to display plants on the top layer of shelving, which will draw the eye upward, as well as create height and drama. Below we see shelf-top plants in a tour of my retro-modern home office: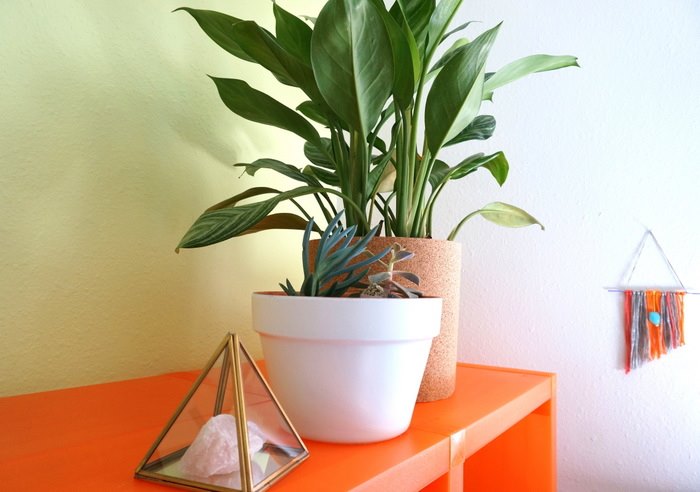 Kids' Shelf Styling Ideas from The Land of Nod
Last but not least, we shine the spotlight on the challenging task of styling kids' room shelving, drawing inspiration from the product photography of The Land of Nod. The Zero Gravity Wall Shelf below illustrates a perfect balance of practicality and design flair, mixing carefully placed toys with books in eye-catching colors: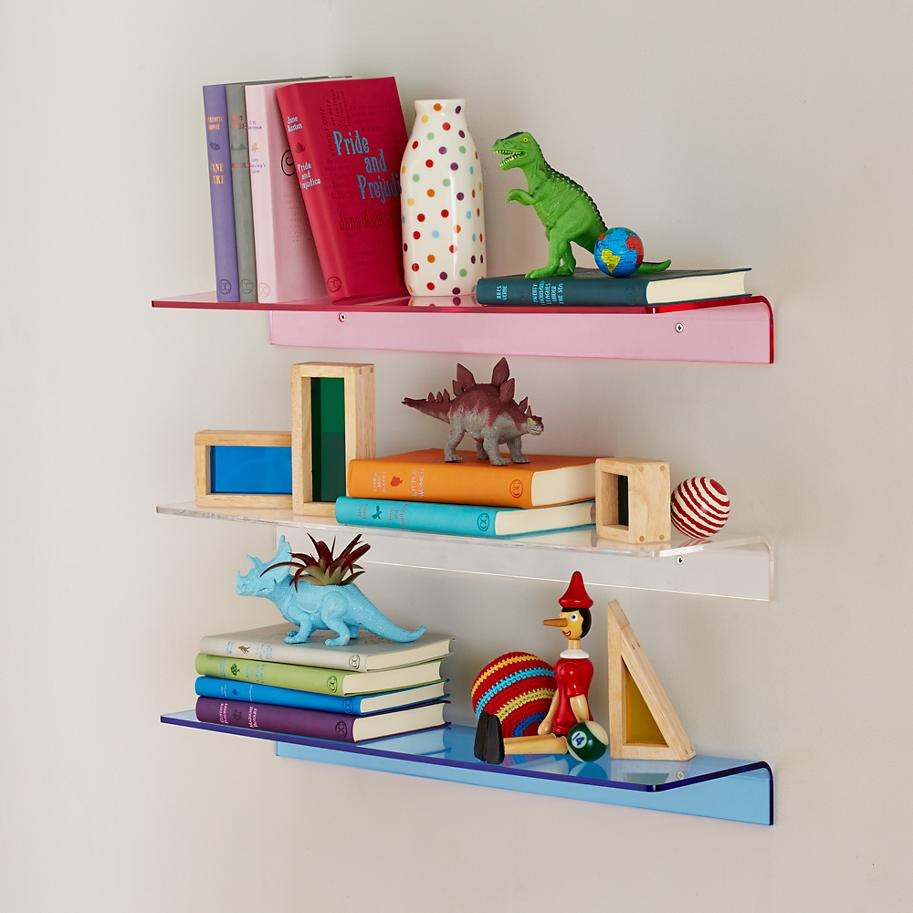 Don't worry about making your shelf picture-perfect. Displaying a collection of toys is a simple, eye-catching solution, and the resulting vignette just might double as wall art! Below we see the Radial Wall Shelf from The Land of Nod: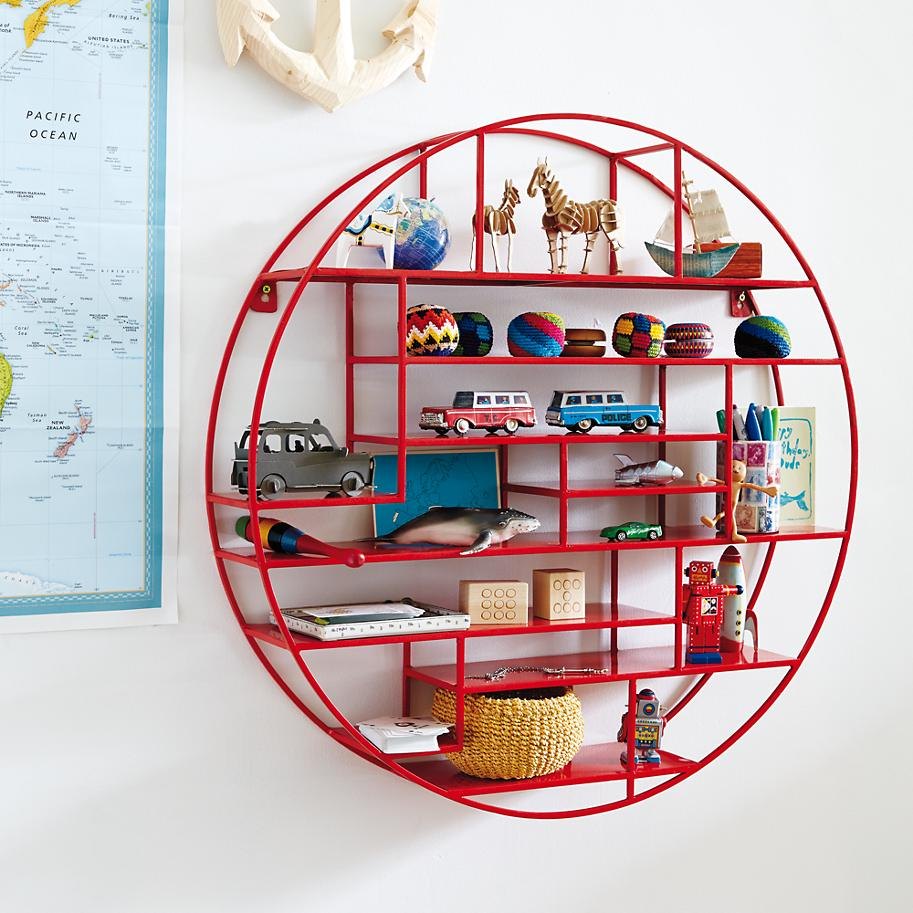 To cut down on the cluttered look, try grouping items by color! These Color Bar Ledges from The Land of Nod make the job easy: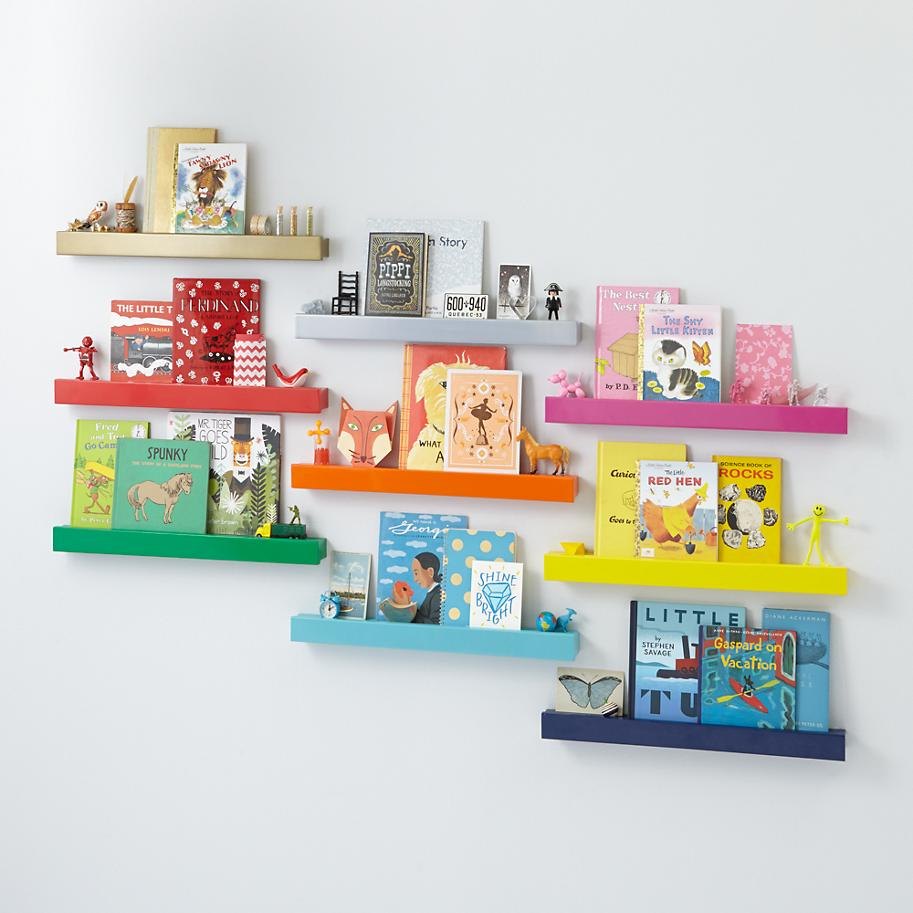 Use the shelves themselves to create an artful wall vignette, especially if you purchase intriguing pieces like these Shape Shifter Wall Shelves. This Land of Nod hinged metal shelving allows for a range of configurations, from rectangles to arrows!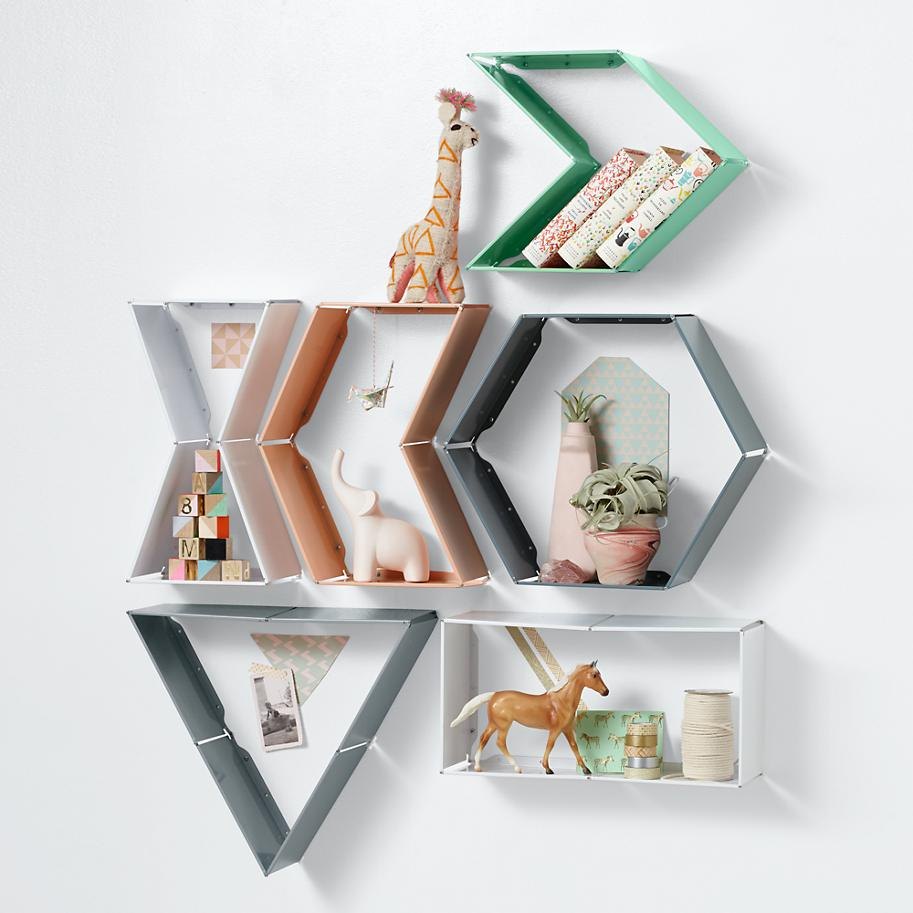 And don't forget about creative ideas such as placing patterned paper at the back of your shelving to create a vibrant backdrop. These Honeycomb Wall Shelves are styled with shades of turquoise: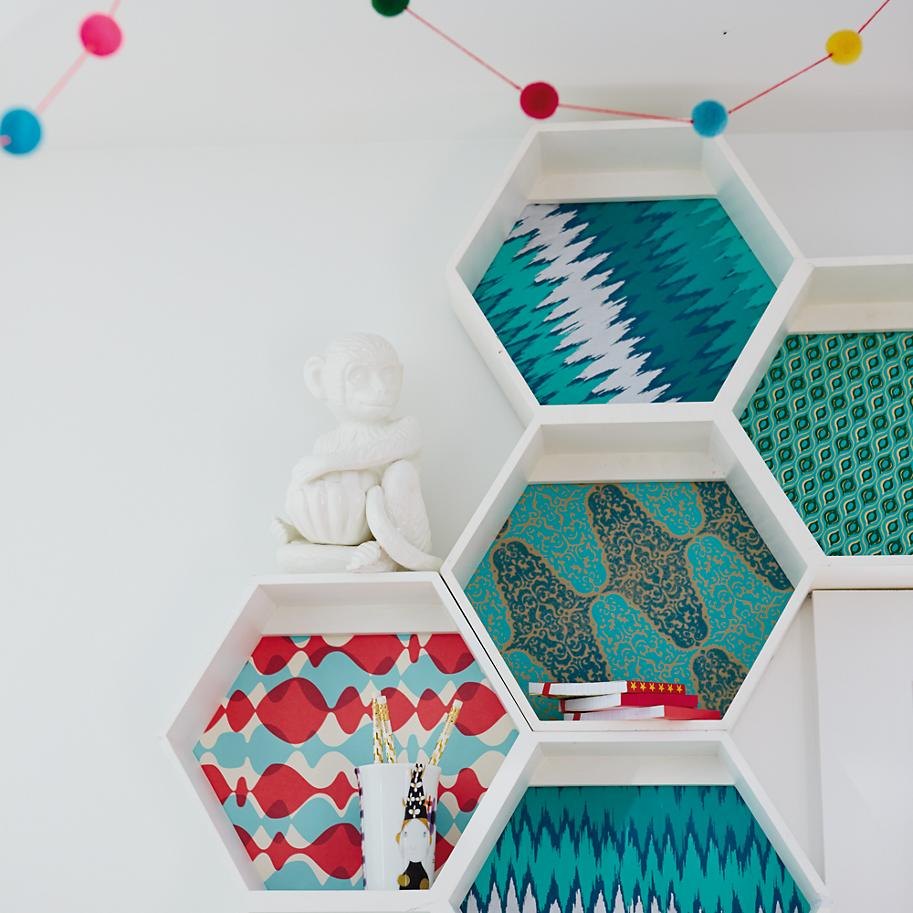 Do you have any shelf styling tips to share? Leave a comment below…