While Pantone announced Classic Blue as its 2020 C0lor of the Year, indigo is another fabulous shade of blue to explore. Even though a range of hues may be referred to as "indigo" (we're talking everything from navy to purple), many design lovers believe in the deep true blue nature of this color. Expect an array of shades, just as you would when shopping for blue jeans. When it comes to indigo, color your world blue and don't look back! From furnishings to wall art, we've rounded up a collection of beautiful finds, complete with styling and color pairing ideas… [featured below: West Elm's Paidge Sofa]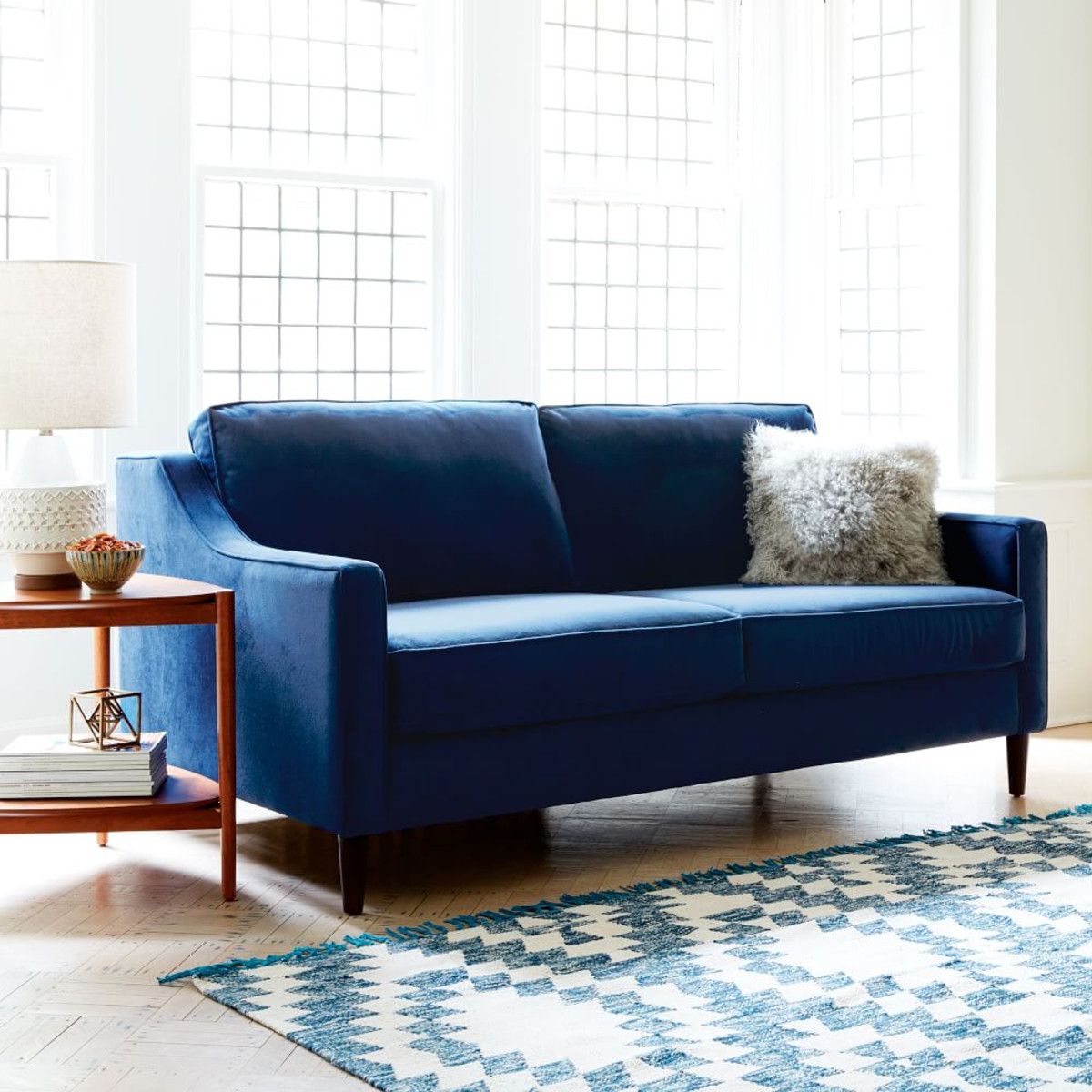 Earthy, Eclectic Indigo
Indigo fits well into interiors that embrace an eclectic style. Textured finishes, interesting patterns and hand-dyed textiles often boast the color indigo, and these items are key for boho chic interiors and more! Take Anthropologie's Ikat Inlay Three-Drawer Dresser, shown below. As you can see from the design of the room, the piece beautifully complements an earthy furnishing, a textural wall hanging, tropical greenery, and more: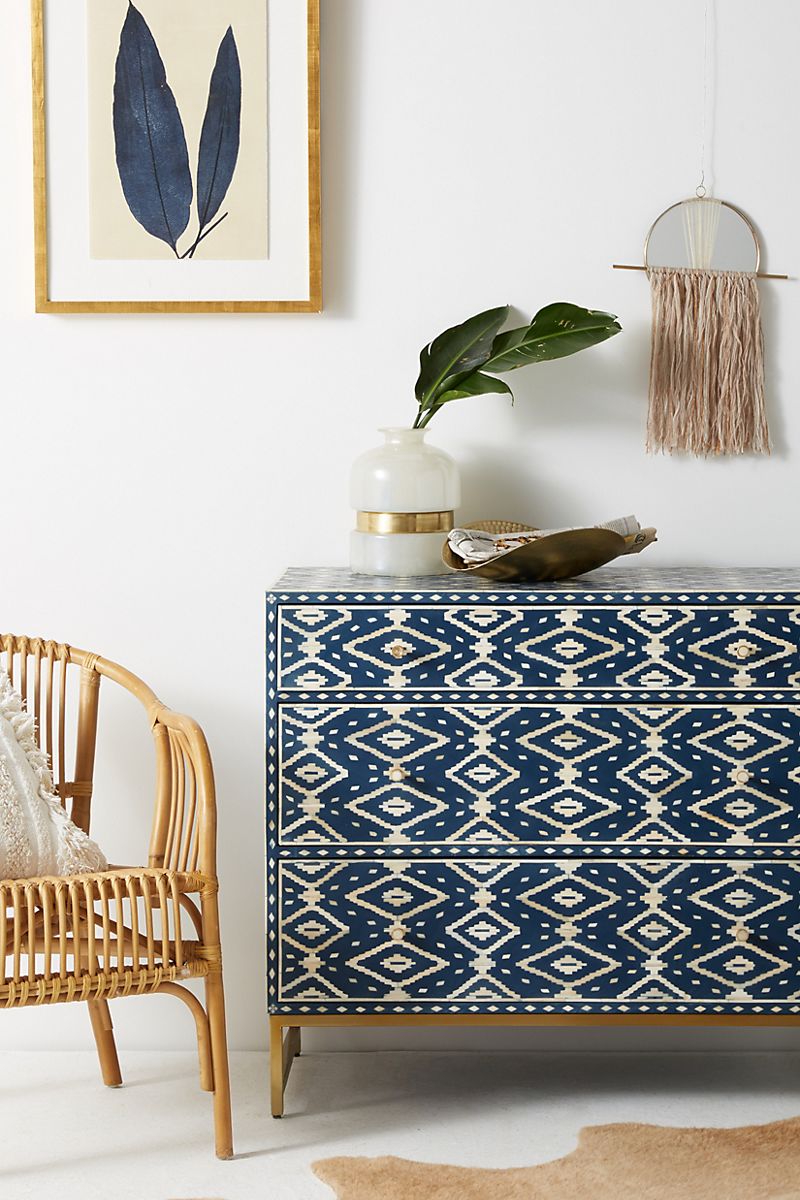 Bring a dose of blue to your dining room by mixing and matching chairs in shades of indigo. The Elza Indigo Dining Chair features textured upholstery, along with an Indian rosewood frame and legs.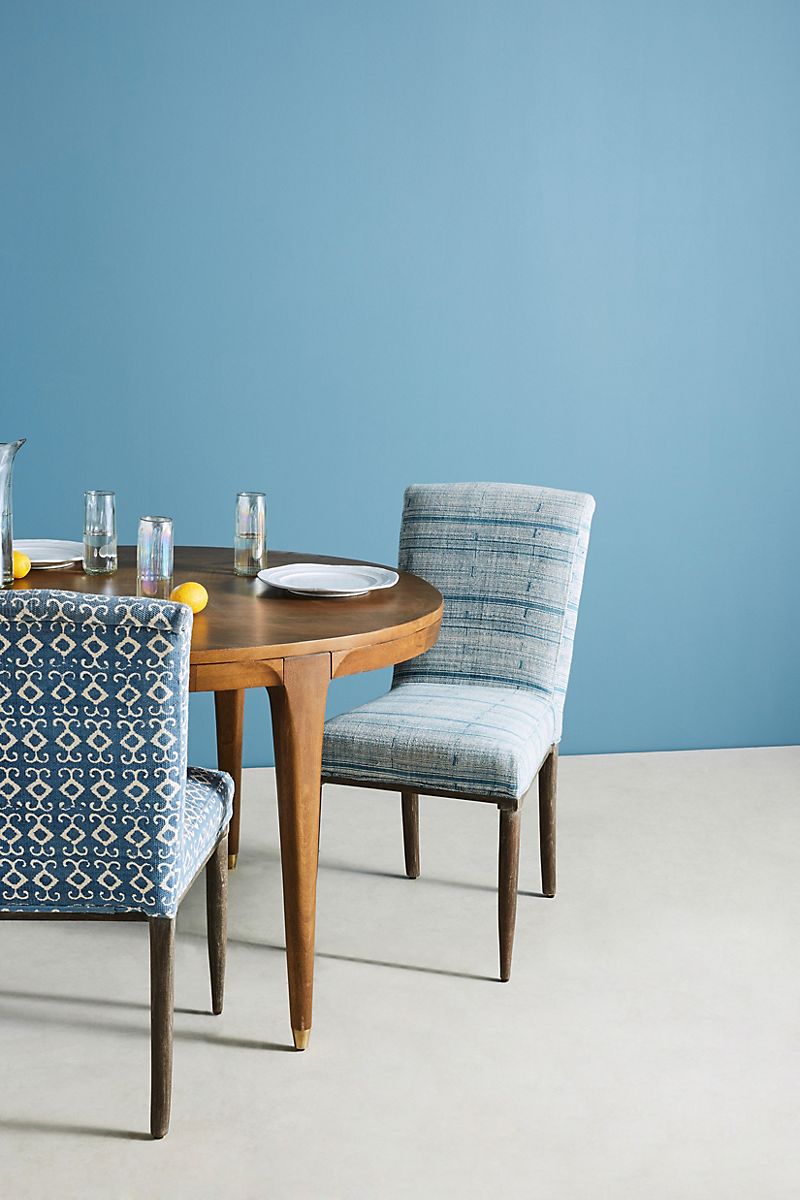 Also from Anthropologie, the Eira Wall Hanging features a series of half moons whimsically pieced together. With an artisan feel, the wall hanging also channels a mystical vibe, thanks to the celestial motif. A bottom layer of fringe completes the look, revealing a softer side to the design: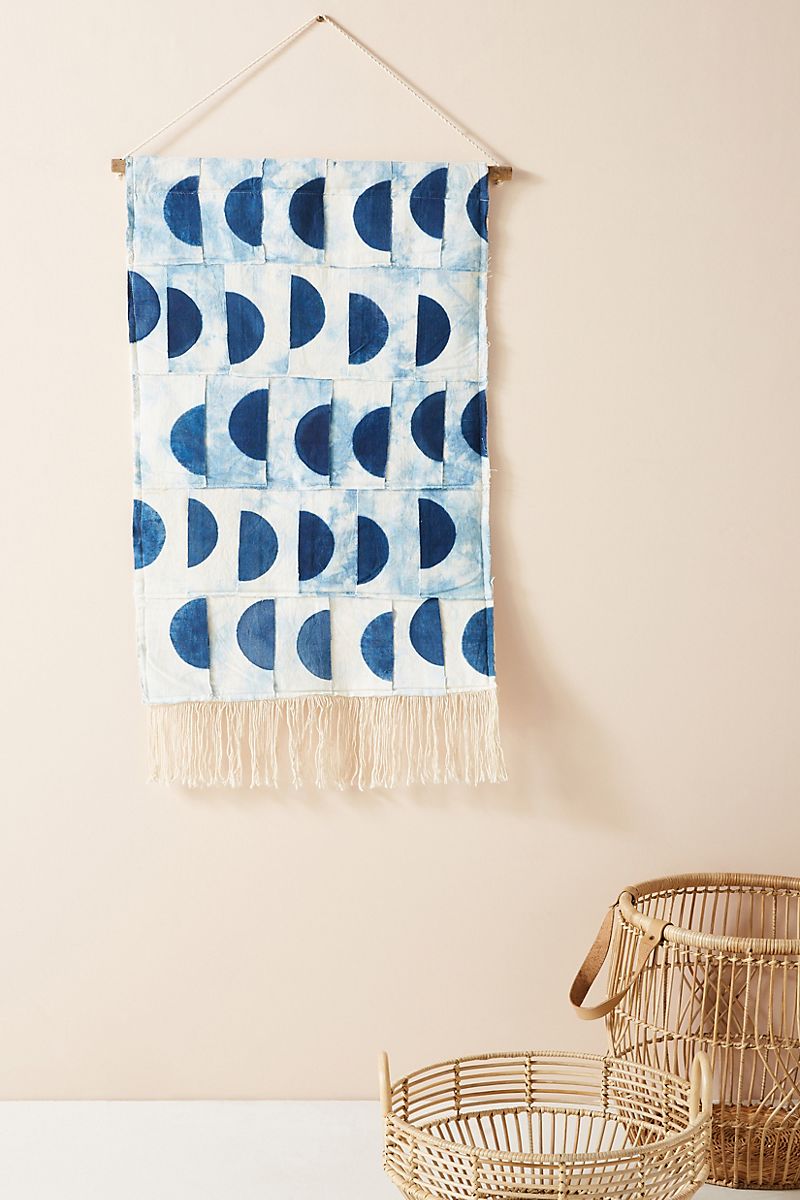 Urban Outfitters' Neveah Tufted Rug takes indigo into the realm of purple, bringing a big dose of texture along with it. Call it boho minimalism (as in the product description) or call it geo eclectic, this cotton rug is sure to get noticed. Especially with that fringe trim!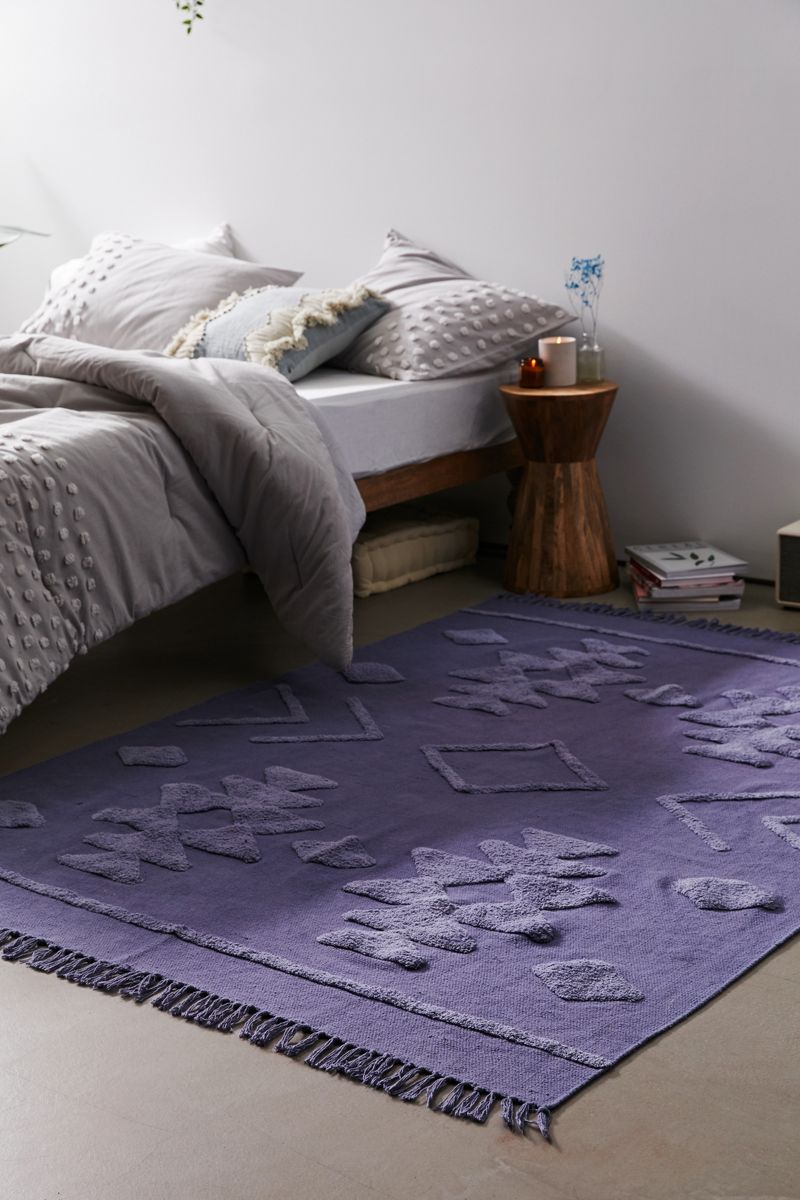 For another textured piece from Urban Outfitters, check out the Rumi Shag Throw Pillow, which once again celebrates the beauty of geo patterning and accented edges. Shaggy triangles take center stage, but this time, tassels do the punctuating: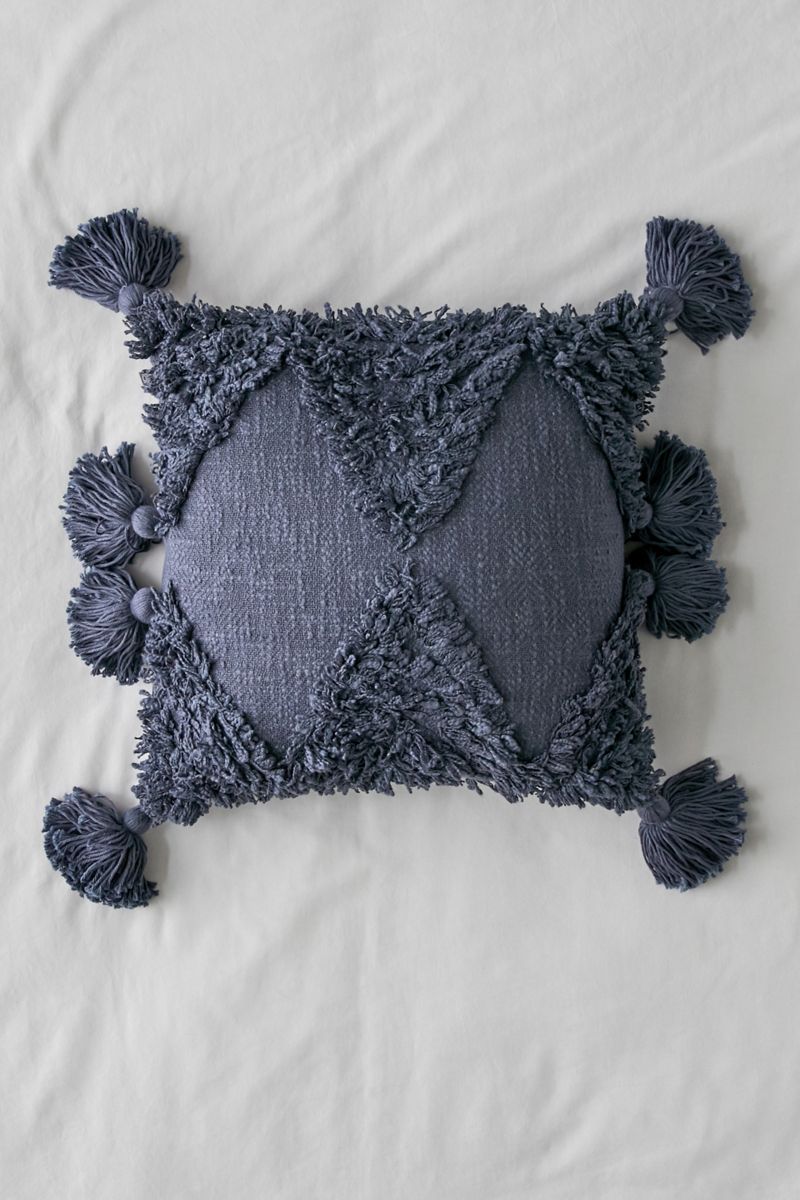 To see the many shades of indigo, the photo below featuring UO's Urban Renewal Vintage Indigo Textile lays it all out on the line. Literally! Made from actual vintage textiles that have been given an indigo dye treatment, these beautiful tapestries can be used as throw blankets, wall art, and more. Since each piece is unique, you don't know what design or shade you'll get, making the purchase as interesting as it is stylish. Light fraying around the edges creates a sense of history. Design perfection!…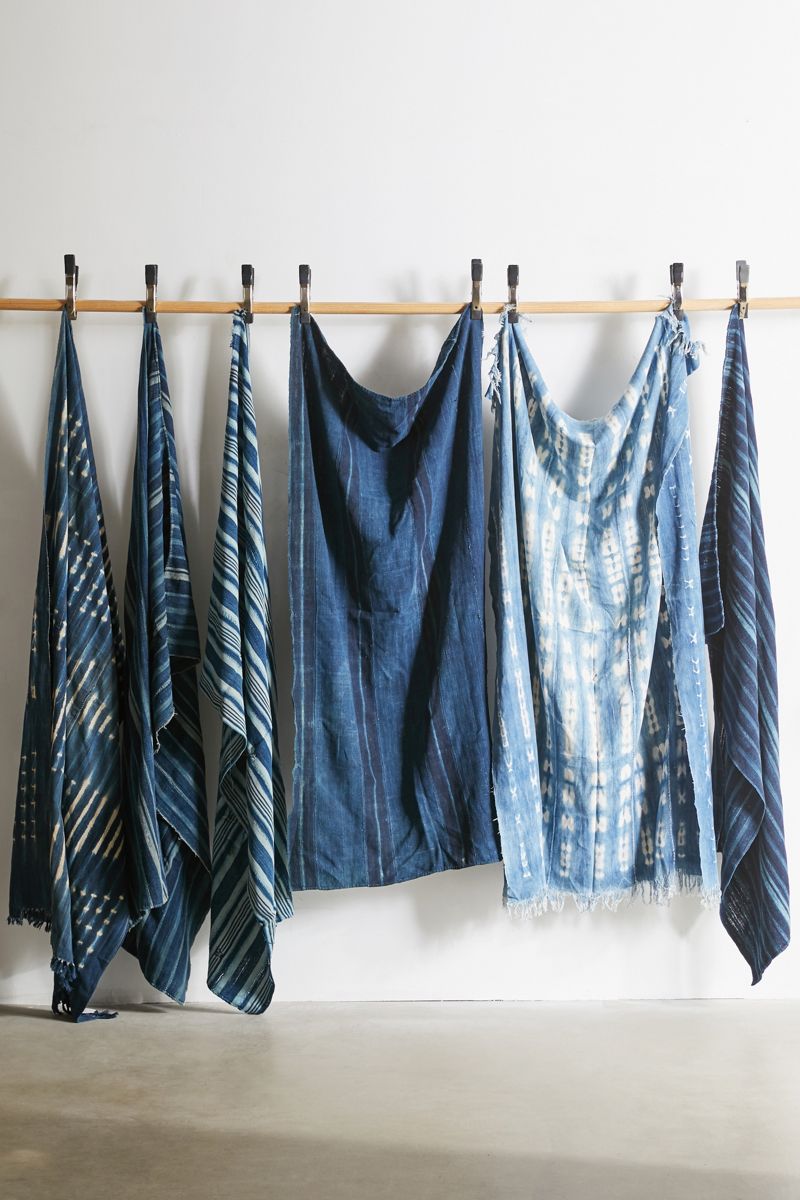 Crisp Indigo and White
One popular way to style your indigo pieces involves a crisp juxtaposition of blue and while. You can create the contrast by placing indigo items against a white backdrop, or you can purchase pieces that create the clean, fresh look for you! Anthropologie's Indigo Spray Wall Art features capiz shells embellished with gold foil and a dash of blue: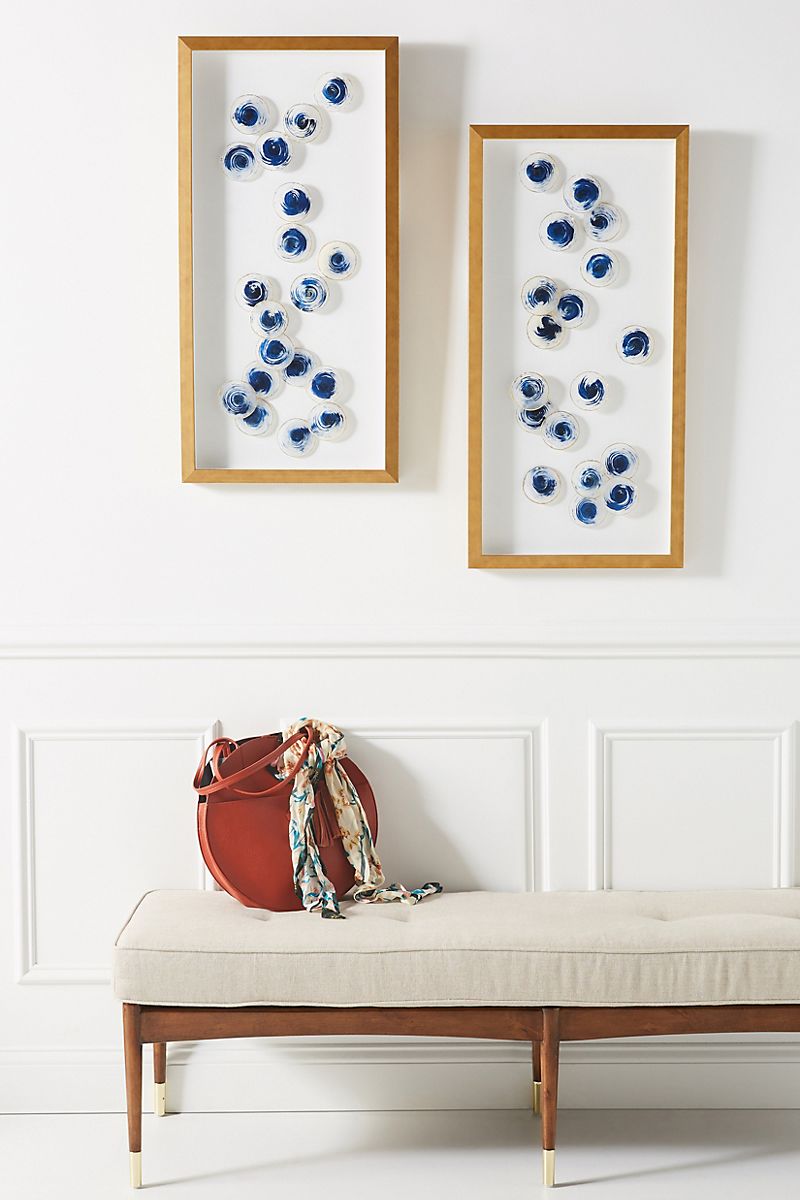 While no longer available for purchase, Draper James' Indigo Vine Table Runner shows the classic side of indigo. Leaning more toward royal blue than deep blue, this piece (featured in Elle Decor) can easily be mixed with other blue and white items. Perfect for setting a summer table or staying in a summer state of mind all year long!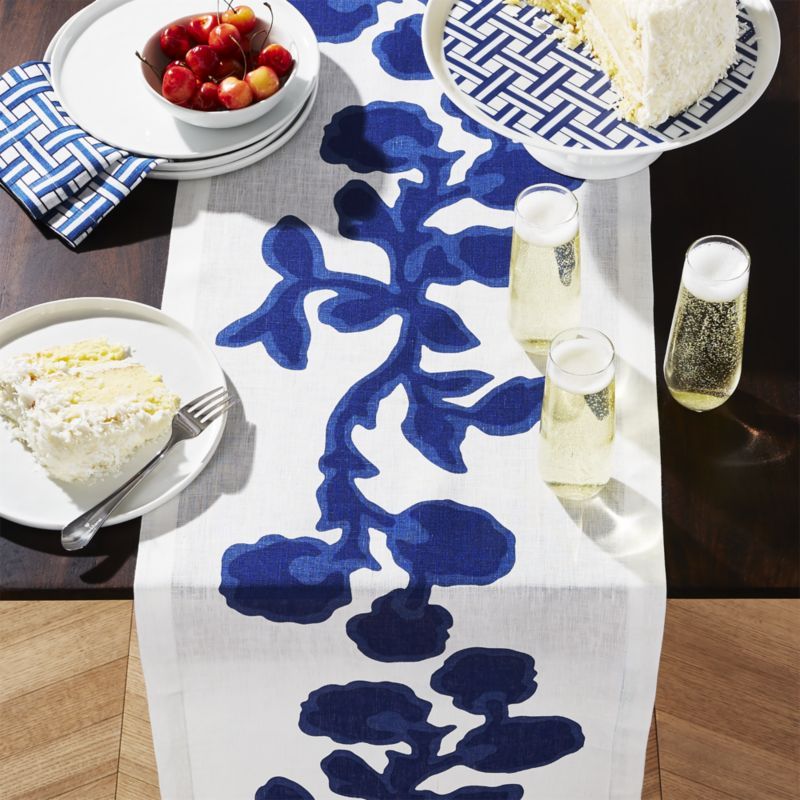 Don't forget that indigo style can extend from your interior to your outdoor spaces! Now is the perfect time to begin beautifying your outdoor space so you can fully enjoy the warmest months of the year. Anthropologie's Acapulco Indoor/Outdoor Chair pops against a refreshing white wall in the next product photo, which also features a blue inset arch and tropical foliage. Major vacation vibes!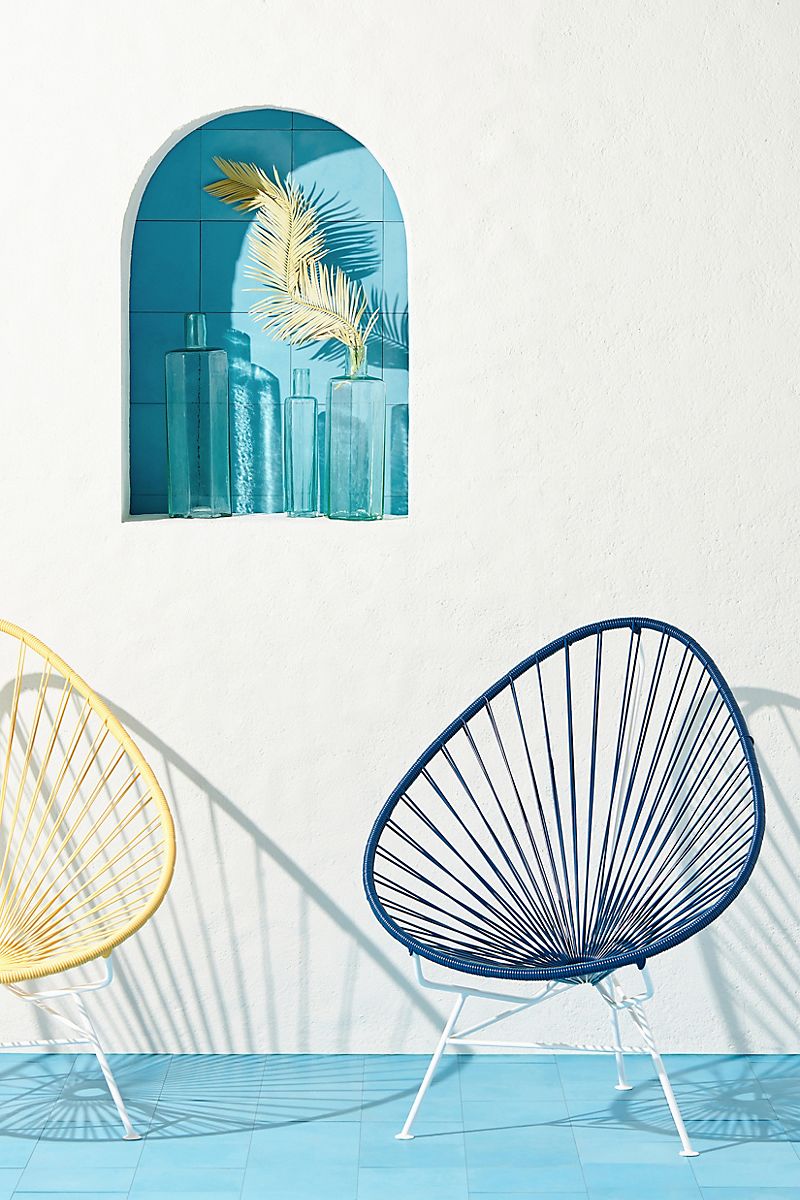 When indigo enters the world of furnishings, magical things happen. Note the way gold-toned hardware accents the clean lines of this Ingram Six-Drawer Dresser, which is brought to life by the blue, white and peachy artwork that hangs above it. A soothing light blue wall ties the look together: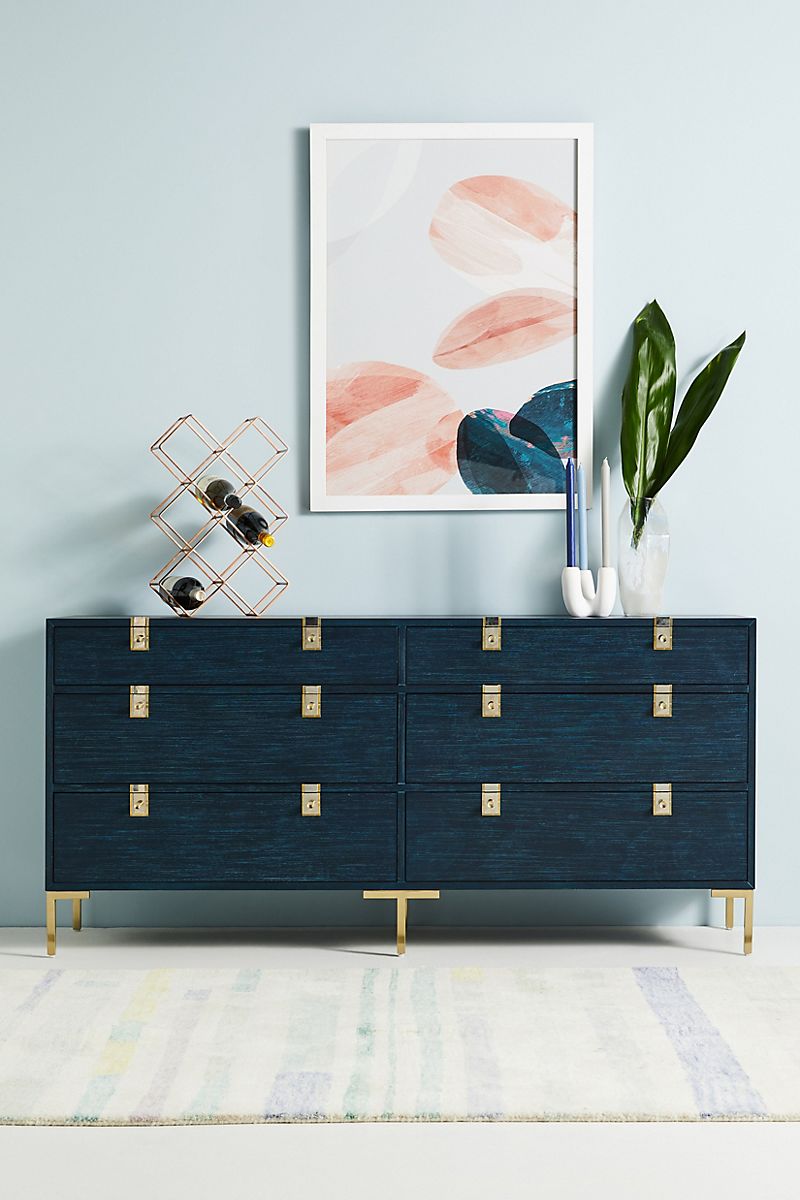 Anthropologie's blue and white Indigo Rock Wall Art comes to life against the peach wall below. It's hard to deny the way a classic color combo is made even more fabulous by the warm-toned wall paint. Consider it a styling tip for displaying your indigo decor!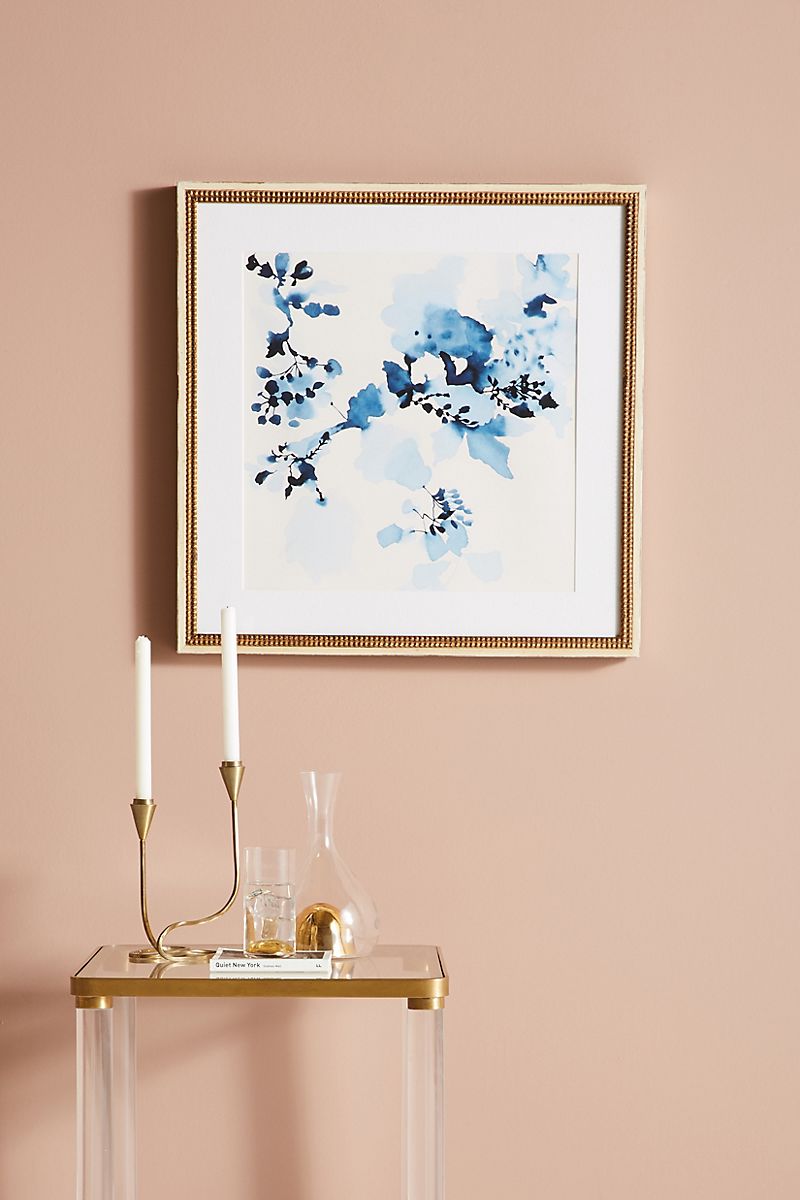 Indigo Meets Modern
We end today's post with a reminder that indigo can work with any design style, from the most traditional to the most modern. Speaking of modern, IKEA's KIVIC Sectional will blend with a range of indigo hues. Notice the interplay of blue and white in the vignette below, from the seating and throw pillows to the dining room wall art: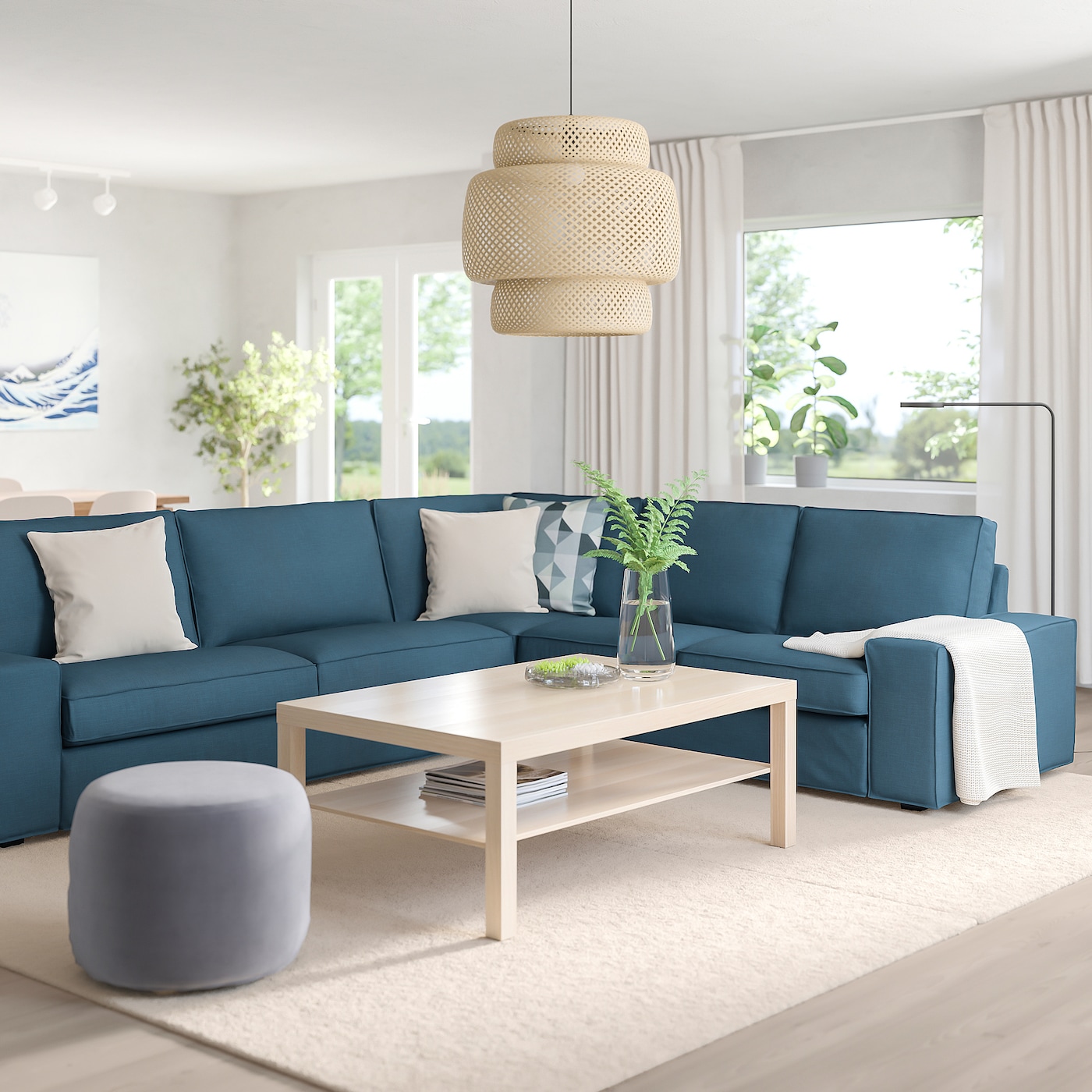 Speaking of wall art, this Textural in Indigo print on canvas shows a more modern side of indigo, yet the blended blue and white tones create a soft look that beautifully contrasts the canvas's hard edges. A statement piece with many possibilities: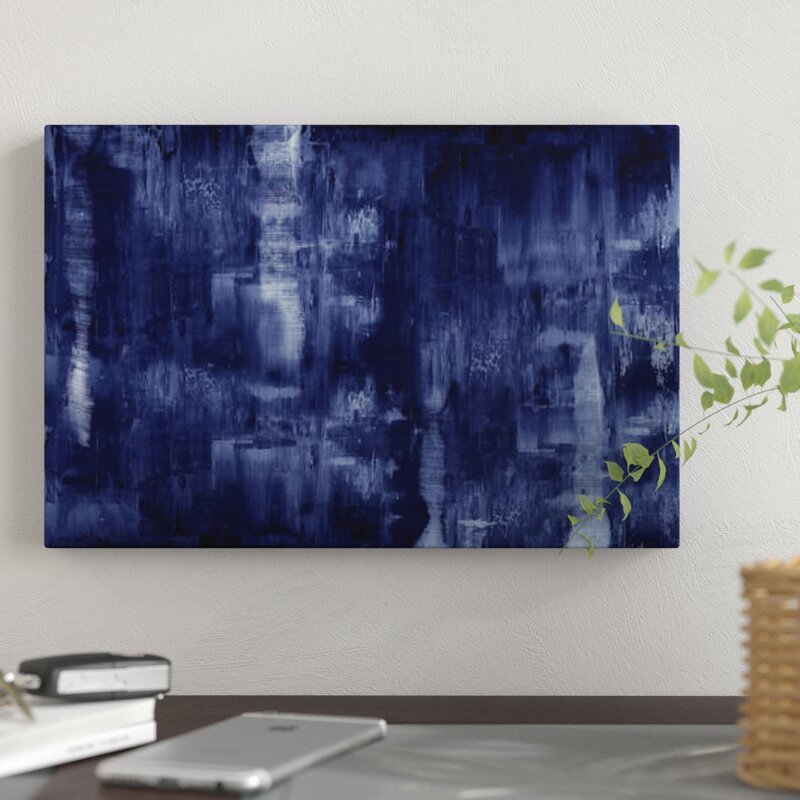 Wrought Studio's Indigo Waves print features fluid brushstrokes that are both dynamic and serene at the same time. Side note: wall art is a wonderful way to dip your foot into the indigo color pool. After all, a splash of blue can help you test the waters and possibly even lead to more indigo purchases!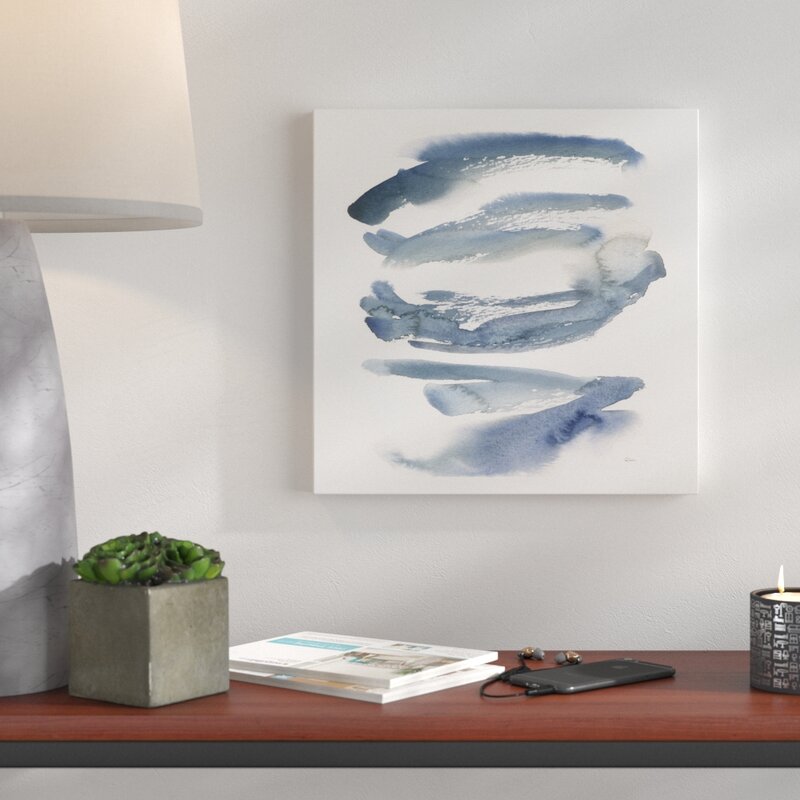 Last but not least, Urban Outfitters' Modern Tropical for Deny Indigo Twilight Cutting Board is an artistic take on modern indigo style. Lines and dashes radiate from a central sun at the base of the board. Use as a functional kitchen essential and/or a work of art to showcase in your culinary space. The cutting board is also available in rectangular and square forms.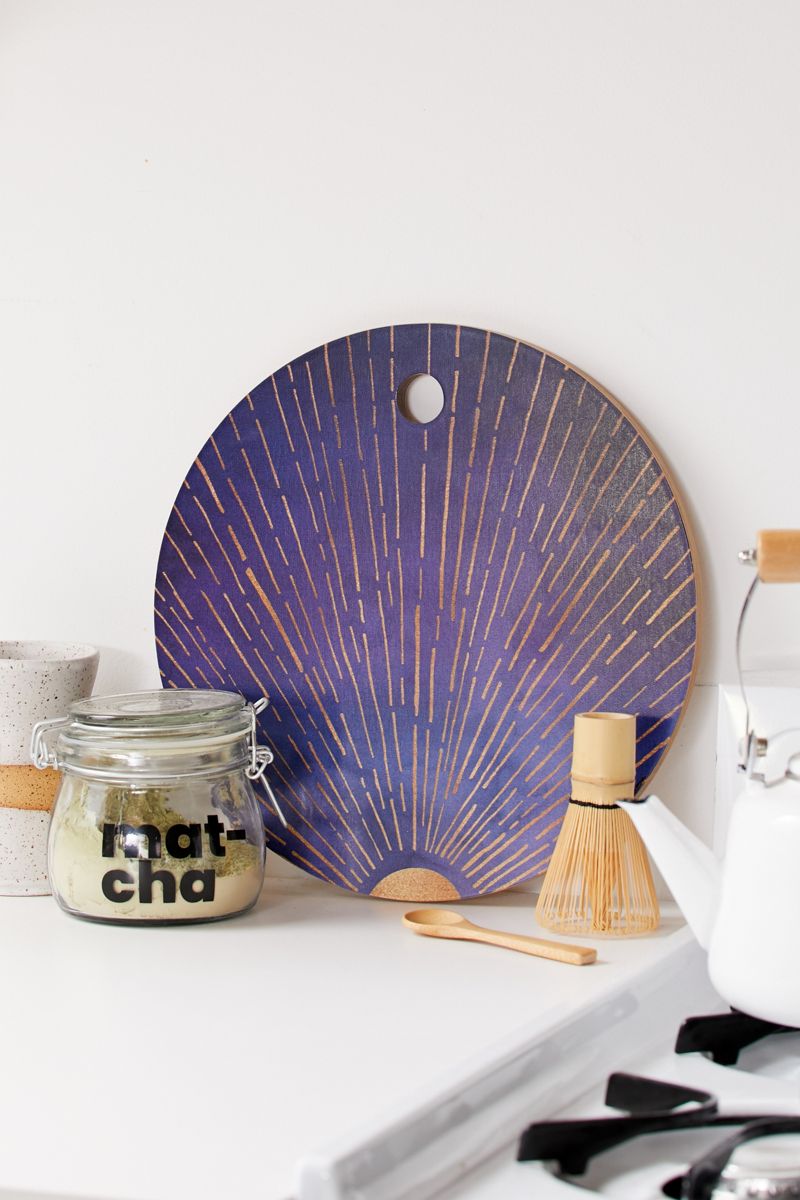 We hope today's post has introduced you to some of the top indigo color design trends. As you can see, the styling possibilities are as varied as the shades of indigo themselves. While a boho look may often dominate when it comes to indigo's compatibility with top design styles, there's much more to this color than meets the eye. A clean and and classic look can be achieved by juxtaposing indigo with white, while there's plenty of room for modern style to shine through. Don't forget about possibilities such as displaying indigo items against peach-toned backdrops. Before long, you'll be a true-blue fan of this increasingly popular hue!