If curating a manageable batch of mix-and-match clothing appeals to you, you may be ready for a capsule wardrobe! Did you catch our post on the capsule wardrobe concept? The idea is to simplify by curating a collection of your favorite clothing and accessories, including shirts, skirts, pants, jackets, shoes, belts and more. Yet "more" isn't the word of choice when it comes to capsule wardrobes. In fact, less is more! Rather than wearing everything in your closet, the key is wearing a smaller number of beloved items for a season. [photo from Working Look]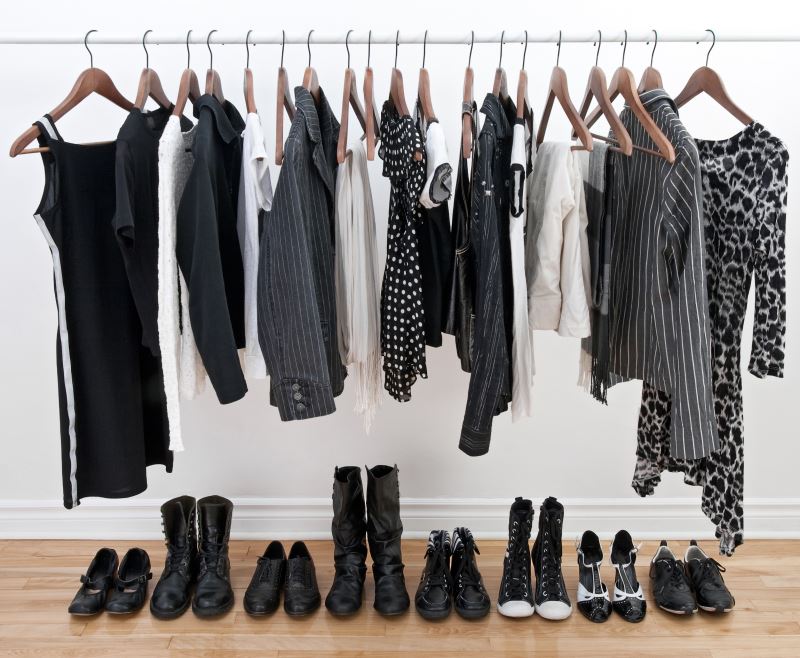 When it comes to displaying these items, options range from grouping them in a special area of your closet to prominently showcasing them on an industrial clothing rack opposite your bed. Today we highlight some creative ways to celebrate capsule wardrobe style. [photo from FashionBite]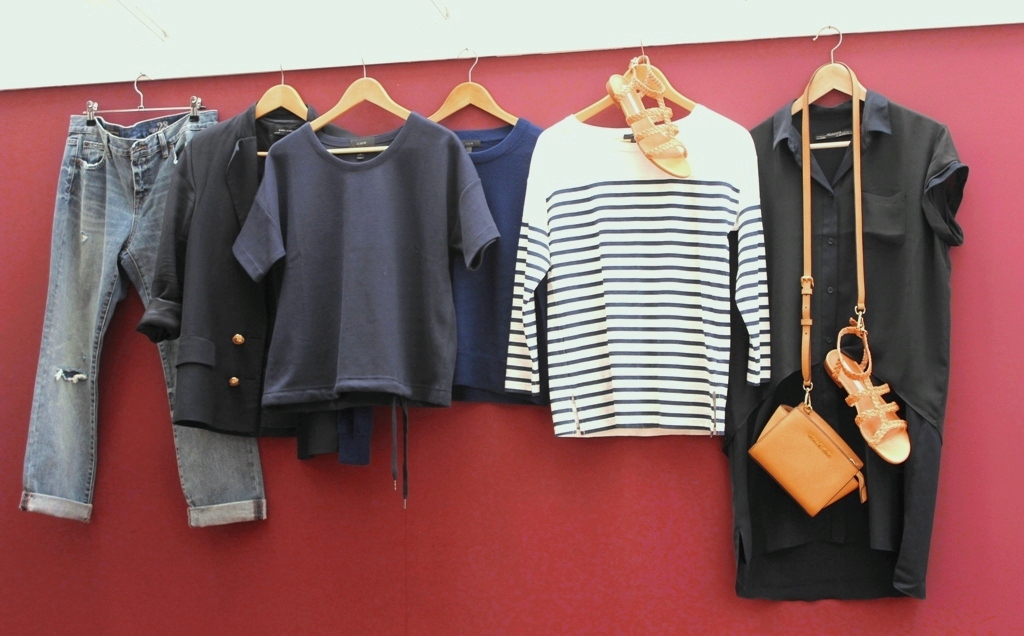 Clothing Racks
Let's start with clothing racks! Perhaps you want your capsule wardrobe to be out in the open where you can admire its carefully curated simplicity! [photo by Samantha Okazaki for Today]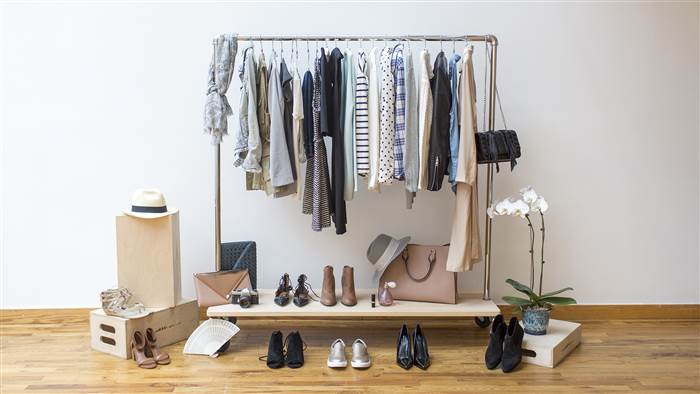 Or maybe you're OK with the capsule wardrobe living in your closet, as long as it's well organized and separate from the rest of your clothes. [from Wealthy Winters]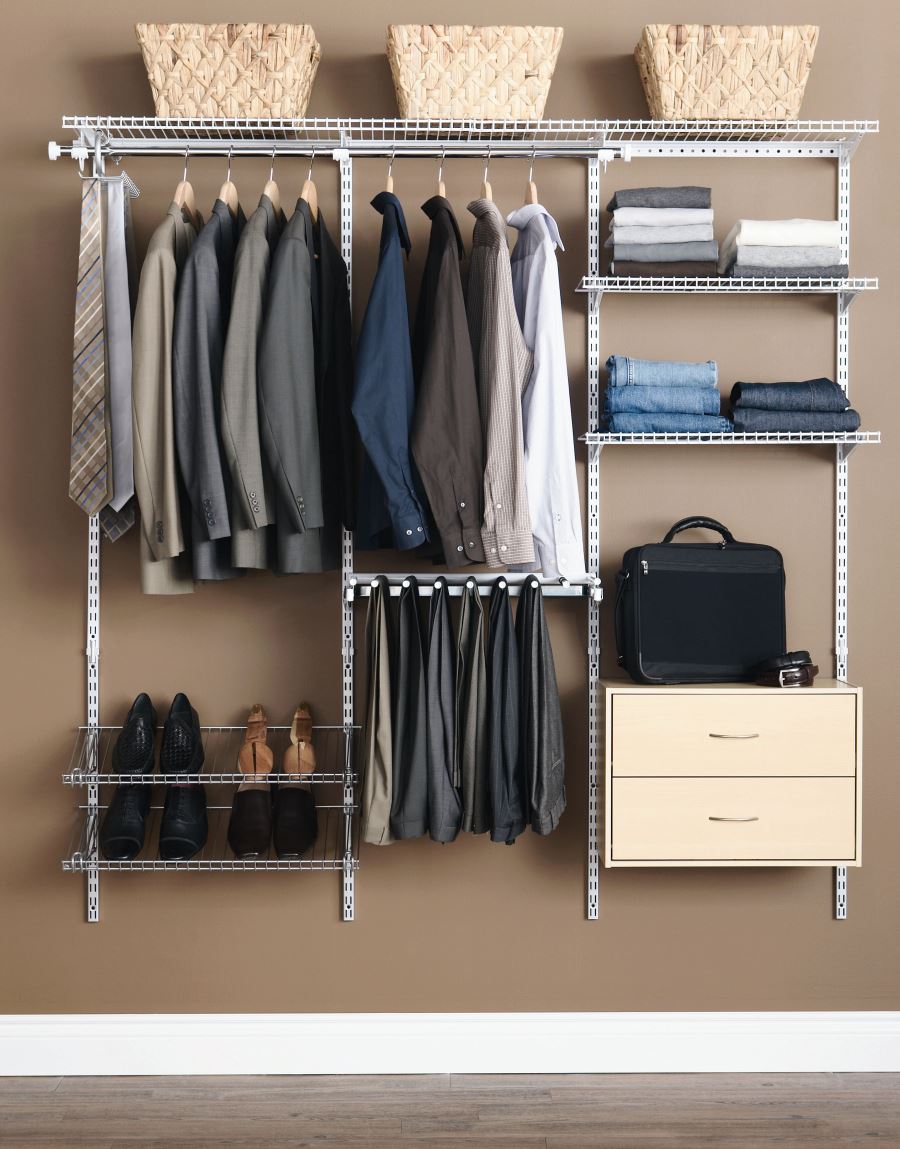 Regardless, there are a variety of options for integrating a capsule wardrobe into your life. If you've ever wondered how small clothing racks can possibly hold every garment that you own, they can't. And that's the point! Enjoy using them to set aside your favorite pieces. [photo from Sam Is Home]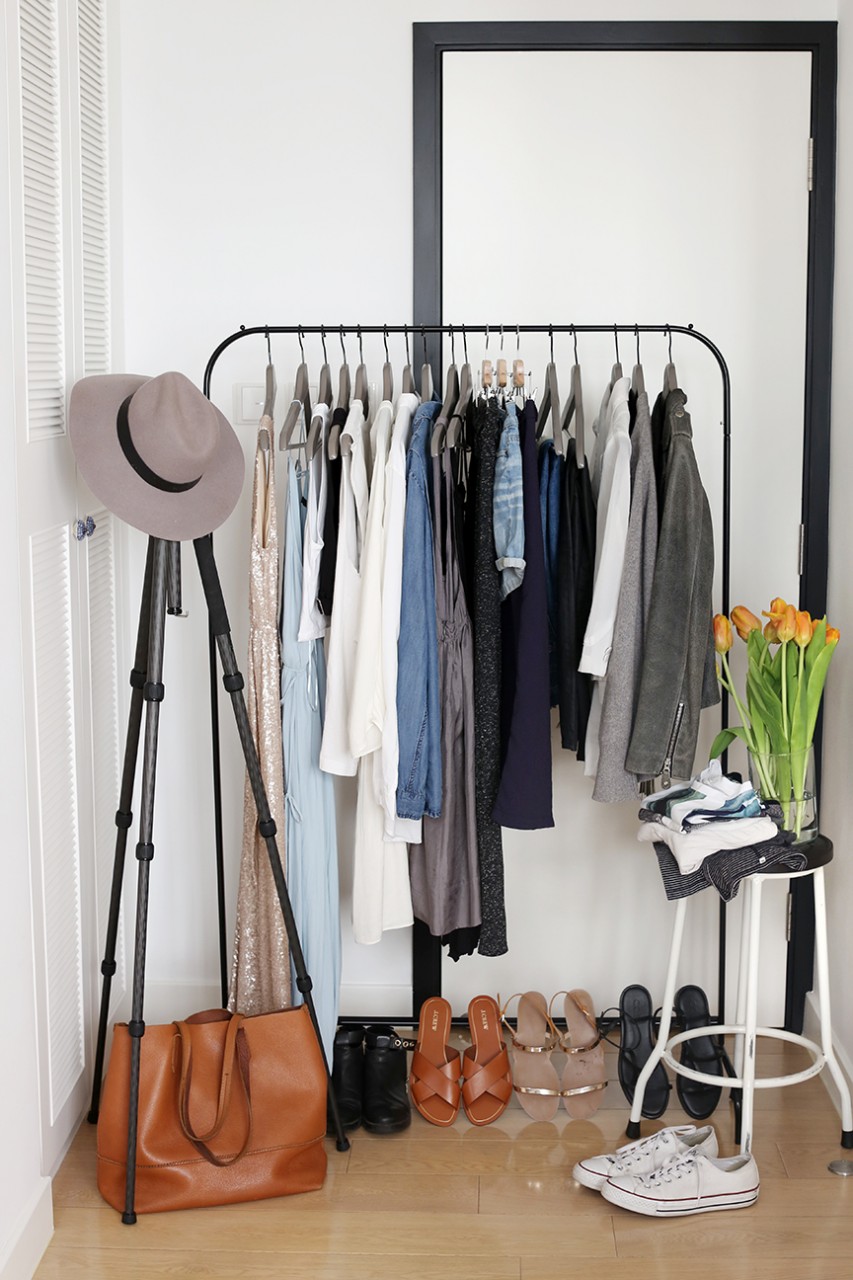 Ready to take a closer look at current clothing racks for sale? This Industrial Storage Rack from Urban Outfitters is crafted from iron and features three polished mango wood shelves: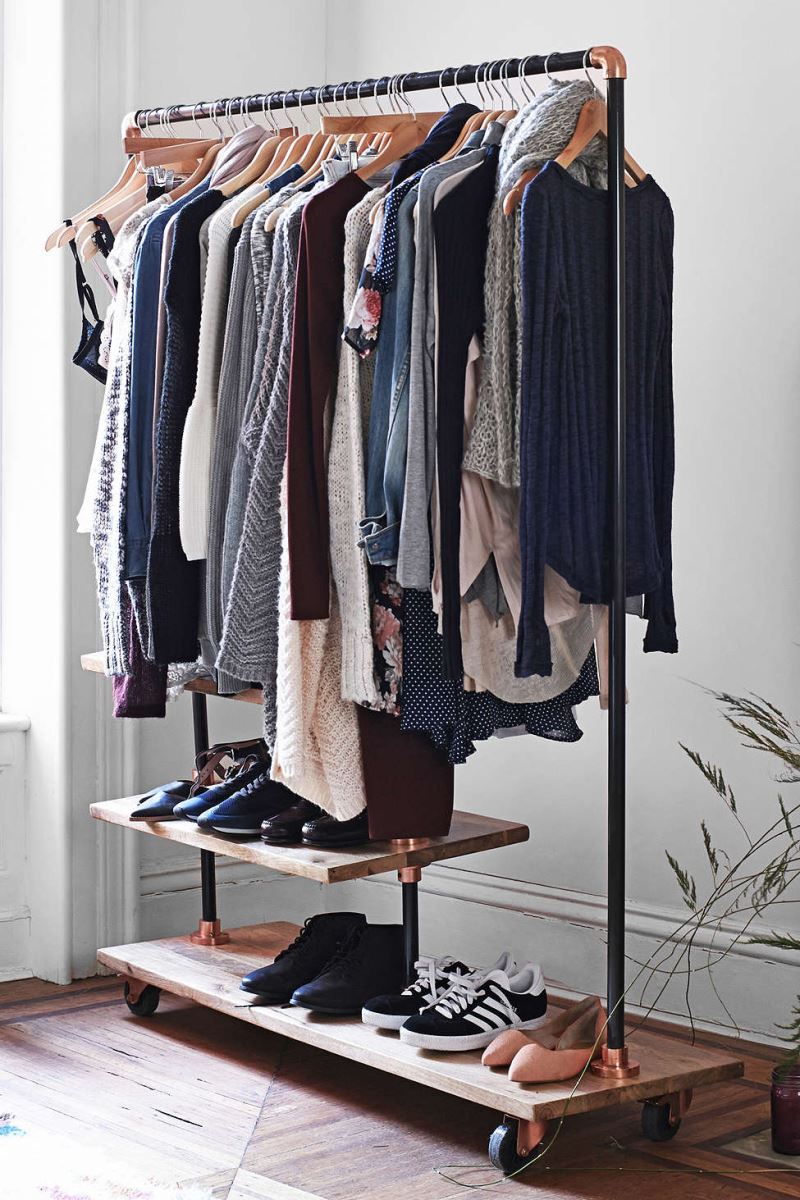 For a more compact solution, check out the Monroe Trades Clothing Rack from West Elm. Beautifully assembled and distressed, it's perfect for small bedrooms. Plus, it's easy to take apart should you find yourself moving to a new place: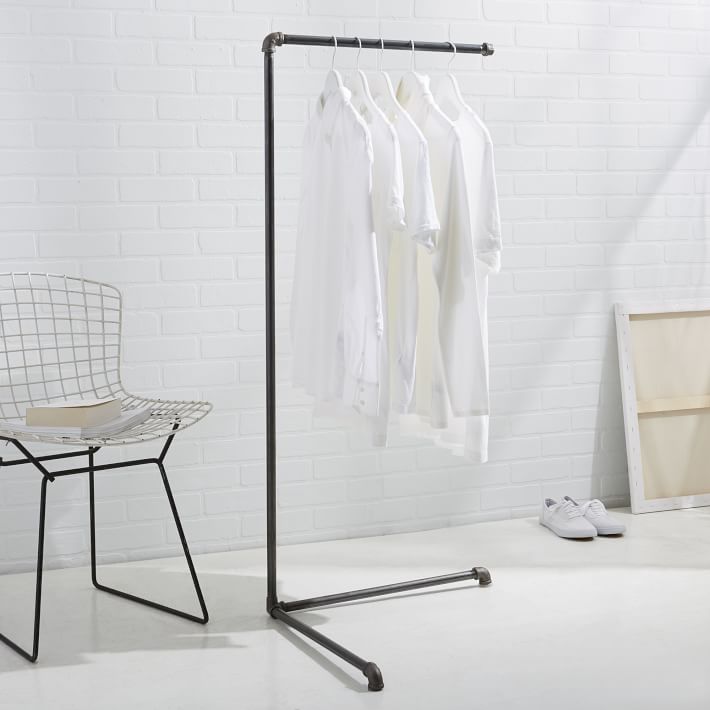 Why not use your clothing rack as an excuse to introduce a bold dash of color into your home? This Garment Rack from West Elm is also available in black, but we're partial to the blue!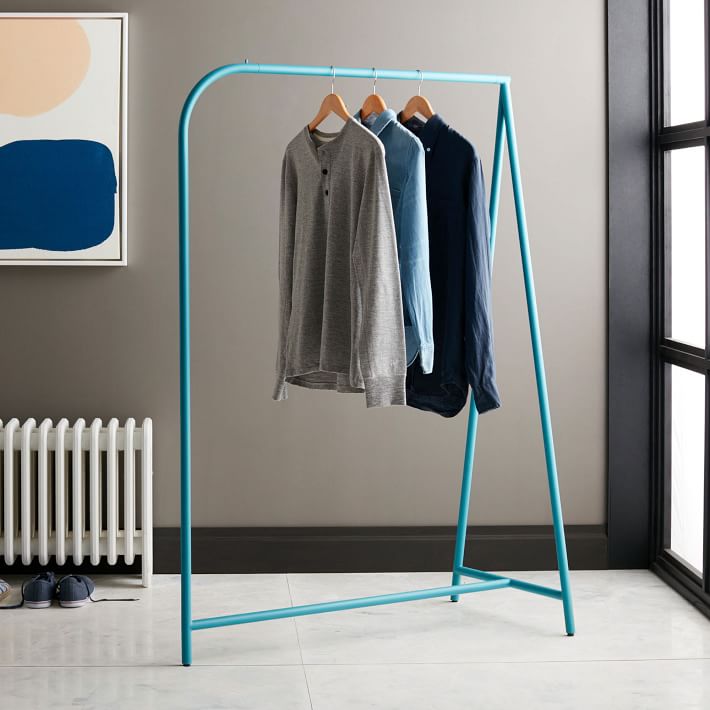 In the next image, we see two Outside the Box Wall Mounted Stands from CB2, which can rest on the floor or be mounted to the wall. Great for clothing on hangers, as well as folded garments and shoes, thanks to handy shelving: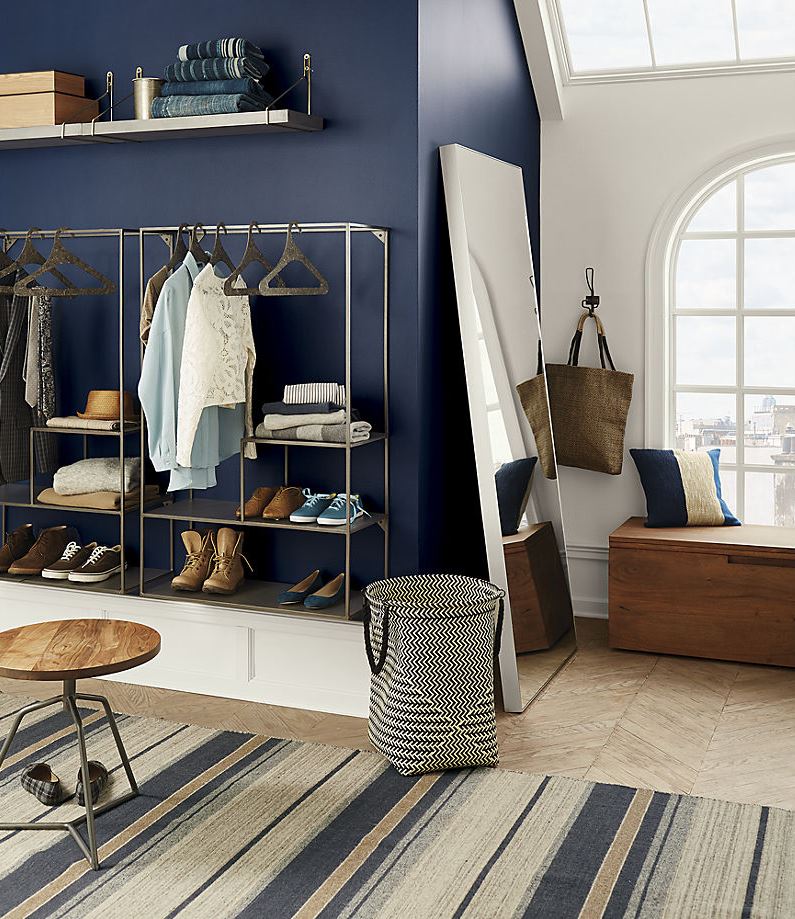 The Tower Coat Storage Rack from Urban Outfitters combines wood and steel in a sculptural configuration that features a top shelf for accessories and decor: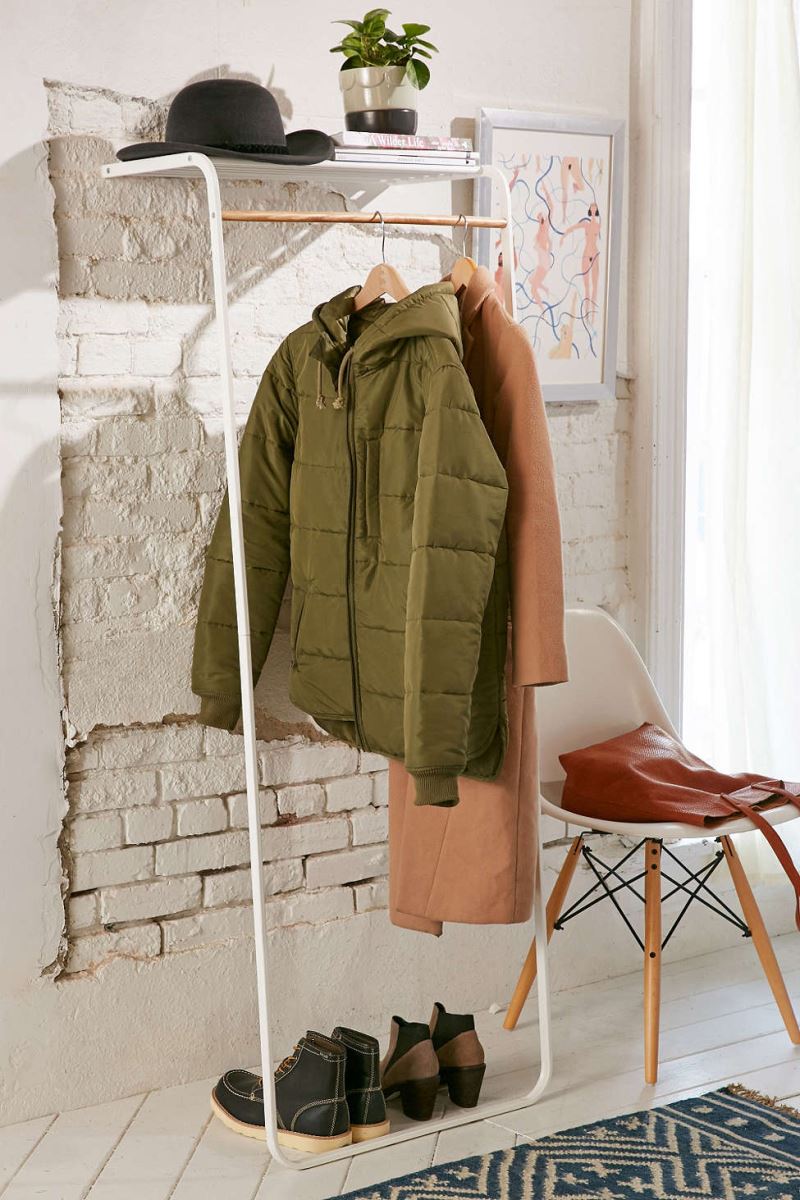 Free up floor space with the Ceiling Clothing Rack from Urban Outfitters, which can be mounted to the wall or the ceiling. Even though it's not grounded, this piece can hold up to 50 pounds of clothing and accessories: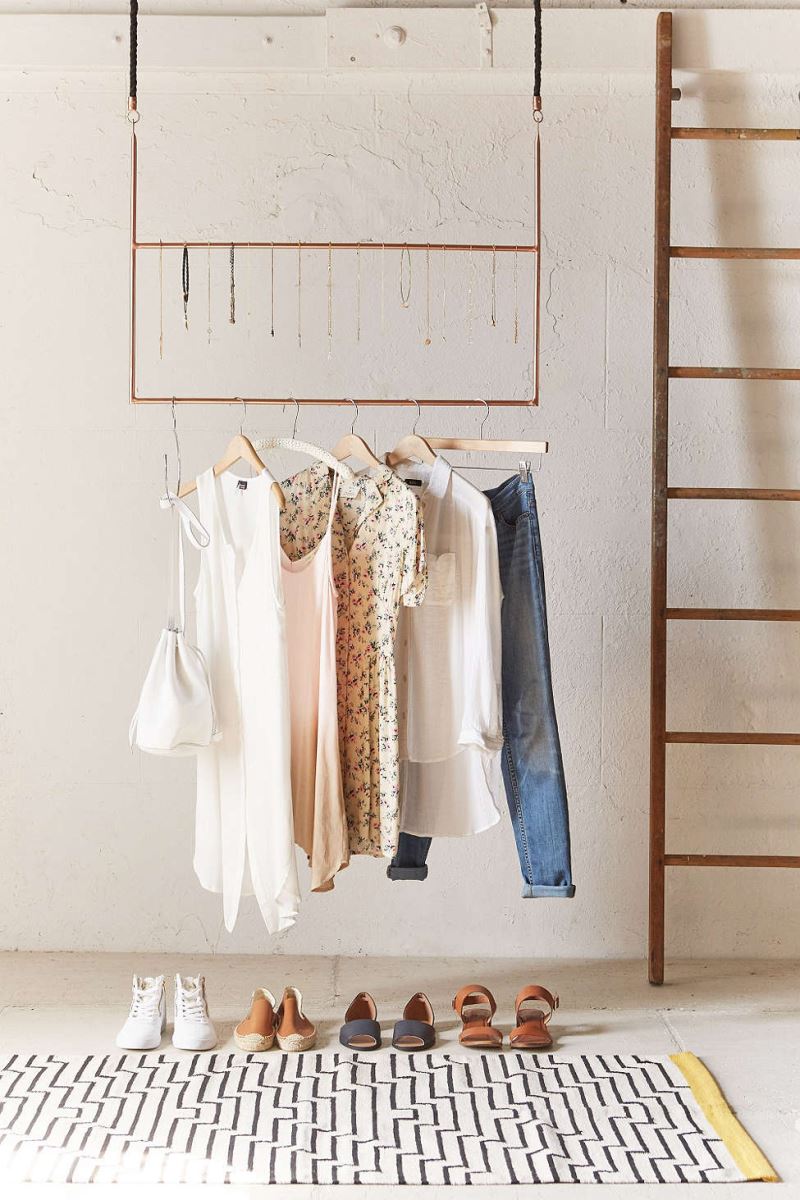 For a super-compact clothing rack solution, the Butler Stand from CB2 features a handcrafted iron frame, as well as a mango wood shelf for shoes, bags and more: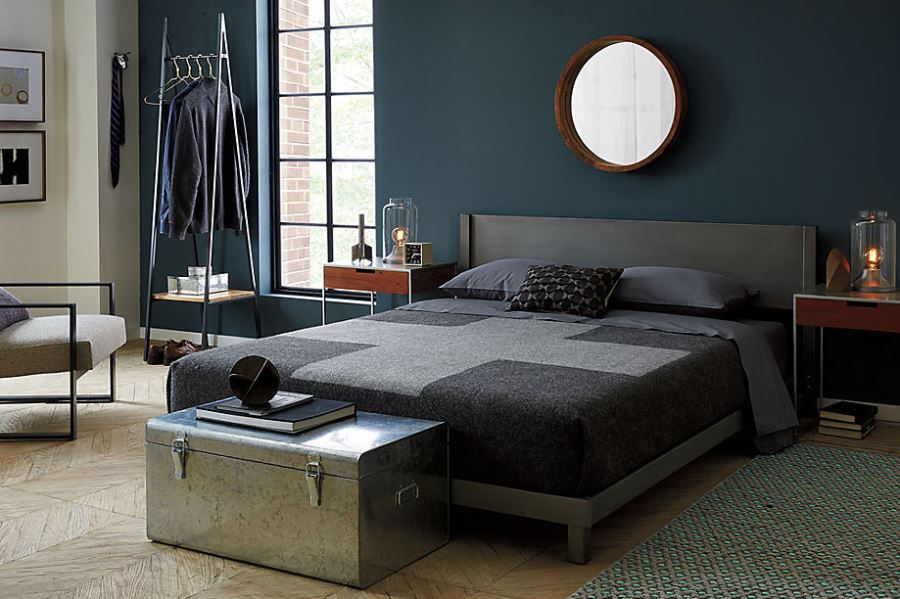 Small Solutions
Let's talk about compact solutions for your capsule wardrobe display! Geometric style is alive and well on the Elements Coat Rack from Urban Outfitters. While likely intended for items such as coats, purses and accessories, this sculptural piece could work for a few items of clothing, as well as some handy accessories. Perhaps you could feature a capsule of your capsule wardrobe, such as items you will wear during a one-week period!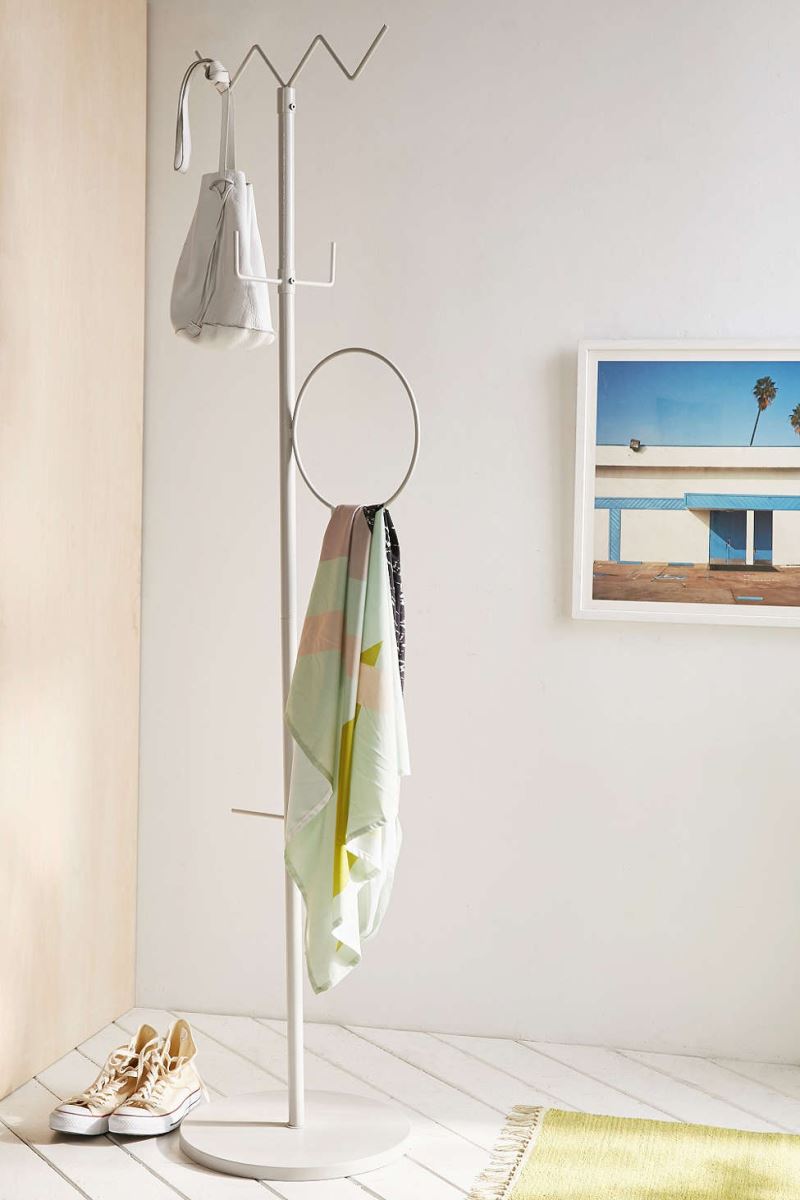 For folded clothing and shoes, check out CB2's Grid Towers, which feature open shelving crafted from iron with exposed brass welding. Stash hats, scarves, and more. Set one of these shelves next to your industrial clothing rack for extra storage. Modern and very display-worthy!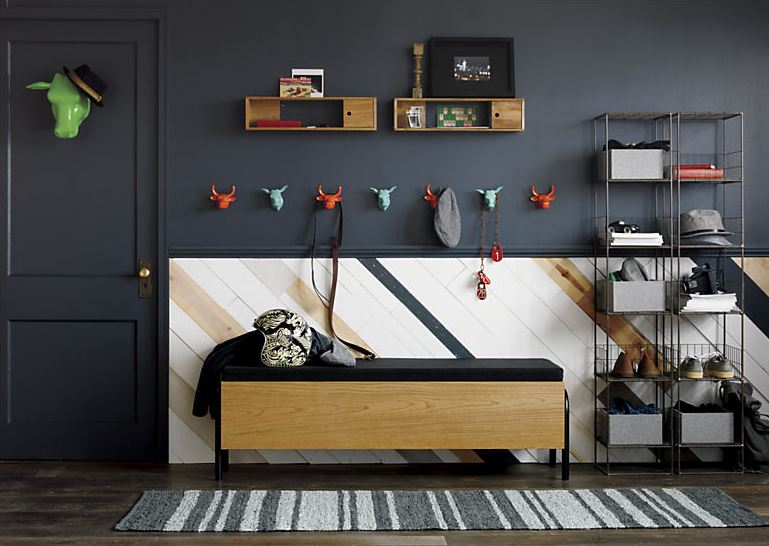 Only got a corner to spare? The Corner Hanging Bar from CB2 will maximize your space and transform the nook of your choice to a capsule wardrobe display area. Black and gold aluminum create a bold contrast. Hang two of these pieces for double the storage: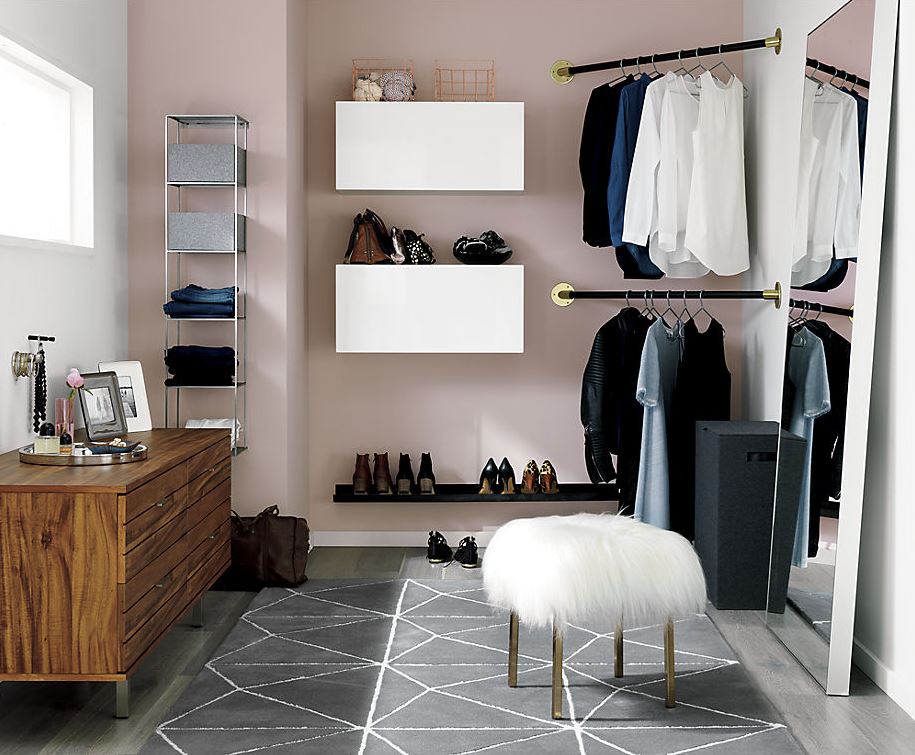 If you've got the clothing rack but no place to showcase your shoes, check out the Simple Adjustable Shoe Organizer from Urban Outfitters. Tiered steel provides two levels of display possibilities: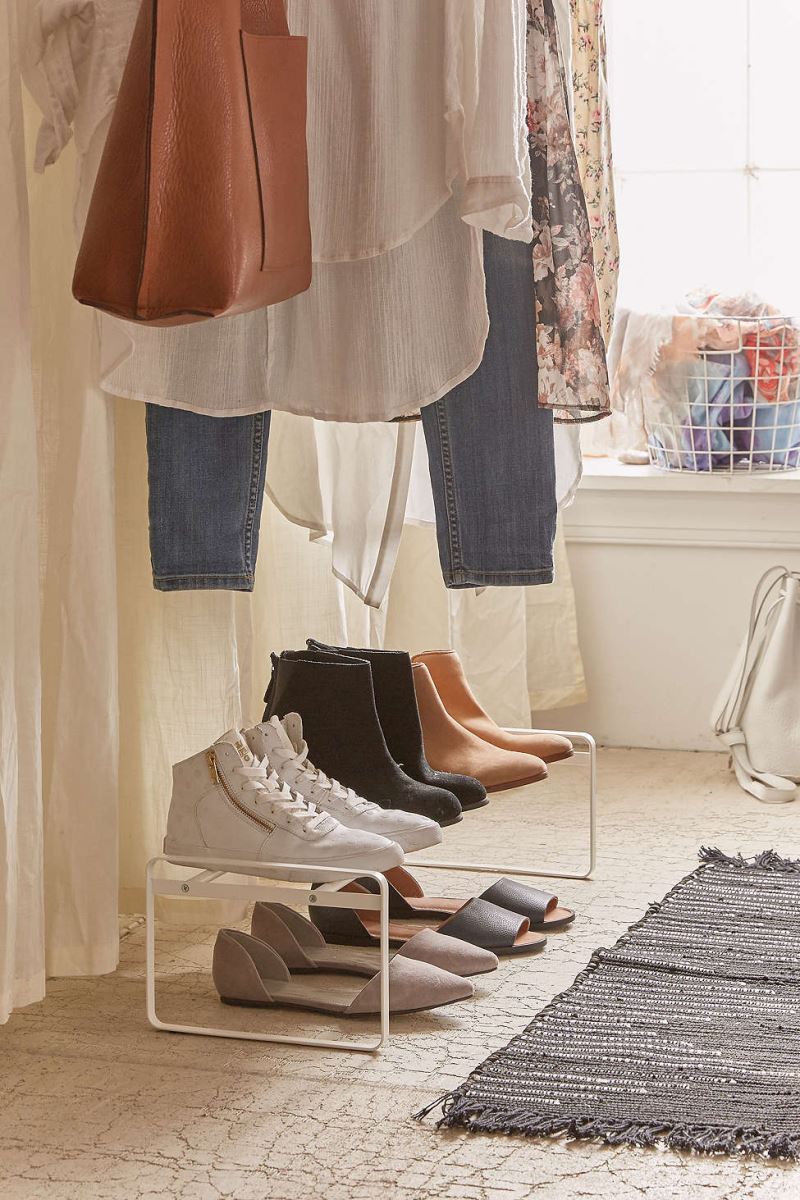 What about displaying smaller pieces such as earrings and sunglasses? Urban Outfitters' Tosca Accessory Closet Hanger is crafted from metal and wood. Necklace hooks and a perforated rod for earrings are two of many features to love about this handy hanging organizer: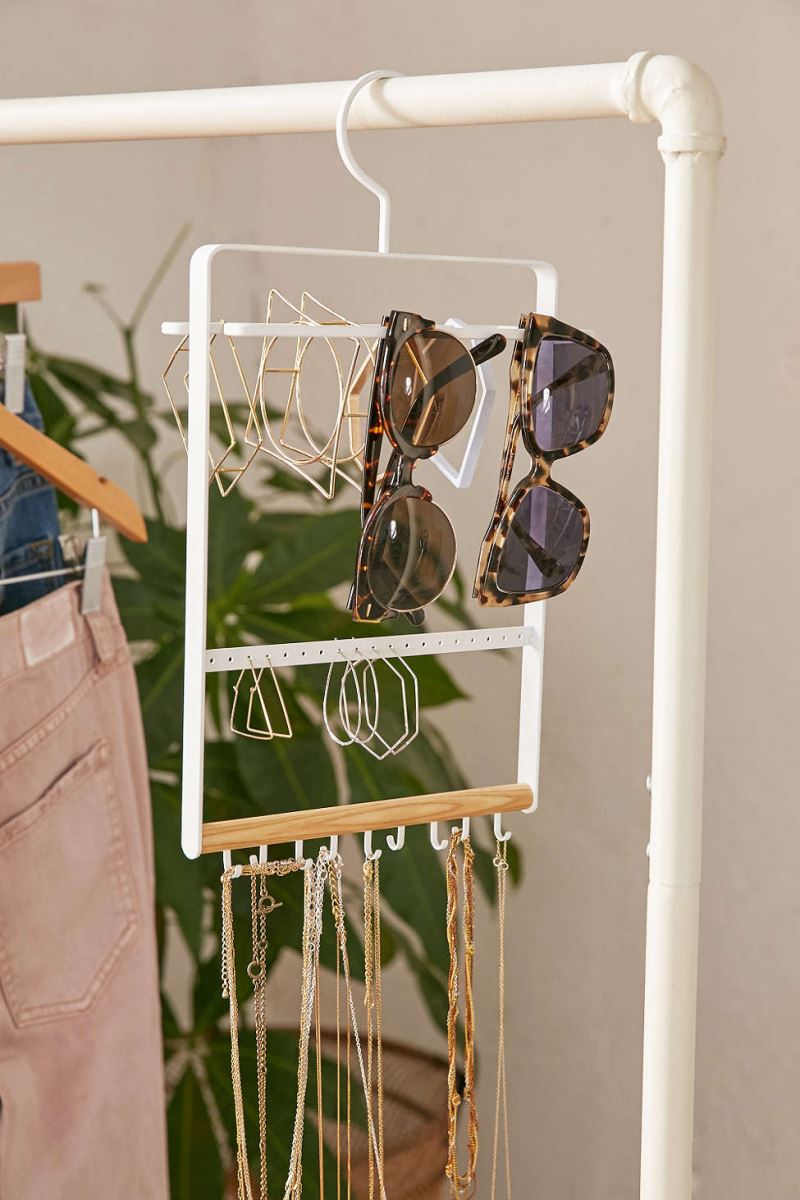 Behind Closed Doors
Last but not least, we explore options for capsule wardrobes that will be kept out of sight. After all, not everybody wants a rack of clothing in full view! This Reflection Wardrobe from CB2 is the perfect size for a capsule wardrobe. Deep charcoal stain and mirrored doors make this piece as chic as it is functional: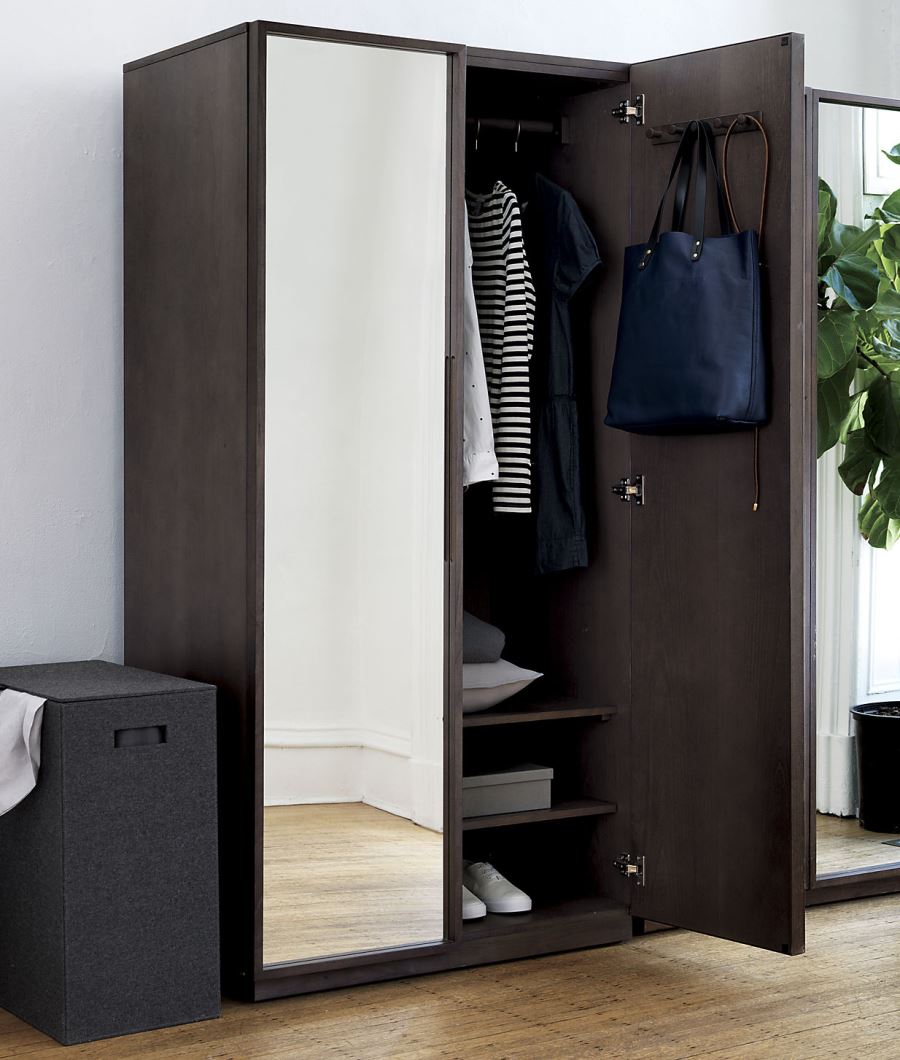 If your closet is the location of choice for your capsule, try setting aside one rod (or a portion of one rod) for your featured clothing items. You can even try angling the hangers to make these garments stand out from the pack. [photo from Lou Oh]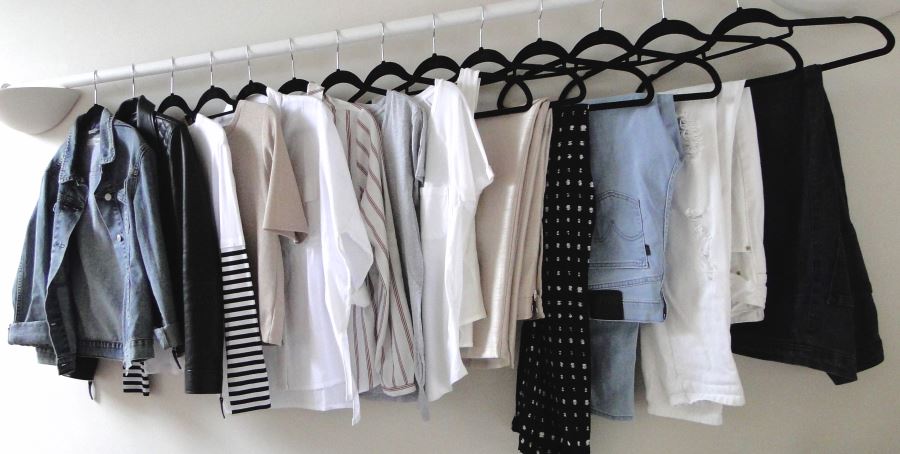 Have you considered color-coding your capsule? Grouping items of like colors will create a fresh, tidy look. [photo from Be More with Less]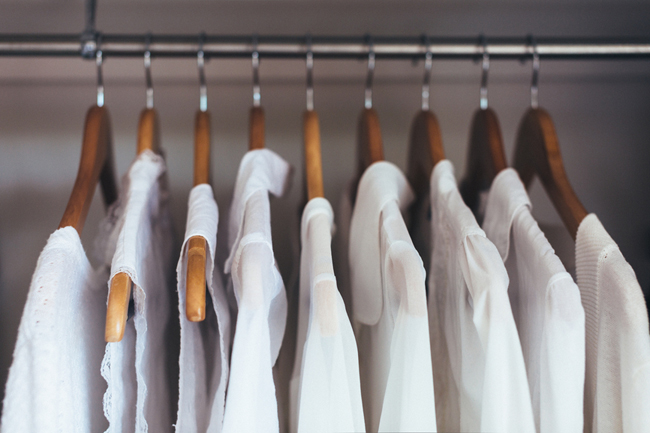 Will you be trying out a capsule wardrobe this spring? Share your display ideas by leaving a comment below…