When you want to get a luxurious piece that makes a bold statement, you can bet that a blue velvet sofa will fit the bill. This accent piece will instantly bring a high-end look, thanks to the versatile fabric. The jewel tone comes with a remarkable sheen, enhancing the color's depth for a striking visual touch.
However, bringing a statement furniture piece into your decor isn't the easiest decision to make. If you have any doubts about introducing a bold blue sofa to your living room, this post will help you solve them.
Which fabrics go best with velvet?
Velvet is a versatile fabric that will perfectly fit a wide array of interior styles. When you have a velvet sofa, it's recommended that your other upholstered furniture be covered in different fabrics. In fact, layering textures is the secret trick to creating a well-styled and dynamic space. Let the velvet sofa be the main accent in the living room.
The simplicity of linen and elegance of velvet combine to achieve the perfect balance in your living room. Add a few linen throws or introduce graceful linen curtains for a chic living room that gives off luxurious vibes.
Golden hardware
If you wish to bring a high-end look to your living room, complement your velvet sofa with golden hardware. A golden coffee table and floor lamp will do the job perfectly, but feel free to add other accents that fit your unique taste.
Eclectic approach
If you want to bring art deco vibes to your home, a blue sofa will perfectly fit your concept. On the color wheel, yellow is the opposite of blue, meaning that these colors will make an exceptional contrast. This eclectic living room is enhanced with yellow accents for a noteworthy pop of color. The exposed brick wall contributes to the art deco mood while injecting a subtle dose of texture.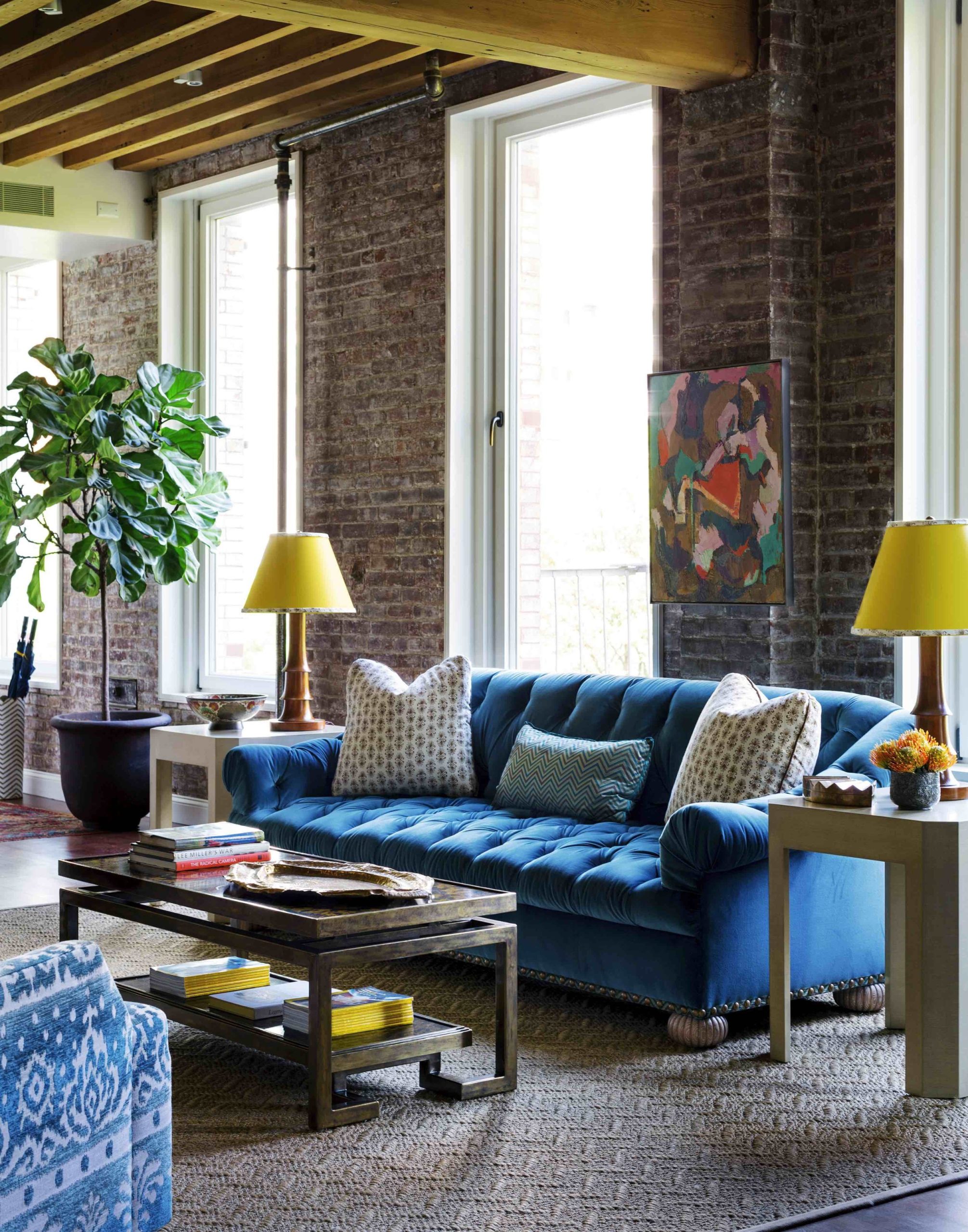 An area rug with an eye-catchy geometric print will be the perfect base for showing off your blue sofa. Pair with a modern armchair to create a contemporary lounge area with an upscale feel.
How to maintain velvet furniture
While velvet furniture brings high-end vibes to a space, some might avoid it due to high maintenance. If you are determined to enhance your home with a velvet piece, the fabric's notorious reputation shouldn't change your thoughts. The modern textile industry has developed innovative materials that make cleaning more manageable, so getting a low-maintenance velvet sofa is now possible.
The secret to pristine and clean velvet furniture is frequent and gentle cleaning. Use a vacuum cleaner with a soft brush attachment to clean dirt and dust off your precious sofa. If you happen to spill a liquid, spot cleaning is your best friend. Ensure that you take care of the spill as soon as possible to prevent it from penetrating the delicate fabric.
After years of wear and tear, the pile might begin to look flat and dull. If you wish to restore its plush texture, use a dry brush or a steamer to lift the fiber and bring back the 'brand new' look.