While the idea of purchasing a vanity table may seem frivolous to some, the intent behind it can speak volumes. Symbolic of a commitment to carving out quality time for self care, a vanity table (also known as a dressing table) represents the ability to rejuvenate and recharge in the morning while you're getting ready, as well as at night when you're winding down. During difficult times and poignant ones, it's the down time that can empower us to make positive changes in our lives.
Today we're shining the spotlight on the vanity table, not to be confused with bathroom vanities that hold sinks. Keep reading for some amazing finds, as well as styling ideas. [Composed Vanity below from Dims]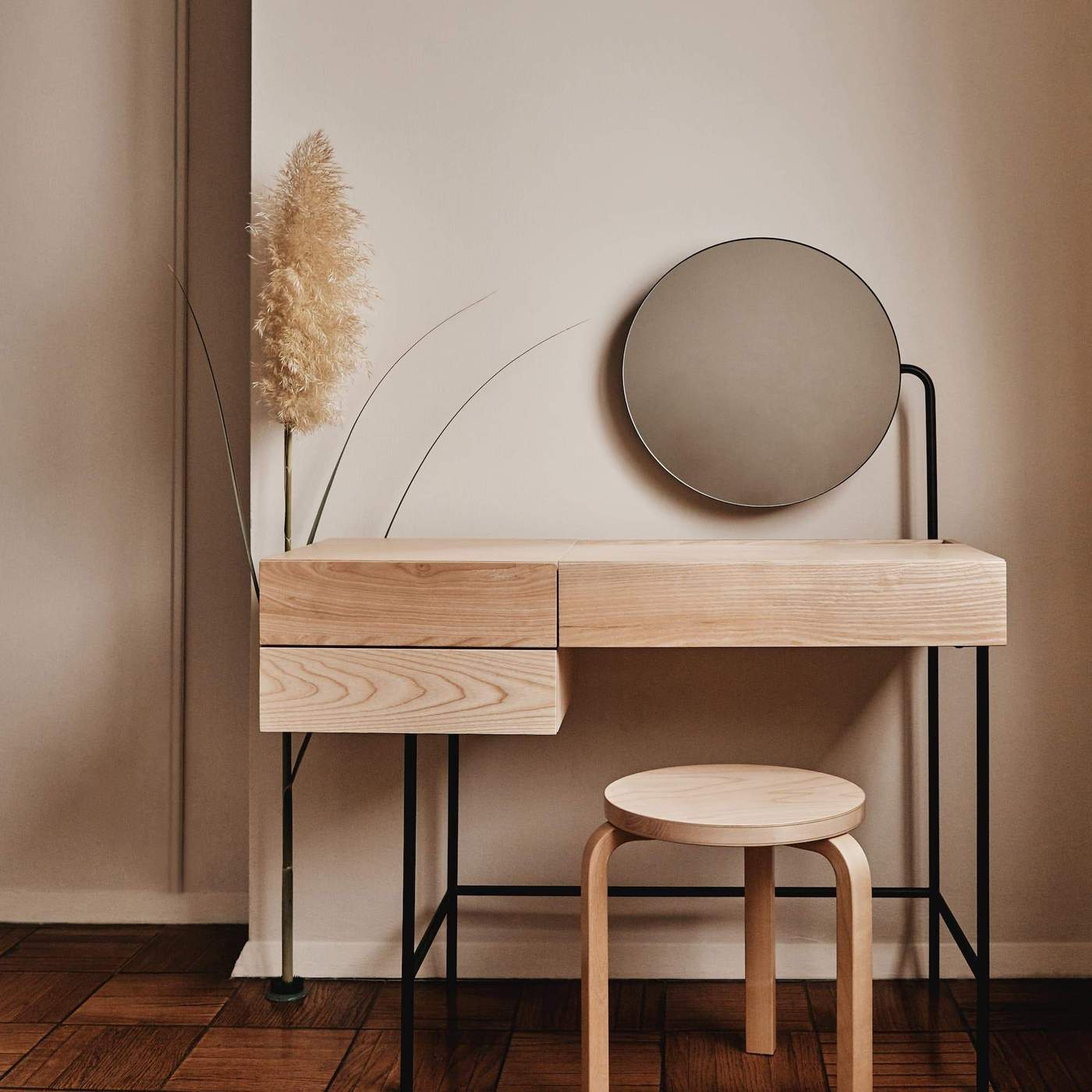 Striking Features
A vanity table doesn't have to be fancy. A small desk or console table can get the job done. Yet the first section of the post is devoted to vanities that make a bold statement. Like Urban Outfitters' Mikko Vanity, which manages to channel both a retro and a modern boho vibe at the same time, thanks to an abundance of rattan curves: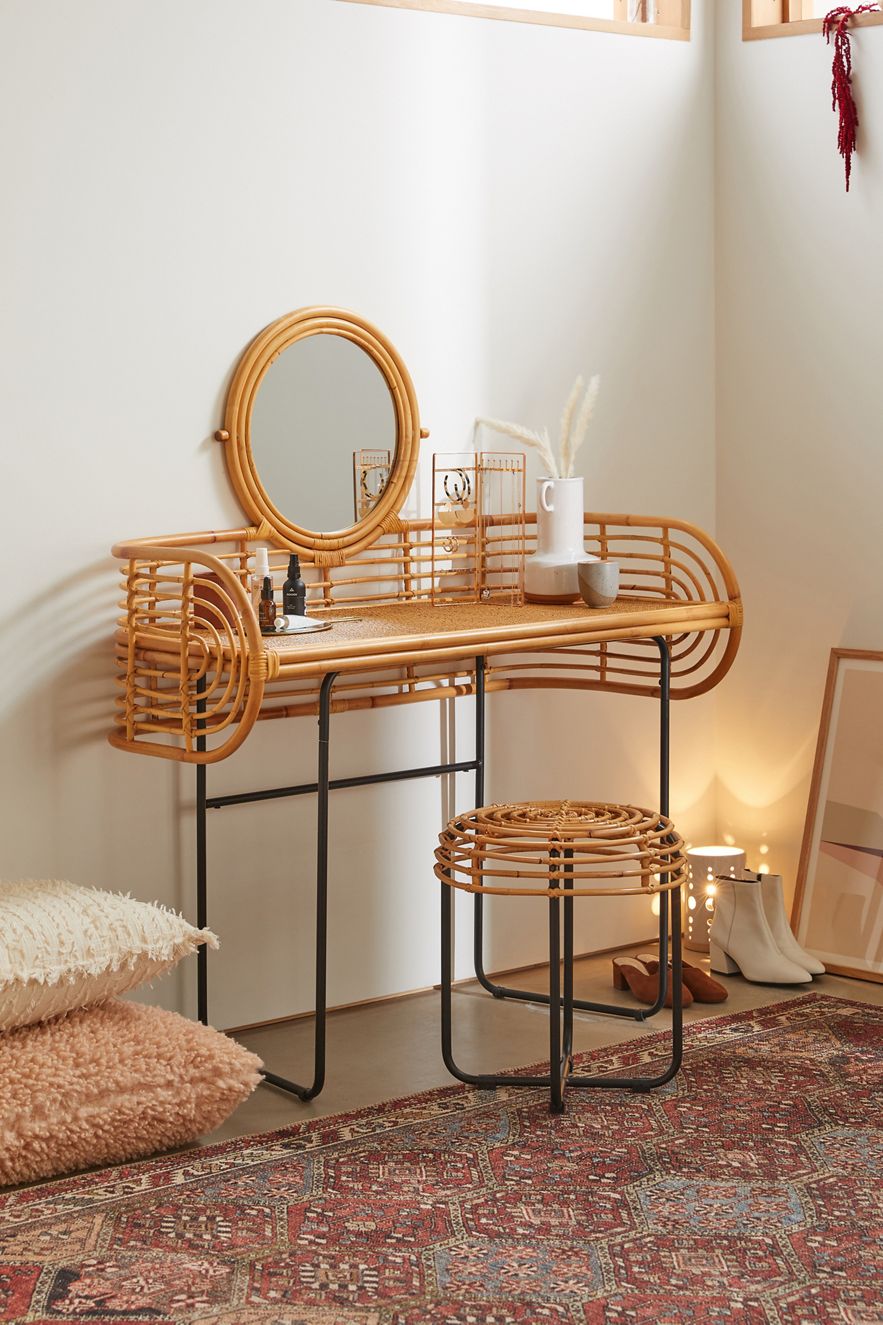 It's as much about the surrounding items as it is the table. Artwork, comfy seating, lighting and the choice of mirror all have the power to make a big impact when combined in a vignette with your vanity table. [photo below from Smart Style Today]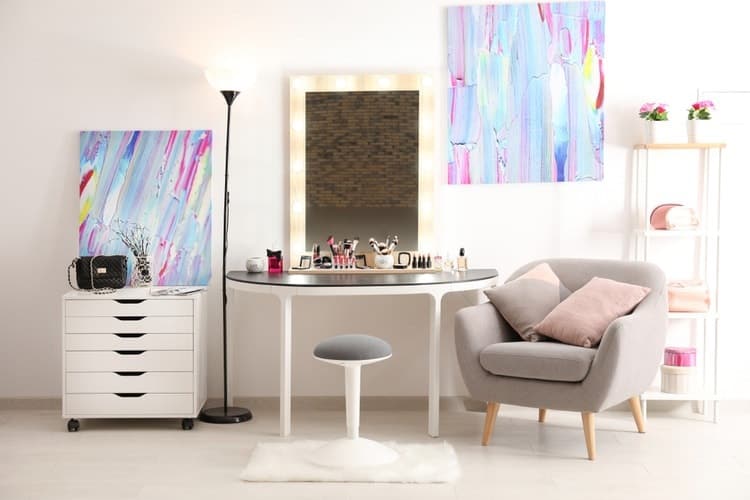 Jonathan Adler's Jet Set Desk from 2015 makes a statement that's as fun as it is striking, thanks to drawers that bring suitcase style home. A good example of a desk that would make a perfect vanity, especially with the right mirror hanging on the wall above. [photo below via Pinterest]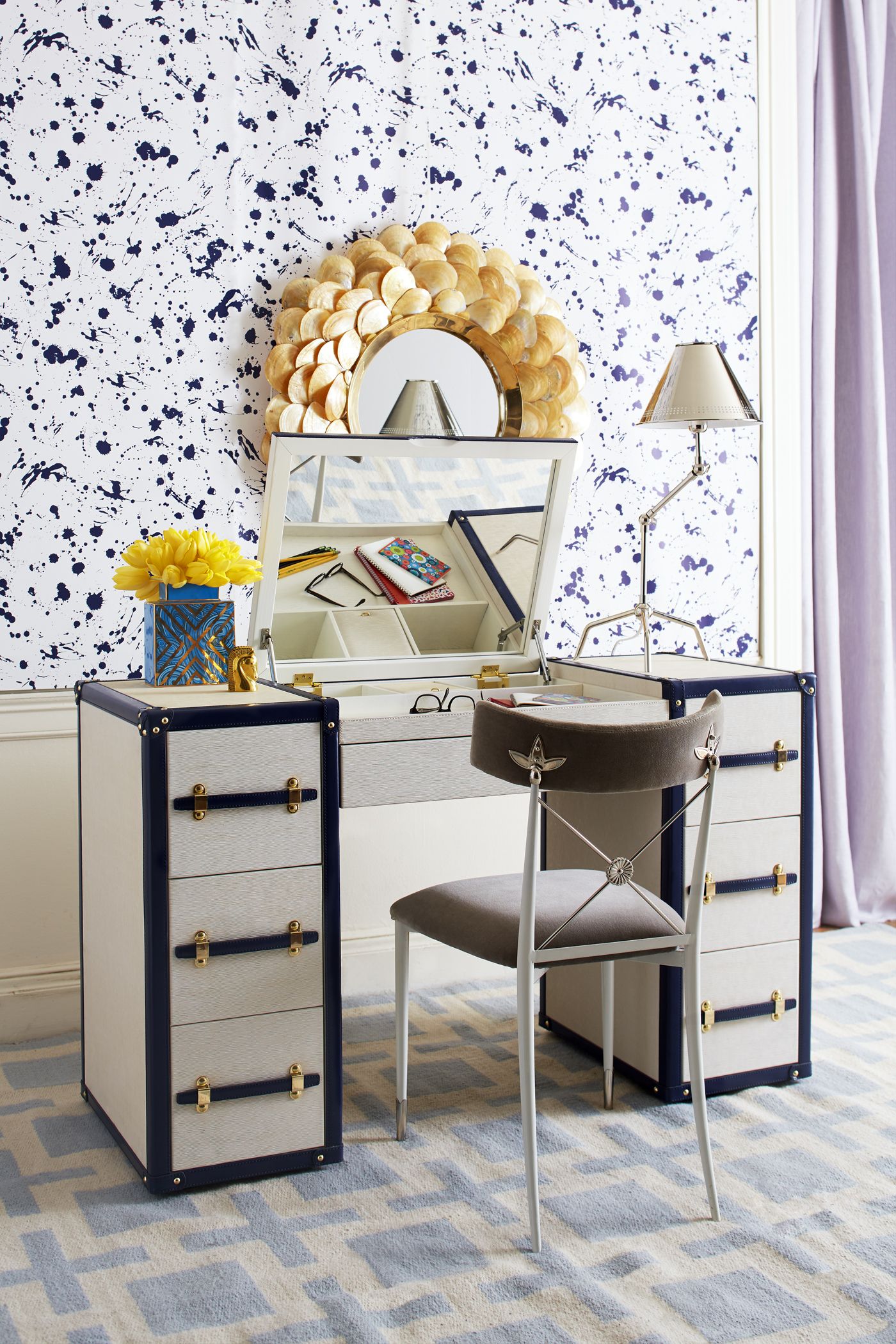 Sometimes it's the personal touches that make the biggest difference. Designer Justina Blakeney created this special vanity area in her bedroom using an assortment of items, including a stool featuring an unforgettable pattern in blue and cream. Tassels, artwork, breezy wallpaper and special mementos are displayed on and around the table, creating a meaningful arrangement that reinforces the self-care element a vanity table brings home: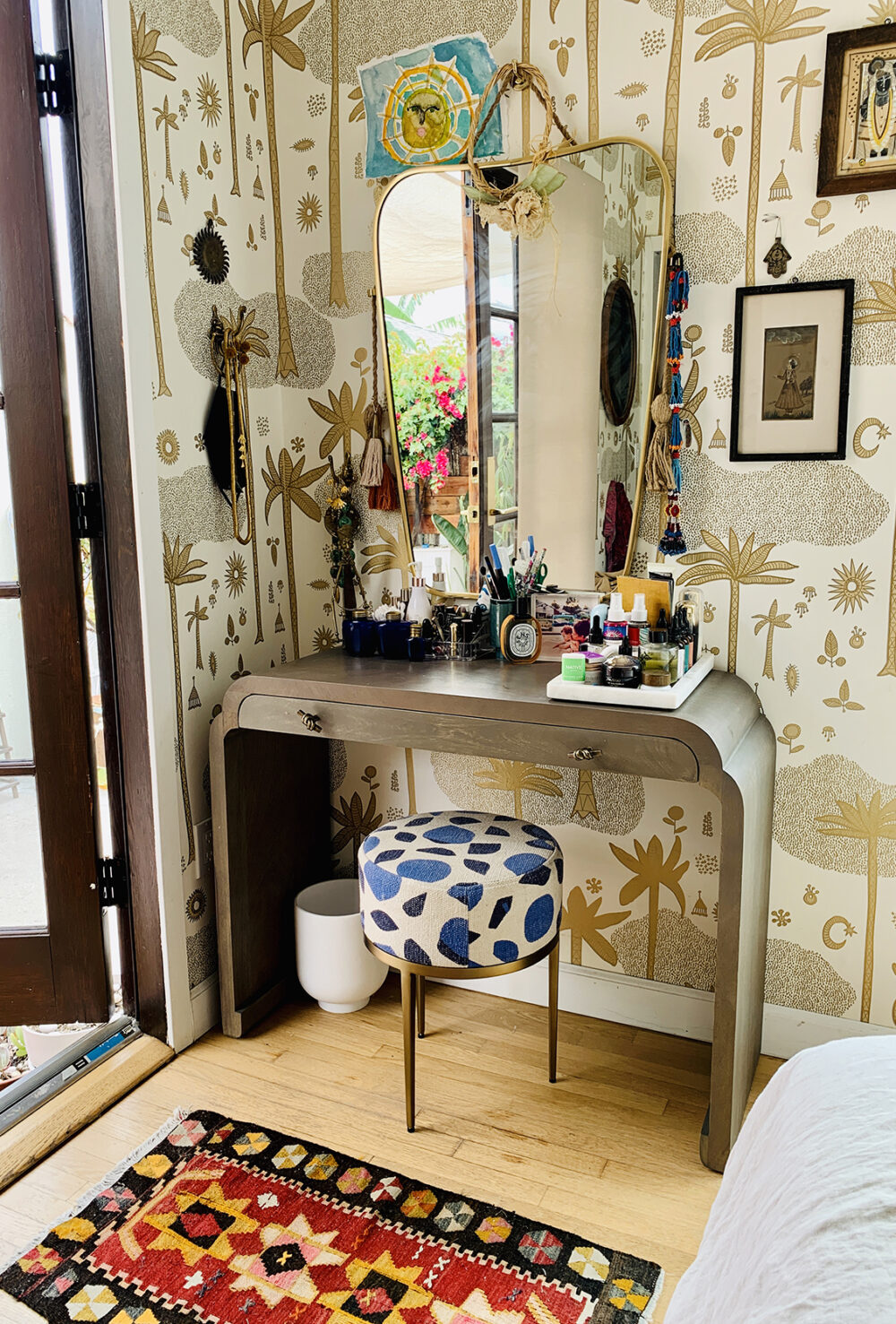 Less Is More
An abundant look is one way to approach your vanity table, but so is minimalism. After all, sometimes less is more. There's a certain tranquility that results from a clean-lined display. Urban Outfitters' Wyatt Vanity is a clean slate, just waiting to be filled with a few select items that will make your beauty routine memorable and relaxing: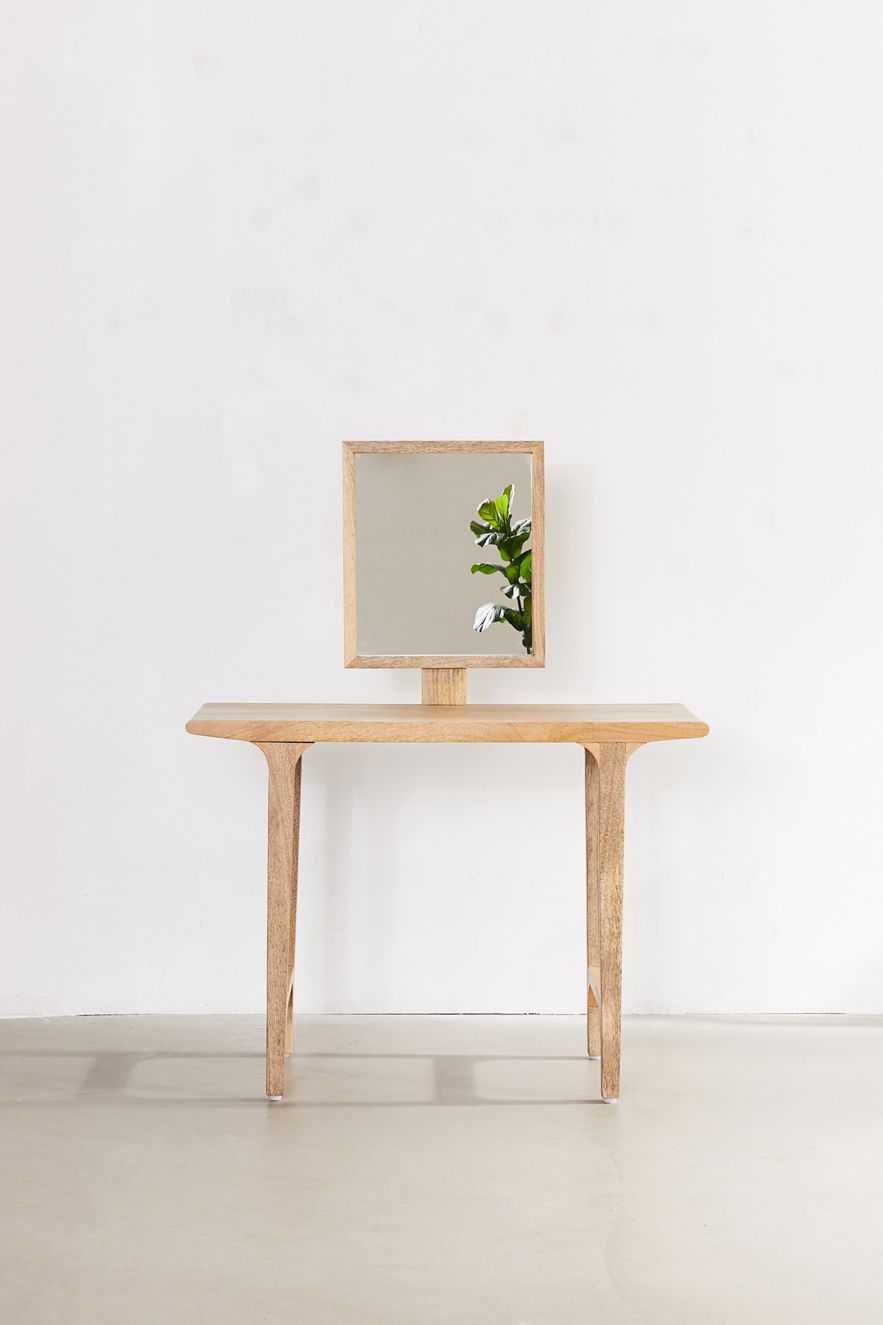 Designed by Ladies & Gentlemen, Dims' Composed Vanity features sustainable wood, all-natural paint, and an adjustable, removable mirror that helps enhance the modern lines and curves of the piece. Available in four different color options. Below we see the power of Nude & Blush: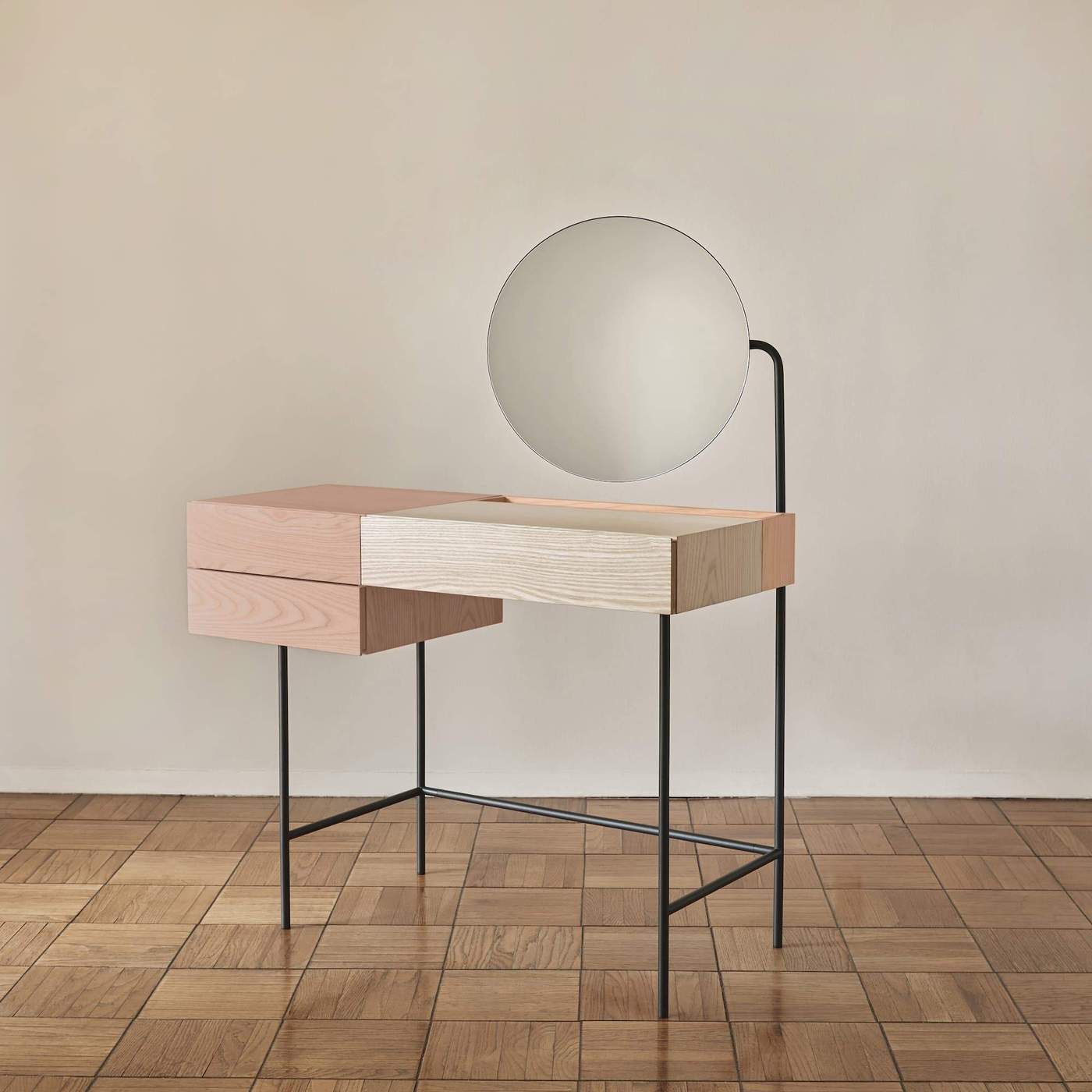 The Bernadette Makeup Vanity from Anthropologie is another clean-lined approach to vanity table style. An attached mirror simplifies your life while adding a modern touch to the design. Two drawers provide storage, while brass hardware is perfectly on trend. This piece has the amazing ability to shine in a variety of spaces with an equal variety of looks: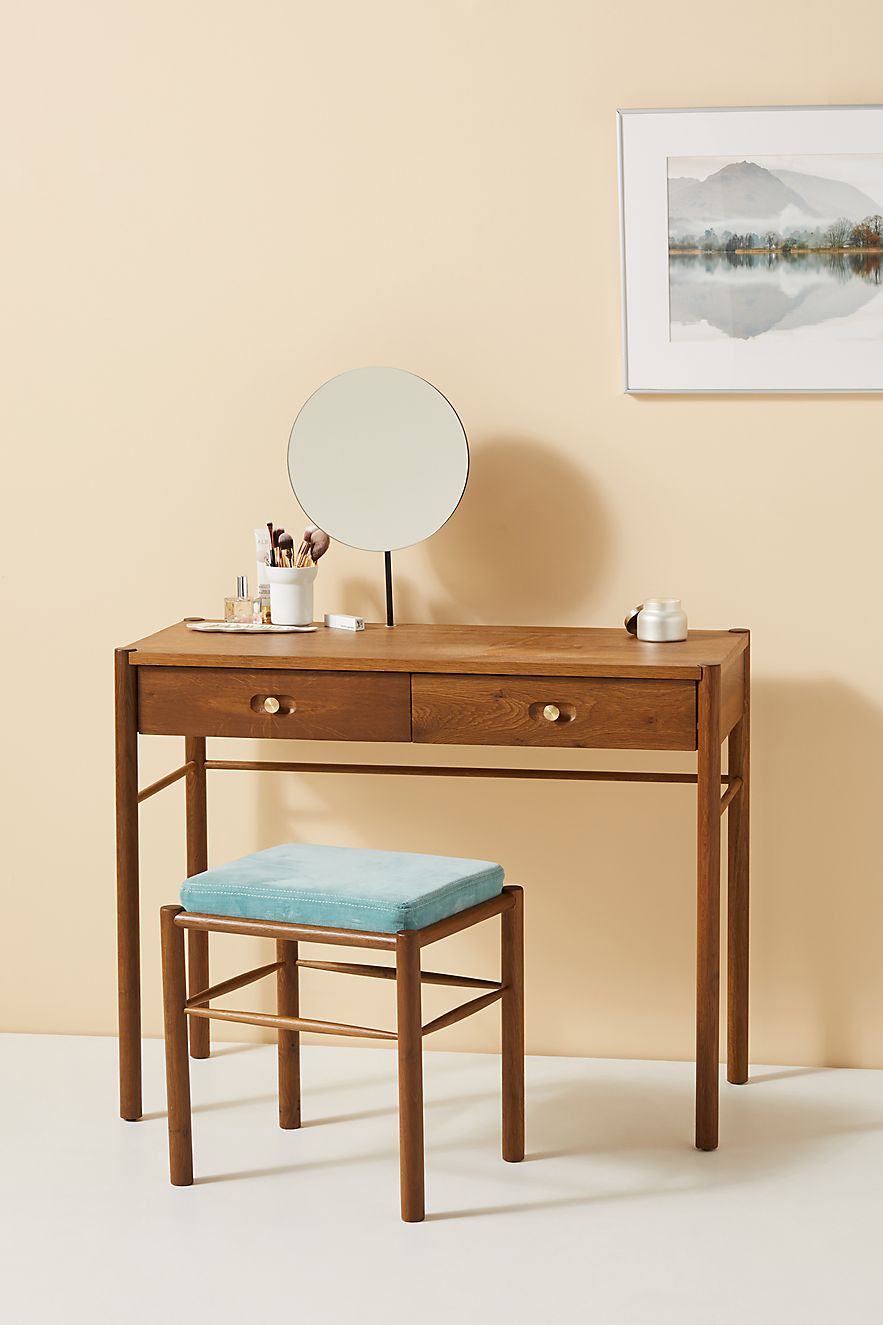 Lacquer surfaces shine on ALF's Artemide Italian Bedroom Vanity, which is both striking and low-key at the same time. Modern style reigns, and the versatility of this vanity can't be denied. Whether used as a table or a desk, it's sure to make a statement. Why we love it for a vanity: the piece's retro-modern appeal.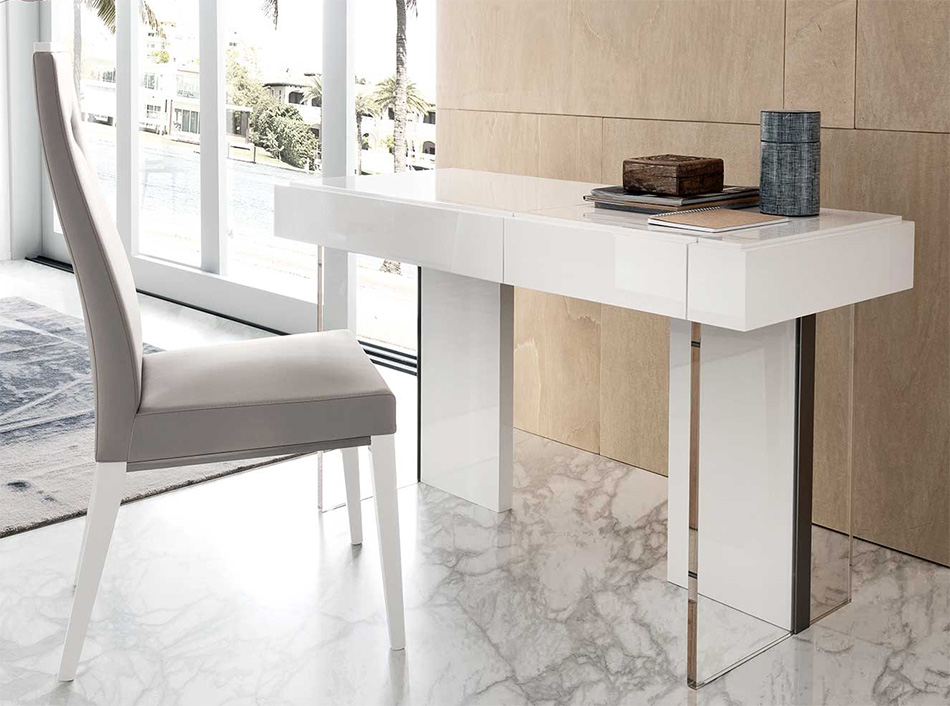 A Dose of Glam
A glamorous vanity can evoke a sense of abundance or sleek style. The key is choosing which special touches you want to amplify. Brass, Lucite and lacquer are elements that instantly create a dose of glam, yet they don't have to come with frills. This modern 2-drawer vanity set from Homary includes a stool, which mirrors the table in its use of clean lines and a gold-toned finish. The piece can also double as a handy desk!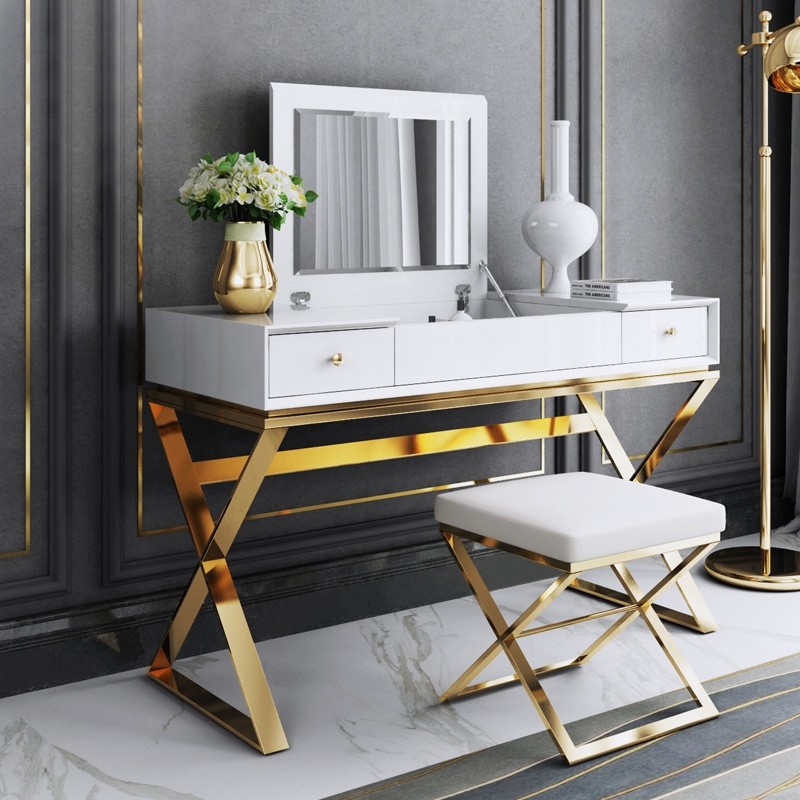 Another glamorous selection with a flip-top mirror, Anthropologie's Lacquered Regency Makeup Vanity includes an organizational tray that's perfect for holding makeup, jewelry and more. Yet the standout features of this eye-catching piece are the Lucite and etched brass pulls: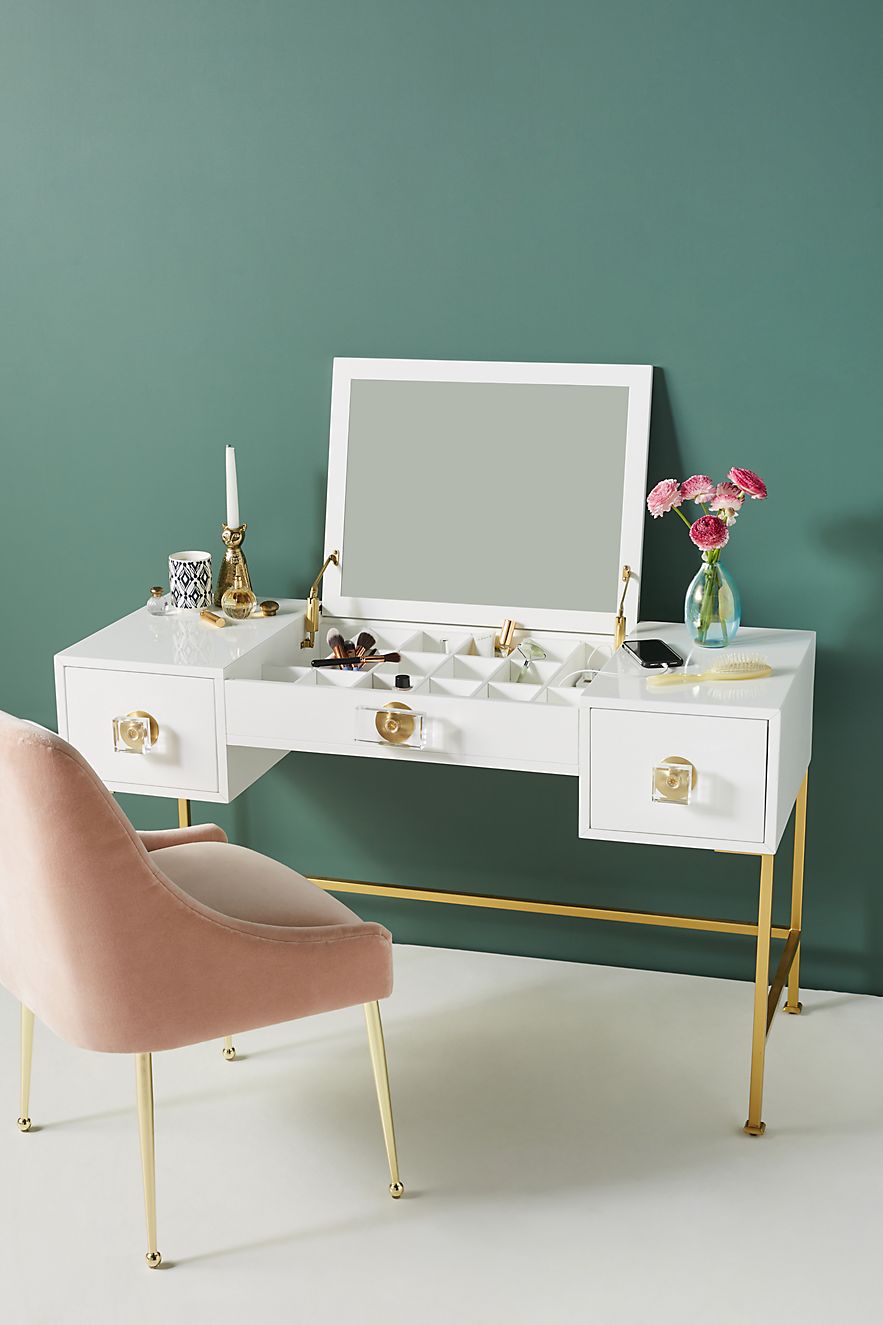 It's not just the vanity itself that adds a glamorous touch to your dressing table vignette. Consider the power of items such as mirrors and wallpaper, as well as decorative styles that range from Hollywood Regency to French. Below we see gilded wallpaper in a vanity area at Palihouse Santa Monica. [featured at Lonny]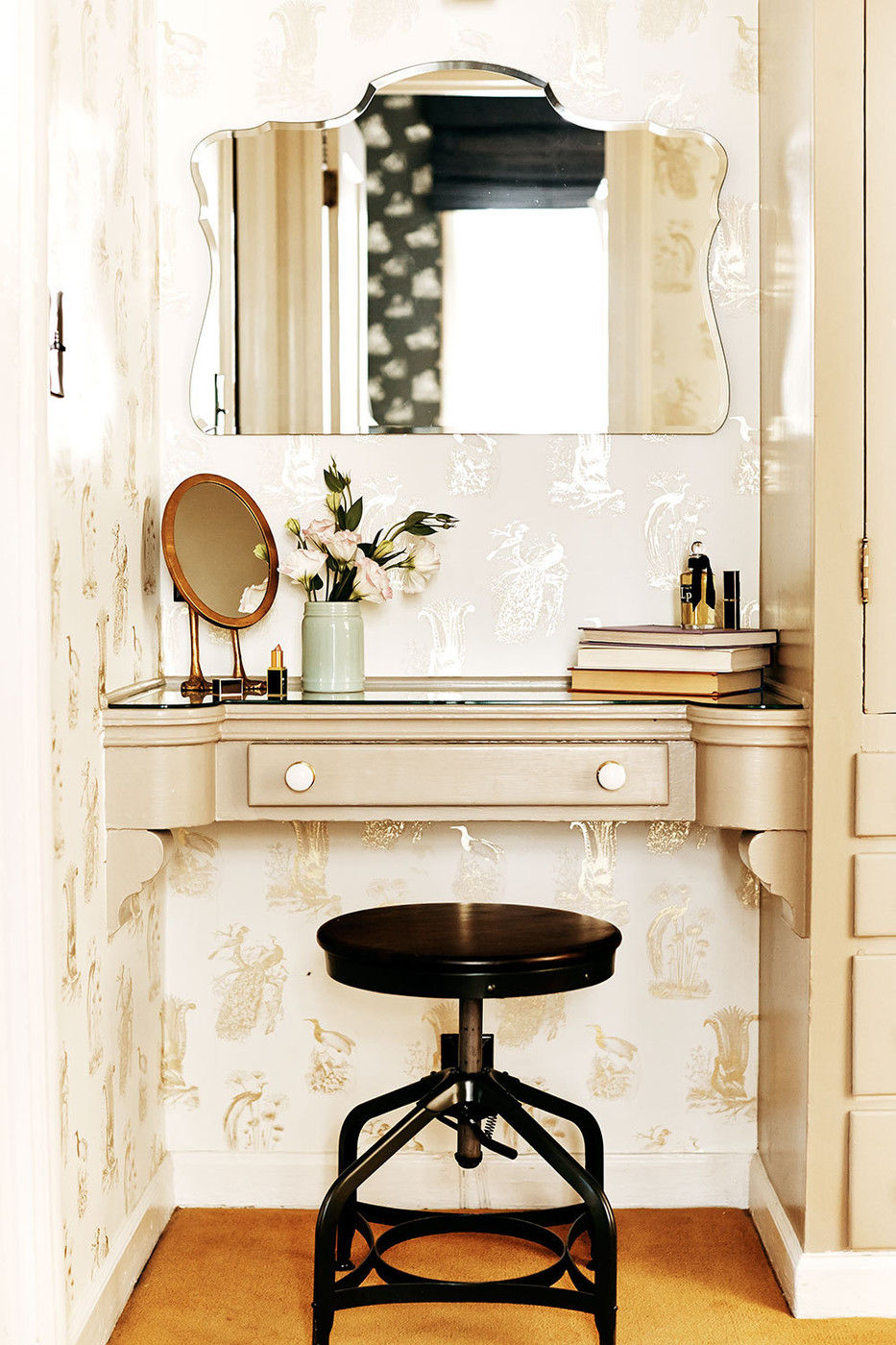 Beachy style for the win! Coral motifs, mirrored surfaces, and a seashell stool give this glamorous vanity an elegant mermaid vibe. A great example of breezy-meets-glam design, which can create the look and feel of a tropical vacation. [featured at Lonny]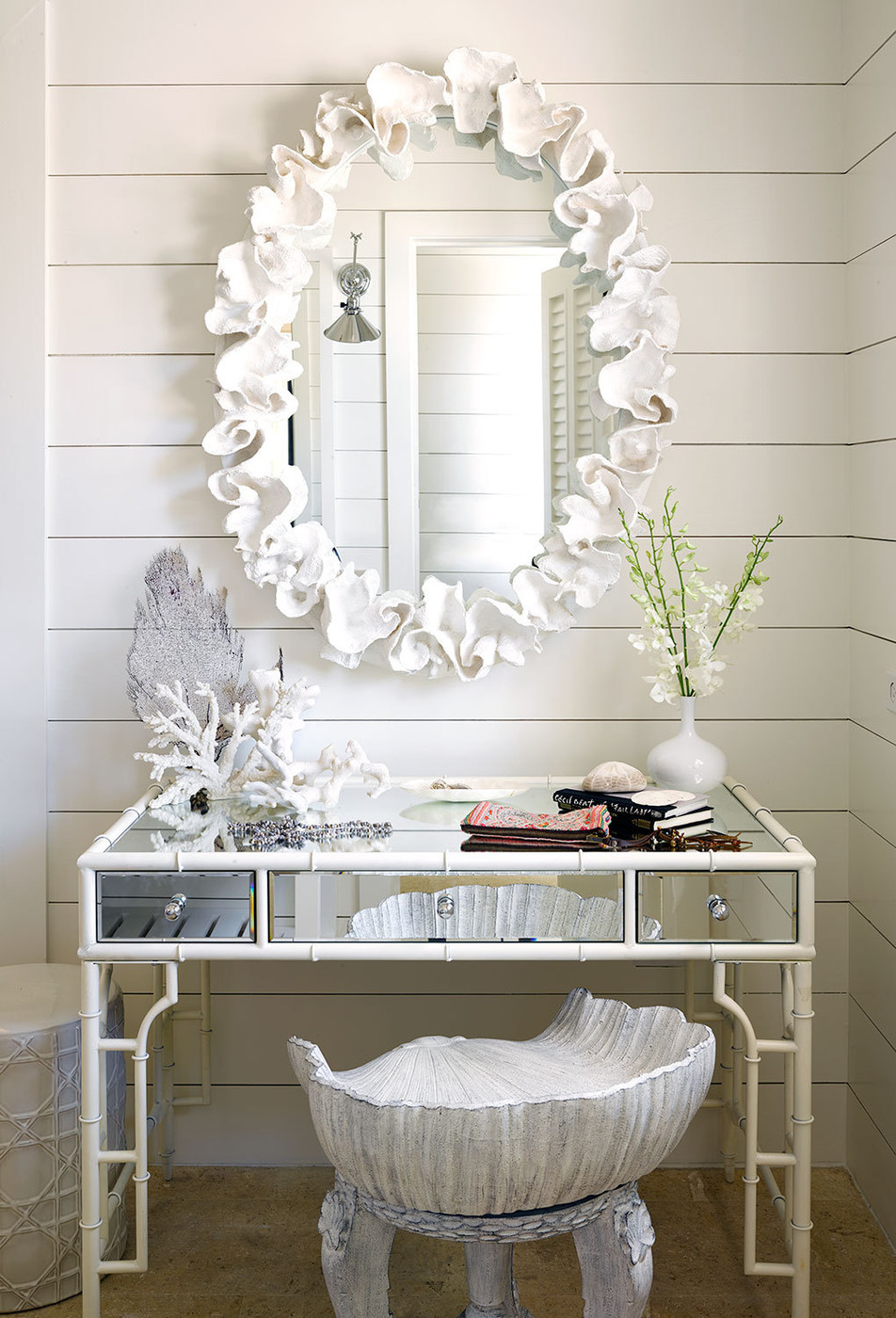 More Than a Table
We end today's post with a series of built-in vanities. They may not be "tables" in the freestanding sense, but they remind us that if you're lucky enough to have input in the construction phase of your home (or if you're planning a renovation), a built-in dressing table is worth the time and money. Below we see a built-in vanity designed by Raili CA Interior Design. [featured at Roomhints]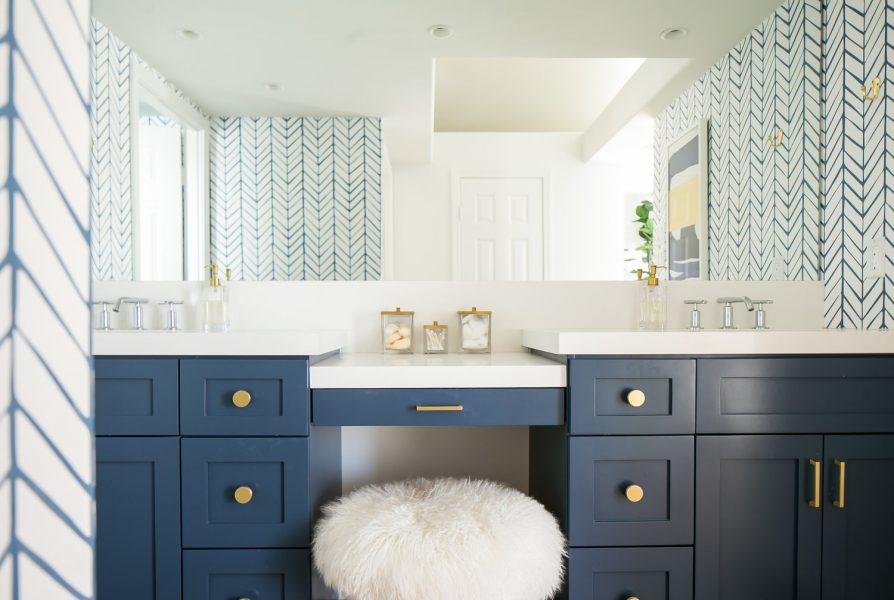 A pink vanity stool and a sculptural bust are two of many highlights that bring the built-in dressing table below to life. Plenty of drawer storage is another reason to love this beautifully designed area. [featured at Lonny]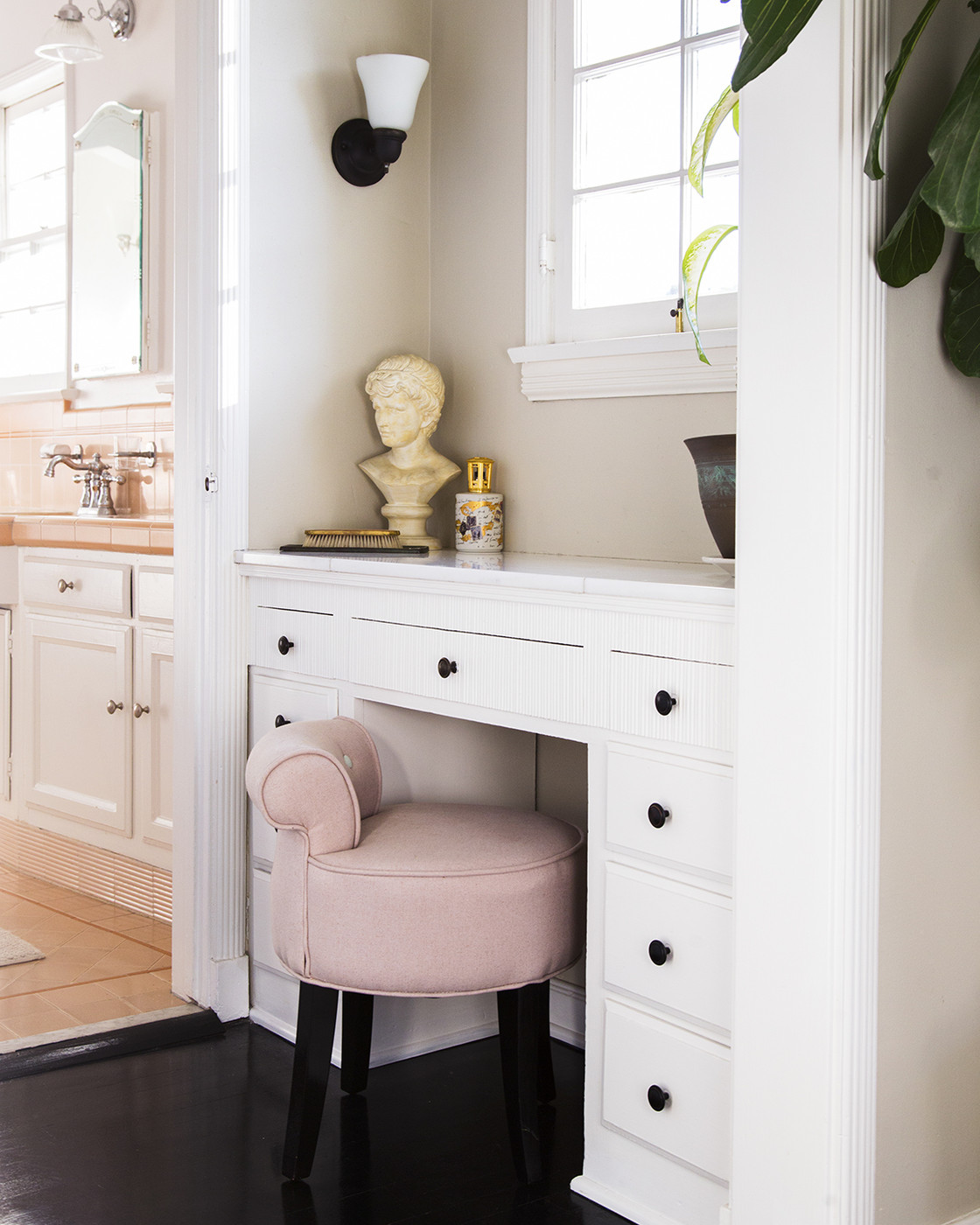 Everybody loves a good IKEA hack, and Sugar & Cloth take the floating vanity to new heights with this clever DIY project. A piece of solid wood and four half moon cabinet pulls enhance IKEA's EKET cabinets and take custom vanity design to new heights. [photo by Jared Smith]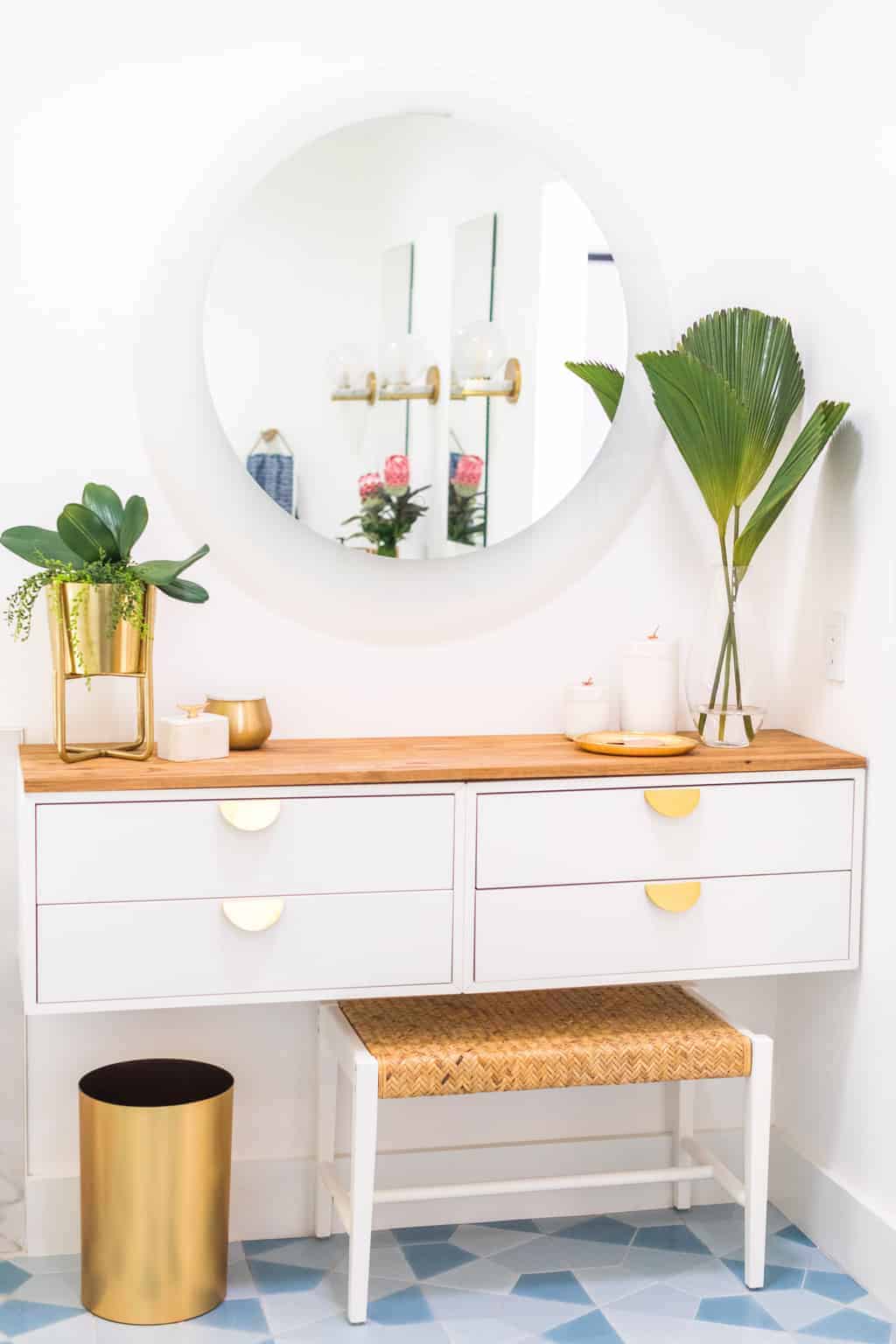 A floating makeup vanity and a mirrored wall put a modern spin on dressing table style, especially when enhanced with a sleek swivel stool. [image from National Kitchen & Bath Association, featured at HGTV]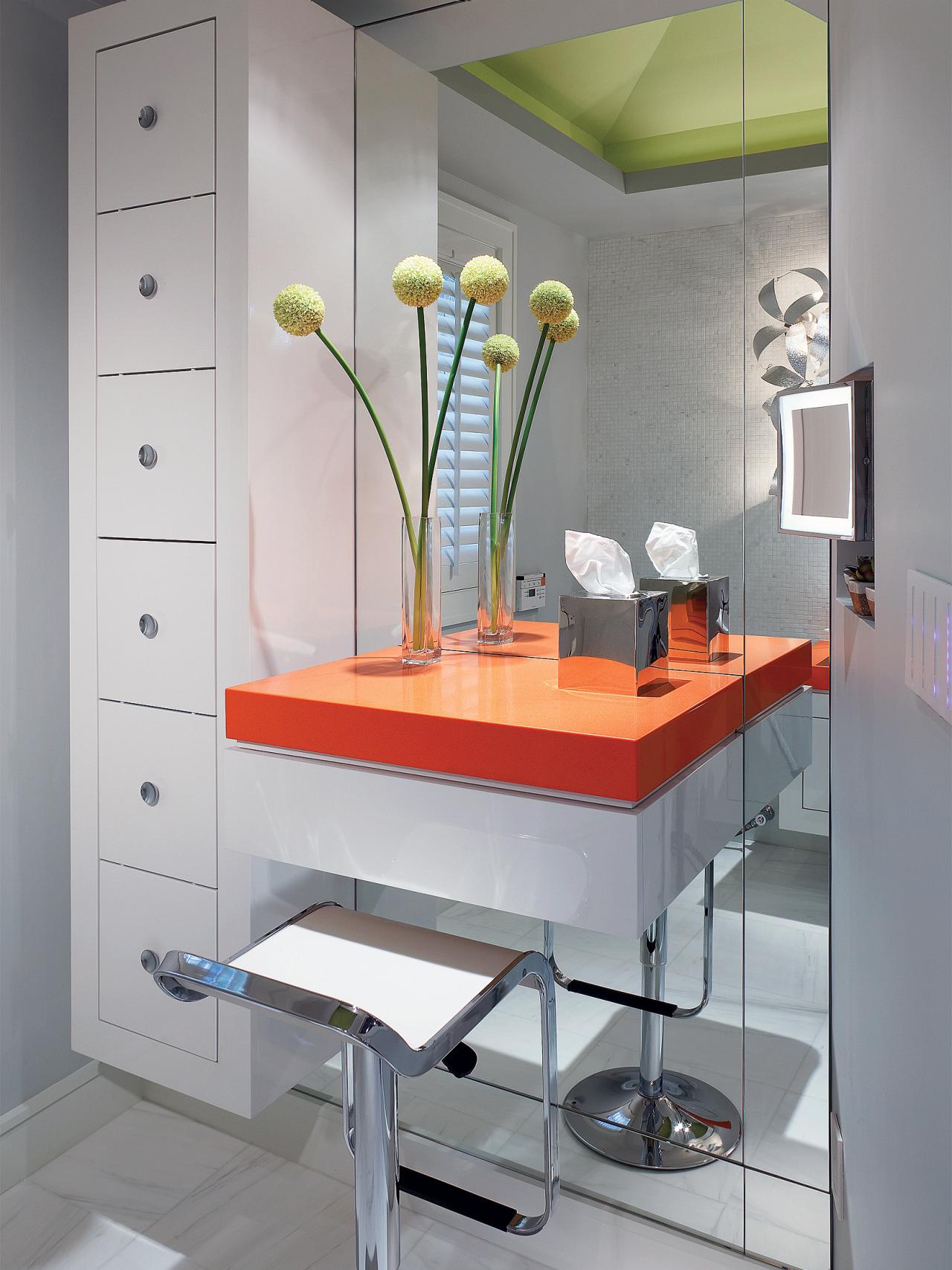 We hope today's post has inspired you to design a sanctuary space devoted to beauty routines and relaxation. For an extra boost of inspiration, do yourself a favor and scroll through the photos again, noting the special touches used in the styling of each vanity table, from potted plants and cut greenery to wallpaper backdrops and tabletop vignettes. Happy decorating!