Gone are the days when a wall-sized sheet of mirrored glass equaled an ideal bathroom mirror. These days the look is more compact yet stylized, as if you went shopping for a mirror that you liked and thought to yourself, "This would look great above the sink." Not only do bathroom mirrors serve an important function, they can bring a thoughtful design element to your powder room, taking the look from boring to boutique.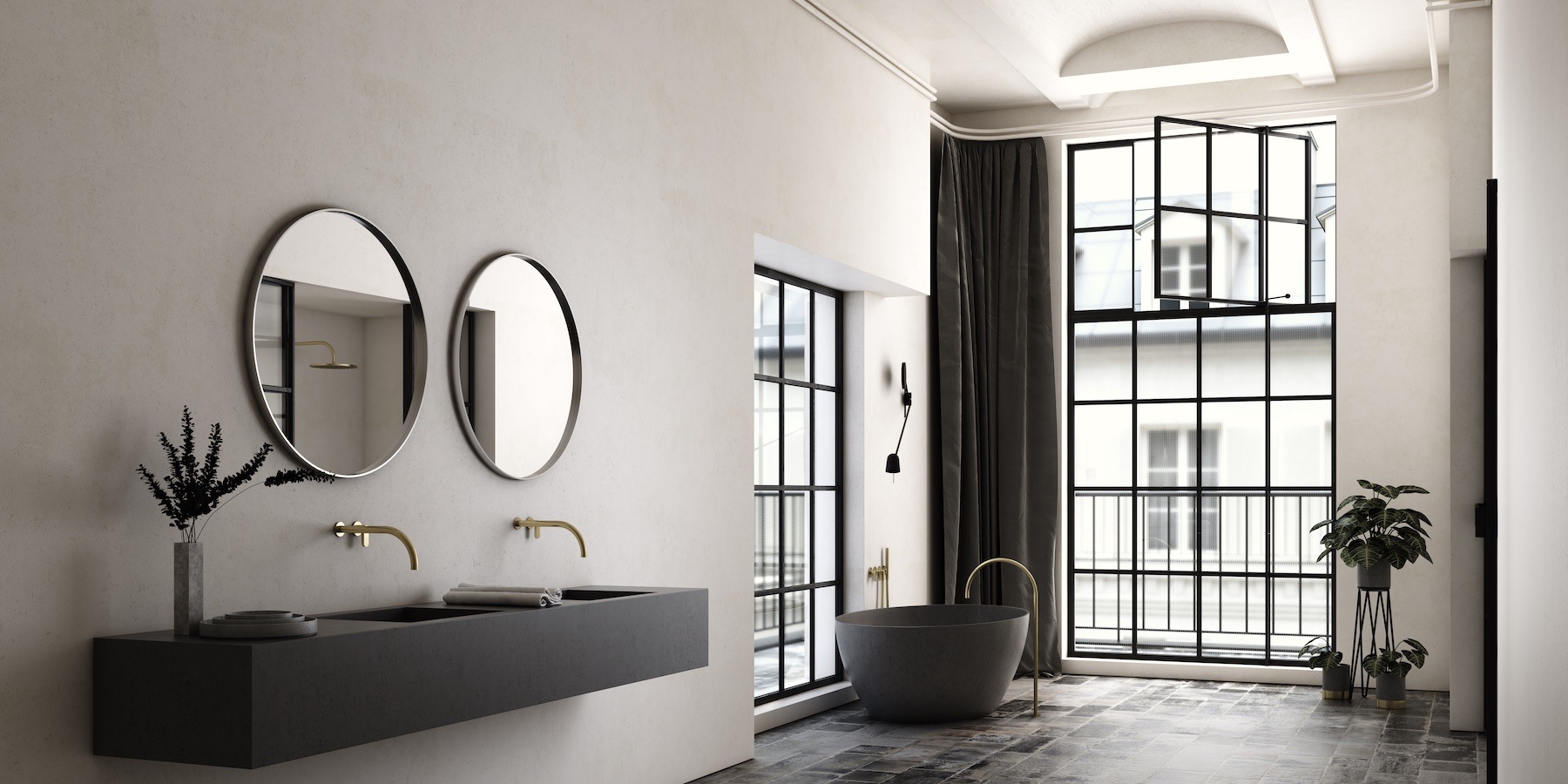 Below we're sharing some gorgeous bathroom design inspiration, all the while highlighting a few of today's top trends, from circular forms to curved edges. It's all about geometry! Enjoy… [bathroom design elements below by Cocoon]
Circular Style
By far one of the most popular bathroom mirror shapes, the circle is serene and interesting at the same time. There's something undeniably modern about this form, but there's a softness there as well. Popular finishes for the trim include black, silver and gold. Below we see a circular mirror lined in white, featured in a bathroom designed by A Beautiful Mess blogger Laura Gummerman: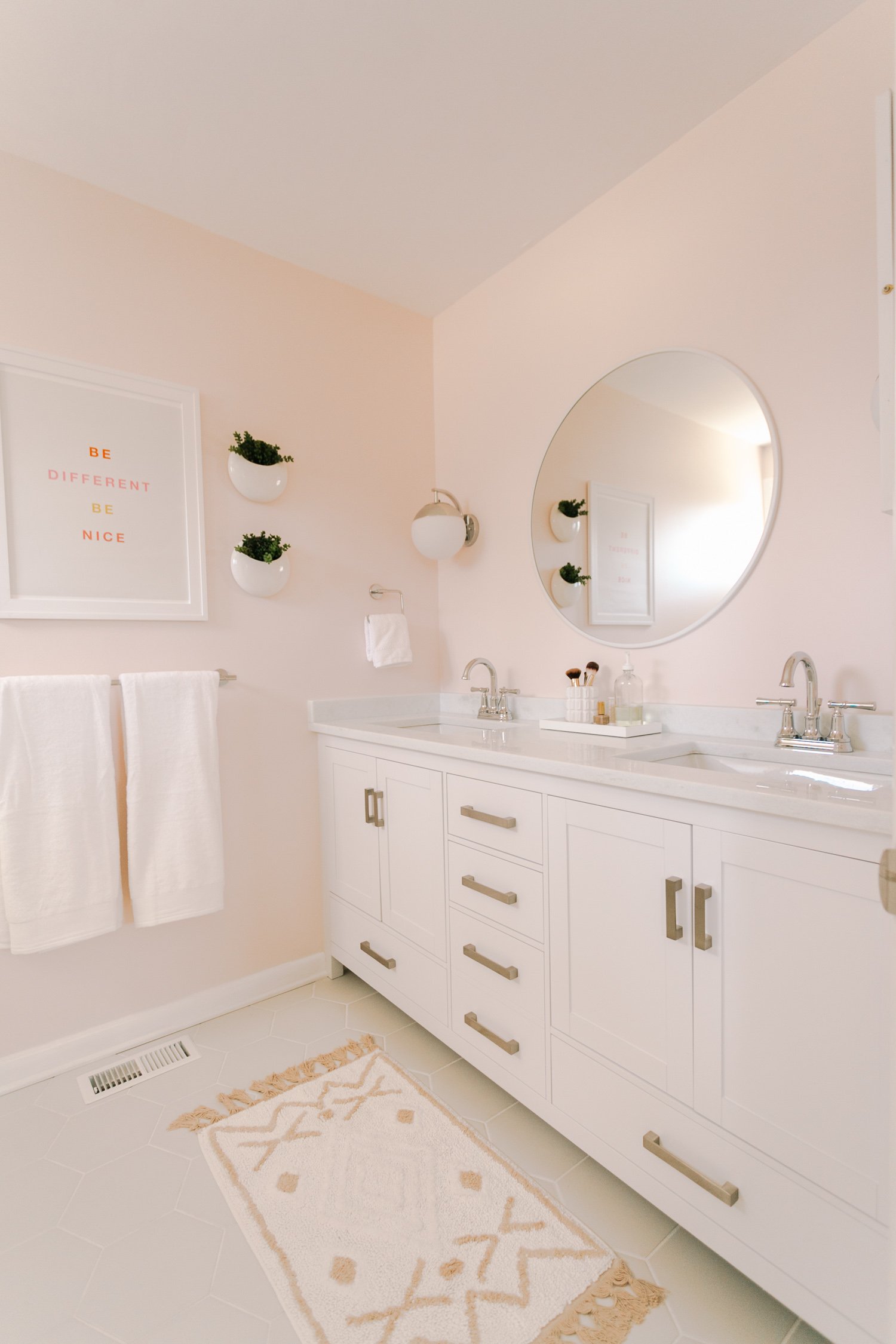 Sugar & Cloth founder Ashley Rose chose a circular LED mirror to hang above her DIY IKEA hack vanity. Glass frames the mirror, creating a barely-there look that allows the golden and wooden tones of the vanity to take center stage. Yet there's still something striking about the design that you can't help but notice. See more of Rose's master bathroom renovation here. [photo by Jared Smith]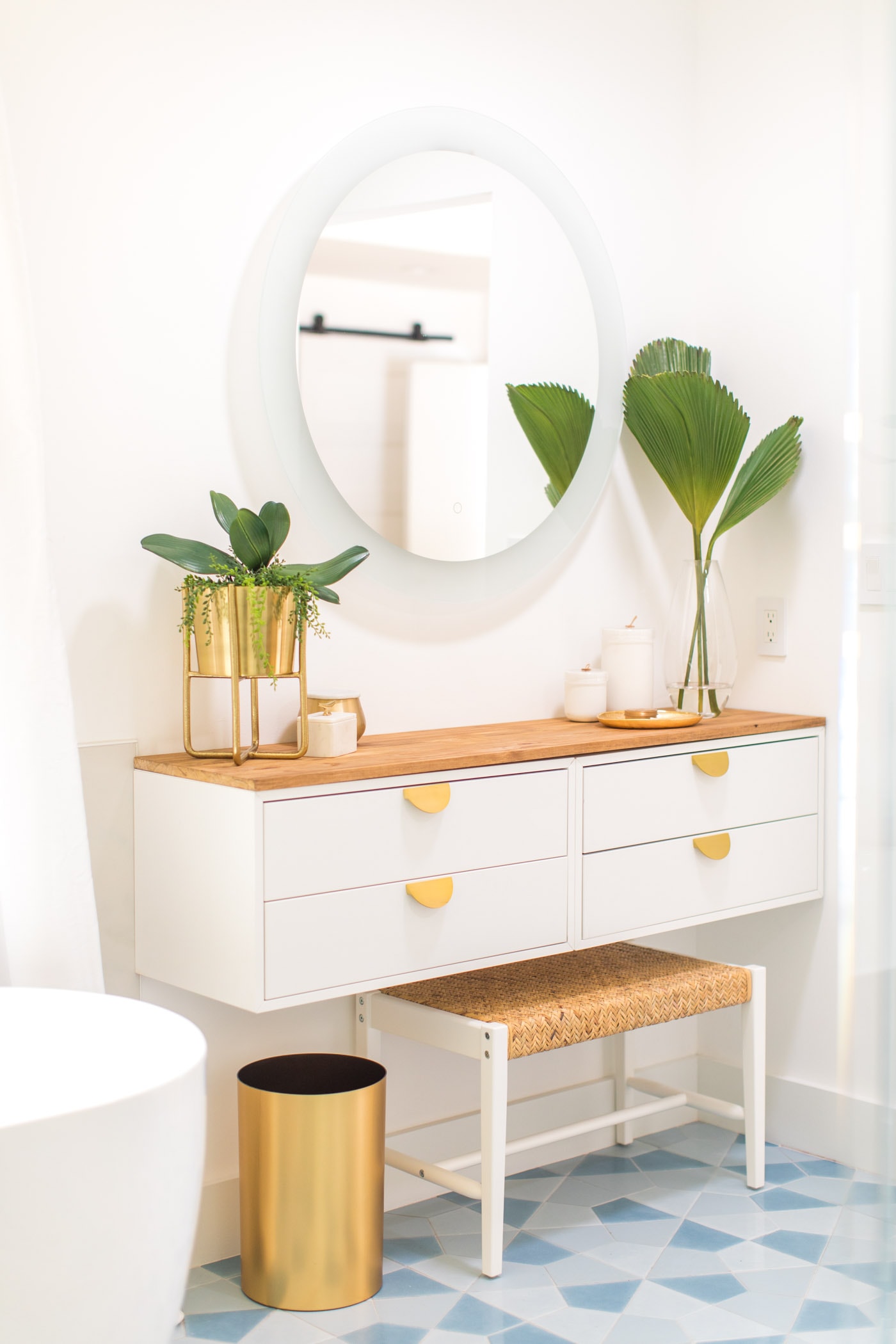 This luxury bathroom combines a range of marbled patterns in neutral tones. Throw in hints of black and gold, and the look is opulent and fresh. Rounding out the space is a circular mirror that hangs above the vanity, complete with a thick black border. [photo from Atlas Concorde]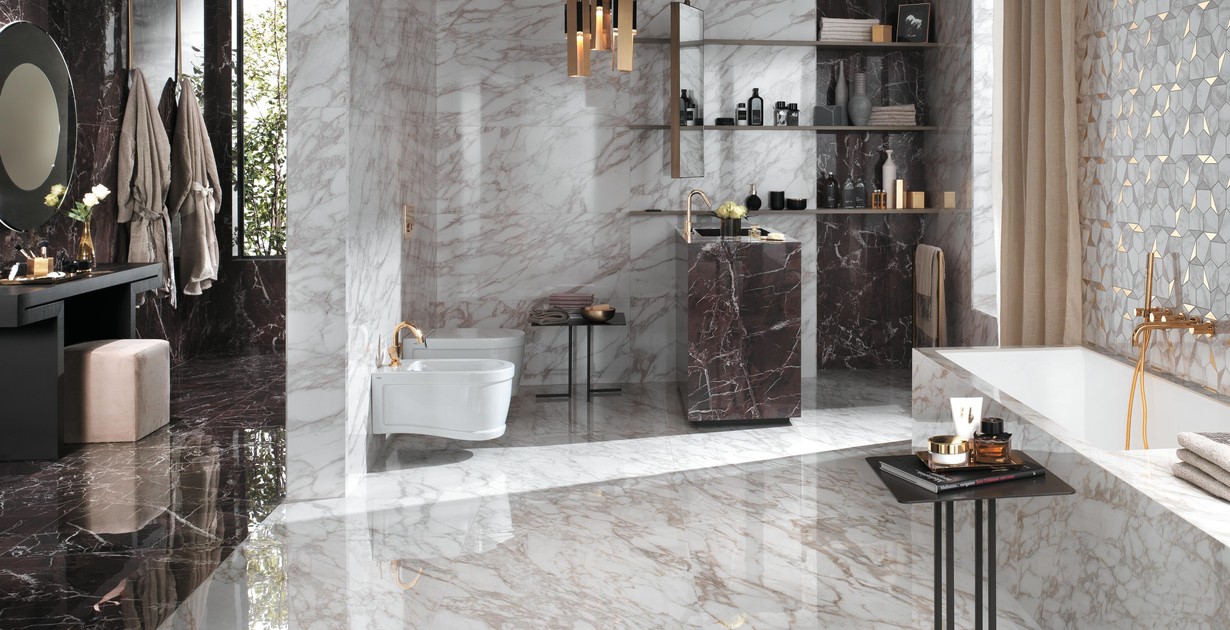 Curved Edges
Rectangular bathroom mirrors are a tried-and-true staple. The norm. But isn't it funny how one small change can make a huge difference?! Throw in curved edges, and you have an instant, eye-catching update on a standard design! For some of these designs, only two of the edges are curved, creating a subtle arch. For others, all four edges get the rounded treatment. Below we see the stunning black mirror (custom made by RadWeld Customs) used in Emily Henderson's master bathroom update: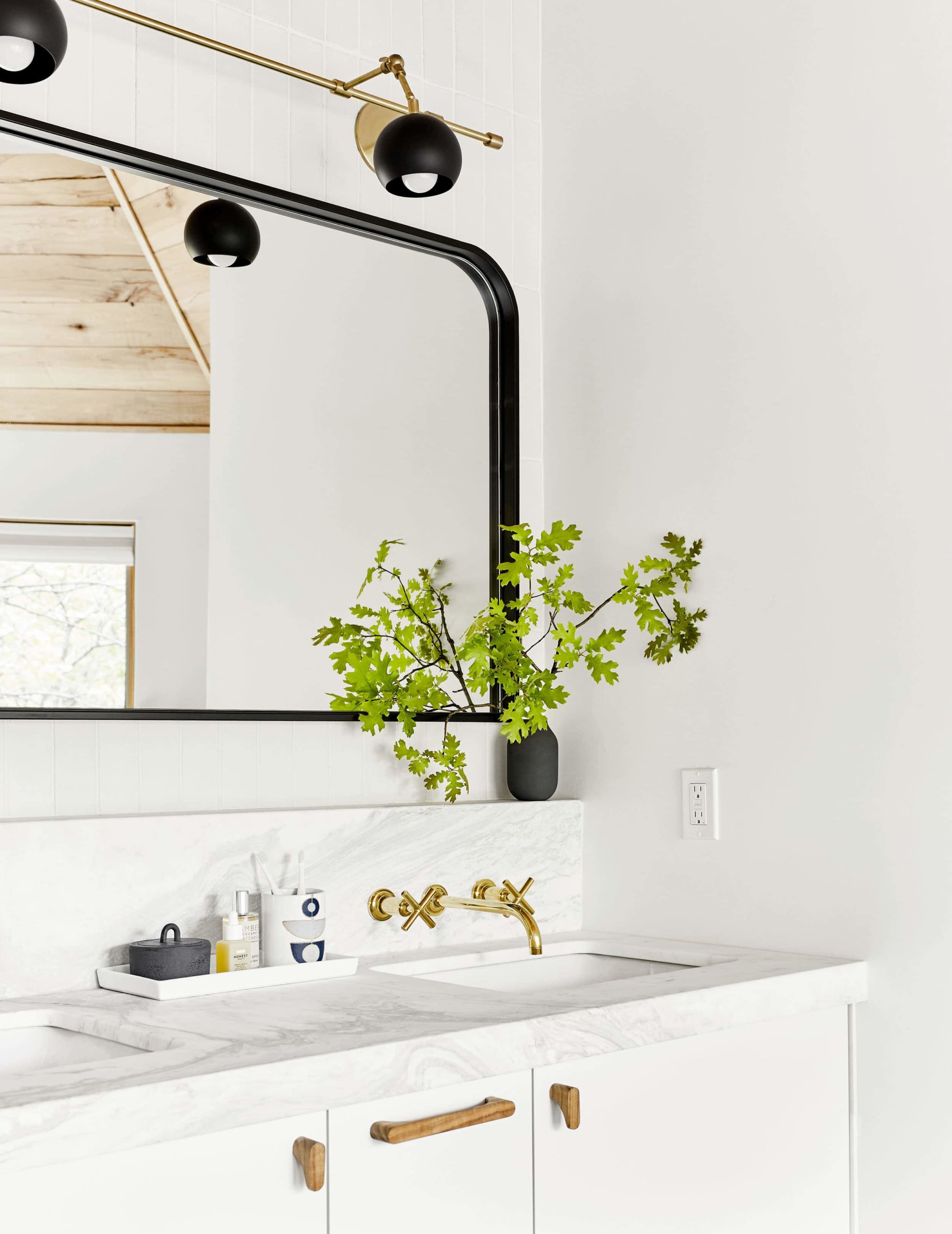 In another bathroom update from Henderson's beautiful mountain house, we see two additional black mirrors with rounded edges. This time all of the corners are rounded. Note how the dark finish is a lovely contrast to the light tones of the room. Also check out how the curves of the mirror transform a classic rectangular form into an upscale statement: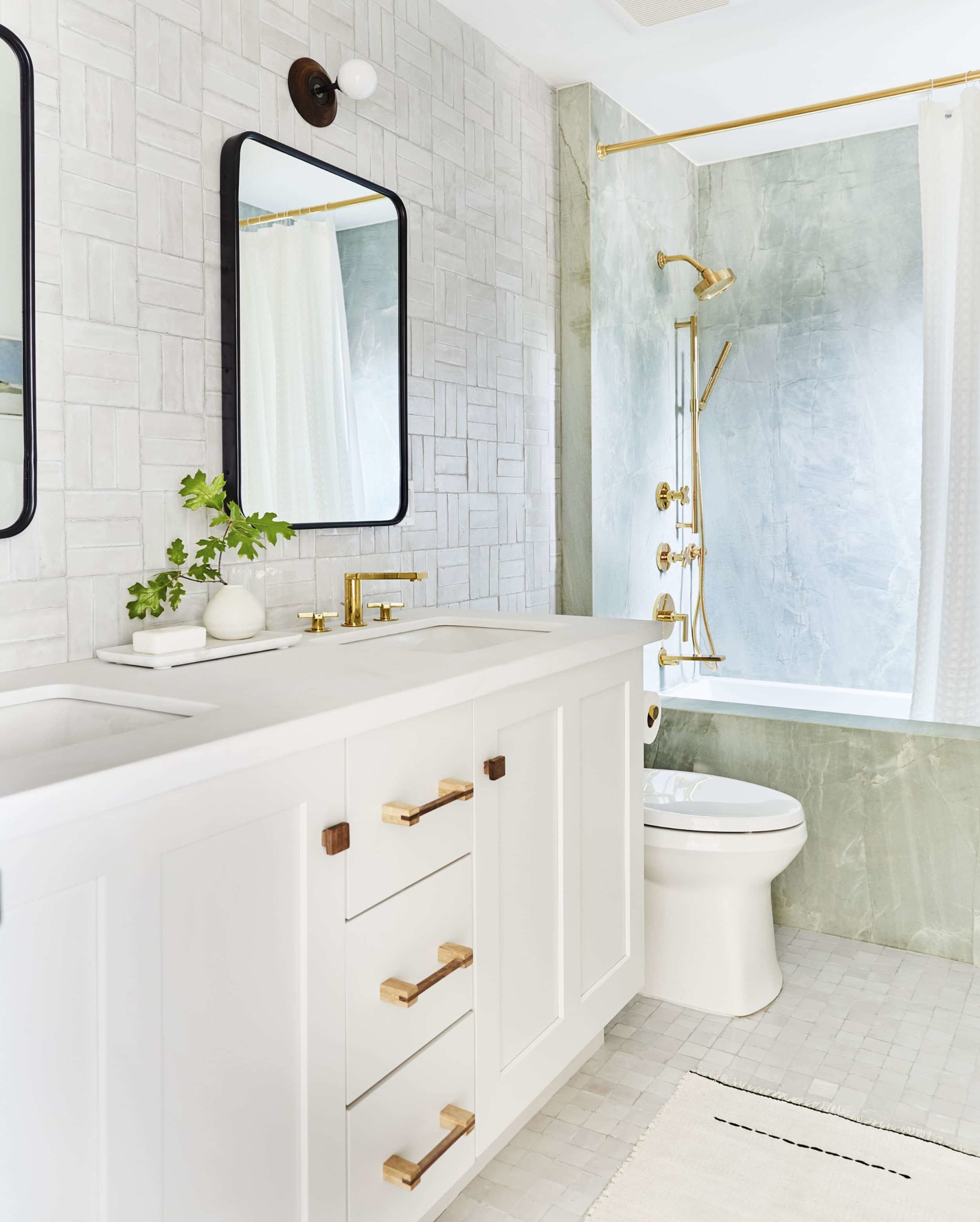 Rounded edges and a brass finish give these pivot mirrors from Rejuvenation a distinct look. The mirrors are available in a range of finishes, including polished nickel and oil-rubbed bronze. We're loving the brass option, as it beautifully complements the warm tones of this amazing master bathroom designed by Studio DIY. Read all about the space here. [photo by Jeff Mindell]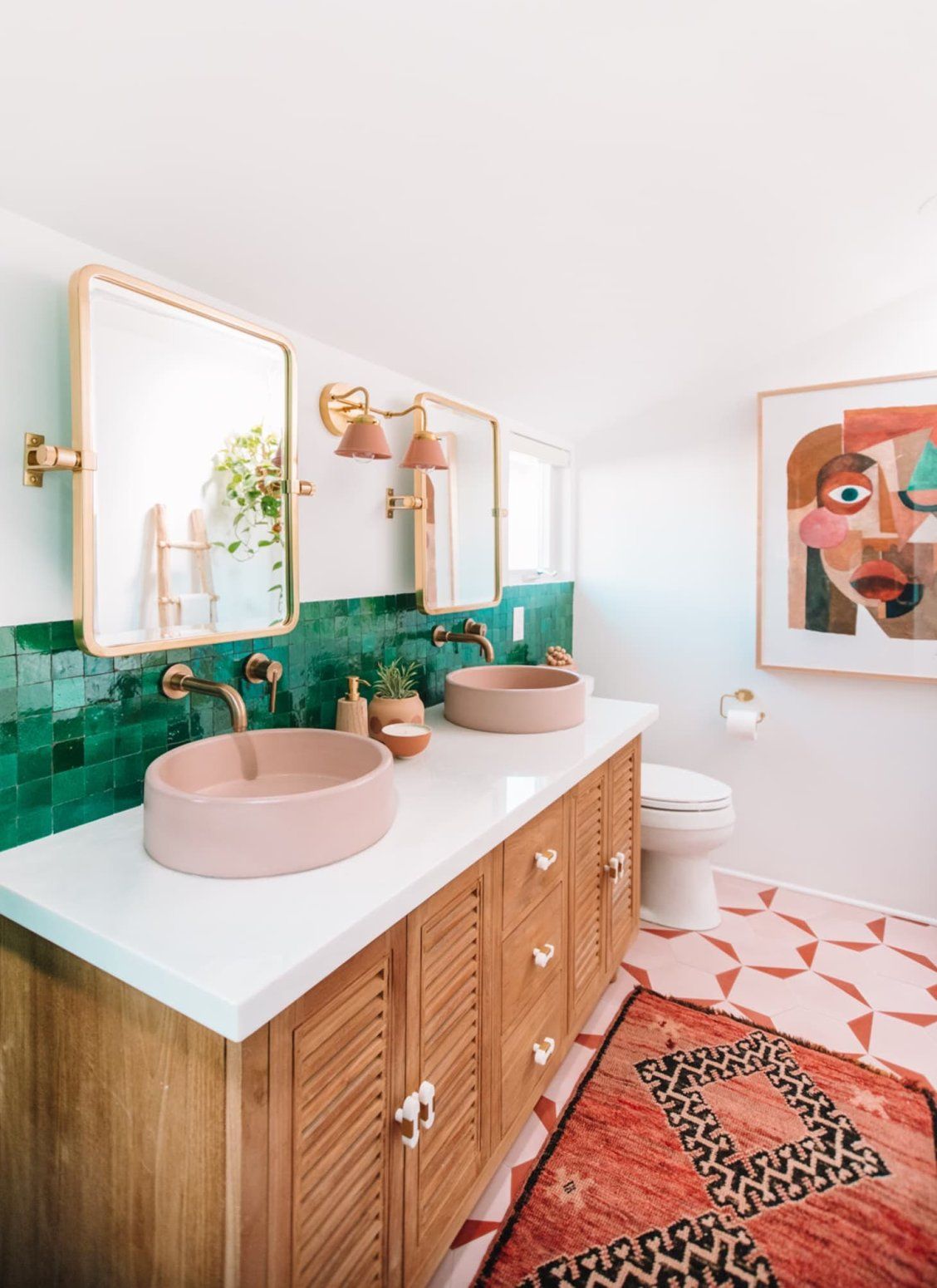 Studio DIY's Kelly and Jeff Mindell did a stellar job on another powder room in their home, this time featuring a vertically oriented mirror with curved sides and edges (a similar one can be found here). The gold trim really pops against the cobalt blue of the wall tiles. Read more about this exciting bathroom renovation here.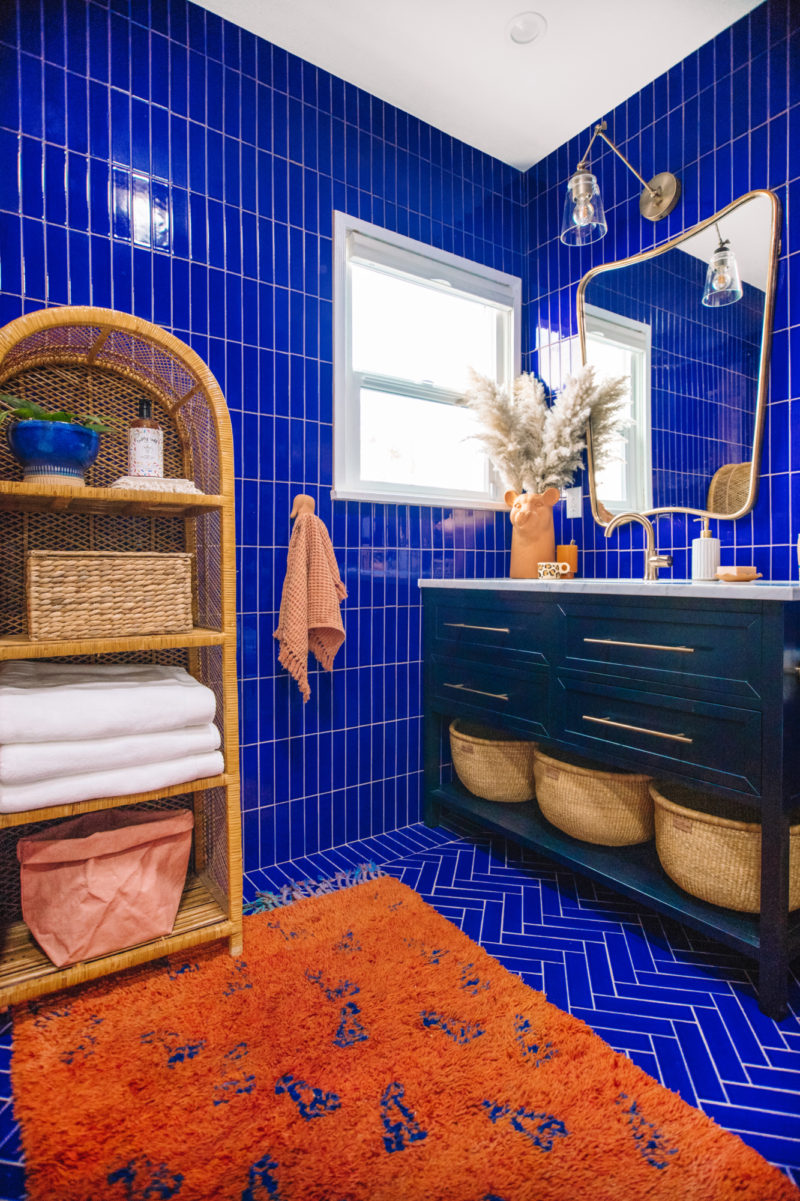 Blue and gold are also the name of the game in designer Justina Blakeney's master bathroom. Subtle curving around the edges of the mirror create a contemporary yet classic feel that's perfect for eclectic spaces. Gold hardware and small gold mirrors add interest and help tie everything together: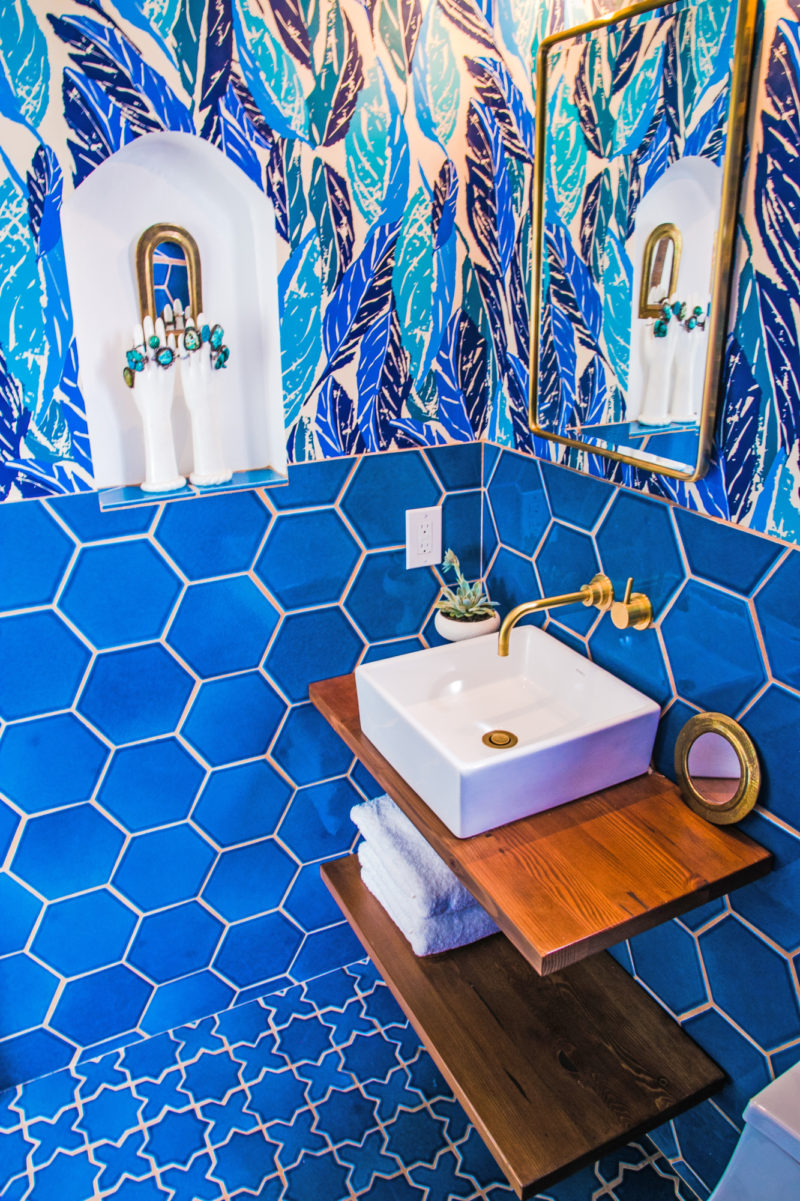 Urban Outfitters' Sena Rounded Edge Mirror features a steel frame with a gold finish. The good news: the frame extends from the bottom edge, creating a built-in shelf that's perfect for storing a few items you want to have at the ready. Innovative design meets a sleek form. Rectangles have come a long way, baby!!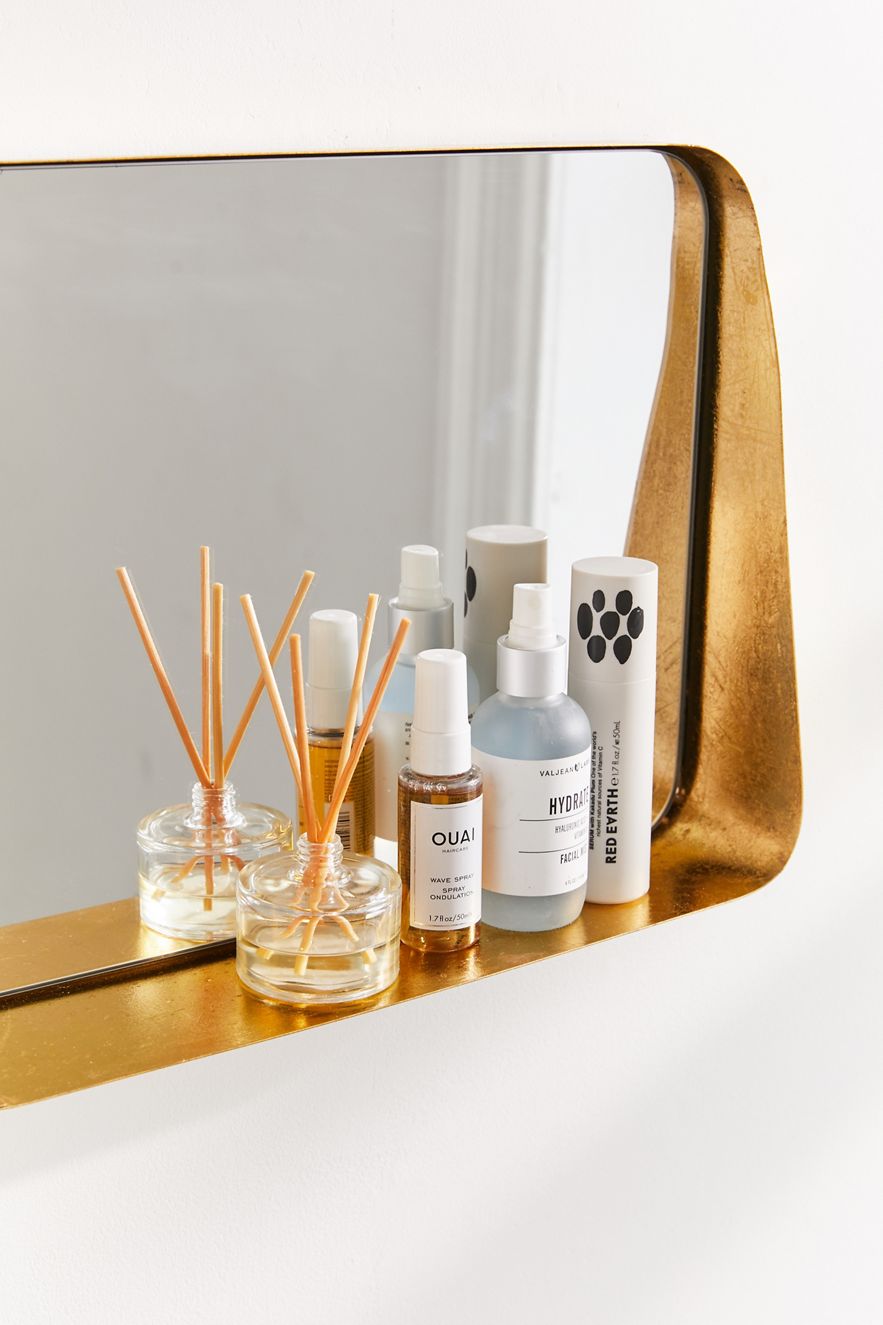 An arched effect is achieved by the rounded edges of this wood-framed mirror featured in the studio bathroom of Camille Styles. The wooden border helps add a dash of earthy style in the space, especially when complemented by details such as the jute side table and woven trash bin: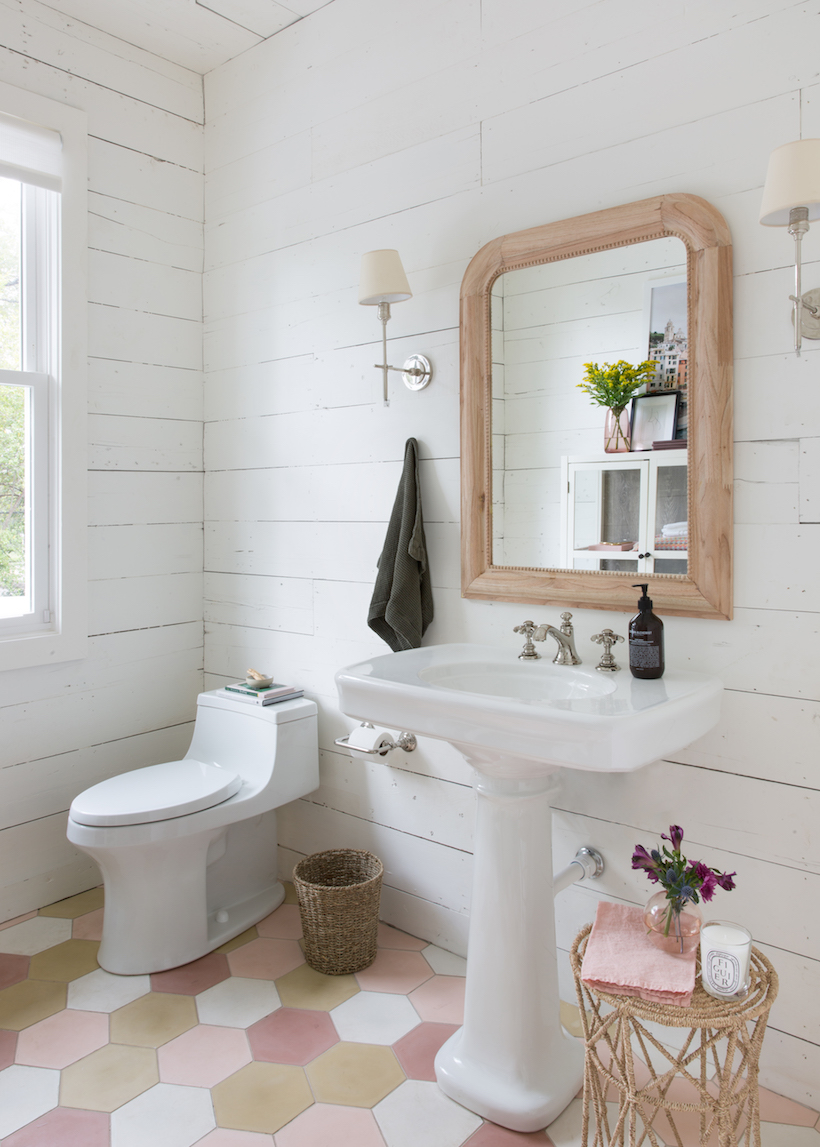 Geo Forms
We end today's post with a look at geometric bathroom mirrors that get power from their angles. Unexpected, unique and artful, these geo statements break the mold in the best possible way. In a bathroom designed by Jean-Louis Deniot, we see an angular mirror that makes a bold, asymmetrical statement. [featured at Boca do Lobo]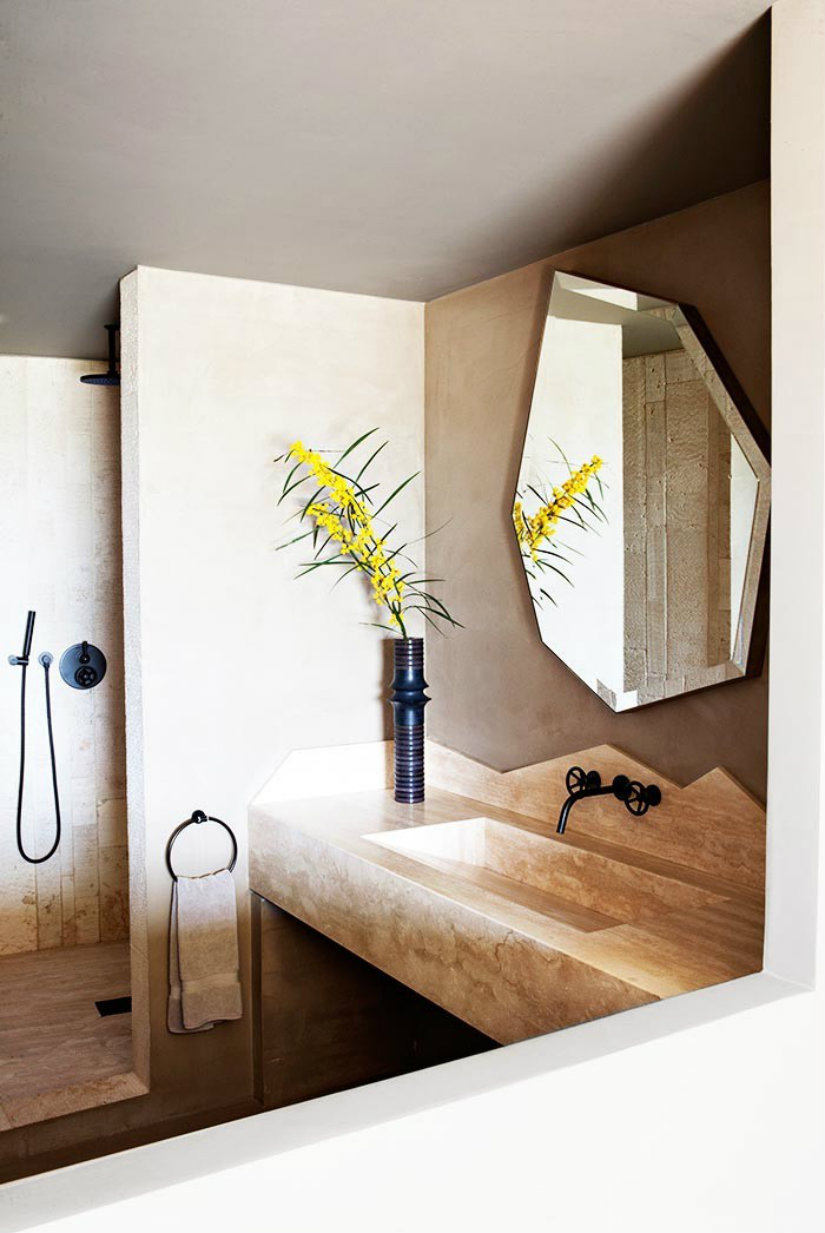 Geo mirrors have the potential to be the focal point of your powder room, so don't hesitate to play up their strength. While the pink cabinetry in the guest bathroom of A Beautiful Mess founder Elsie Larson is hard to miss, equally stunning is the hexagon mirror from West Elm. Striking color meets striking form in this beautifully designed space: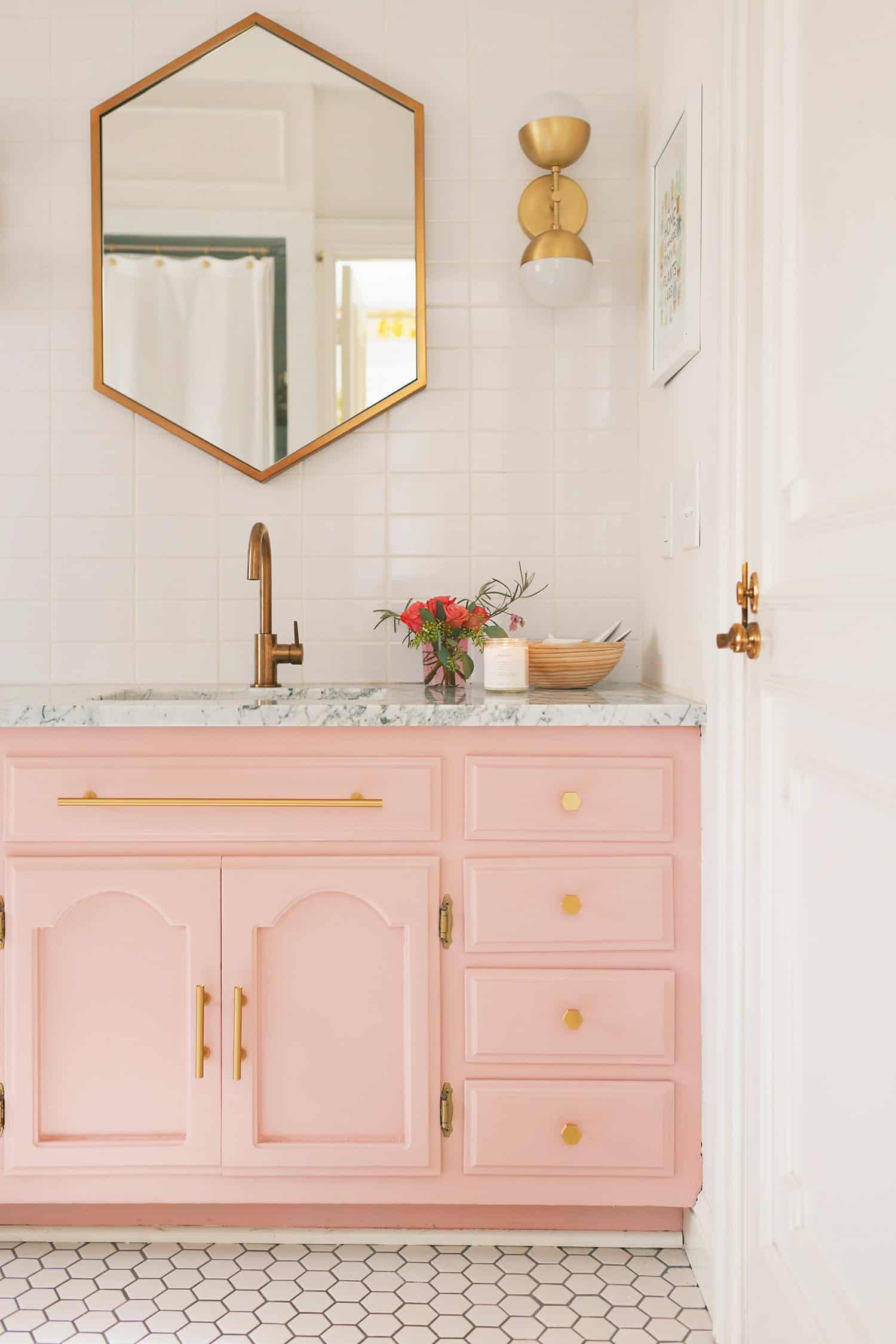 Last but not least, Anthropologie's Melanie Octagon Mirror has a border that sits away from the main mirror, creating a "double border" effect that adds another layer of intricacy to the design. Geo style meets a dash of Hollywood Regency flair: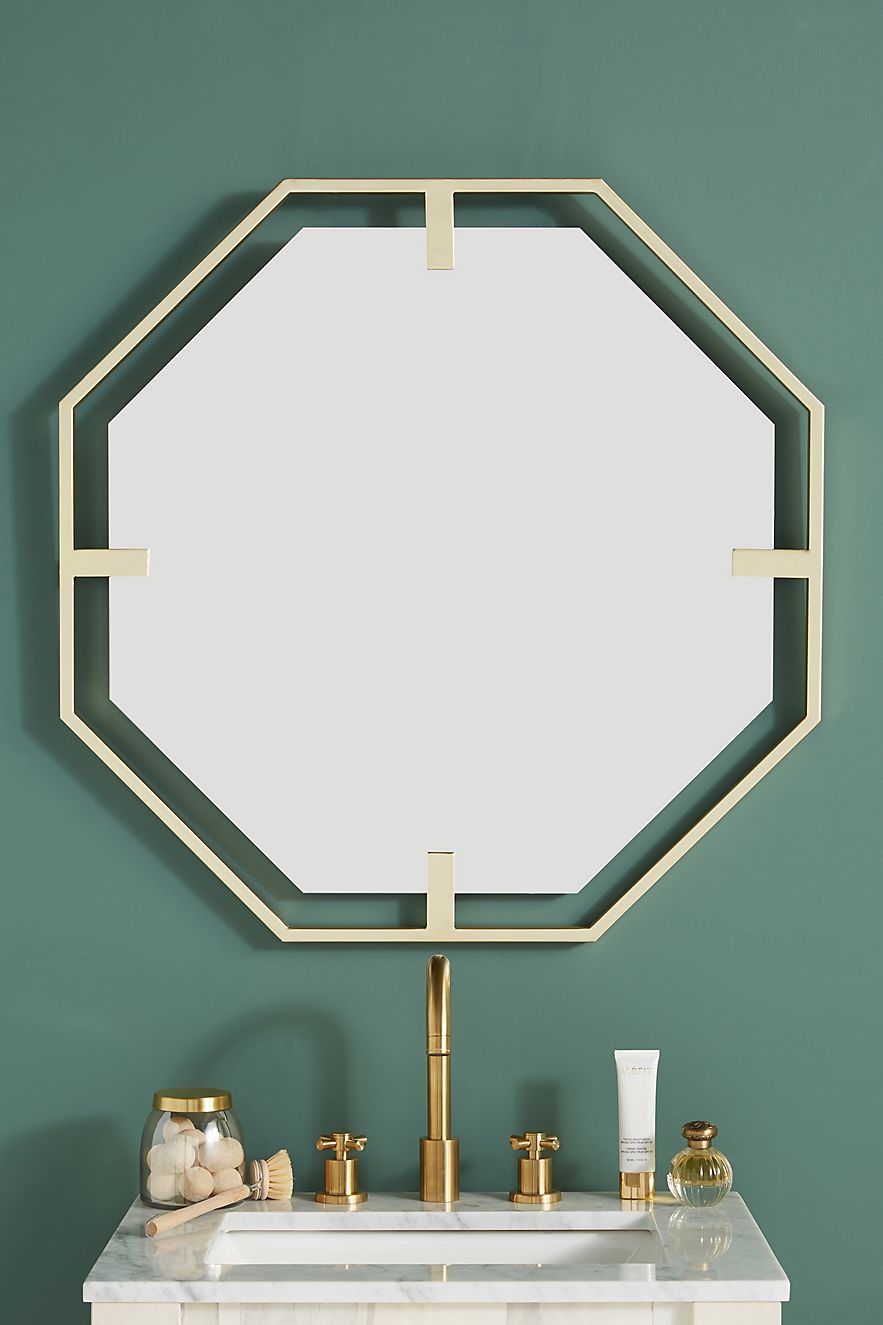 As bathroom mirror design continues to move away from large sheets of glass, a new emphasis has been placed on elements such as form and border. The takeaway: bigger mirrors do not equal better mirrors. In fact, sometimes a well-designed, thoughtfully placed mirror of a more compact stature can make a bigger statement, especially if the materials are quality. Brass, rose gold and chrome remain popular finishes, while black lends a big dose of high contrast to lighter spaces. Top trends include circular motifs and geo forms.
One of the most popular shapes for bathroom mirrors is a rectangle with either two or four curved edges. Also be on the lookout for the increasingly popular arch, which can convey a sense of style ranging from the architectural to the surreal. Thanks for reflecting on bathroom design trends today. Happy decorating!