Living in an attic apartment can have its challenges; the lack of space, the low ceiling, and the lofty-feeling can all make the living space feel tight. But don't get discouraged! If you style your attic in a way that combines your preferred decor with the functionality of the place, you can create the most amazing attic apartment fit for all your needs! Join us as we walk you through the main rooms in these attic apartments!
Attic Bedrooms Full of Natural Light
An attic bedroom feels remarkably cozy and it's actually one of the rooms where the low ceiling really works in favor of the room! It can easily be transformed using a skylight to maximize the room's openness and give your bedroom a bright and well-lit look!
RELATED: Scandinavian Spacious Attic Apartment Sizzles with Pristine Charm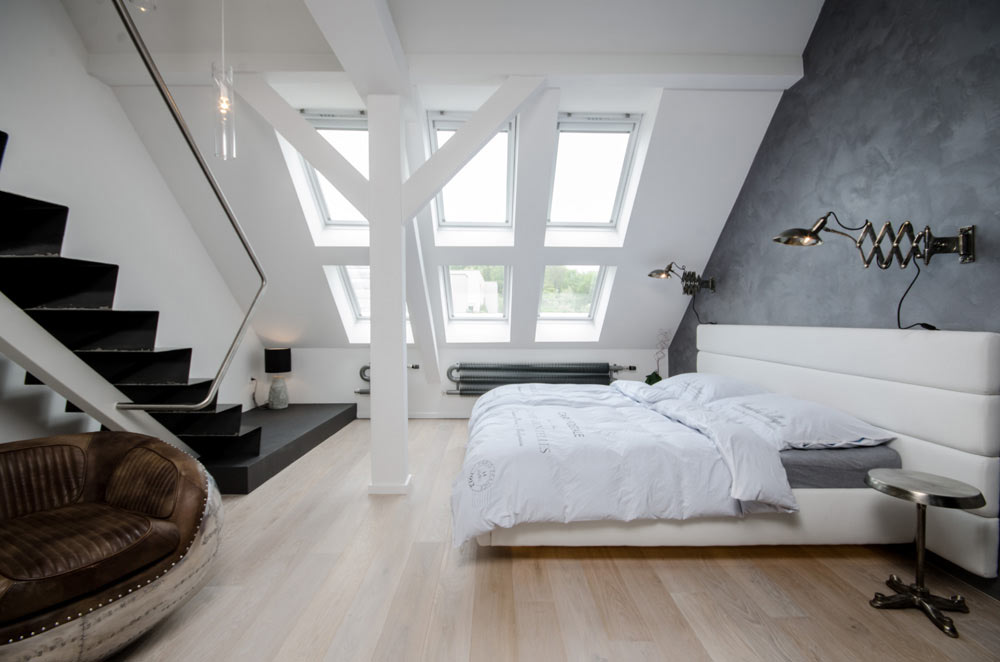 This is a very roomy and open bedroom, found at Design Milk, offering a ton of space with its neutral styling and minimal furnishing. Modest decor looks exceptionally well!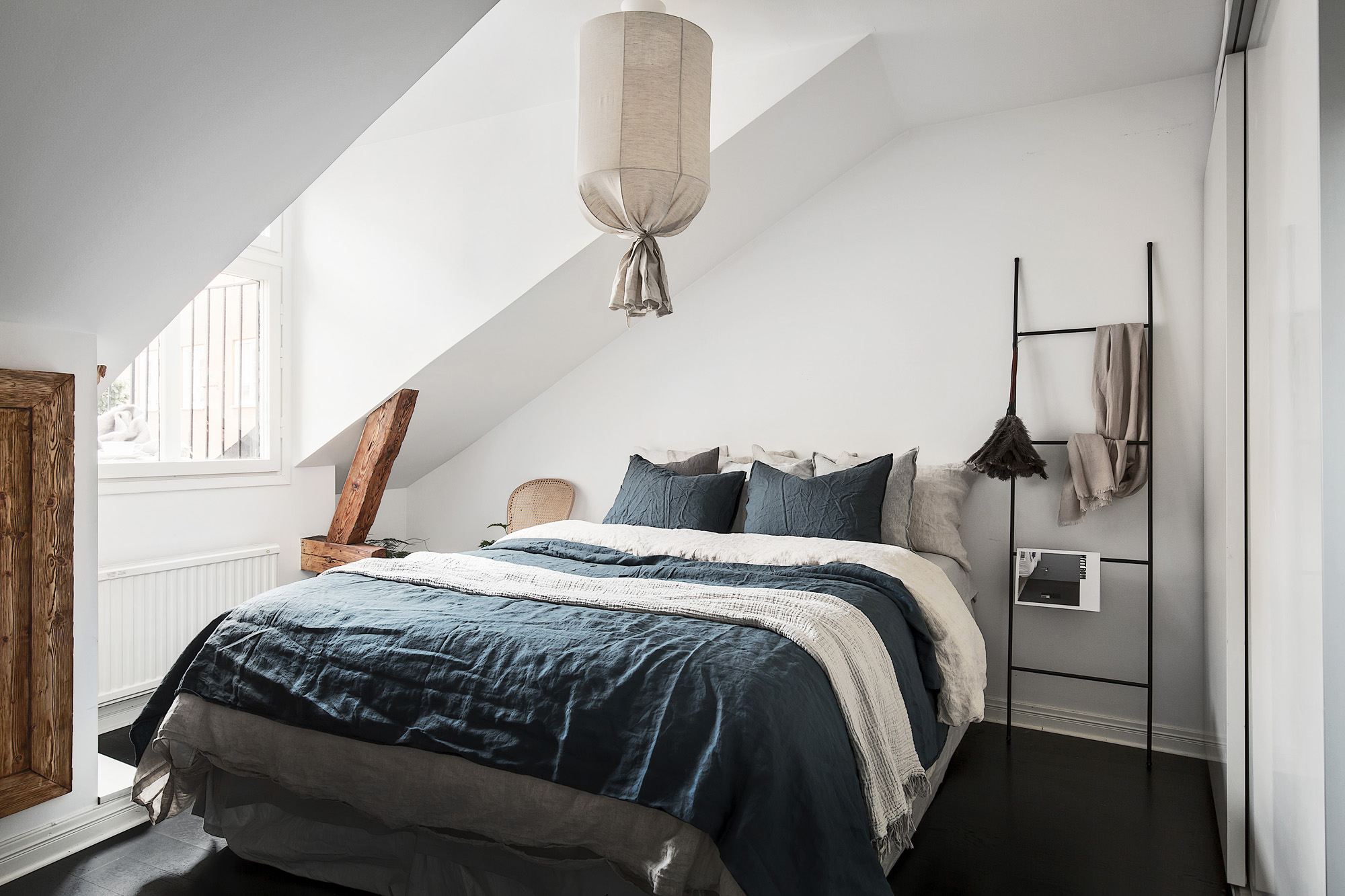 A small bedroom with bohemian elements, such as a cute lantern hanging above the bed, is the ideal cozy place to curl up into during the cold nights! And don't overlook the decorative ladder that has a super practical use! Inspiration by Gravity Home.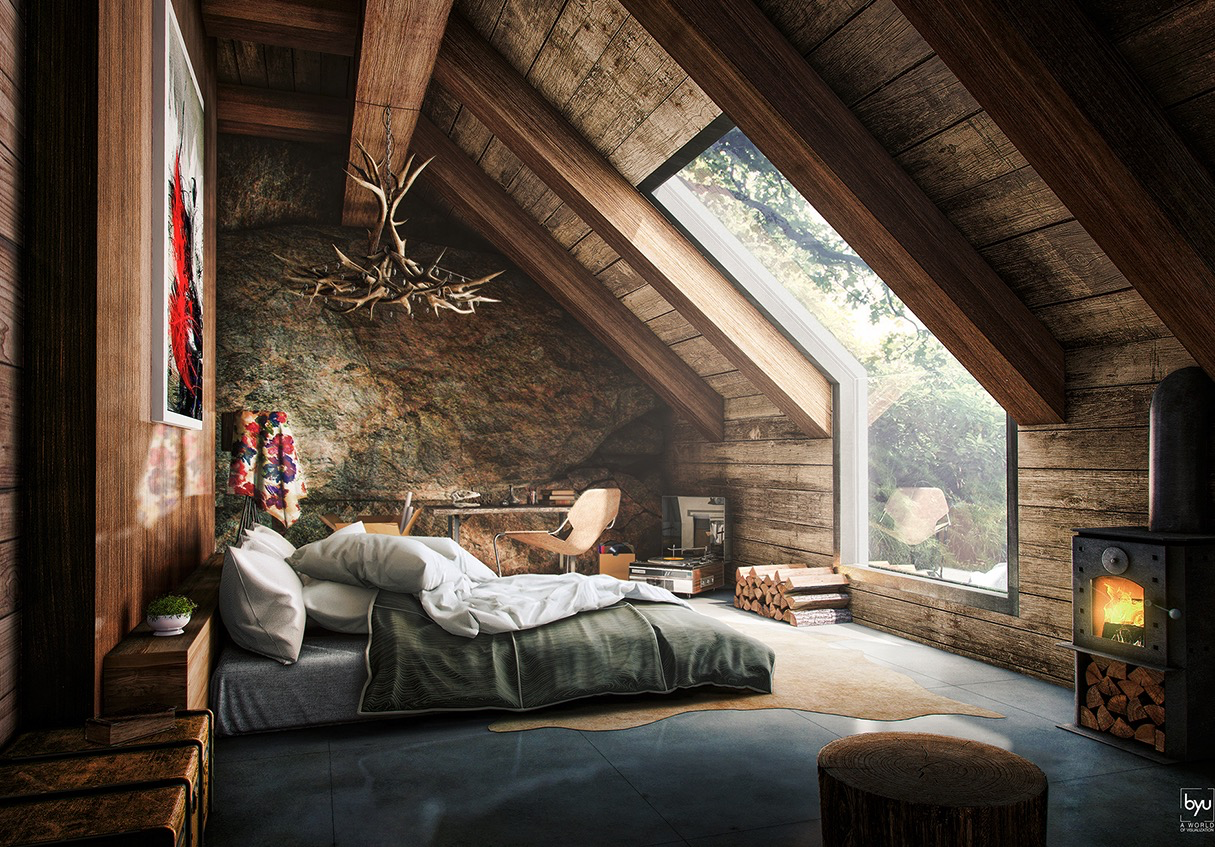 Comfort is essential for any bedroom and we can say with ease that this attic bedroom looks greatly comfortable, due to its welcoming wooden interior and defining countryside furnishing! Picture by Home Designing.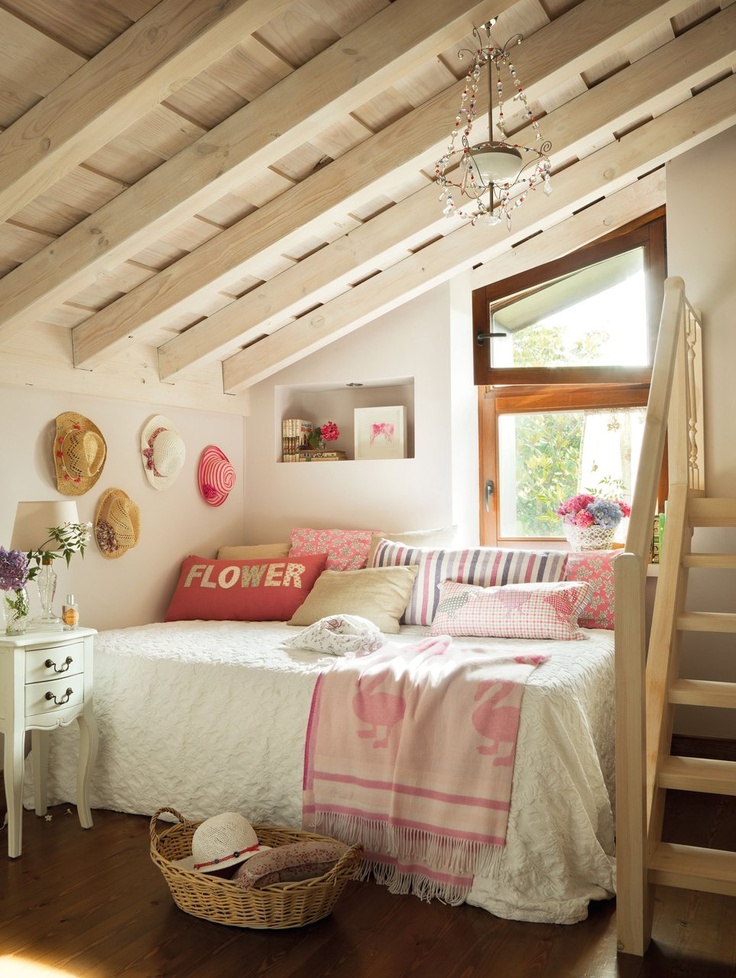 Choose a pink and white color scheme for your attic bedroom if you're going for softer decor that will help create a personalized attic nook! Inspiration found at Passion Decor.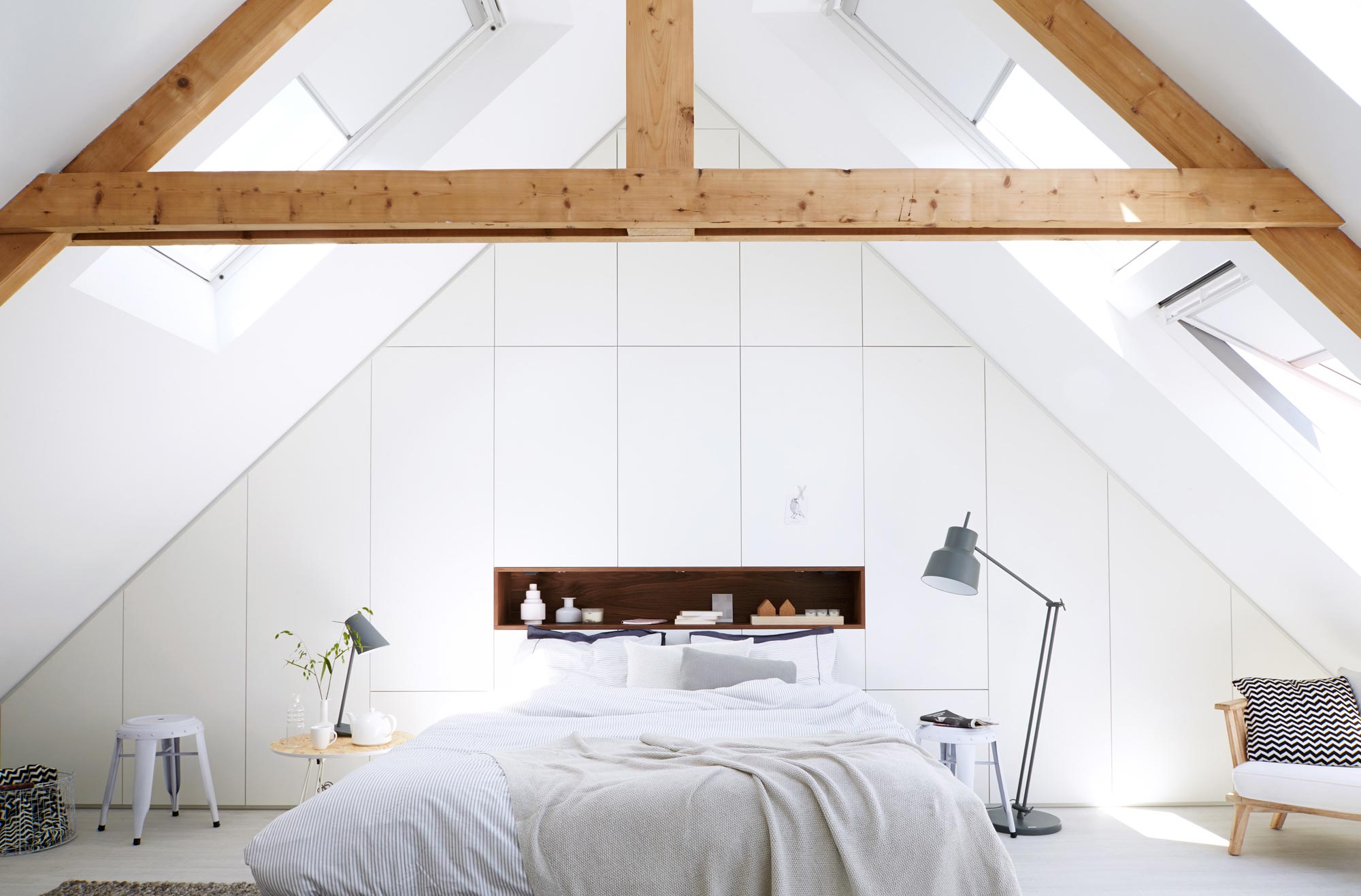 An attic bedroom doesn't always mean low ceilings; this roomy bedroom has a fantastic high ceiling that supplies the room with a great amount of natural light! We love this look, found at Vtwonen.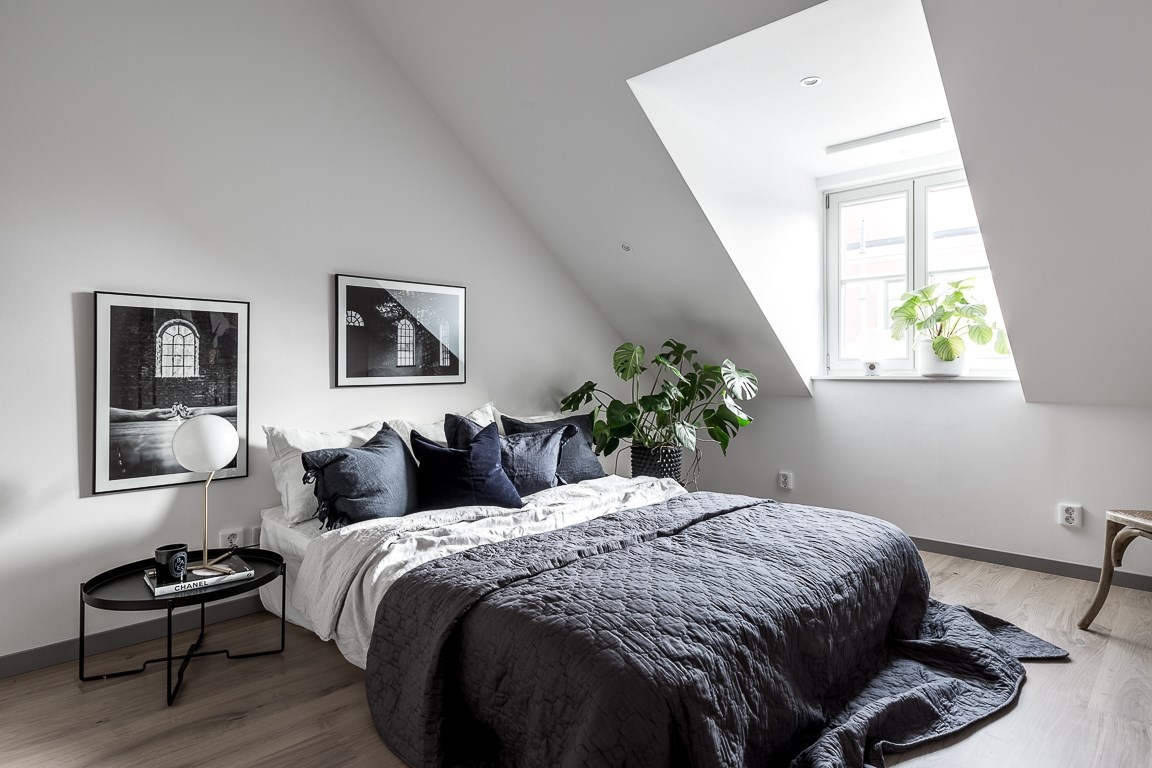 A bedroom in neutral tones is ideal for creating a calming sleeping environment, but if you want to bring some liveliness to the room and don't want vivid colors, adding some simple plants that will only benefit from the skylight ought to do the trick! Picture by Coco Lapine Design.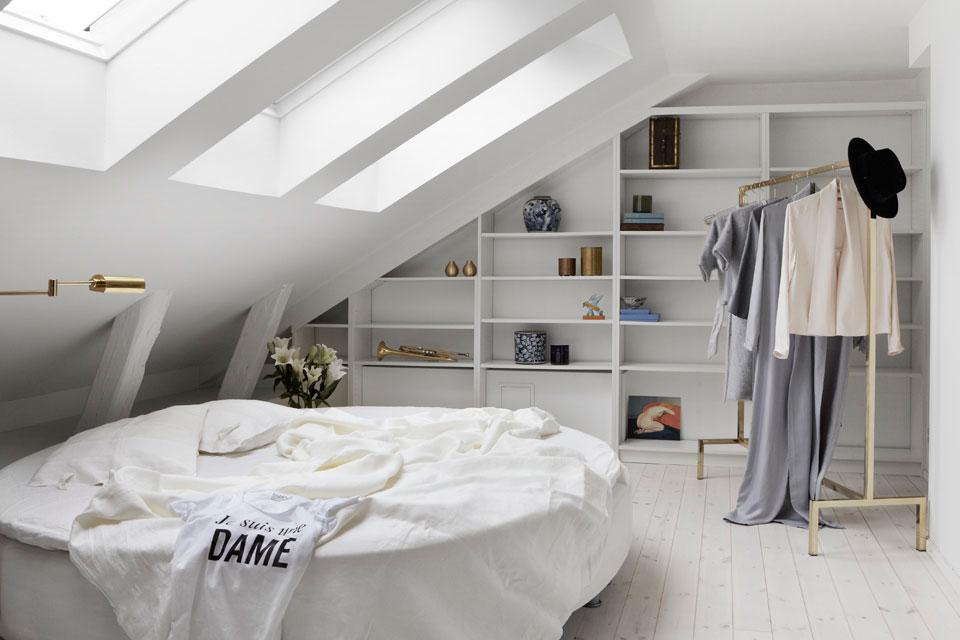 If you want to make your attic bedroom fun and unique you'll have to get creative! A round bed is a sure way to set apart your bedroom from the rest; allowing you to maintain a minimal decor while creating a space that is not too common! Inspiration found at Fantastic Frank.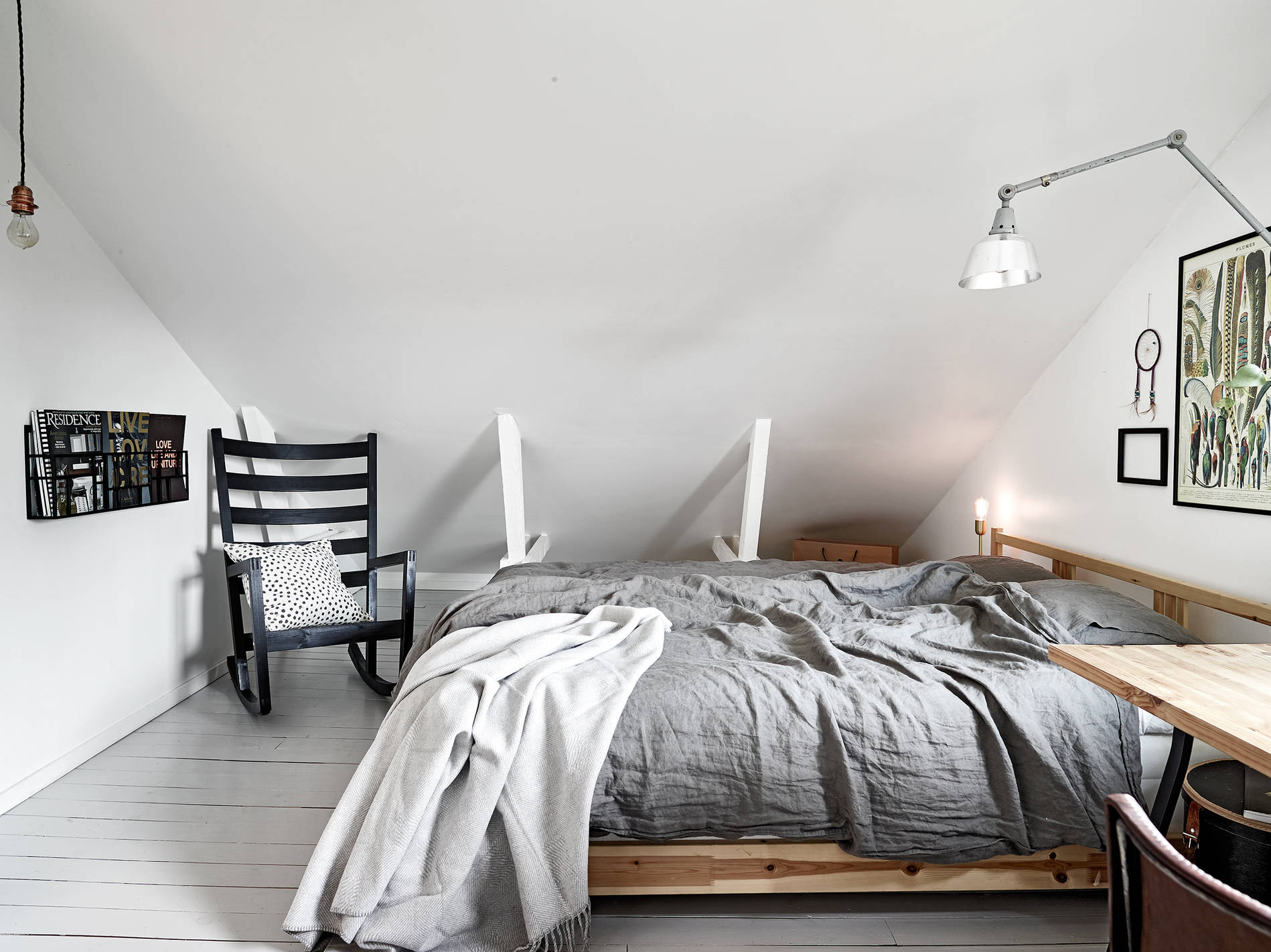 A skylight in an attic bedroom is a bonus, not a rule. This bedroom by Planete Deco is doing just fine without it! Somehow the room feels even cozier – like a true little loft!
Cozy Bathrooms in Attic Apartments
Bathrooms in attic apartments tend to be smaller, but that doesn't make them any less functional or beautiful. You will only need to utilize the given space in a way that will serve both your visual and practical needs! These attic bathrooms below are a great example of how smart styling can breathe so much life into the room!
RELATED: 15 Attics Turned into Breathtaking Bathrooms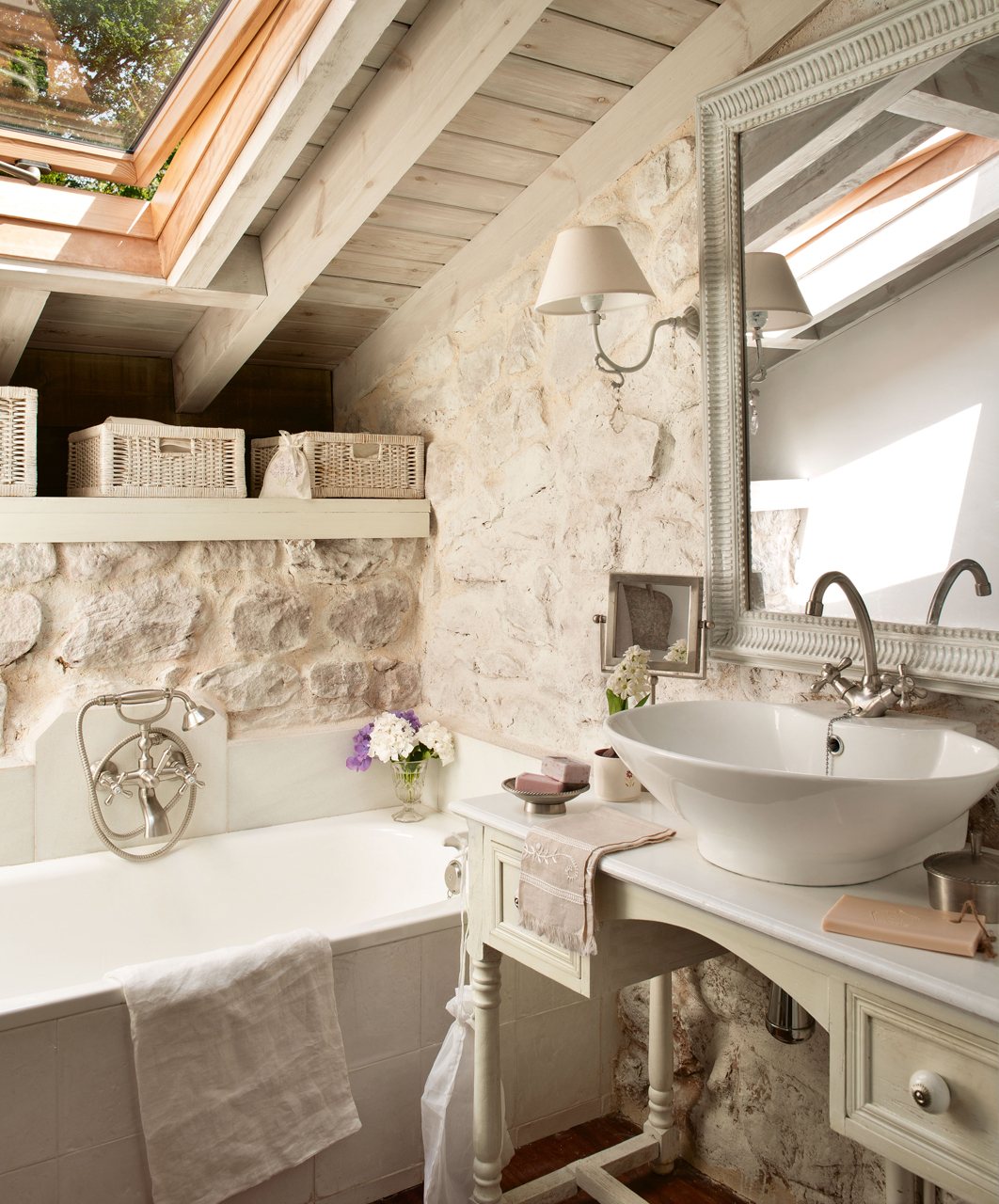 A vintage-styled attic bathroom can become your private sanctuary without you even noticing the size of the space. We are impressed by how everything in this bathroom fits together so perfectly, from the wash basin to the tiny lamp! Picture by Elmueble.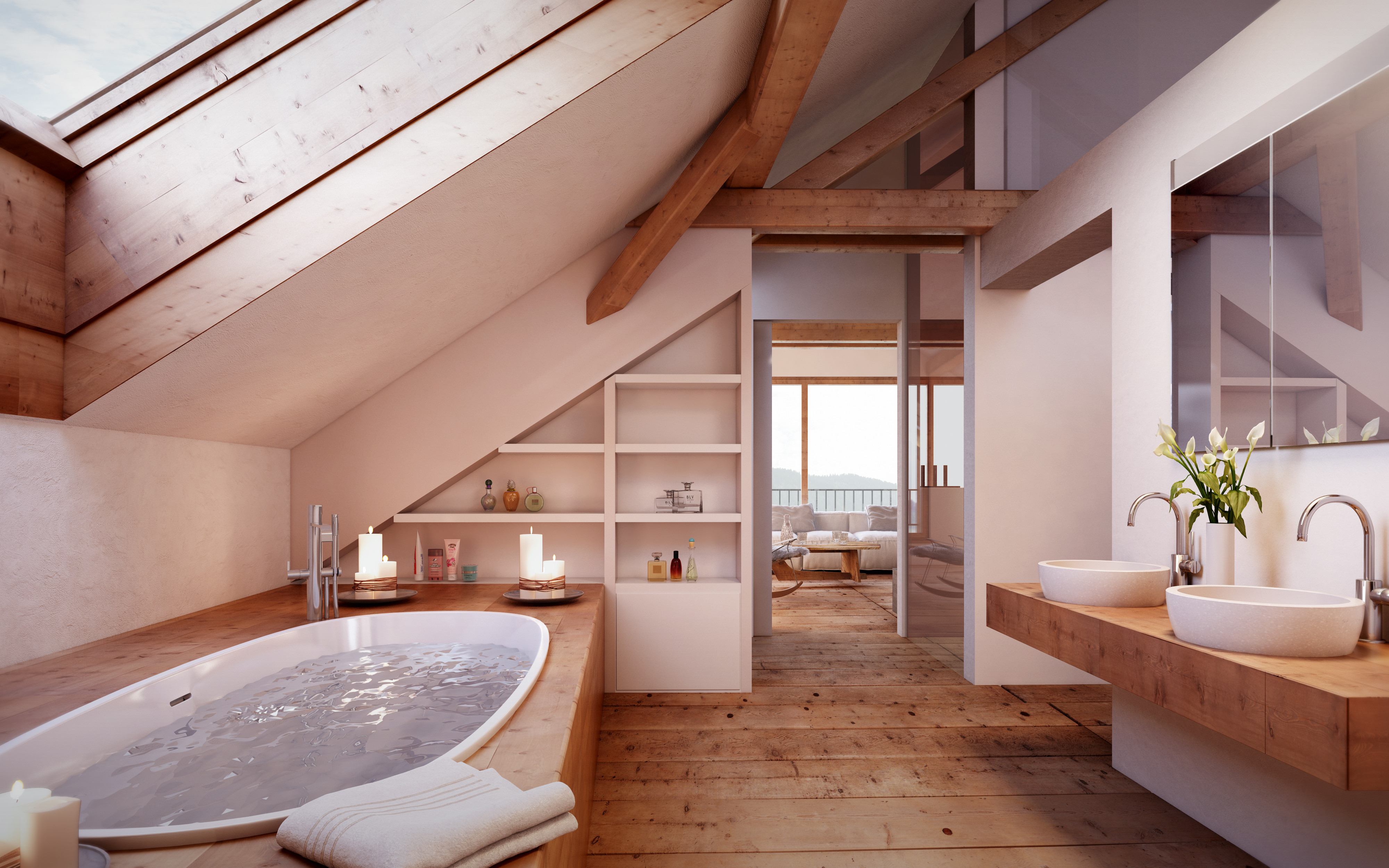 This glamorous attic bathroom has a full length bathtub and two sinks, so it almost seems like a personal spa! The attic setting presents no issue in creating a vast bathroom like this one, found at Imgur.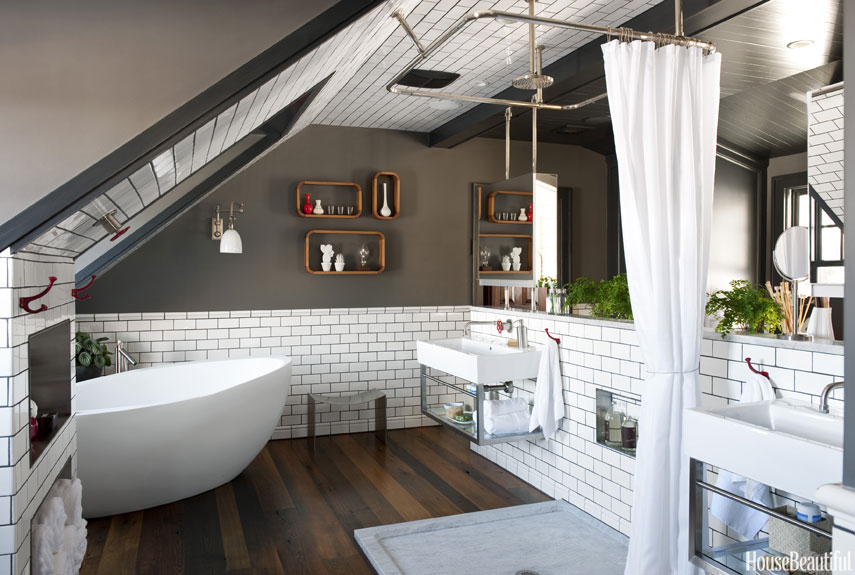 To extend your luxury, you can have both a bathtub and the shower! Check out House Beautiful to see up close how to thoughtfully place your bathroom essentials in a way that will give you the best out of a smaller space!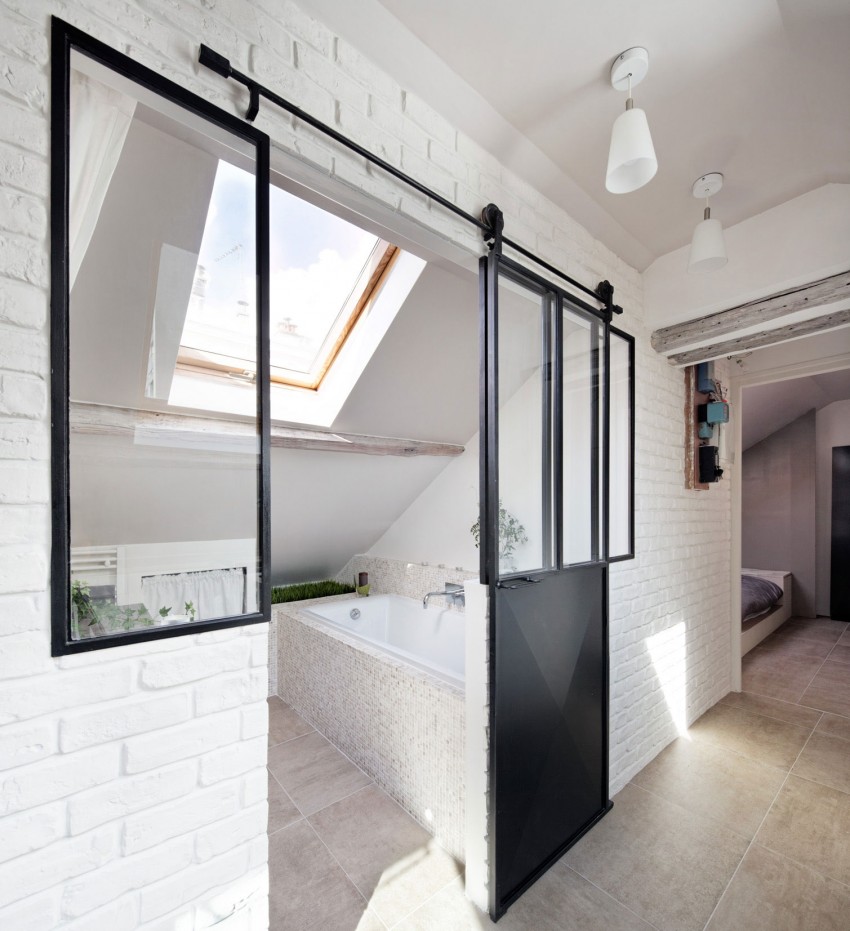 This little bathroom almost seems hidden by the slide door, but once you see more of its interior, at Home DSGN, you will be able to agree that it's in fact a genius piece of styling!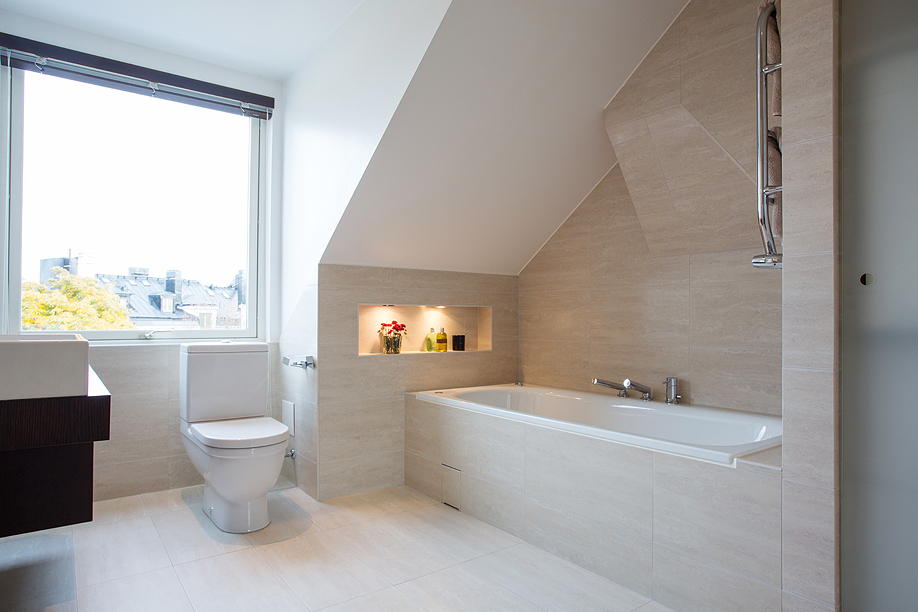 No skylight needed if you have a grand window that lets in all the light! You don't want your attic bathroom to be the only place in the home without proper lighting. Add some smaller lights or candles too, for the evenings. See this lovely bathroom up close at Interior Akok.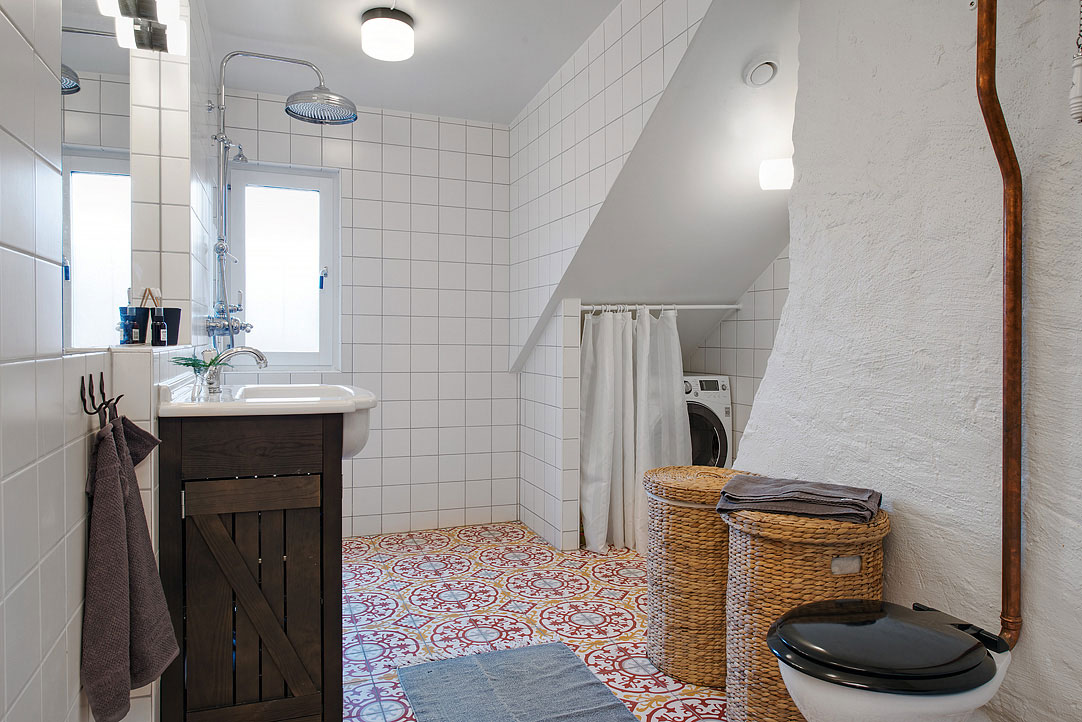 This attic bathroom combines various elements and decor styles, from a bronze pipe to simplistic barn wood. The white tiles set the base and make the bathroom bright, while the colorful floors act as their contrast. See more of this bathroom at Busy Boo.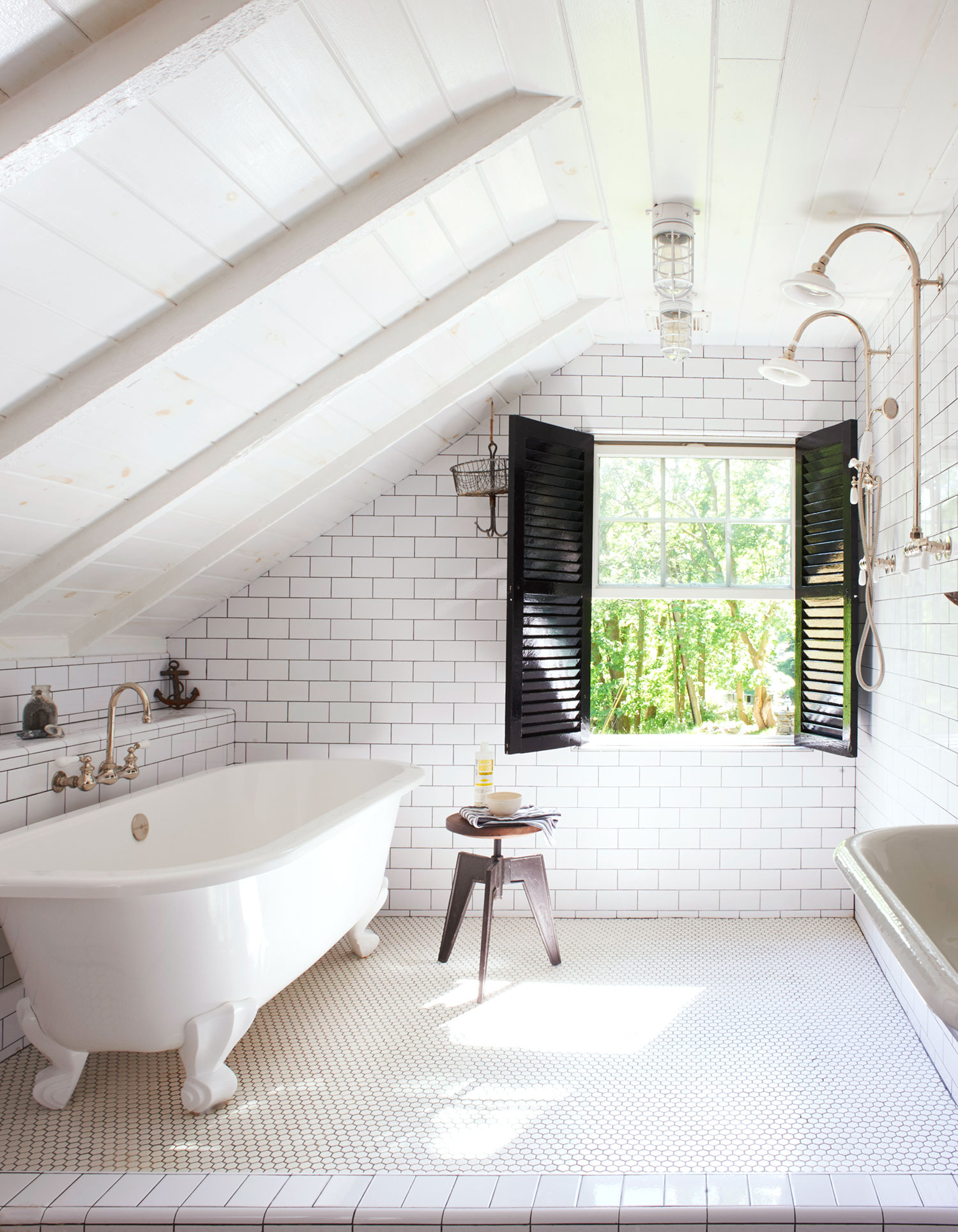 An all-white space could do with some black elements and this bathroom by Rue Daily is the perfect example! The black window shutters are a great addition and break the plain look of a white attic bathroom, while also working really well with the vintage elements.
Stylish Attic Living Rooms
When it comes to living rooms, we all want them to feel our own. Something that is so distinctively ours that spending time in that designated space feels homey and comfortable. Living room is also the place where we usually hang out with our guests, so we want it hold enough space for a fun game night or a chit chat with friends! How to accomplish all that with an attic living room? Seek inspiration below!
RELATED: 10 Attic Spaces That Offer an Additional Living Room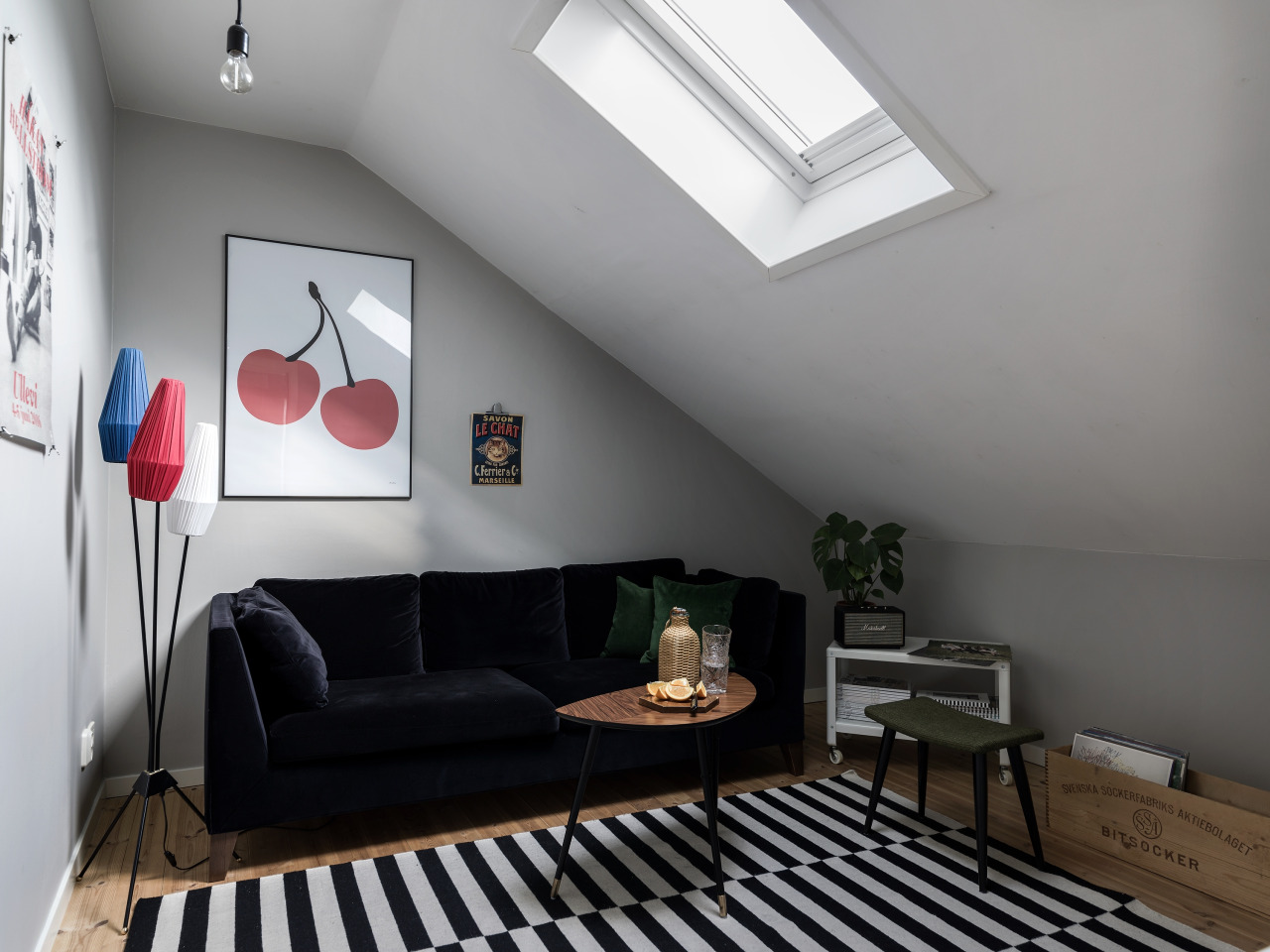 Your attic living room can quickly get a closed, lofty vibe to it. To keep the space open take a leaf out of Gravity Home's book and stick to little coffee tables that don't take up too much space but knock yourself out on a comfy sofa!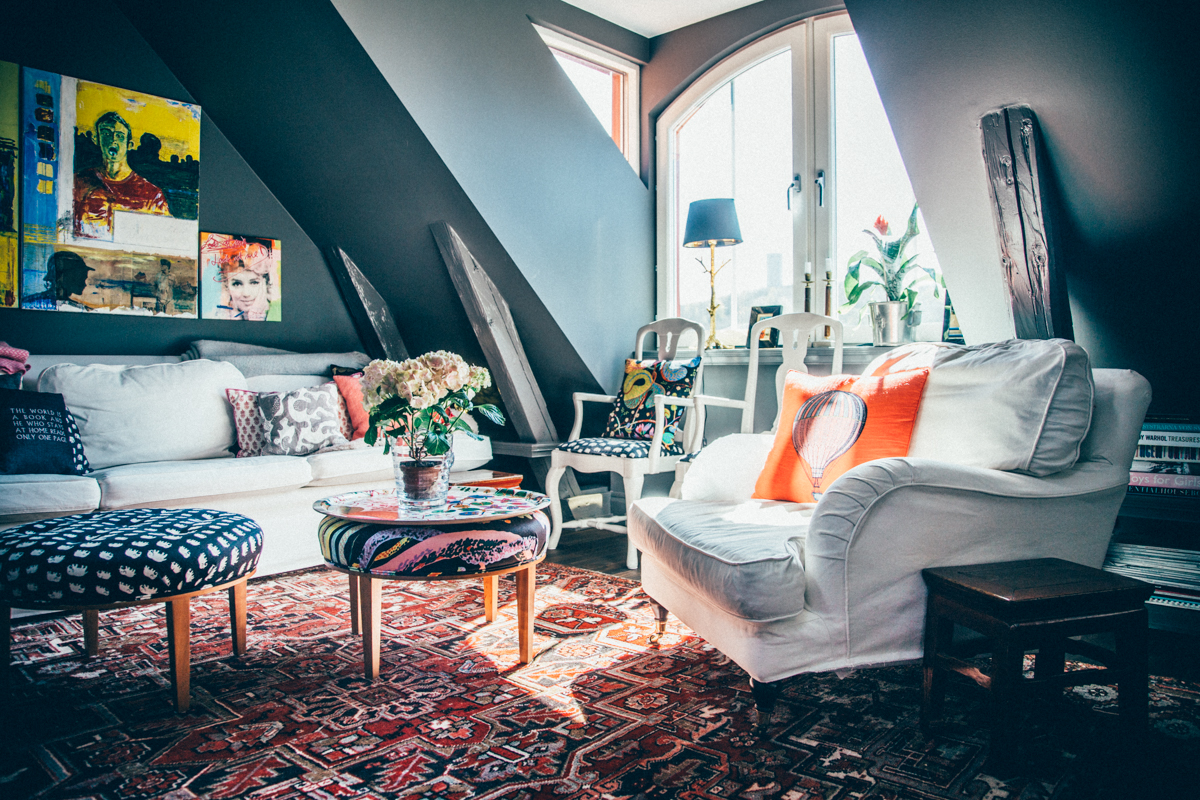 The look of this attic living room is truly mesmerizing! It feels like a true home, it is cozy, vibrant, colorful and maintains the perfect balance between lit and dim! We found this at Lovely Life!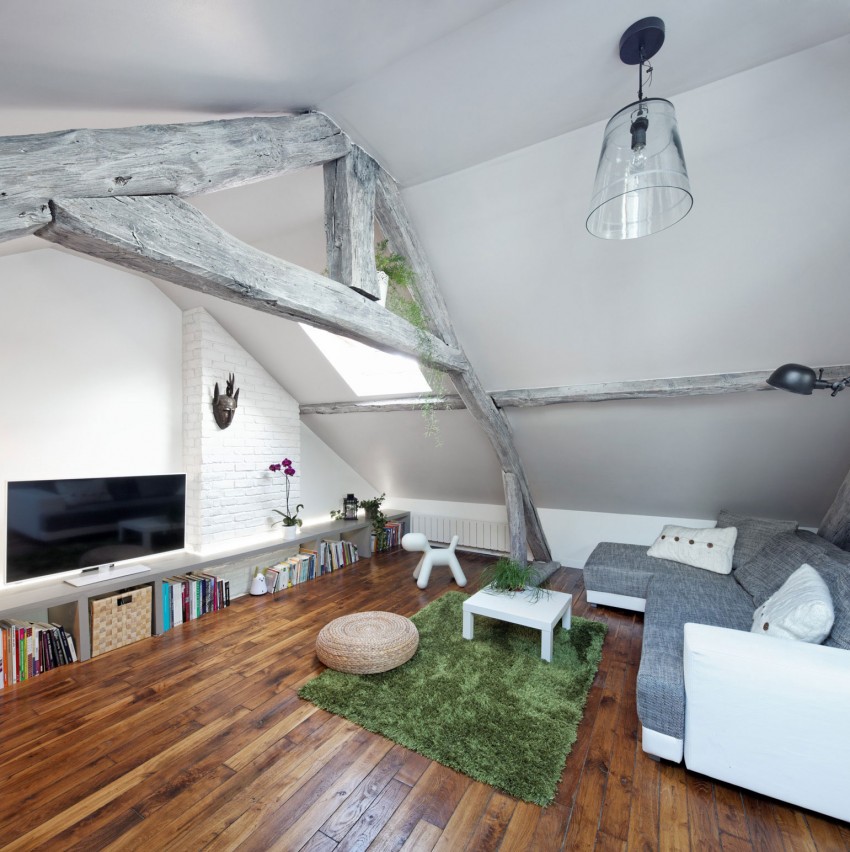 To have your furniture match the beams is actually a brilliant idea; it creates consistency in the space and gives off the sense that everything was made with a clear purpose in mind. More inspiration at Home DSGN.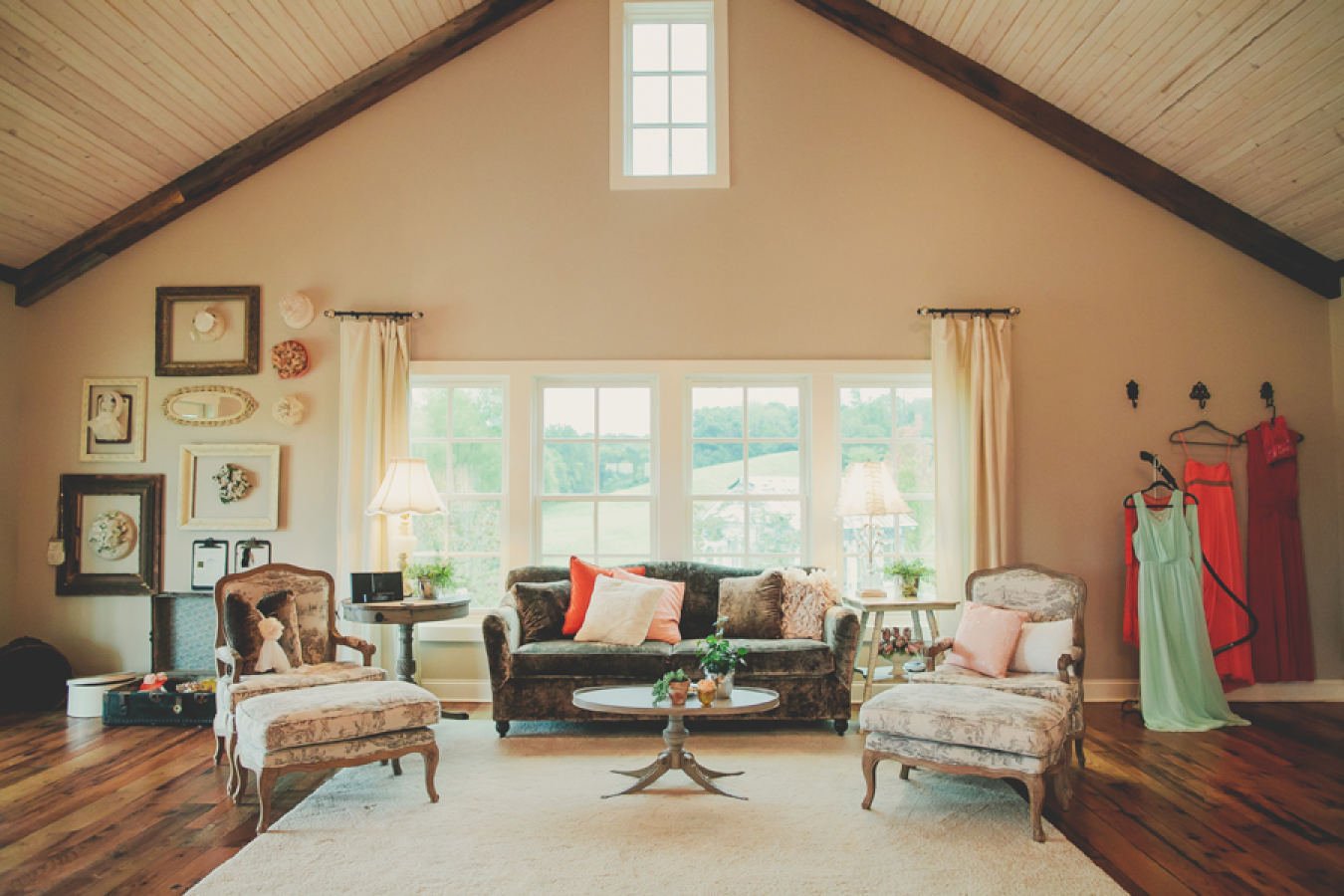 Some attic living rooms can be surprisingly big and that's just an added opportunity to really style it in a way that will fit your own personal decor preference. This living room by Style Me Pretty is really old-fashioned and looks absolutely breathtaking!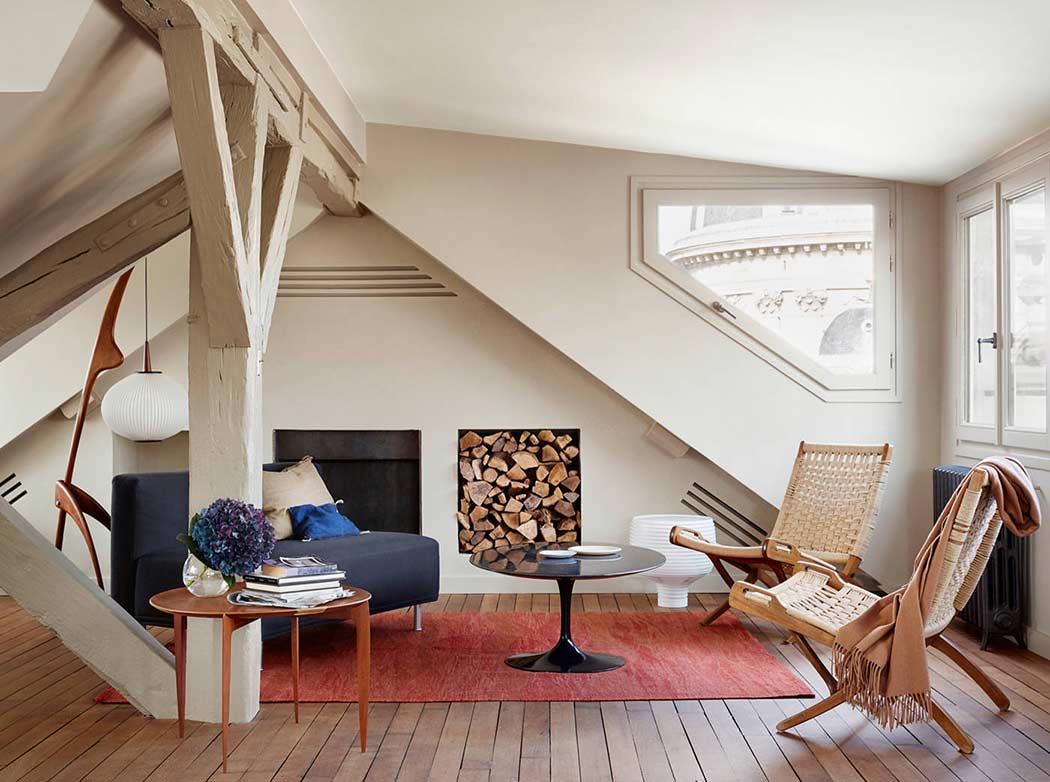 This is a very relaxing living room, with cream colored walls that match the beams and such a lovely sitting space, warmed by the modern fireplace. The room showcases just how much you can do within a small space! See it at Home Adore.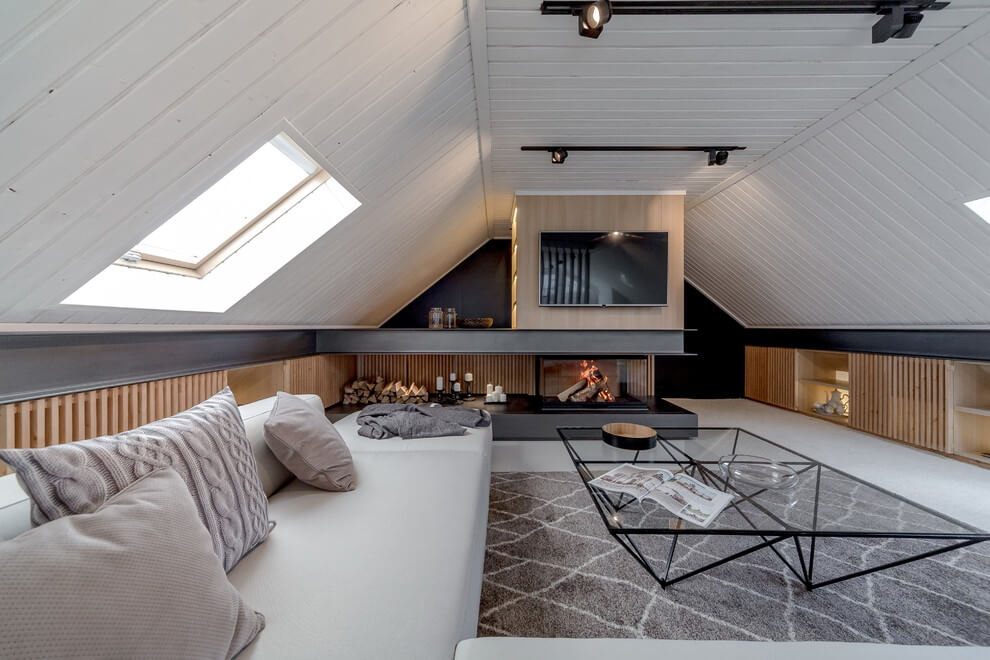 This tranquil attic living room with modern and neutral decor is the perfect place to rest. The dynamically designed coffee table together with a smooth couch and soft cushions is the ideal combination for a contemporary attic apartment, like the one featured at Life Nmotion.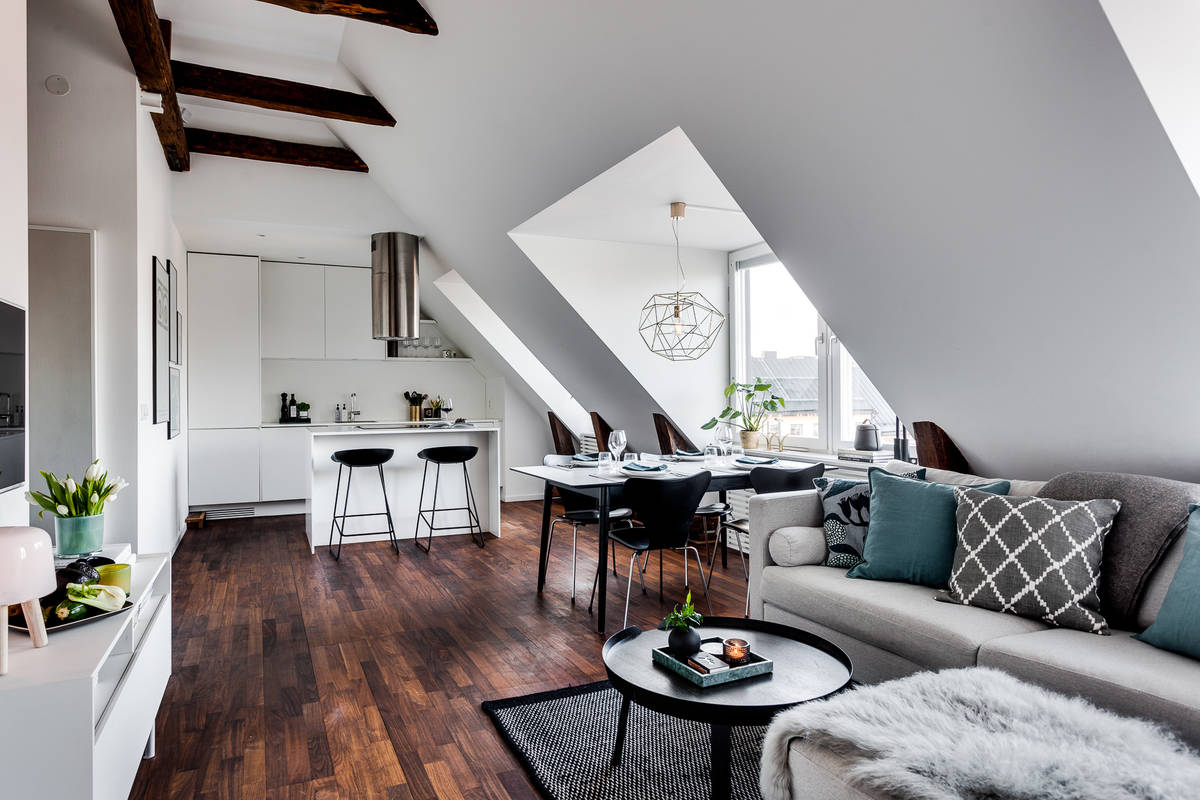 Leaving your attic apartment mostly open gives the place a lot of spaciousness, like you can see in this attic home at Gravity Home. The gorgeous living room is directly connected to the dining space and kitchen, with no walls in between to cram up the space!

We've already mentioned how essential windows are to an attic home, but it is especially so if you love to decorate in neutral tones. Letting in the light will brighten up your living room and make it charming! See it at Busy Boo.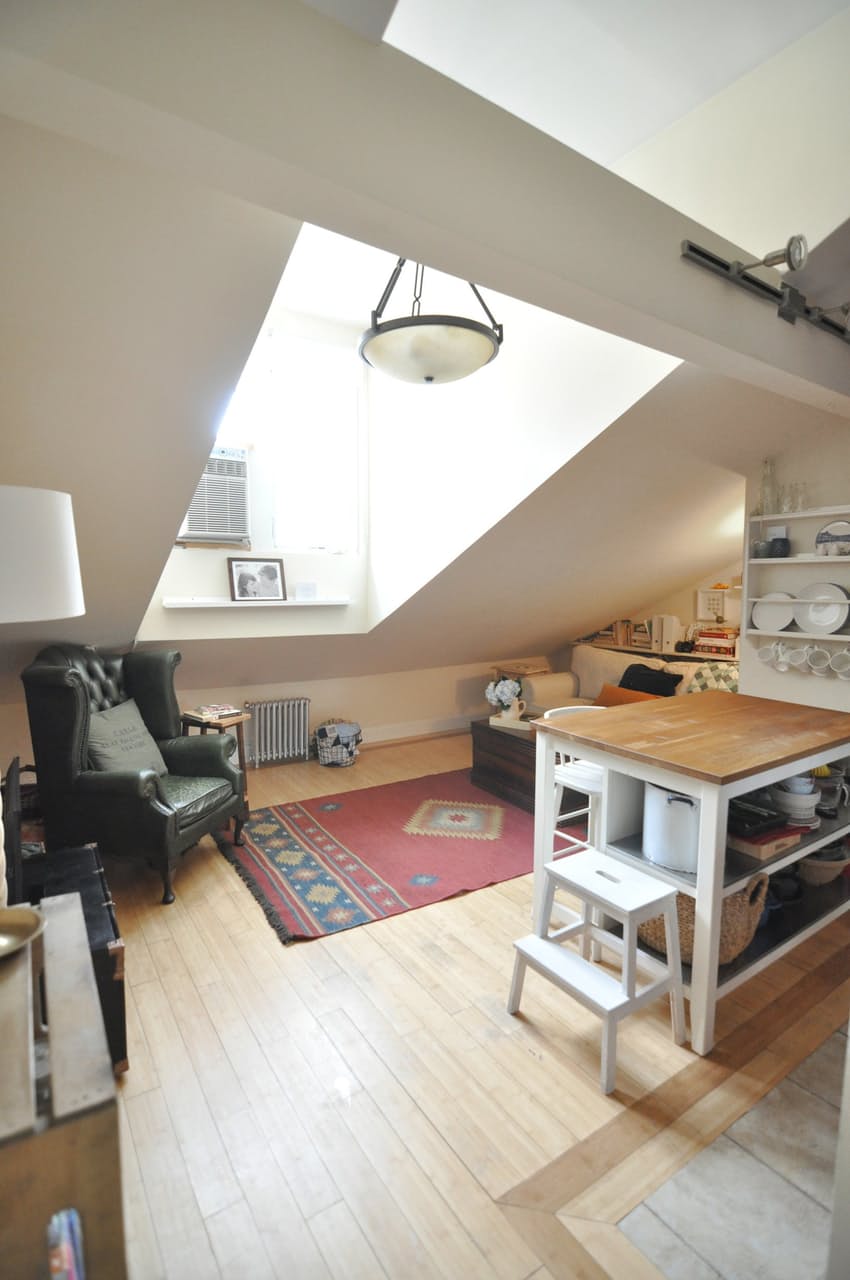 A simple and straight-forward living room with a rug and an armchair that seem to define the place is a wonderful little nook that remains in close proximity to the other rooms and so makes living in an apartment incredibly convenient. We found it at Apartment Therapy.
Kitchens with the Attic Appeal
If you're worried about having enough cooking space in an attic apartment, let us assure you that there are plenty of homes who have already figured it out and made themselves roomy kitchens that not only offer a ton of space for your cooking but also feel incredibly intimate.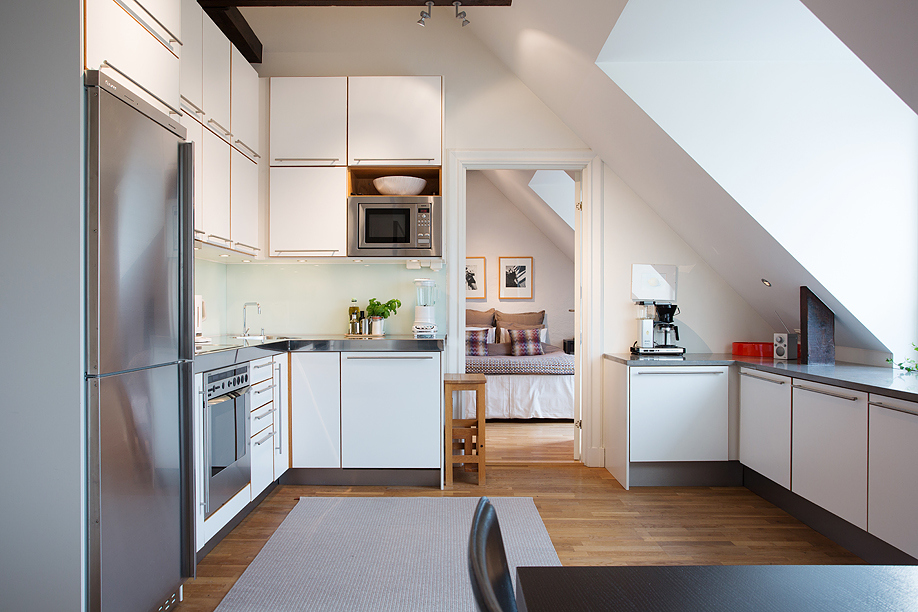 The first attic kitchen comes from Interior Akok and if it wasn't for that tilted skylight we wouldn't even be able to guess it's situated in the attic, given its size!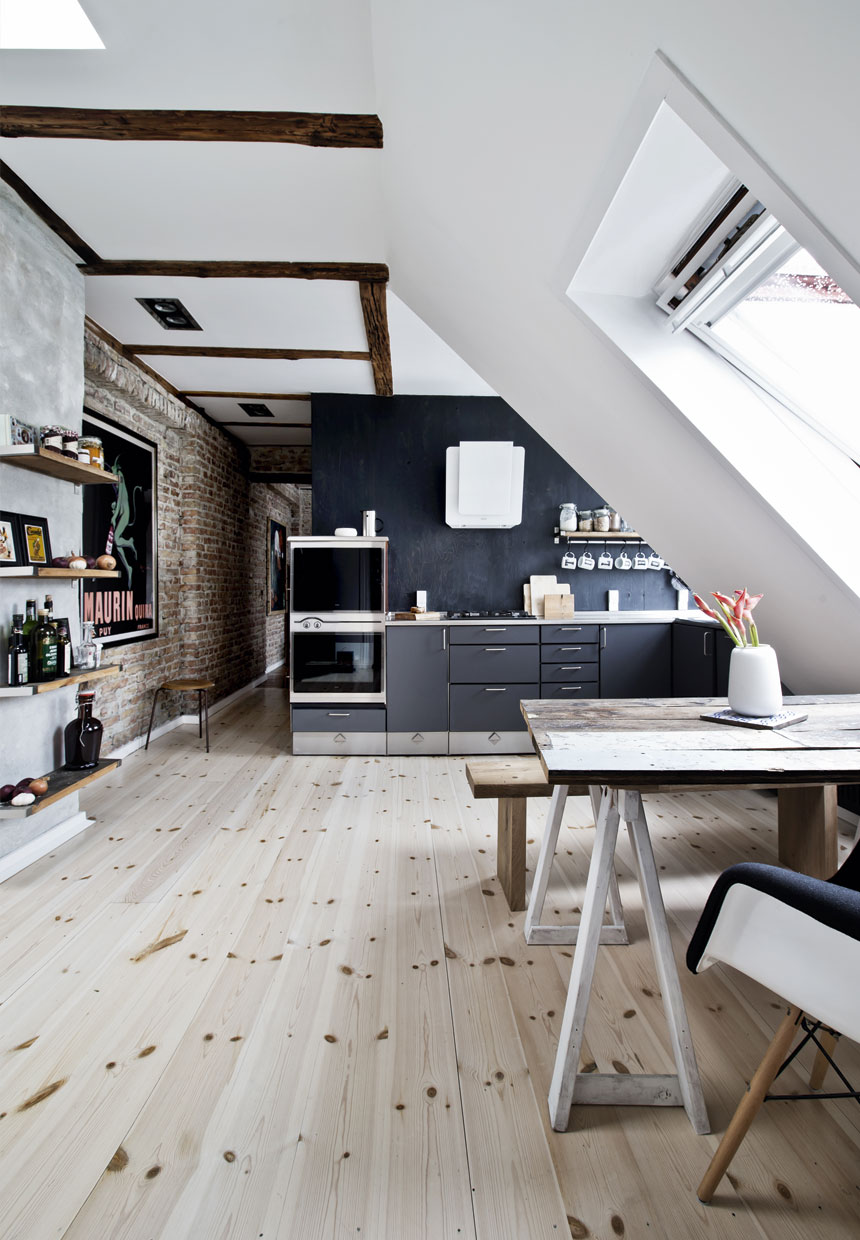 Here's a neat attic kitchen, by Design Vanilla, that combines the three sweetest things in home decor: wood, brick and black interior! The way these three elements work together is marvelous, from the simple wooden dining space highlighted by daylight, to the vast dark kitchen and the brick wall right next to it!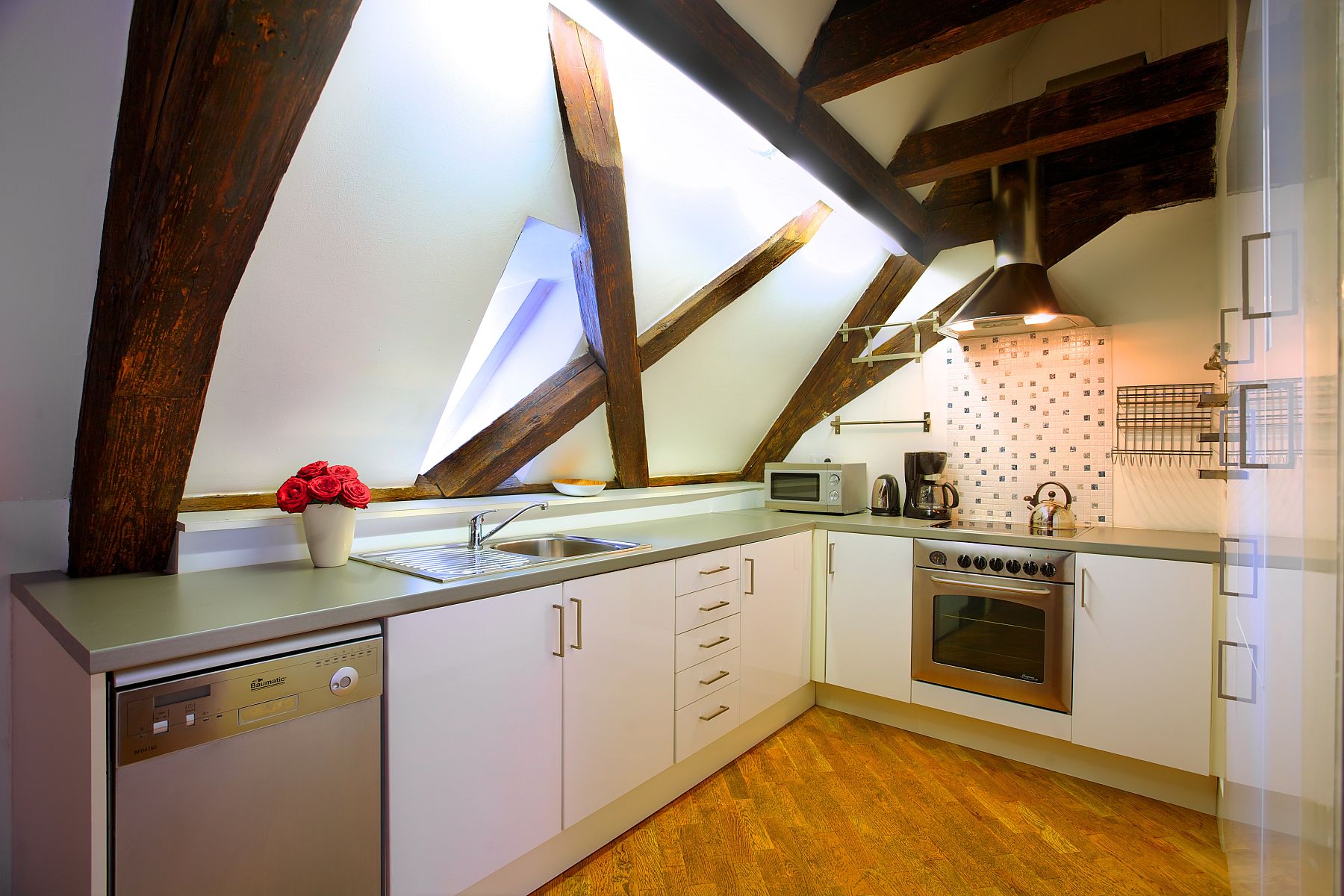 Visible beams can contribute so much to the overall look of your attic kitchen. Make sure you choose your furniture with beams in mind! This little attic kitchen, found at Prague Stay, looks picture-perfect. Its minimal styling and silvery tones are a lovely addition to the rough wooden beams!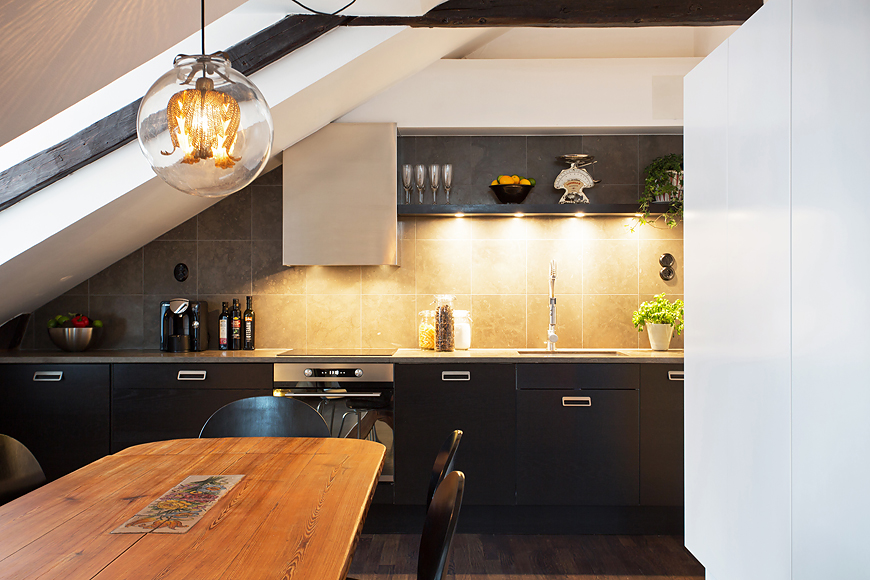 In any attic apartment compromises must sometimes be made, but this can only be positive! Check out this adorable kitchen corner at Home Designing that feels cozy and practical, with the kitchen counter and the dining table so close to each other!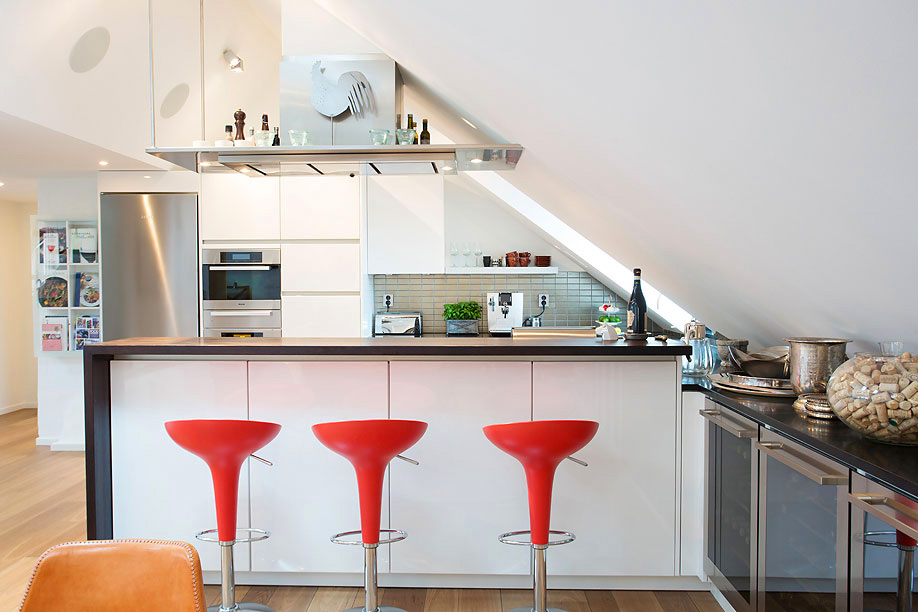 When you can have bar stools in an attic home you know that everything is possible. These bold red stools create a statement of unconventional decor and turn the counter into a mini bar! See more of it at Fresh Home.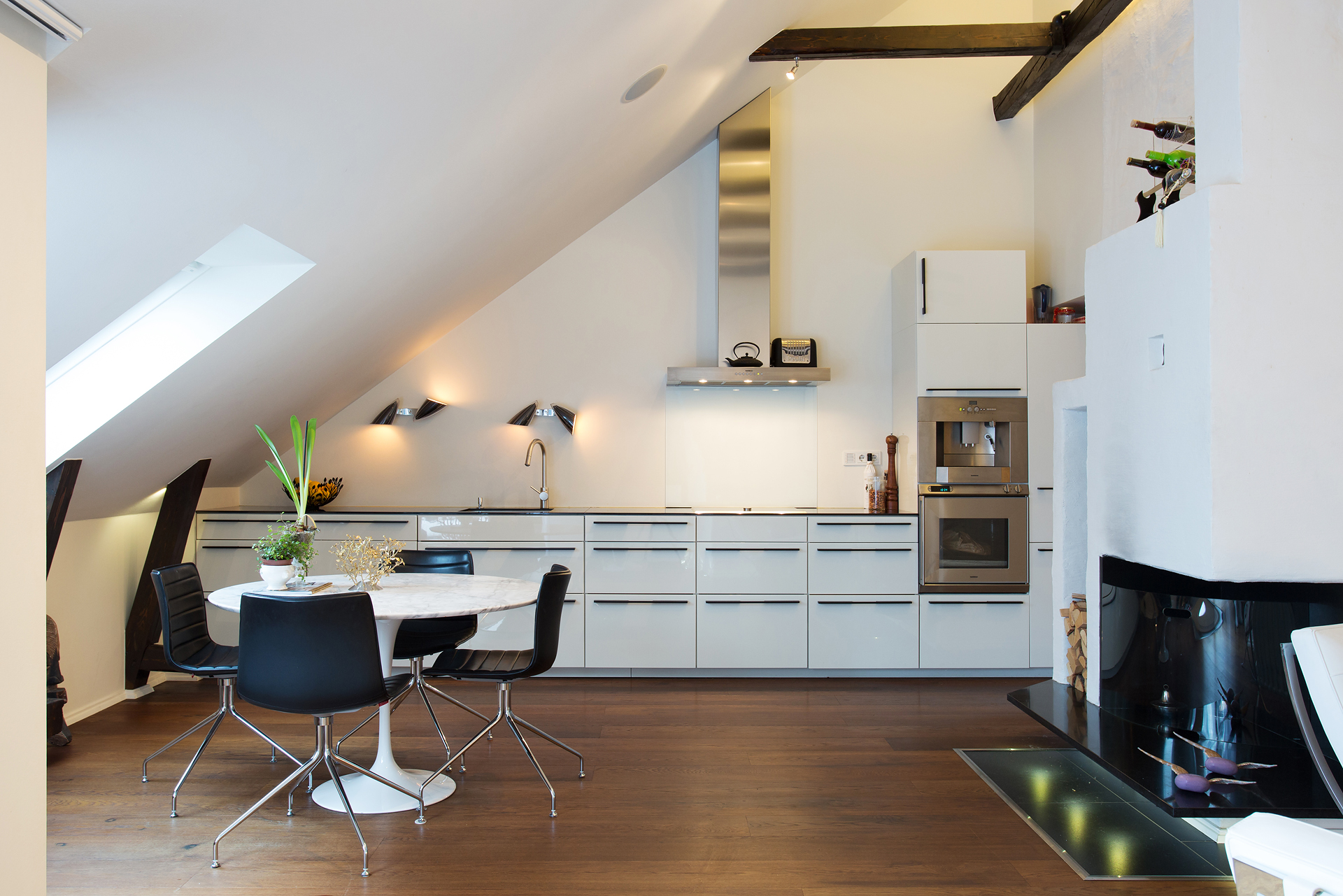 We love how this kitchen opens up and leaves you free of worrying about having too little "head space." It features a long counter and plenty of workspace! It is ideal for amateur chefs who wish to live in a beautiful and bright attic apartment! Get inspired at Bendut Home.