Good design is addictive. And when you're addicted to collecting dollhouse furniture, you can enjoy double the fun: the thrill of hunting down little treasures AND the fun of celebrating unique modern miniatures. Kate here, and when I was growing up, I had a dollhouse filled with furniture, some of it homemade! It's funny that even though almost 30 years have passed, I can still find some of the exact same miniature furniture in craft and toy stores to this day. I'm ready for some new designs, aren't you?!
Luckily, there's a whole movement of mini-modernists dedicated to collecting modern design pieces in miniature. I think you'll be delighted by today's modern dollhouse furniture roundup. From tiny IKEA furniture to DIY project ideas that will help you craft your own pieces, some of the photos below may surprise you in the best possible way… [designer modern chair minis below from Alibaba.com]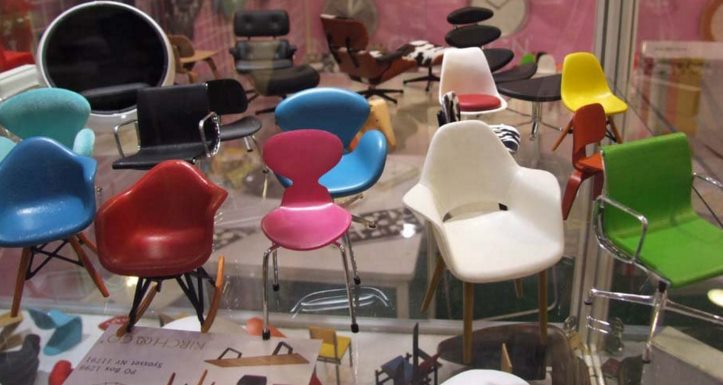 Great Deals
The beauty of collecting dollhouse furniture is the fact that you can always find a good deal! Collecting "modern minis" doesn't have to break the bank. For example, this Cottage Dollhouse Dining Room from The Land of Nod is crafted from basswood and includes the dining table, four chairs and ceiling light pictured below. It's part of the brand's exclusive Cottage Dollhouse collection: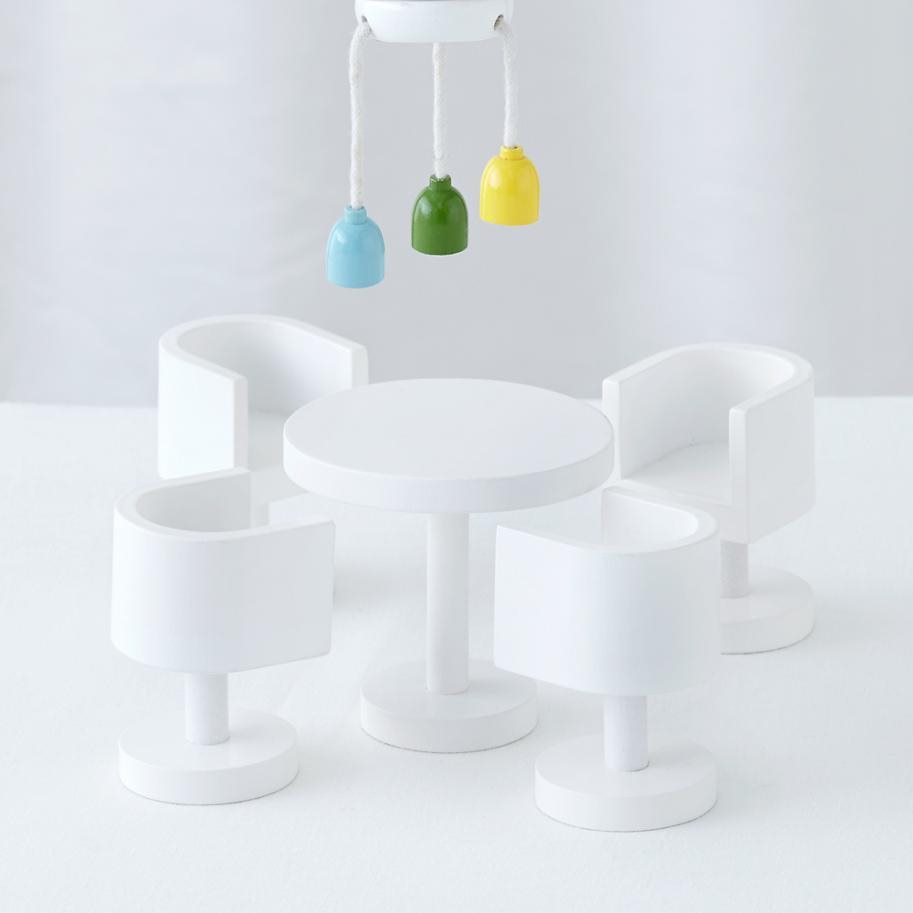 This modern table and chair furniture set from AliExpress celebrates the power of clean lines, sleek curves and bold color. While more expensive than the table and chair set above, the price is still more affordable than many of the other finds featured in today's post: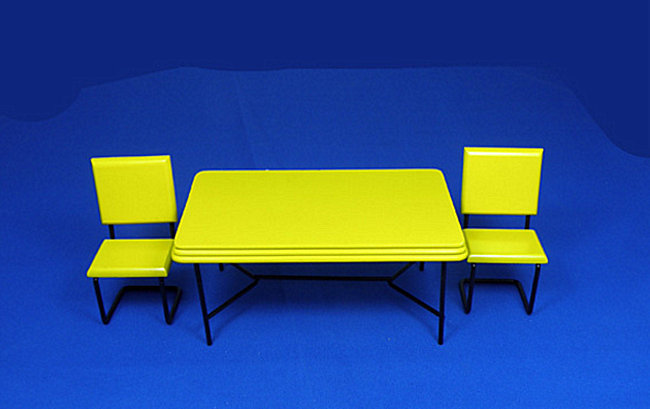 Designer Minis
Imagine your favorite Eames chair in miniature. Or your IKEA living room duplicated in your child's dollhouse! Yes, these design dreams can be a reality if you know where to look! Among their wide range of products, ELF Miniatures offers mini moderns based on iconic furnishings, such as the Eames Recliner Chair and Ottoman in White, Eero Saarinen's Tulip Chair and the Black Ball Chair by Aarnio:

Below we see HUSET from IKEA. This vibrant doll furniture duplicates some of IKEA's most popular furniture and decor, including the top-selling FAMNIG HJARTA pillow. And at $14.99 for the entire set, the price is definitely right!

Miniature Modern Marvels
Since life-size modern design is pretty fabulous, modern design in miniature is adorably amazing! When designer Paris Renfroe decided to offer miniature versions of his full-size modern furnishings, PRD Miniatures was born. Now that's a reason for collectors to rejoice! Below we see the S Chair in Pink and Uno Sofa in Blue. As with all of Renfroe's miniatures, these pieces are 1:12 scale models.

Collectors of miniature furnishings are also well aware of Brinca Dada's creations, which were as much for adults as they were for children. I'm using the past tense when describing these pieces, because sadly the company has closed. But at least we still have the memories, thanks to photos like the one below. See more pics (including Brinca Dada dollhouses) at Fast Company: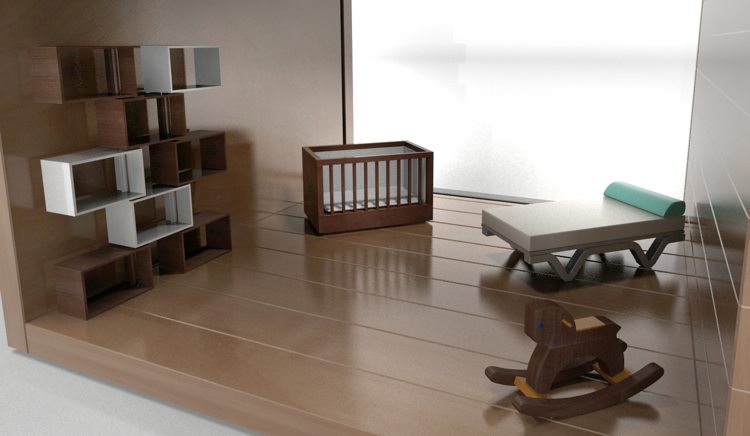 If you're sad about Brinca Dada's closure, wipe away your tears while browsing the design-savvy offerings of minimodernistas. From the Frame Desk to the Set of 4 Barrel Chairs below, the company is dedicated to "truly modern, mid-century and contemporary dollhouse furnishings." Their tagline says it, and I'll say it again: "Very cool".

DIY Dollhouse Furniture
If you've liked what you've seen in today's post and you're ready to take matters into your own hands, this DIY section is for you! First up: a way to make modern miniatures from IKEA bowls, courtesy of IKEA Hackers. How genius is this idea?! Check out the full tutorial here. [via Apartment Therapy]

In fact, when you start looking at the world around you for potential craft supplies, you will soon discover that ordinary items such as fuzzy cloth and metal wire can be used to construct dollhouse pieces such as a plush rug and a modern chair. I've even been known to use that little plastic piece at the center of a delivered pizza as a side table! [photo via Home Decorating Ideas, original source unknown]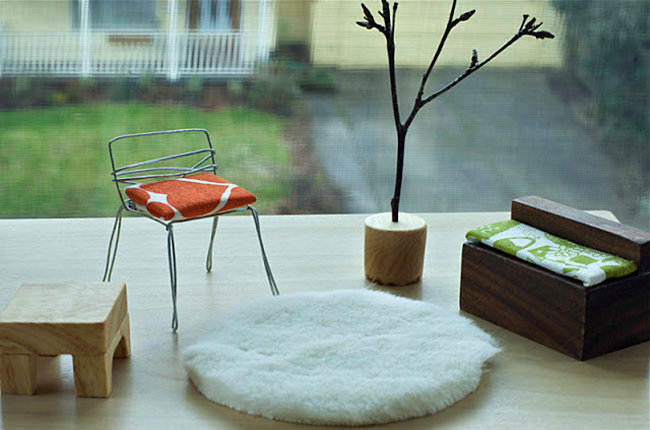 Learn more about mini-modernists in this interesting New York Times article, and find out more about where to buy modern minis in this helpful blog post from Modern Mini Houses. Happy collecting!