Looking for a way to freshen up your space? Why not give one of your furnishings a makeover with a coat of paint?! Today's post celebrates the power of color in the realm of painted furniture, and we focus not only on eye-catching hues for your favorite pieces, but on painting strategies that create truly one-of-a-kind finished products. Enjoy!
Painted Dressers
Painted dressers are some of today's most popular DIY projects, especially since the drawers provide many opportunities for creative approaches to painting. One of the most popular: painting each drawer a different color. The dresser below showcases shades of pink. [featured at Lonny]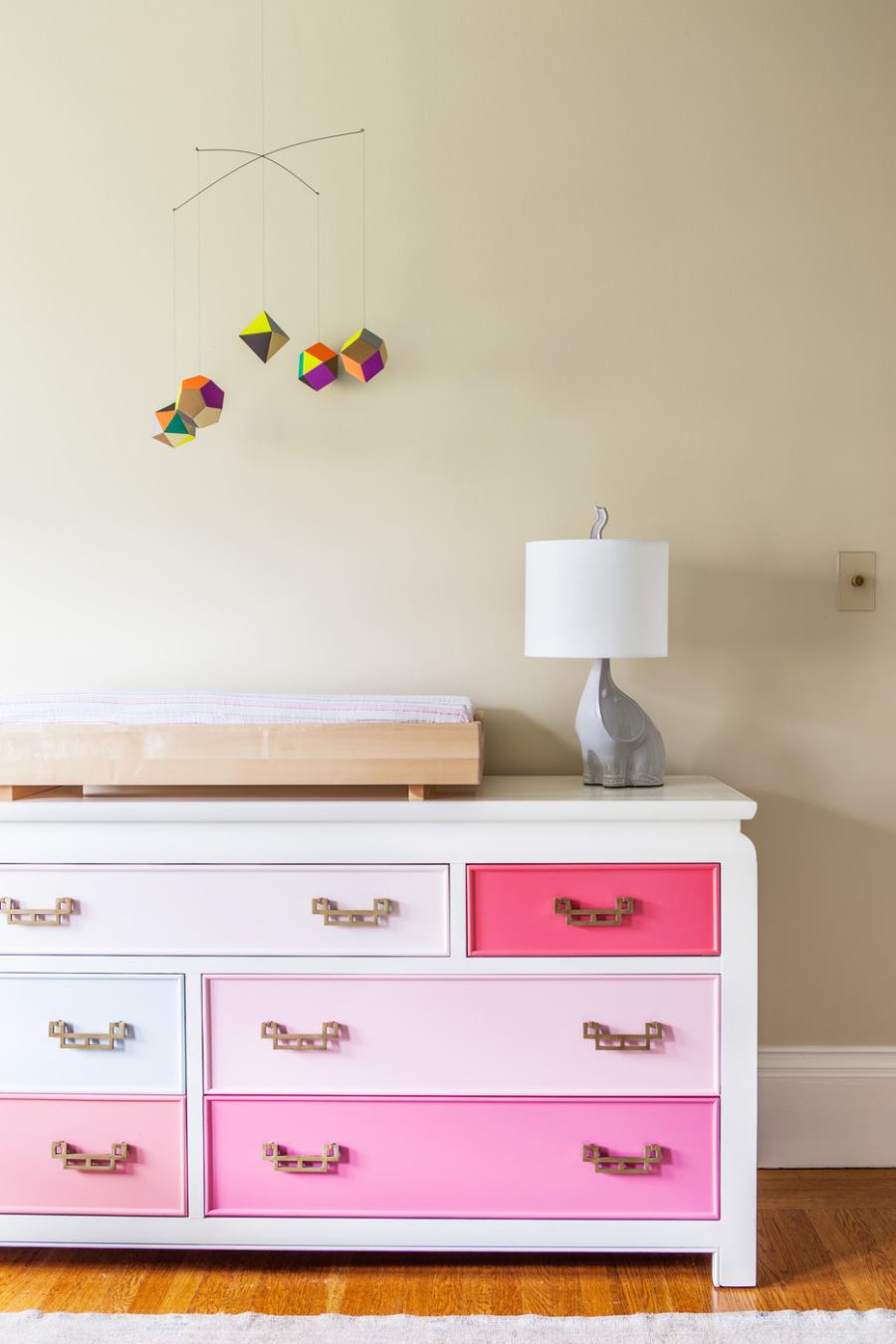 This DIY Painted Dresser from Lowe's features painted drawers in shades of teal, turquoise and yellow. The colors are soothing and refreshing while making a powerful statement at the same time: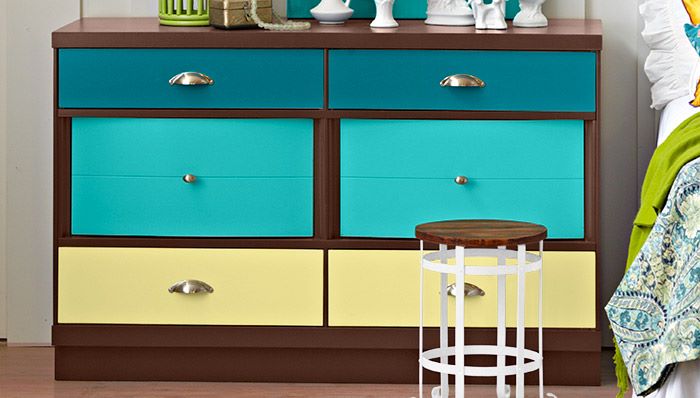 This fun painted dresser featured at DellaCooks showcases the British flag in bright shades of red and yellow. A painted pattern or large design is a surefire way to make your furnishing stand out: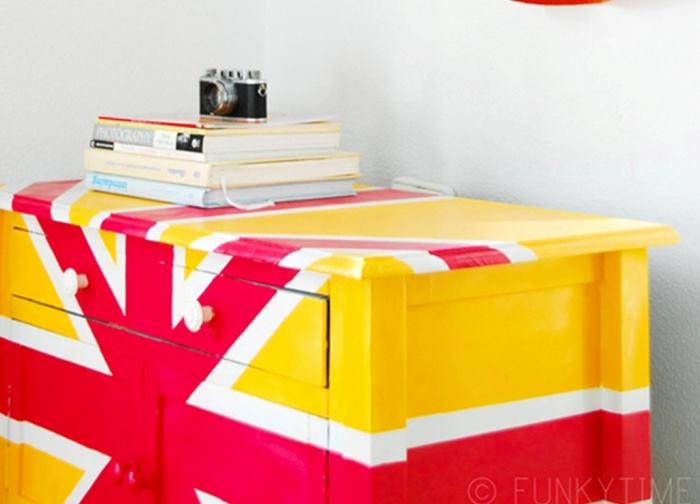 Painted Desks and Tables
Be it a desk or a table, your furnishing can be truly transformed into a commanding focal point with a fresh coat of paint. We begin with this pink painted desk from Skunkboy. The combination of pink frame and white drawers is charming and striking: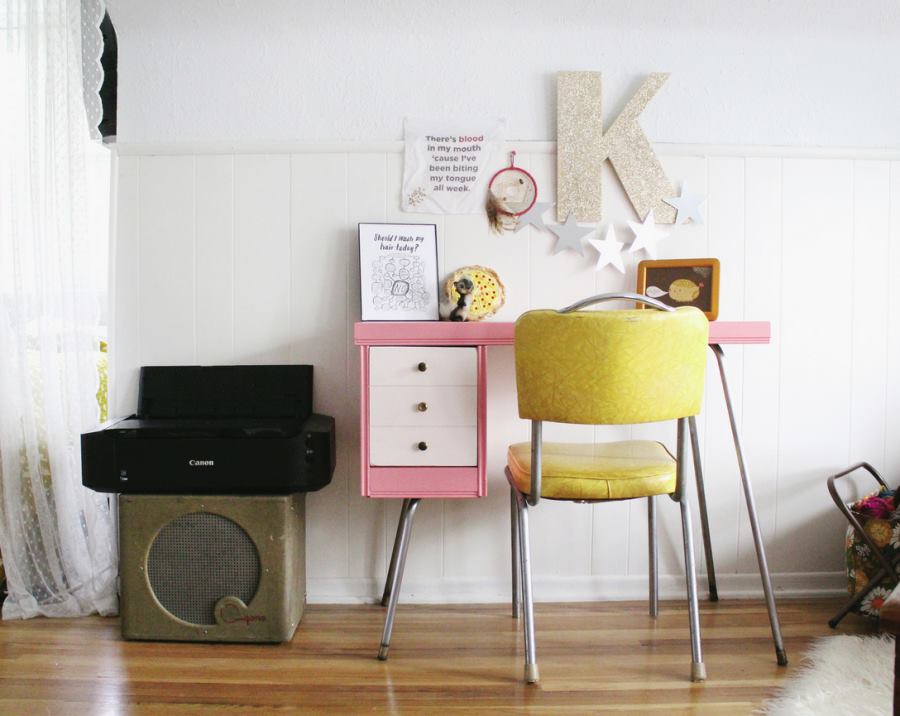 There's something about pink desks! This next featured workspace includes a bright pink metal desk against a wall featuring a black and white panel. A vivid hue (such as neon pink) will wake up your office space and give it an edge. [photo from Lonny]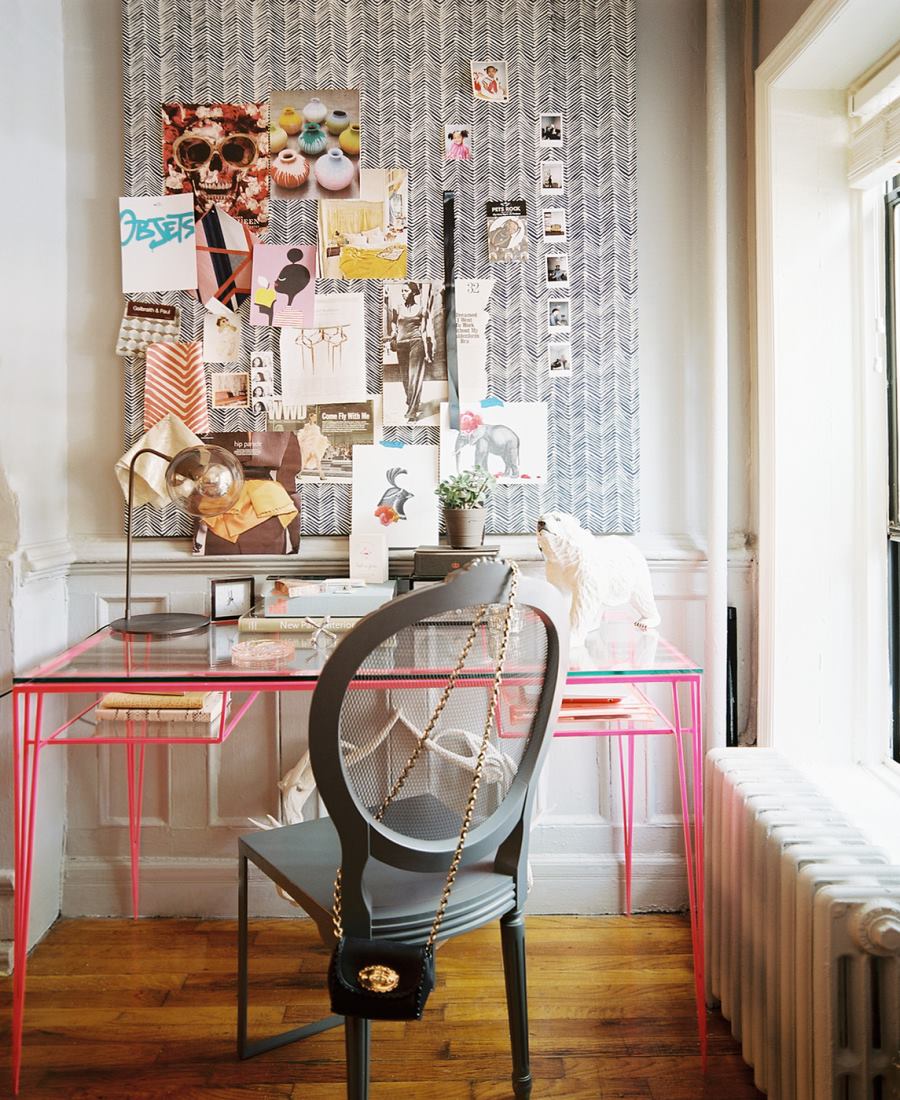 This console table makeover from Coco + Kelley shows the power of semi-gloss paint in a fetching shade of green. Unexpected and chic!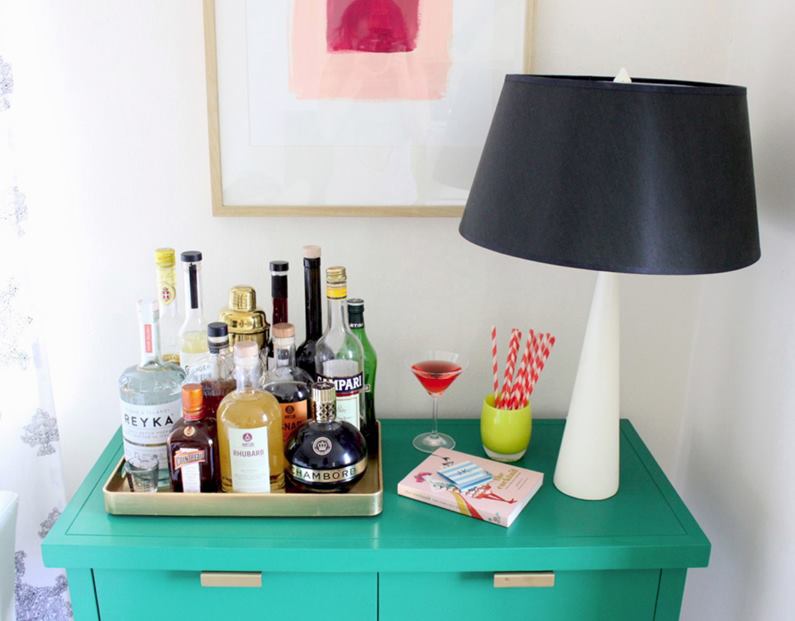 Blogger Elsie of A Beautiful Mess painted her dining room table, covering it with three coats of oil-based white paint. Not to mention, in the post/tutorial, she shares helpful dining table painting tips, such as the benefit of using a paint with a glossy finish.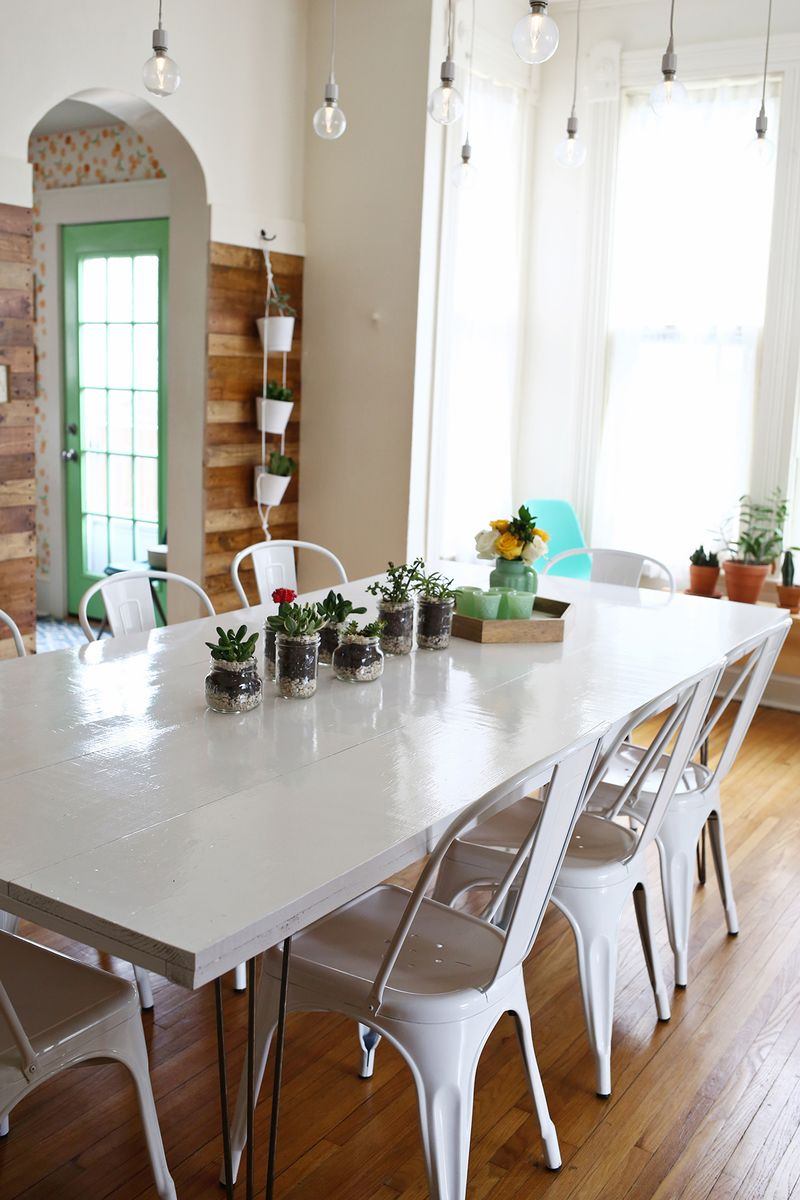 Summer from Simple Stylings gave this Target table a little makeover using gold spray paint. Do you ever buy new furnishings from stores such as IKEA or Target and decide to give them a quick update? Bring on the paint!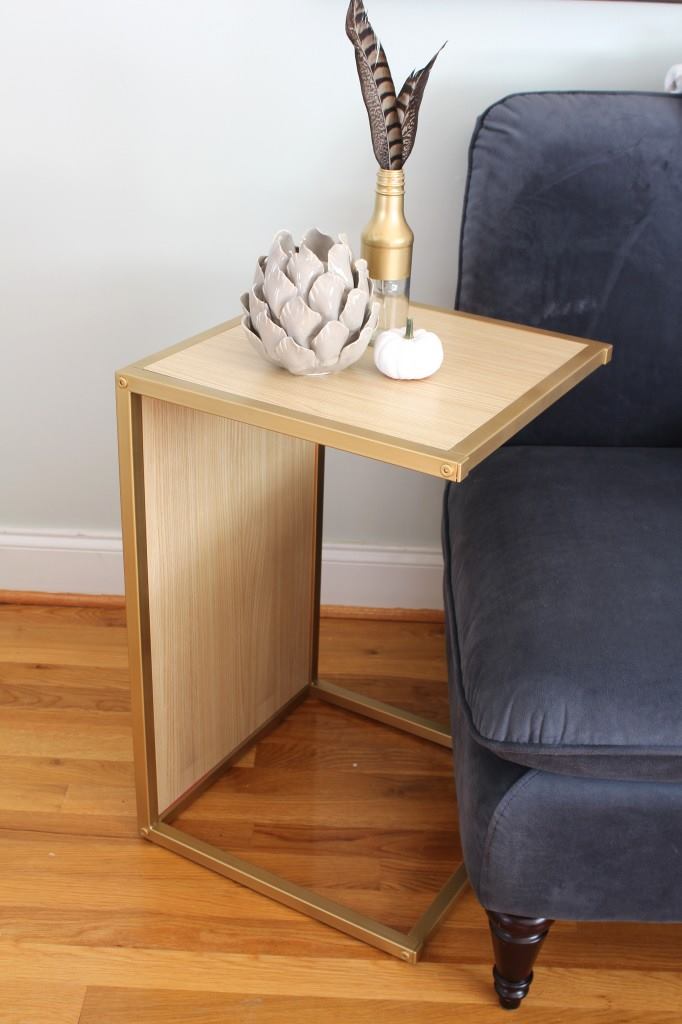 Painted Chairs
There's nothing like a fresh coat of paint to spruce up a chair (or four)! Painting can also help unify a set of mismatched chairs. Below we see yellow painted seating from A Beautiful Mess.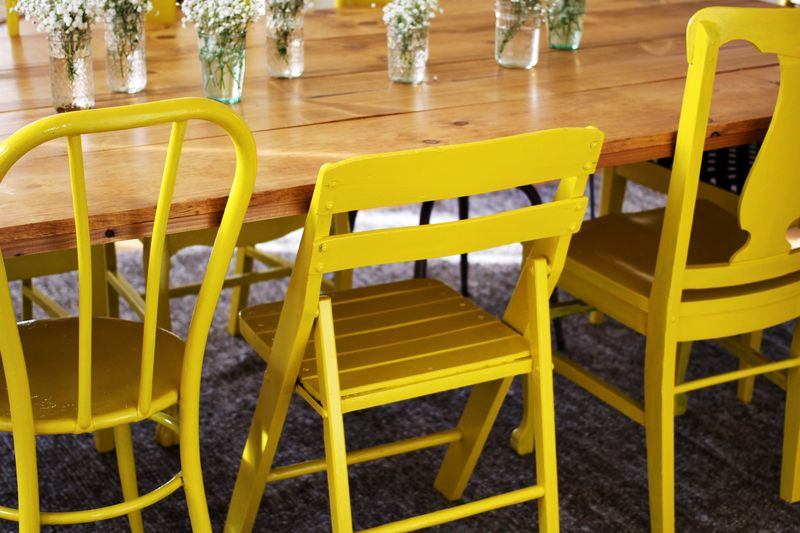 Give your metal chairs a makeover with a fresh coat of spray paint. This DIY Network tutorial is filled with helpful tips on metal chair painting. Neon metal furniture is one of today's hottest trends. We can see why: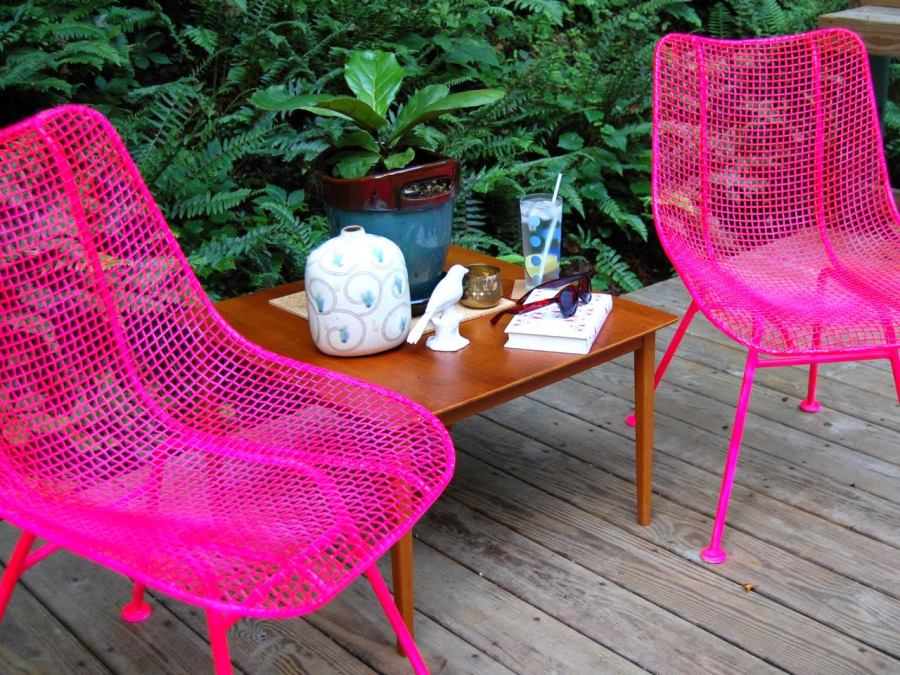 For an unexpected twist, try painting each chair a different color. Stick with radiant hues such as hot pink and sunny yellow for an added dose of vibrancy. [photo from TrendingSINY.com]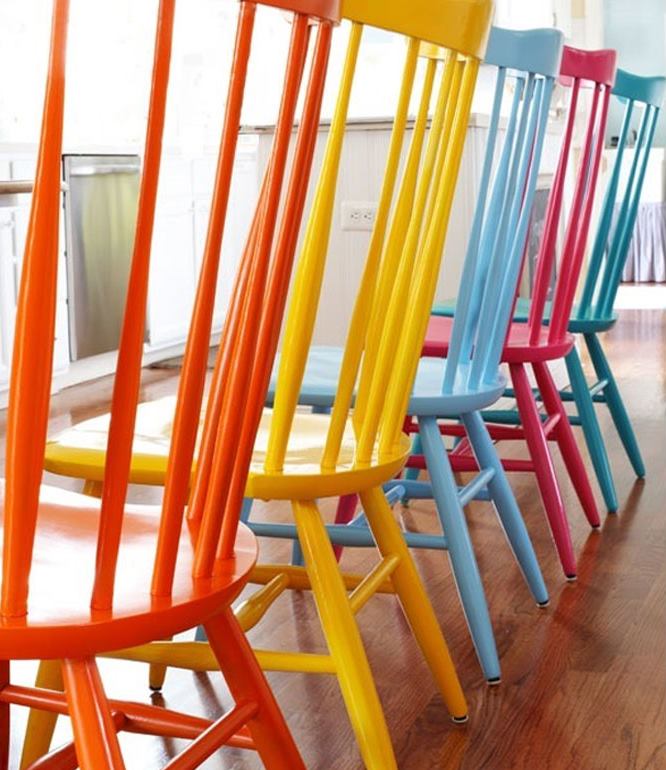 These painted chairs featured at Sprunting! showcase a two-toned style that gives ordinary wooden chairs a colorful upgrade: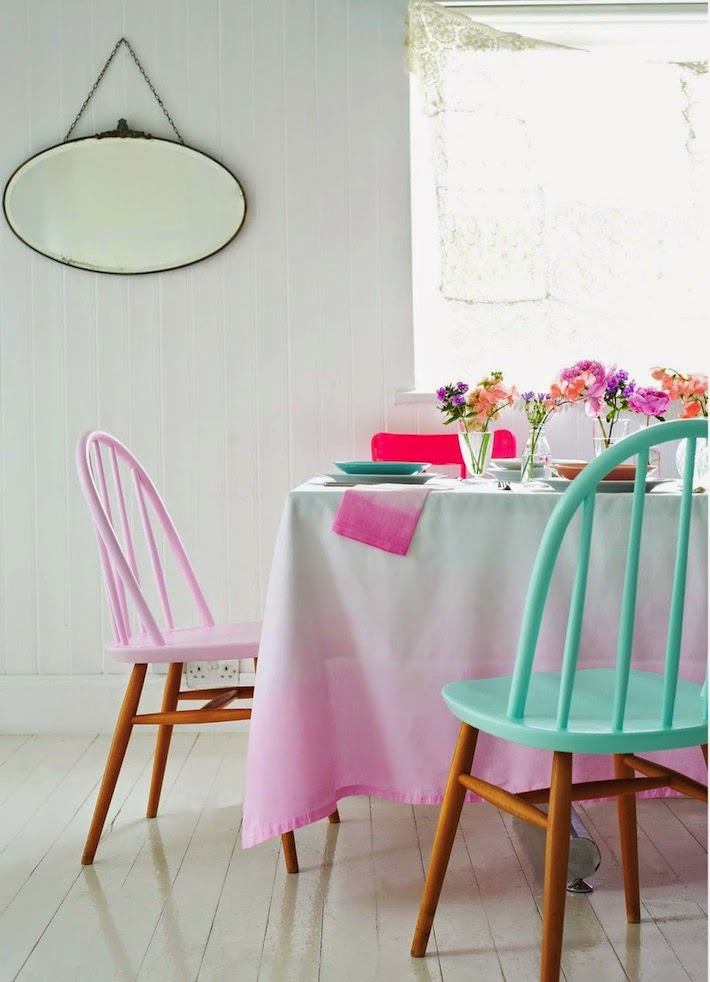 Don't forget about transforming furniture upholstery! Yes, it can be painted. This DIY Painted Canvas Chair from Mr. Kate involves some fabric paint and a little bit of creativity. Love the tribal print!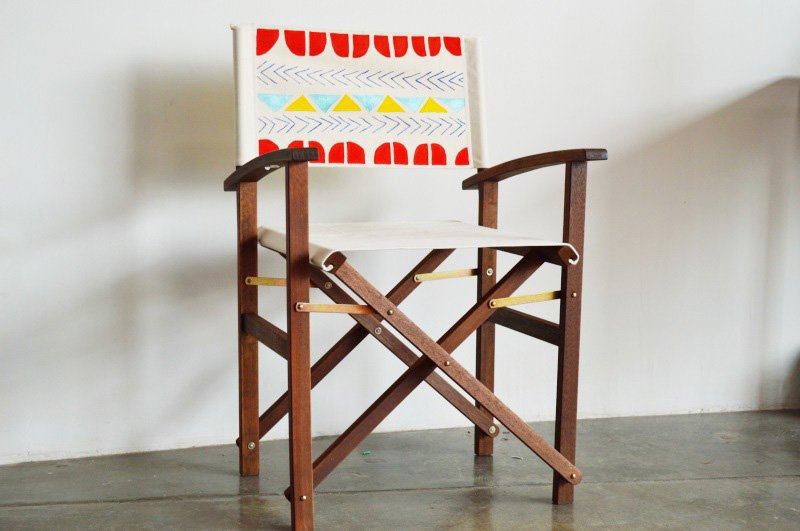 Painting Strategies
We end today's post with a collection of interesting painting strategies and techniques that will spark your creativity. Instead of painting your furnishing a solid color, try adding a bit of visual texture by layering paint using brushstrokes in a darker tone. This emerald green cabinet evokes the feel of malachite with its green-on-green style. [photo by Jenna LaFevor, from Nooga.com]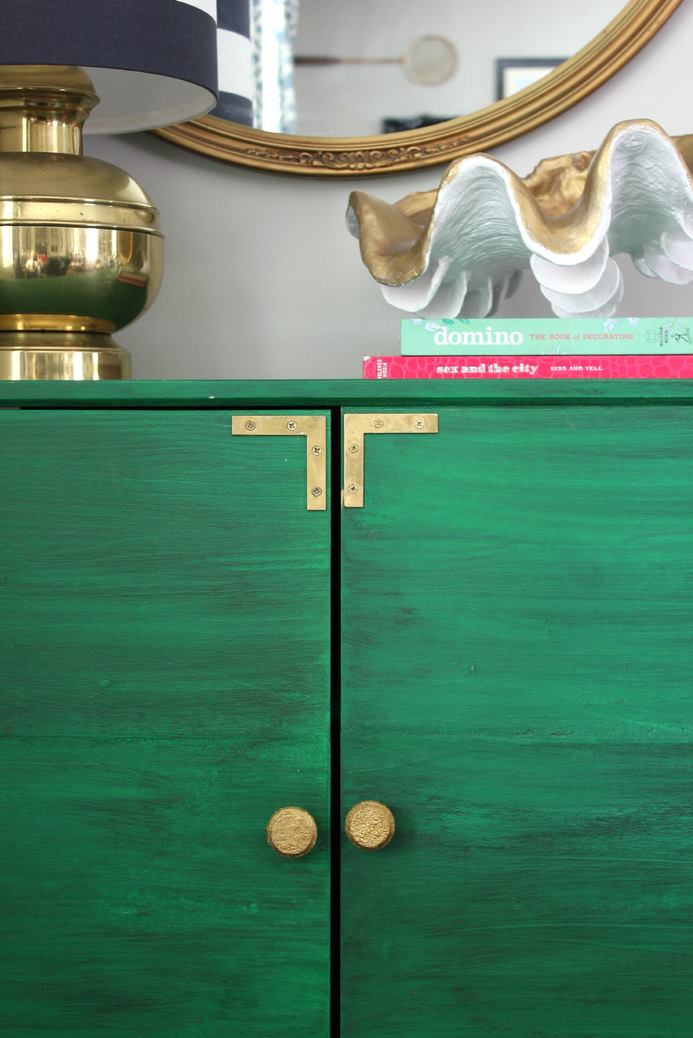 A two-tone look is a unique way to embellish your furnishings. Try painting the frame of your furnishing one color and the legs a different hue, as shown by the chair transformation below. [featured at Sprunting!]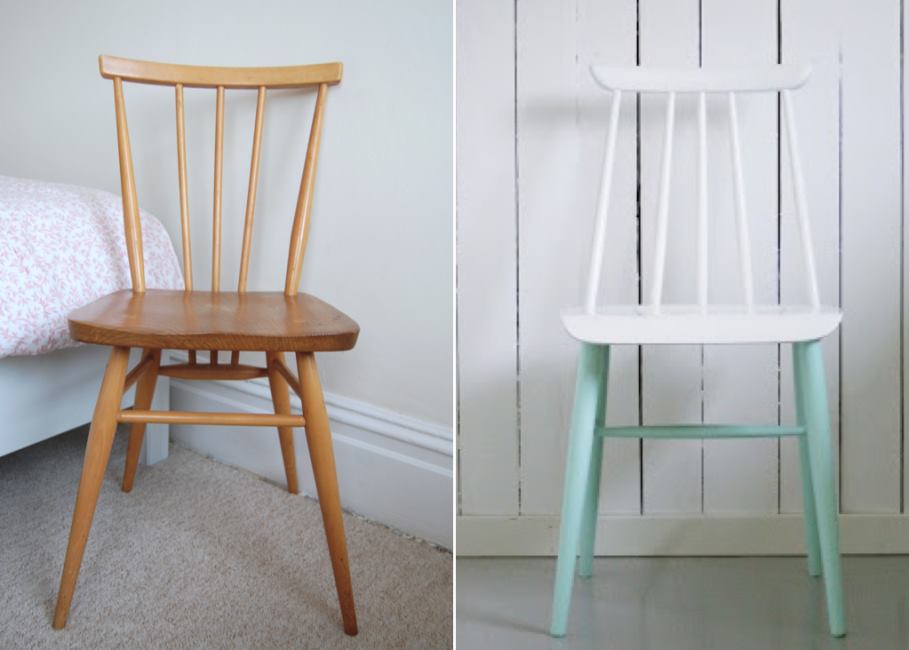 This Colorful Modern Bar Cart from Paper & Stitch brings ombre style home. In addition to a full step-by-step DIY, this tutorial shows you three different ways to style the cart!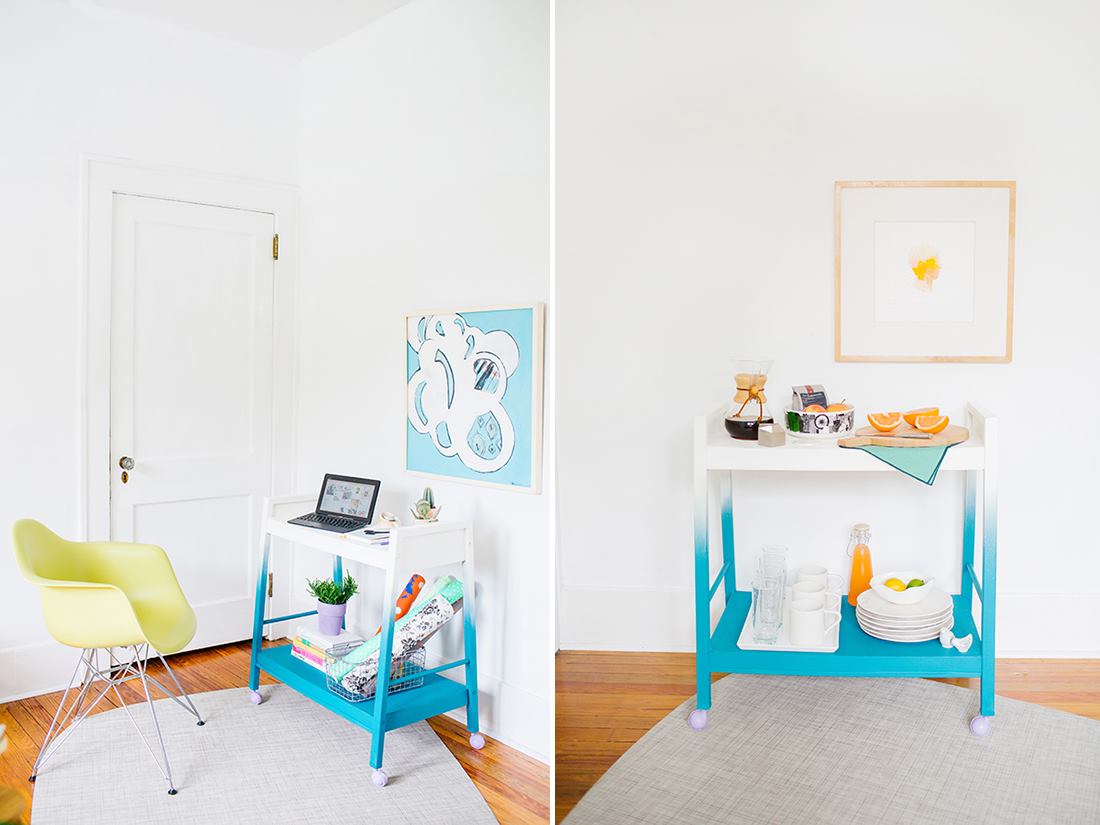 The paint-dipped look is one of today's most popular painting strategies, and it can be created with the help of painter's tape. Learn more about these colorful chairs at Brit + Co.: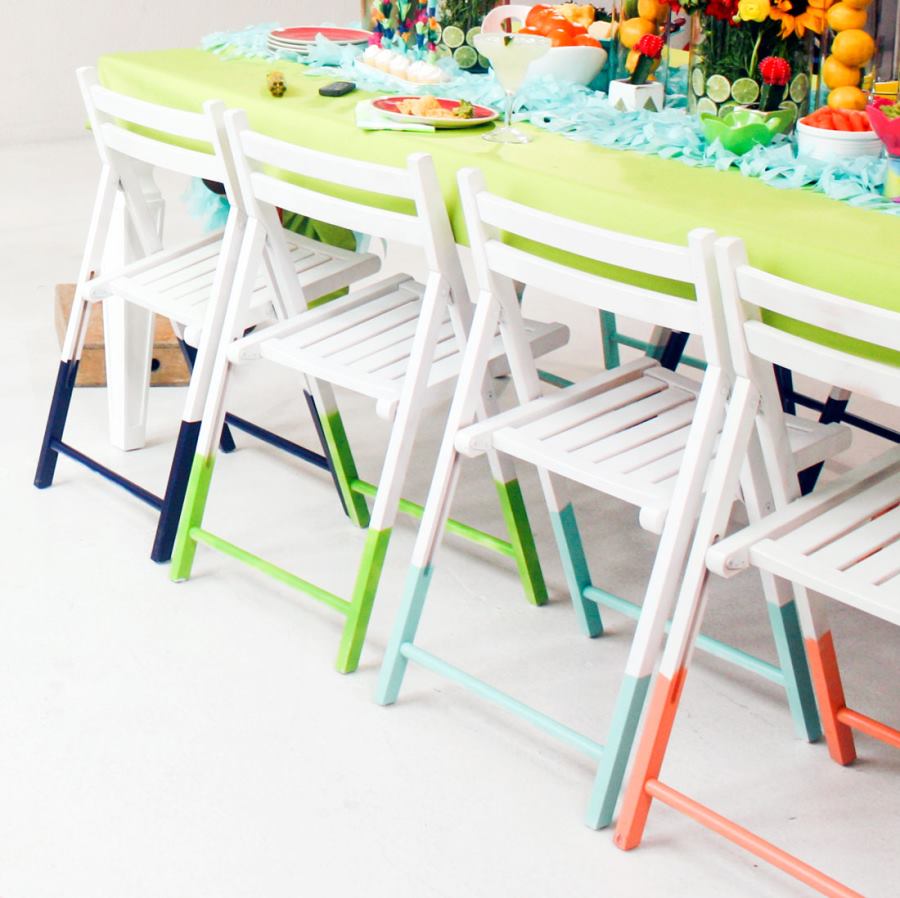 Consider creating a pattern on the surface of your furnishing, as our very own Thalita Murray did when she painted her side table for this Decoist post. Lots of creative inspiration here!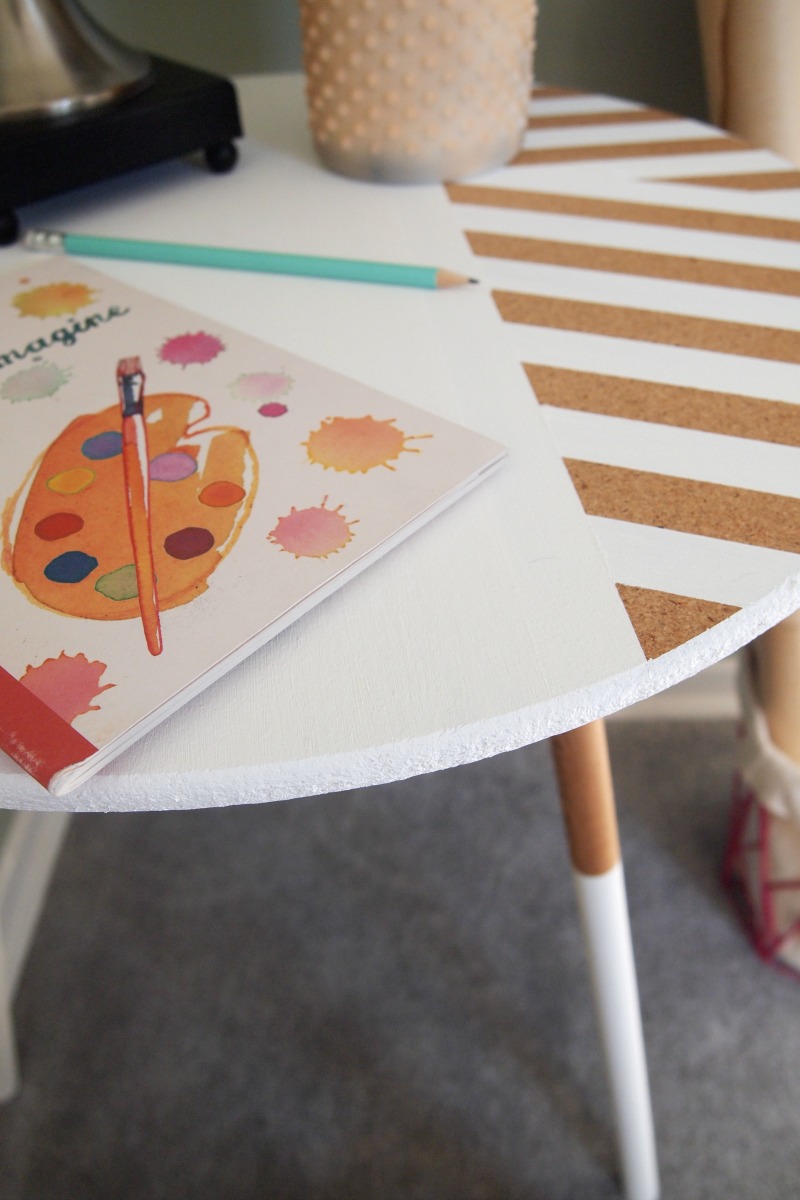 For more helpful painting tips, check out handy wood painting tutorials at Bob Vila and Mr. Kate, as well as DIY Network's tutorial on painting metal chairs. Happy embellishing…