The bathroom vanity is that space at which we typically preen and primp, with the products and accessories essential to effecting our glorious transformations close to hand. The vanity will normally consist of a mirror, sink and storage, these basic components assuming varied designs, shapes and arrangements. While many of today's vanity designs are often similar (ergo somewhat dull), there are certainly contemporary bathroom vanities that will add much glamour and style to a bathroom. The following examples of vanities are quite distinct: punctilious and playful, curvaceous and debonair, they will happily embrace your naked form.
Bisazza Bagno
Bisazza Bagno, established in 2011, is a division of the opulent Italian design brand Bisazza (a producer of glass mosaic for exterior and interior decoration). With an exclusive and select bathroom portfolio, Bisazza Bagno currently offers collections from Jaime Hayon, Marcel Wanders and Nendo.
The Hayon Collection marries 1930s elegance with Scandinavian lines and a feminine form.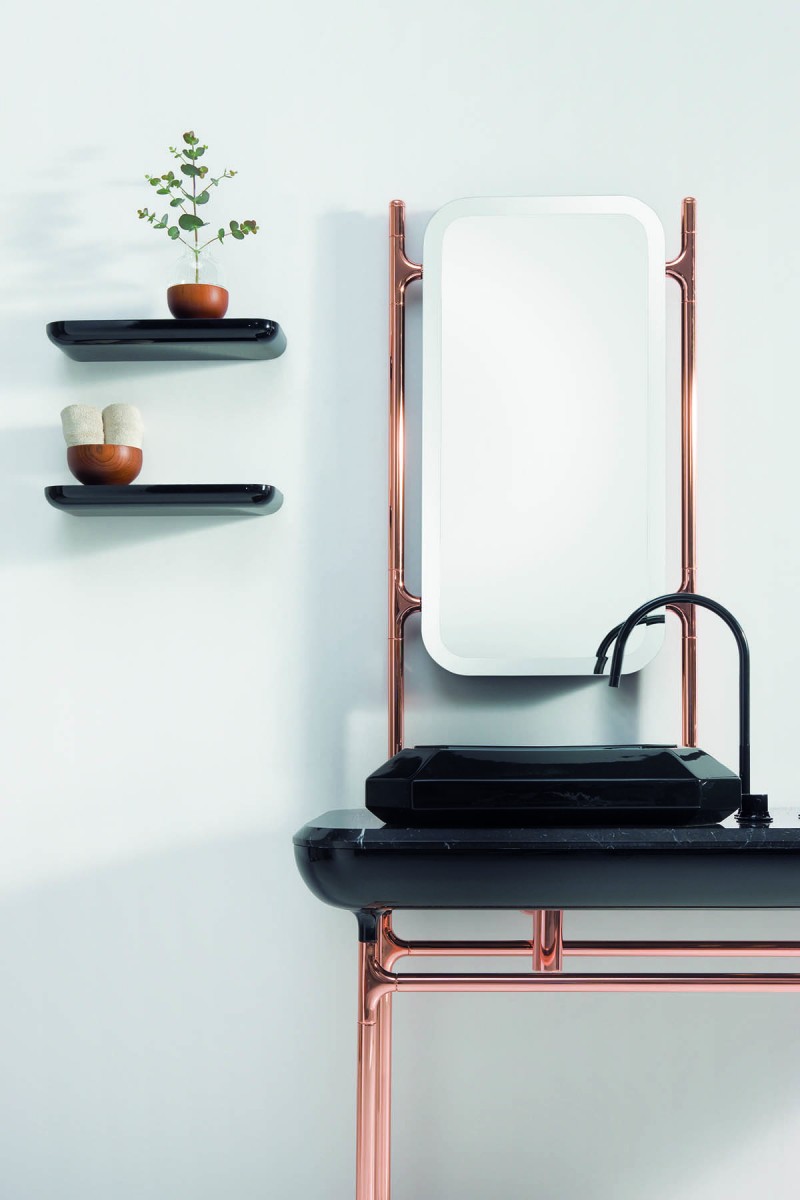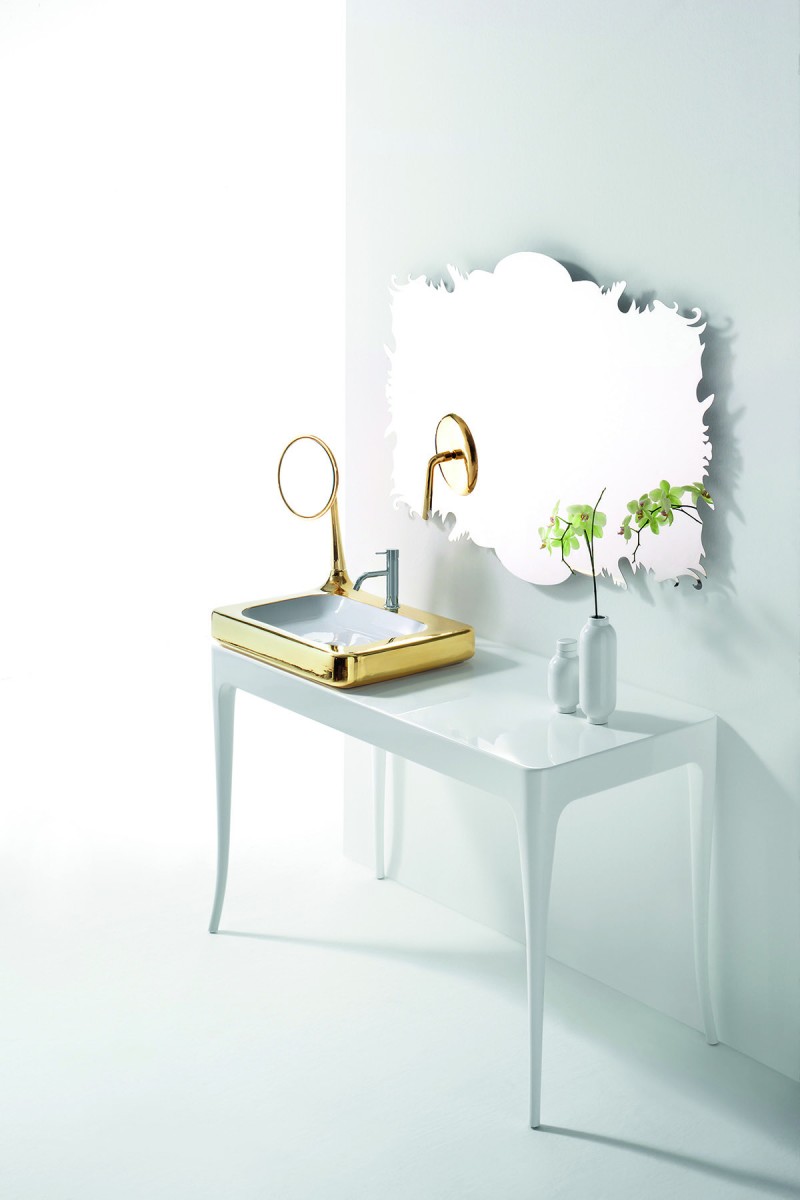 Images of Diamante Series and Organico Series (respectively) © Hayonstudio.
The Wanders Collection includes glazed ceramic washbasins resembling bars of soap.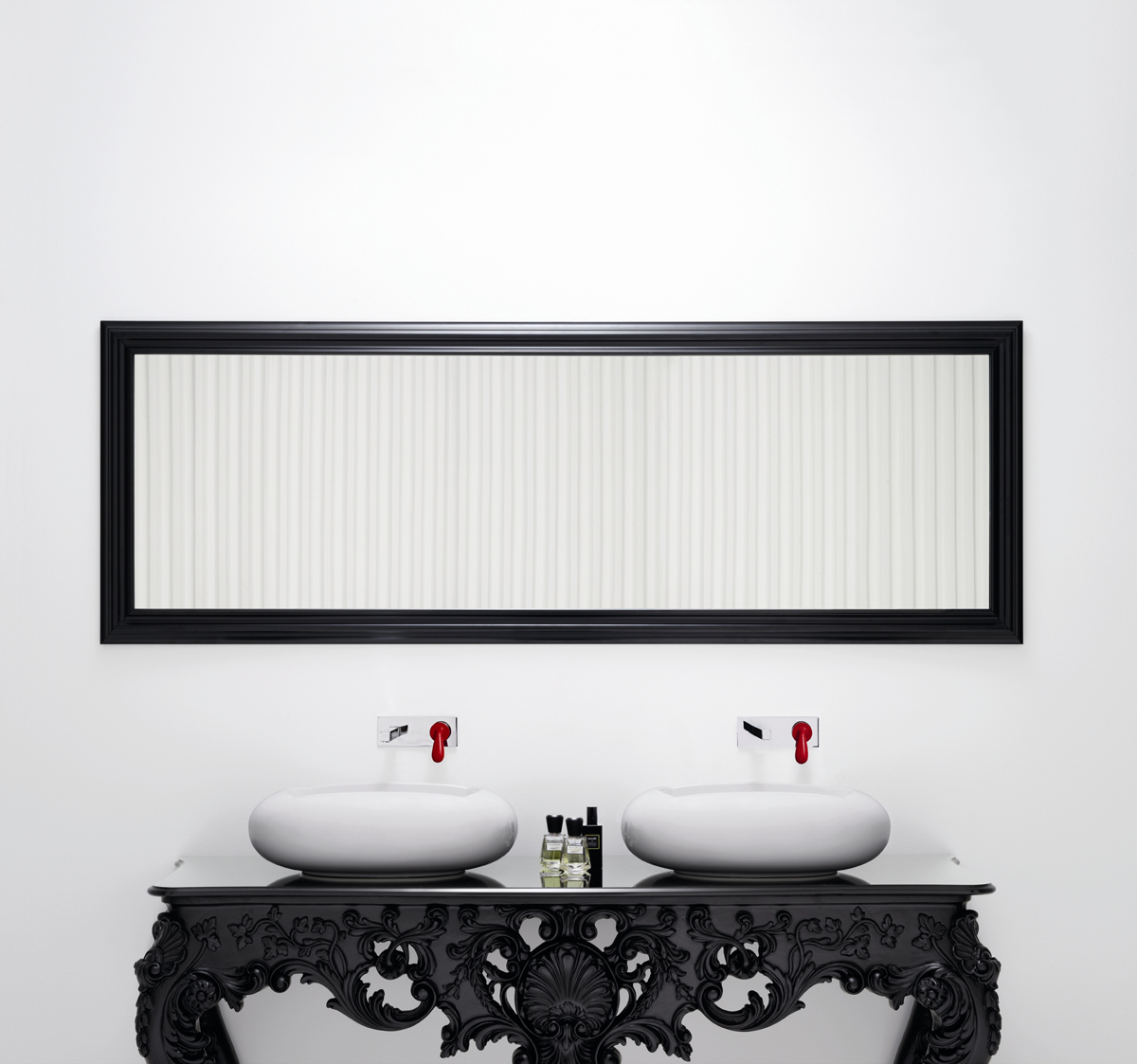 Image © Marcel Wanders.
The Nendo Collection includes this washbasin in Cristalplant® and a larch wood drawer unit.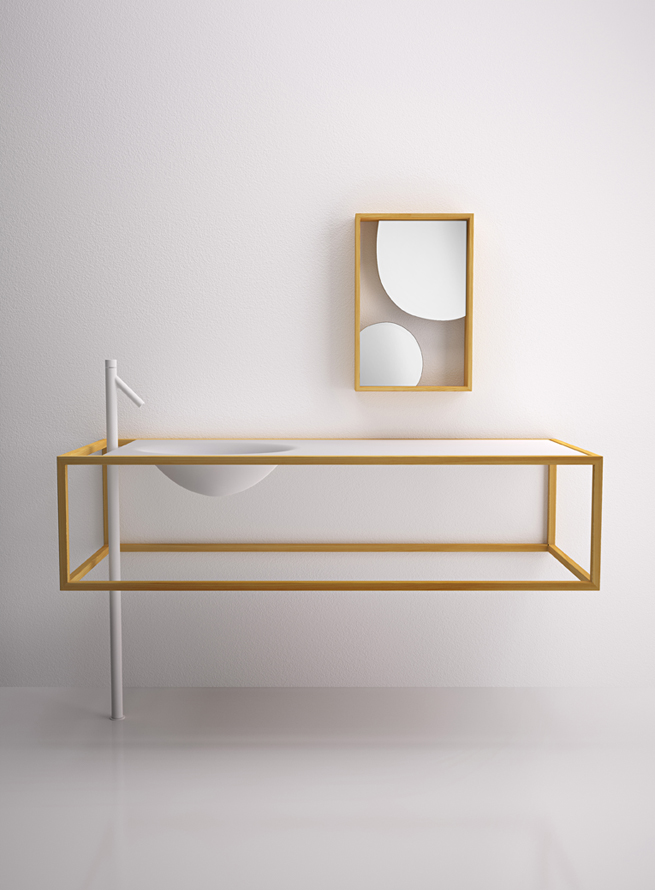 Image by Bisazza via Nendo.
Ex.t
A native of Florence in Tuscany, Ex.t works with designers across the world to create design products for the home. The brand believes that bathroom furnishings are often "dominated by heavy forms and rigorous lines" and so emphasises designs that are "light", innovative and aesthetic. Ex.t's products are made in Tuscany by small Tuscan family ateliers.
In Danish, Felt means "field", "area" or "frame" and this name makes reference to the grid-like structure that is created by using shelving. Felt is designed by Norm.Architects for Ex.t.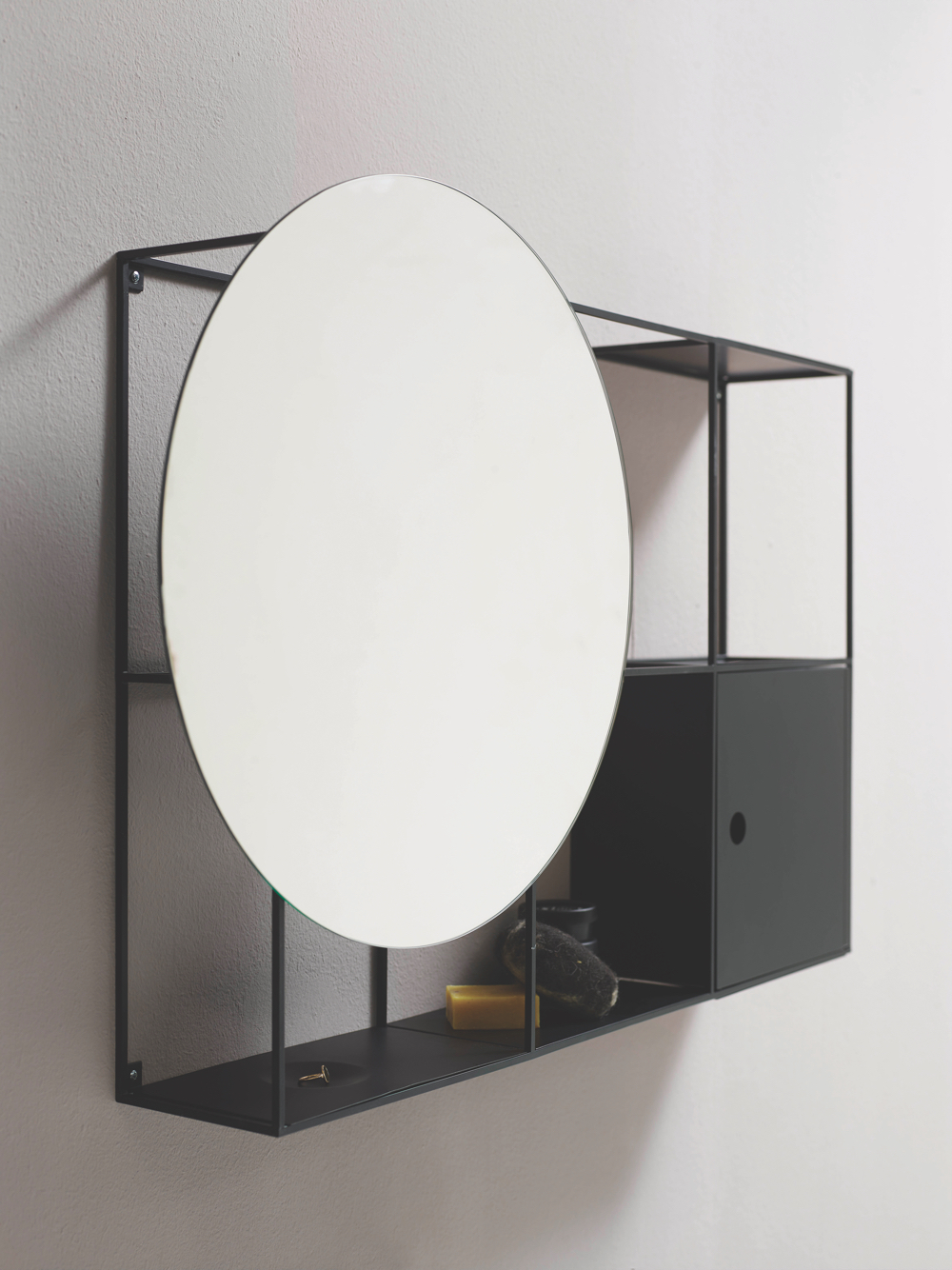 Image © Norm.Architects.
Eileen 75, a washstand designed by Ex.t, is made of white varnished stainless steel and is perfect for the bijou bathroom. Eileen is a minimal, utilitarian and attractive design.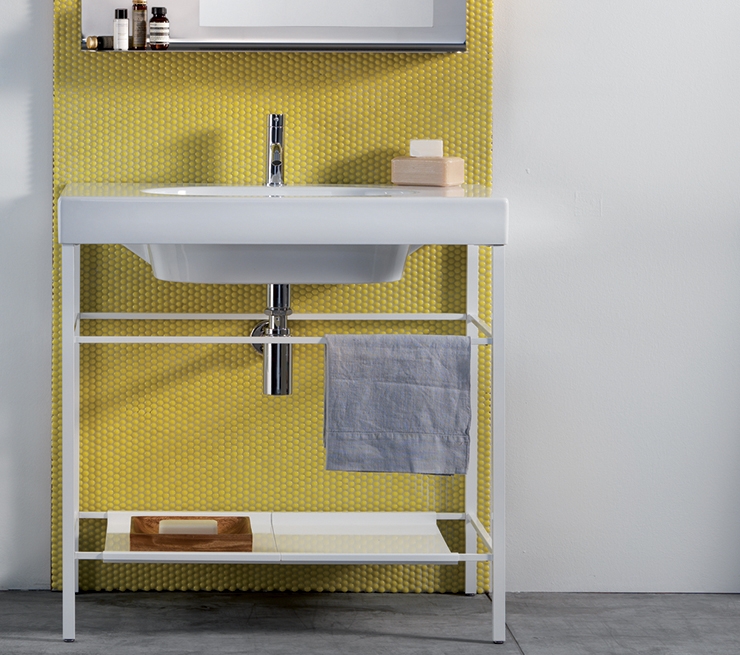 Image © Giulio Tanini spa.
Designed by Sigrid Strömgren for Ex.t, the Collage Vanity Unit is perfect for the lover of bathroom accessories. Compartments of varied dimensions, shapes and colors offer a multitude of storage options.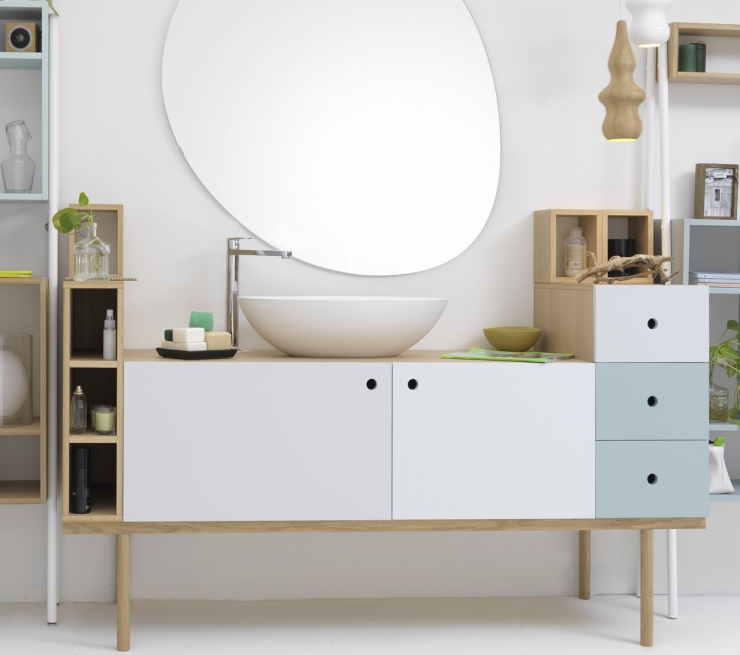 Image © Giulio Tanini spa.
Frame w/ Blend
The open formation of the 'Frame' collection by Dutch company NotOnlyWhite acts to frame the brand's 'Blend' basin and provides storage space for those bathroom necessities.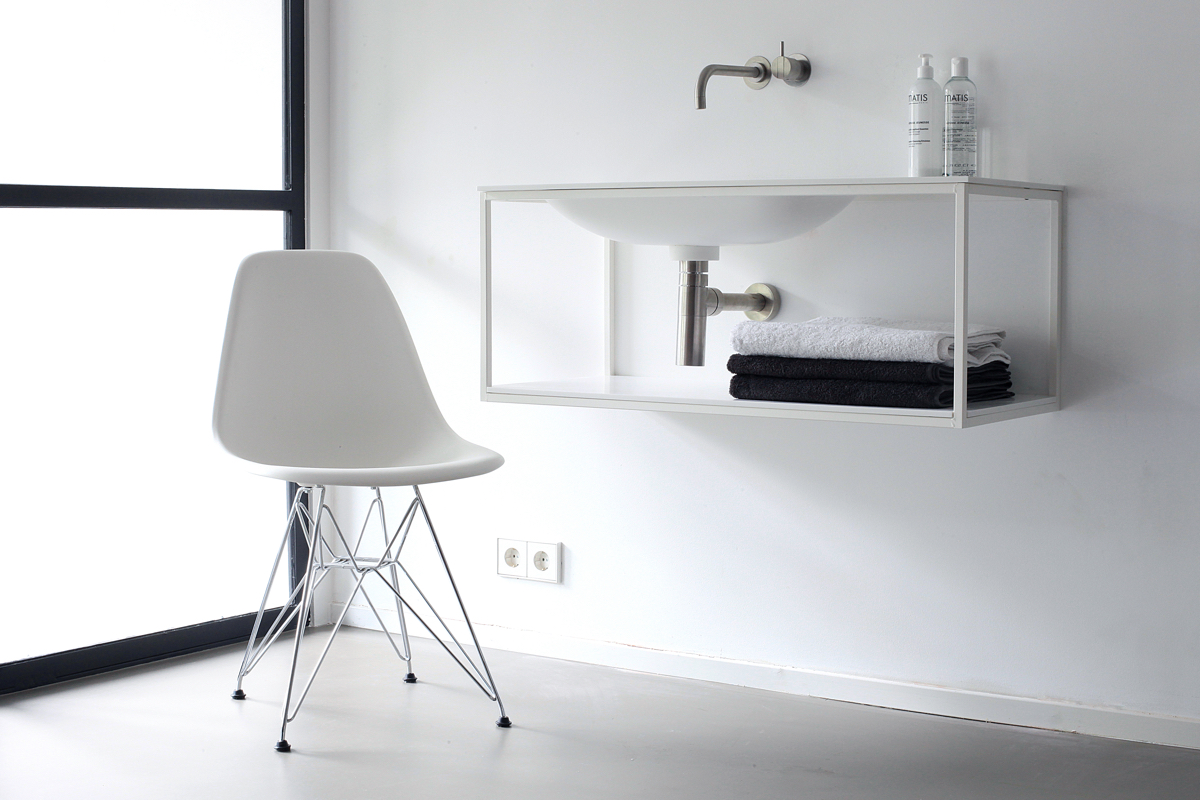 Image © NotOnlyWhite B.V.
In Private
A peek into someone's private domain is often the perfect way in which to find inspiration. The following images give examples of how other people arrange their bathroom vanity spaces.
Inside/outside. A house in Ishikiri, Osaka, by Tato Architects.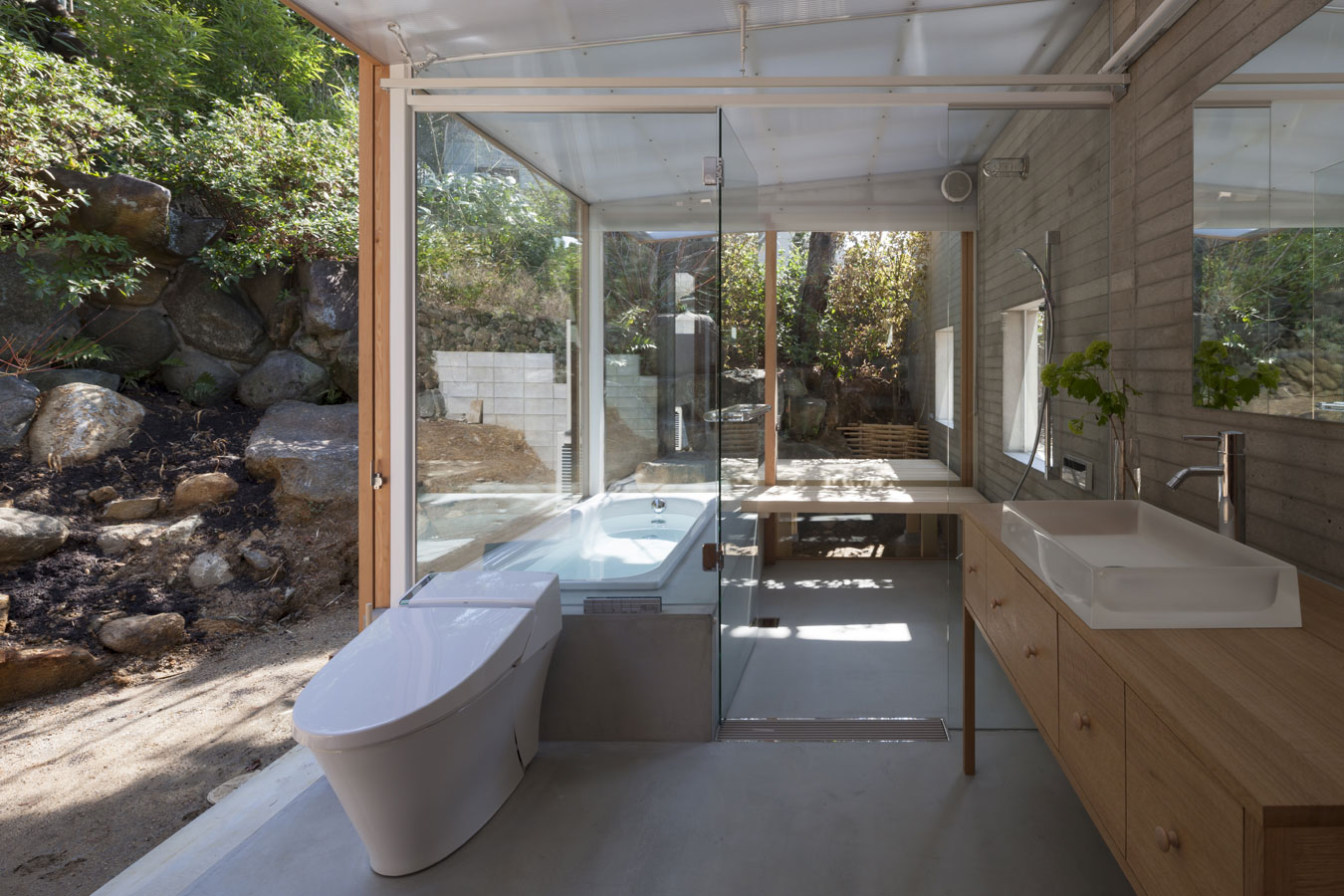 Photo by Shinkenchiku-sha.
Concrete and wood. House in Tousuien, Hiroshima, by Suppose Design Office.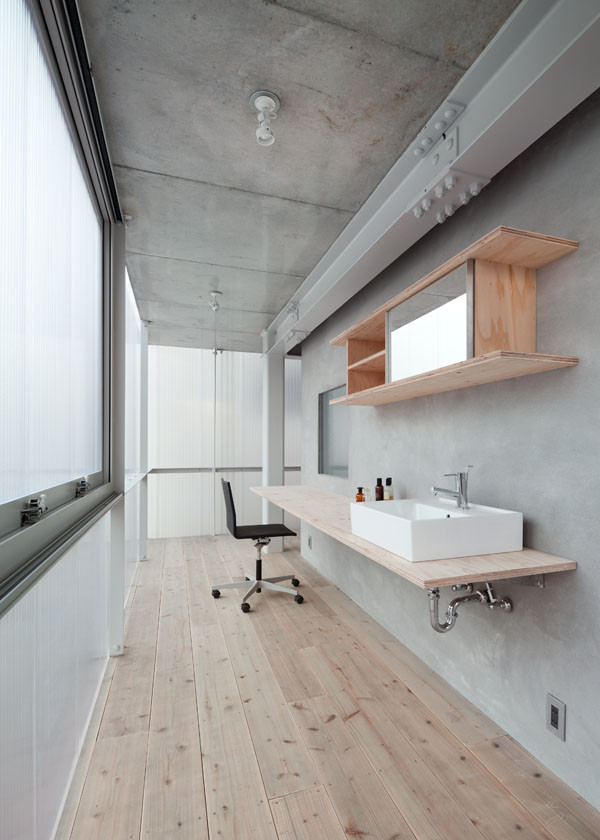 Image © Takumi Ota via ArchDaily.
Grey panelling. A 1930s palazzo-style apartment on the outskirts of Milan.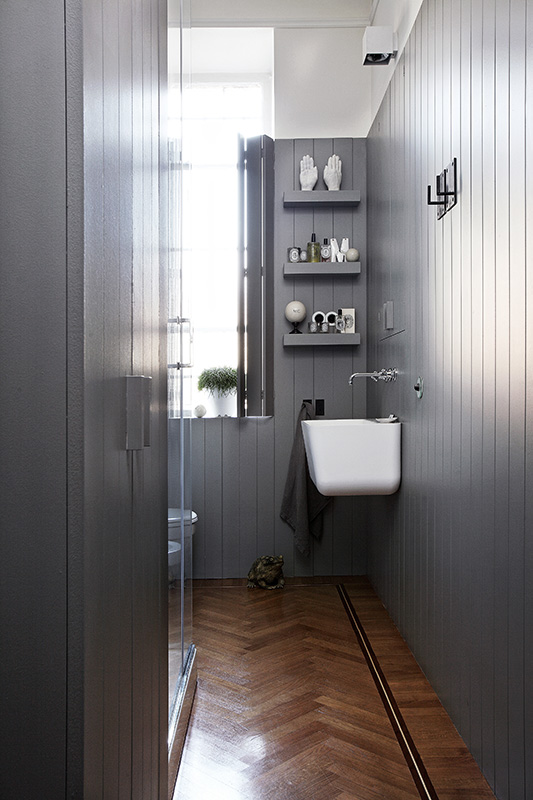 Image © Davide Lovatti Photography.
Ingrid Modular Bathroom Range
The Ingrid modular bathroom range was designed by Jean-François D'Or and Frédérique Ficheroulle for Vika, a Belgian kitchen and bathroom brand. With its clever modularity, Ingrid allows the user to compose a bathroom vanity that is perfectly suited to his or her needs.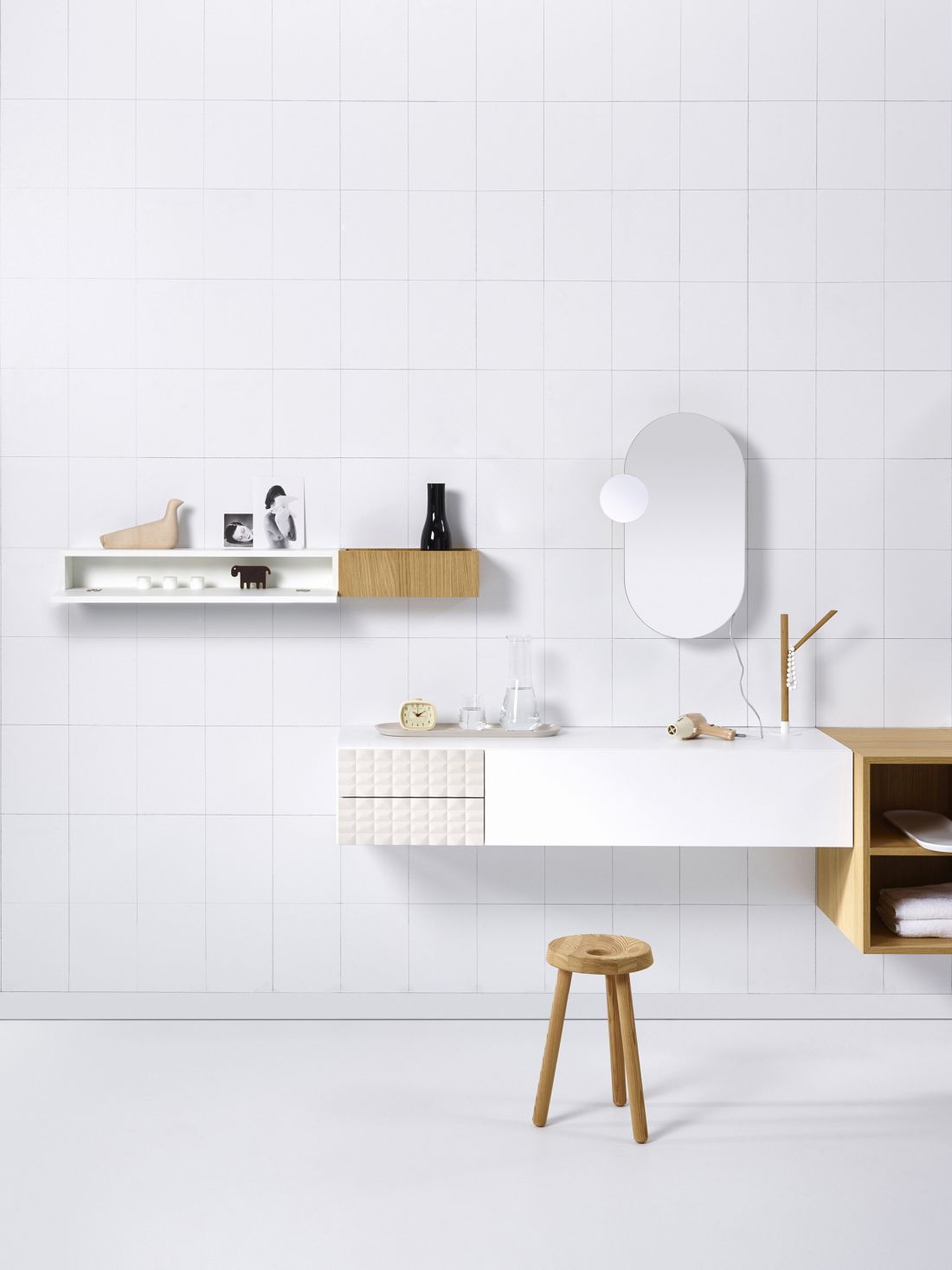 Image via Frédérique Ficheroulle.
Inside-Out Bathroom Cabinet
The double door Inside-Out bathroom cabinet for Authentics, with its quirky hand-drawn design, is a playful take on the more traditional cabinet.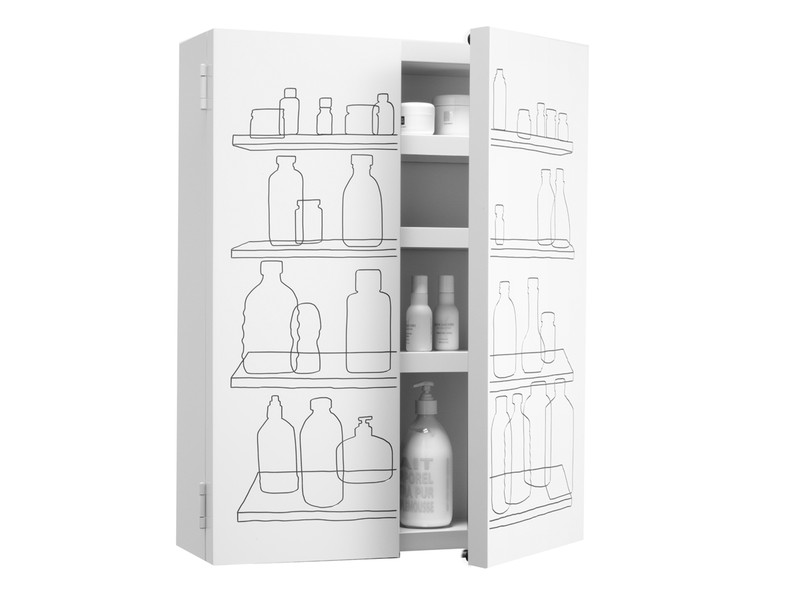 Image © AUTHENTICS 2015.
Kali
Designed by Doshi Levien, Kali is a wall-mounted cabinet with cantilevered glass shelving and a clever integral product range. As a vanity, it is both fun and rather ingenious.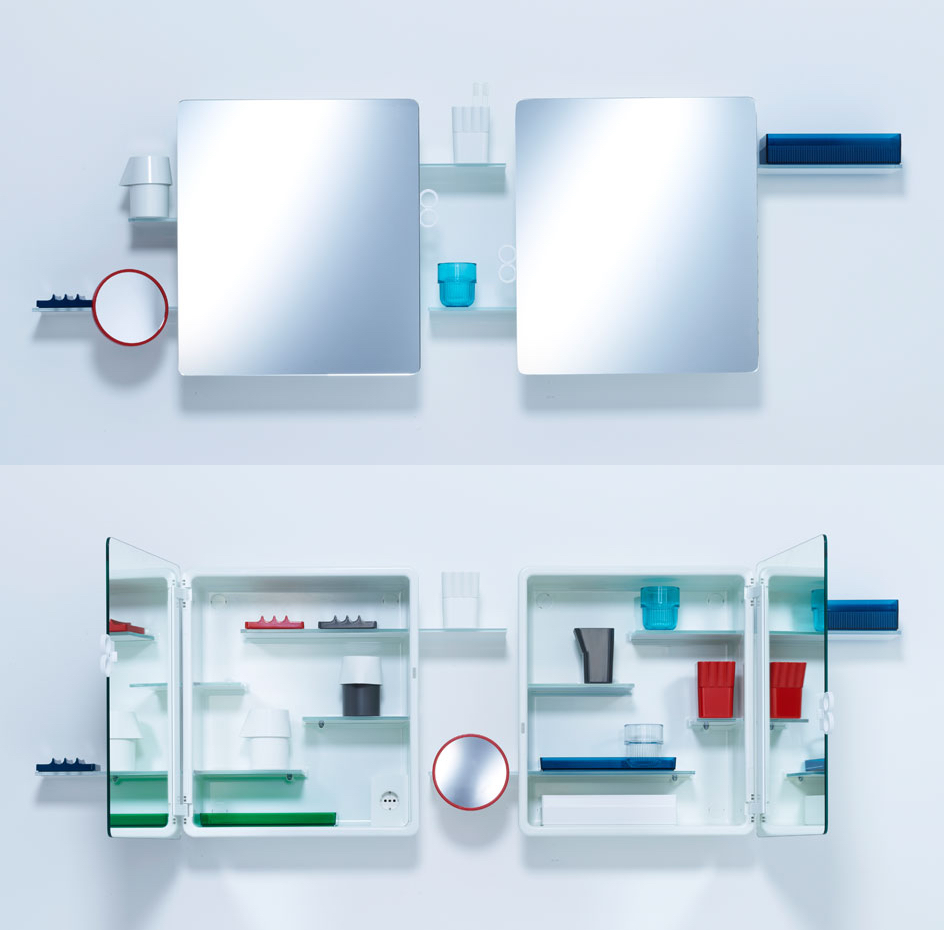 Images © DOSHI LEVIEN.
Kartell by Laufen
Italian creativity meets Swiss dependability. Kartell by Laufen is a complete bathroom collection whose components are perfectly streamlined. This vanity is just one example of the elegant and efficient design found across the range.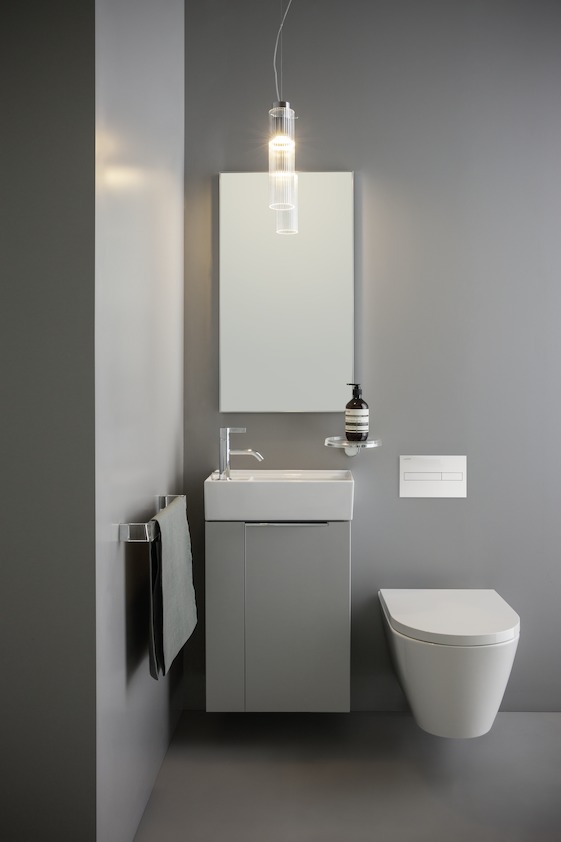 Image © 2012-2015 LAUFEN Bathrooms AG.
M 40 HEWI
With the modular M 40 HEWI system, bathrooms adopt a very real sense of livability. Designing the space is a pleasurable pursuit and options are boundless, from the personal vanity to a more family-style affair.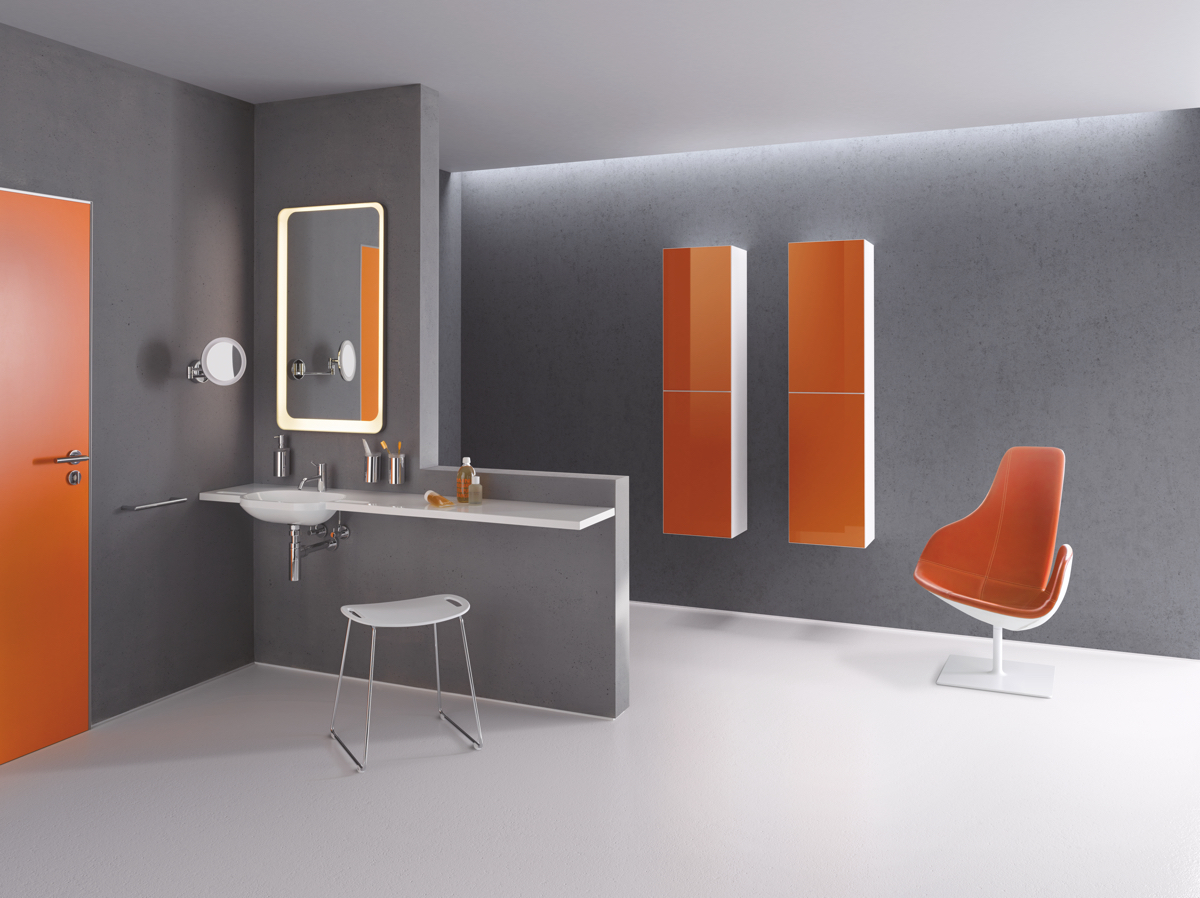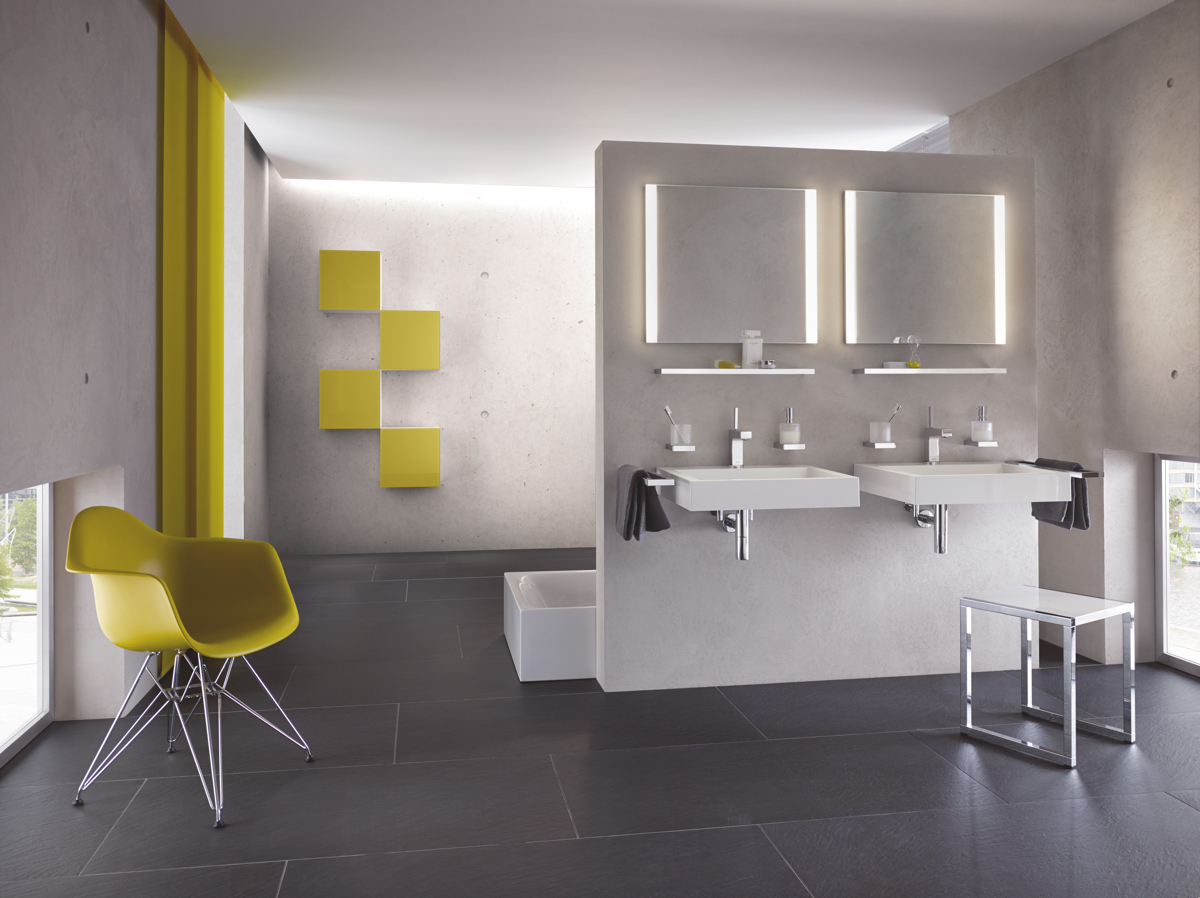 Images © HEWI.
Swoon Soft and Square Vanities
Swedish company Swoon hopes to transform the bathroom into every home's favored room. Customers use a digital showroom to customise their bathroom vanity unit. Choosing from a series of designs, one can modify a vanity's color, tap, handle and whether it is wall-mounted or free-standing.
Swoon Soft Vanity is described as having an "emotional touch".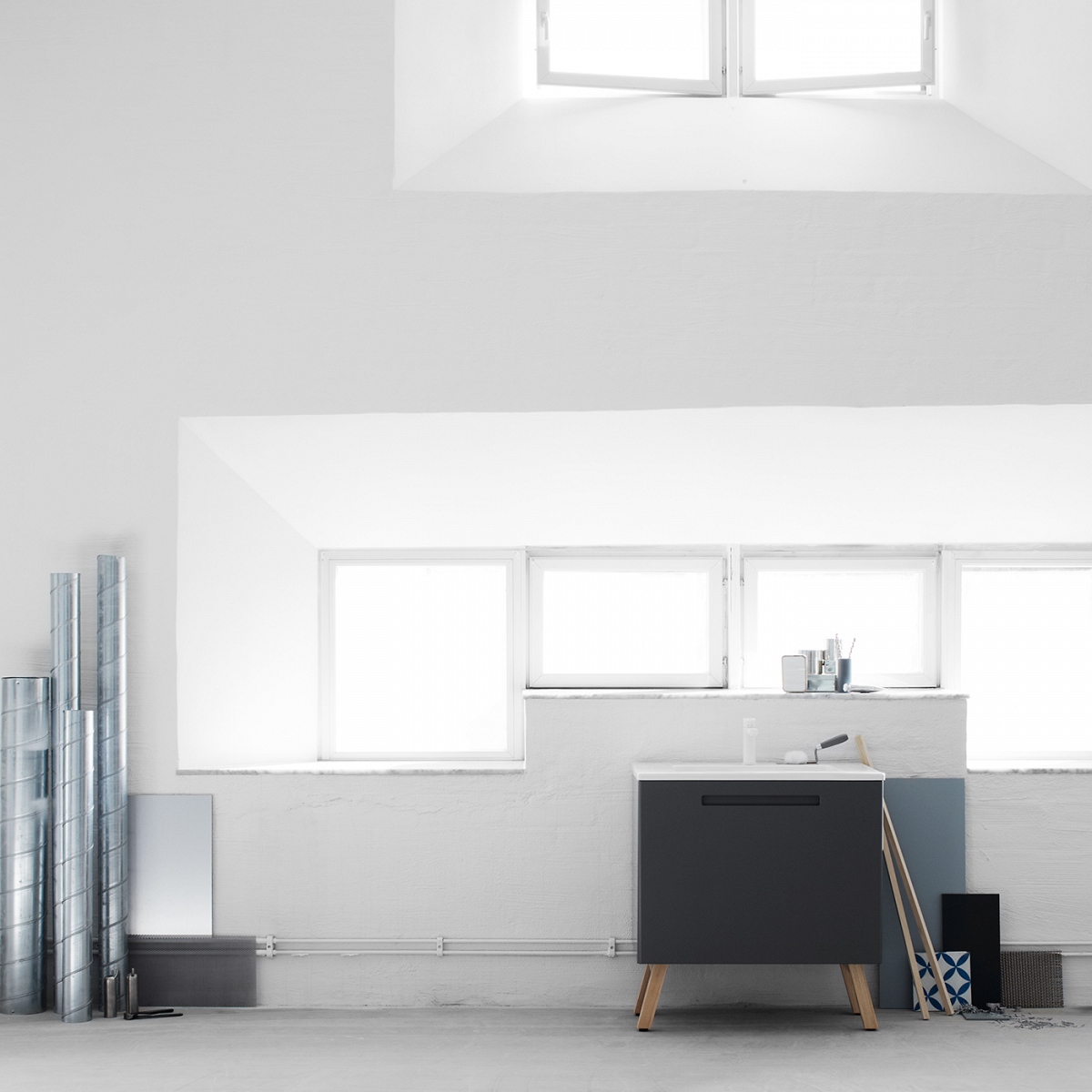 Swoon Square Vanity is described as "neo rustic".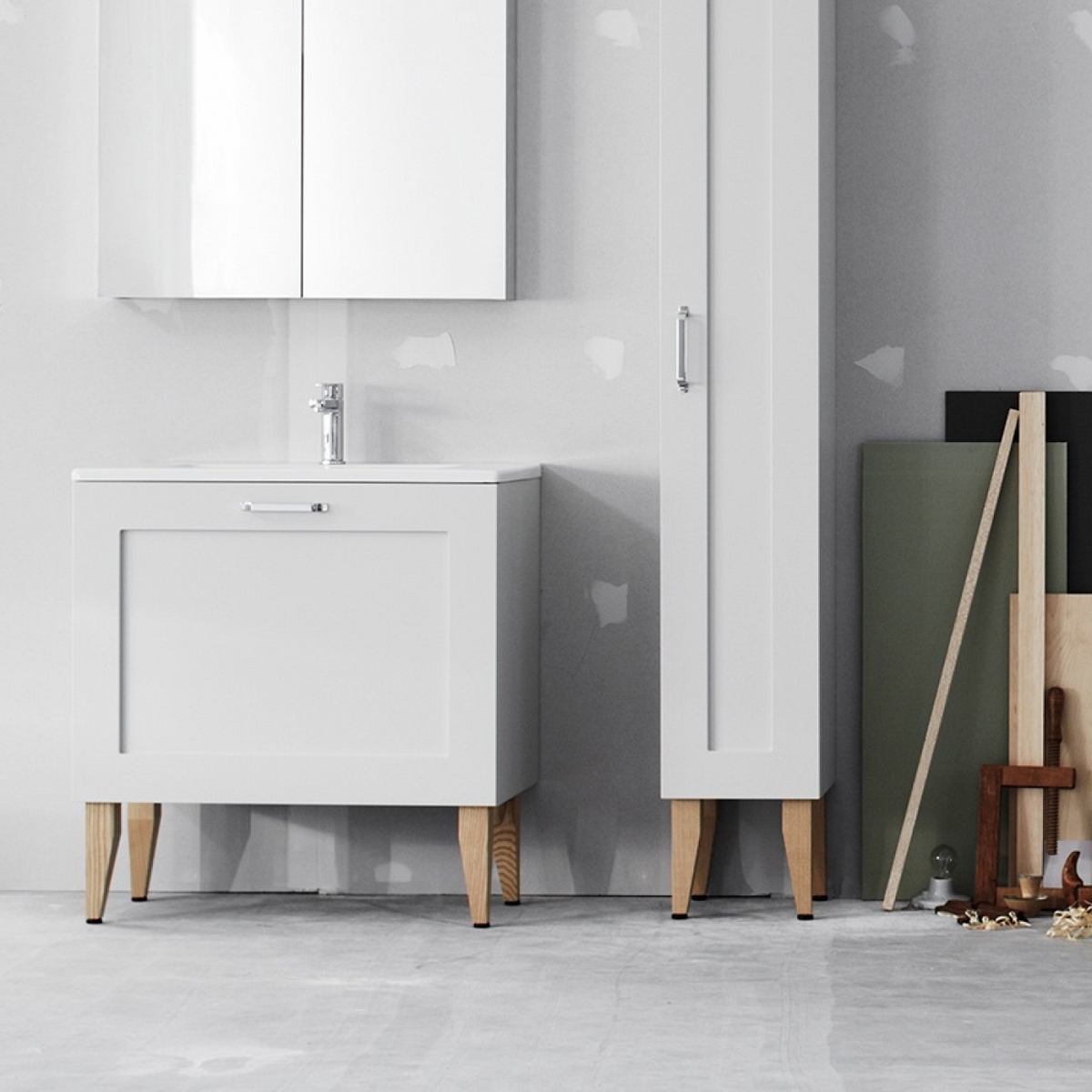 Images © Swoon AB.
Vipp Bath Module
Made of powder-coated stainless steel, this well-proportioned bathroom unit comes from Danish company Vipp. With a Corian® top and an integrated sink, the unit is an example of Scandinavian modernity and honest design.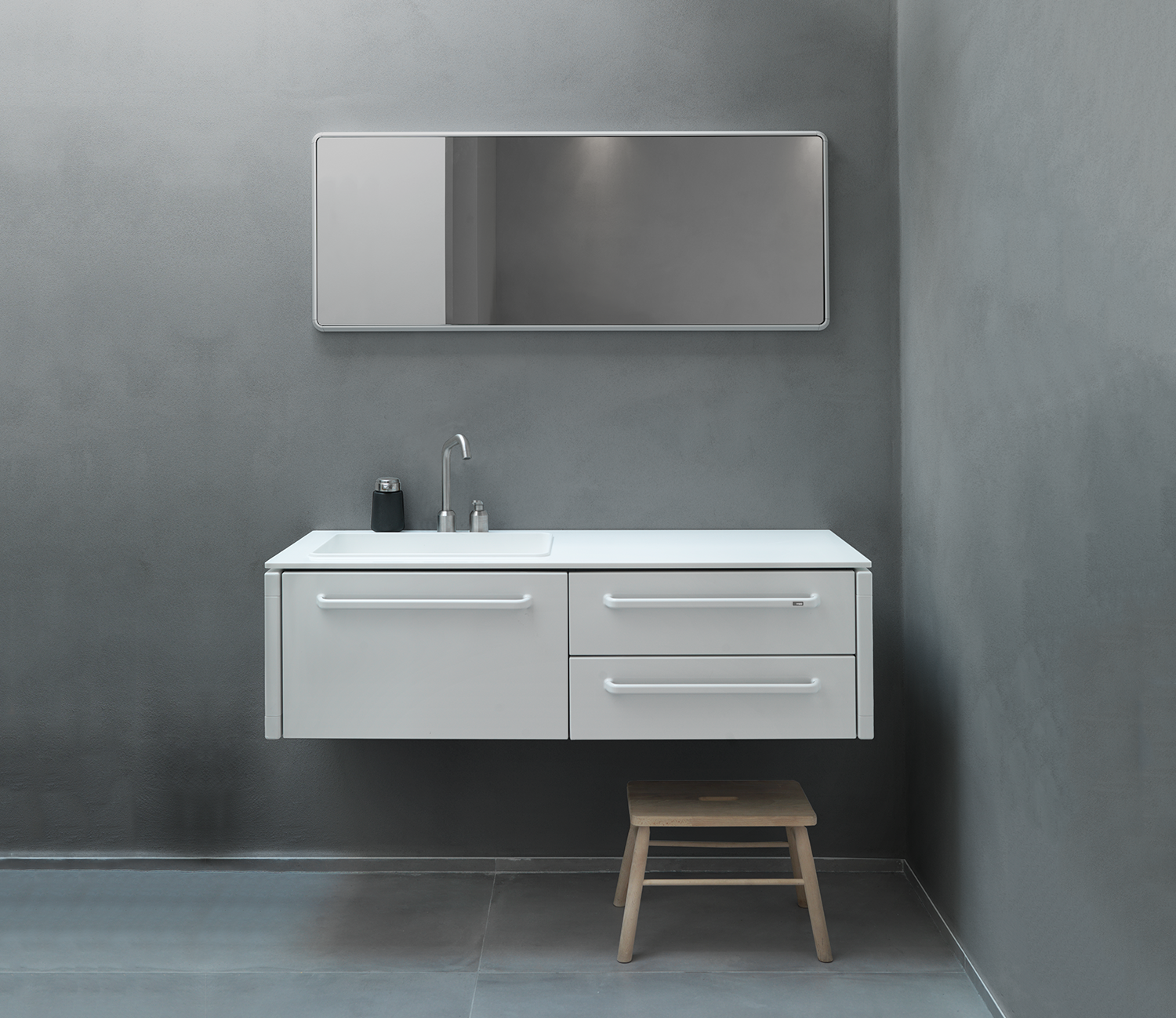 Image © 2015 Vipp.