Looking for design ideas for your summer house? Today's post is for you. Don't have a summer house but wish you did? Today's post is also for you! In fact, you can transform your home into a breezy, relaxing summer retreat with the addition of a few basic pieces. The look we're featuring is all about clean, crisp style. Flowing white curtains, clean-lined serving pieces and outdoor chairs that create the ultimate lounge are not out of the question here. Ready for a closer look?…
Gauzy Curtains
Nothing says summer like gauzy curtains blowing in the breeze. Switching out heavy draperies ethereal alternatives is a step in the right direction. These French-Belgian White Linen Panels from CB2 provide privacy while allowing the light to filter through: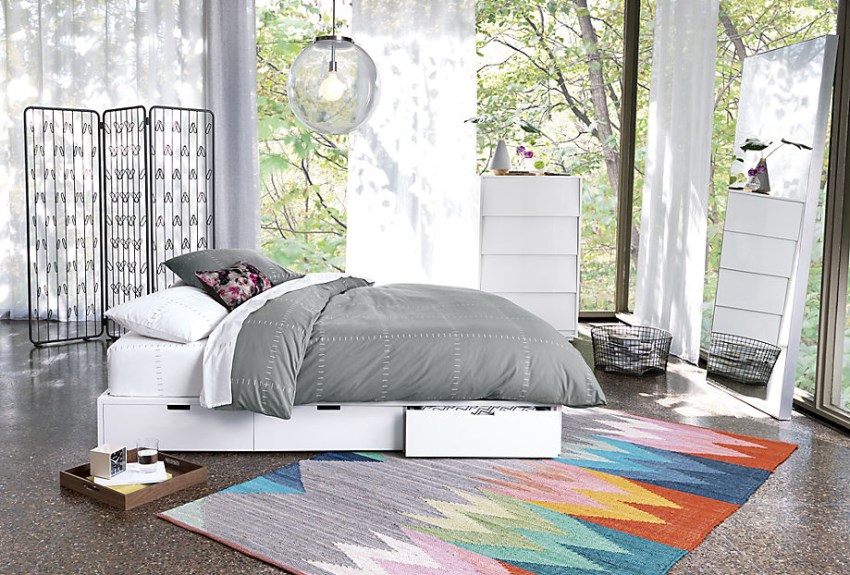 When it comes to translucent curtains, there are many options to choose from. In other words, there's a sheer curtain out there that will meet the needs of your space! And there's nothing like the light and airy look that results when white draperies meet white walls. [from Habachy Designs]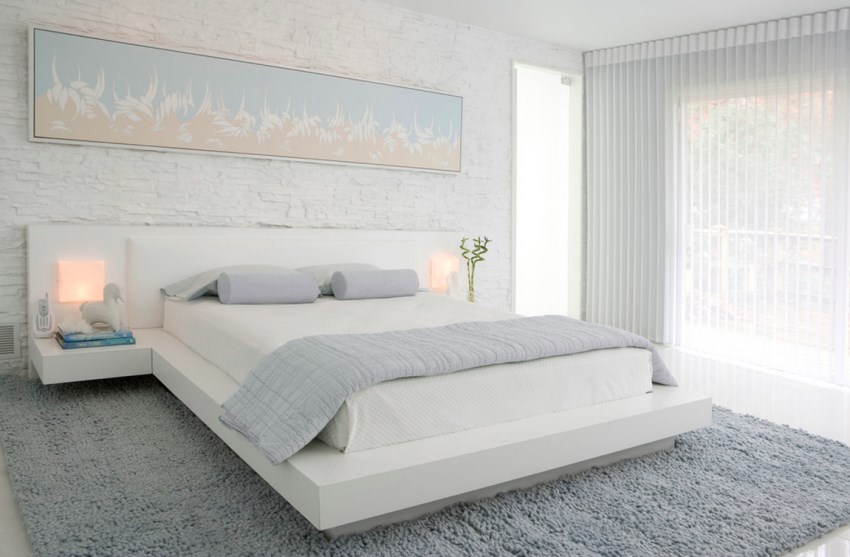 Fresh Greenery
A super easy way to channel summer style is to display fresh greenery in various rooms of your home. White vases are the perfect choice for highlighting blooms, as well as clippings from the yard. Make it interesting by opting for a sculptural piece. Below we see a few selections from Crate & Barrel, including the Rati Vase: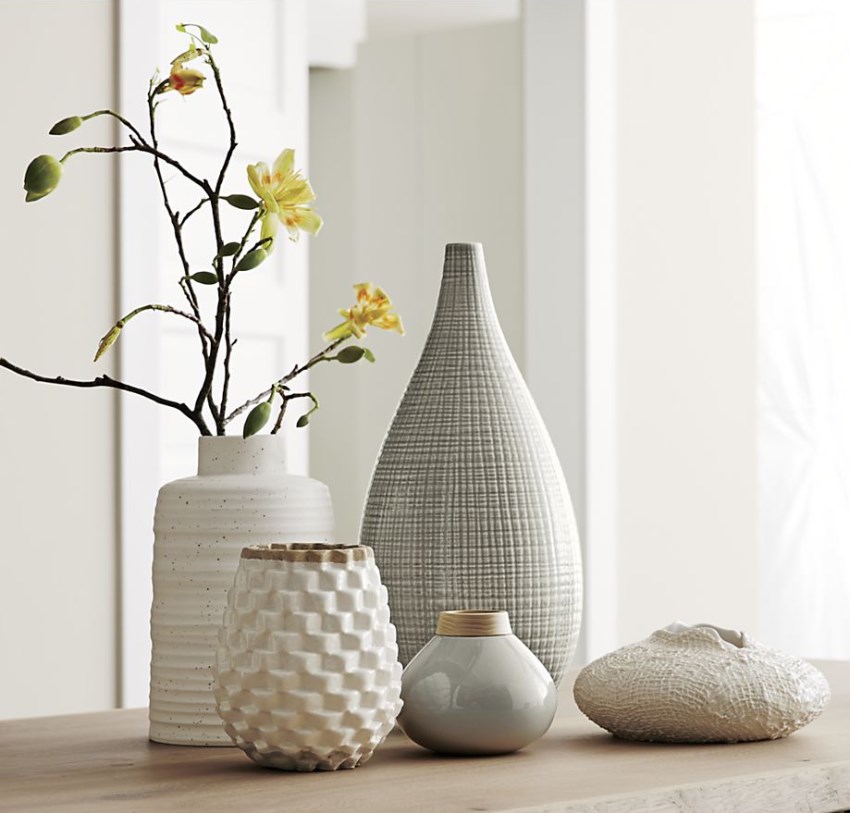 You can also go classic and chic with a large tropical leaf in a glass vase. Monstera is the perfect summery choice, and these full green leaves have the potential to last for weeks if healthy. [from Incorporated, photo by Joshua McHugh]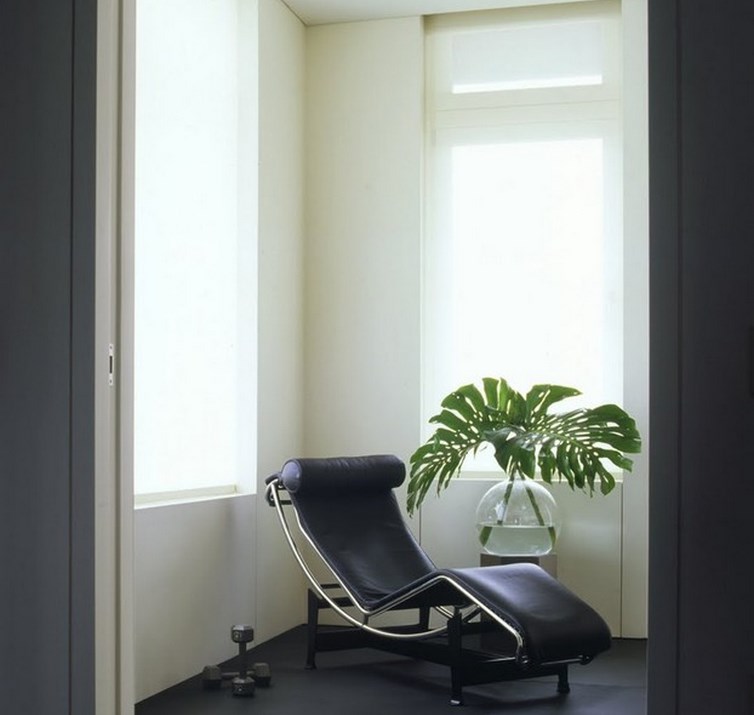 A Bowl of Fruit
Display the fruits of summer in a bowl on your countertop or dining room table. With a variety of seasonal produce at the ready, what you eat can become part of your decor. [image from Sarah Davison Interior Design]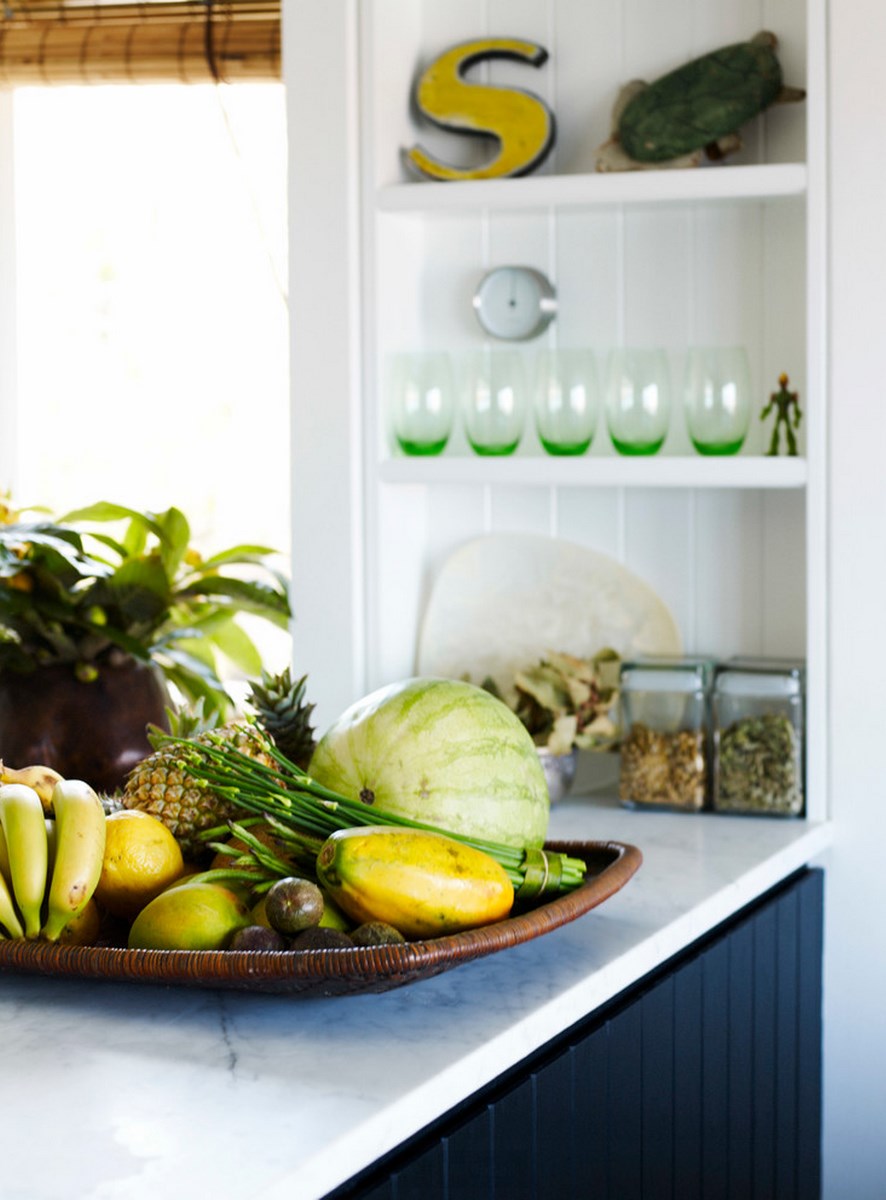 Wooden tones make a lovely statement, while refreshing materials such as marble make the perfect display vessel for selections like avocado and citrus fruits. Keep in mind that cut citrus fruit can stain marble, so make sure your citrus is intact when on display. Below we see the French Kitchen Marble Fruit Bowl from Crate & Barrel: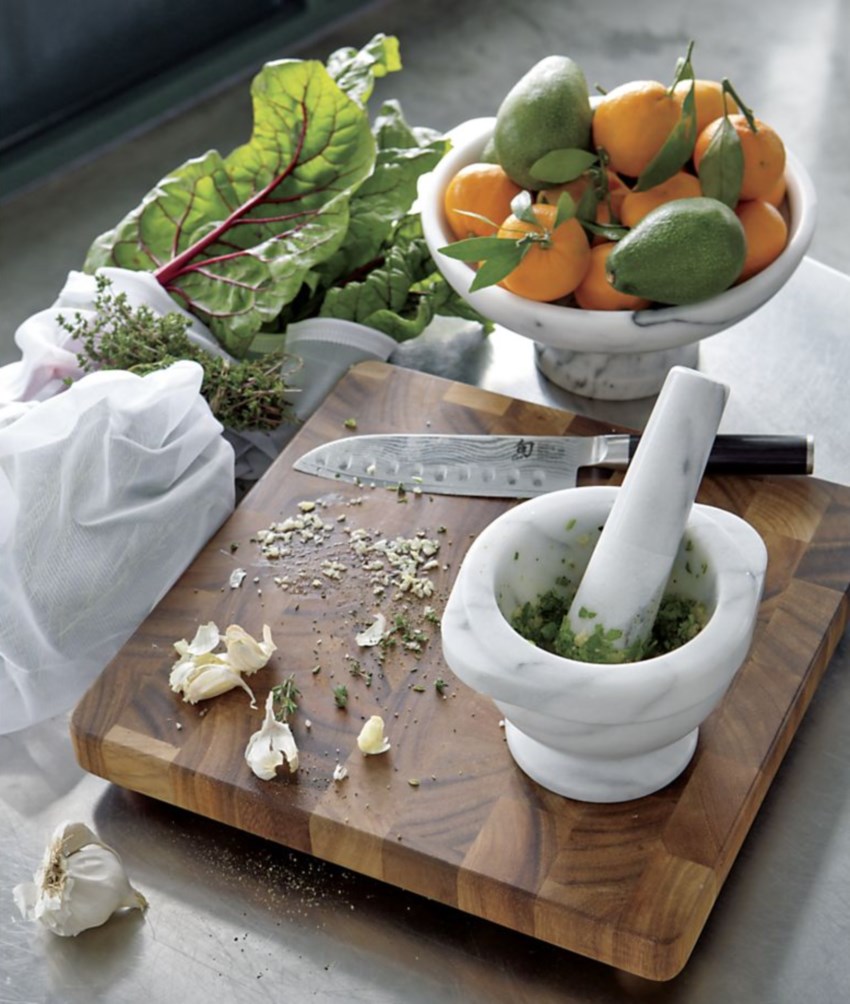 A Glass Carafe
Bring clean, modern style home this summer with a glass carafe that can hold wine, tea and other special drinks. Some people even keep a carafe of water in the guest room for visitors. We love the design of the Bellamy Carafe from Crate & Barrel, a piece that's perfect for serving drinks both indoors and out.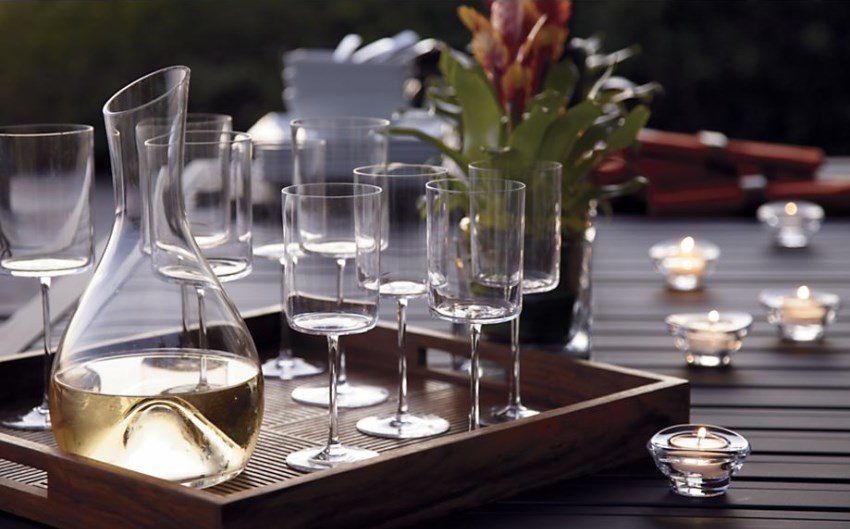 The Beaker Glass Pitcher from CB2 is another sleek piece that can hold a range of beverages on a hot summer day. Plus, chem lab beaker glass ensures this pitcher is as sturdy as it is stylish: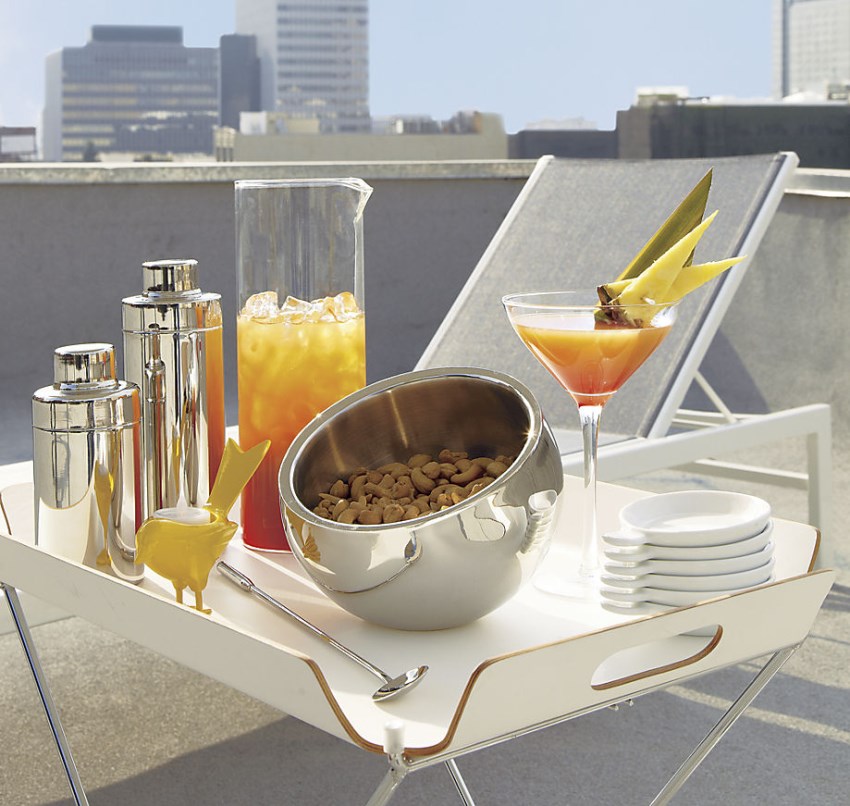 Beach Towels
There's nothing that evokes the feel of a refreshing dip in the pool quite like a beach towel! Classic motifs such as stripes are undeniably summery. Place them over lounge chairs by the pool for a heavy dose of seasonal style. The vignette below features Reversible Awning Stripe Beach Towels in Navy from Pottery Barn: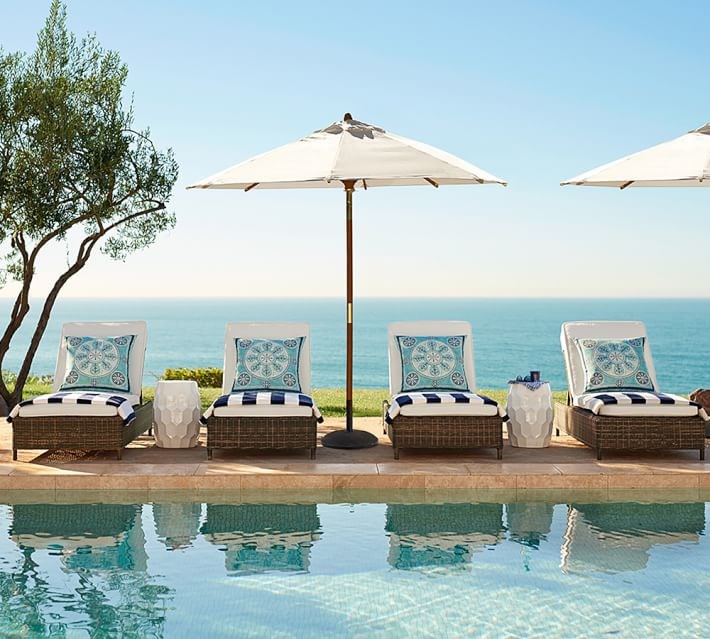 You might also consider displaying rolled beach towels in the powder room for a vacation vibe, or hanging them on hooks for impromptu summer "wall art". When the hooks are pineapples, you can't go wrong! [from Verandah House Interiors]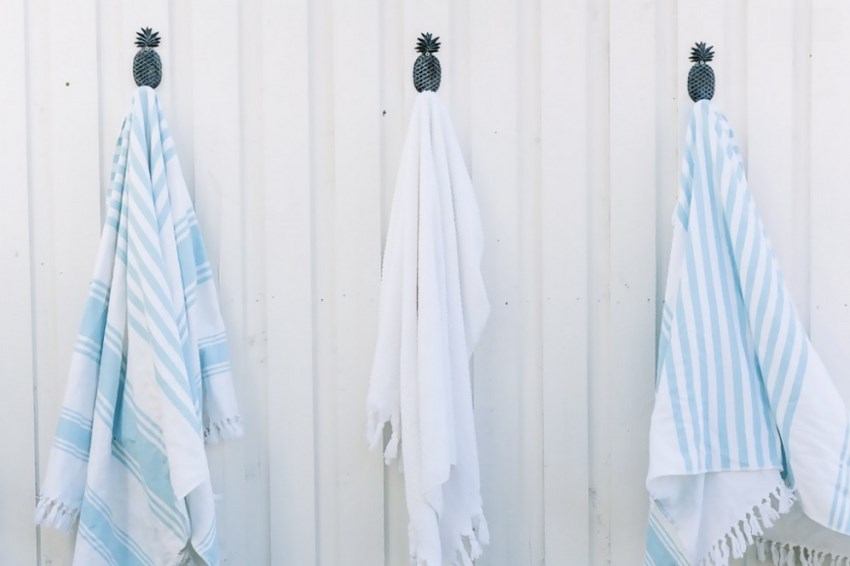 Breezy White Chairs
White repels heat. White is elegant. White is cooling and refreshing. Why not go white for your outdoor chairs this summer? Folding chairs that combine white fabric with wooden tones are lovely and timeless. [photo from Molly Wood Garden Design]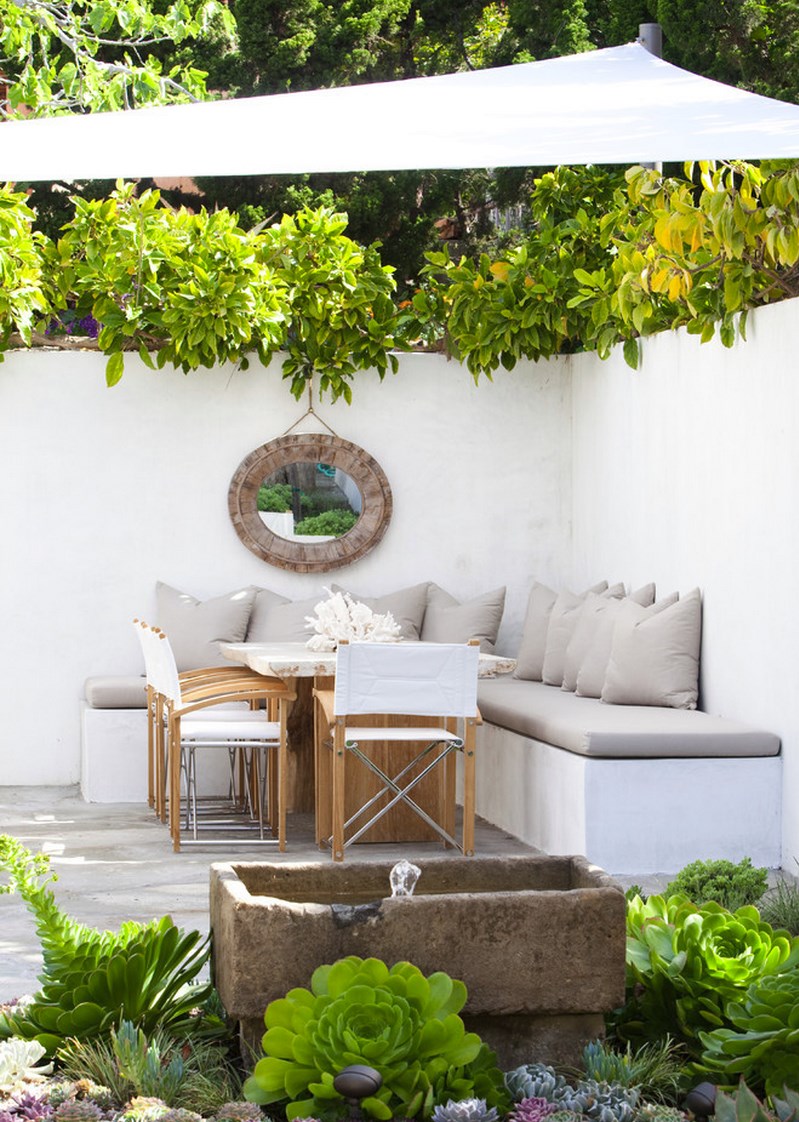 If white fabric outdoors makes you nervous, try steel with a white powder-coated finish! The Soleil Lounge Chair from Room & Board brings a dash of durability to your deck or patio. Not to mention, modern flair!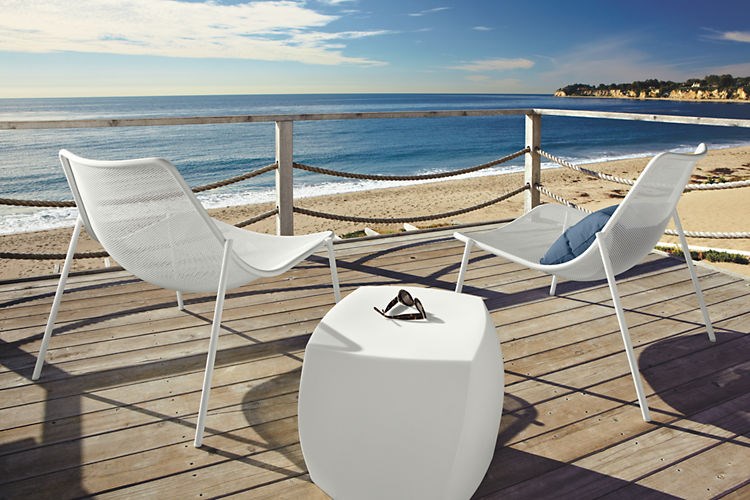 Interesting Planters
Here's one more summer design idea before we end today's post: tell a story with interesting planters. And don't stop at the planters! Fill them with unique plants, such as succulents. Below we see a collection of planters from CB2, including the Embossed Grey Large Planter. A grouping of planters creates a rich, layered vignette, don't you think?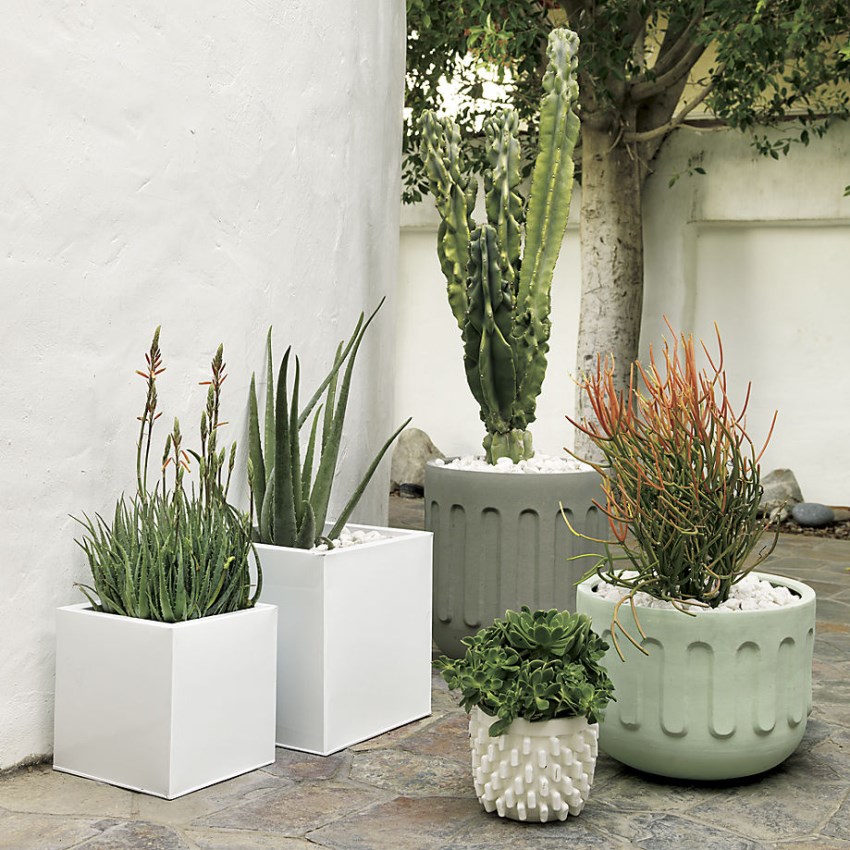 Vary the height of the planters, as well as the height of the plants as you compile your arrangement of pots and greenery. The Iris Planter + Chevron Stand from West Elm combines a sculptural powder-coated steel base with a white pot for a true conversation piece:
Will you be adding summer style to your home in the coming weeks? Remember, you don't have to own a vacation home to celebrate the relaxing vibe of the season. Happy decorating!