Today's post is dedicated to the trend of color blocking! This technique of juxtaposing solid colors in two or more hues is an effective way to make a bold modern statement. Not only has it infiltrated the world of fashion, it's continuing to put its stamp on the realm of interior design through art, DIY projects and cutting-edge decor finds. Color blocking is close to my heart, as I enjoy incorporating it into my photo shoots and design projects. Not only is it eye-catching, it's a budget-friendly way to make a big splash. Today we learn more about this vibrant technique, including ways to introduce color blocking into your home. Read on for all the details…
Color Blocking in Still Life Styling
We begin with the current still life revival, which encompasses everything from product photography to art projects. While the objects in these images vary from photo to photo, many of today's most popular still life selections showcase color-blocked backgrounds, as shown below in an image from Dutch artist Wyne Veen: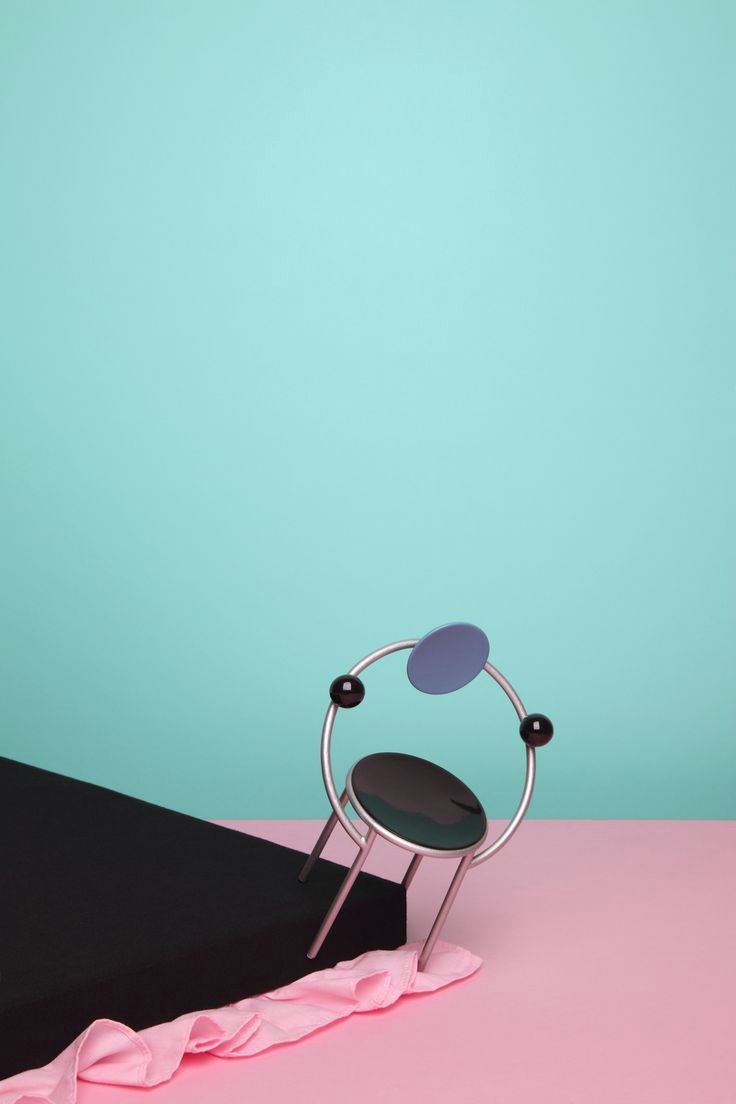 Sometimes the color blocking involves a backdrop, and other times it involves the surface on which the item is photographed. An earth-toned rock pops against a blue and pink surface in the still life image below from photographer Wessel Baarda: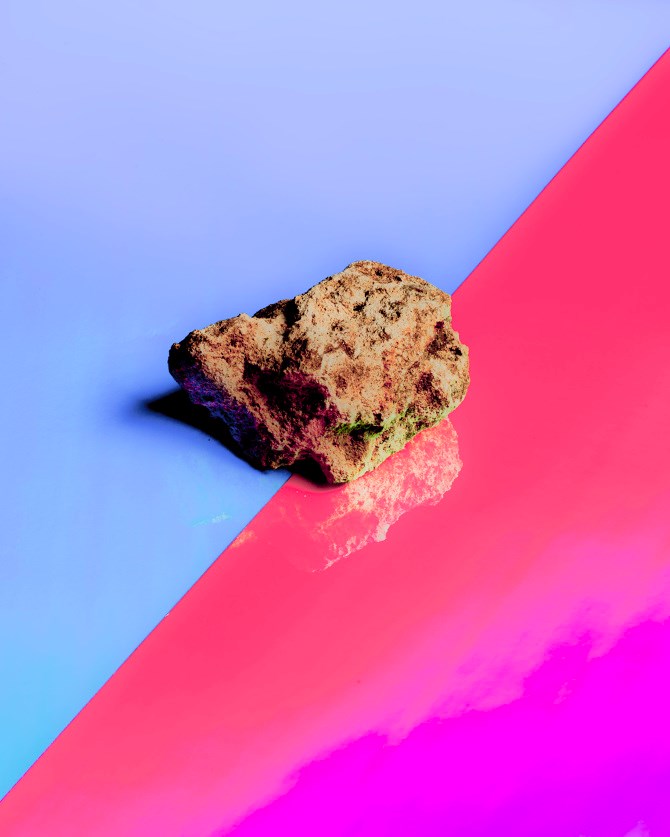 Often the color blocking features two vibrant hues combined on the diagonal. I have to admit that I've been hugely influenced by this look in my own photo shoots. Below is a pic from my Decoist DIY Tropical Air Plant Terrarium tutorial: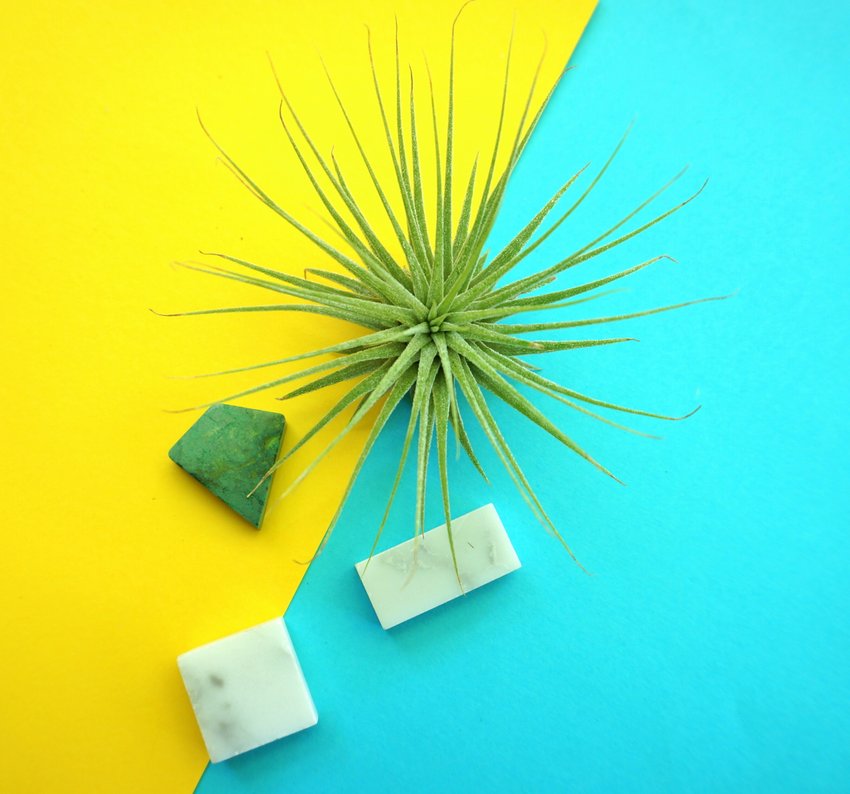 Here's another photo from a Decoist post on Mirror Display Ideas. I created the background by combining four sheets of paper in a color-blocked design, then I layered a mirror on top of the paper, making sure it reflected the sky.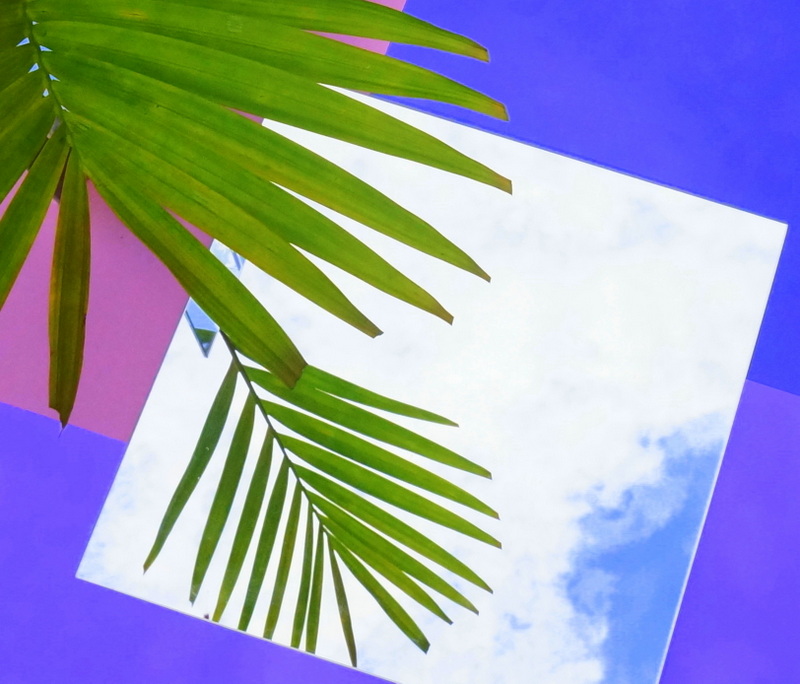 I'm definitely not alone in my love of color blocking! Many a DIY blogger, artist and photographer are adding color and personality to tutorials and photo shoots with the help of supplies such as paint, poster board or art paper used as a backdrop. It's an easy technique that really brings a photo to life. Ready to see how you can apply this look to your interior?…
Deck the Walls
One radiant way to bring color blocking home is by painting the walls in a two-tone design. This bedroom from Jessica Helgerson Interior Design features bright red and eggplant tones that meet on the diagonal. The result is nothing short of stunning. [photo by Lincoln Barbour]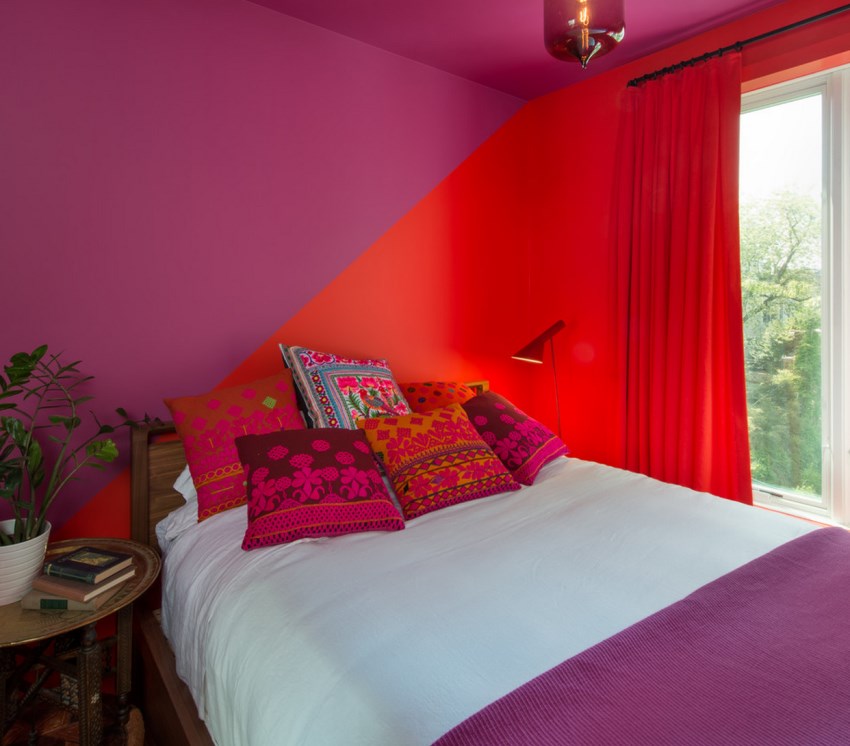 Vibrant rectangles, a mirror and a potted plant create a stylish interior with color blocked tones in tropical hues. Experimenting with forms in bright shades is one way to celebrate color blocking. Don't hesitate to bring color to the floor and the walls, as shown below. [from Daniel Guest]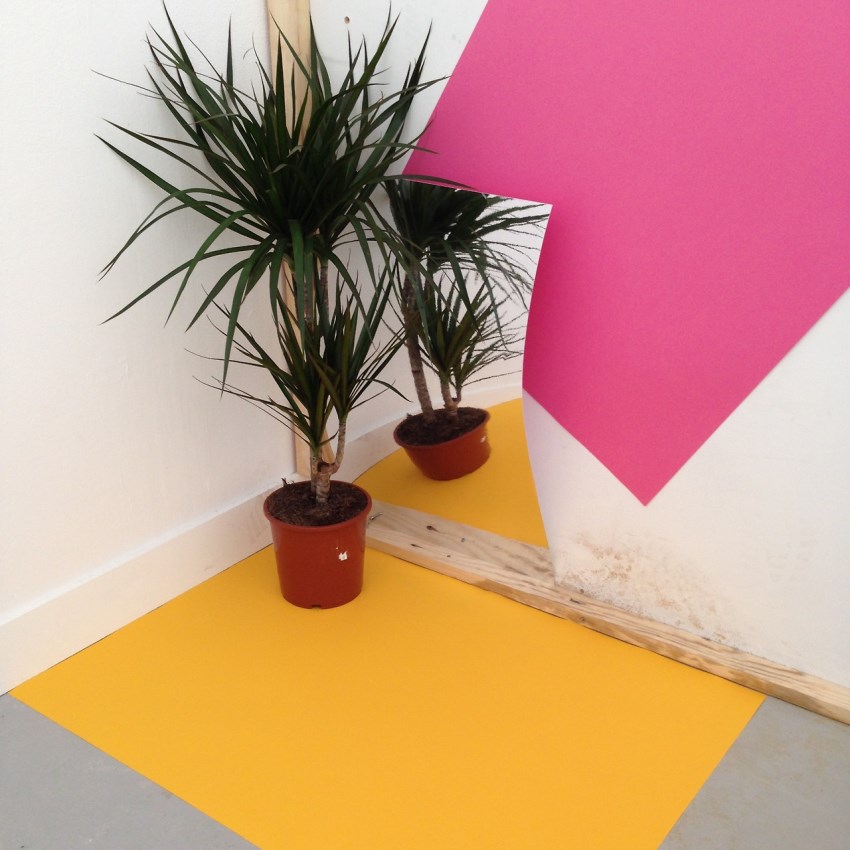 There's no rule that says color blocking has to occur at an angle. Straight lines can make a colorful statement as well, much like the soothing space below featuring Farrow & Ball paint. [via Beach Bungalow Eight]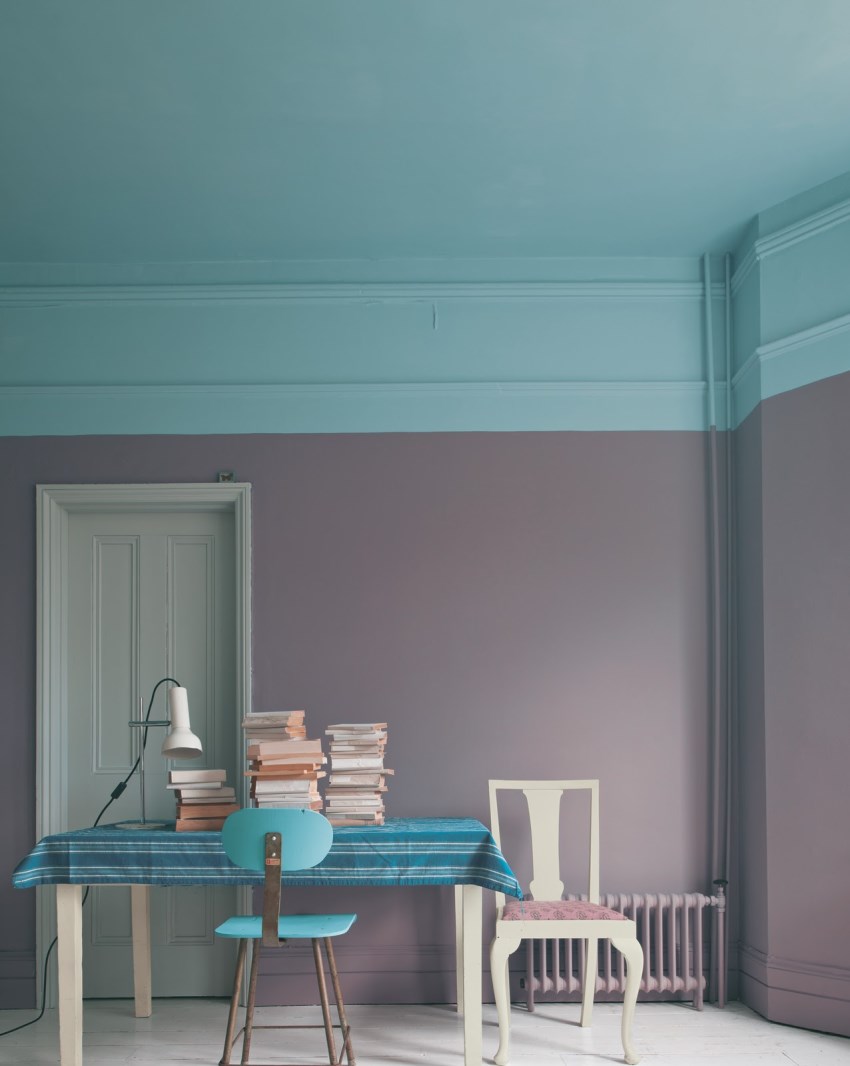 The next featured photo is from my laundry room makeover, previously featured right here at Decoist. Instead of painting the wall, I chose to paint the cabinets in a two-toned design that combines shades of red-orange and cream. I alternated between painting the entire cabinet door red, then dividing the adjacent door in half on the angle and painting a red triangle (leaving the other portion of the door its original cream shade). Painter's tape is your friend in a project like this!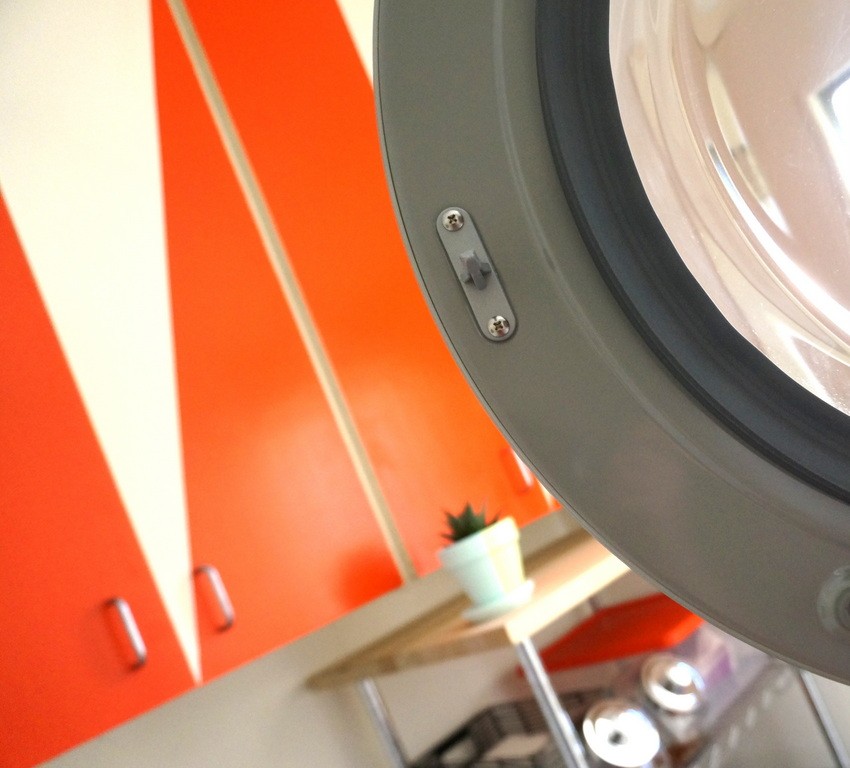 Color blocked doors are definitely a popular choice, as shown by this Half-Painted Door from A Beautiful Mess. In case you're wondering, the vibrant shade of yellow below is Brilliant Impressions by Dutch Boy Paint: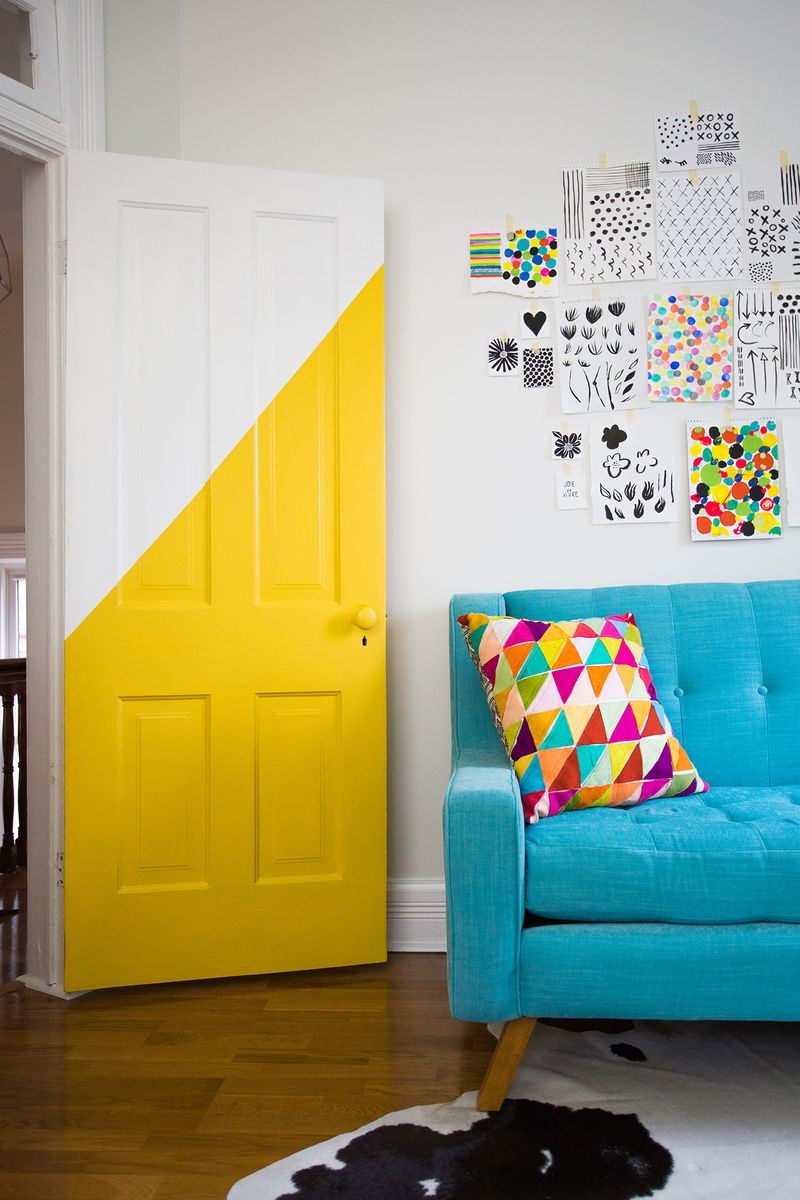 Here's one more: a DIY Colorblocked Barn Door from Sugar & Cloth. Don't you love the soothing shades of nude and pink, as well as the way the door is definitely not divided in half by the colors? Let's hear it for asymmetry, as well as unexpected choices, such as the gold hardware!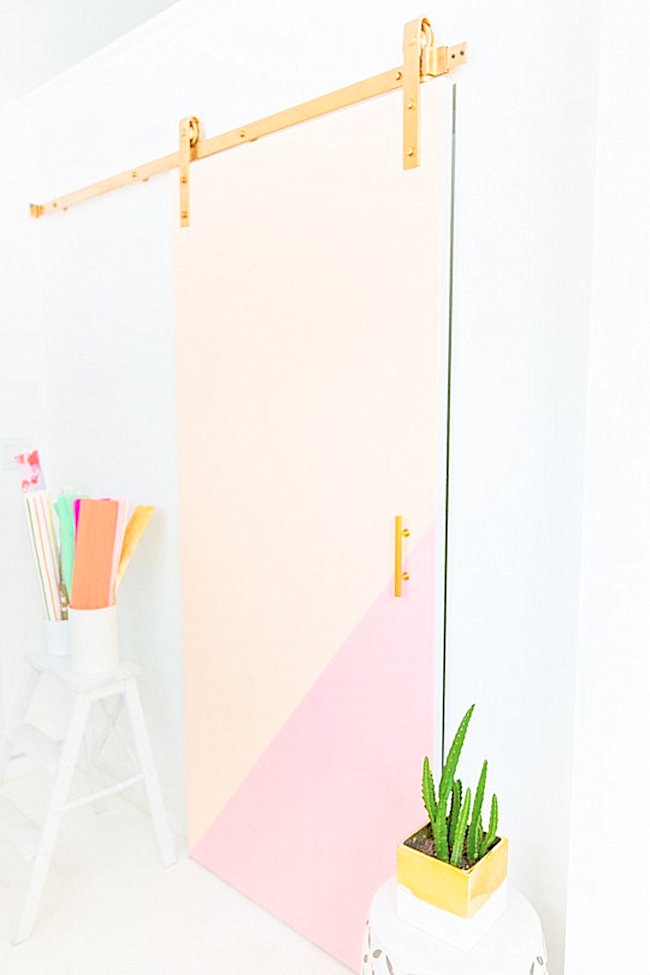 Color-Blocked Decor
If you're not feeling like getting crafty with a roller brush and a gallon of paint, never fear! You can also buy color-blocked decor that's vibrant and ready to go! I've fallen in love with this Technicolor #6 Cushion from Room39. Simple, vivid and perfectly on trend: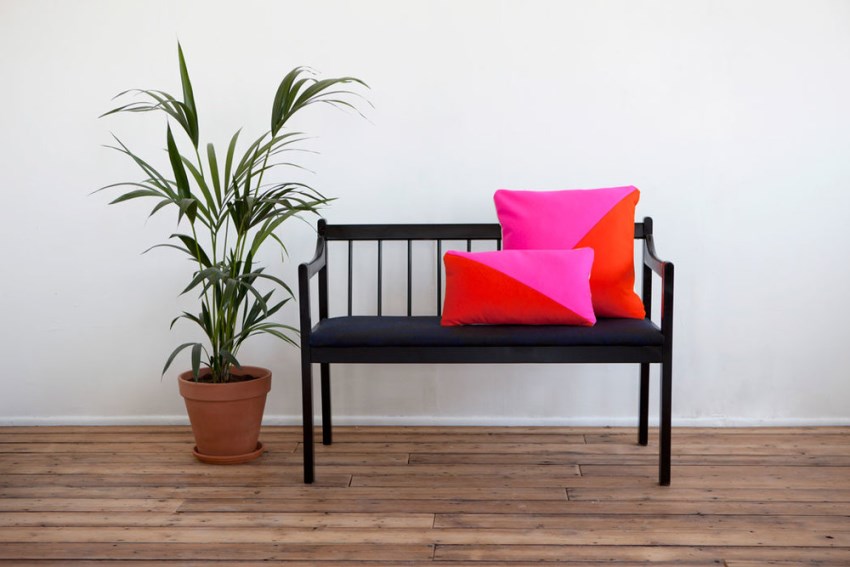 If green and blue are a better fit for your space than pink and red, you'll love the Technicolour #7 Cushion, also from Room39. These color-blocked cushions are handmade to order in London within 7 working days from order placement: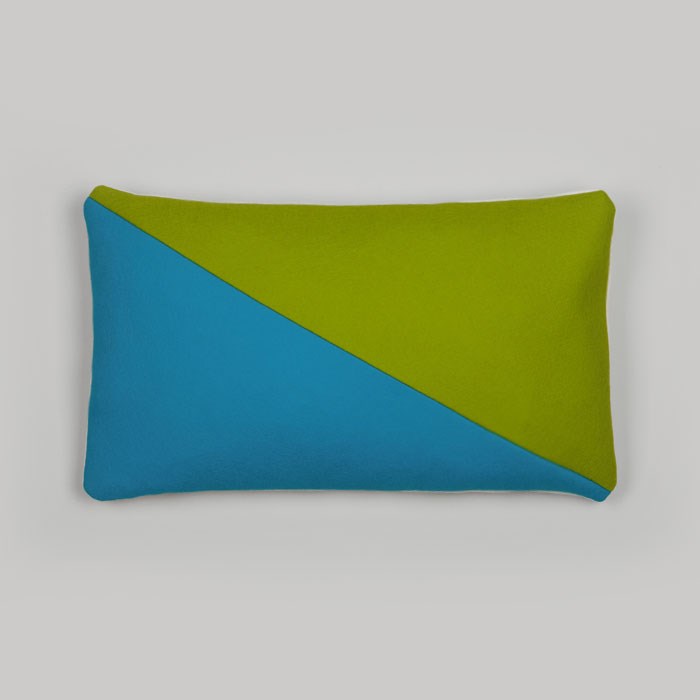 If you want to bring color-blocked style home and you're on a budget, don't hesitate to attempt an easy DIY project, like this Retro Fish Figurine Makeover (originally featured at my blog Mirror80). I purchased the figurine (originally a dark brown wood) for a bargain price, and with some affordable craft paint, a foam brush and a roll of painter's tape, this geo color-blocked fish was a reality!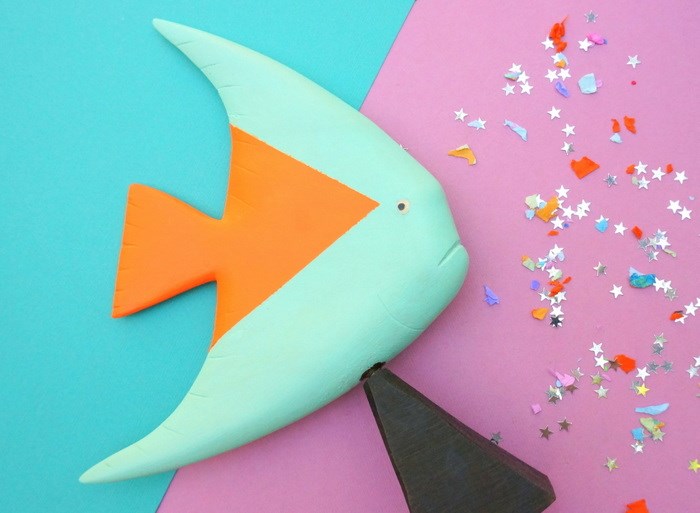 For another easy project idea, you can create a DIY Gift Basket by using felt to form a geo color-blocked design at the bottom of the receptacle. Talk about affordable style!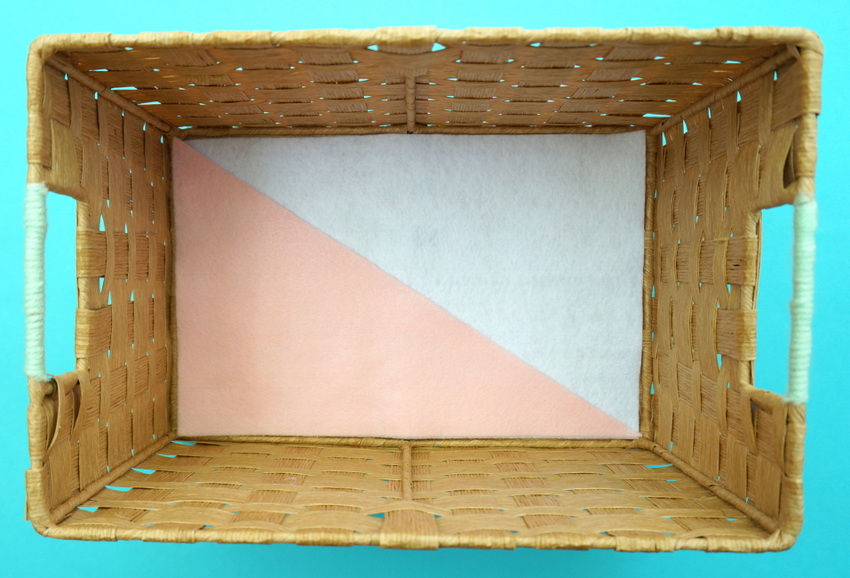 Color blocking gets a summery update with these Buoy Vases from West Elm, designed to resemble harbor buoys. Colorful bands create brushstroke-style modern flair, thanks in part to the eye-catching juxtaposition of hues such as turquoise and orange: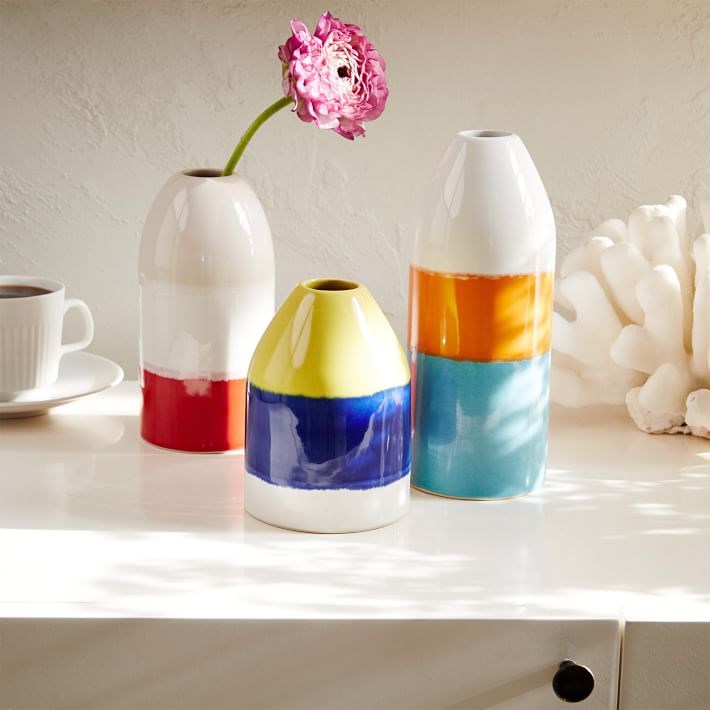 You can also find a slew of color-blocked items on Etsy, such as this Mini Ombre Air Plant Pod from Sea and Asters. Shades of pink are a lovely contrast to the green of the air plant that each pod is designed to hold: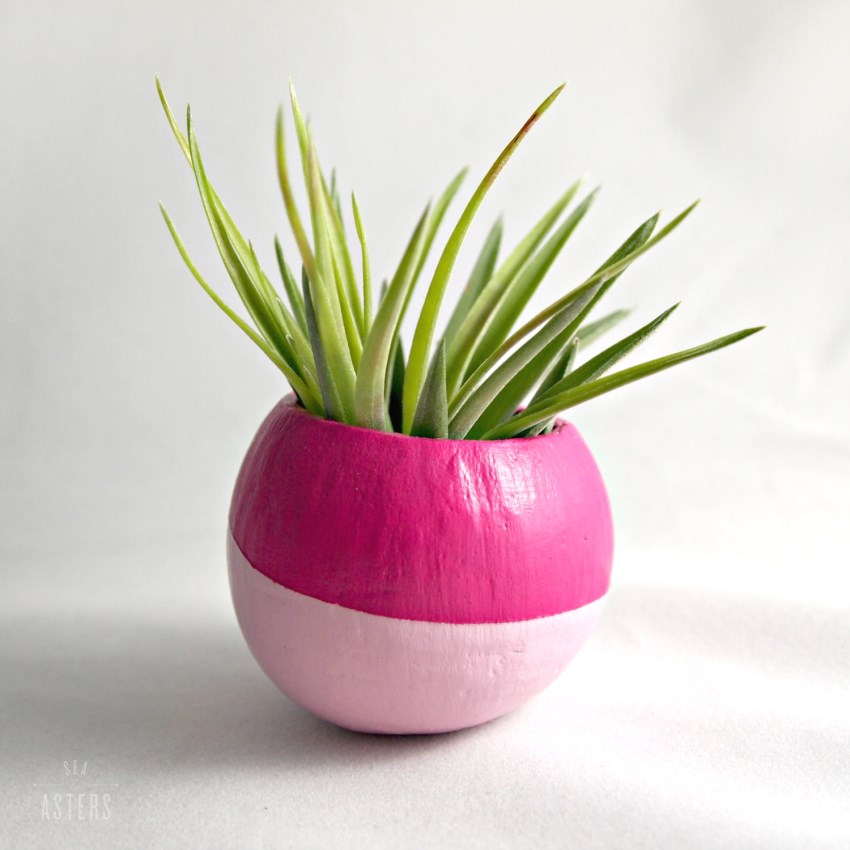 White and cobalt are the colors of choice for this Ceramic Hanging Planter from Etsy shop Quiet Clementine. Hand-pinched porcelain is refreshing and modern, especially with the addition of glaze and a leather cord: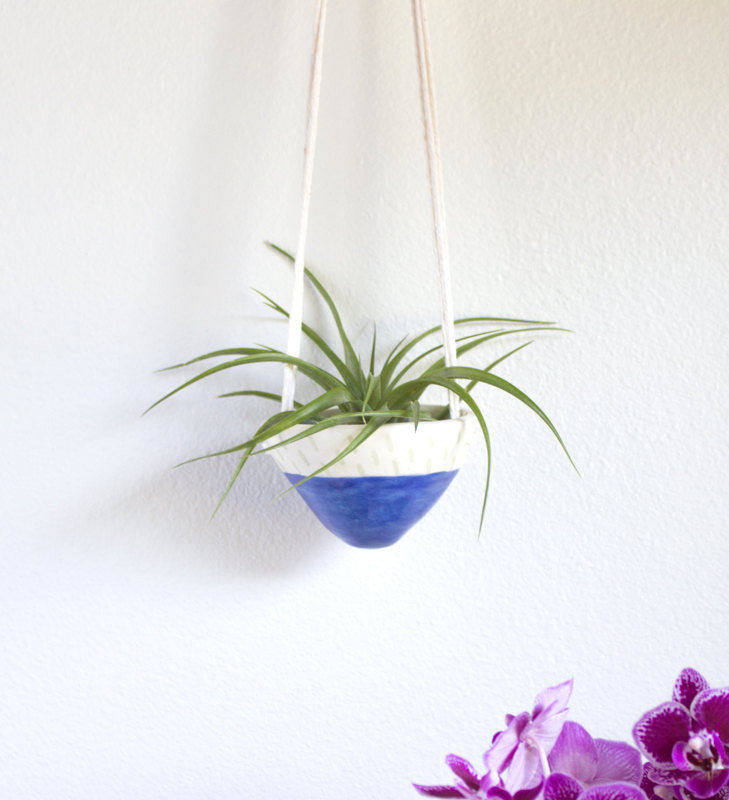 Last but not least, you can bring a color-blocked look to your gift wrap with the help of contact paper in the style of your choice. Simply add the adhesive paper to gift bags and packages, using a diagonal motif to create a two-toned feel. I chose marble contact paper for the packages to create the Geo Gift Wrap below, originally featured at Mirror80: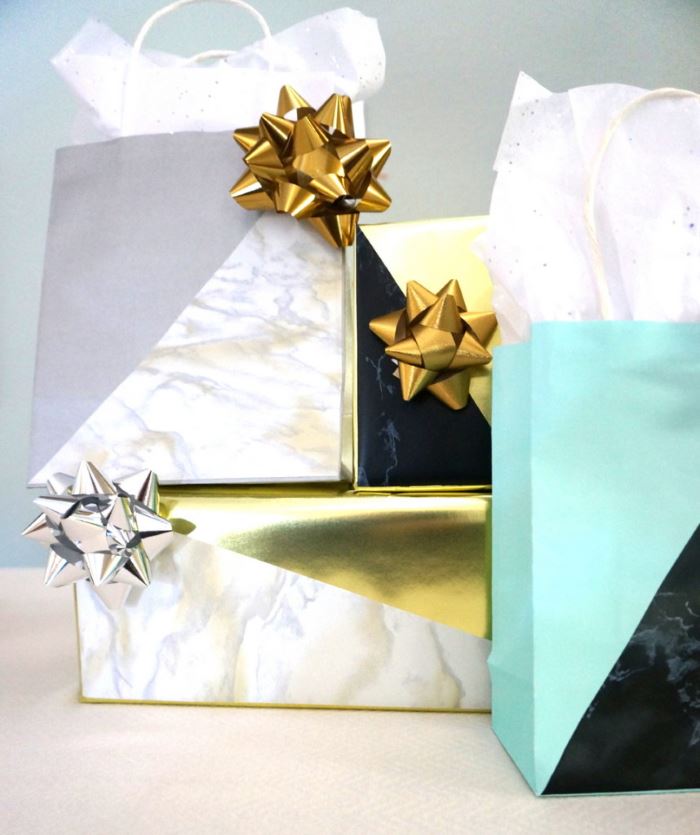 Did today's post inspire you to use color blocking at home? There are many ways to create a radiant geo look! Tell us about your favorites by leaving a comment below…