There's a lot to celebrate in the spring: the return of warmer weather, the colorful blooms all around us, and the fun of holidays such as Easter and Mother's Day. Now is the time to enjoy gathering with friends and family, savoring the moment, and looking forward to the lazy days of summer that will be here before we know it! Let's begin the week by taking a look at 10 colorful party ideas that will put a unique stamp on your next event:
Floral Flair
Since flowers are all around us throughout the spring, why not incorporate floral elements into your seasonal party decor?! When Camille Styles hosted a recent garden party, she called on Margot Blair Floral to create a floral table runner using Coral Charm peonies, Passion Vine, Juliette garden roses, apricot parrot tulips and ranunculus. Are you tempted to try and recreate the look?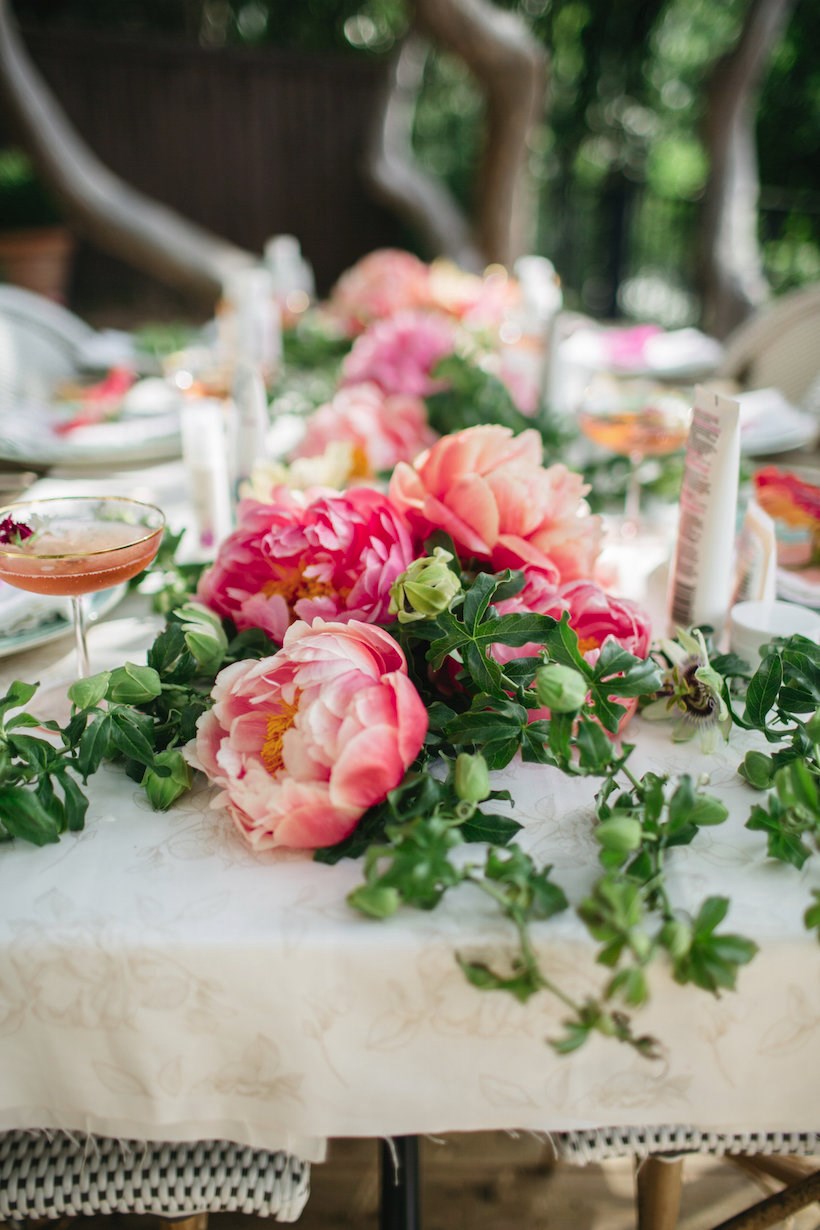 This bachelorette party from A Beautiful Mess features many fun, celebratory ideas, but we're smitten with these tissue paper flower embellishments on the overhead string lights. A great way to bring color and festivity to your outdoor space!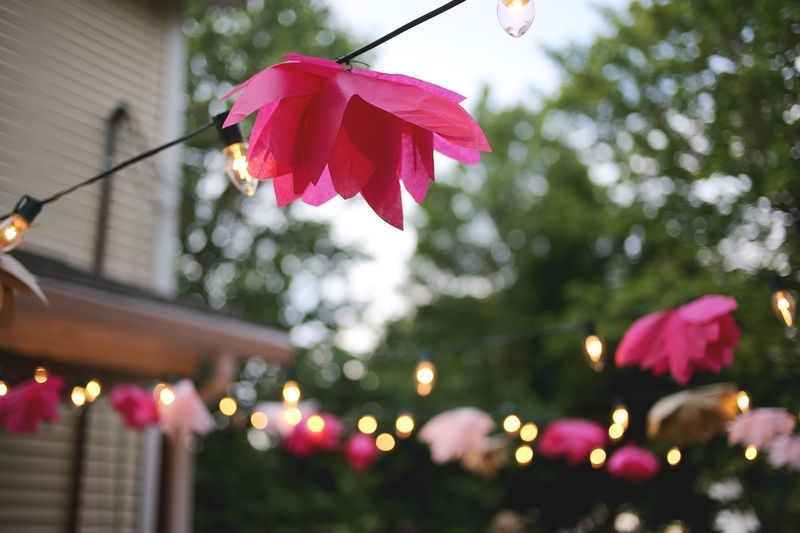 When it comes to colorful party details, don't forget to pay attention to the walls and the ceiling! This New York book party for Oh Joy! featured an abundance of streamers, as well as an eye-catching floral wall design: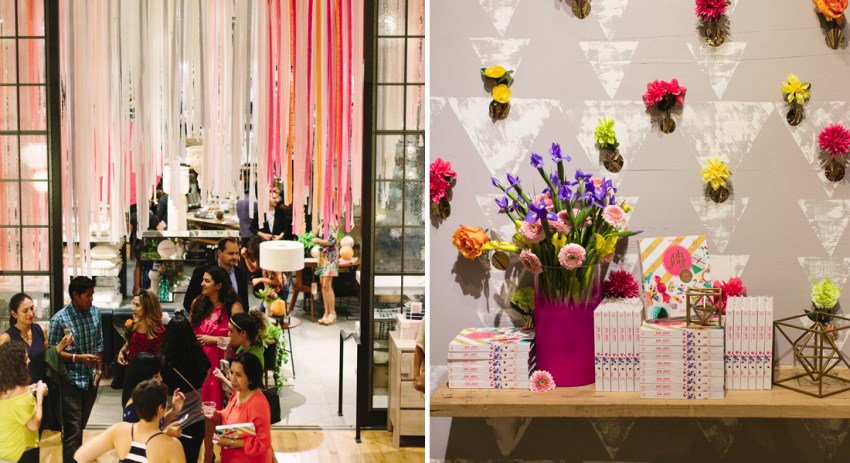 This Boho Chic shower for brides Kori and Samantha showcases countless vibrant details, from a pom-pom and tassel-covered chandelier to the floral bouquets that serve as a radiant table runner. Check out all the clever details at Ruffled. [photos by Danfredo Photos & Films]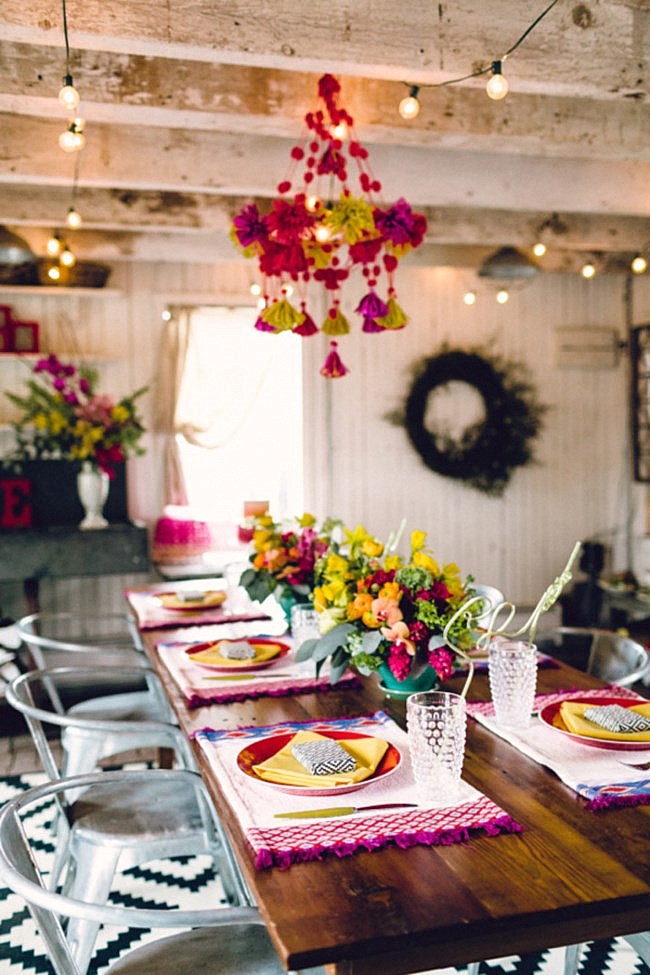 Modern Style
If you're looking for a more contemporary feel, this next set of clean-lined party ideas just might pique your interest. Neon Edge Cocktail Napkins from CB2 take center stage in a modern bar setup featuring striped glassware, chrome accessories, and a neon peach bowl filled with produce: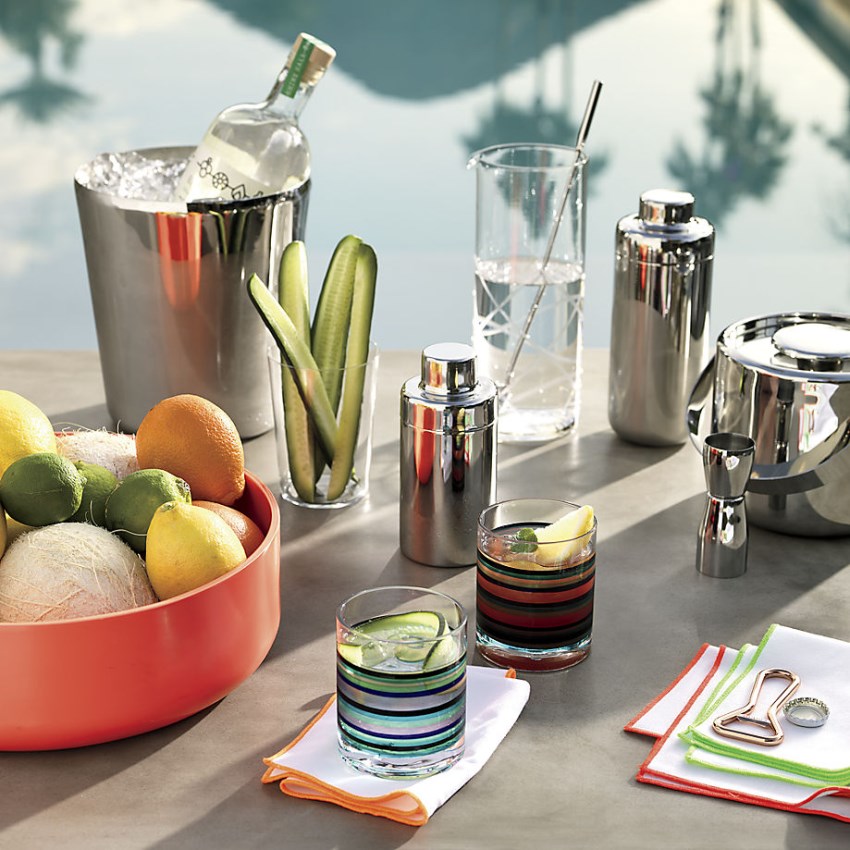 These tabletop vignettes from Paper & Stitch feature special touches such as the air plants, succulents, DIY grid table runner and black and white cactus-themed botanical art below. Check out all the details here.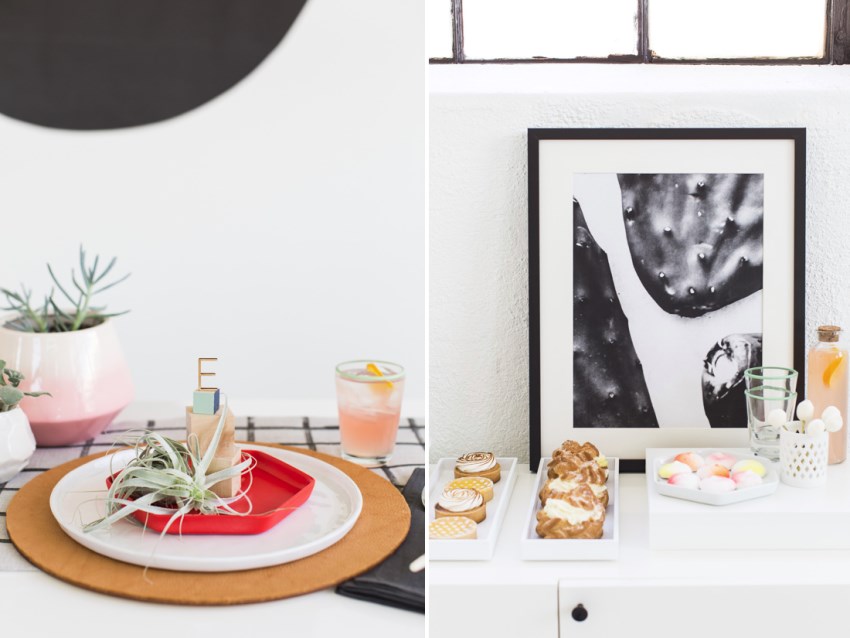 Ruffled's DIY Watercolor Table Runner makes the perfect modern statement with ombre style. Some patience is required, but we think you'll agree the results are well worth it. If you're in a time crunch, opt for larger squares!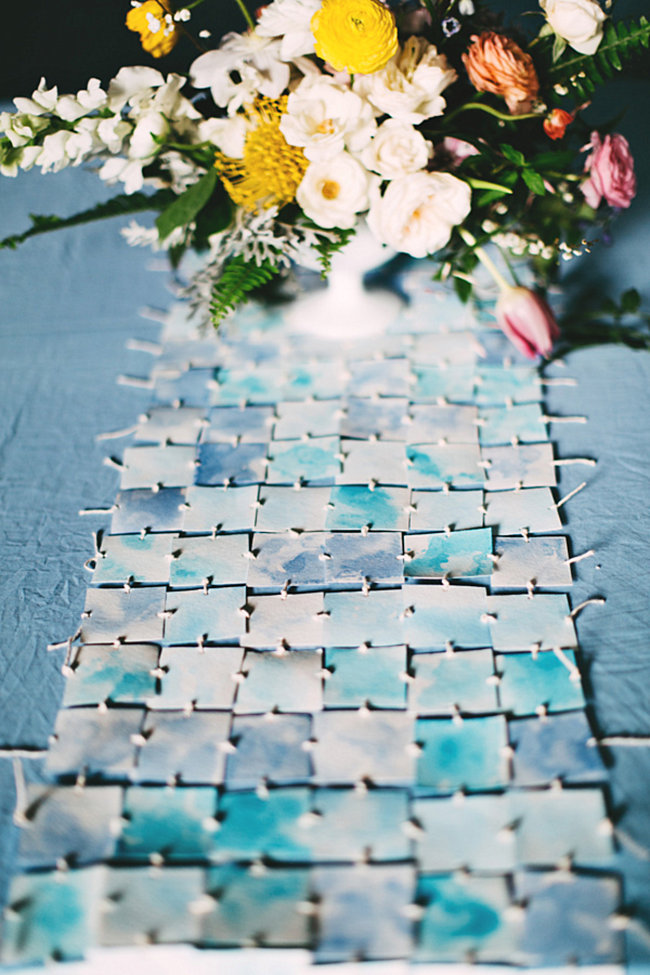 Special Treats
A good party is all about the treats! Make them count by incorporating eye-catching colors and irresistible vignettes into your party table spread. When Studio DIY recently hosted an Instagram Workshop, they served attendees candy-colored donuts featuring special toppings such as breakfast cereal (provided by California Donuts)!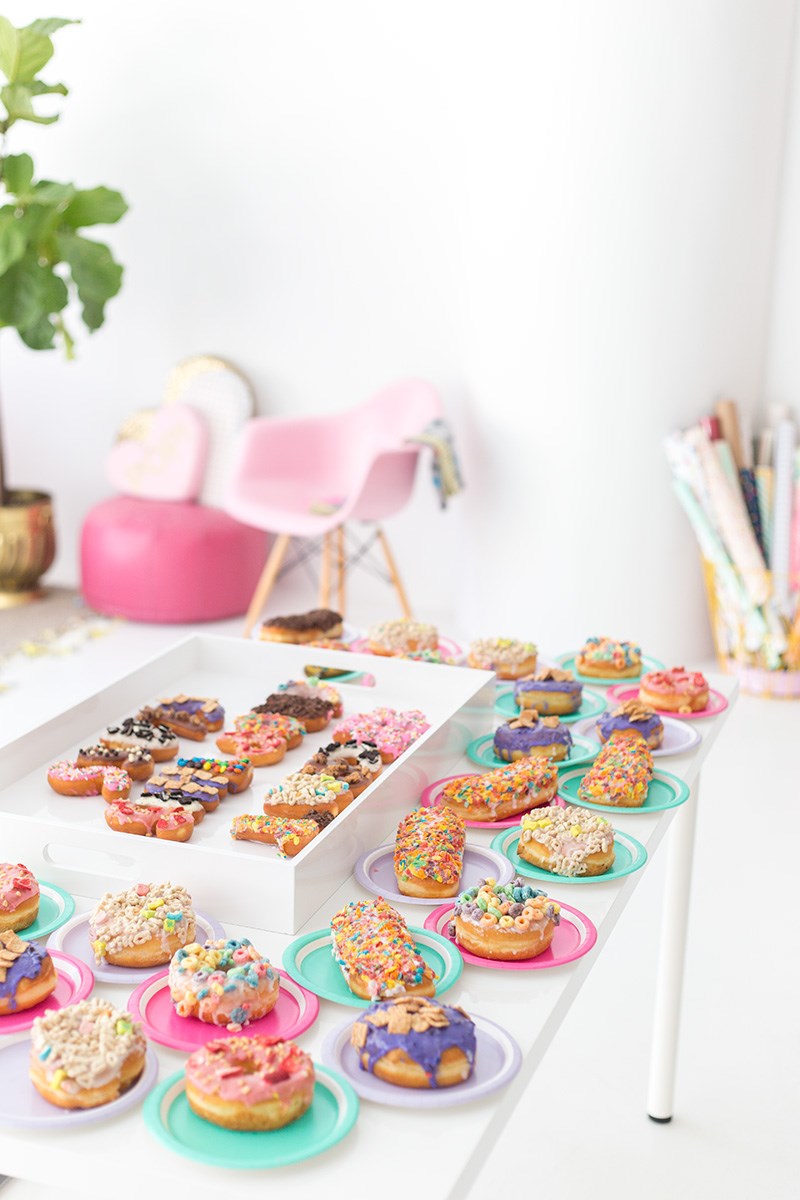 Heirloom LA provided the food for this Women and Whiskies party hosted by Design Love Fest and SF Girl by Bay. While you may or may not have your next party catered, we can all take a lesson from the beautiful display of edibles. Taking time to prepare or arrange food in a decadent display can make a big impact!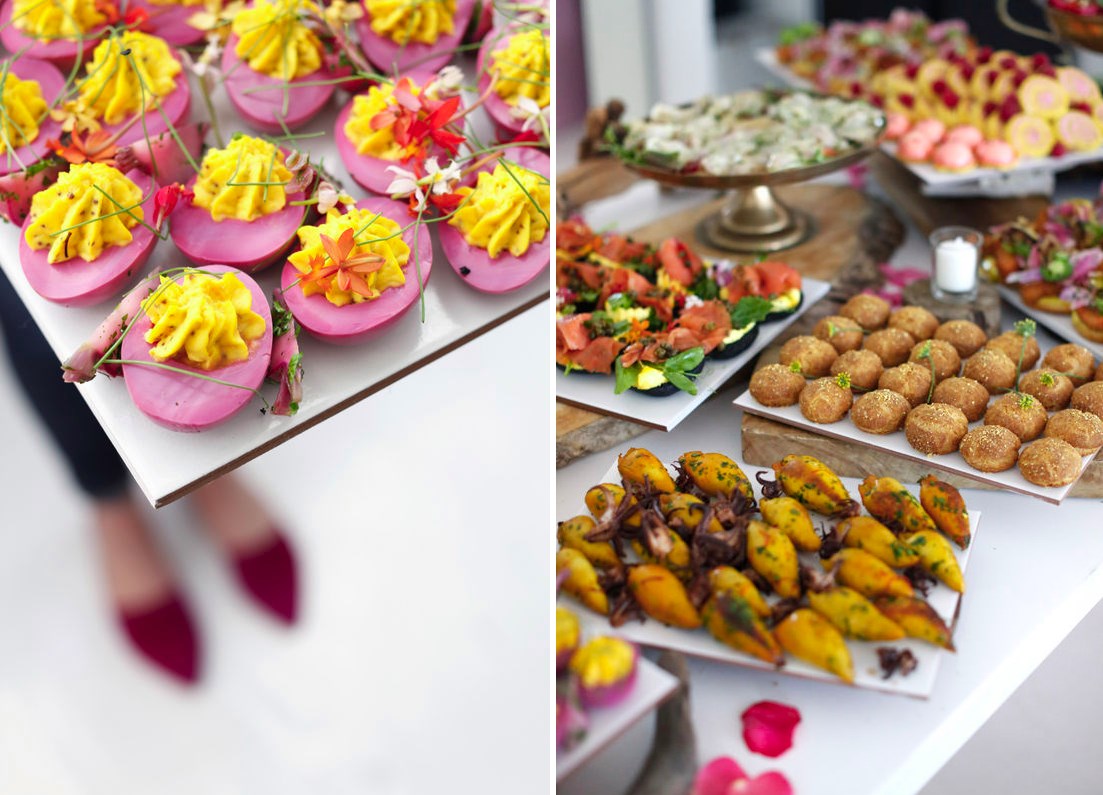 Last but definitely not least, this tea party from Oh Happy Day has a modern, feminine vibe, and it features scrumptious treats such as vanilla scones with clotted cream and jam, strawberries and cream cheese on Triscuits, and mango pots de creme. Goodies that are easy to prepare are truly party-perfect!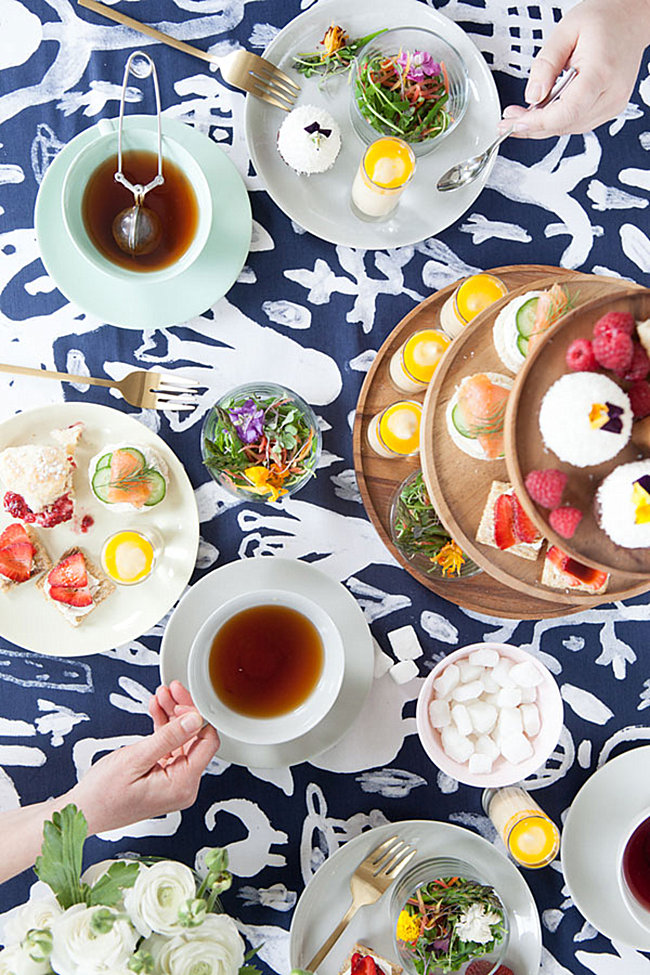 We hope today's creative floral, modern and edible party ideas will inspire a lovely spring fete. Enjoy!