Libraries (and to an extent, bookshops) are any avid reader's second home. But they can also be much more than stacks of books—they can be community learning centers, Internet hubs, safe places for kids to go after school, workspaces for freelancers, and non-commercial venues for older folks to gather.
To celebrate the new, more varied functionality of libraries, the American Institute of Architects (AIA) and the American Library Association (ALA) recently awarded the 2015 Library Building Awards to those buildings that exemplified this trend:
Hillary Rodham Clinton Children's Library and Learning Center: Little Rock, Arkansas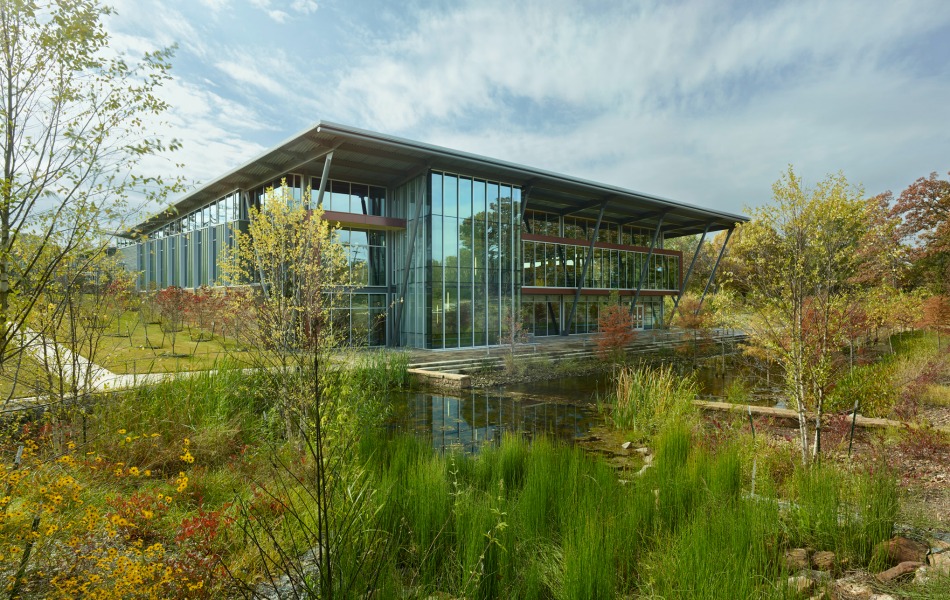 Polk Stanley Wilcox Architects went way beyond the idea of a library with their design, creating Arkansas' first holistically imagined children's education destination. It includes "a performance space, teaching kitchen, greenhouse, vegetable garden, and an arboretum that allows children to cultivate, harvest, prepare meals, and sell produce in a planned farmer's market," according to a release.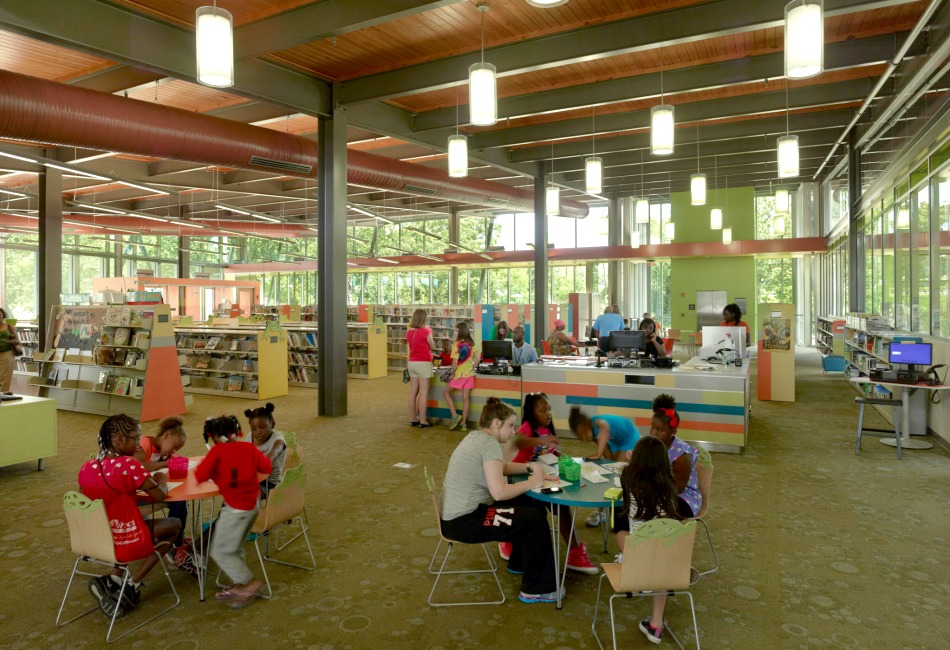 This LEED Gold space has shifted a dangerous neighborhood in the city to a safe space, and teaches sustainability via smart monitors that keep track of real-time use of water and electricity.
Cedar Rapids Public Library: Cedar Rapids, Iowa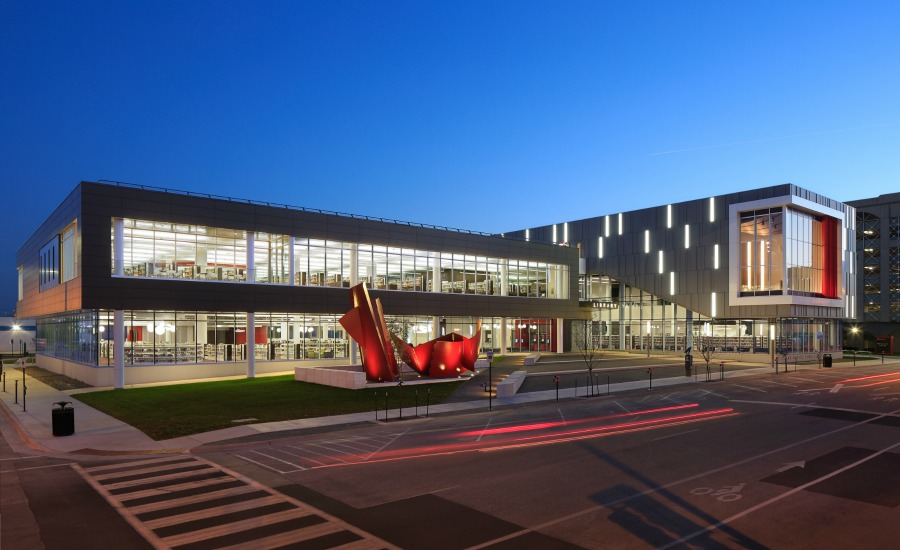 OPN Architects, Inc. designed this library to LEED Platinum requirements, utilizing "abundant natural light, a geothermal system, and daylight harvesting strategies that minimize the building's energy use. The green roof and use of permeable pavers across the site allow the building to retain 90% of all annual rainfall on site in underground storm water collection chambers," according to a release.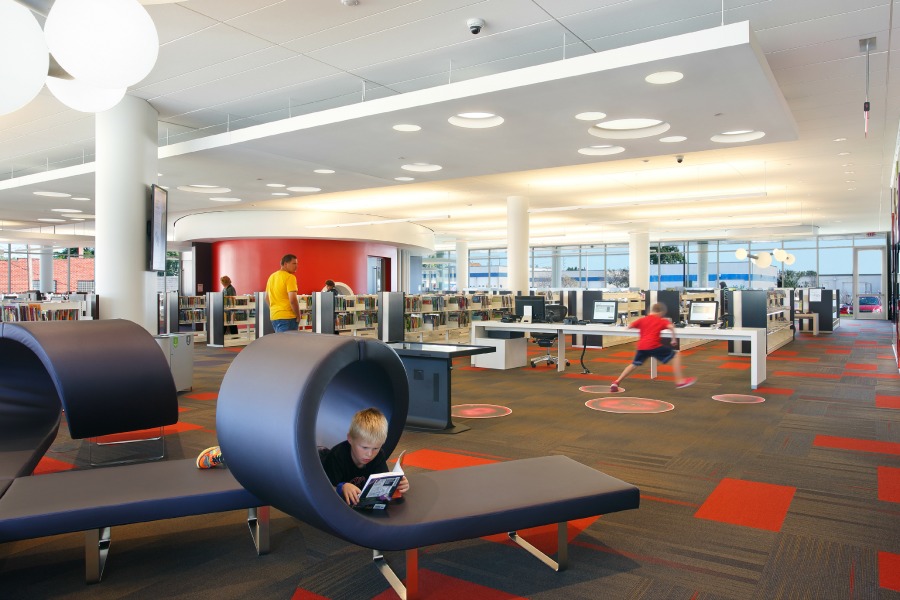 Inside, a spacious two-story lobby brings together all of the core patron services in a hub and spoke system. Bright colors and unusual furniture are appealing to kids and kids-at-heart.
Claire T. Carney Library: Dartmouth, Massachusetts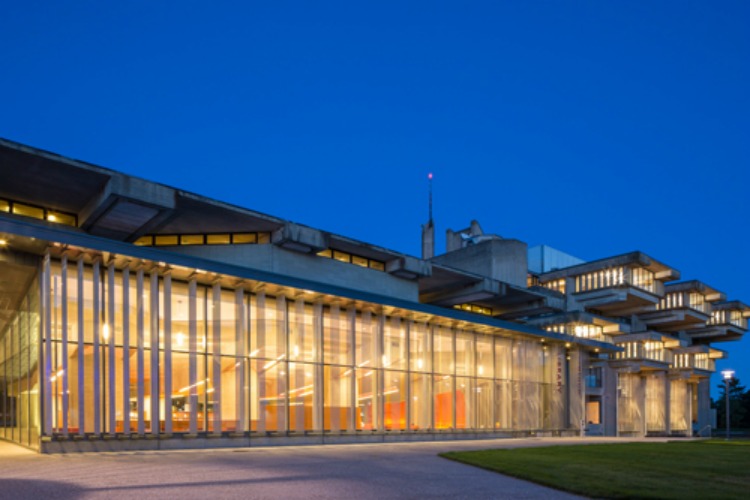 Originally conceived by Paul Rudolph as a centerpiece to this commuter college, the Brutalist building became dysfunctional over time. Amazingly, the university kept the library open during the 2-year redesign and subsequent transformation.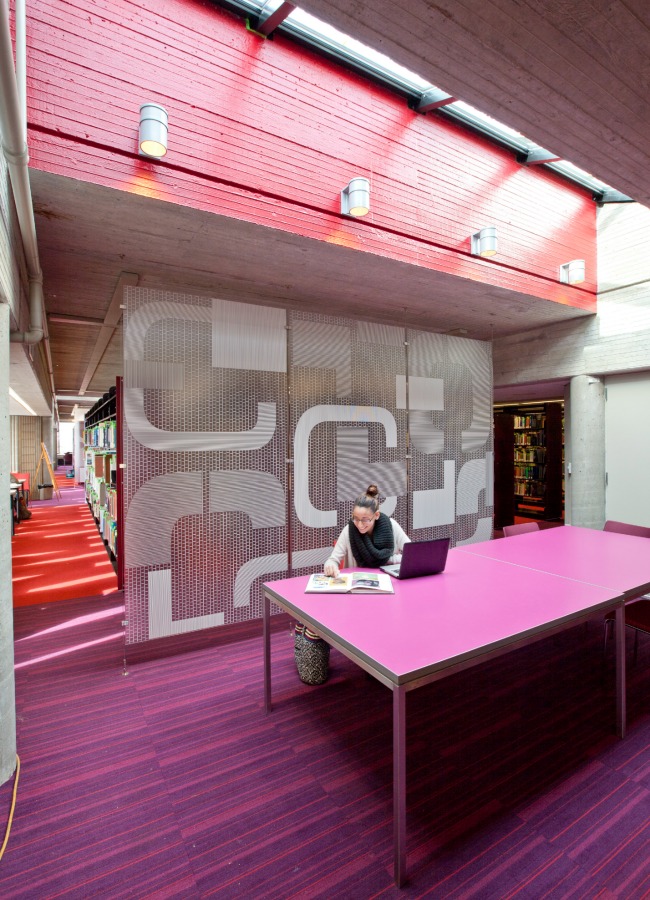 "With half of the collections relocated to basement storage, the creation of a wide variety of new service and collaborative work spaces and the addition of a glass enclosed 'campus living room', the Carney Library is now the most popular place on campus, as evidenced by a gate count that has tripled," according to a release.
Vancouver Community
Library:

Vancouver, Washington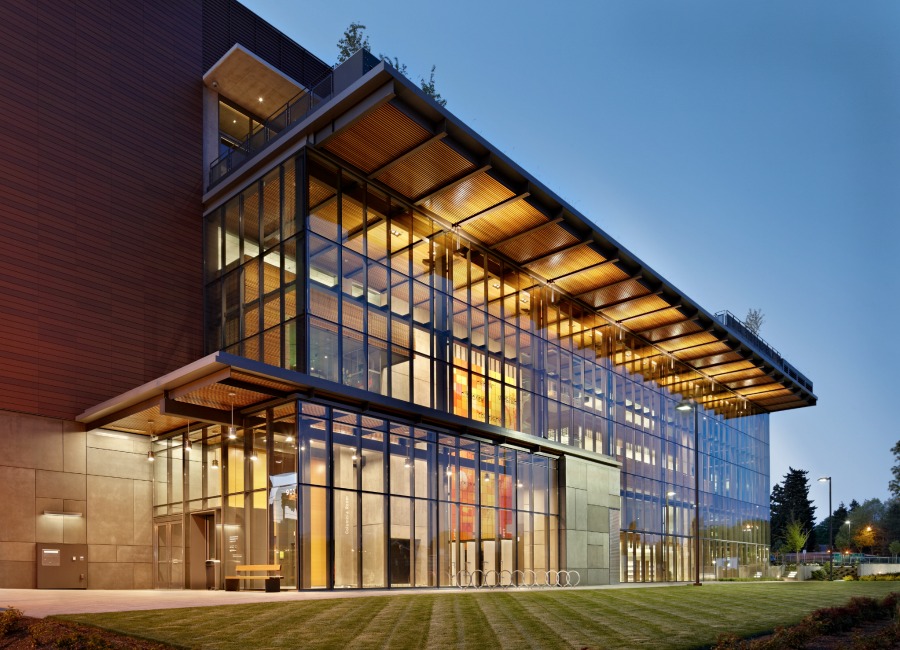 This LEED Gold library is a brand-new five-story building in the city's core that uses materials to reflect new and historic neighborhoods in Vancouver.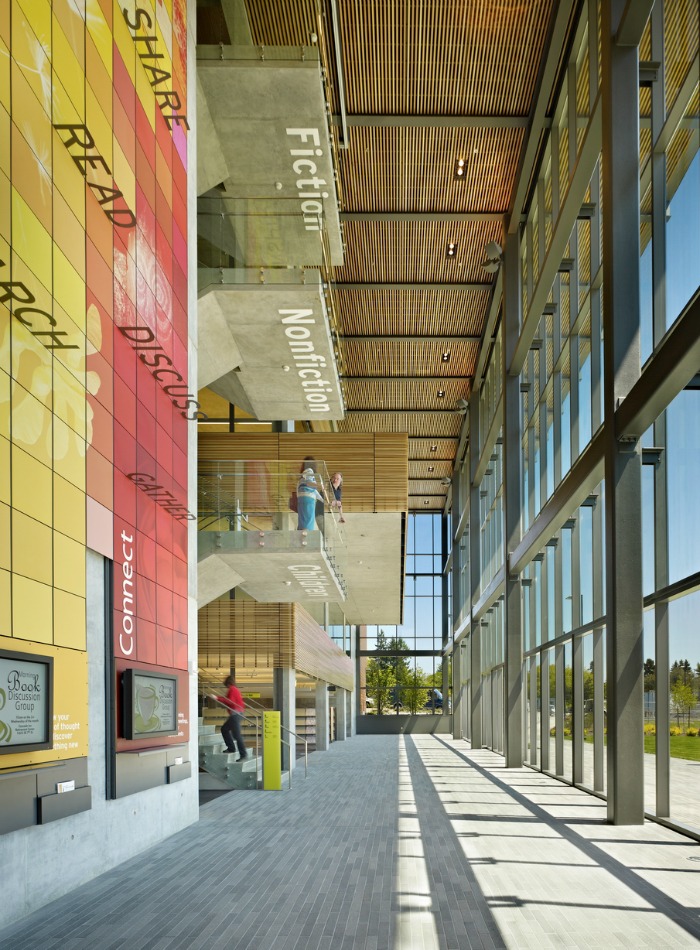 Architects Miller Hull decided that the concept for the interior was a "drawer full of knowledge", which would make accessing the library's contents easy and would encourage exploration.
Mission Branch
Library:

San Antonio, Texas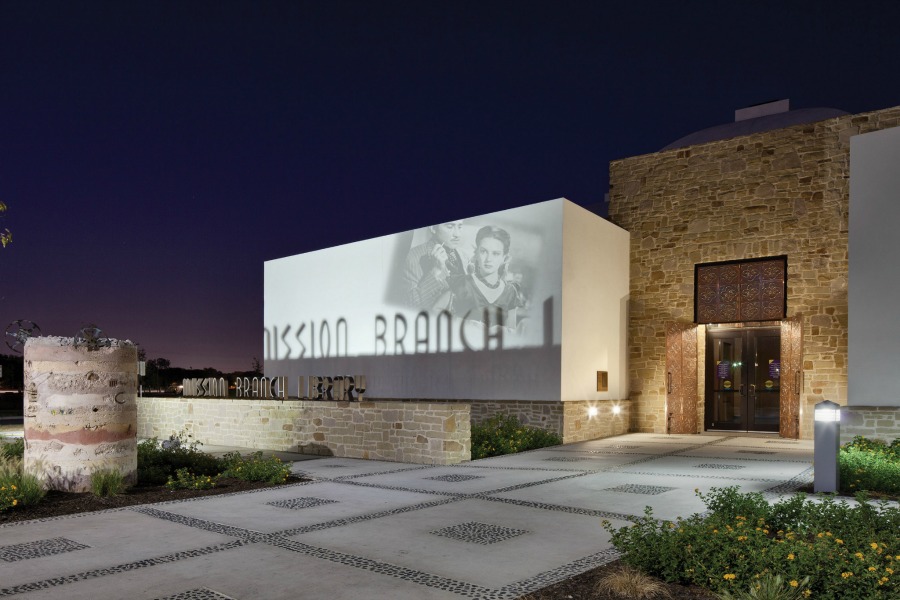 Just a single story high, this LEED silver-certified library designed by Muñoz and Company uses all kinds of interesting local materials in its construction."The exterior of the building features a locally sourced San Saba Sandstone wainscot that wraps the entire perimeter of the white stucco walls," according to the release. The entrance (above) is via over-sized copper-clad doors embossed with a decorative pattern pulled from Mission San Jose.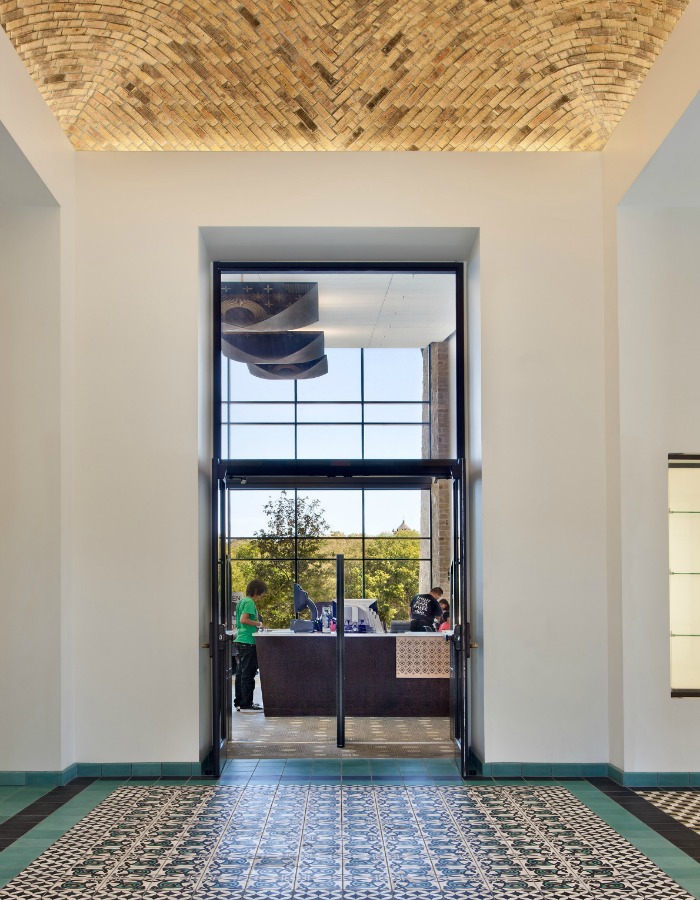 Above, you can see one of three brick bovedas—cross vaults built without centering by local craftsmen. The interior bovedas are echoed in the exterior as well. Tiles and stucco are used inside and out—and you can't mistake where you are.
Slover Library: Norfolk, Virginia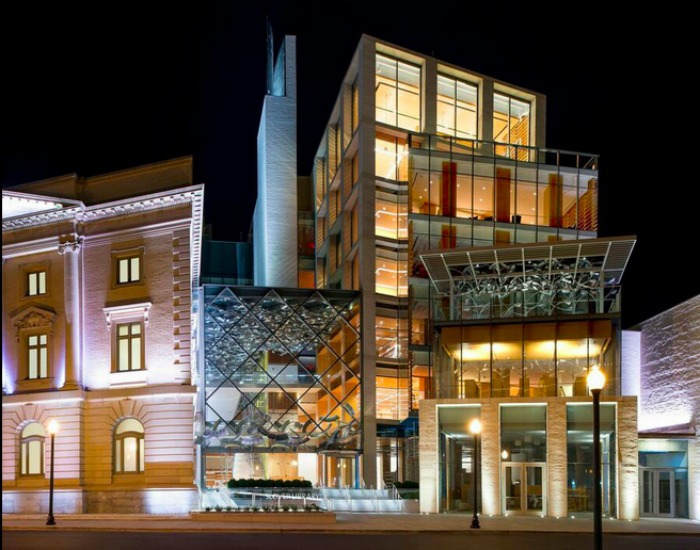 A former 115-year-old courthouse and city hall were restored—and added to—to create the new Slover Public Library by Newman Architects with Tymoff + Moss.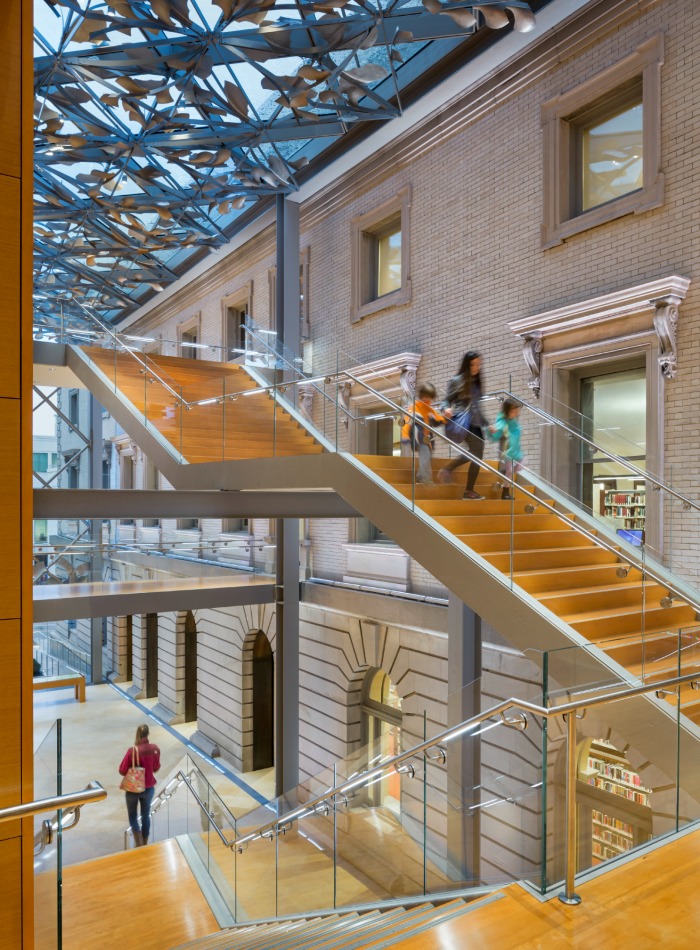 The combination of old and new structures isn't hidden but made obvious in the interior of the building, while taking advantage of natural light.
Did today's featured photos inspire you to visit any of the libraries above?…