Spring is in full swing, and when it comes to home decor, the modern vase options have never been more bountiful! Like the vibrant spread of geometric vases from CB2 shown below, this season is all about bold shapes and innovative design. Color takes center stage in many of today's featured items, but understated hues are also popular, especially when clean lines or ornate patterns are involved. Keep reading for the top trends in spring vase style…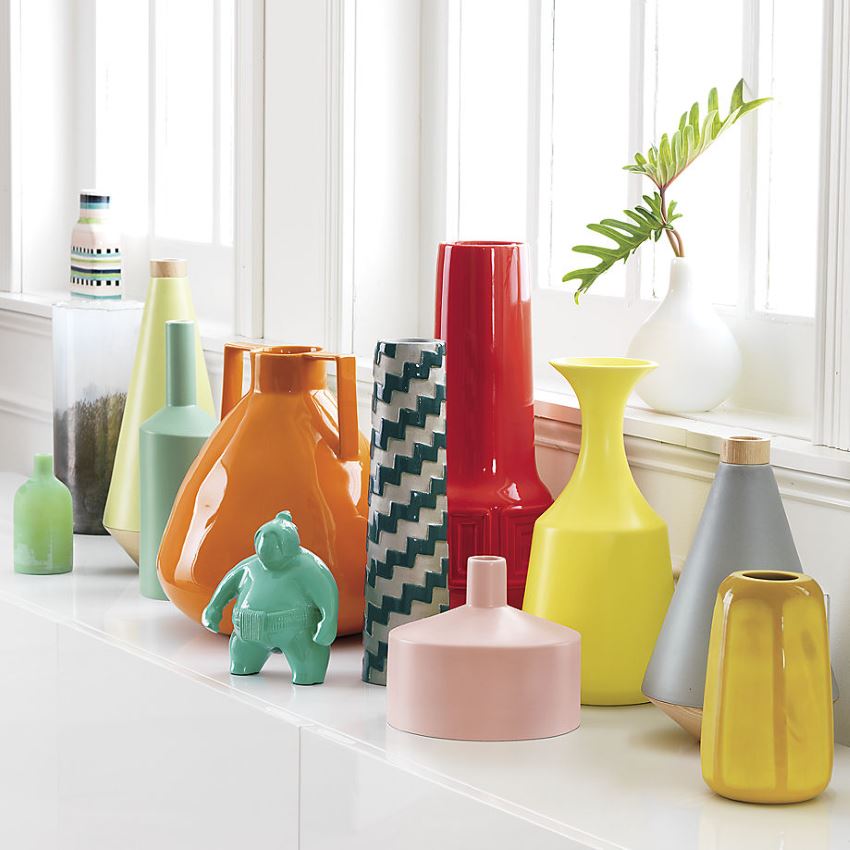 Vases in Solid Colors
Let's start with vases that showcase one color at a time! Ornate designs infuse West Elm's Atelier Stella Vases. London-based designer Stella Baggott put her unique stamp on these terracotta pieces made in Portugal: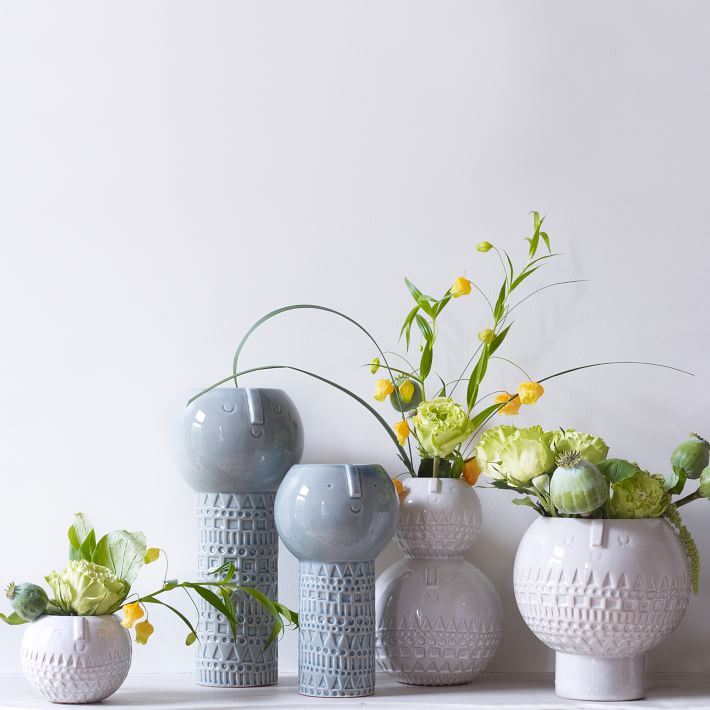 West Elm's Pressed Pattern Vases feature hand-applied designs, many of them geometric. Monochromatic style is anything but dull with these ornate modern patterns.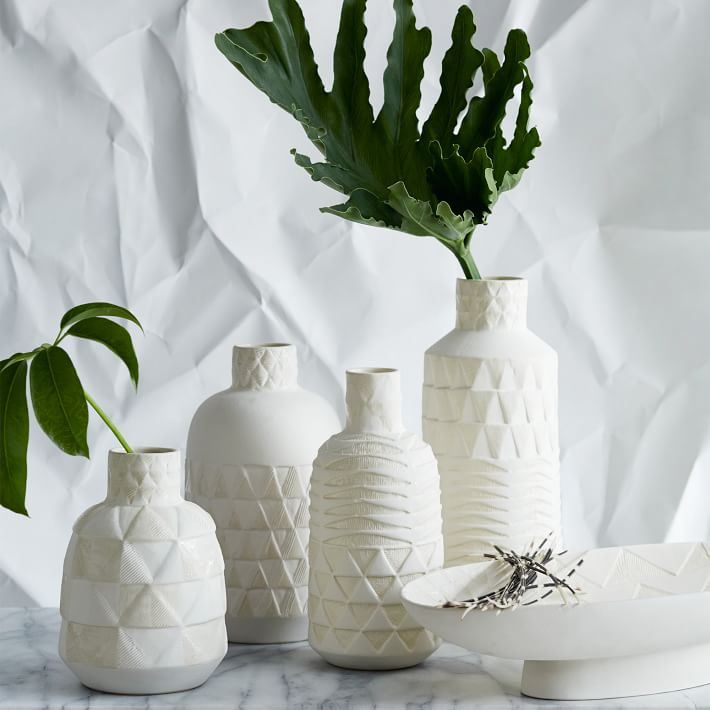 Sometimes clean and simple is the way to go. This Thirteen Seafoam Vase from CB2 has a classic look that can veer retro or modern. Earthenware is the material of choice, and a cold-fired technique creates the piece's saturated matte tone: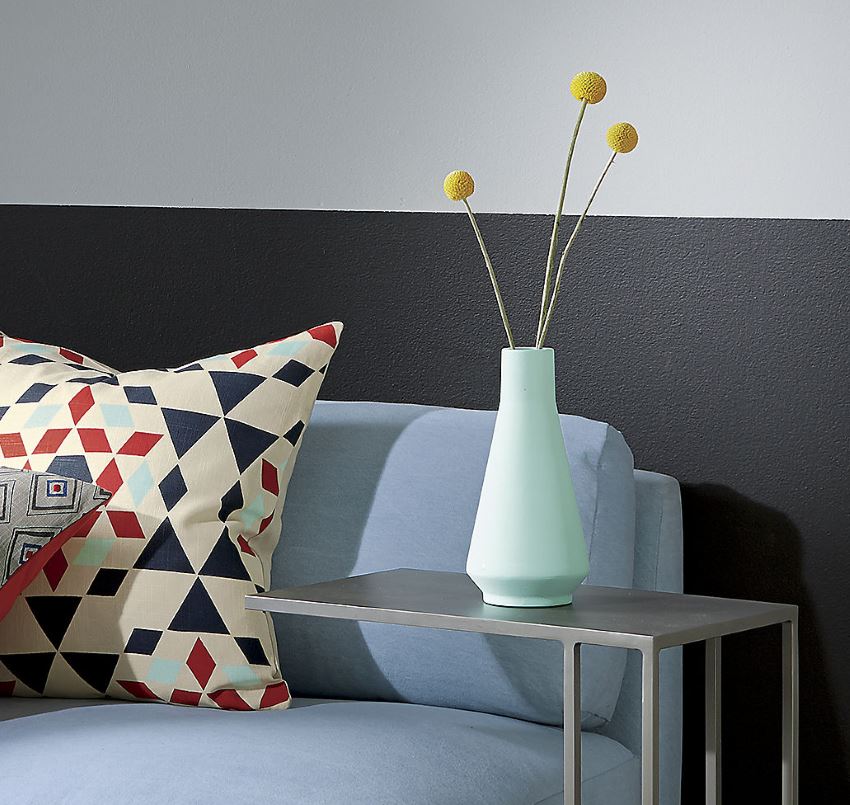 Below we see the same vase, this time displayed with the equally striking Butternut Glass Vase. This soda lime glass piece is embellished with a hi-gloss golden yellow finish.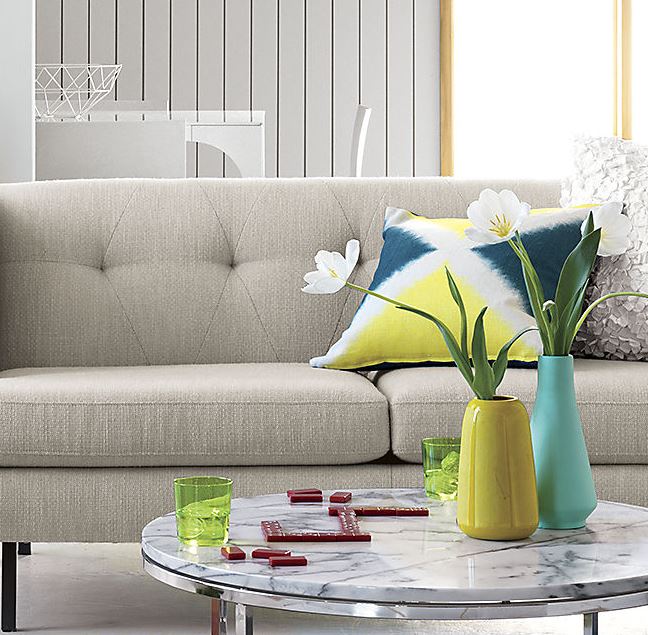 These Little Shirley Vases from Room & Board are named after the grandmother of artist Lauren Burman and sold in sets of eight. Go for a colorful grouping this spring!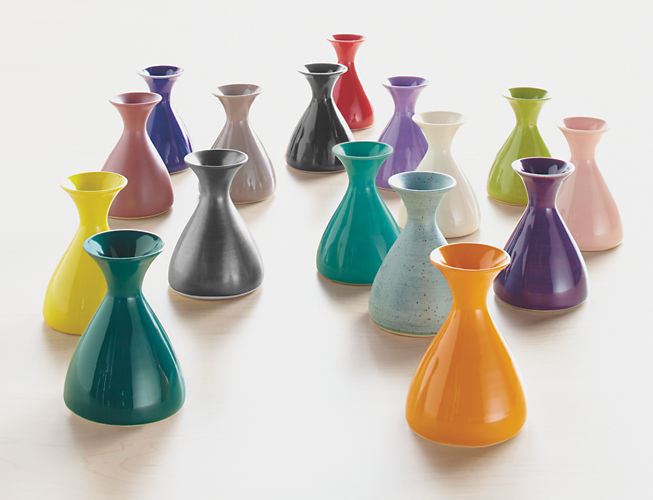 Crate & Barrel's Perry Bud Vases celebrate the beauty of stoneware and blue-green glaze. The perfect colorful accent pieces for bring spring blooms, they're sure to brighten your interior: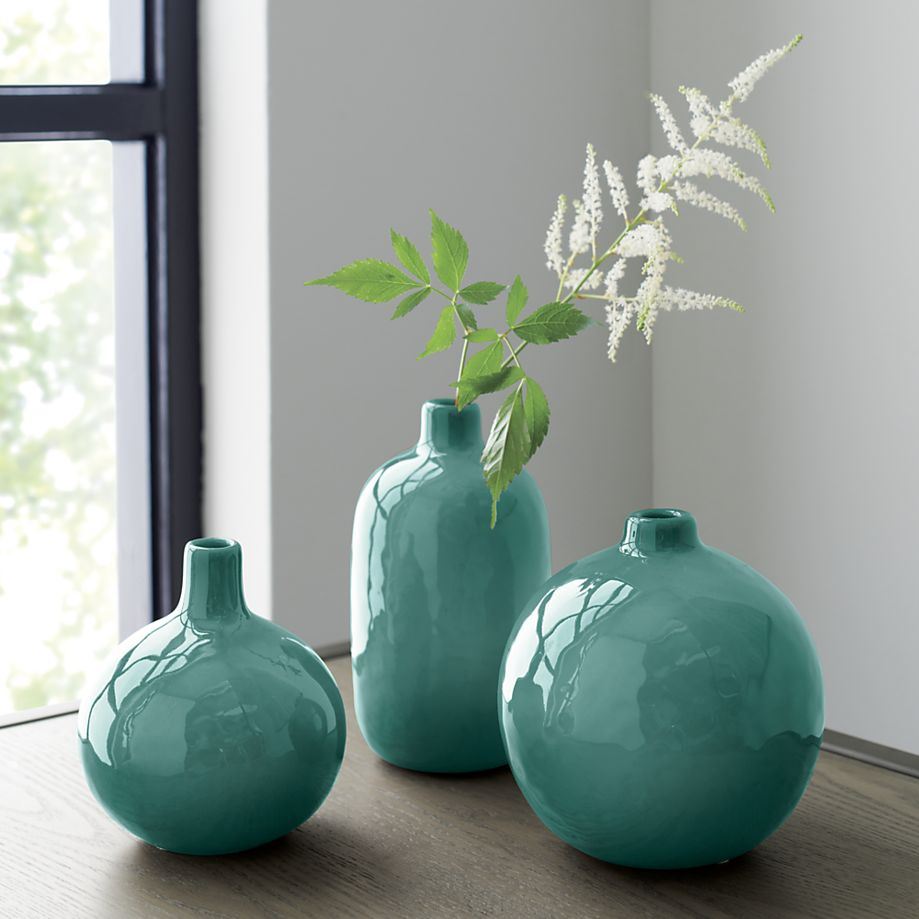 Geo style is alive and well this season at ferm LIVING. The Geometry Vases shown below are crafted of 100% porcelain, and their clean lines add crisp style to any surface they grace.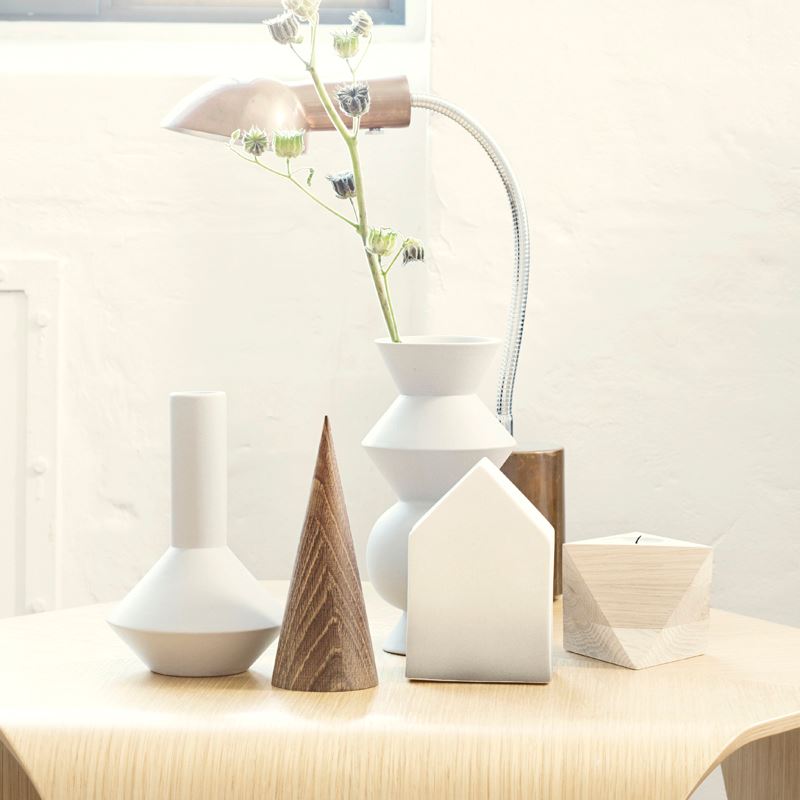 Speaking of geo receptacles, these Faceted Ceramic Vases from Anthropologie are delightfully on trend. Choose from subtle shades of green, pink, peach and yellow: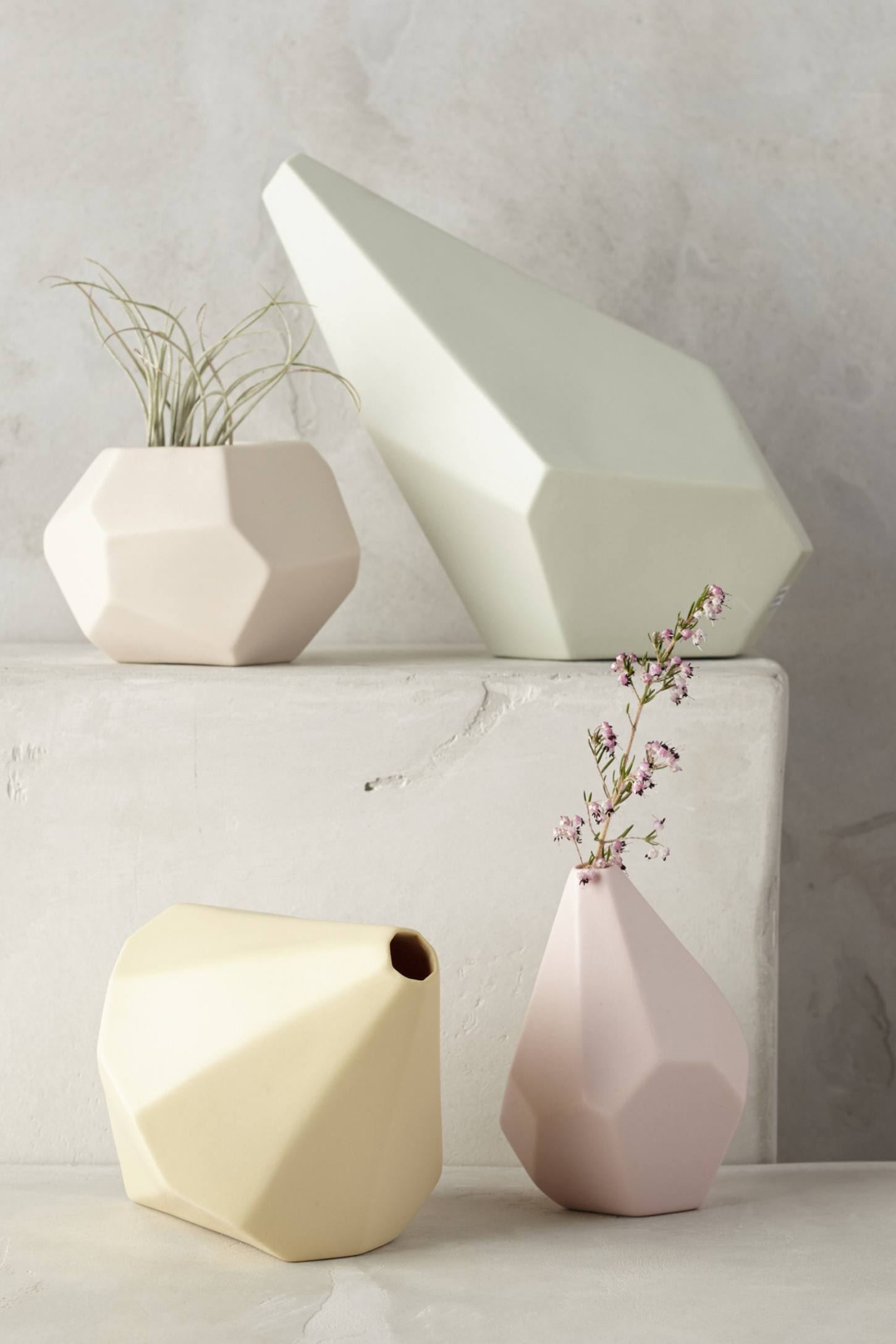 Curves take center stage with these Eva Zeisel Upright Vases from Room & Board. Zeisel's classic curved porcelain designs are both modern and timeless. Displaying one vase has a striking effect, while arranging a trio makes a sculptural statement, as shown below: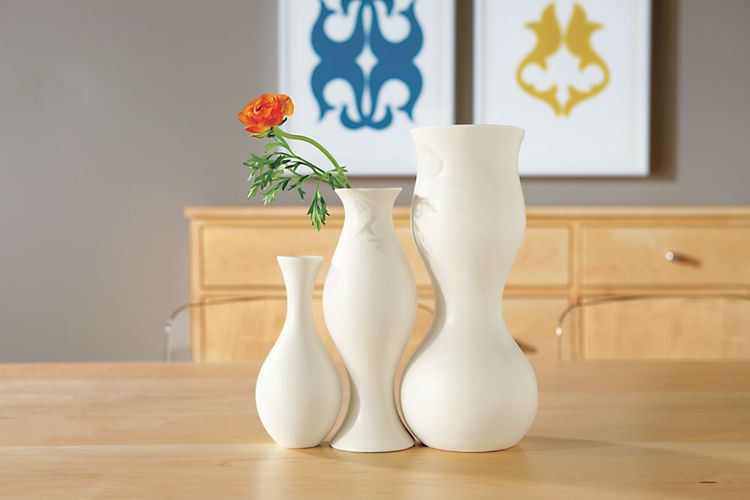 We know—this Baluster Vase from Restoration Hardware isn't a solid hue. But the pattern is so beautiful and subtle (and would perfectly combine with other solid-hued vases in a grouping), we had to include it! In fact, the pattern was inspired by pieces from China's Ming and Qing Dynasties. Hand-molded porcelain is enhanced with cloud and water motifs for an elegant, airy look: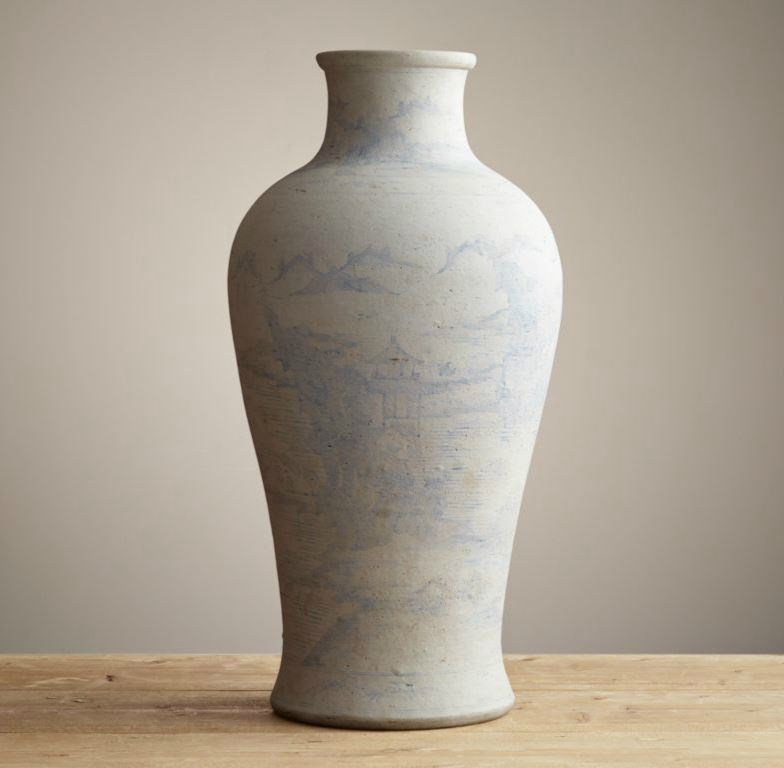 Bold Bands of Color
We now take a look at vases that celebrate the power of colorful bands! For a bold two-toned look, check out Pottery Barn's Aqua Hammered Vase, which features a hand-painted, hand-hammered design that gives the piece a weathered, history-rich look: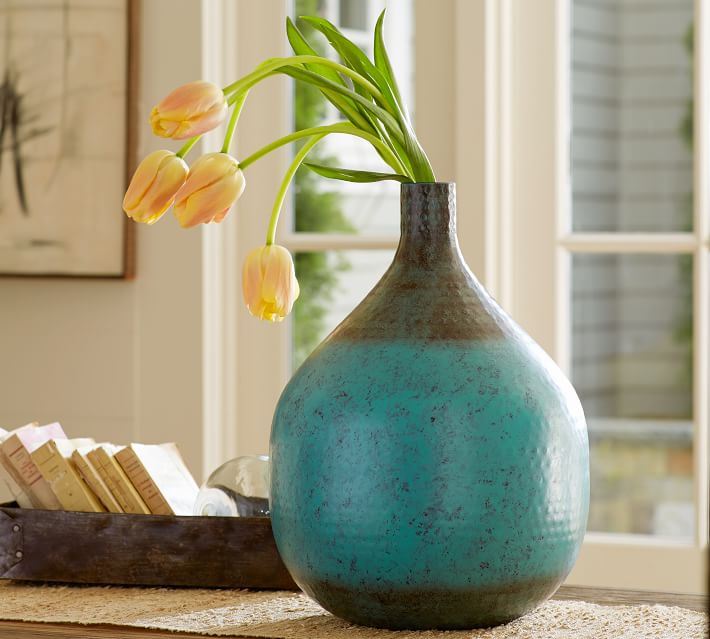 Arro Home offers a range of colorful vases this season. We're smitten with the two-tone ombre look of the Sunset Vase, shown below at the far left:

Yellow and white vibrantly combine in Unison's Rubber Dipped Yellow Vases. Created by Susan Dwyer of Up in the Air Somewhere, this each piece is anchored by a rubber yellow base.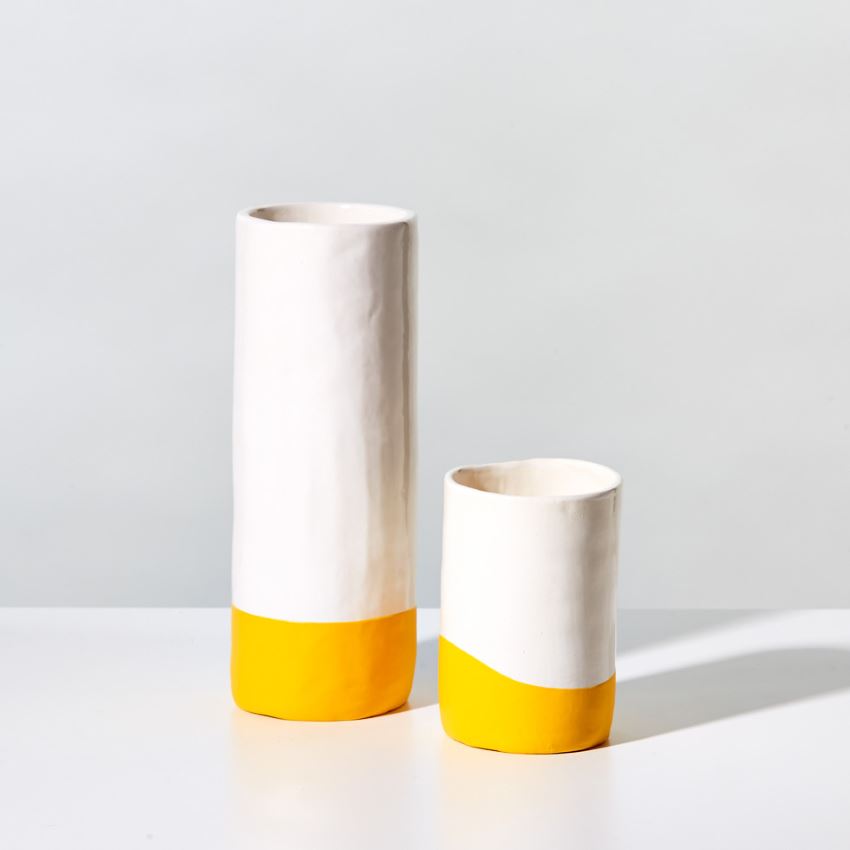 Also from Unison are these Agnes Vases, designed by Agnes Fries and created by brushing on black paint, then tipping the vases upside down: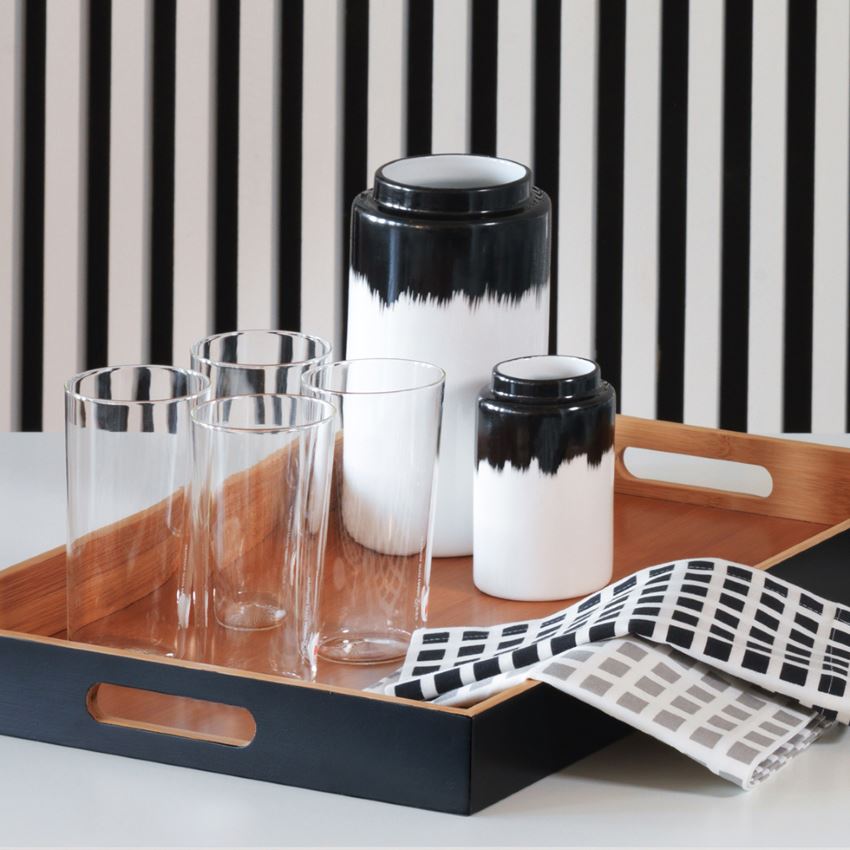 West-Elm's Buoy Vases bring vibrant color home in three distinct designs painted to mimic the look of harbor buoys. Purchase one for the perfect pop of color, or buy all three and display them in a group!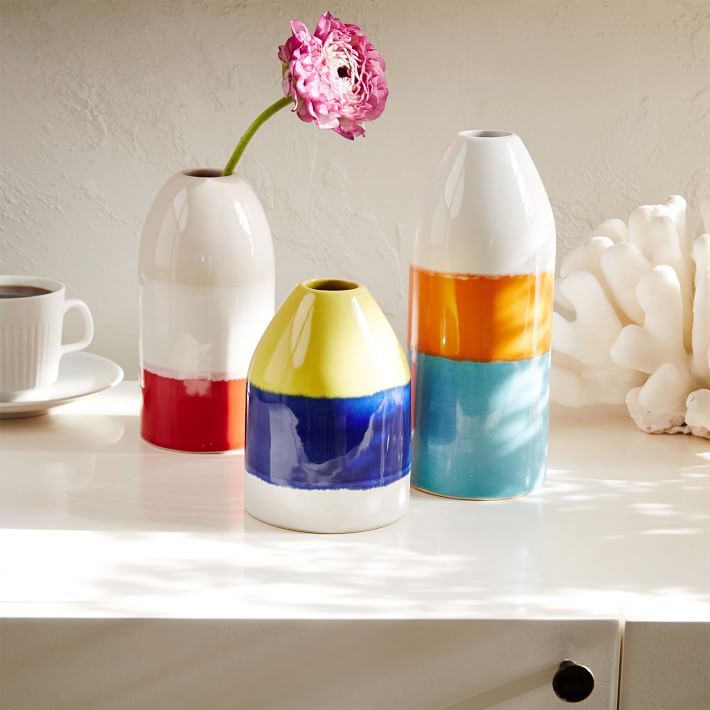 A Touch of Gold
We end with a collection of vases that boast a bit of golden flair. Whether the gold is the main ingredient or it simply adds a special touch, it always manages to elevate the vase to new heights. Indigo is one of this season's hottest colors, and Anthropologie has wholeheartedly embraced the hue for spring. Their Jardin Des Plantes Vase was designed by South African artist Ruan Hoffman. Delicate curves and a stunning gold base give this vase an eclectic feel: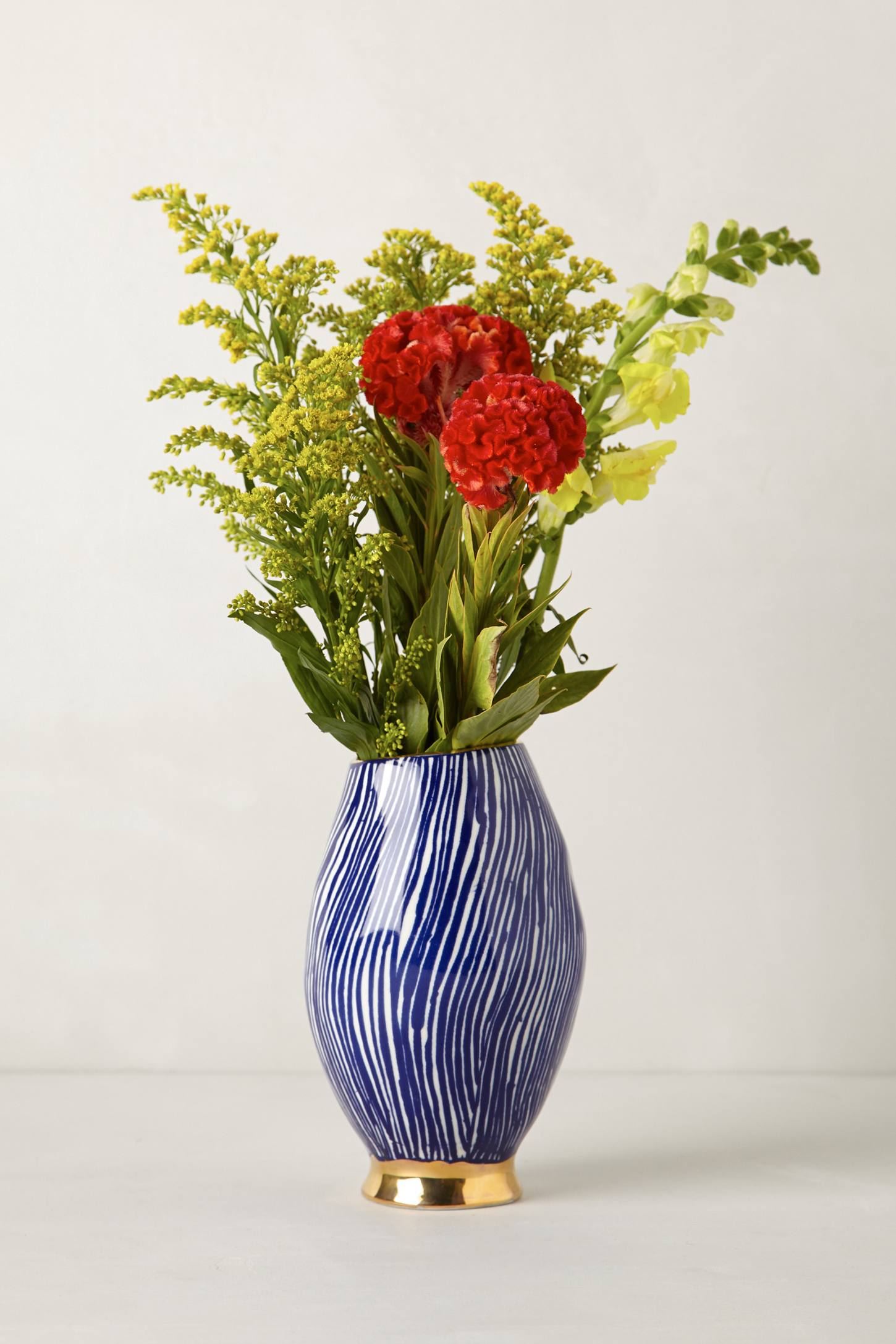 Gold and white make a chic combination in Anthropologie's Fused Gold Vase. Stoneware embellished with liquefied 14-karat gold paint creates the perfect receptacle for flowers, tropical leaves and more. Choose from two different styles to find the perfect fit for your space: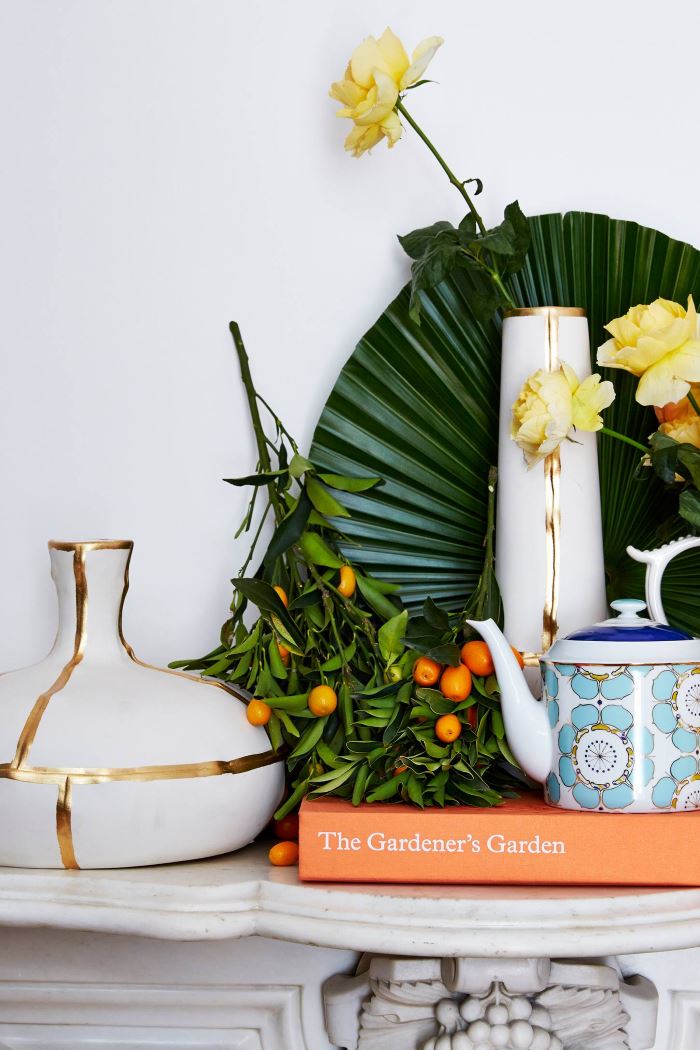 Jonathan Adler's Futura Splatter Vase makes a bold statement in black matte and solid gold. A powerful porcelain conversation piece, this vase will add just the right amount of drama to your spring!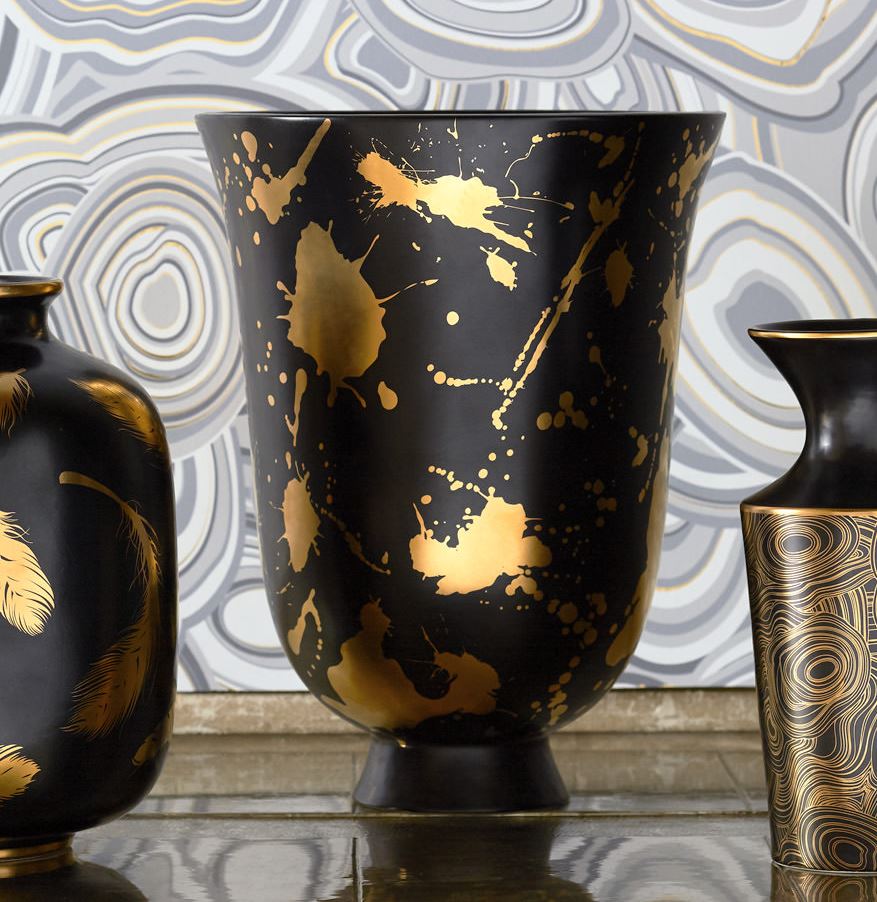 Speaking of statement pieces from Jonathan Adler, the Malachite Teal Vase (pictured below, center) features a ball and cone form, as well as solid gold accents. With its mineral-like pattern and uplifting color, this piece is the essence of modern glamour: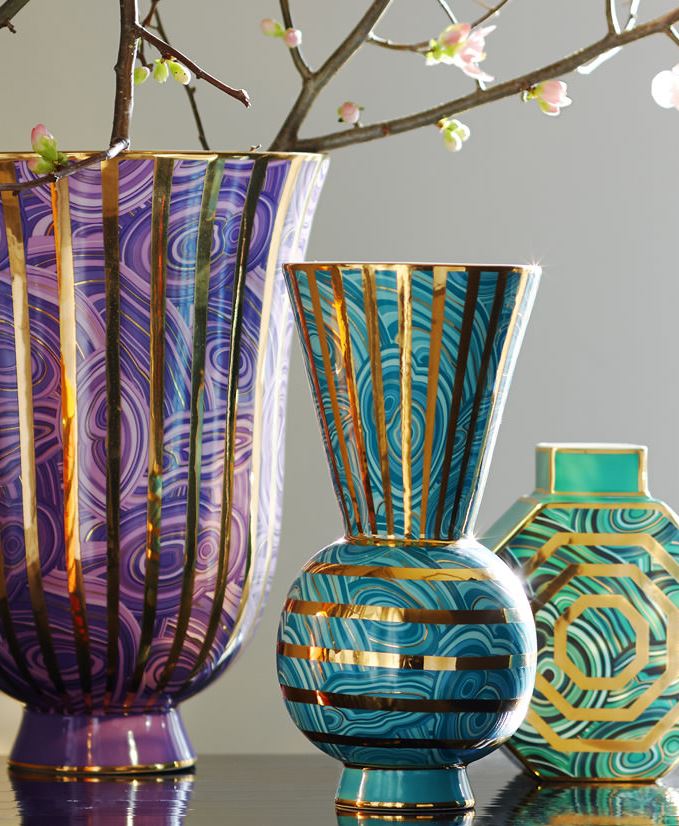 Do you have any favorites from today's featured finds? Tell us about your top picks by leaving a comment below…