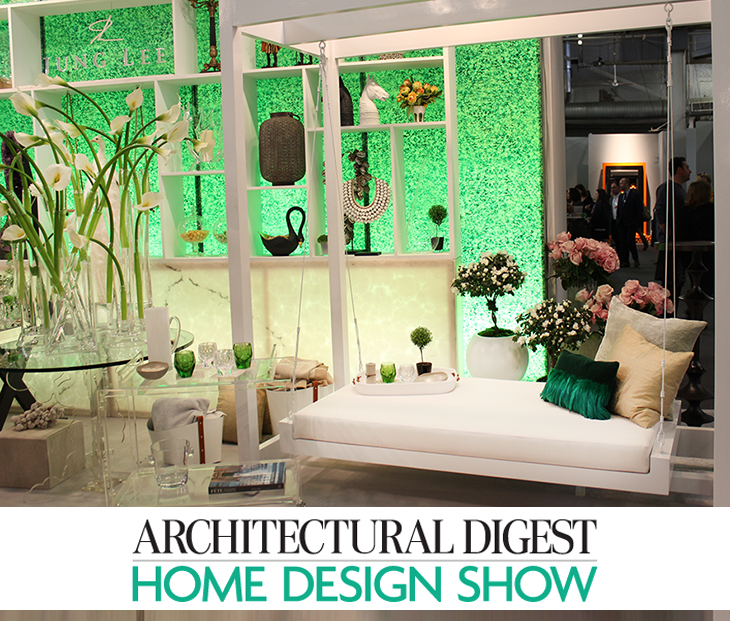 The Architectural Digest Home Design Show is an annual ritual for New York design fans looking to shake off the winter and bask in the warmth of the latest and greatest interior design trends.
This year's show took place amidst some still chilly weather, but that didn't stop people from waiting in line at Piers 92 and 94 on Manhattan's West Side to get in and experience all of the eye-catching excitement. But don't worry if you couldn't make it – Decoist was on the scene scoping out all of the hottest furniture, appliances, technology and style shifts for you. Jump into our gallery to see all of our favorite booths from the show!
2015 Architectural Digest Home Design Show [VIDEO]
2015 Architectural Digest Home Design Show [Gallery]
COLORFUL APPLIANCES
Though spring had not quite sprung yet outside the walls of Pier 94, a sprinkling of colorful appliances in hues ranging from pastel pink to robin's egg blue brightened up the exhibition space's hallways. Blue Star attracted showgoers to stop by and see their blue, red, peach and green stoves and fridges using the persuasive powers of free food, while Big Chill showcased its retro-inspired appliances with a side of freshly poured beer. Smeg was also amongst the rainbow set with their vibrant toasters, ovens and ever-popular Fiat fridge. On the opposite side of the spectrum, glossy black appliances were also seen at several booths while stainless steel sightings were few and far between.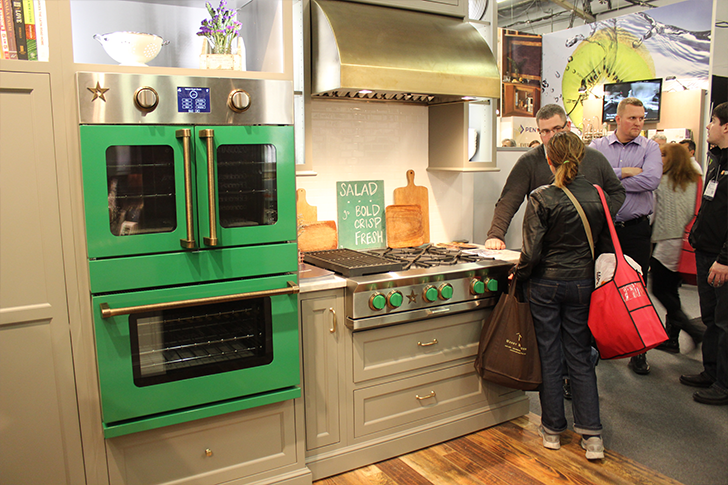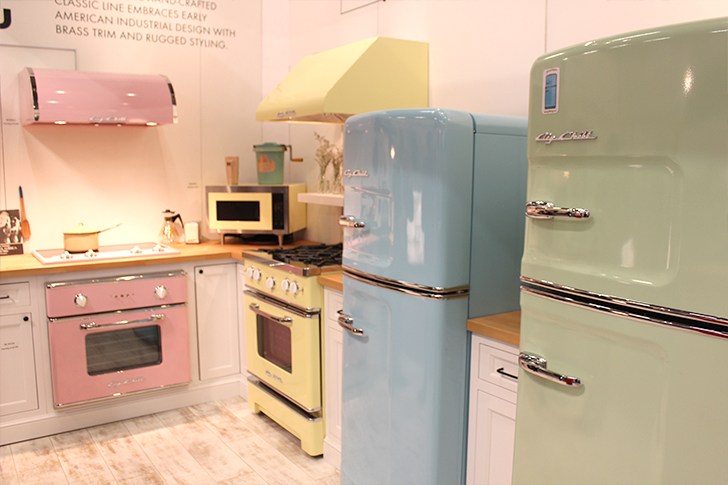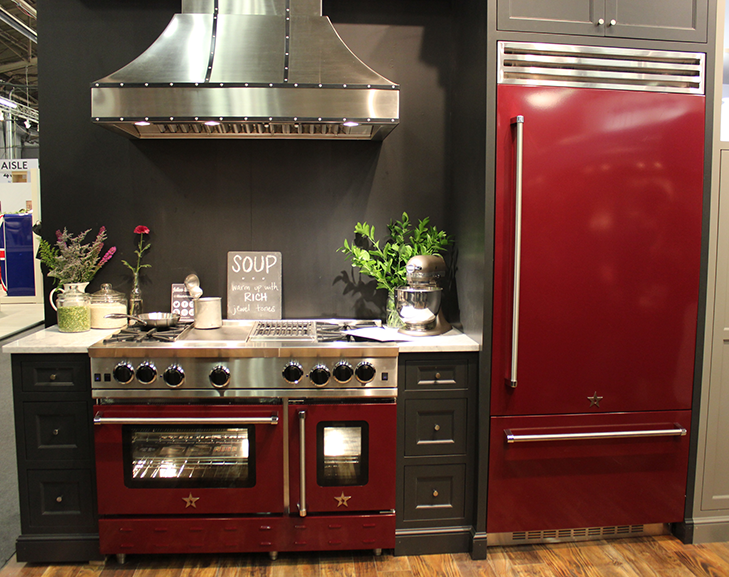 CONVERTIBLE FURNITURE
"New York has gone into a lot of micro-apartments and one-bedroom and studios are going crazy. We've been very, very busy," said Gideon Back of Milano Smart Living. The Milano booth was a hit at the show, and Back and his teammates admitted to getting quite a workout demonstrating how their convertible coffee tables, flip-down wall beds and double-duty sofas work. Back said he attributes the popularity of the line of transforming, multi-use furniture to the increased number of people living in smaller, more urban spaces.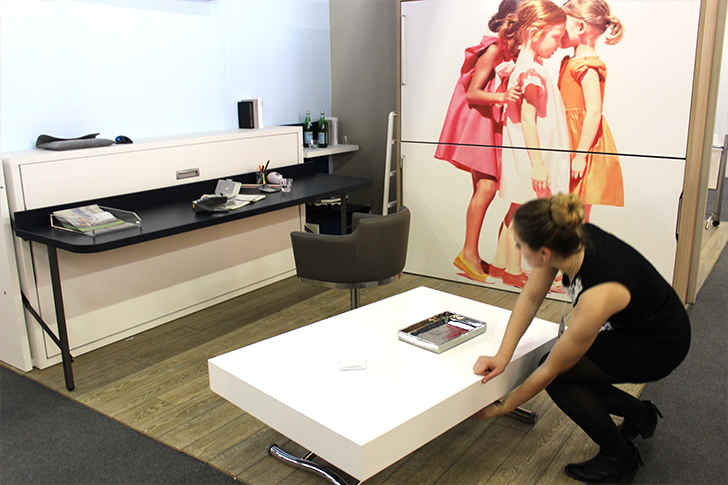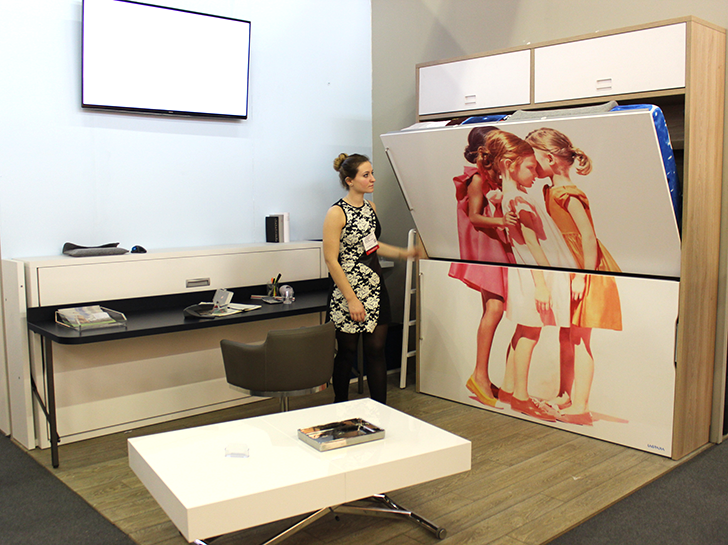 MECHANIZED STORAGE
Nowadays it seems like we can have nearly anything with the push of a button, and that trend has translated to ultra-efficient storage as well. Fans of the 1990s film Clueless were no doubt reminded of Cher's famous revolving closet when passing by a real-life version at the Metalprogetti booth. The gadget-enhanced solution can be controlled by an electronic console or even via an app, but this kind of convenience won't come cheap. The configuration seen at the show starts at around $25,000.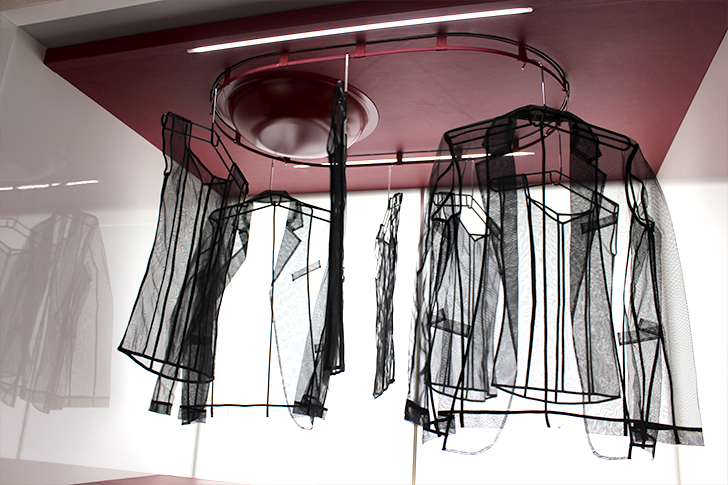 The fellas over at Bauformat were also eager to show off their futuristic mechanized cabinets, which seem like they would fit right in at Tony Stark's penthouse apartment. The sleek compartments pop open with just a simple tap and have also been tested to withstand heavy weights (which might come in handy for storing large, metal suits).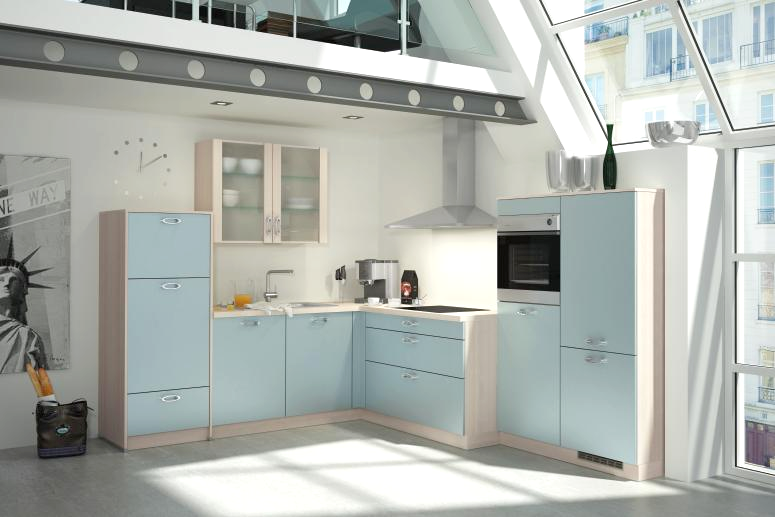 Image: Bauformat
RECYCLED WOOD FURNISHINGS
Wood furnishings are nothing new to the AD Home Design Show, but green design fans will be pleased to know that many of the wood pieces seen at this year's show were made from reclaimed lumber. Brooklyn-based Stefan Rurak explained that he sources the materials for his tables, clocks and drawers from old neighborhood buildings or from fallen wood, like in the case of his stools made from trees knocked down during Hurricane Sandy.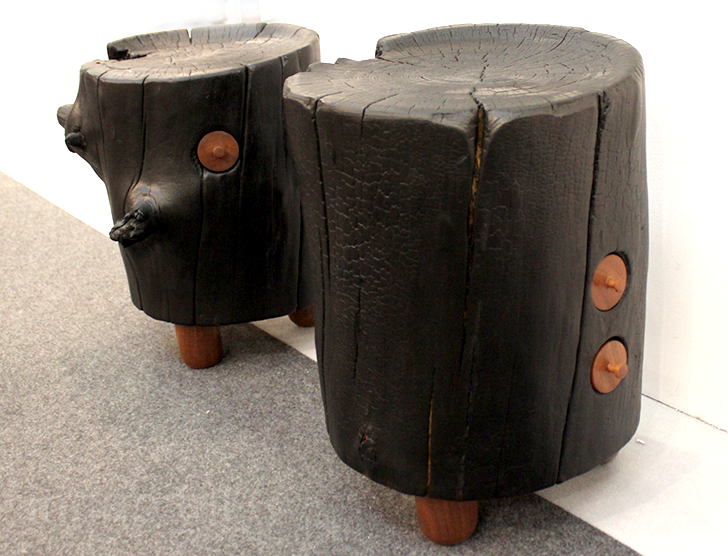 Holland-based Wonderwall Studios also works with salvaged wood to create their unique wall tiles, which give the impression of rustic custom walls when pieced together.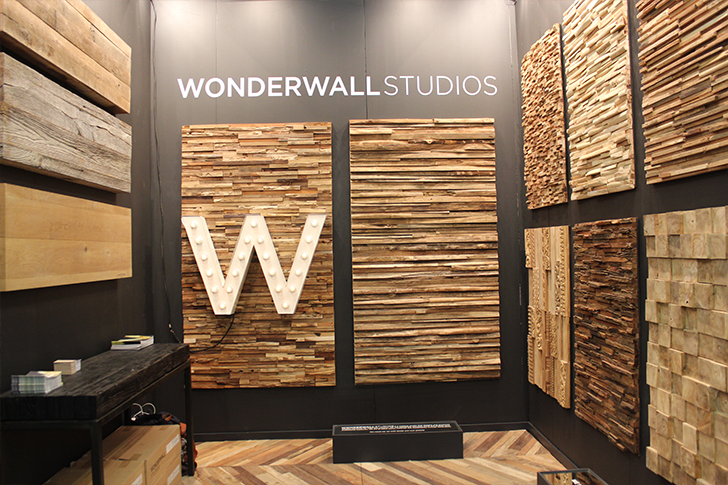 GREENERY
It may have been snowing outside, but exhibitors like Jung Lee, Flowerbox, and Ptacek Home brought a touch of green into Pier 94 with their verdant tabletop displays, vertical gardens and planted furniture.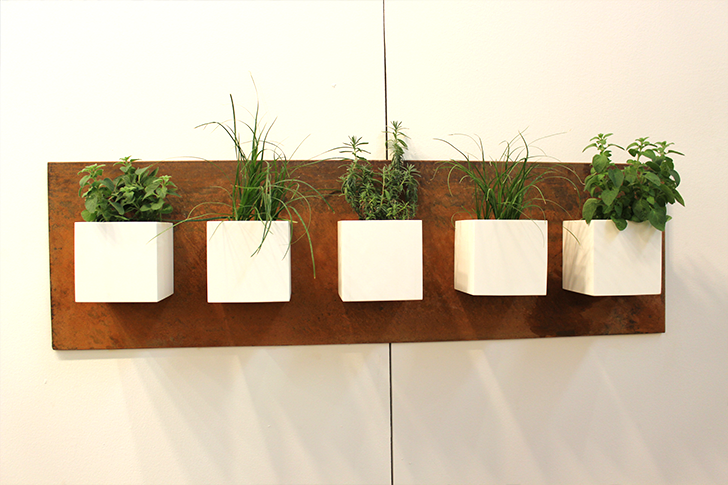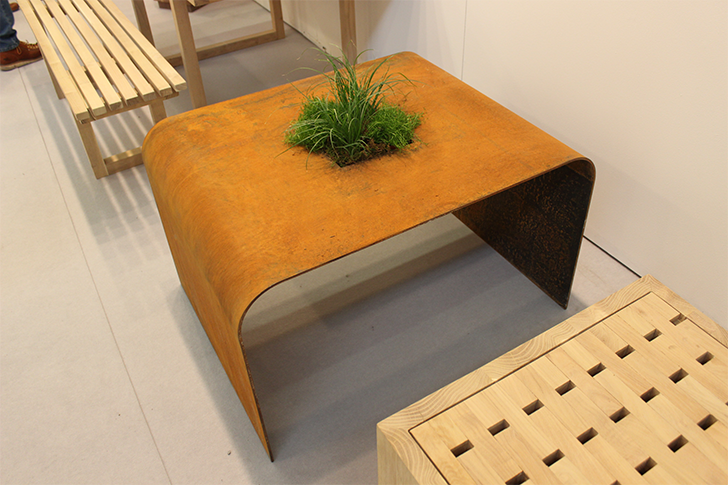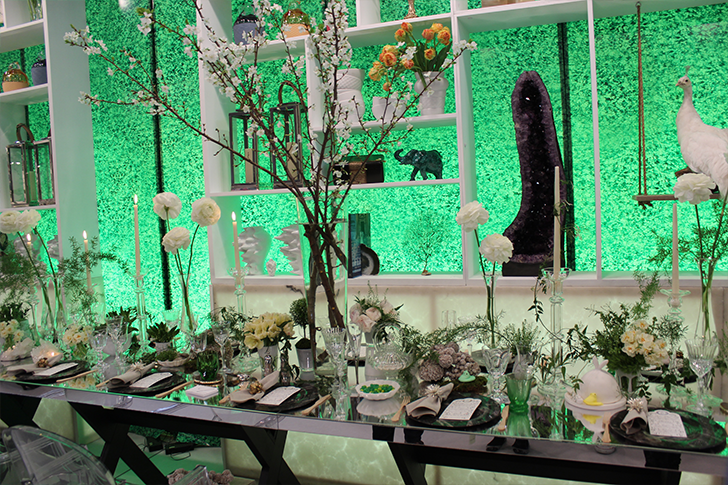 INTEGRATED AUDIO
Furniture with integrated audio was another trend that seemed to be catching the eyes and ears of showgoers. Exhibitors Symbol Audio and Atocha Design both displayed record player-equipped consoles this year.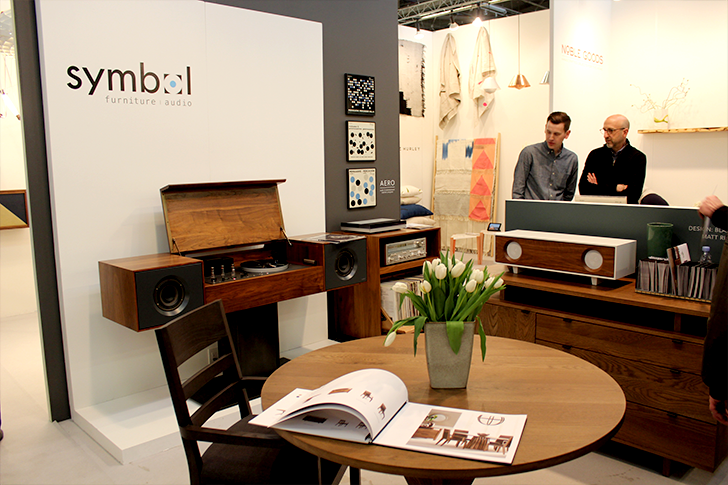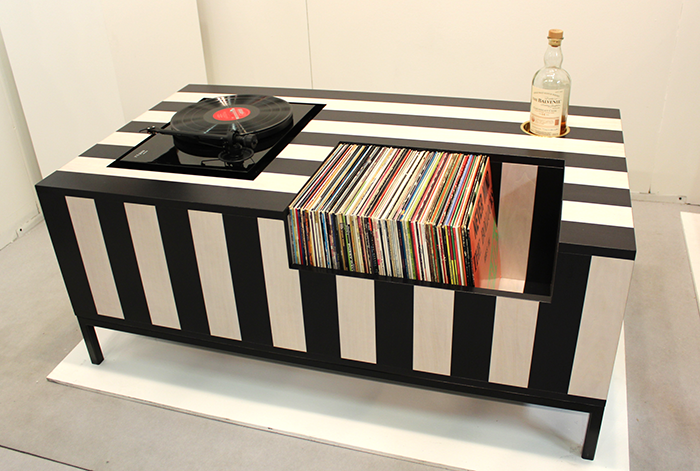 SPACE-SAVING KITCHENS
In keeping with the overall trend of saving space and urban living, Miele has come out with several new designs for city-dwellers. Their combination microwave/oven and steam cooker/ovens allow consumers to purchase two appliances that take up the space of just one. Christian Schwarz, VP of Marketing, also explained that Miele's slimmer, more compact refrigerators were designed for urbanites who want to pick up more fresh, local produce daily instead of storing large amounts of food in their homes.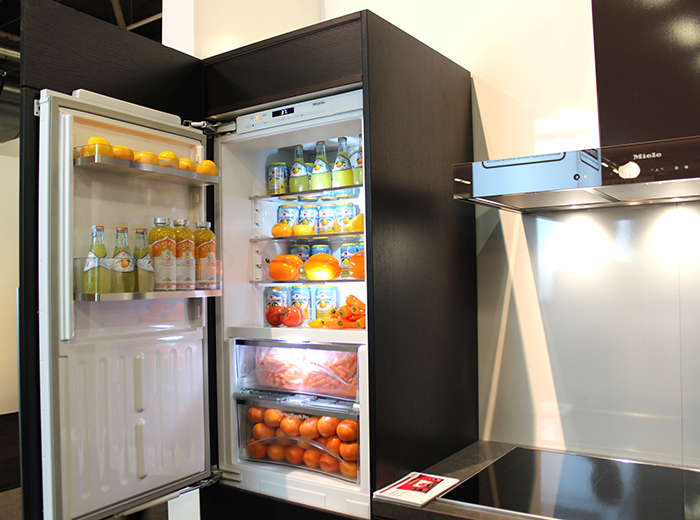 We hope you enjoyed our roundup of exciting new interior design trends from the 2015 Architectural Digest Home Design Show! Which booths inspired you the most? Let us know in the comments below.