Are you a foodie? Me too! And if you're a foodie searching for creative ways to decorate your kitchen, you may be surprised that some of your favorite culinary tools and display pieces are a great place to start. In fact, the very pieces that you keep on hand for use at a moment's notice are perfect for showcasing on open shelving, countertops and kitchen islands. From your favorite coffee pot to that cake stand you thought was only for parties, here are some foodie items that can upgrade the look of your kitchen! [image from Alice Lane Home Collection via Houzz]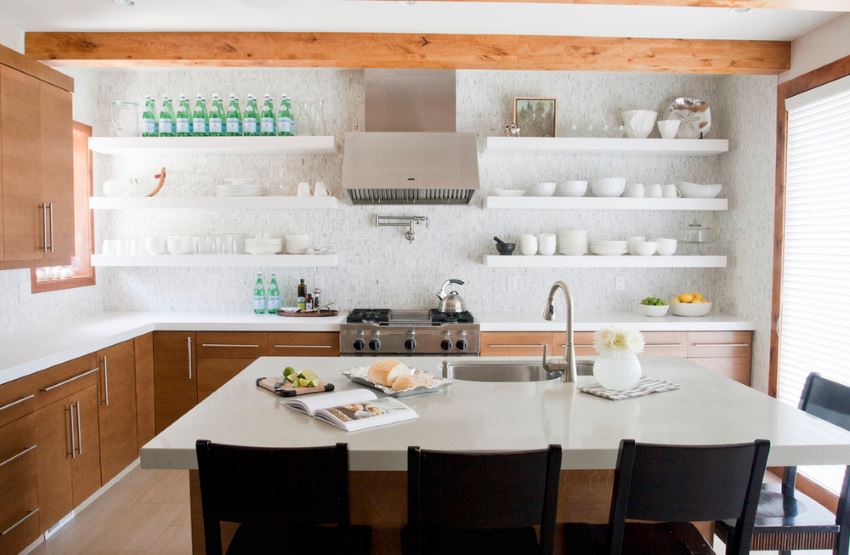 Mortars and Pestles
I have a confession to make: I once bought a mortar and pestle solely for display purposes! Not kidding! But as I started to cook more and more, I realized that this small kitchen accent was a bit more useful than I thought. In fact, I used it to crush seeds for a special olive mix I prepared just last evening! Marble and porcelain are two popular mortar and pestle materials, as shown by this Porcelain Mortar & Pestle from Williams-Sonoma: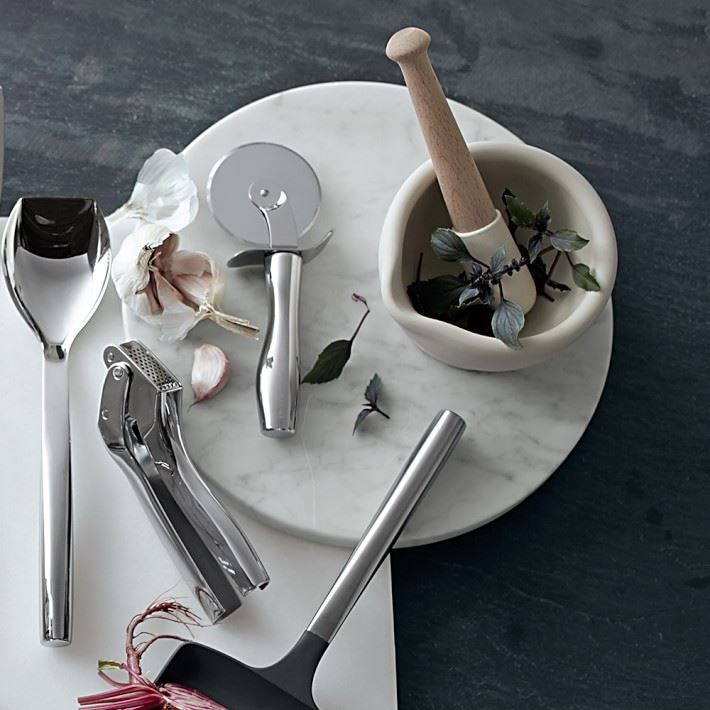 Wooden mortars and pestles are gaining popularity, as they add rustic charm to even the most modern of kitchens. Not to mention, they really shine against sleek white backdrops such as marble and subway tile. This Rustic Olive Wood Pestle and Mortar by The Rustic Dish can be ordered from Not on the High Street: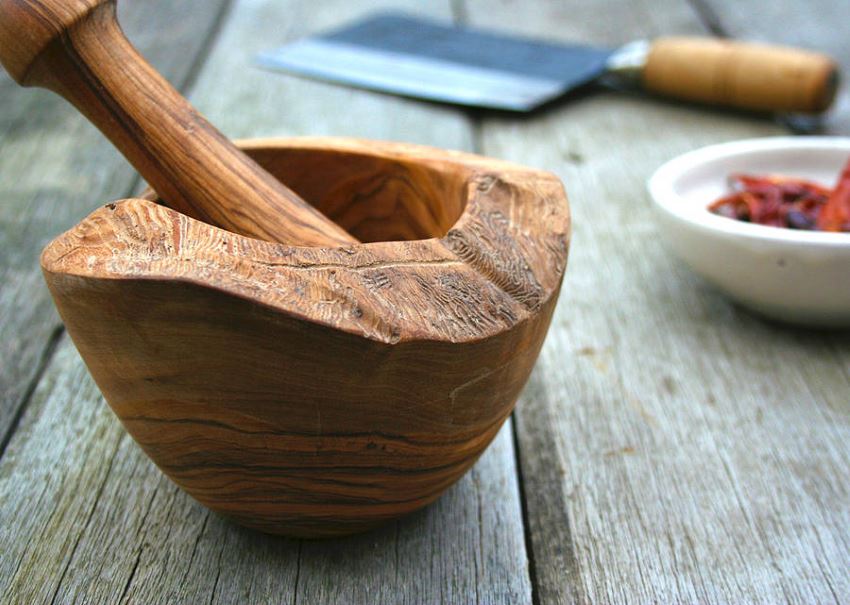 I store my mortar and pestle on open shelving to the left of the sink, but you may consider keeping yours on the countertop or kitchen island, especially if it's as substantial as the one below. Mortars and pestles bring apothecary style to our culinary spaces, and they signal the promise of freshly ground herbs and other delectable treats. [from Russell Taylor Architects]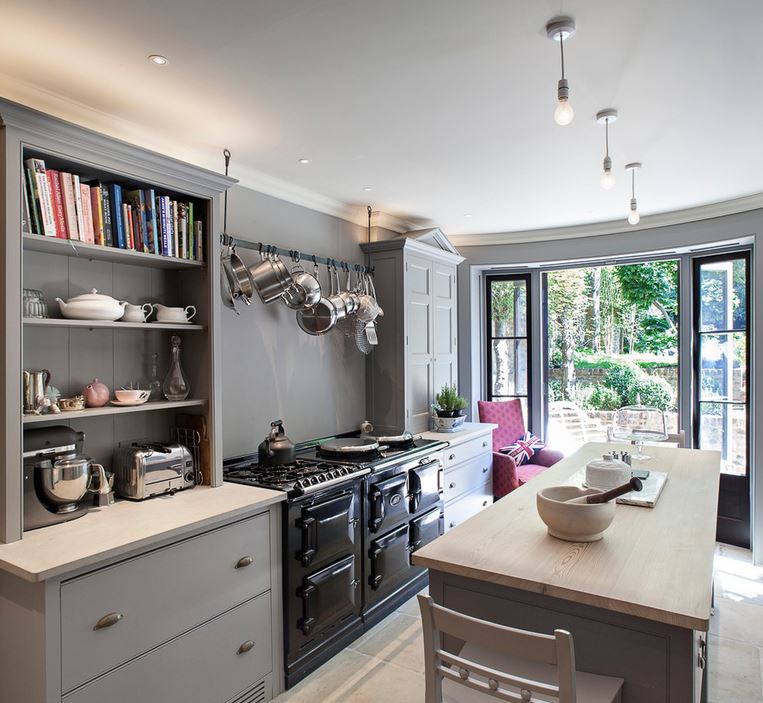 Coffee Pots
If you're not a morning person (and even if you are), you likely start each day with a fresh cup of coffee. There are some pretty stylish coffee pots out there, like the Espro French Coffee Press from Williams-Sonoma, shown below. Since coffee pots are typically daily use items, why not give them an accessible spot in your kitchen?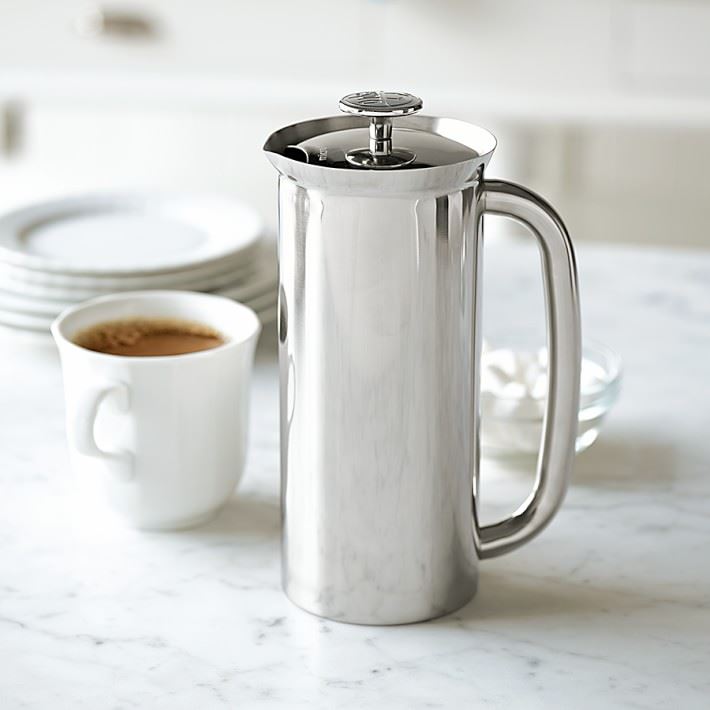 In fact, a slew of industrial-chic coffee pot and coffee press designs have emerged in the last few years, inspiring many to collect a few and proudly display them as a group. This stunning Bodum Eileen 8-Cup French Press Coffee Maker is unique in its gold tone and abstract design. [via The Hive]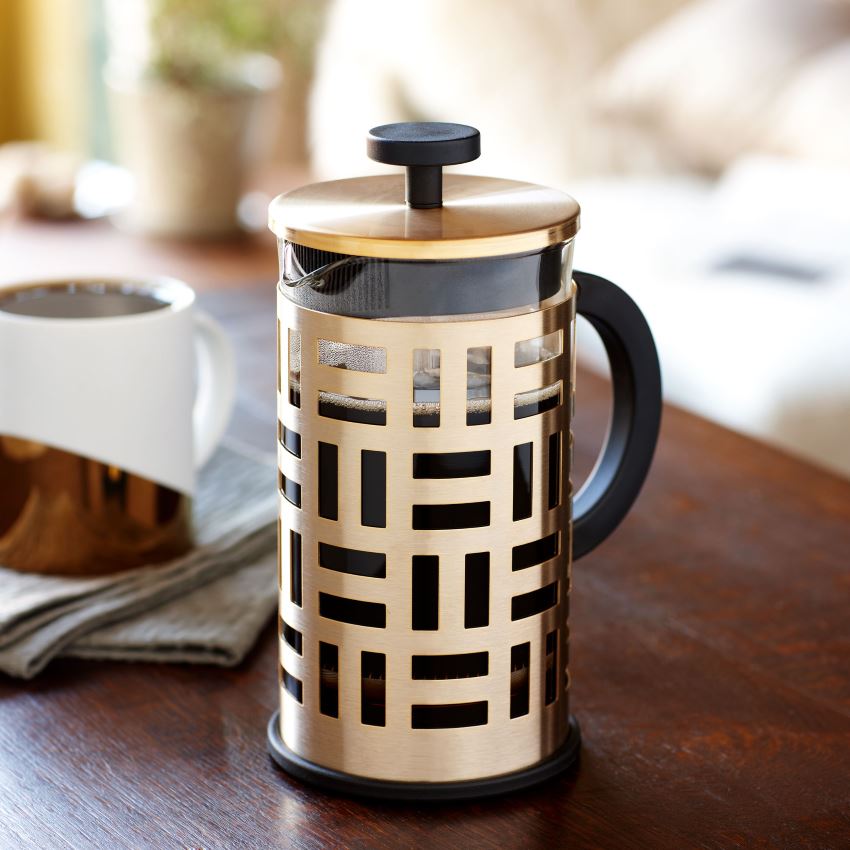 Sleek metallic coffee pots celebrate contemporary design to the fullest, making them the perfect accent to modern kitchens. Plus, clean-lined metal and glass pieces are ideal focal points that have the power to shine without creating a cluttered feel. Don't drink coffee? You can also display your teapot with pride! [from Dan Kitchens Australia]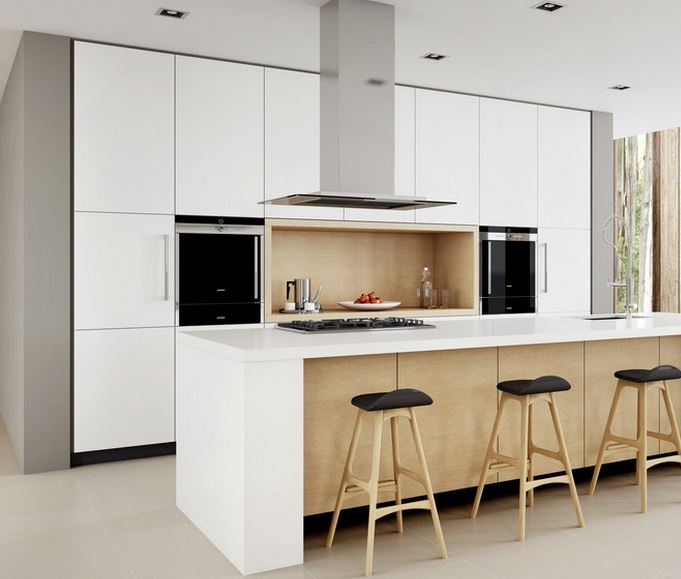 Pots and Pans
Pots and pans are often stashed out of sight in cabinets. But more and more foodies and culinary enthusiasts are taking pride in selecting colorful cookware that can be on display at all times, like these Le Creuset pieces from Williams-Sonoma: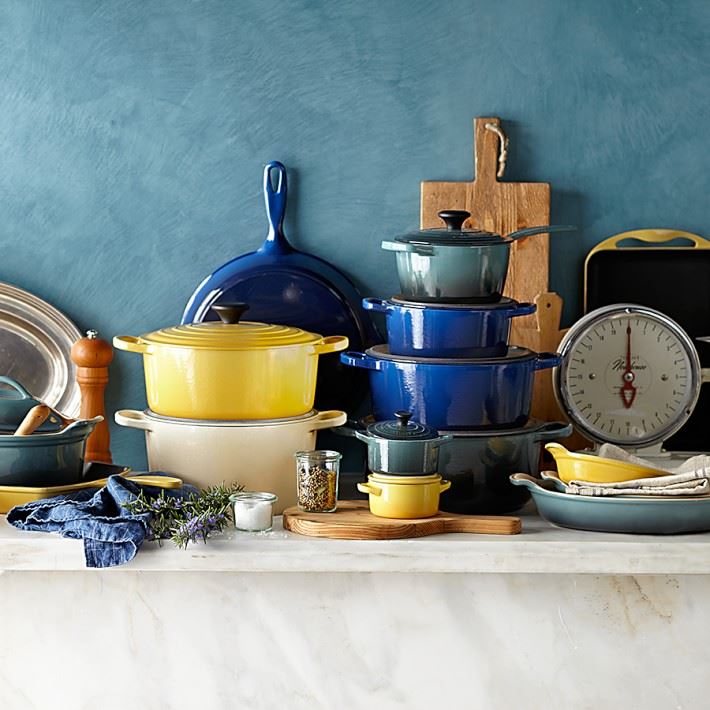 With Le Creuset, cast iron and enamel take center stage, showcasing a range of colors. Below, a quartet of enamel Dutch ovens adds a vivid dose of color to open shelving in a modern kitchen. [photo from Klopf Architecture]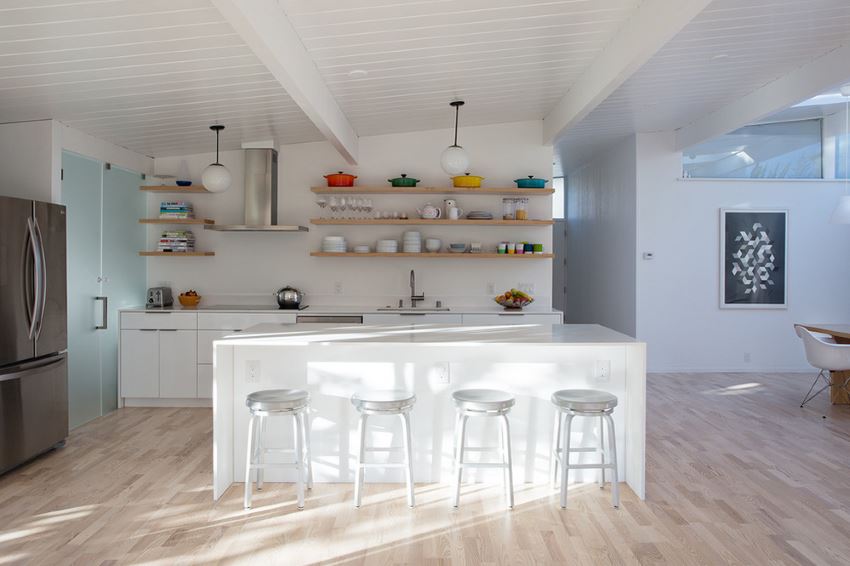 In fact, one Le Creuset Dutch oven on the stovetop can serve as a vibrant focal point in the kitchen, especially since today's bistro kitchens often boast an abundance of white paint and metallic fixtures. [from Destination Living]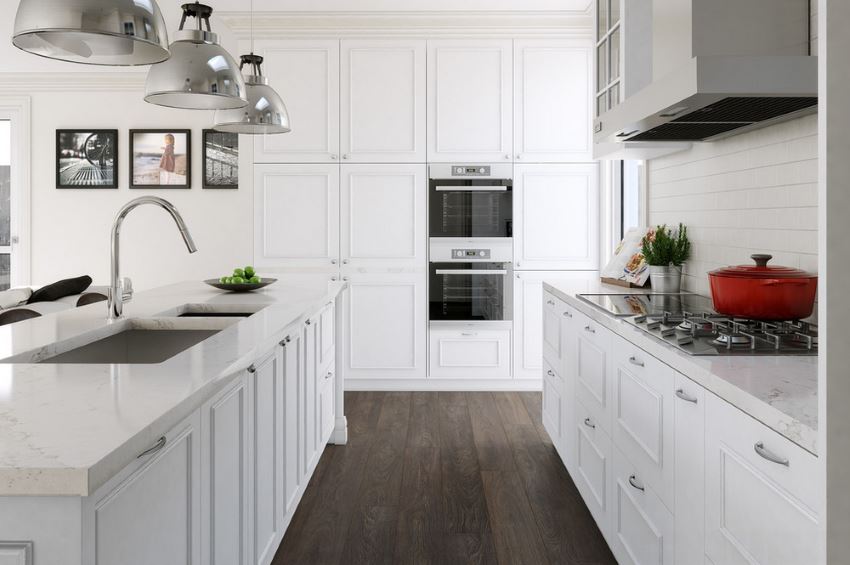 Cheese Boards
In this next section, I'm grouping cheese boards and cutting boards, since many of today's cutting boards are chic enough for serving cheese and other goodies! Below we see a slew of cheese boards from Williams-Sonoma. The selections with handles are perfect for hanging on the kitchen wall.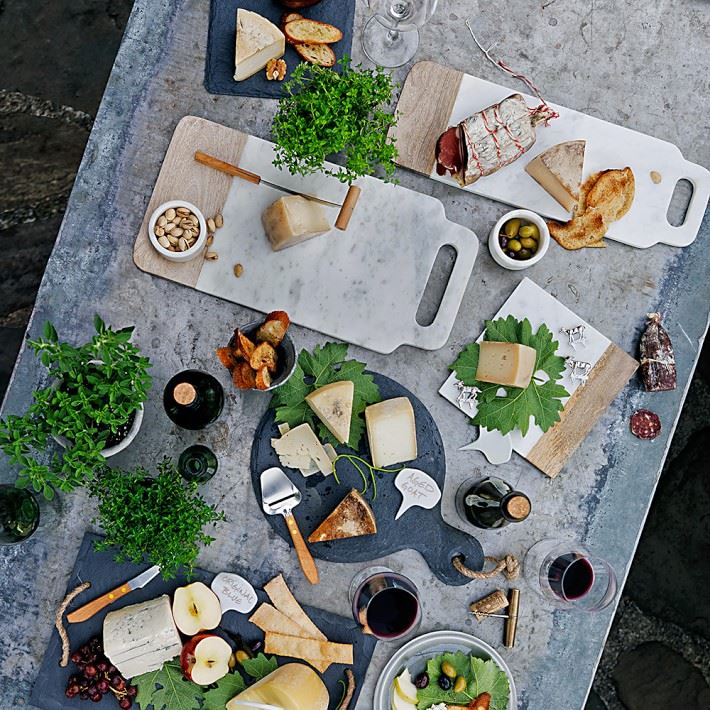 You can also lean cutting boards against the wall to create a backdrop for other culinary tools. I use this trick on my open shelving, leaning cheese boards, serving trays and marble tiles against the wall while displaying metal and glass pieces in front of them. Below we see the Captain Wood Server from CB2, crafted from shesham wood. The orange rope handle adds a pop of color.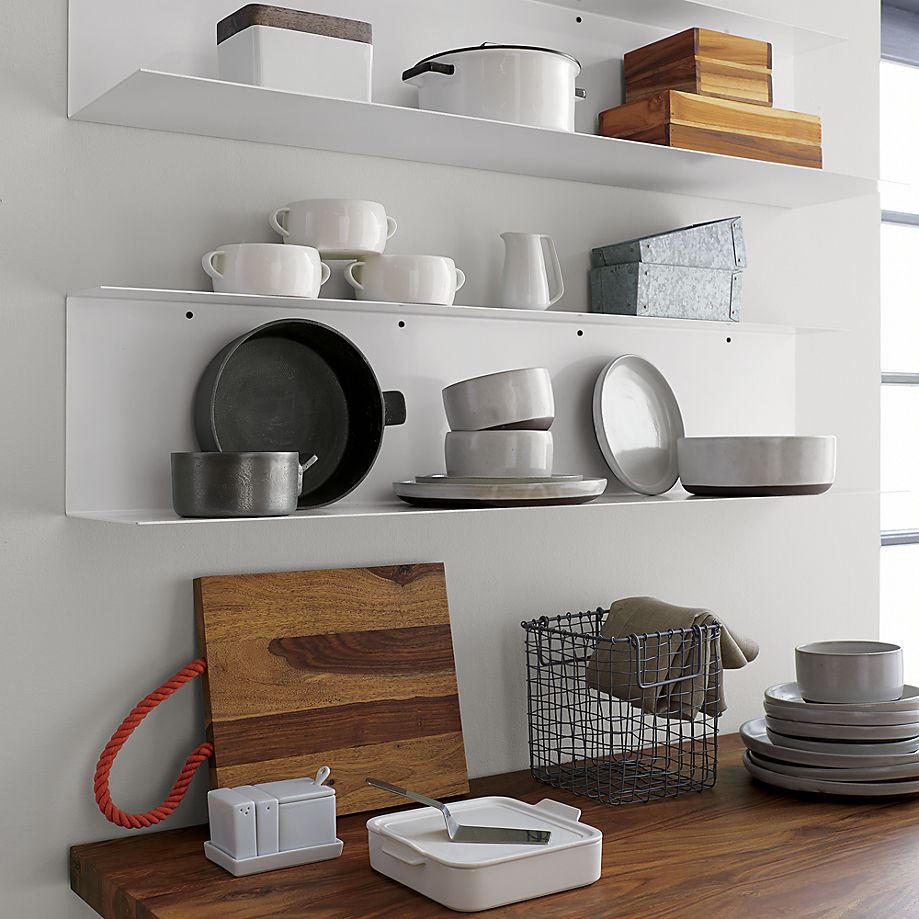 These cutting boards and buttering boards from ferm LIVING are too stylish not to display! A range of geometric patterns and forms creates enticing products that are particularly fetching in a group…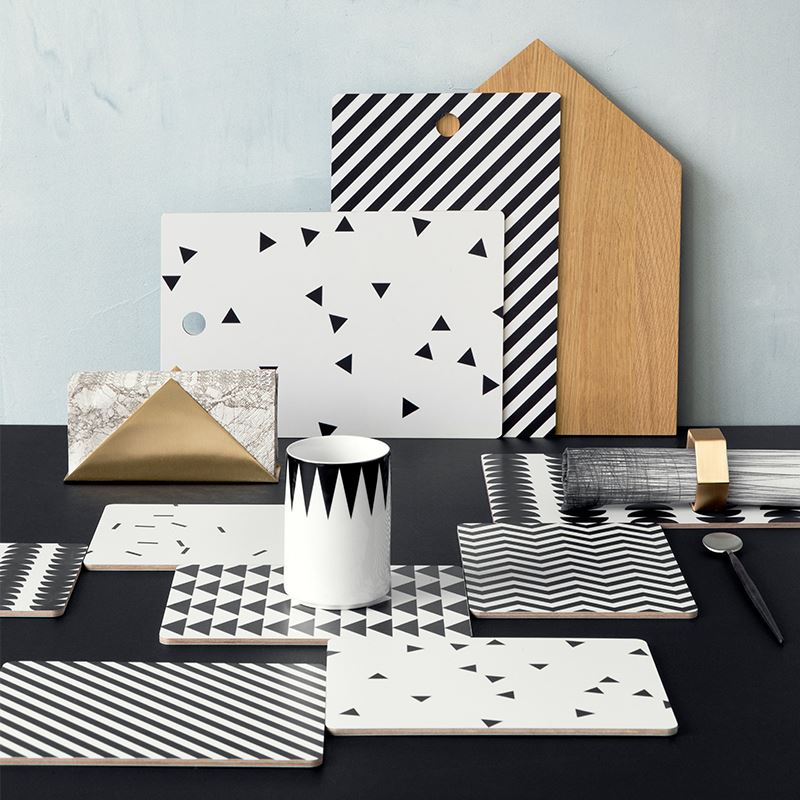 Cake Stands
Last but not least, we can't forget about the treats! And the very cake stands that keep them fresh can end up being a true treat when it comes to kitchen display. Below we see the Williams-Sonoma Open Kitchen Cake Stand, which easily mixes with other white serving pieces, thanks to its glazed stoneware construction: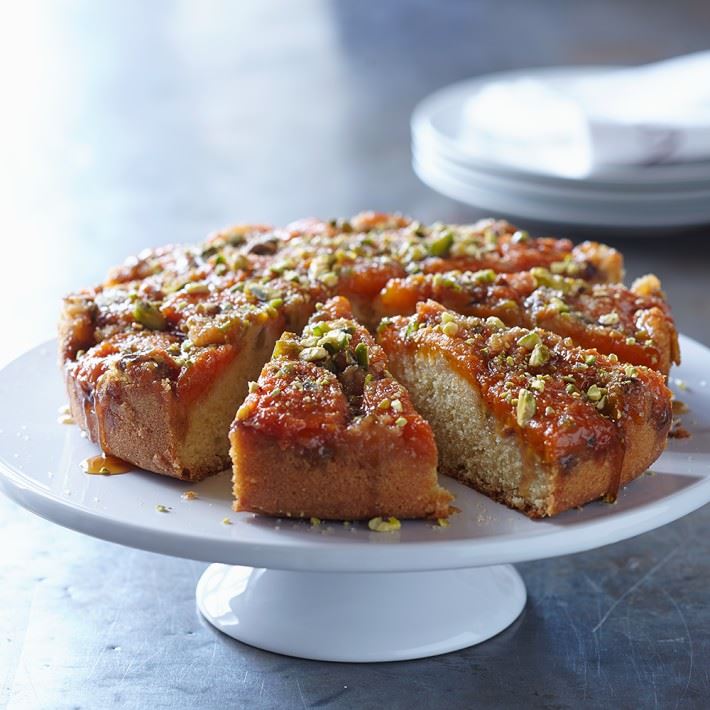 This Footed Cake Platter with Dome from Crate & Barrel was a wedding gift to my hubby and me, and we display it at all times, along with a few smaller cake stands from Crate & Barrel. This piece has taken center stage at holiday gatherings and dessert buffets, and it's perfect for preserving baked goods. Functional AND stylish!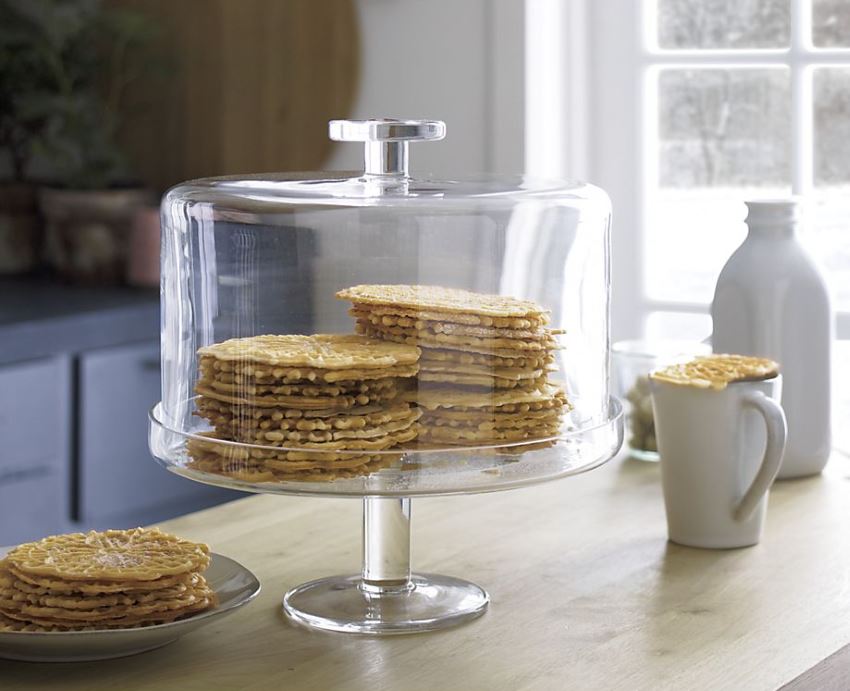 Plus, cake stands filled with treats are inviting, putting the goods on display rather than keeping them stashed away. This way, you're more likely to remember to finish the treats before they go bad. A single cake stand is the focal point of a kitchen island in the image below. [from Kitchens by Peter Gill]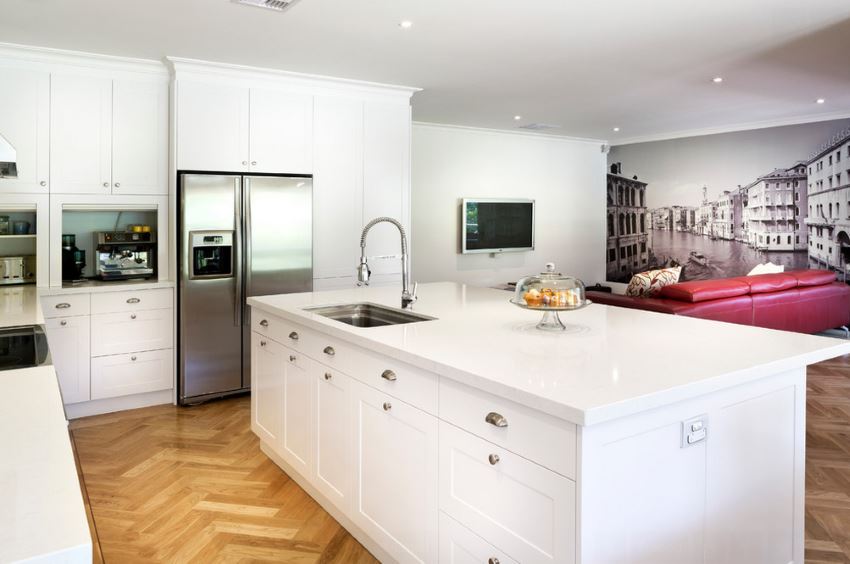 Are you ready to put your favorite foodie finds on display? Mortars and pestles, coffee pots, cookware, cheese boards and cake stands are a few suggestions to get started. Can you think of other pieces that are perfect for display? This studio kitchen from Camille Styles gives me a few ideas. Happy decorating, and bon appetit!