People and animals have enjoyed hot and steamy waters for thousands of years. From the famous Icelandic pools (that have been in use since Viking times) to the Japanese macaque monkeys who regularly warm up in the Jigokudani Hot Springs, relaxing in steamy waters is one of life's simple pleasures.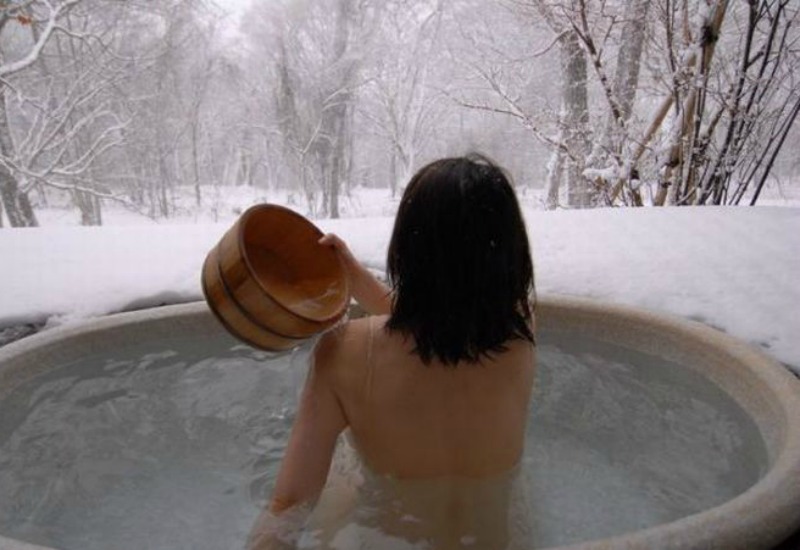 Warming up in a hot tub while it's cold outside—or even better, snowing—is a super-luxurious experience. Once you've tried it, you'll be hooked. Whether you install your own tub on your back porch, or travel to some of the world's best spas, you can regularly enjoy the muscle- and mind-relaxing benefits of hot tubs the world over if you seek them out. Here's some travel or home-improvement inspiration if you want to warm it up this winter.
A Sizzling, Steamy Winter!
Hotel Vieux Vicheres, located in Verbier-St.Bernard, Switzerland, is updating its historic buildings and spa. When it came time for new hot tub ideas, this (below) was one of their design finalists. They asked their fans and readers if they preferred a shorter stint in a rousing, bubbly tub, or a longer, more tranquil soak in a traditional Swiss tub. Hmmm….Good question!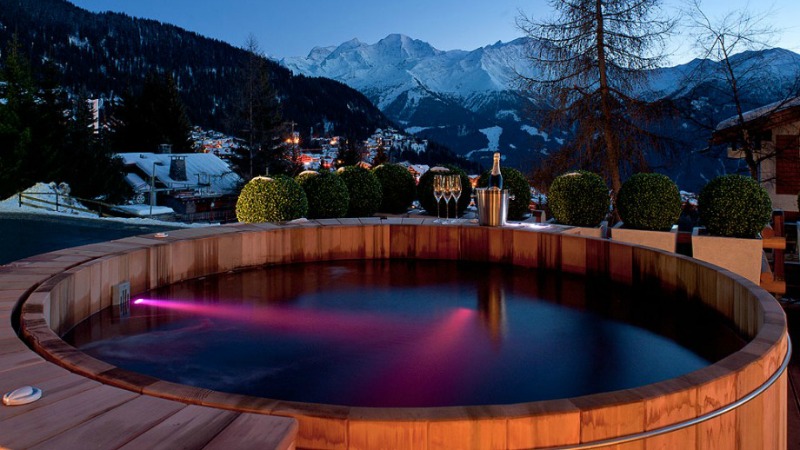 Begun in the Swiss Alps in the mid-90s, Iglu-Dorf was initially constructed as a temporary place for snowboarders to sleep on-mountain and wake up to the freshest snow. As friends and visitors began asking if they could spend the night in the handmade igloos, a business was born. Sustainably constructed each winter from local materials, there are now igloo villages to stay in Andorra, Davos-Klosters (new at the junction Slate/Totalp), Engelberg, Gstaad, Zermatt and Zugspitze. And with tired snowboarders come the need for an igloo-hot tub of course, pictured below.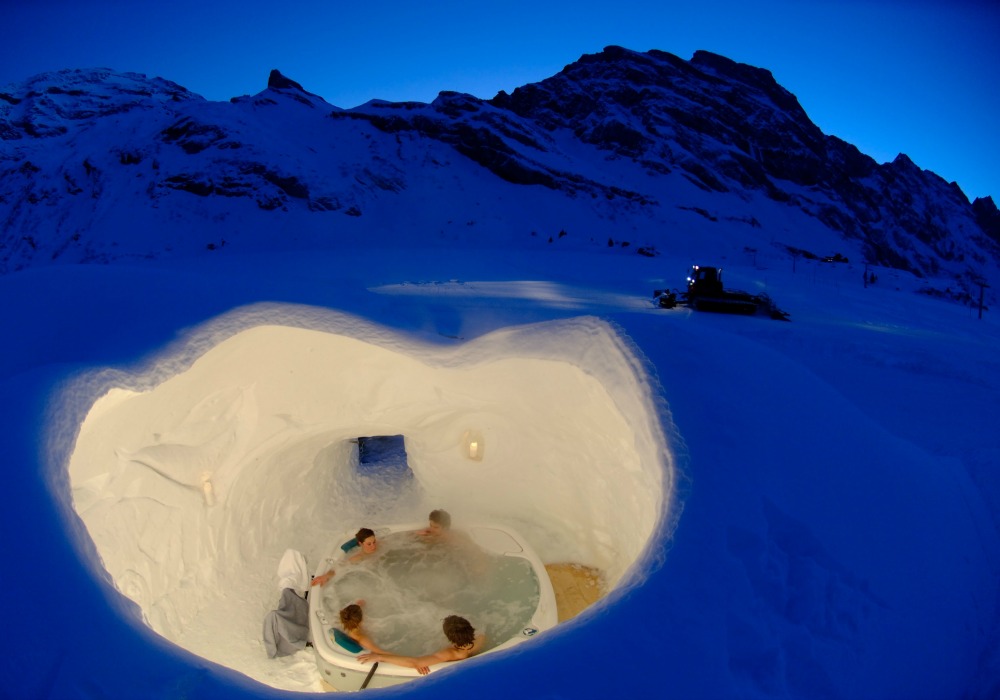 Hot tubs are an outdoor element that you can really personalize to your taste, which makes them ideal for an infusion of style and self-expression. For those with a gypset style, the wonderfully bohemian scene below, from Boats'N Hoes, is a perfect example of making your location the highlight of your home-spa set-up.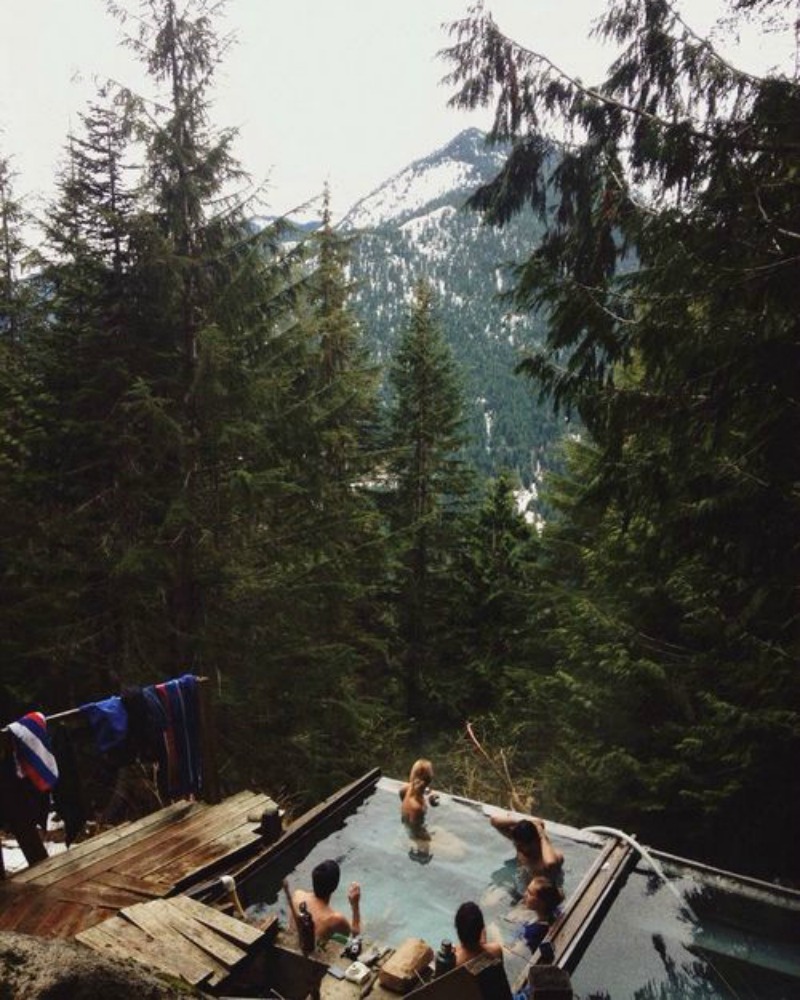 Unraveling Alpine Magic
Of course, what could be better than a glass of champagne while enjoying a hot tub in the snow? I can't think of a thing! This one's from the private Chalet Spa Verbier, also in the Swiss Alps, which can be rented by you and yours, or serve as a jumping-off point for your own design; this hot tub and stone wall-ringed patio are built into a hillside with phenomenal views to the left of the image.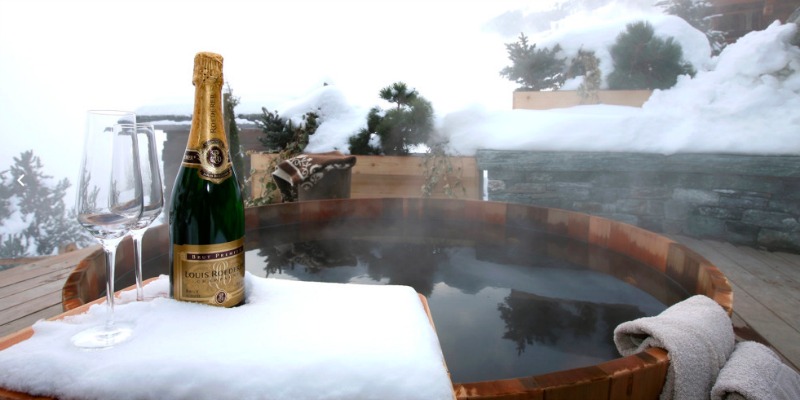 Bohemian definitely isn't for everyone; another take on the at-home hot tub is this built-in, cozily ensconced in local stone, and hidden from view by the house on one side and a hillside on the other.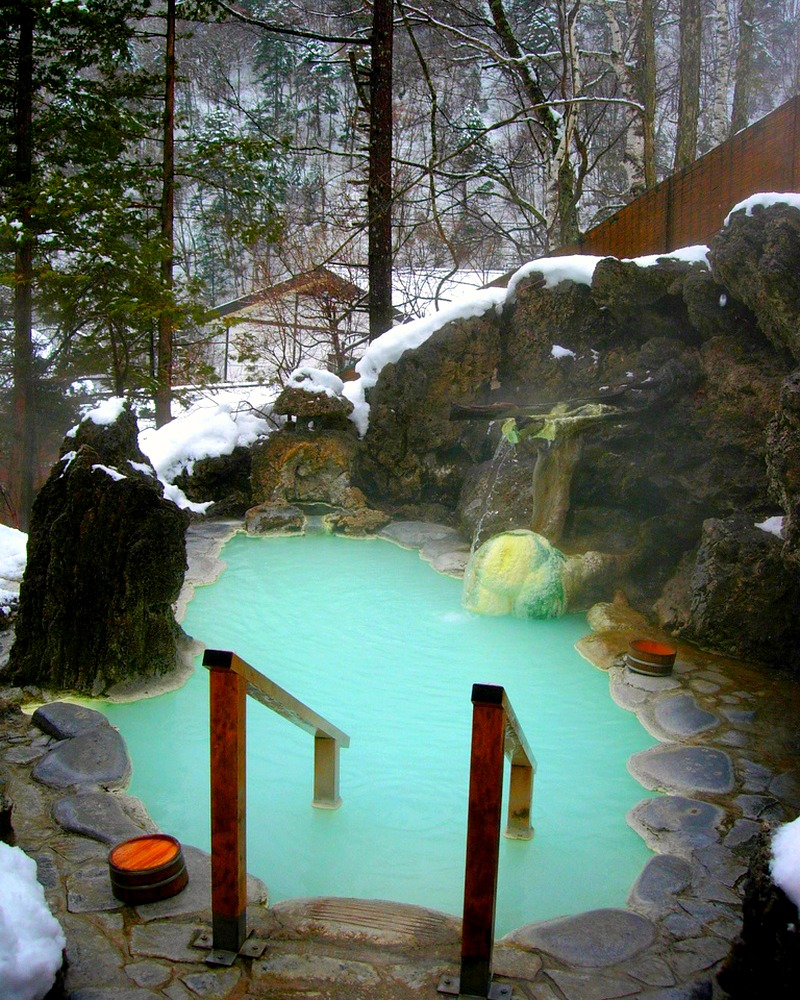 The Twenty26 Boutique Chalet in the French Alps (next to the Portes du Soleil ski mountain) keeps it classy with a hot tub for soaking…. and a sauna for drying off, along with several levels of decks for relaxing. If it were mine to enjoy, I would do the classic Swedish thing: Five-ten minutes in the hot tub, then a freezing douse in the snow, then into the sauna, all of which is great for the skin.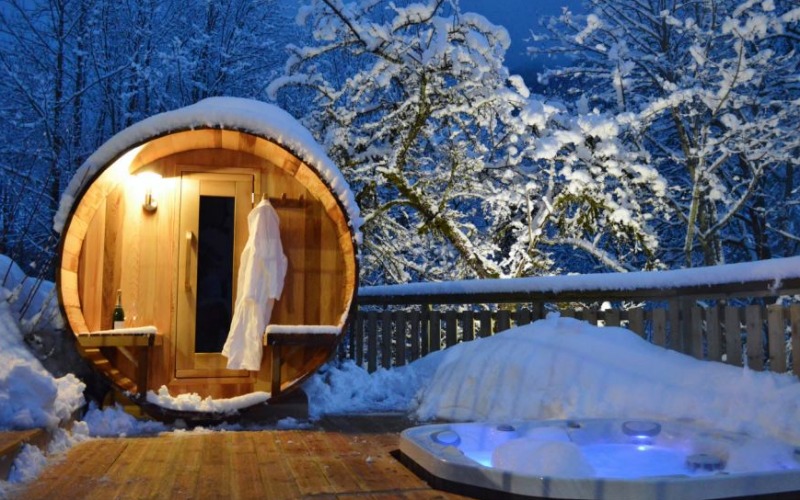 Cozy and Contemporary
Armathwaite Hall in the UK's Lake District is a classic English manor with fabulous modern upgrades, like this sizable infinity hot tub. There's also a larger spa and meditation area, and you can sign up to learn survival skills to earn your tub time—or just relax, of course.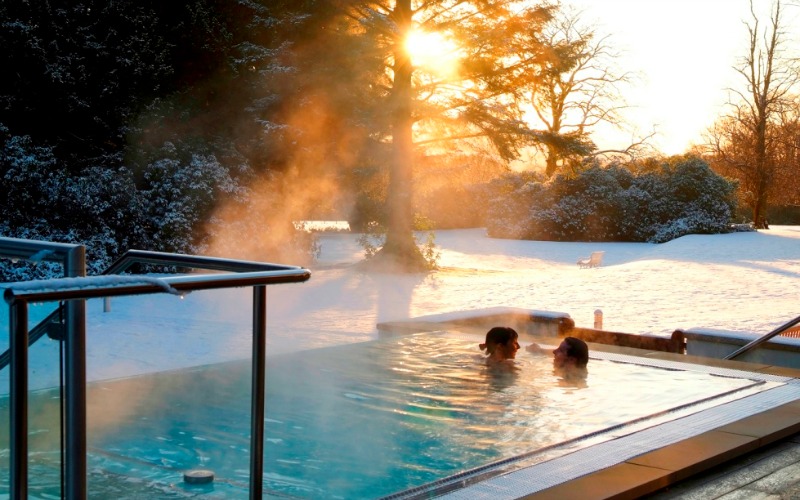 Of course, you can always keep it simple. A bank of snow, a steaming hot tub and a warm place to call home at the end of the night: This cozy scene comes from the Jackson Hole Mountain Resort, where you can ski in (and, I suppose, ski out) of your very own hot tub.