When I recently came across the modern art prints of Vontrueba, I was beyond ecstatic. Not only are these geometry-, texture- and materials-influenced prints stunning in themselves, the product photographs/illustrations feature still life-style vignettes that fill me with design inspiration! Kate here, and today I'm shining the spotlight on Vontrueba, a studio founded by a London-based Spanish architect. Check out these stellar selections from three of the studio's collections…
VEGGIE Collection
VEGGIE collection features a range of art prints that celebrate the bold power of vegetation. Tropical leaves and succulents are standouts in this group of prints, and VEGGIE#2 is one of my faves. Let's hear it for the monstera leaf!
VEGGIE #4 is lovely against the pale pink background in the image below. And suddenly I have the urge to stack all of my cutting boards in an artistic formation: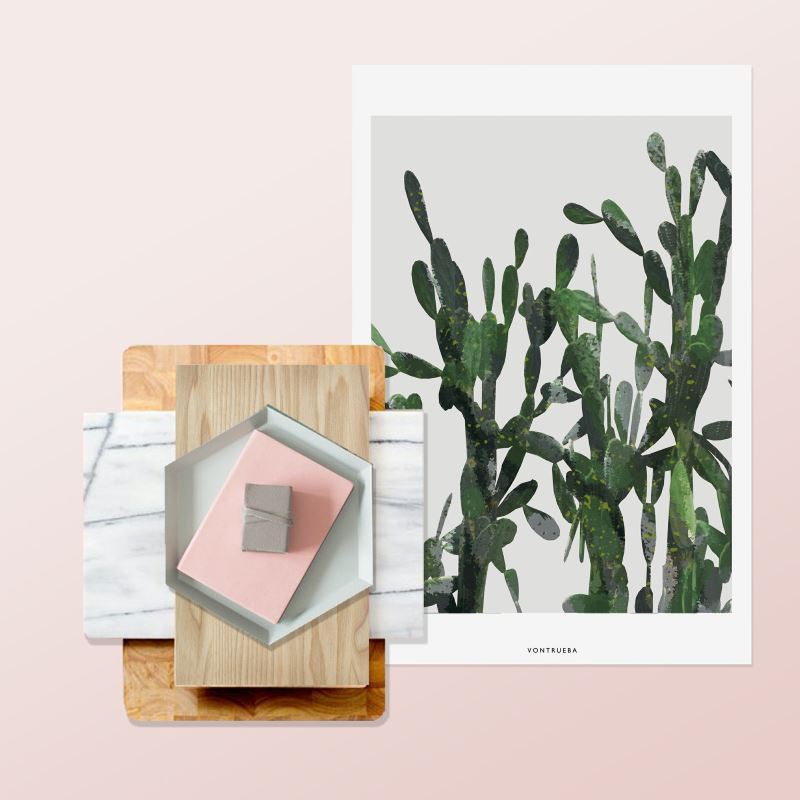 VEGGIE#5 is an ode to the palm, and the striking simplicity of this piece makes it the perfect complement to materials such as wood and marble.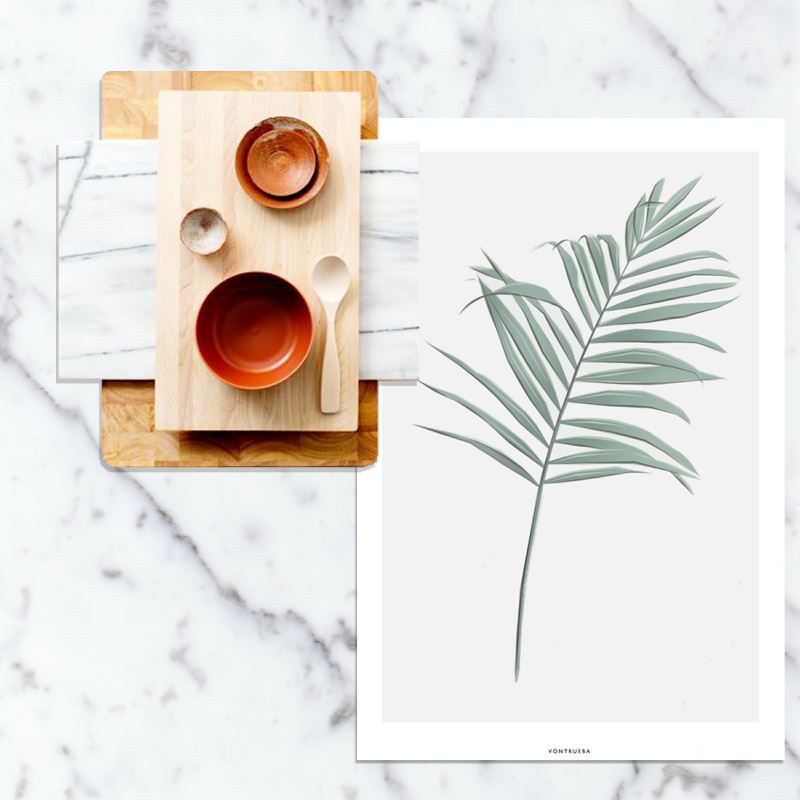 Twisting fronds create movement in VEGGIE#6, which brings the tropics indoors. Since the focus on the VEGGIE collection is greenery, these pieces will complement rooms painted any color. Not to mention, they have the power to keep the warm feel of summer alive all year long!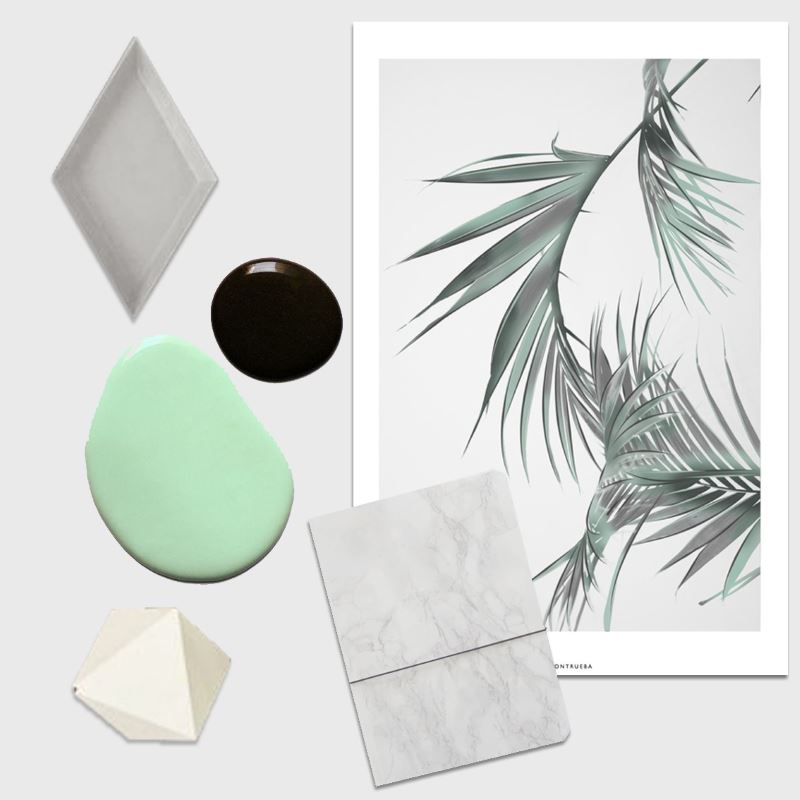 LUX Collection
What I love most about the LUX collection is the way that golden accents and rich tones put a luxury spin on geo motifs. Below we see LUX#1, complete with interlocking lines and sapphire tones: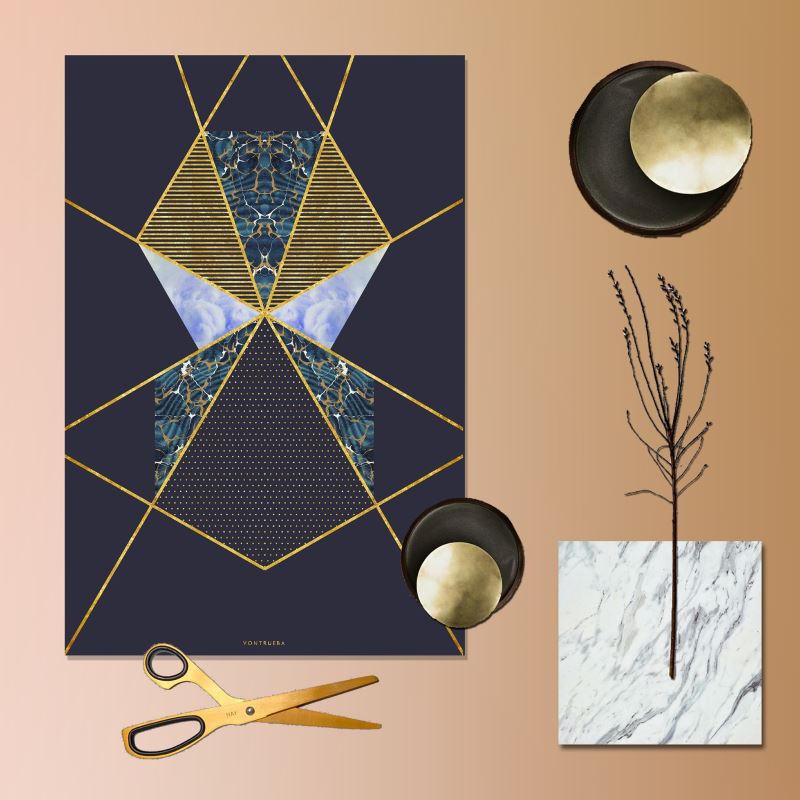 Emerald green tones and malachite banding permeate LUX#3, and the vignette below illustrates the versatility of this piece. Can't you imagine it in both a decadent space and a minimalist one?!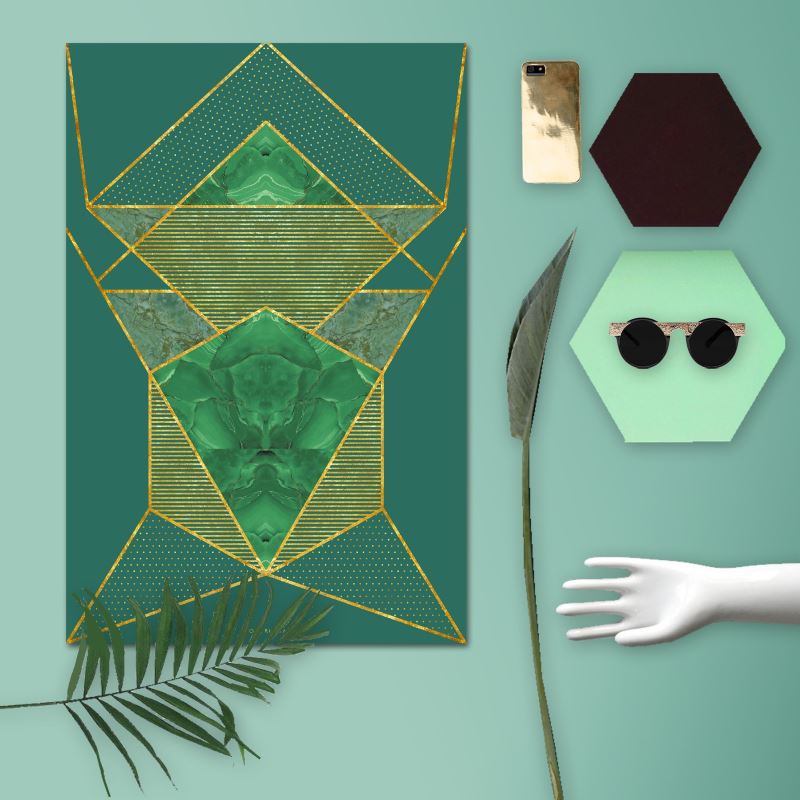 Golden Pineapple highlights the geometric appeal of a tropical fruit favorite, set against a black background. This piece would stand out in a space filled with black and gold accents. And pretty much any other hues of choice!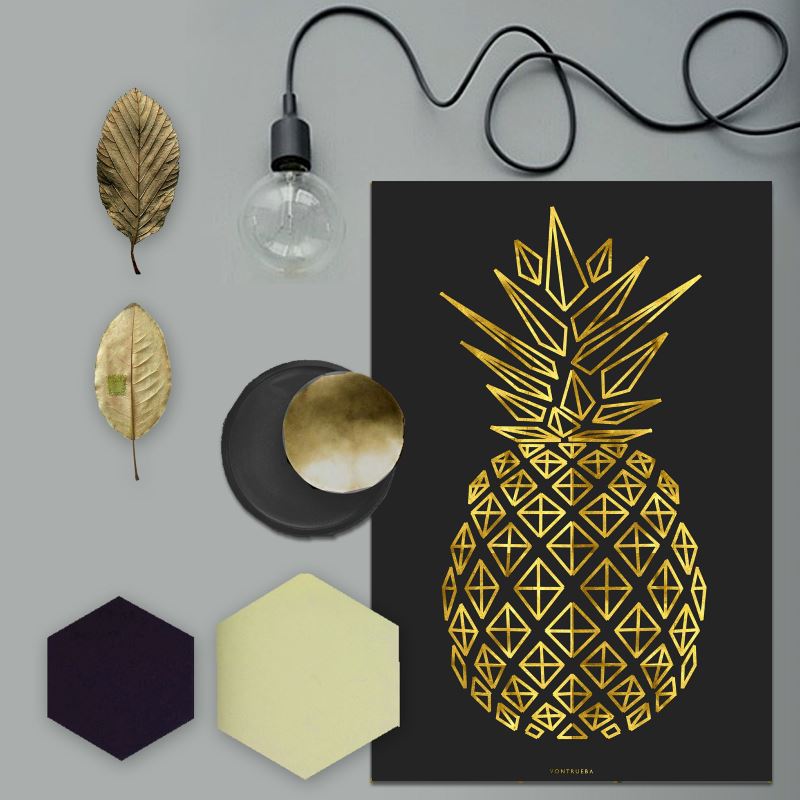 Monolith #1 rises from the ground in the next featured image. A variety of texture-based forms come together, accented by gold lines: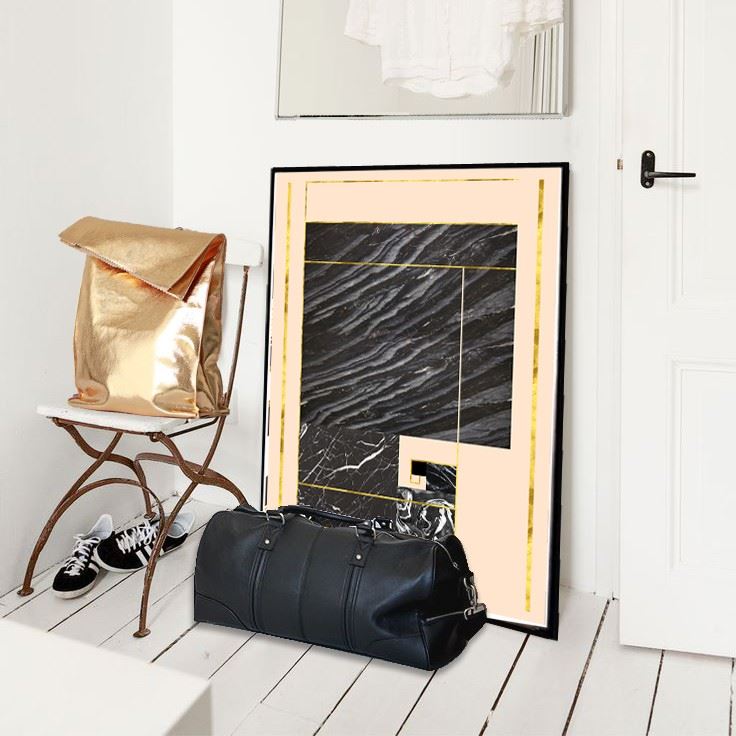 THE MATERIAL Collection
I'll end today's piece by spotlighting THE MATERIAL Collection. As you can see with Base, shown below, materials such as marble, minerals and wood are depicted in geometric forms such as circles, squares and triangles: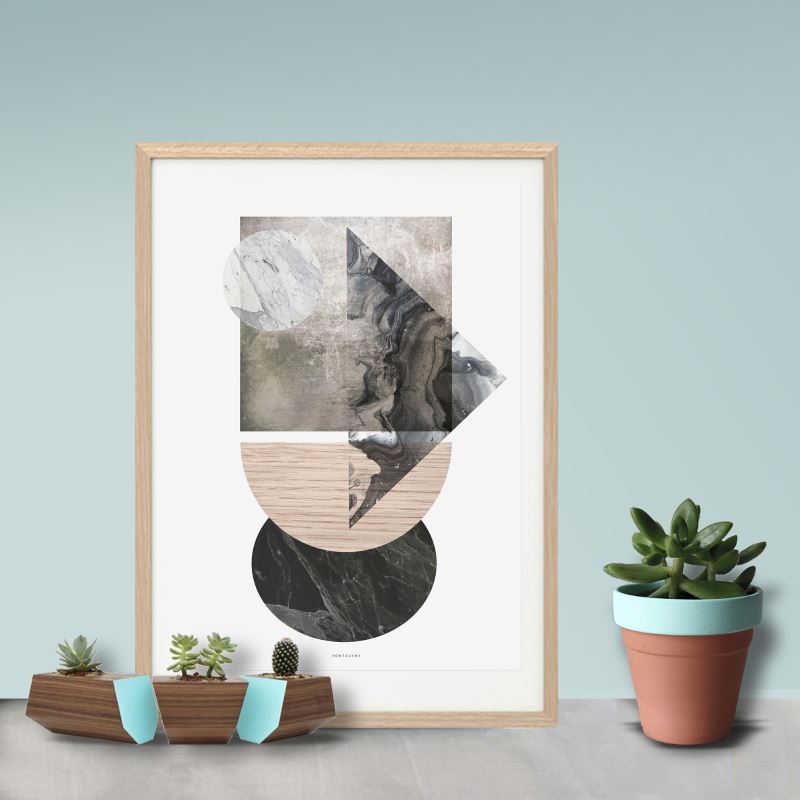 RUMBA combines a series of hexagons into one large form. Can you spot the marble? How about the Memphis-inspired motif? An homage to today's top design trends!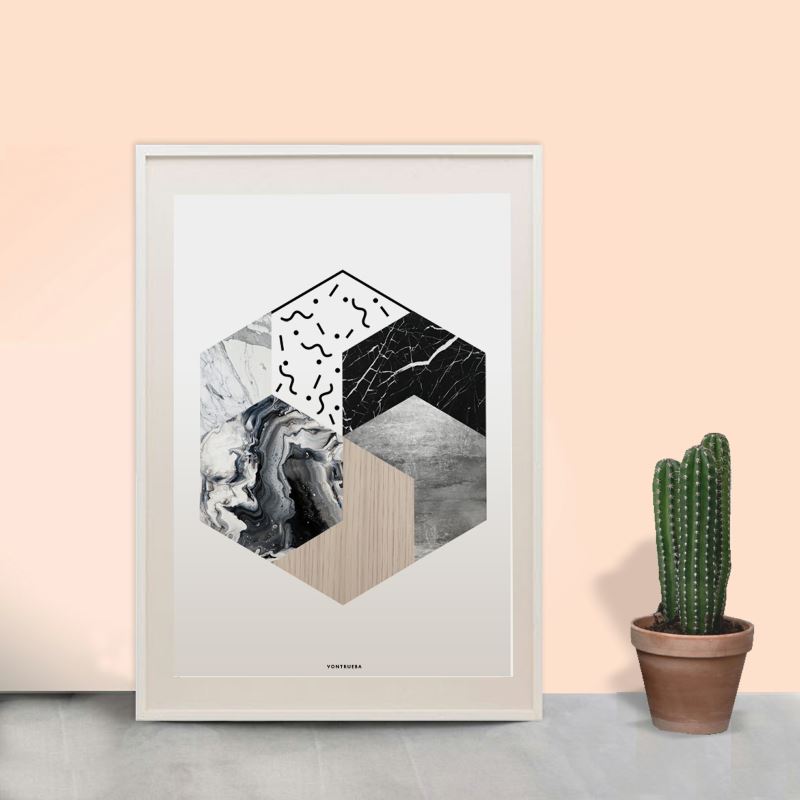 CUCURUCHO features an ice cream cone that one can only dream of enjoying one day in dessert heaven! Marbled scoops in both pastel and deep tones are juxtaposed against the realistic pattern of a waffle cone: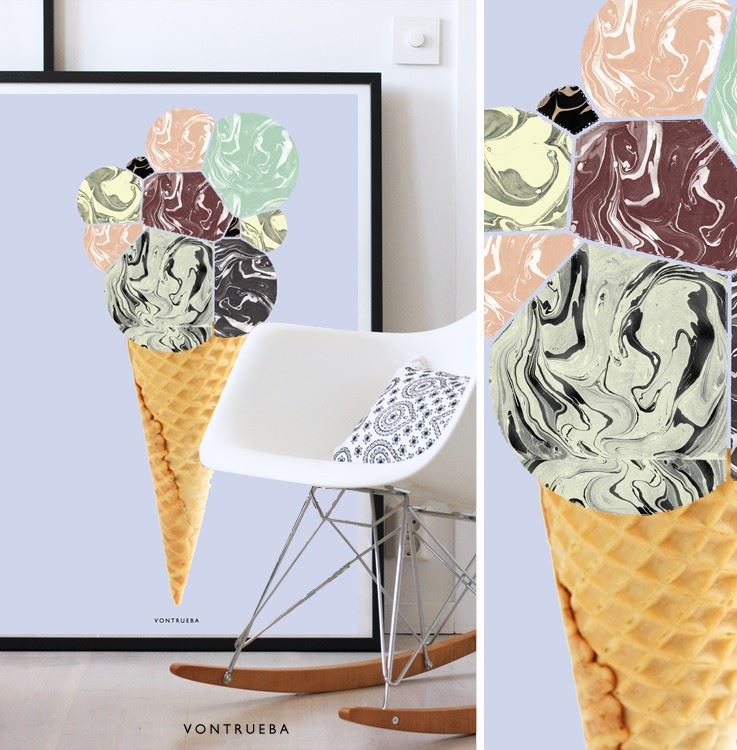 Habana includes mixed materials, as well as monstera leaves! Because tropical greenery and geo forms go hand in hand. Just ask the '80s!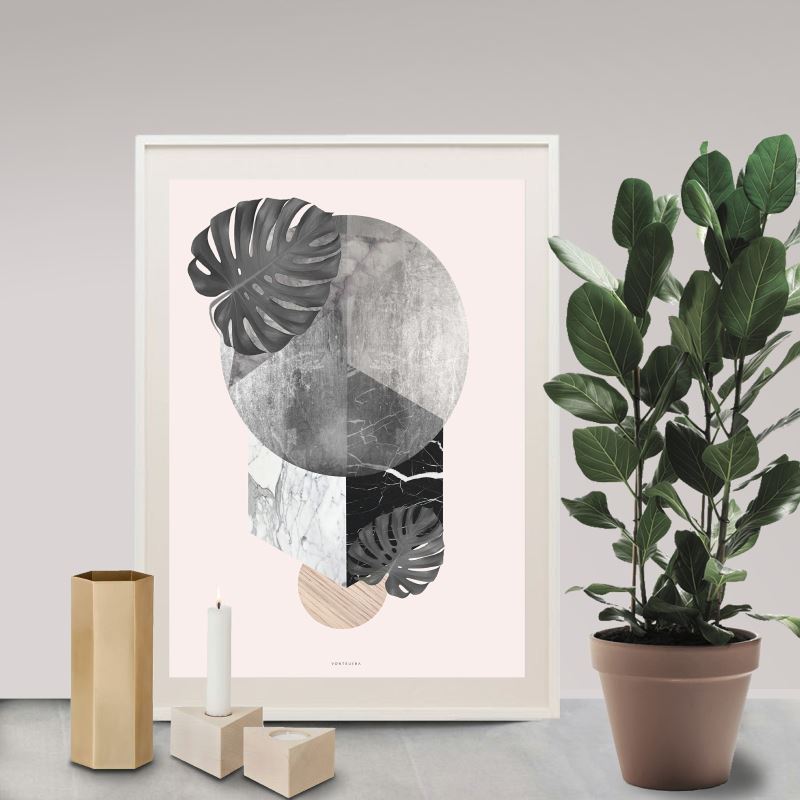 After browsing today's featured art prints, one question remains: How can I not purchase all of them?! These 30×24-cm prints are sold unframed and shipped in sturdy cardboard tubes. For more modern art magic, follow Vontrueba on Facebook and Instagram.