As February approaches, life starts to get a bit more decadent. I'm talking about chocolate season, folks! Valentine's Day is a few weeks away, and it's time to start planning some delicious culinary experiences. Today's featured feast revolves around chocolate, and it's easier to put together than it looks. Inspired by Lasse Halstrom's 2000 film Chocolat, this chocolate dessert buffet for design lovers draws on rich tones, rich food and a few bright pops of color. Let's take a closer look… [styling and photography by Kate Simmons for Decoist]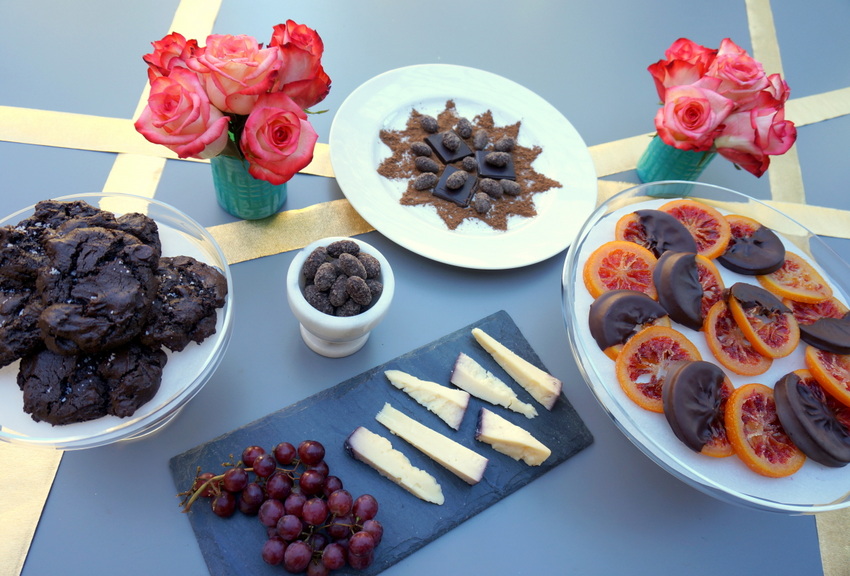 Setting the Stage
In Chocolat, Juliette Binoche plays Vianne Rocher, a spirited woman who opens a chocolaterie in a traditional French village and changes the lives of the villagers in the process. This film inspired me on many levels, and I was instantly drawn to its deep colors and decadent food. In contrast to the muted tones of the village is Vianne's colorful wardrobe, which consists of an assortment of blue and red shades. Below we see a few screen shots from the film: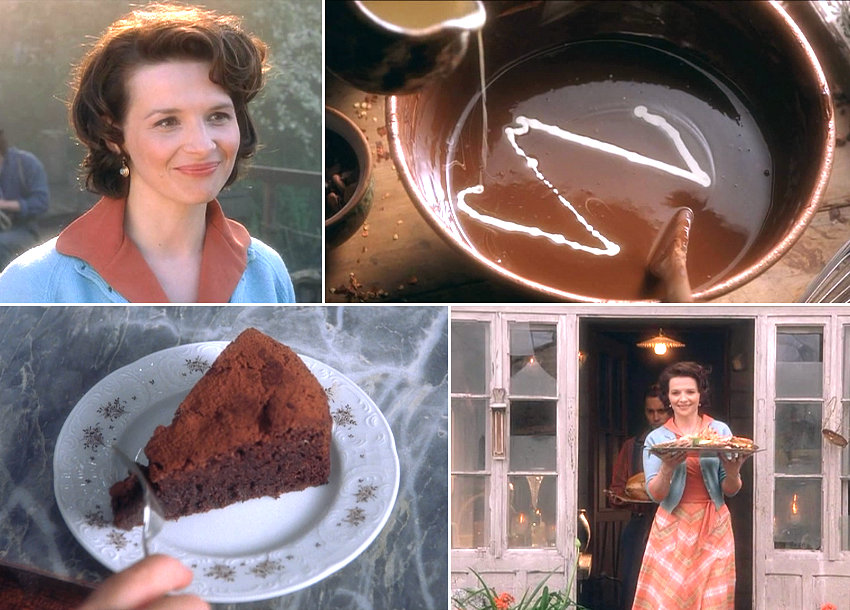 In one scene (not pictured), gold ribbon surrounds a display of chocolate desserts in earthy vessels. Create a similar look by lining a table with gold crepe streamers or ribbon. Using crepe streamers from Target, I started by making an "x" across the table, as shown in the next image: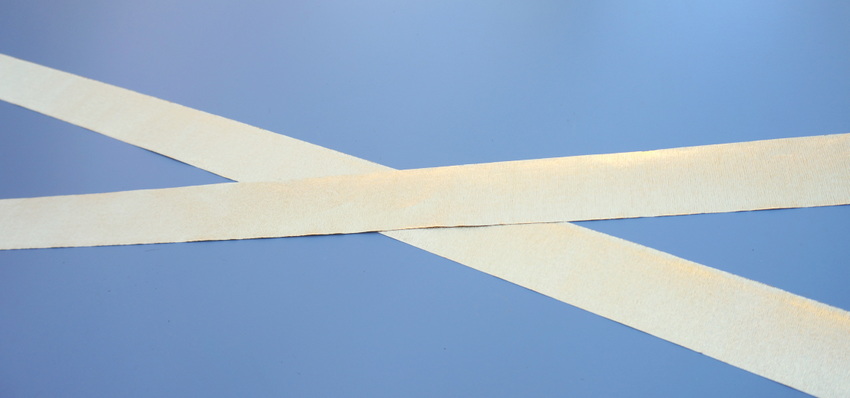 Then I criss-crossed additional pieces of crepe streamers perpendicular to the larger design, creating nooks for vases of flowers. For the floral arrangements, I chose coral red roses and blue glass vases that are actually votive candle holders from CB2.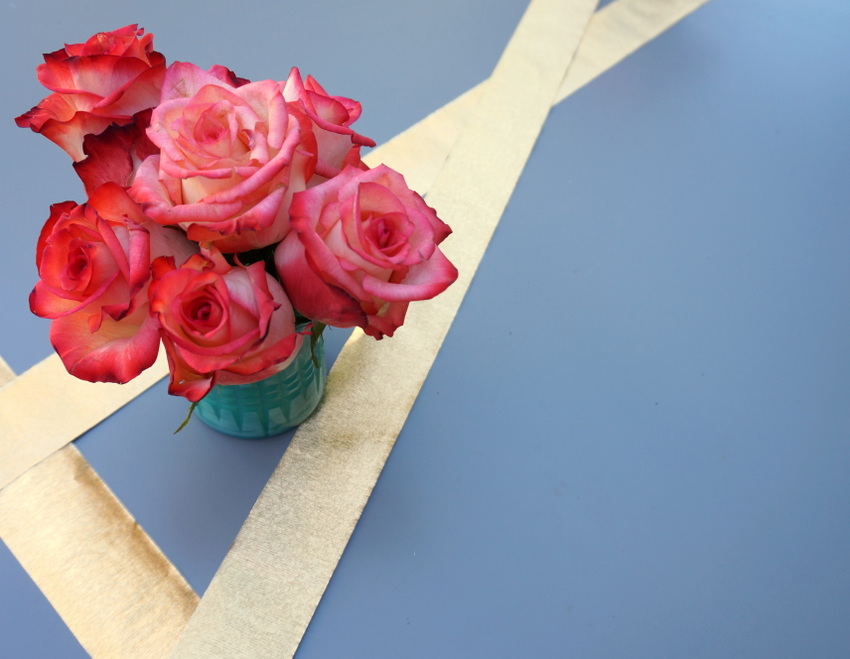 And of course, this feast includes plenty of chocolate! We'll talk foodie specifics in the next section…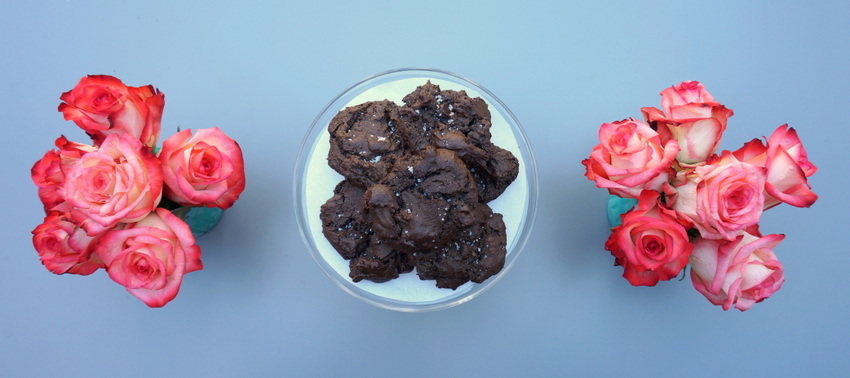 The Food
For today's chocolate-filled dessert buffet, you can get by with one or two homemade treats and a few store-bought favorites. Don't stress yourself out–focus on what you love and rely on your favorite market for the rest!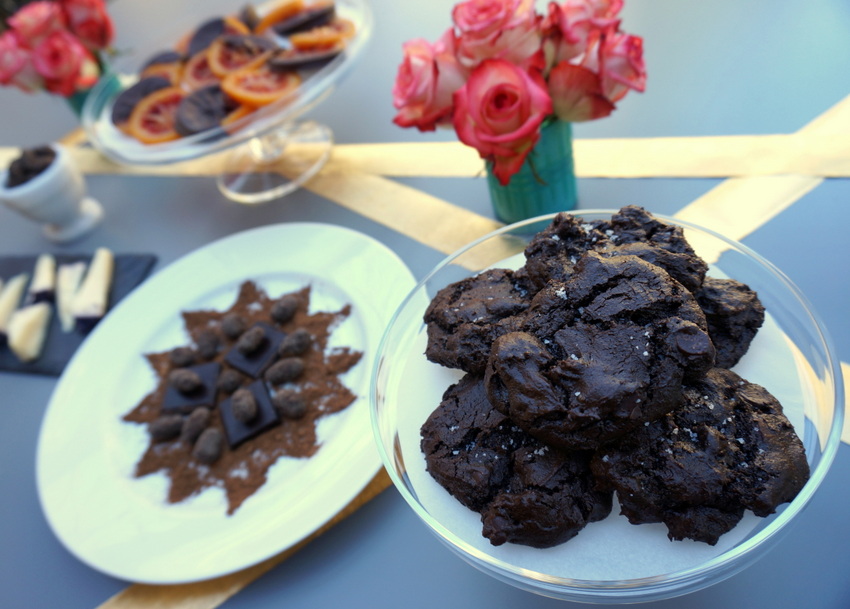 Over the holidays I discovered the recipe for Olive Oil & Sea Salt Brownie Cookies (pictured above), thanks to Butterlust. I've made these cookies three times and counting, and they're just about the best I've ever eaten. They're easy to make, and they're a hit at every gathering. Thank you, Butterlust!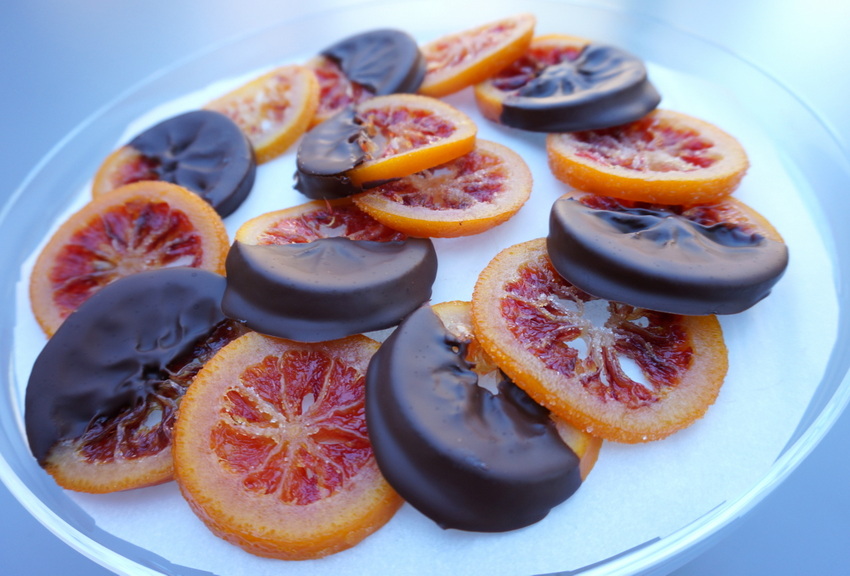 While brainstorming additional goodies, I came across a photo of candied blood oranges from Paper & Stitch. I followed the recipe from the blog, embellishing the oranges with bittersweet chocolate instead of a sugar glaze. I also left some oranges in their "plain" candied state as a contrast to all of the chocolate on the table. Delightfully sweet and tangy!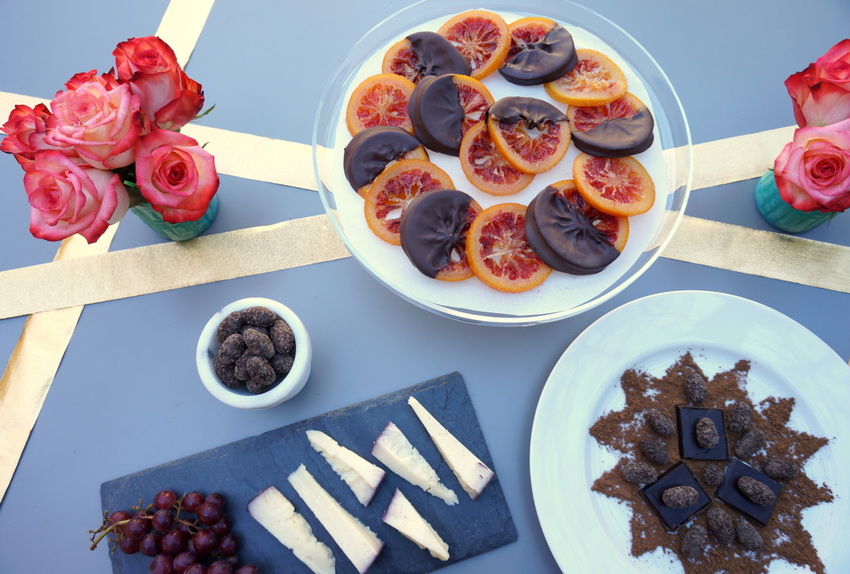 Next up: a chocolate plate. Inspired by some of the serveware in Chocolat, I created a homemade sun-shaped stencil out of parchment paper and used it as my guide while I sprinkled a mixture of cocoa powder, cinnamon and chili powder over a white plate. I topped the plate with sea salt- and turbinado sugar-covered chocolate almonds, as well as chocolate squares (cut from a chocolate bar), both from Trader Joe's. If you have one of these amazing grocery stores near you, you'll love their desserts!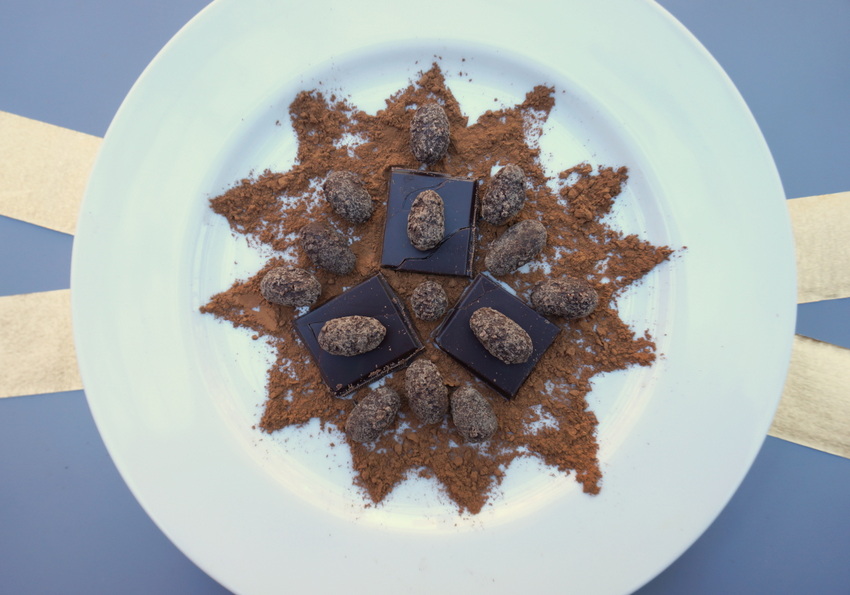 And of course, you've gotta have a cheese plate to counteract all of that sweetness. I chose toscano cheese soaked in syrah, also from Trader Joe's. Can you tell that my obsession with this store is almost as intense as my obsession with chocolate?! The grapes are a decadent addition.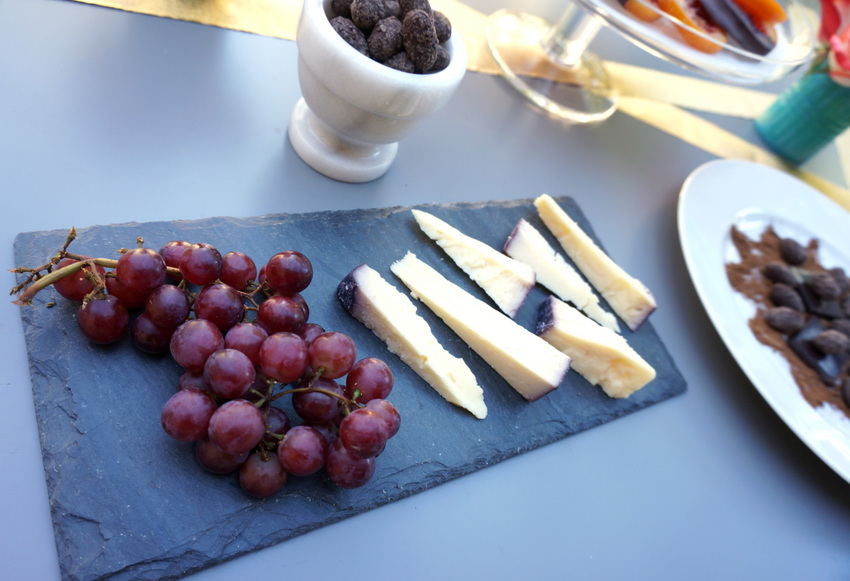 When it comes to drinks, go with wine, coffee or something bubbly. Perhaps you can offer all three and let your guests decide! I was tempted to try and recreate Vianne's delicious sipping chocolate from the movie, but I didn't know if that would be a chocolate overload. Then again, in my book, there's no such thing as a chocolate overload!
The Display
Have fun arranging desserts and treats in the spaces created by intersecting lines of gold crepe paper or ribbon. Use serving pieces of different heights for variety. I used cake stands to display the homemade cookies and candied oranges, and it was easy to cover them with the glass domes when we were finished munching.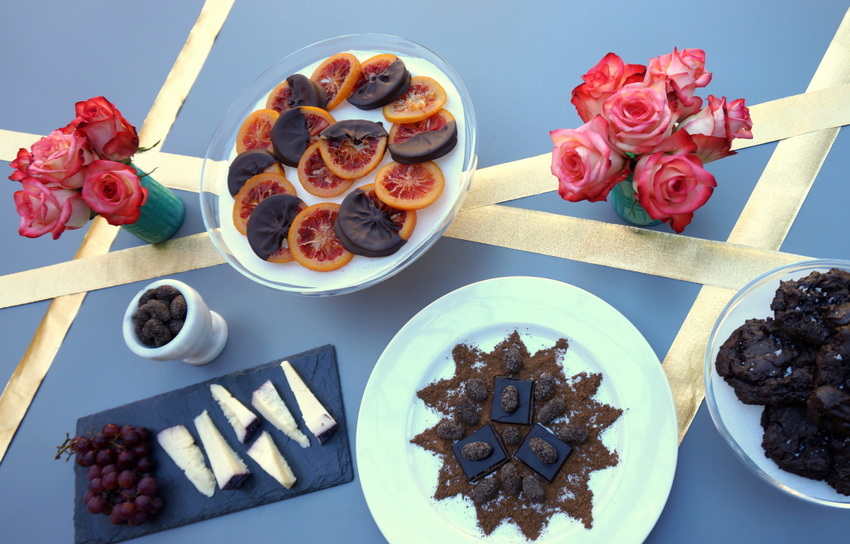 Here's one more shot of the roses in the glass vase. Such a pretty contrast between the vibrant red and the turquoise blue: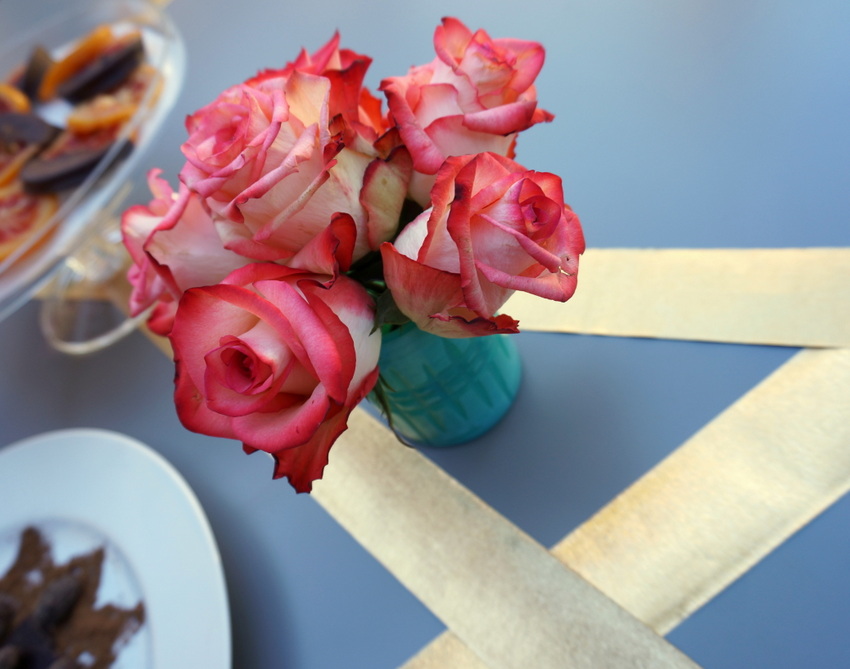 Invite guests to come back for seconds, and if you have leftovers, send them home with your guests in paper take-out containers. Don't hesitate to display additional containers of popular items (such as the chocolate-covered almonds) so they are easily accessible. I used the marble mortar from my mortar and pestle to hold a second cluster of almonds in the vignette below: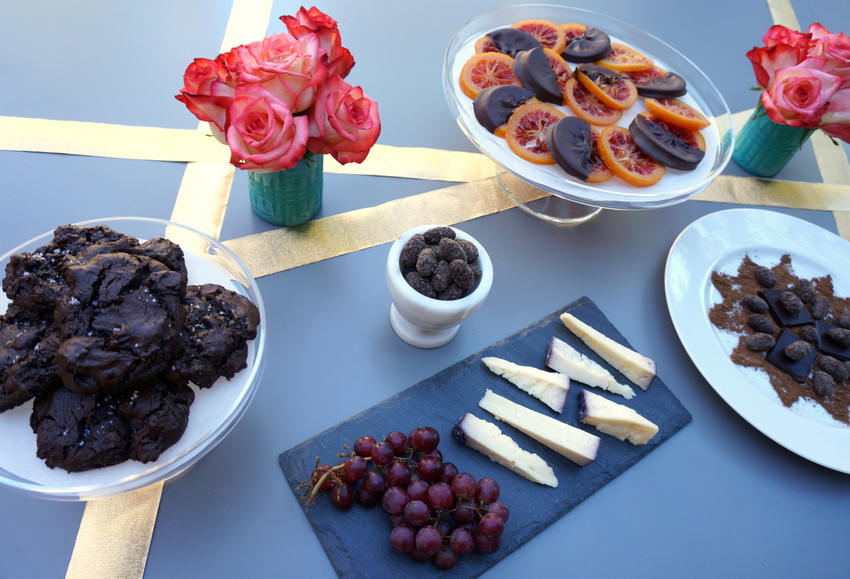 I had a blast planning and executing this party concept. And in case you're wondering, this foodie photo shoot wasn't just for show! I invited family members over to partake in the treats once I'd snapped all the photos I needed.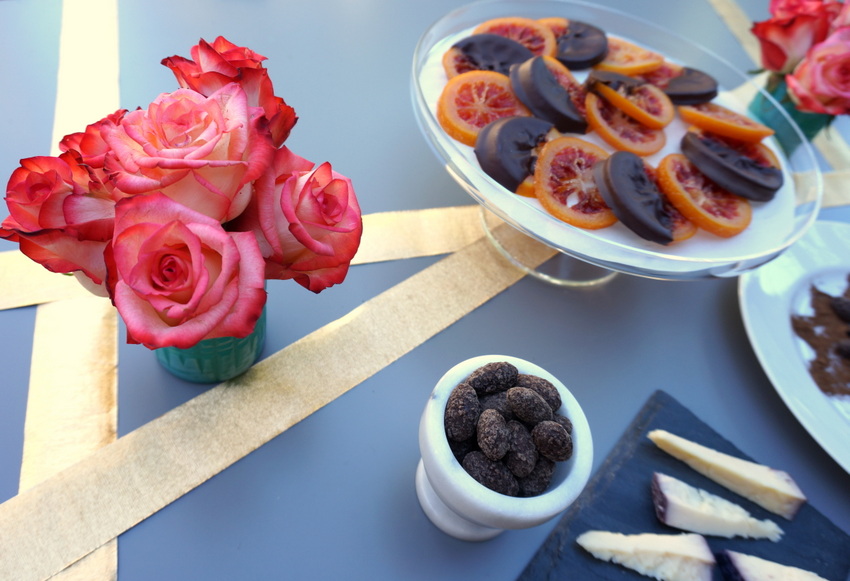 Enjoy this chocolate feast with your love, with a group of friends or with family. Here's to a little decadence in our lives this February!