Maybe it's all those years of admiring mall and hotel lobby architecture, but I've always been a fan of indoor water features! There's something very grand about them, and they bring a vacation vibe to any room they inhabit. Speaking of indoor water feature locations, what do you think are the most popular spots for these special flourishes? Living rooms and entryways are definitely top choices, but others may surprise you. Today's post will hopefully inspire you with a range of water feature options. Not to mention, it just might inspire you to relax, resort-style!
Living Room Luxe
As metioned, the living room is one of the most popular destinations for water features. Water walls are gaining popularity, as they add drama, tranquility and modern style to the interiors they grace. [from Galleryhip]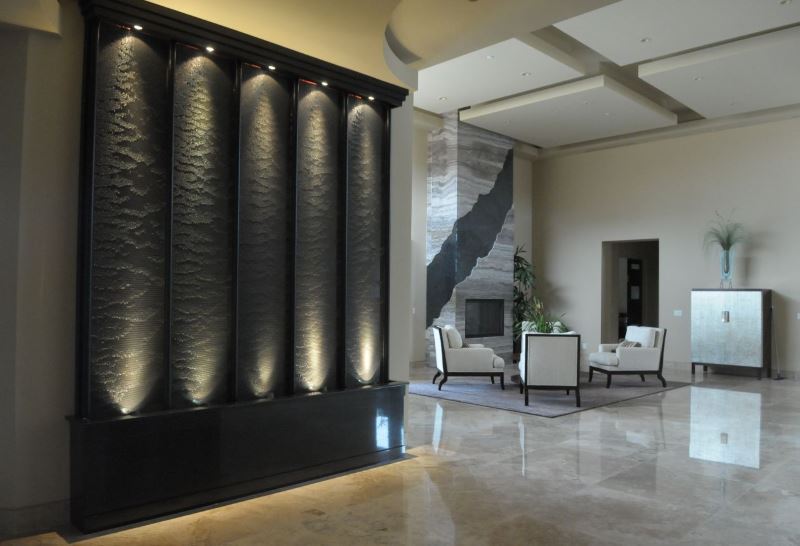 The living space below is fit for an architect…so it's no surprise that it was designed by world-renowned architect Angela Danadjieva, and used as her residence. I can't help but admire her choice of Carnelian granite, or the way the waterfall is bordered by stairways lined with plants. [from Decker Bullock/Sotheby's International Realty]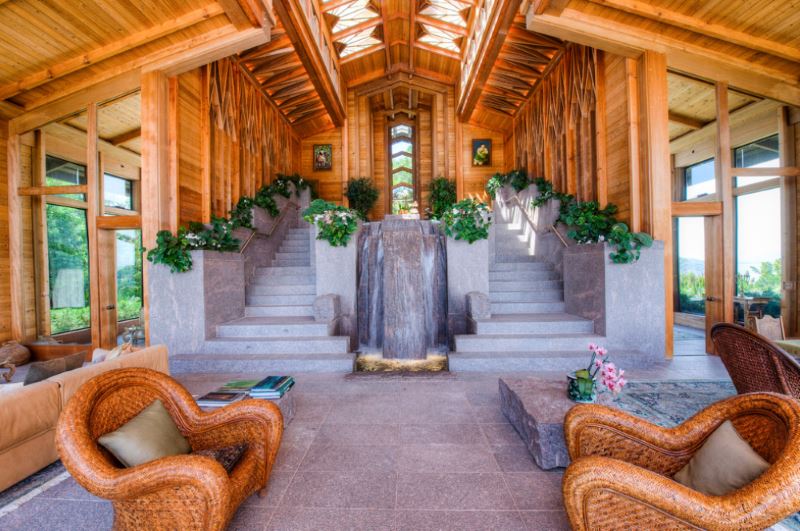 The water feature below includes an indoor pond and two cascading falls. The effect is stunning, yet it beautifully blends with the room, adding a luxe element that punctuates the space without overwhelming it. [from Chee Keong Photography]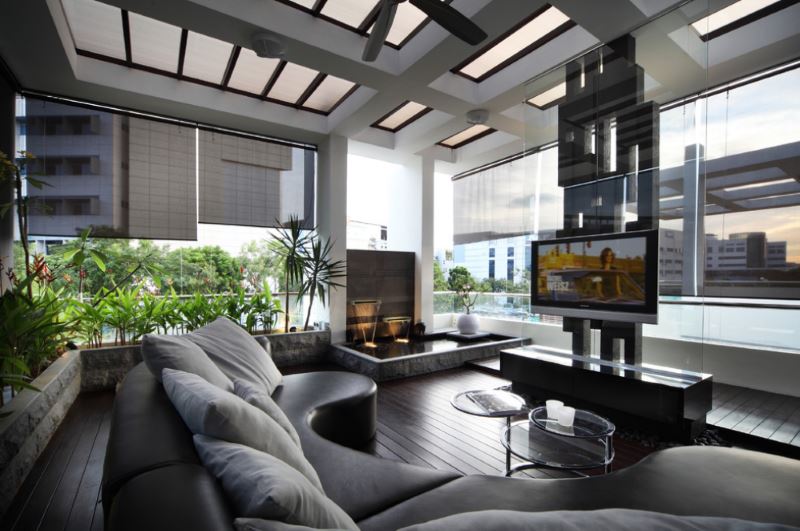 A Bit of the Unexpected
The next two water features prove that amazing design often emerges where you least expect it. Resort style truly comes home to roost in this next interior, which features a lighted indoor pond with stepping stones–that lead to a wine cellar! Yes, you heard me. The ultimate in decadent design! [from David Giral Photography]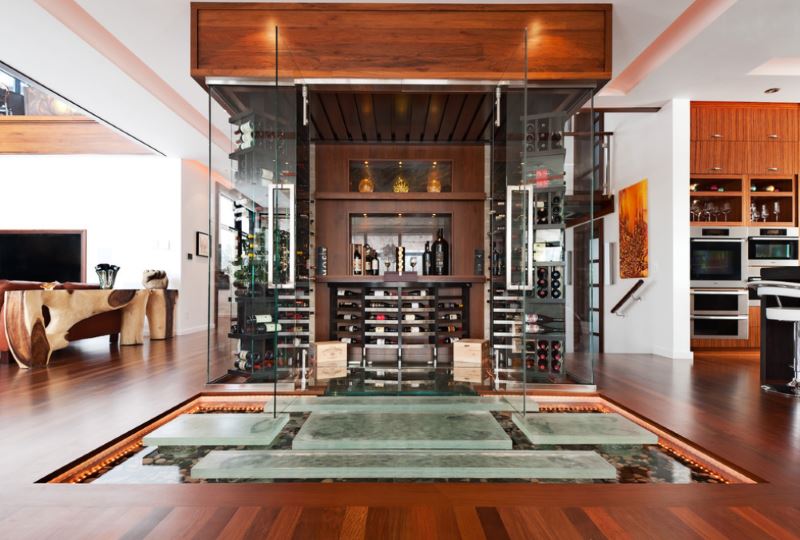 When spa style takes center stage, isn't the most likely location the powder room? Yet somehow this next water feature seems like a delightful surprise. I don't know what I love more about this space–the glass shower, the stunning view, or the way the indoor-outdoor water feature seamlessly blends the interior with the natural world just outside the window. [from Garret Cord Werner]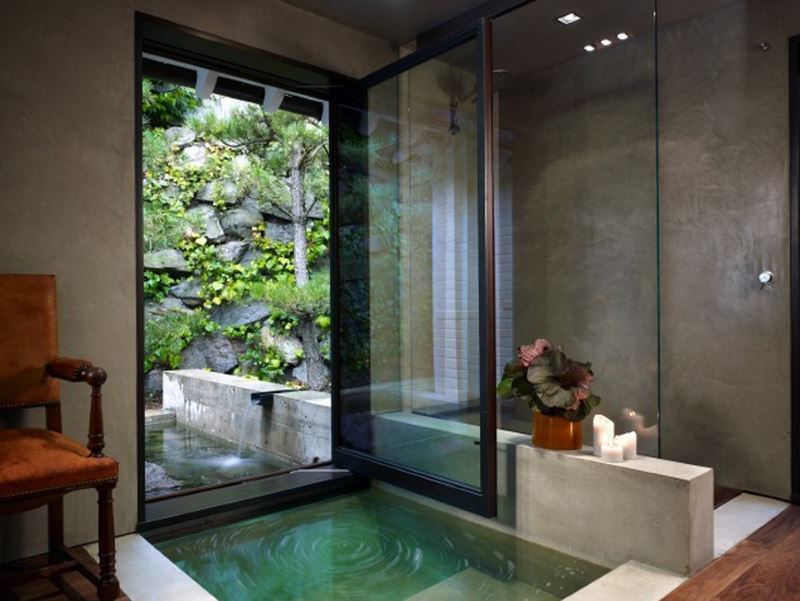 A Grand Entrance
If you're going to install a water feature, why not put it in a high-profile spot where everyone can enjoy it?! That's what makes entryway water features so popular. Especially when the area the water feature occupies is surrounded by other rooms–and visible from all of them, as shown below! [from INOOL]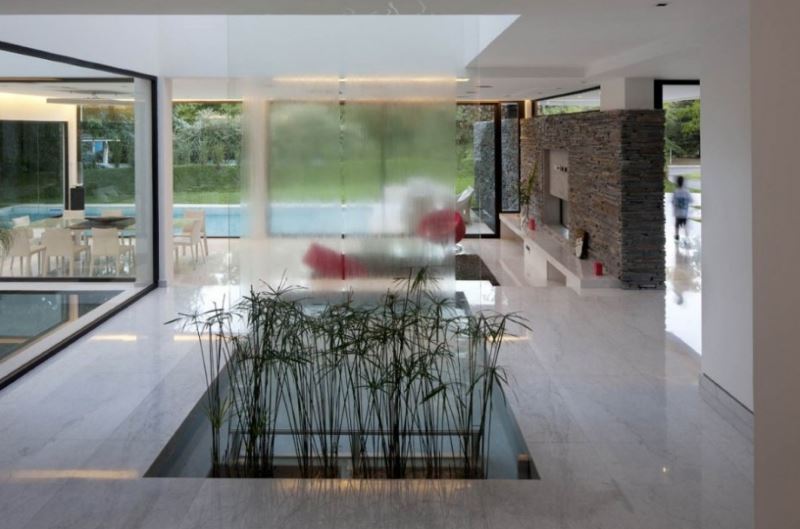 This next water feature combines a range of stellar elements: modern vibrant art, stone columns, a textured wall, and intriguing lily pad accents! [from BAAN Design]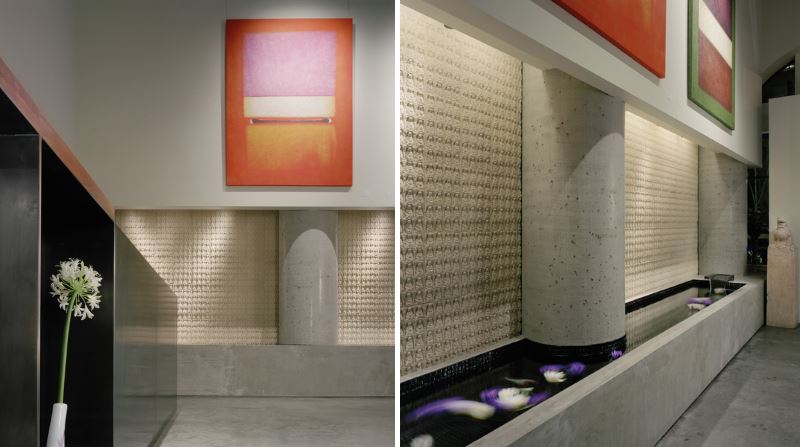 Water Features Meet Stairs
I'll end with a trio of water features that utilize every spare inch of space, especially when that space is under the stairs! Lighting plays a big part in highlighting the water feature below, as does the beautifully crafted staircase that rises above it. [from Grandwood by Zorzi]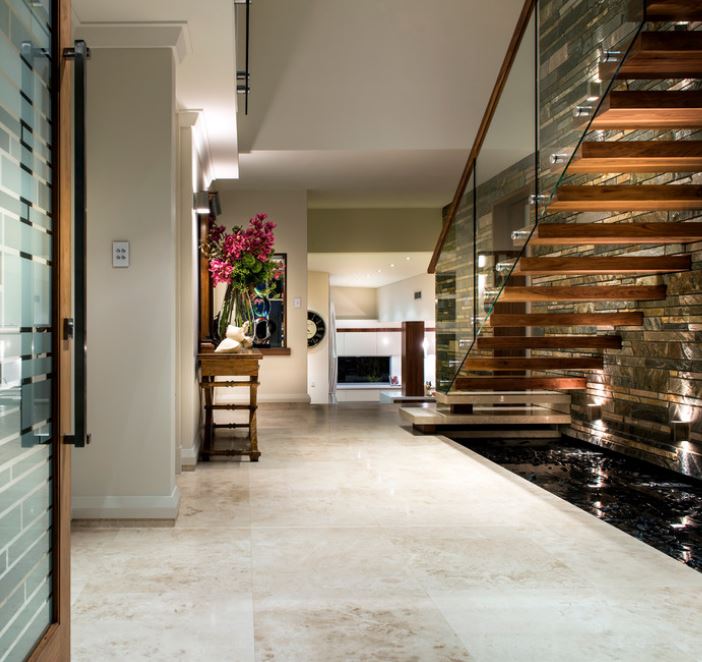 Glass surfaces add drama to this next interior, but the real focal point is the custom rain curtain, which collects in an indoor pond at the bottom of the staircase. [from Bluworld of Water]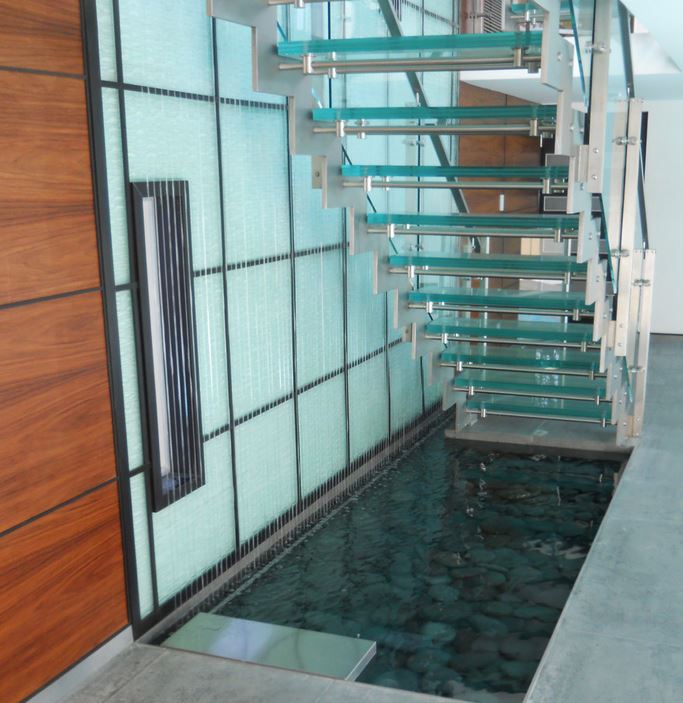 The last water feature in today's post occupies an indoor/outdoor space, and it helps set a grand tone for the entire structure. Are you starting to notice a pattern of water features combining with modern interiors for a new level of design greatness?! [photo by The Wilson Group for DWY Landscape Architects]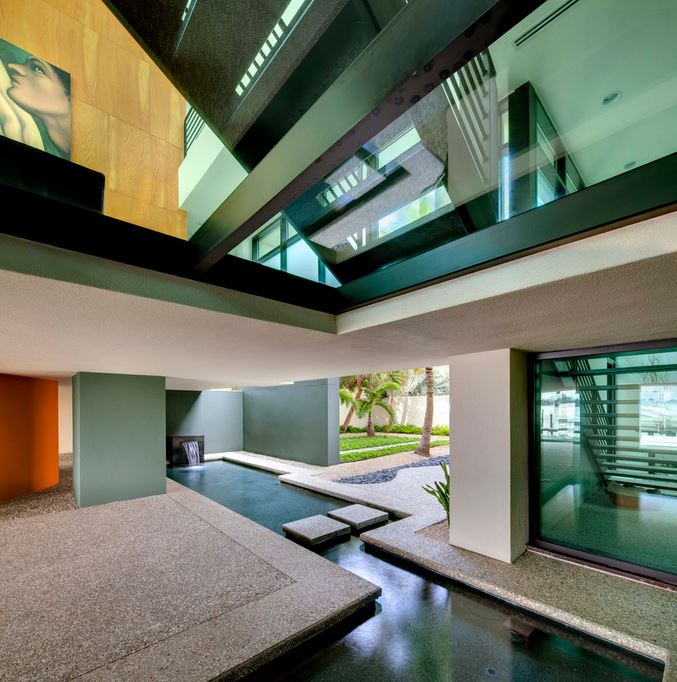 Would you consider having a water feature installed in your home? If so, what room would you choose for its location?