The gallery wall–it has the power to be the focal point of your space. And why shouldn't it?! A well-placed collection of artwork is definitely worth a second look! But what does it take to make a gallery wall truly unforgettable? That's the very question this post hopes to answer. Kate here, and I'm in the middle of designing a gallery wall for my bedroom. I have a collection of artwork that's ready to go. Now all I need is an eye-catching design plan. Let's take a look at some fabulous arrangements for inspiration…
The Big Picture
We begin with a few points to consider as you plan your gallery wall. For starters, pay attention to the function of your space. Then plan your artwork accordingly. For example, it wouldn't be out of line to choose soothing images for the bedroom, since the function of that space is to provide a place to rest and relax. Another example: the Laurel Canyon music studio below is a creative space. Therefore, concert posters and other interesting pieces adorn this abode. [from Lindsay Pennington Inc. via Houzz]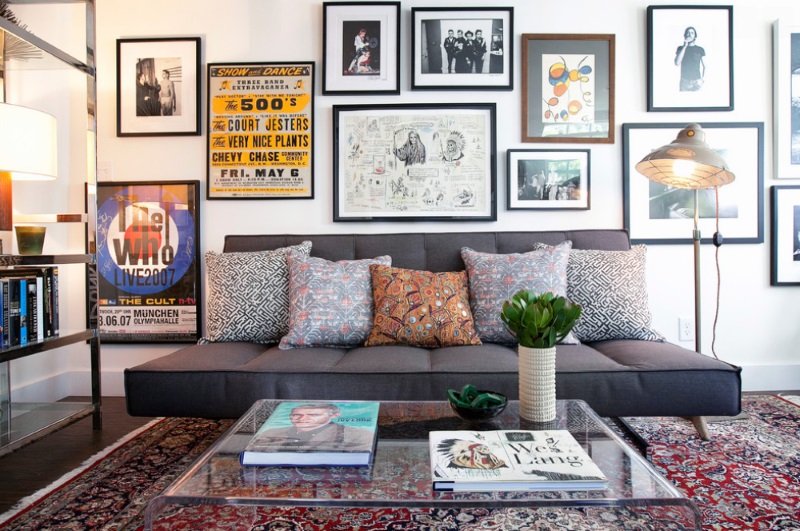 What vibe are you trying to create? Is it formal? Is it laid-back? If it's the latter, artwork by Brett Whitacre for CB2 just might do the trick. Below we see three pieces in a retro-modern space, including Whitacre's Barcelona Burger Print: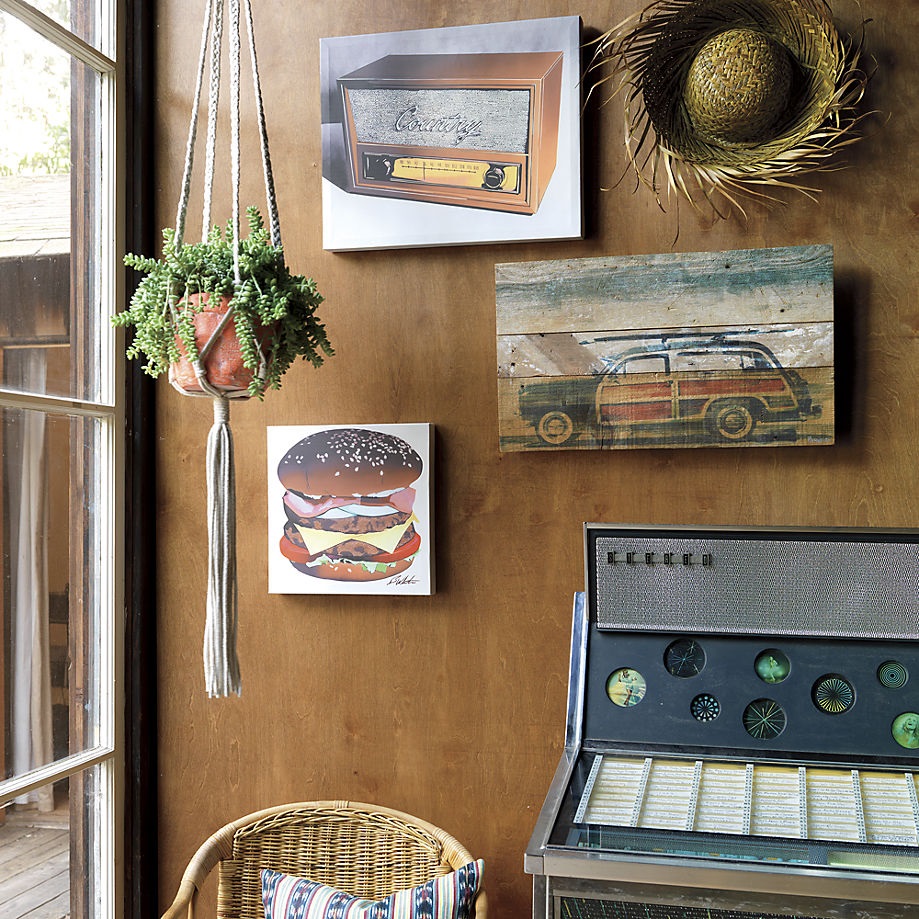 Consider the relation of your gallery wall to the rest of the space. Will it hold the only artwork in the room? It doesn't have to! Note how the collection of bright artwork in white frames below blends beautifully with a rich-toned abstract modern art piece hanging over the fireplace. If your gallery grouping will complement another strong piece of art, plan accordingly, ensuring the artwork doesn't fight each other. [photo by Caren Alpert via Coddington Design]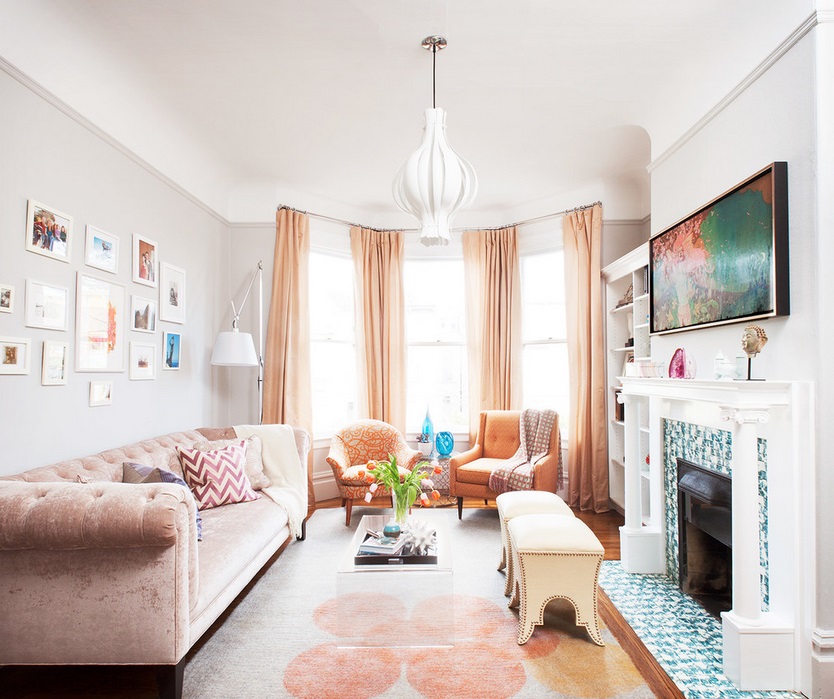 While researching this article, I came across some amazing hints and helpful tidbits, including a blog post titled "Tips for Installing a Gallery Wall" from A Beautiful Mess. Below we see a gallery wall in the living room of A Beautiful Mess blogger Emma Chapman. Some words of wisdom from Emma: plan out the frame placement in advance by cutting out pieces of paper the same size as your artwork. Tape those pieces to the wall, moving them as needed until you find an arrangement you're happy with, and then replace them with the real artwork.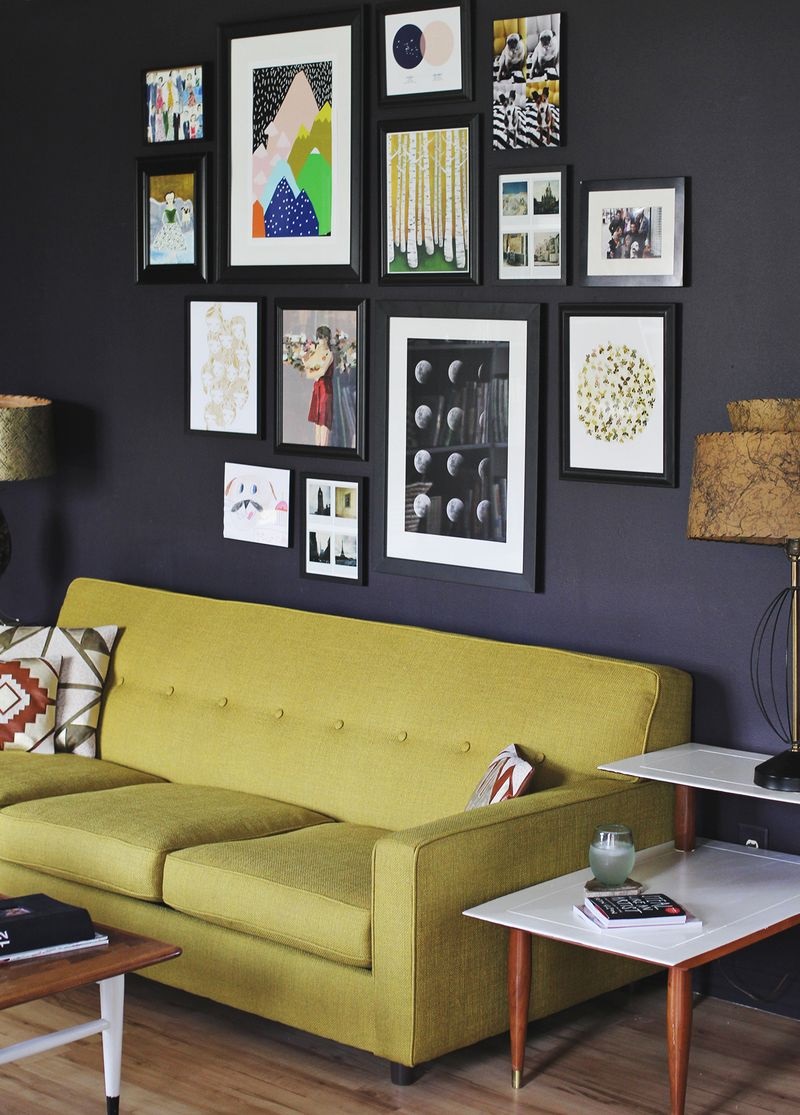 In another post from A Beautiful Mess titled How To Style a Corner Gallery Wall, we see that a gallery wall can be adapted to a variety of spaces, even tricky ones such as the corner! The post includes a helpful video that you won't want to miss.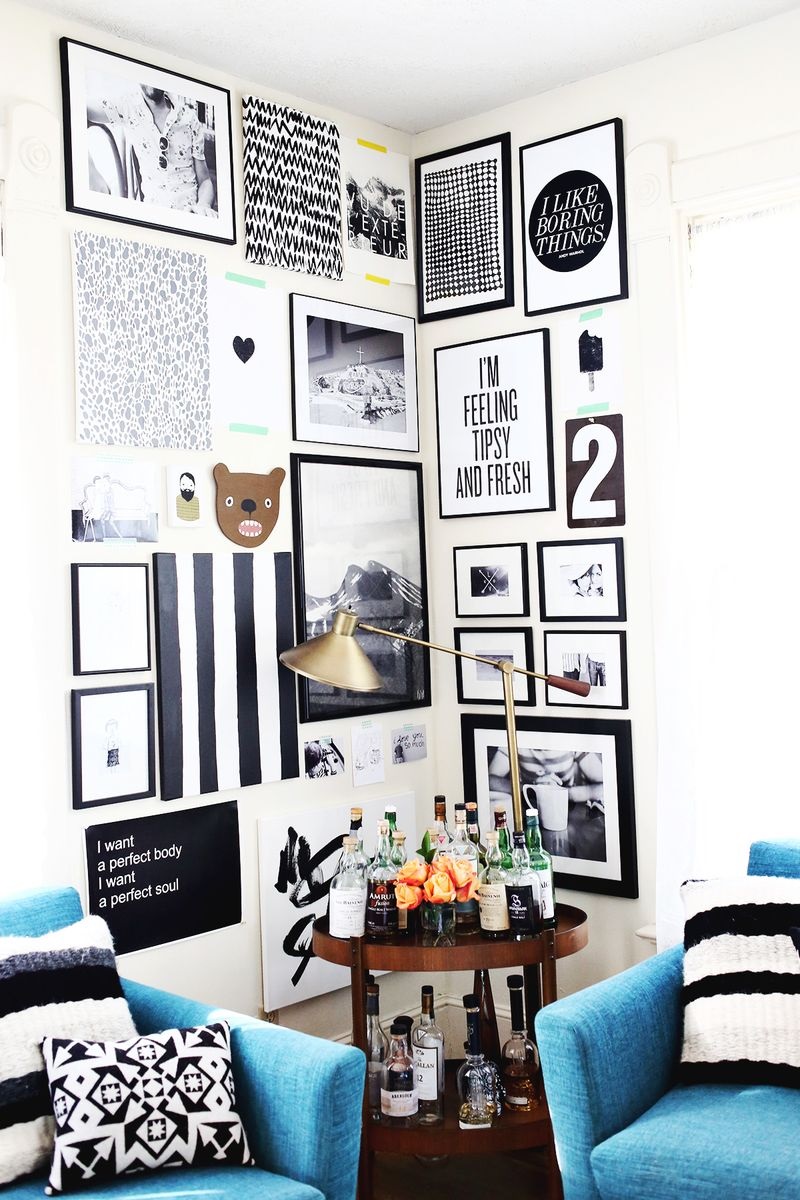 Put your own spin on the gallery wall. There's no "right way" to see this through. For example, if art is your passion, extend it from floor to ceiling, as shown in the Pennsylvania apartment of Stacy Weiss below. [from Adrienne DeRosa via Houzz]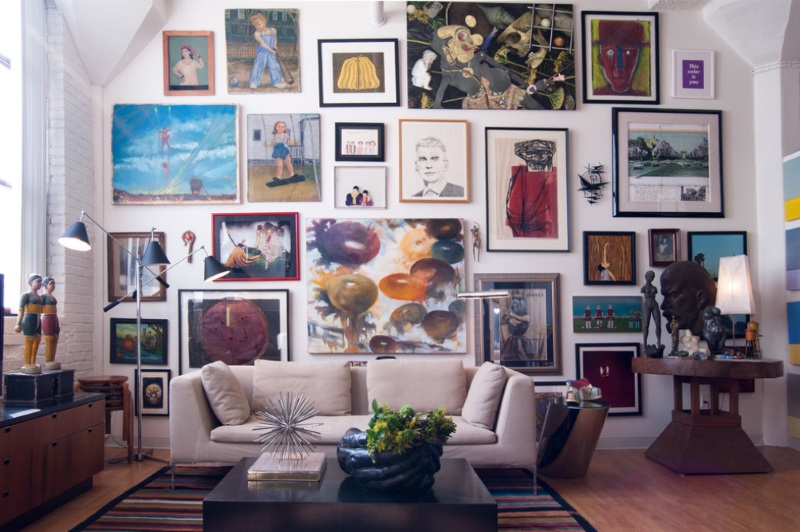 Gallery Wall Design Strategies
Let's now take a closer look at some specific ways you can bring the gallery wall concept to life. One popular strategy: uniting your artwork with matching frames. Below we see a collection of pieces from the Minted for West Elm collaboration: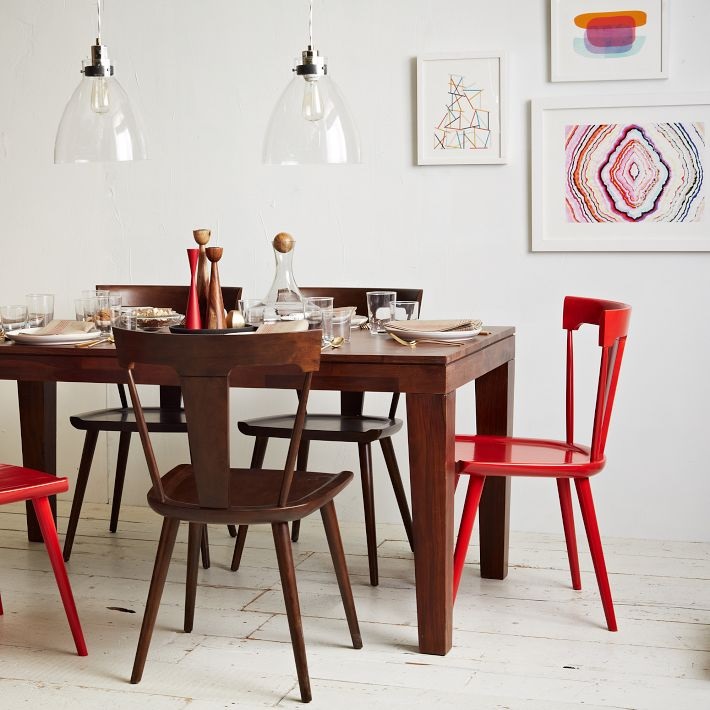 In the office of lifestyle blogger Camille Styles, a gallery wall comes to life, thanks to stylish prints from Minted in matching white frames. For a clean, fresh look, choose crisp pieces that aren't overly saturated with color, and center them around one vibrant work. This strategy helps the center piece pop and gives the grouping a sense of direction.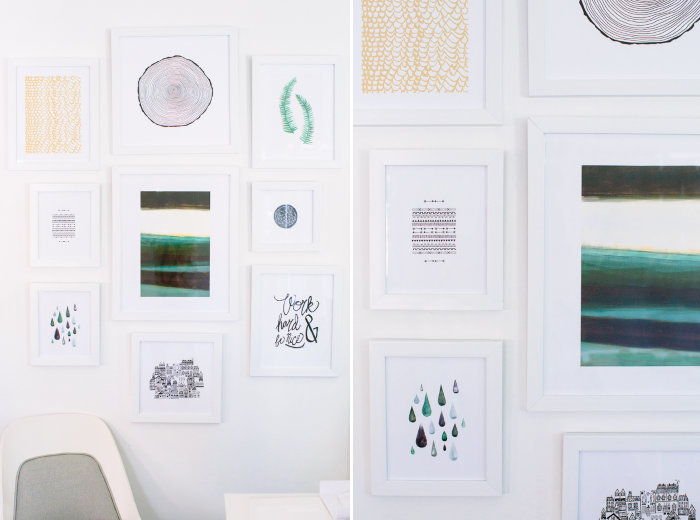 For a cohesive look, you can group images with a similar theme. For example, images of nature adorn the bedroom of Design Love Fest blogger Bri Emery. This artwork comes from Tappan Collective. On a side note, we see one of today's top art trends: moon phase imagery. More on that later…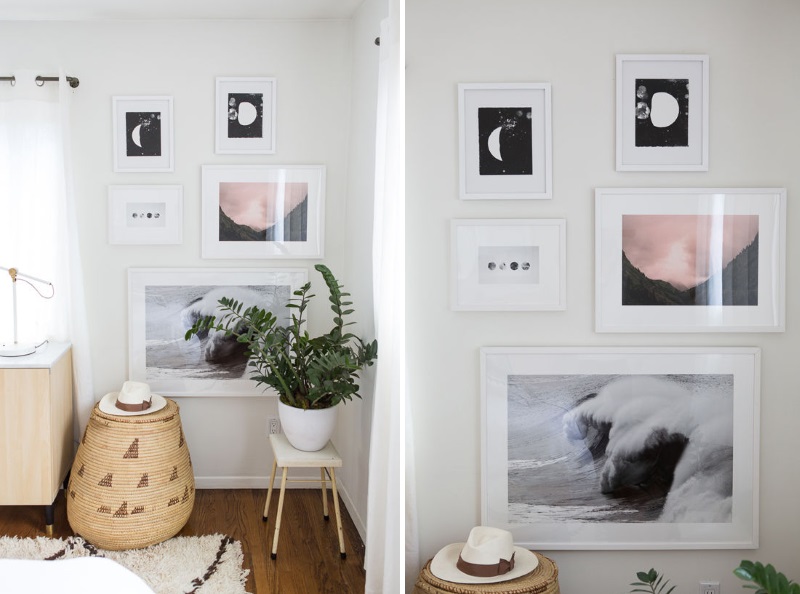 You may even decide to unite your collection with a specific type of art. For example, you can select nothing but botanical prints for a whimsical yet clean look, as shown below. However, note how the background hues of the prints help differentiate each work from the other. Shades of cream and grey dominate this gallery wall. [from Collage Interiors]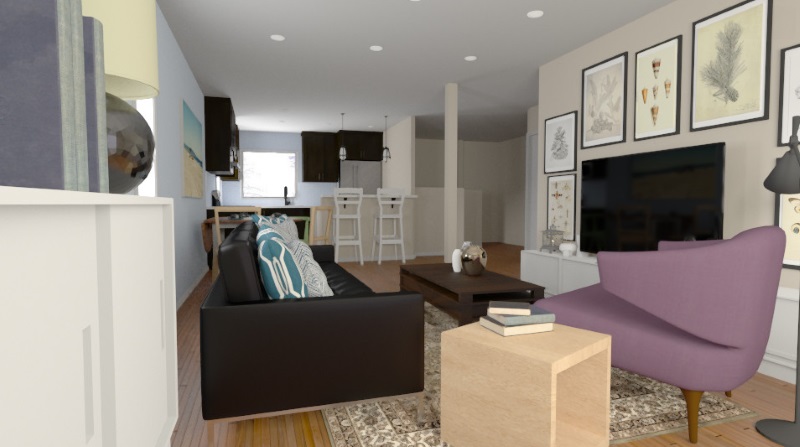 Or go with a highly specific theme, such as birds! In fact, the avian theme extends to the decor in the dining room below, as we see two white ceramic bird containers near the artwork. [photo by Eric Piasecki via Katie Ridder Rooms, from The Vendome Press]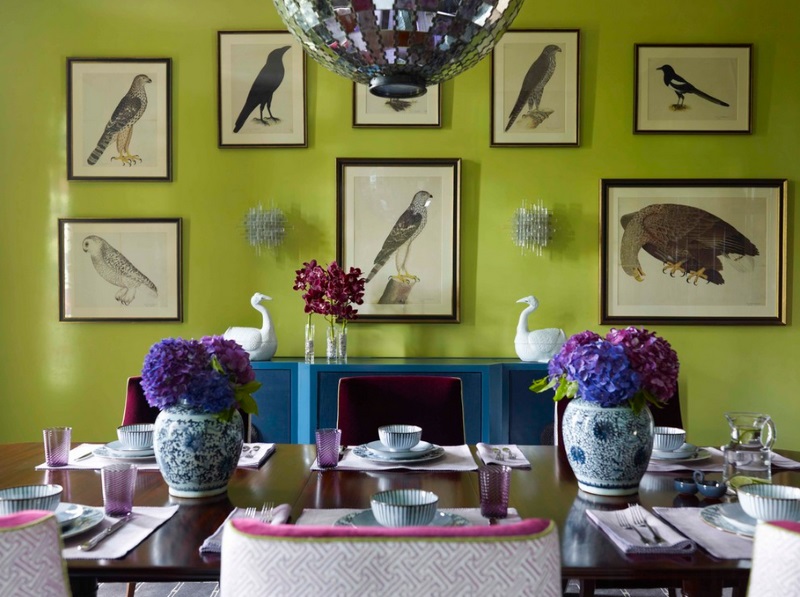 Your gallery wall may even feature works from the same artist, adding another layer of cohesion to the space. The Donald Judd artwork in the next featured space is beautifully complemented by hardwood frames. [from Lonny]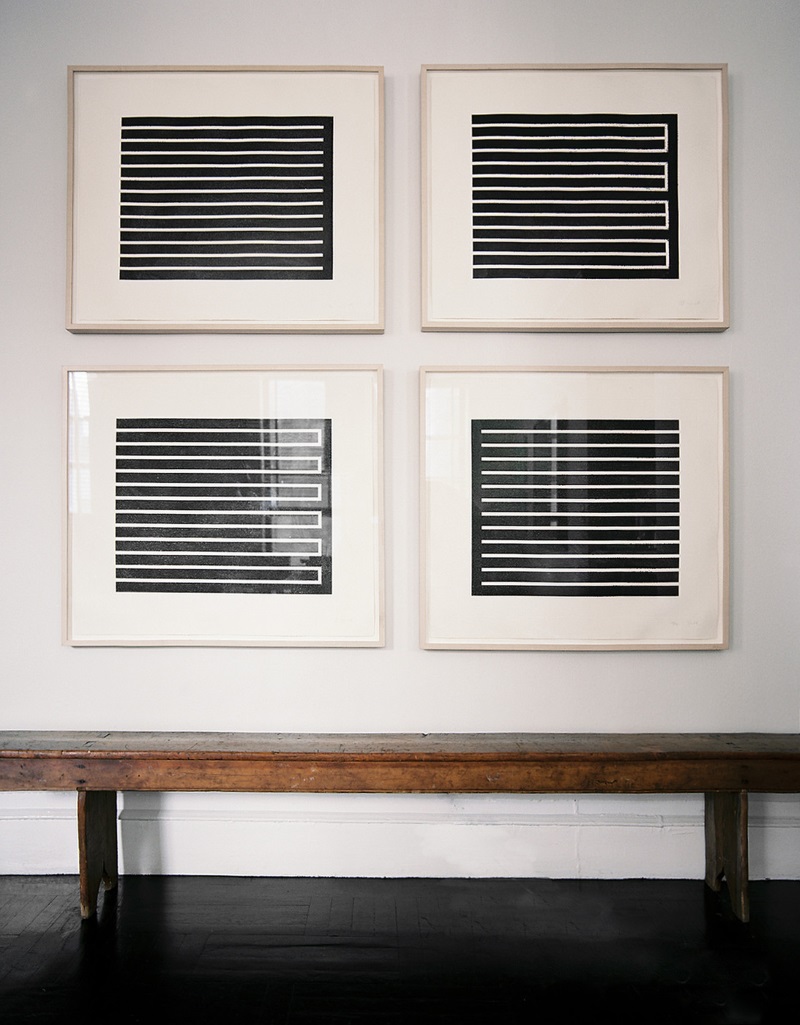 In fact, it never hurts to spend some time selecting frames that complement both the artwork and your interior. In the family room below, ivory frames and wide mats create a modern feel, highlighting the artwork while preventing it from taking on a busy, cluttered look. The frames come from Pottery Barn, and they give the photos in this space new life. [from Still Moments Photography via Elizabeth Metcalfe Interiors & Design]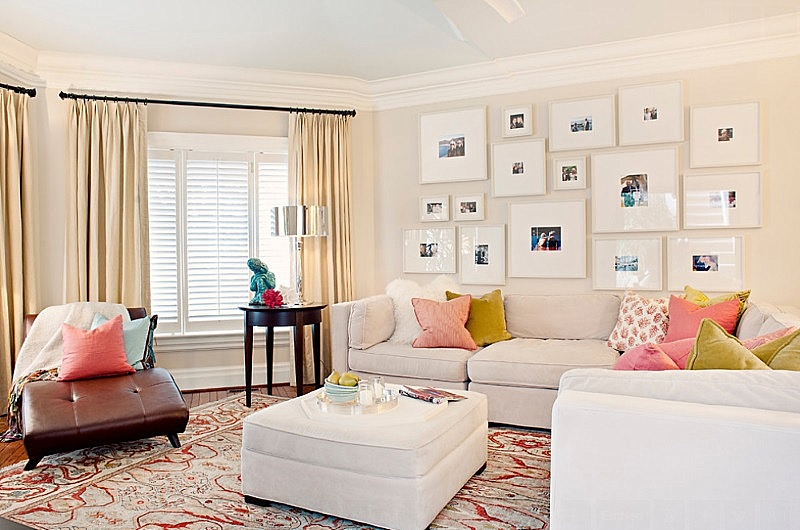 A series of photographs can add personality and flair to a child's space, especially when the photos feature the room's inhabitant herself! These DIY Photo Frames from Skunkboy are a budget-friendly craft, as canvas stretchers are used instead of expensive frames: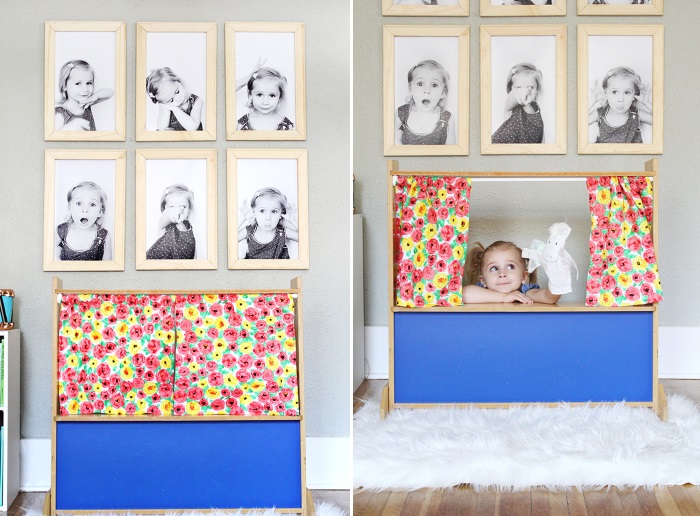 Here's another fun idea: surround black and white artwork with colorful mats! This Colored Mat Gallery Wall Idea not only provides a visually stunning example of modern gallery wall style, it provides a detailed tutorial on creating your own DIY mats. Check out all the details at A Beautiful Mess.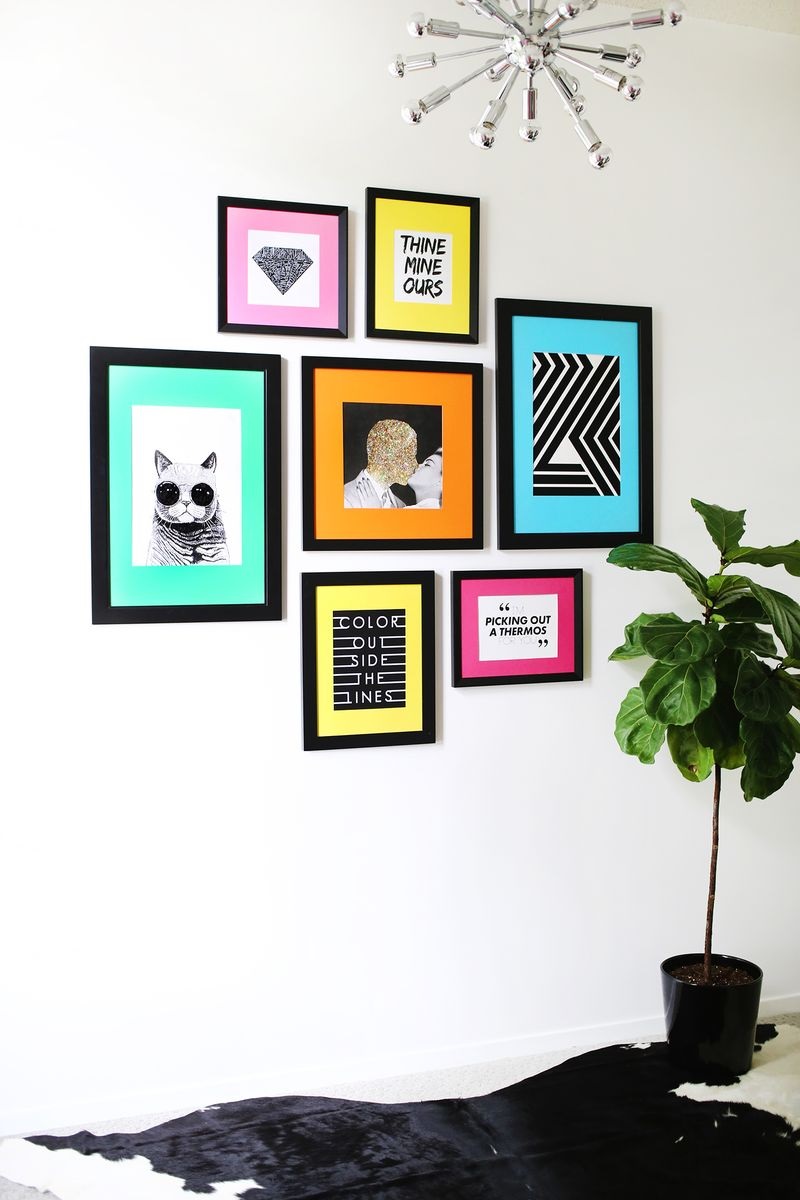 Ready for more moon phase art inspiration? Here's another space with this popular motif. The vignette also reminds us that no gallery wall is too small. Sometimes less is more, but you can also pack a lot of style into a compact space. Head on over to The Band Wife for more details on this bedroom gallery wall. Each piece of art counts!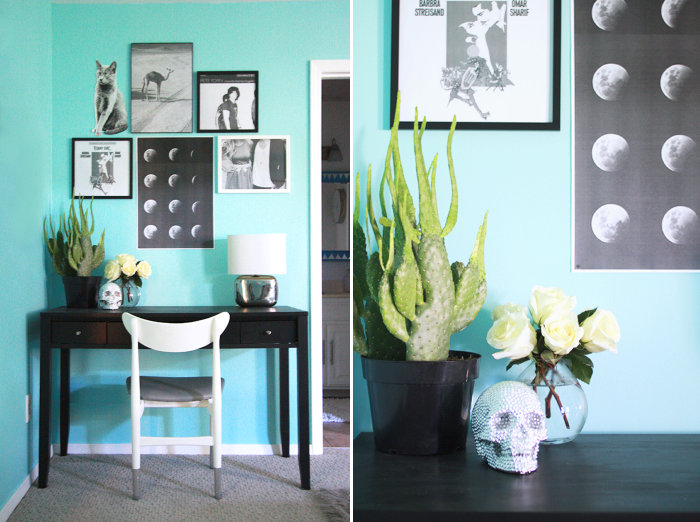 Remember that when it comes to gallery walls, not all frames and mats have to match. Below we see a gallery wall from the studio of Oh Joy! blogger Joy Cho, designed by Emily Henderson. Filled with the artwork of Joy's friends and acquaintances, this wall is truly special due to the thoughtful curation involved: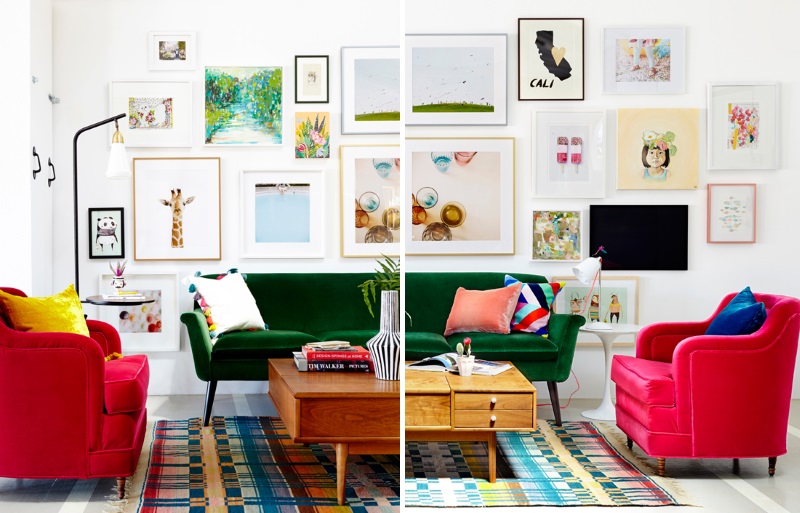 As we wrap up today's post, here's one more helpful tidbit: your gallery wall doesn't have to be limited to framed artwork. Include special mementos and collectibles as well, as shown by Vicente Wolf's Montauk home, featured in the next image: [from Lonny]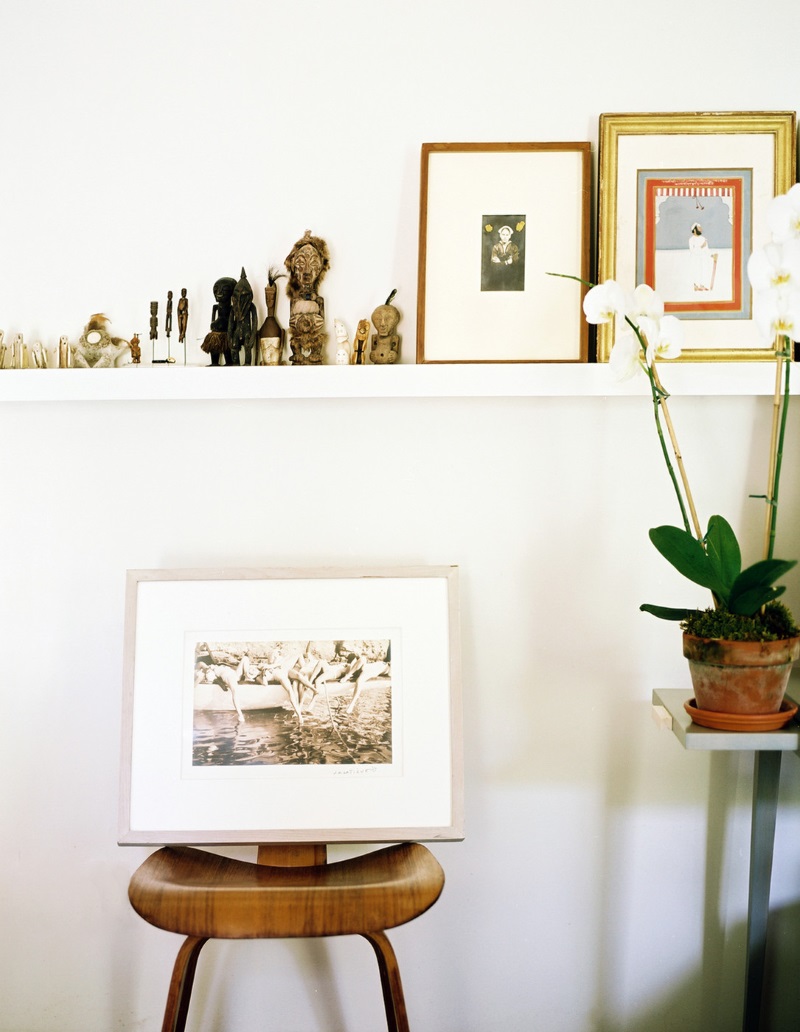 Are you ready to get started on your own gallery wall? I know I am! Not all of my frames will match, but each piece will be thoughtfully placed. Happy decorating!