Decorating on a budget? Throw pillows are often the icing on the cake when it comes to decor, but finding the right pillows for your interior (or exterior) can be tricky, especially if you're trying to keep costs down. Not to mention, you may have a specific style in mind, but once you begin your search, it becomes impossible to find the design of your dreams. Whether you're looking to create the decor you've envisioned or you're interested in crafting a designer look for less, today's post is for you. Enjoy our roundup of DIY throw pillows:
Sew Wonderful…
Let's get started with a few projects that celebrate the art of sewing. Don't worry–if you don't want to involve a needle and thread, there are some great no-sew projects at the end of the post! But if you're feeling adventurous, check out this Textured Leather Pillow DIY from A Beautiful Mess. The end result is gorgeous, and nothing beats the pride of knowing that you created the rippled look with a sewing machine and cut leather strips!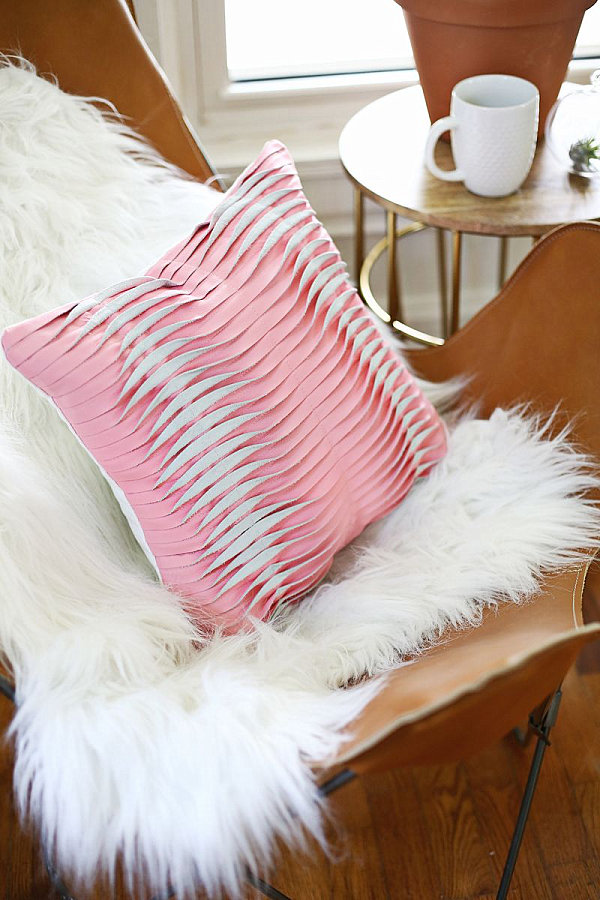 While these DIY Flower Cushion Covers from Feminiya were stuffed with dried herbs, flowers and spices, you can easily make a larger version and fill it with a pillow form or other soft stuffing. But we love the smaller version–and the way these cushions make amazing gifts for friends. Felt is the fabric of choice!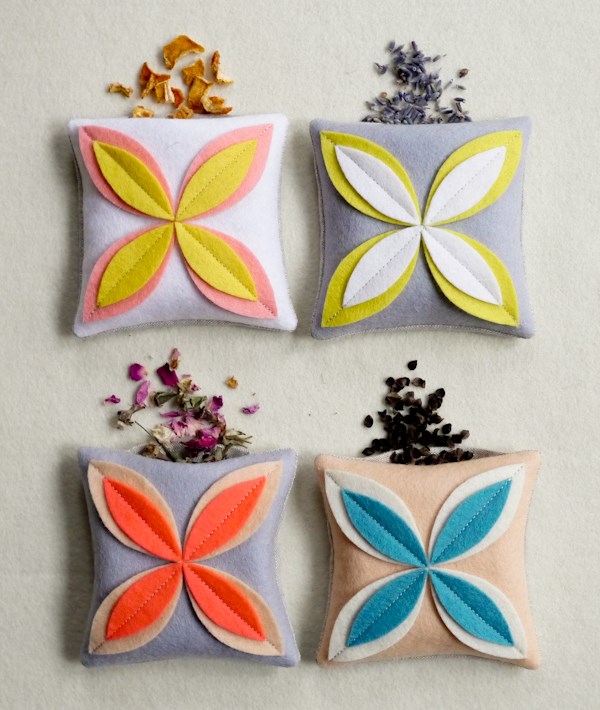 These DIY throw pillows feature an easy-to-remove cover, sewn envelope-style. Creating a cover that can be taken off, then thrown in the wash definitely has its perks. And this project is easier to create than you might think. Check out all the details at Sew Much Love: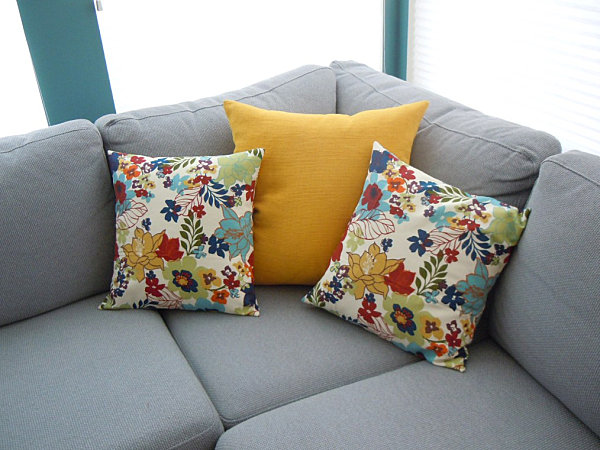 Create Your Own Pattern
Sometimes you just can't find the fabric you want. So why not create your own?! This DIY Geometric Pillow from Vanilla & Lace is crafted from white canvas fabric embellished with felt triangles. Don't worry–they're attached with fabric glue, not hand-sewn! The end result is geo-fabulous: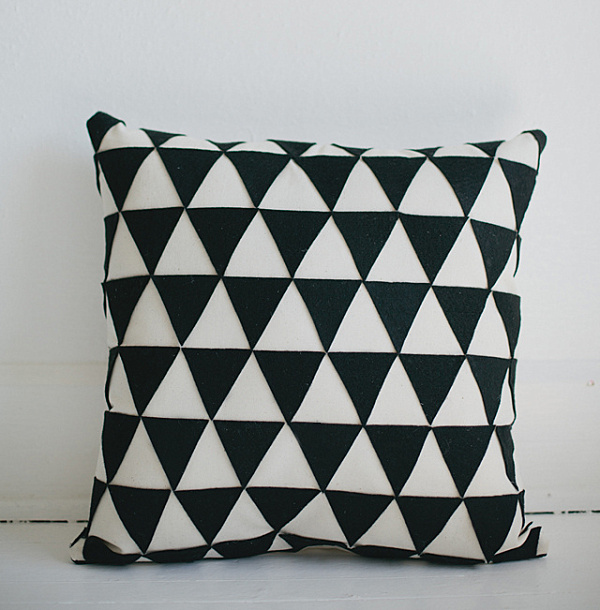 Stencils are another great option for bringing a striking design to your pillow of choice. This DIY Stenciled Arrow Pillow from Making Home Base features drop cloth canvas decorated with coral paint: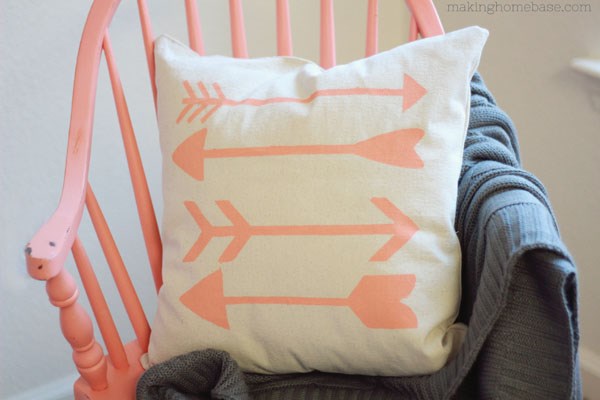 When you can't decide on a design, go with two–one for each side! This DIY Reversible Painted Throw Pillow was embellished with the help of black fabric paint. Check out all the details at Honeybee Vintage.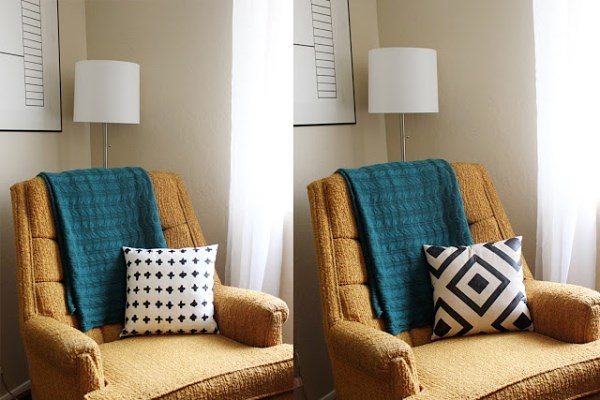 The crosses on the pillow above were free-handed with a foam brush. So are the lines on the DIY Porch Pillows below. The result: an eye-catching pattern that is relaxed and stylish. Canvas fabric and colorful tassels are other key perks. Head on over to A Beautiful Mess for the full tutorial.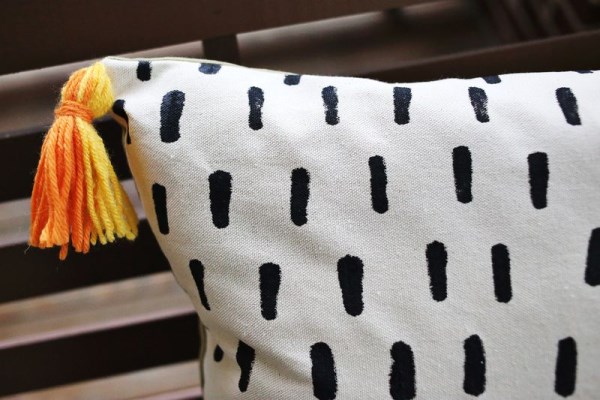 Easy Does It
This last section of today's post is for those who want quick and easy results. Hey, life is hectic–sometimes we need a few shortcuts! This DIY No Sew Pillow involves a Pottery Barn sham and Stitch Witchery tape–no needle and thread involved, folks! A full tutorial can be found at 346 Living.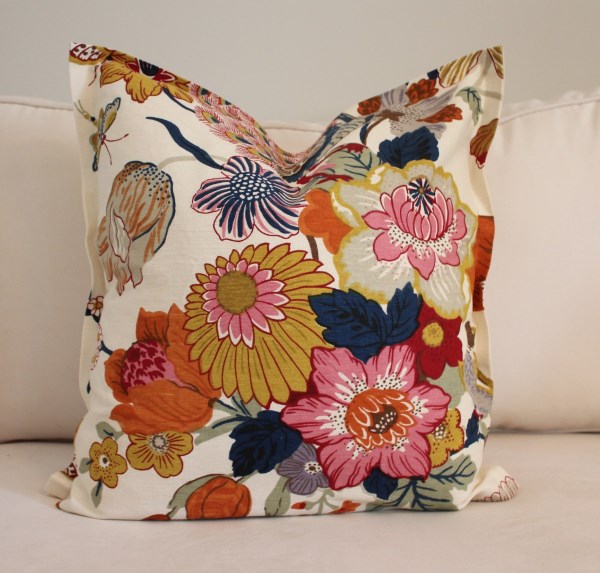 This next idea is super clever. Take a double thickness placement, remove a small section of the seam, stuff with polyfill and sew the section back up. Sure, a tiny bit of sewing is involved, but since you don't have to buy and cut fabric, it all evens out, right? Check out the tutorial at Southern Scraps.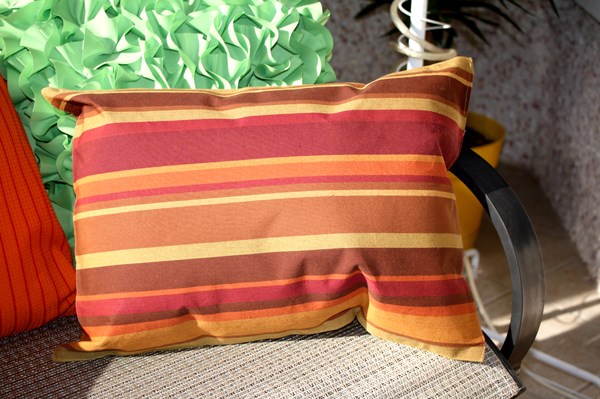 Our last featured pillow project is as easy as tying a scarf. Really! All you need to create this No-Sew Decorative Pillow Cover is the scarf of your choice, a pillow to cover, and 5 minutes. Thank you, Creature Comforts, for such a user-friendly idea!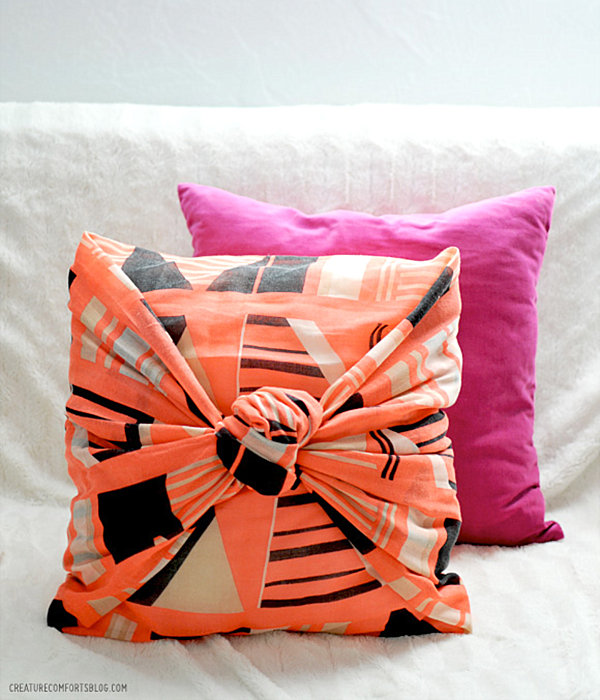 When it comes to DIY pillows, what's your preference? Are you ready to sew? Are you tempted to create your own print with the help of fabric paint? Or perhaps easy does it, and you're looking for a quick no-sew option. We'd like to try all of the above!