Have you ever looked at your dishwasher, or your fridge, or the washer and dryer in your home and thought, "I sure wish you were a little prettier"? Well, you don't have to wish if you're willing to put in a little elbow grease and time, and maybe get a little creative. Did you know there are paints out there meant just for appliances? How about some contact paper? Because you KNOW I love me some contact paper, remember? Check out some ways you can love your appliances again!
Dishwasher Makeovers
Do you have one of those dishwashers that has been around for ages and is crying out for attention, quite literally? You might not be able to fix how loud it is, but some faux tin tiles from your nearest hardware store can easily give it a modern, metallic face. The makeover is quick, easy and will not require more than a couple of faux tin sheets. Head over to Parisienne farmgirl to check out how its done.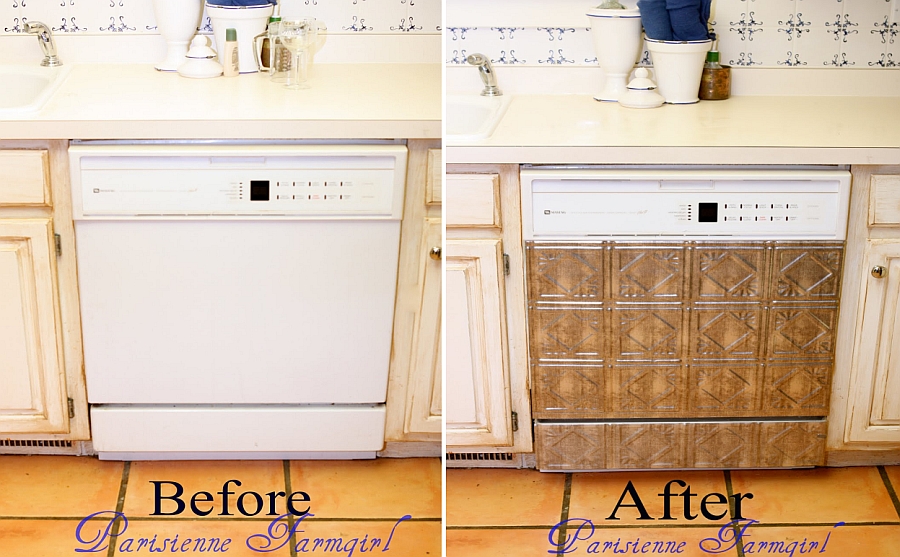 This kitchen is pretty fabulous, right? Well that's because you're seeing it with the modernized stainless steel dishwasher, and not the start black box that was once there. Coordinately Yours has the full kitchen tour!
So maybe you already have your perfect stainless steel dishwasher, but you like a little whimsy and fun with your dirty dishes. Why not try a fun decal like this one? It's artwork and witty – not bad, right? Trading Phrases has the decals for you!
Fun Washer/Dryer Combos
Would looking at a washer and dryer with a colorful pattern make you more willing to do laundry? Maybe not, but it might put a smile on your face when you walk into the room. This is another decal from Trading Phrases.
Would you believe me if I told you this was done with electrical tape? Well believe it! A Beautiful Mess made the laundry room pop in the best of ways by mixing two fun patterns on the washer and dryer. This is a great option if you happen to have a laundry room that opens up to a living space.
Make Your Fridge Into a Piece of Art
Wallpaper your fridge. No, seriously…that's a real thing! This is completely removable wallpaper that would be a fantastic solution for renters, or those of us who change our minds a lot! See more of it on Aunt Peaches.
Chalkboard is always a fun idea in the kitchen, and if you don't have the space to paint a wall, make your fridge into one. This lovely framed chalkboard by Cottage 4C is actually held in place using magnets. Pretty genius, right?
If you like the pattern and chalkboard ideas, you'll love this… This couple shows you how to use tinted chalkboard paint to make a patterned fridge you can write on! Catch the full tutorial at Apartment Therapy.
This little fridge is about as fun as they come! This is also patterned wallpaper, which makes the retro-style fridge look like a piece of art, rather than an appliance. The simplicity of the space mixed with the eclectic pattern is a great combo! Go see more on Babble.
Cover Up Your Oven, Too!
If you have an older kitchen with a retro feel and look, why not commit and go all in with the theme? That's what Susan at Sunset did, and I have to say that it works because it's original and not trying to be retro. After all, this is an original 1950's kitchen!
Geometric shapes are hot hot hot! That goes for any room of the house, even the kitchen. I love that the triangles on the plate match the ones on the stove, and then it carries over to the cupboards, too! See more on Varpunen.
This look is similar to the last, but I just had to share, because the black and white with geometric shapes is such a killer trend right now. And one I hope will stick around,because, I mean, how fabulous is this?! The stove looks like framed artwork and I l.o.v.e. it! This is another Varpunen goodie!
So what do you say? Will you give your old appliances a second chance? Will you take a leap and try something bold with pattern, wallpaper or even paint? I think you should! I know I sure am tempted to!