There's nothing like a well-curated display of indoor plants! It's impressive on two levels–the artistic and the practical. In other words, we can't help but admire the beauty of artful indoor plant displays, as well as the plant enthusiast's ability to keep the greenery alive! Seriously, folks, it takes some skill to maintain plants, even the low-maintenance ones. Check out our post on the best indoor plants if you're looking for ideas, and then let the images below inspire you as you curate and plan your own collection…
From the Homes and Studios of Our Favorite Bloggers
Anyone else notice that indoor plants are currently having a moment? A big moment! For the past few months, we've been admiring the homes and studios of some of our favorite bloggers, and the majority of these interiors feature a refreshing display of indoor plants. Below we see the kitchen makeover from the studio of Oh Happy Day. The use of abundant greenery helps reinforce the crisp green and white color scheme: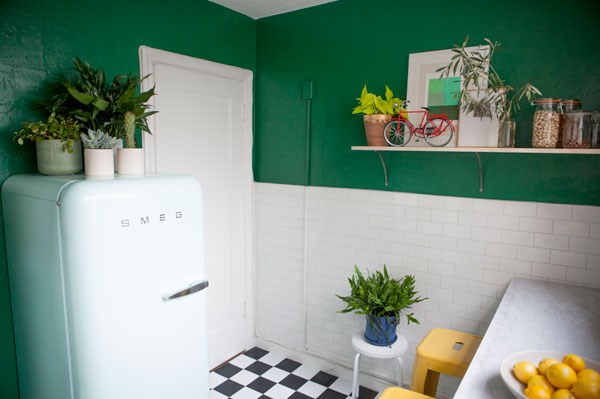 This concrete and copper plant stand tutorial from Claire Zinnecker of Camille Styles shows us how to create the perfect perches for interesting indoor plants, such as the succulents below. Have you seen Camille Styles' new plant-filled studio?! Head on over to this post for the big reveal, and see if you can spot one of these plant stands in the pics!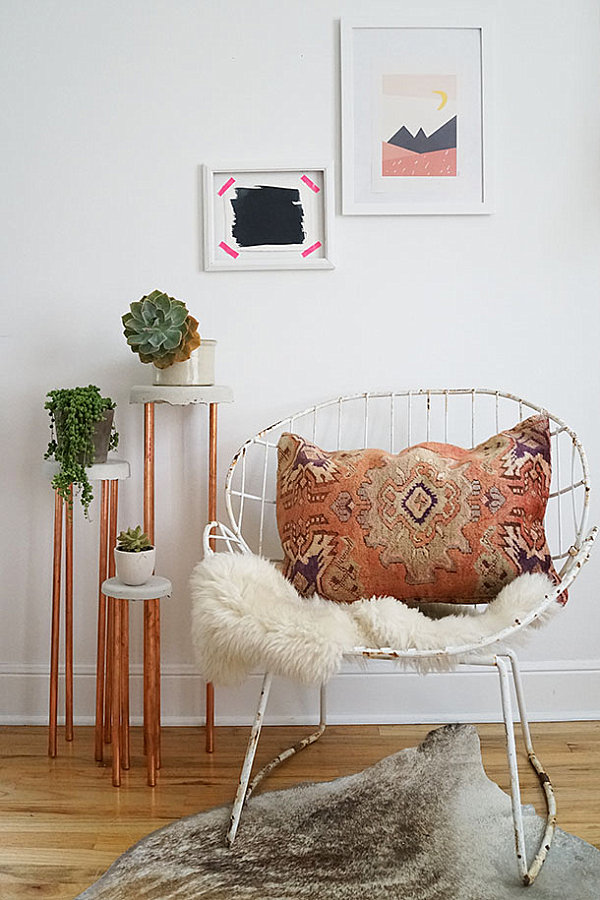 These bust planters from Floral Art reside in the living room of Oh Joy! blogger Joy Cho. Follow the link to the original post, which we love, precisely because Joy acknowledges that it CAN in fact be difficult to keep succulents alive (we couldn't agree more). She also notes that one of the succulents below is actually faux. Thanks for the honesty, Joy! And we love the personality of your planters!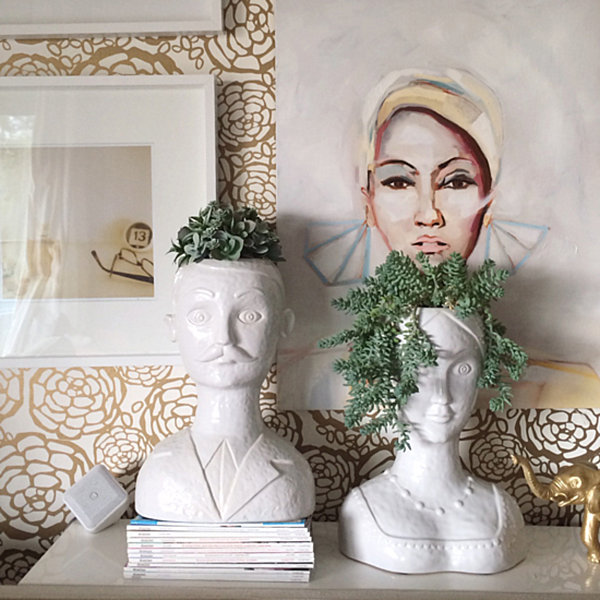 Isn't the vibrant kitchen from the studio of A Beautiful Mess amazing?! It's hard not to smile when we see the vivid yellow cabinets and the bright pops of turquoise. And we can't help but notice the radiant display of potted plants on the window shelving. To make your own window ledge plant shelf, check out this tutorial.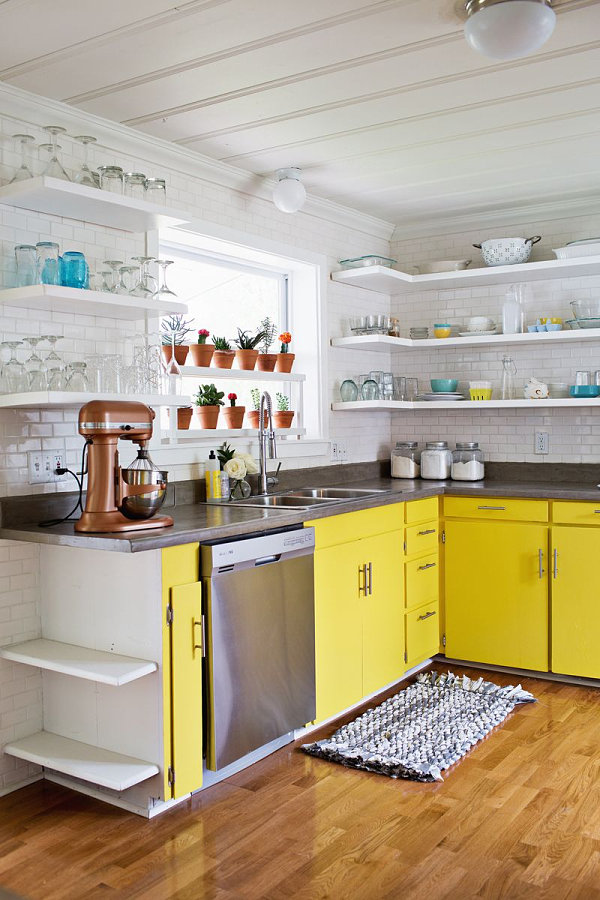 Here's another shot of the new A Beautiful Mess studio, this time zoning in on the gorgeous bay window in the dining room (and the simple yet powerful arrangement of plants on the ledges). The post features plenty of great plant pics, including some helpful resource links that will help you cultivate your own collection of indoor plants.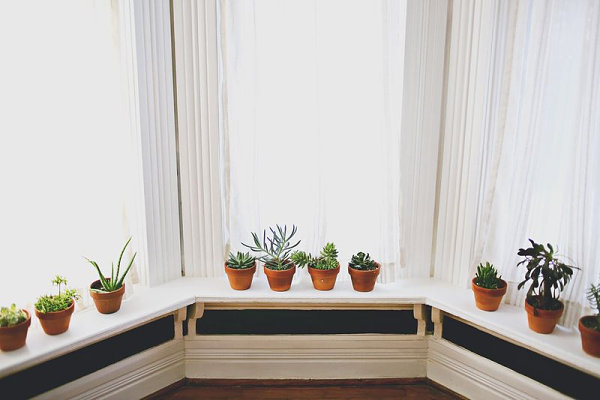 Unique Indoor Plant Statements
When it comes to indoor plants, one thing is crystal clear–you don't need a ton of greenery to make a big statement. Often it all comes down to how the plants are arranged and displayed. There's a conservatory element to the rooms below, designed by Lauren Liess. Urns, topiaries and other decorative touches create an English garden effect: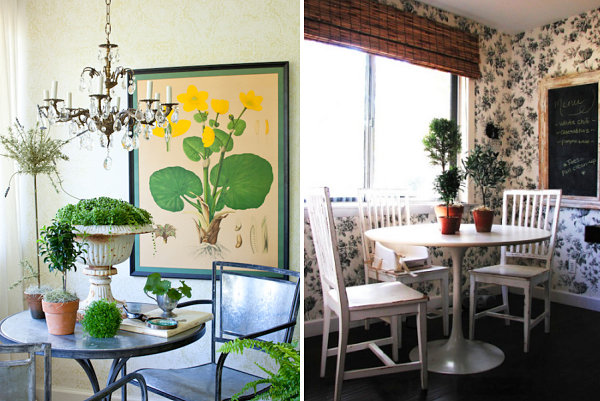 Add style to your coffee table with a terrarium. Or better yet, two! If you love science and the joy of cultivating plants, this project (and look) is for you! For a little help in getting the job done, check out this DIY terrarium tutorial from A Subtle Revelry: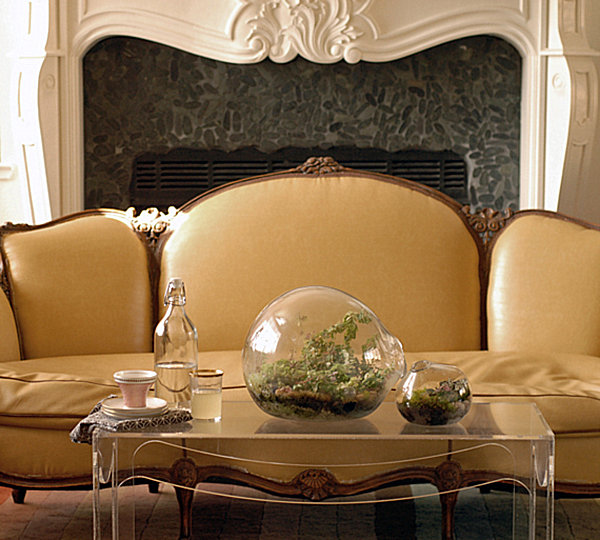 Below we see two more interesting plant displays. Note how the use of antique elements, vials, test tubes and ample greenery creates a scientific aesthetic that's truly unique! [photos by Nicole Franzen via Decor8]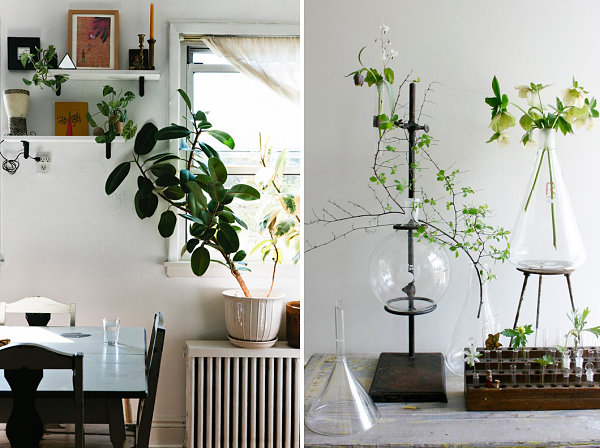 From garden charm and scientific style to all things tropical! In this next set of images, we get an inside look at the apartment of Jon and Nina Hans, featured at Design Sponge. The interior is inspired by Mid-century Hawaiian style, and there's definitely no shortage of plants.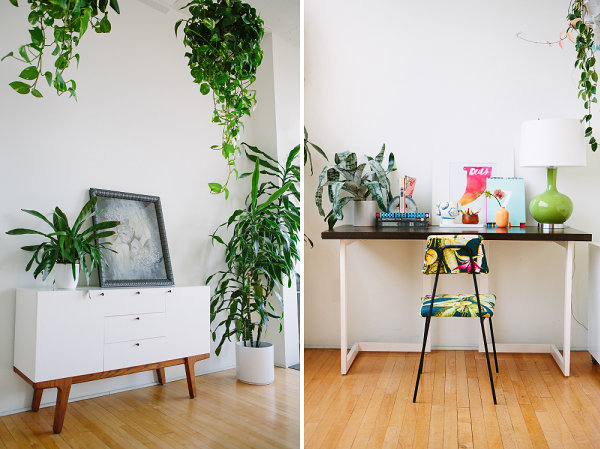 Even when an interior isn't boldly beachy, tropical greenery can add a modern touch to a tabletop surface. We're loving the use of twine and string spools in the verdant vignette that follows. [from DropDesign]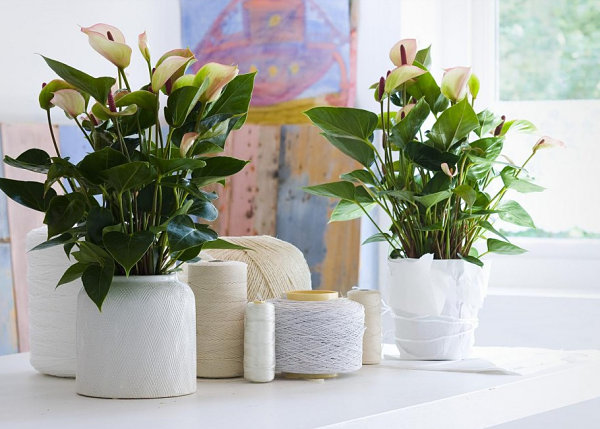 Don't have a green thumb? Add a heavy dose of plant life with this Crepe Paper Leaf Garland from Hank & Hunt. When the design is this good, it's tempting to go faux, especially when entertaining is involved!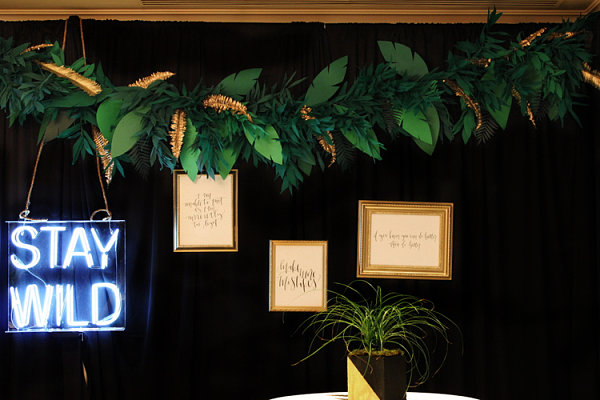 Don't forget that hanging plants can add a dash of greenery while drawing the eye upward. In this Harlem apartment designed by Frisson, we see the cascading wonder of the Pothos plant: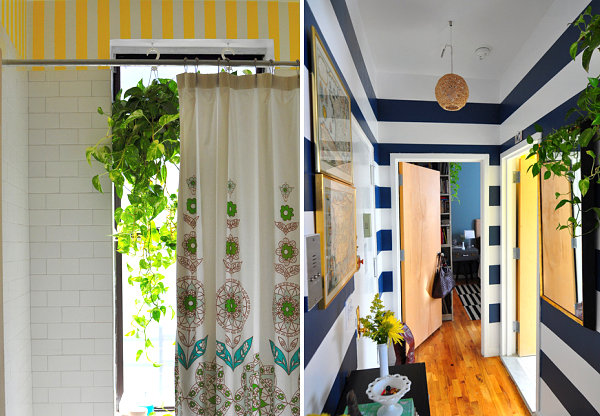 Going Bold with Your Indoor Plants
We end today's post by featuring a collection of indoor plant displays that are truly grand! Once again we begin by spotlighting the interior of one of our favorite bloggers–Bri Emery of Design Love Fest. Below we see a vignette from her living room makeover, including an unforgettable planter from the LA Flower Mart.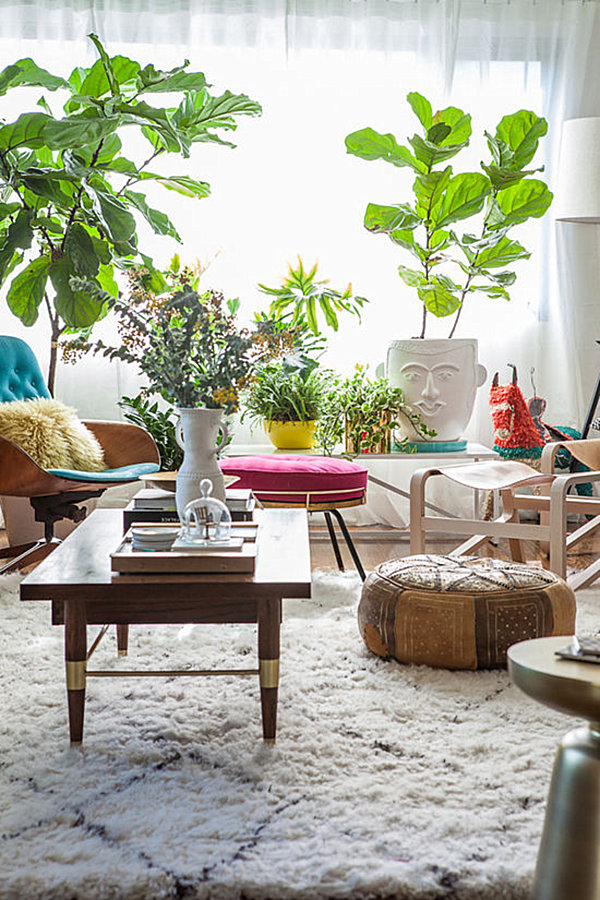 The plants in this next featured living space are quirky, interesting and bold. In the large planter, we see Kalanchoe beharensis, a striking plant that truly makes a big impact. [photo by Rikki Snyder via Houzz]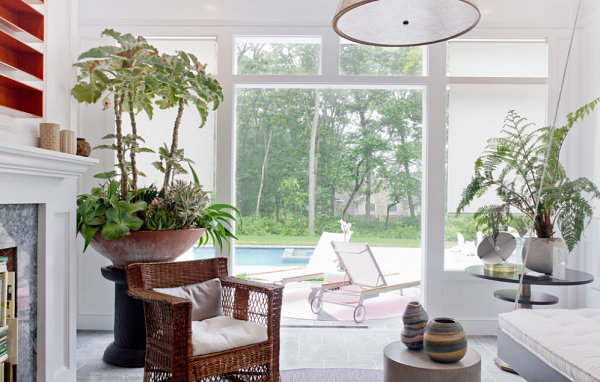 The interior featured in the next pair of images includes a couple of built-in planters that allow for large indoor greenery. Note how a modern look is created in the living and dining areas below–the plants truly breathe life into the space. [from Lushome]

Last but not least, we see the glory of large pots and tall plants, creating a lobby-style look that is anything but subtle. And that's why we love it! [from Best Home Inspirations]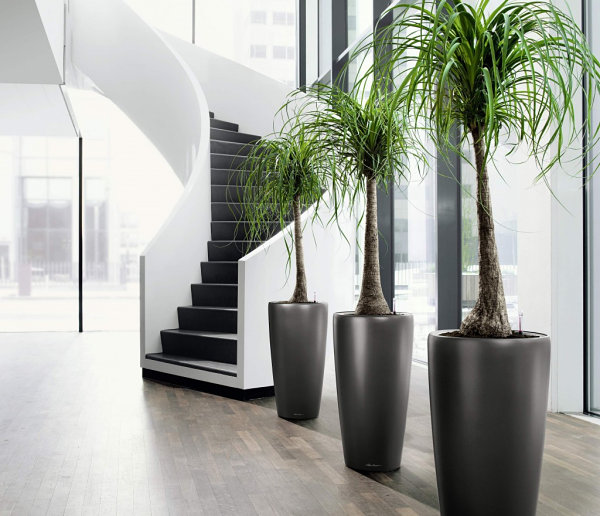 Are you tempted to add some greenery to your indoor space? Whether you keep it small or go grand, remember that how you arrange your collection of plants is every bit as important as the plants themselves. Get creative–make it truly unforgettable!