Walls can be such a wonderful blank canvas in a home and a great place to get really creative and have some fun! I love the idea of being able to switch artwork with the seasons, with your mood, or just because! Though framed images can obviously make a strong statement, I love the trend we're seeing of using quotes and words on walls.
The Golden Touch
Gold is white hot right now, and has been for awhile, so why not bring that trend not only into accessories, but also into the actual prints on your wall? I love this print for an office, or maybe even an entryway (since we always seem to be rushing out the door in the mornings, hustling to make it out on time!). This makes a strong statement and has a beautiful shimmer to it. [Via Miss Poppy Design]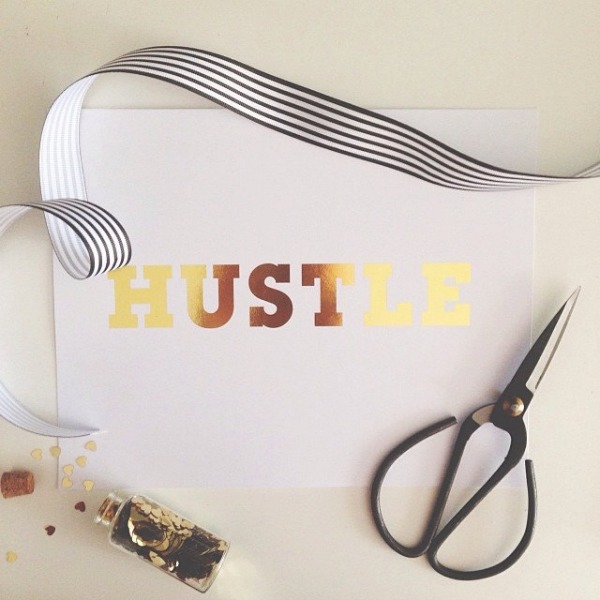 This is a lovely little reminder for the perfectionist, and is also pretty! Unlike the last one, the font on this piece is delicate and dainty, so I can even see it working in a little girl's room. The simplicity of the white frame and white mat doesn't take anything away from the glitz of the print, so they work really well together. [Via Charm & Gumption]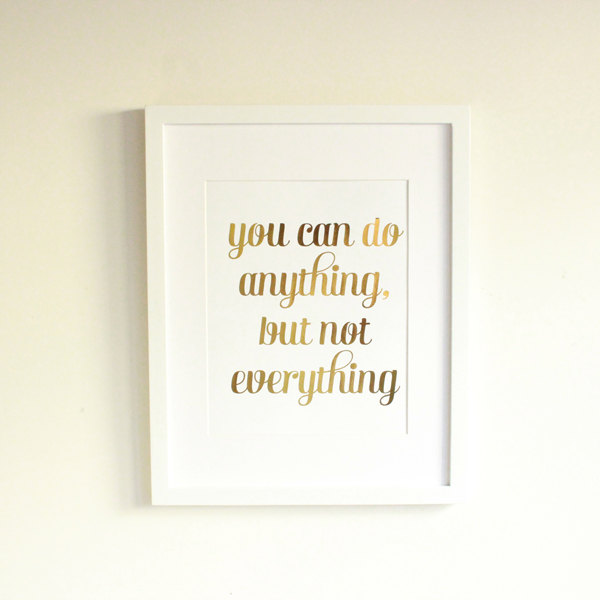 This lovey-dovey, girly and sweet print is clever and and a really classic font, so it doesn't look predictable or cheesy. I love the graphic design of how the x's and o's are placed on the paper, and that it's not perfectly centered. This feels like a really thought out and well-designed piece, all the while having a sweetness to it. [Via Miss Poppy Design]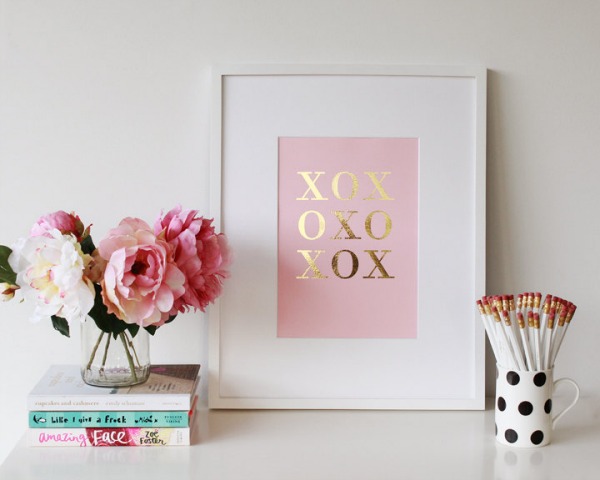 This color feels really fresh because of the mix of the mint and gold. Now let's talk about the actual text, which means "Good morning my love, have a good day." How super sweet is that?! It's romantic and lovely, and I can see this in a master bedroom or in a baby's nursery, because that sweetness can really be carried so many places. [Via Sarah & Bendrix]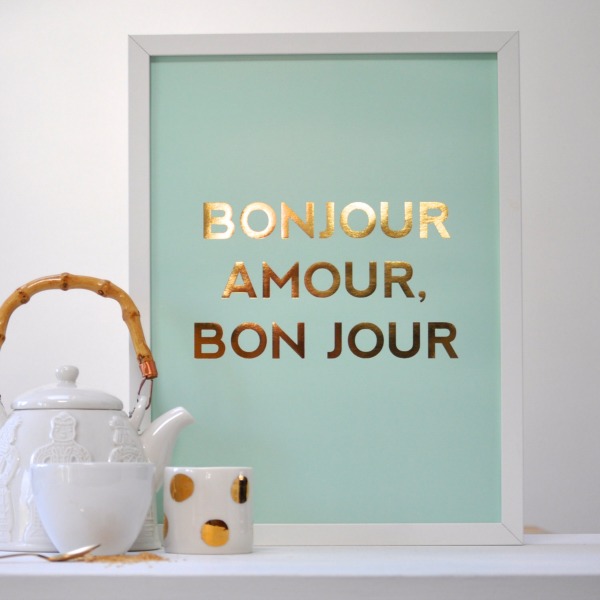 Light on Black
We know how hot the chalkboard trend has been, and this look kind of plays into that a little bit without being too obvious that it's a chalkboard (but still having the same visual impact of the light on dark). Now this print is just pure fun! I love that it's witty and funny, and totally makes sense for 2014, doesn't it? I mean, Queen B really does have it all together! [Via Charm & Gumption]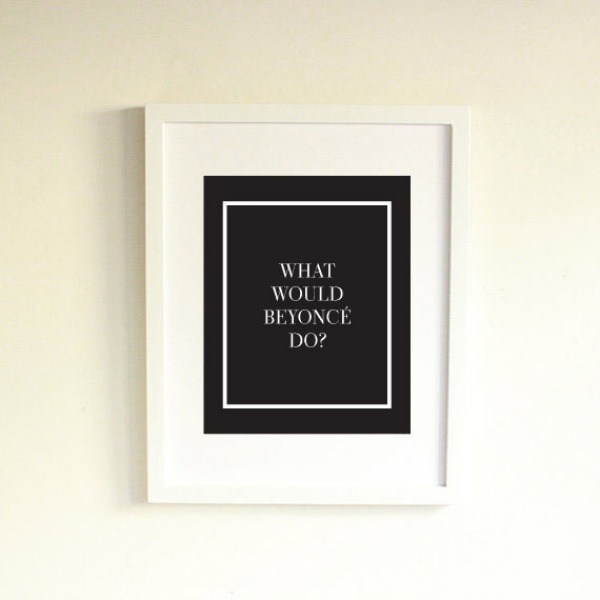 This quote mixes two very classic fonts for a fantastic visual impact, and I love that the "non" is in a gold tone,without being gold foil, which keeps the cost of the print very low. This is based on an Edith Piaf song and means "No, I do not regret anything." Talk about a strong message, right? [Via Sarah & Bendrix]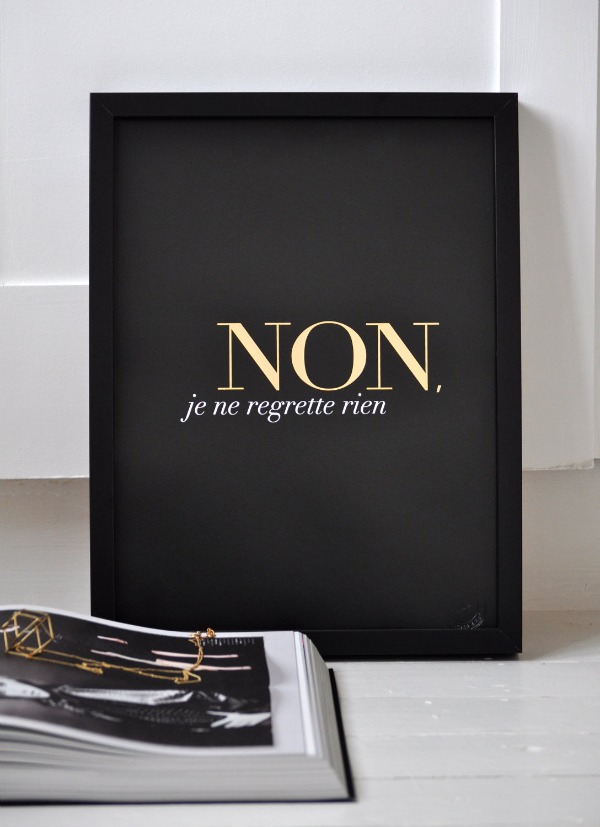 From strong to nice! I love that this Japanese proverb is a reminder that words can make a big impact on people's lives, and it's very appropriate for the extremely cold Winter months we've had here in Canada, too! If a kind word could warm three winter months for real I would be forever grateful! [Via The Learner Observer]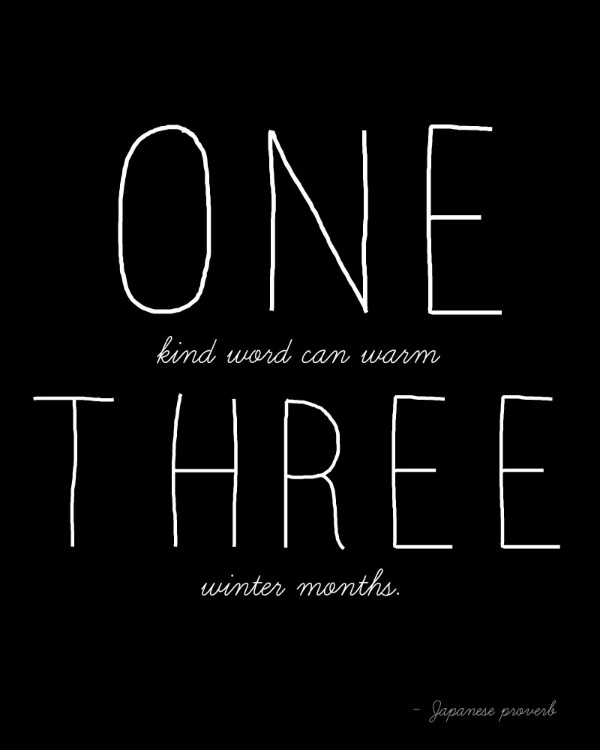 Handwritten
There is something so special about anything handwritten, isn't there? I love the one-of-a-kind element that this print has, and it looks so chic with the gold frame. Another thing to think about is that these prints don't necessarily need to be hung – resting a print on furniture against a wall is also a great way to accessorize! [Via Rach Illustrates]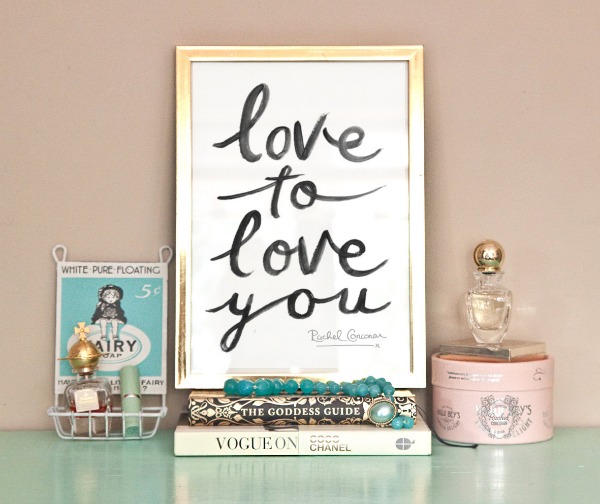 Tons of color and texture and a handwritten appeal make this just the loveliest of prints! The bunting style is also super cute, and it goes so well with the quote, which is about celebration. Another wonderful thing about this piece is that it needs no frame. It's just hang and go! [Via Urban Bird & Co]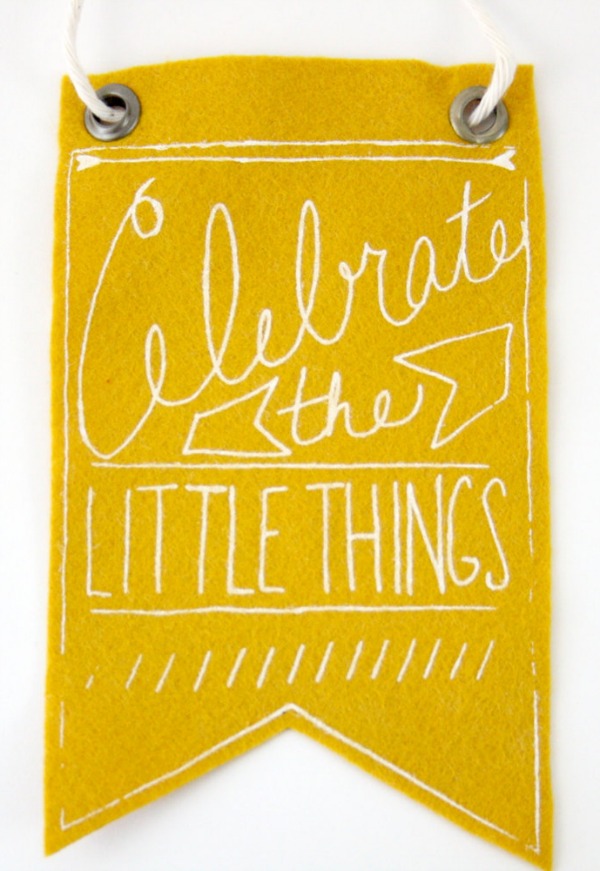 Have a little fun in your kitchen with this Spanish saying, which reads "A full stomach makes a happy heart." And isn't that the truth?! The mix of two different types of writing is super cool, and the little heart with wings is such a nice graphic touch. [Via Anek]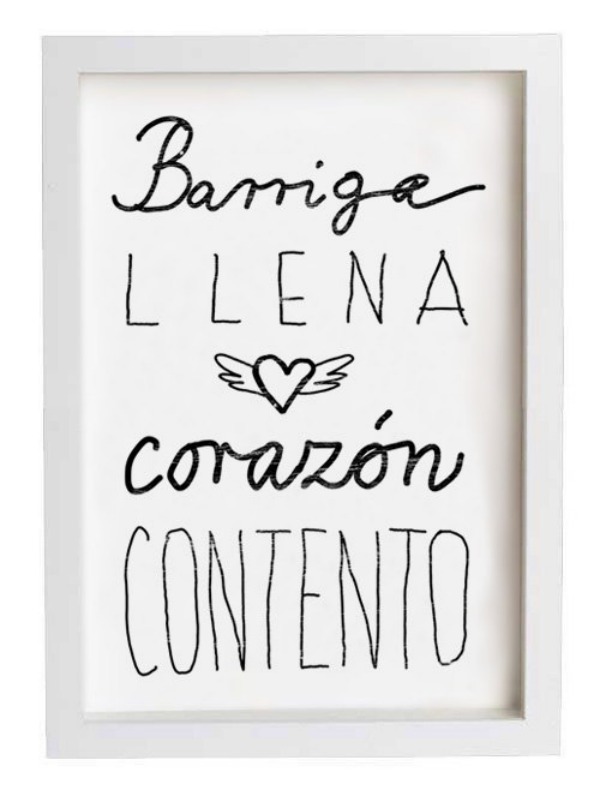 "Love conquers all." In a painted, large-scale print, this is such a big statement, and it looks so elegant with gold and leopard print! This is a print that can be bought, but that can also inspire you to use your own handwriting to create something unique for your space! [Via Made by Girl]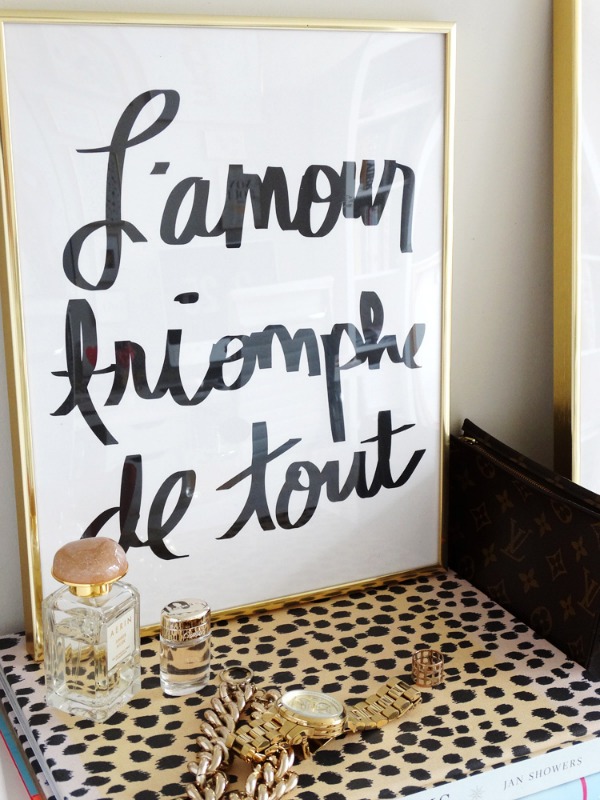 Black on White [With a Twist]
A bold, graphic black and white print can be powerful, even with a minimalist touch, and the print below is proof of that. I love the alignment of each word on the far left side, as well as the fact that the font looks like it's been weathered. It really needs nothing more than a simple frame (a wooden one would also look wonderful). [Via Chloe Vaux]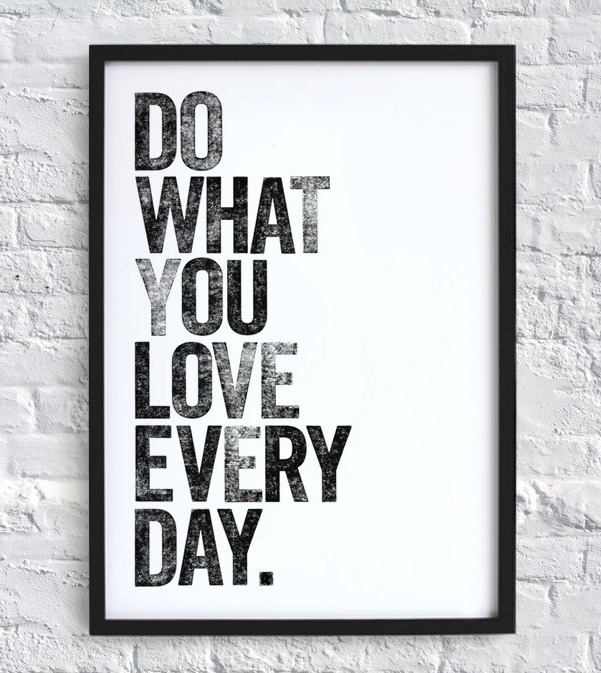 This collection of prints would not be complete without a Jane Austen quote! I may be slightly biased because I happen to own this one, but I think it looks great! It has such fun design elements added to it, and it's just a really unexpected and sweet Austen quote! [Via Printable Wisdom]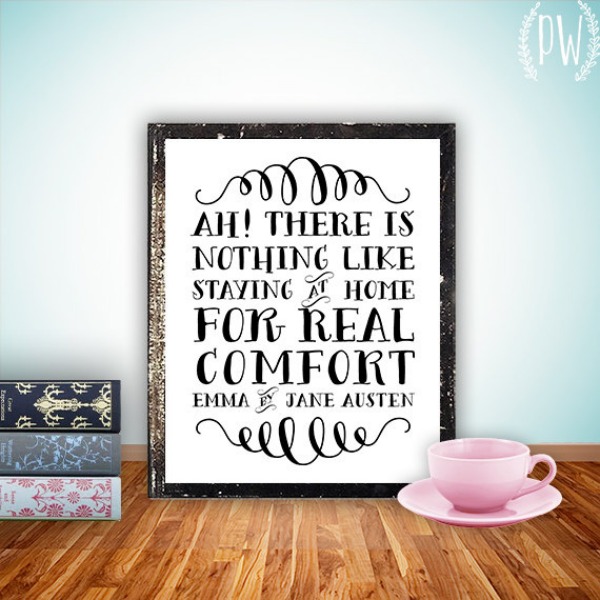 As a teacher, this print speaks to me! I think these little rules/reminders/expectations are really great to have around the classroom, but they are also wonderful to have around the house. I also happen to have a set of house rules that we love, because it inspires and reminds us that at the end of it, it's important to do your best and BE your best self every day. [Via VB Typography]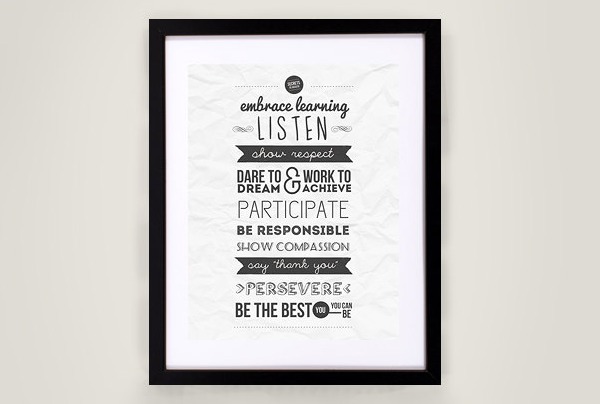 When I saw this print, it made me laugh! This is so me, and I don't know about you, but being indecisive can be such a frustrating thing. And just when you think you're not indecisive… it hits you again! Is that just me? I hope not! Either way, this print is fun, and I love the details! [Via Rach Illustrates]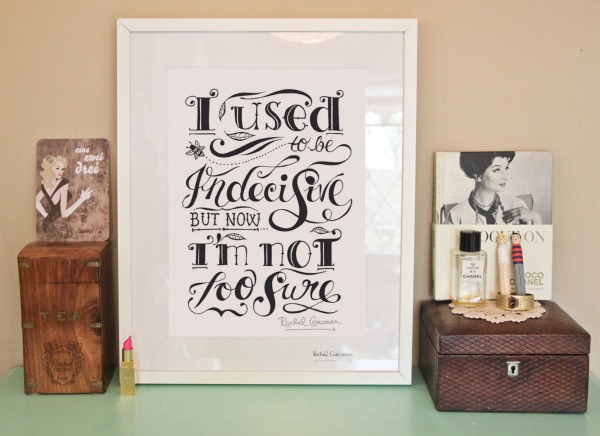 There is such a grand impact that this print makes, even from afar. Then you read it, and it's such a fun quote! I love the boldness of it, as well as the fact that it actually looks great without a frame! Another piece of food for thought: if you don't have a frame, get creative! [Via Vapor Qualquer]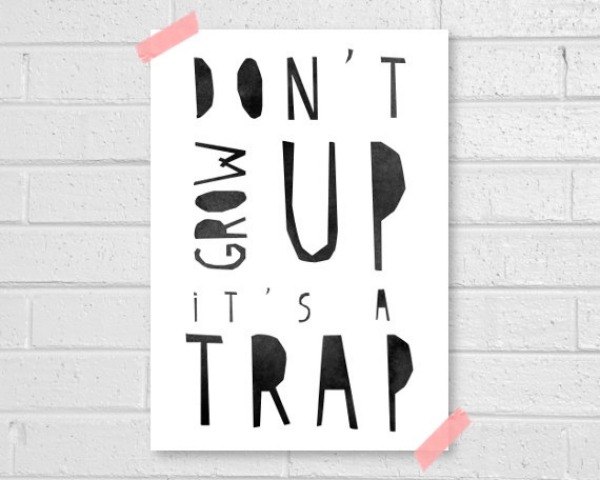 Last but not least, this beautifully designed print brings a smile to my face! The quote itself is so lovely, and the choice of fonts, how they mingle with one another and the placement on the paper is all very well thought out. I imagine this print in a small scale by a bedside table, so you can have a sunny reminder every morning! [Via Creative Index Print Shop on Society 6]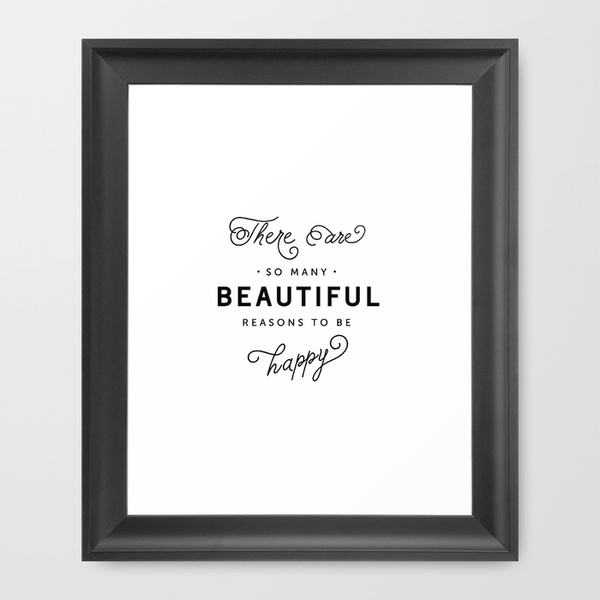 There you have it! These are just a few of my favorites, and I hope you will feel inspired by some of these beautiful pieces of art to either make your own or adorn your walls with something that brings you joy!