Are you on the hunt for wooden wall art? I sure am! There's something about the three-dimensional aspect of wooden pieces that adds another layer of depth to a room. When the natural grain of the wood is on display, the effect can be contemporary, retro or rustic. When painted, this art can take on a colorful modern feel, instantly grabbing your attention.
For today's post, I wanted to celebrate the versatility of wooden wall art by showcasing a variety of options for incorporating these creative pieces into your home. We begin with some wall art inspiration, then move on to sources for purchasing wooden pieces. You didn't think I could end the post without highlighting some wooden wall art DIY project ideas, did you?! After all, sometimes the best way to celebrate an art form is to roll up your sleeves and get creative. Enjoy the pics and ideas that follow!
Wooden Wall Art Inspiration
Let's face it–wooden wall art can be positively striking. Especially when it boasts unusual shapes. We often see linear wooden art that celebrates right angles. Yet below we see a rounded, asymmetrical creation with a sunburst motif. The wooden strips echo the lines of the pendant light that hangs overhead. [from DKOR Interiors]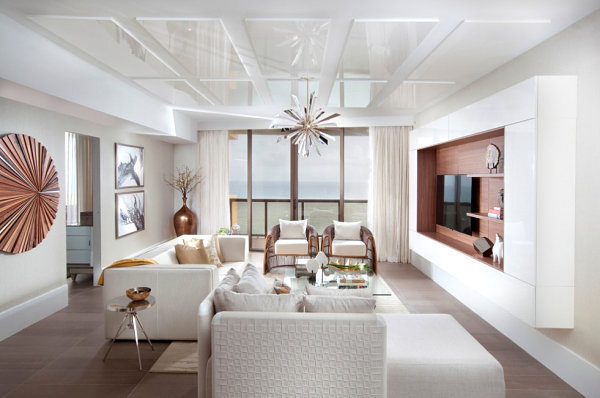 Sometimes wall art can get quite intricate. The wooden wall art in the next featured image combines many small pieces to create a map of the world in bright yellow. The contrast between vivid color and warm wood is perfection. [from HSU McCullough]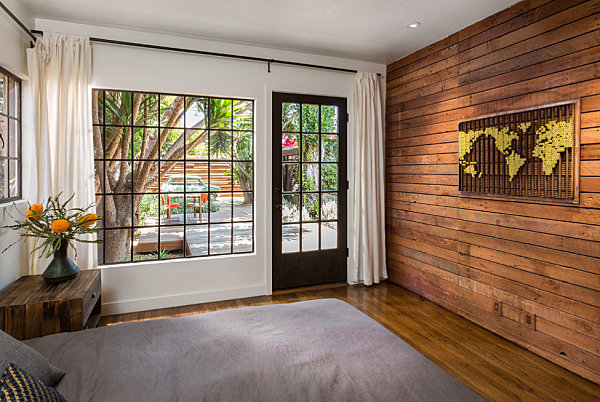 While it may seem that the wooden planks on the wall below are a modern abstract wall art creation, look a little closer. In fact, these wooden strips are actually part of a large wall-hung cabinet/murphy bed. There's nothing like "wall art" that combines form and function! [from Union Studio]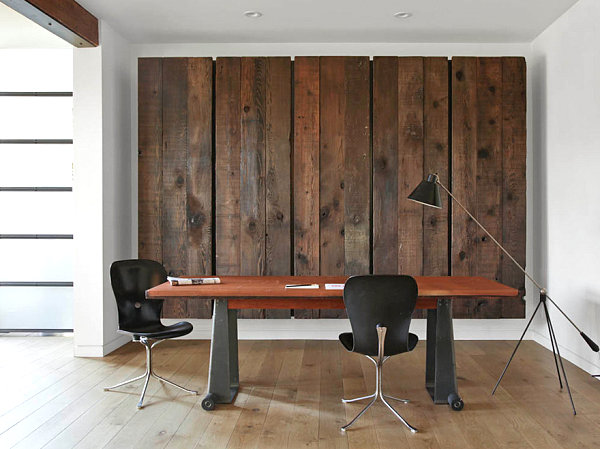 Wooden Wall Art for Sale
At this point, you might be wondering where you can buy some wooden wall art for yourself. Thanks to online sources such as Etsy, you can be connected with a wide array of creations from talented artisans. Below we see wooden art from Etsy shop Shawn's Woodworking. The beautiful colors come from the diverse exotic woods that make up this piece, including African padauk, cherry, black walnut, zebrawood, Caribbean rosewood, red oak, curly maple, curly bubinga, and African mahogany.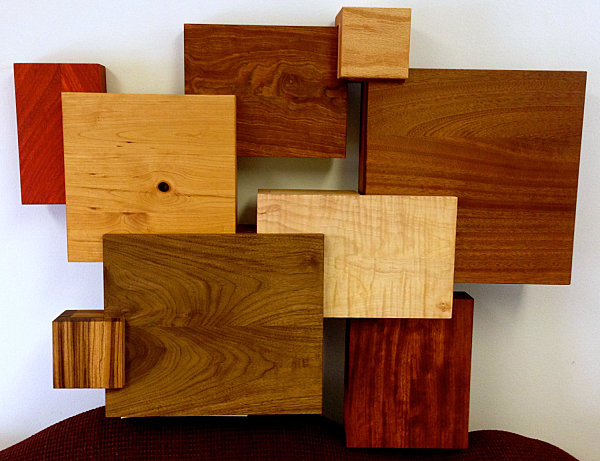 How gorgeous is this Under the Boardwalk artwork from Etsy shop Stains and Grains?! Colorful and modern without knocking you over, this radiant piece channels the magic of a sunset. Yet instead of featuring rosy, candy colors, this wooden wall art creation offers a neutral scheme accented with unexpected pops of color that would complement a wide range of interiors.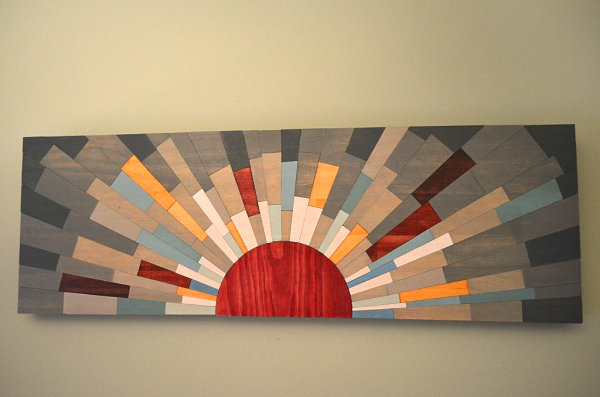 Tree rings take a modern turn with the help of colorful circles created with soy paint. This set of three Reclaimed Wooden Wall Art Tree Rings from Etsy shop Earth Art by Wendy is crafted from decades- and centuries-old barn beams. The beams are cut, dried, sanded and given a clear coat to enhance their natural beauty. Then each piece is hand-painted to create the unique work you see below: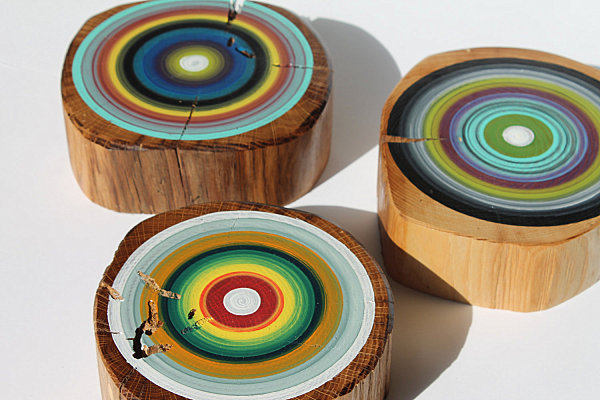 There's nothing like a large display of wooden blocks. Intricate yet modern, this wooden wall art is the focal point of any room it inhabits. Head on over to Jamie Beckwith Collection to view a host of gorgeous offerings. The selection below is part of the Projection Collection.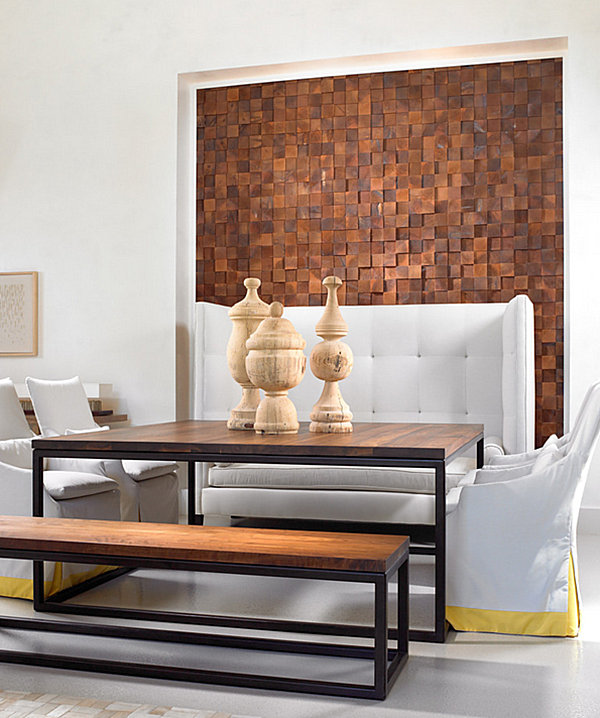 Wooden Wall Art DIY Project Ideas
Ready to get creative? We end today's post with a few DIY project ideas, in case you wanted to take this look into your own hands. We start with a Wooden Mosaic Wall Art DIY from A Beautiful Mess, crafted with the help of wooden blocks, wood finish and a few other key supplies. It's hard to believe this substantial piece can be created in a few easy steps: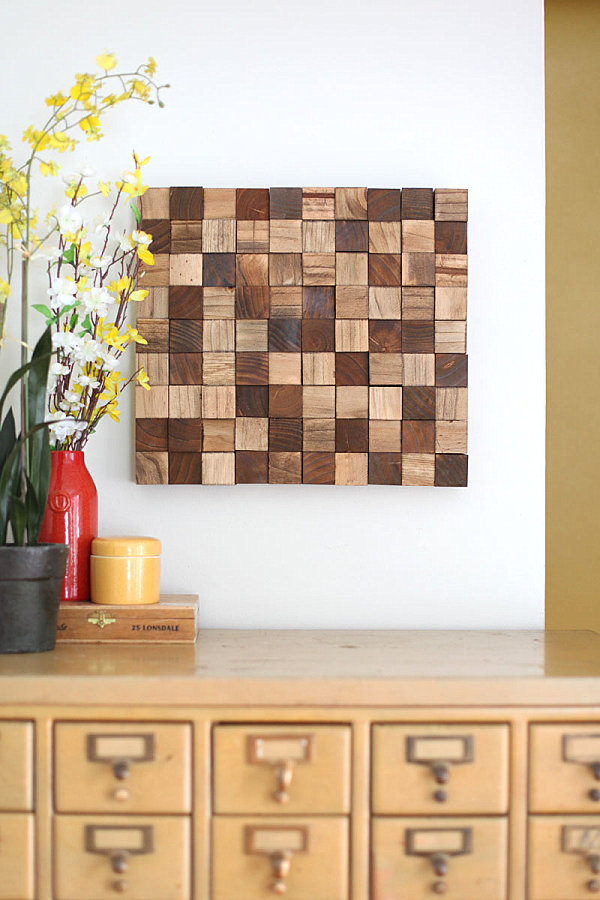 The first time I came across the fruit-motif artwork below, it completely captured my attention. Somehow, the fact that the colorful fruit appears on a wooden "canvas" made it all the more intriguing. This look can be recreated with some wooden boards and the paint of your choice. Keeping the fruit simple and modern is the goal. [from Azevedo Design Inc.]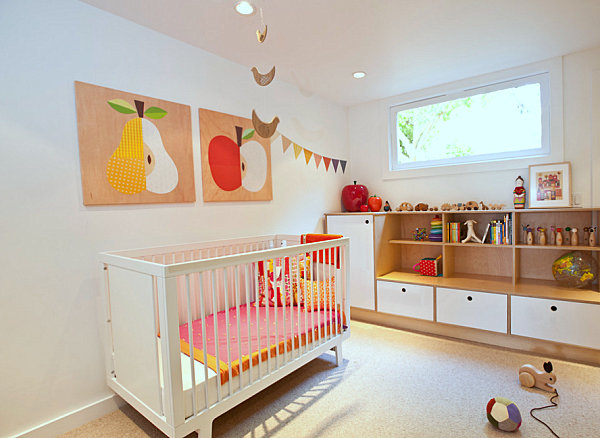 While it's clear that the material surrounding the fireplace below is in fact veneer plywood, I can't guarantee that the blue and yellow wall art consists of wooden planks. But that doesn't mean you can't make your own version of this artwork by mounting painted wooden planks on your wall. I know I'm tempted to try it! [from Strening Architects]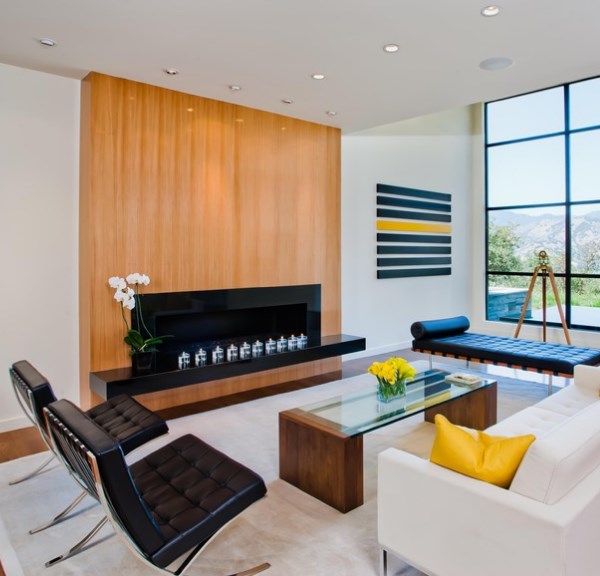 Lately I've been seeing a lot of wooden strip art. Not only is the wood often weathered, distressed and painted in various colors, sometimes special details about the art collectors are worked into the design, from meaningful colors to significant numbers (such as anniversary dates) painted onto the wood. Curious about creating one of these pieces for your own home? Start with this wooden shim art tutorial from By Stephanie Lynn. [image from Nina Topper Interior Design]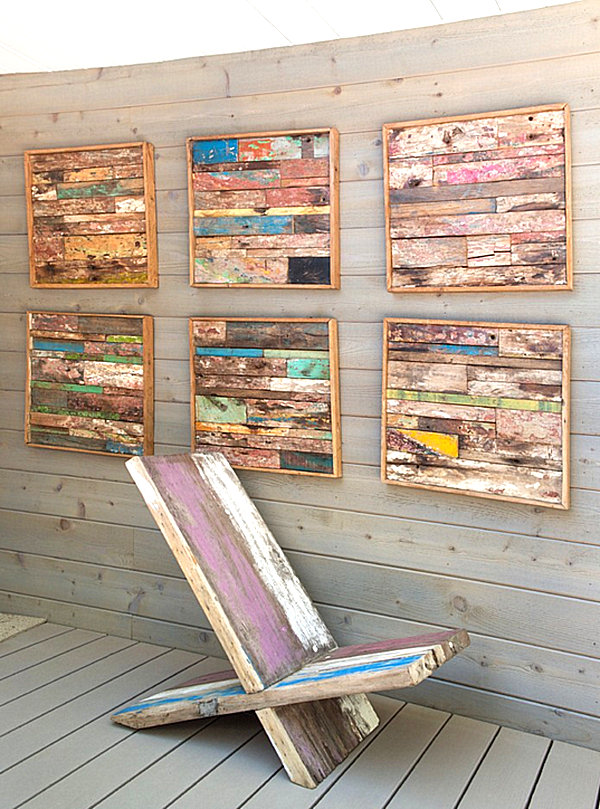 When it comes to wooden wall art, are you more likely to buy it or make it? Luckily today's post empowers you to do both! Hope you found it helpful. Now I'm off to contemplate a wooden wall art project of my own…
Liked the story? Share it with friends.