There's something glamorous about a townhouse–that special dwelling (often in an urban area) consisting of two or three floors and shared walls between units. In big cities, these spaces are highly coveted, as they typically offer more room than apartments and give a true house-like feel. Not to mention, there are some amazing design possibilities when it comes to the modern townhouse.
Today we celebrate modern townhouse design by breaking it down for you on a room-by-room basis. What are some of today's top townhome trends? Are there certain styles and techniques that consistently appear in these spaces? And how can you get the look? Check out the images and tips below, then tell us what you think at the end of the post…
An Artistic Living Room
We begin with a townhome design trend that is eye-catching and original: the artistic living room. Key traits of this space include striking furnishings, statement lighting and an abundance of unique details, such as unforgettable wall art. Speaking of wall art, the creative space below features "Seagulls" by Curtis Jere, a wall sculpture that truly makes an impact. [from Behance]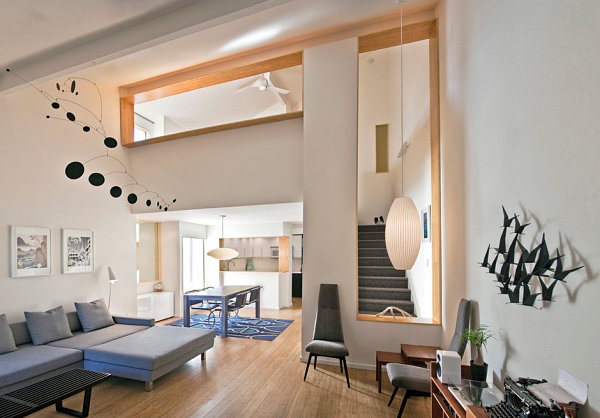 In addition to wall art, don't underestimate the power of interesting vases, as shown in the space below. Metallic vases, faceted vases and mantel vases with a paint-dipped look make a big impression. [from James D. LaRue Architects]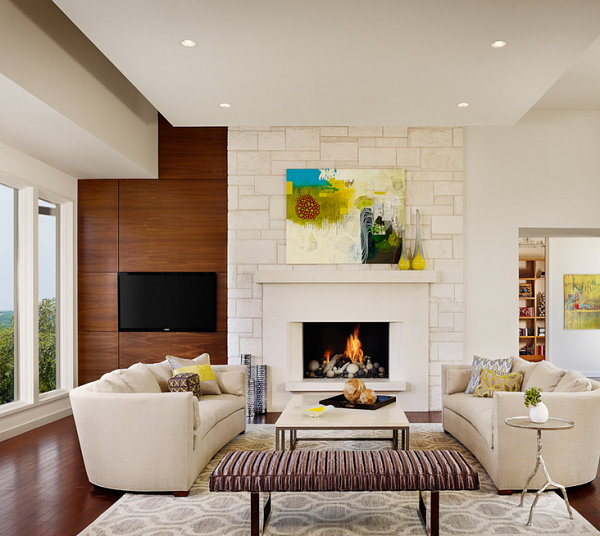 Another memorable strategy: treat each piece in your home as a work of art. Hunt down the most interesting items you can find, from modern chairs with a striking print to ceramic figurines in an eye-catching color. [from MacCaul Turner Design]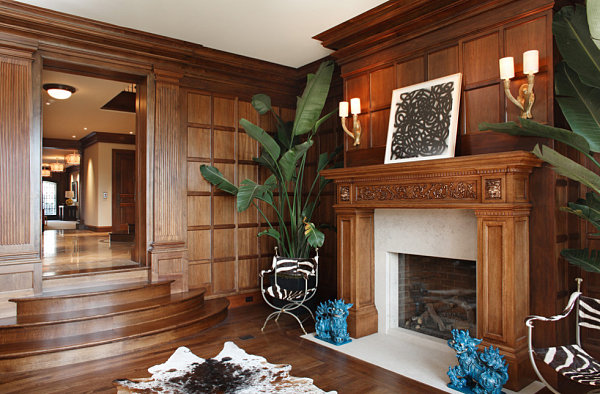 The living room below was designed by Jonathan Adler. It's hard to top acrylic lamps, a brass palm tree and a life-sized dog statue…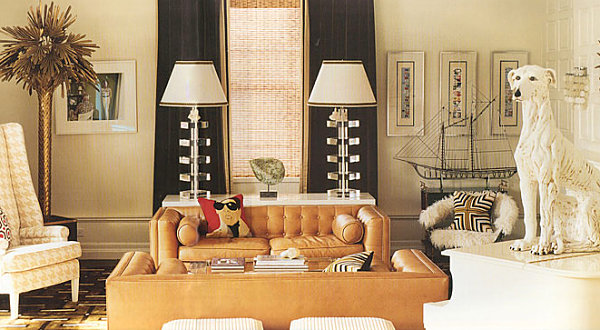 In another distinct space designed by Adler, we see sculptural chairs, checkered wall art and a long sofa in a fiery shade of orange. Blue drapes anchor the space, along with a glossy black floor: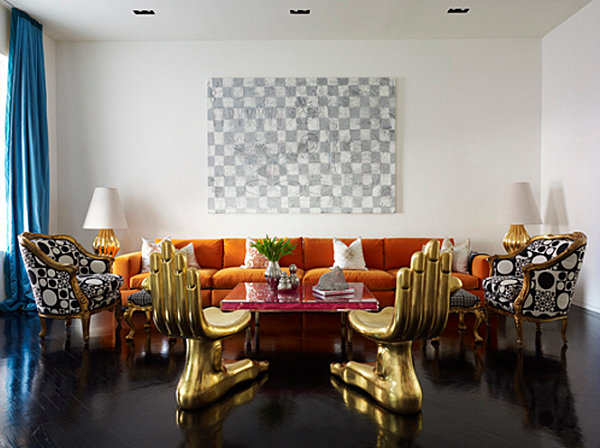 How can you get this look? Start with a retro-style wall sculpture, such as this C. Jere reissue of a Mid-Century sculpture via Jonathan Adler. Let it inspire the decor in your space, setting a high standard for creativity and boldness.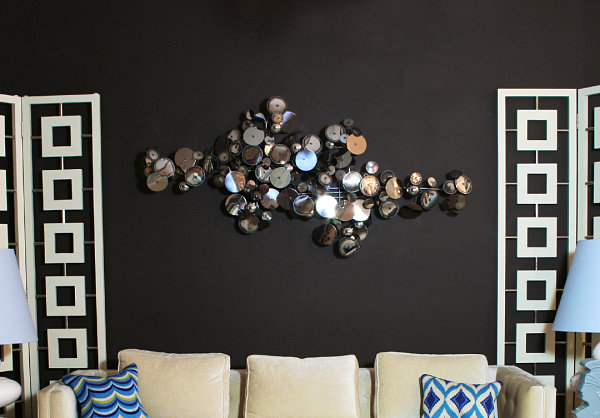 A Minimalist Kitchen
From the living room to the kitchen… One modern townhome trend that's currently putting its stamp on culinary spaces is minimalist design. Not only is it stylish, it's practical! Who wants to deal with a clutter-filled counter while preparing food? This 4-story New York brownstone features copper countertops and minimal decor. [from PMW Architects]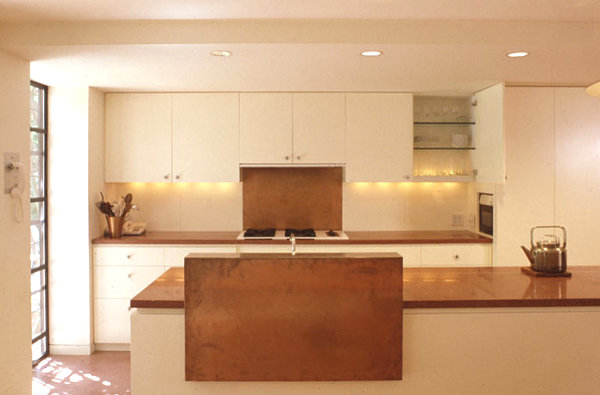 Instead of filling the countertops with bold decor, this next featured kitchen focuses on the surfaces themselves. A gleaming kitchen island, a tile backsplash and wooden cabinetry make a strong statement in this space by Palm Design Group: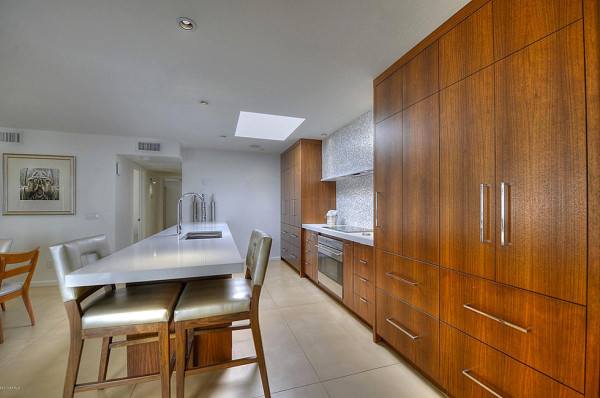 How can you get this look? Opt for kitchen decor that's also functional. This slim canister set from Simple Human is made from fingerprint-proof stainless steel. A push-button release results in easy access to key ingredients, such as grains and baking supplies.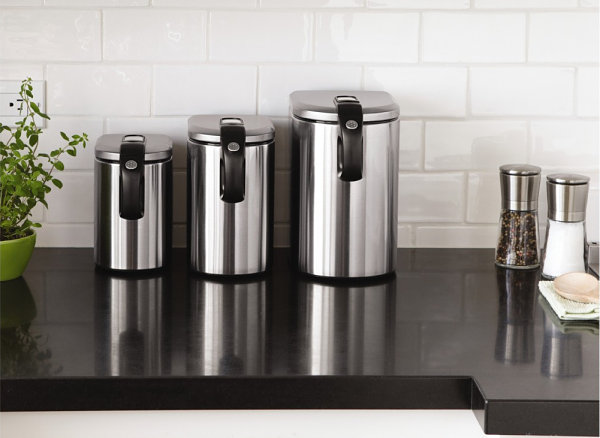 A Whimsical Dining Room
There's no better place in your townhome to have fun with design than the dining room. We're seeing more and more whimsical spaces emerge, especially with the help of statement lighting and other special features. The wall panels below create a geometric look, while globular pendant lighting has an icy, fairy-tale effect… [from SHH Architects & Designers]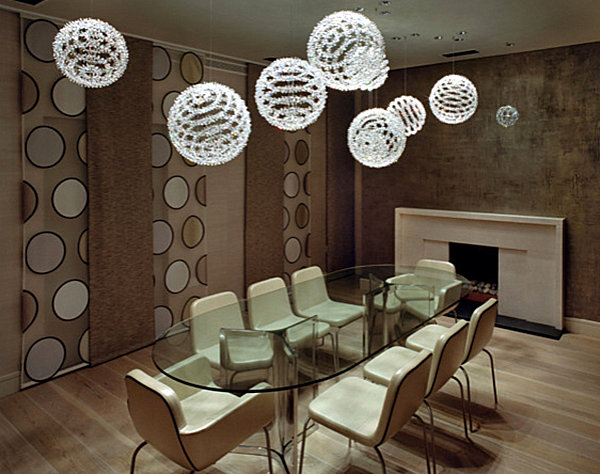 In this next space designed by Jonathan Adler, whimsy is created by colorful chairs, a playful purple rug and intriguing wall plates. And who can forget the curves of the chandelier?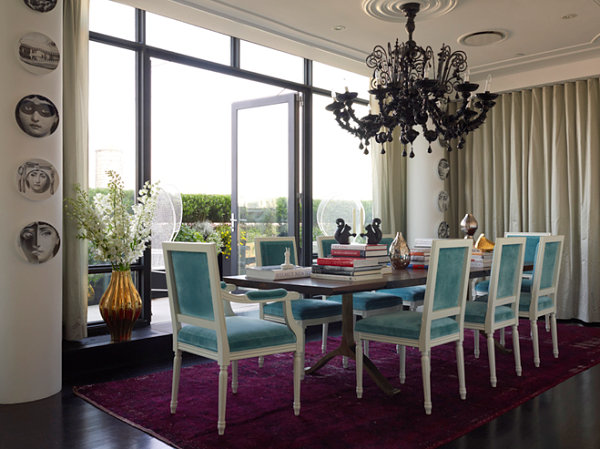 In the sleek townhome dining room below, statement lighting sets a powerful tone, while a collection of vases combines with other one-of-a-kind details to create a space that is undeniably modern yet doesn't take itself too seriously. [from Zeospot]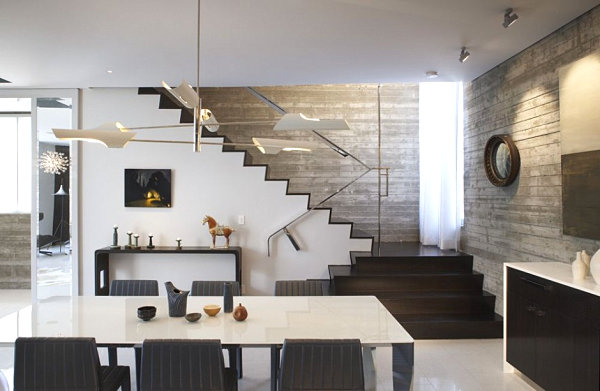 How can you get this look? Start with captivating pendant lighting, such as these Capiz Orb Pendants from West Elm. Individually hand-cut capiz shells in a pewter frame create a look that's contemporary yet playful…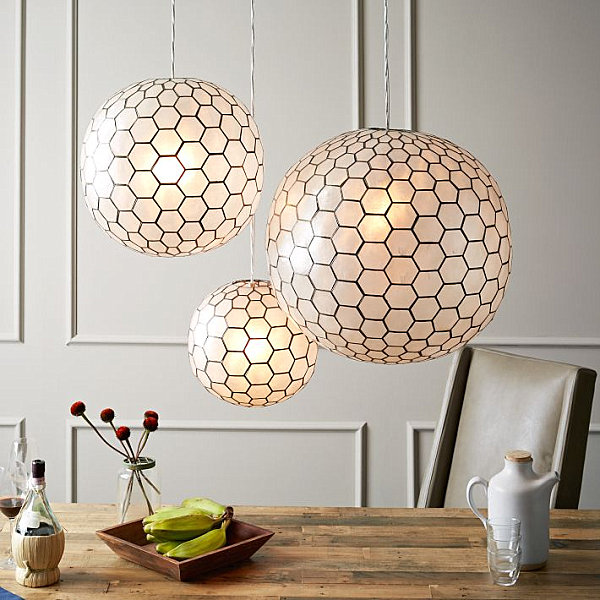 An Elegant Bedroom
There's nothing more decadent than an elegant townhome bedroom featuring plush details, such as an upholstered headboard and matching bedside vignettes. This look can be achieved with a few strategic design decisions. [from MacCaul Turner Design]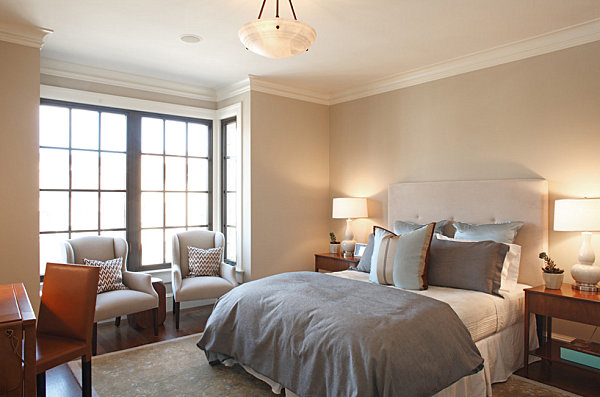 This next townhome bedroom has a gallery feel, thanks to beautifully framed artwork. Hotel-style bedding is another classy touch! [from Home Design Tips and Inspiration]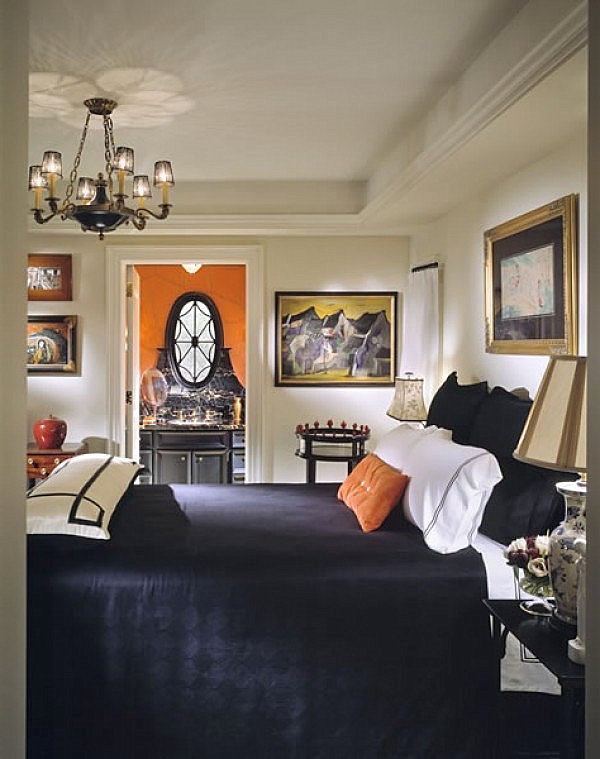 How can you get this look? Set a plush tone from the start with the Tilden Headboard from West Elm, which consistes of a wood frame surrounded by brushed cotton upholstery with buttonless diamond tufting…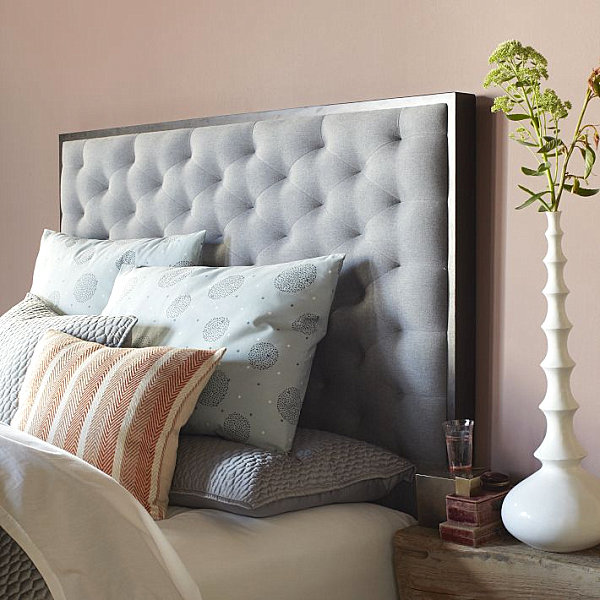 A Spa-Like Bathroom
We can't forget the rejuvenating power of a spa-like bathroom. And this refreshing take on powder room decor is the perfect addition to an elegant townhome. This next space features mirrored accessories, white towels and clean-lined countertops. But the focal point is the shower with a glass door–a spa effect indeed! [from Palm Design Group]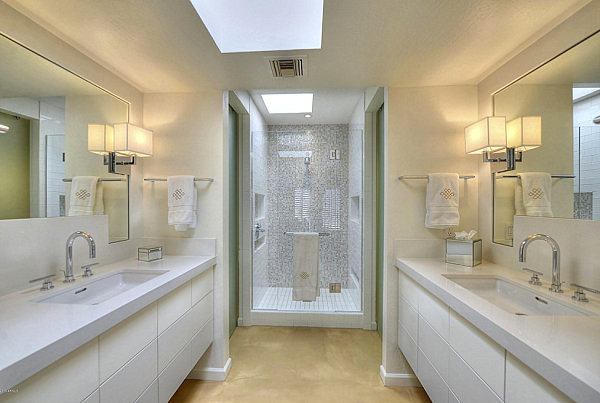 Canisters of supplies such as cotton balls are both decorative and practical. Which is why we love this next space, which also features cool-toned subway tile in the bath and shower area. [from MacCaul Turner Design]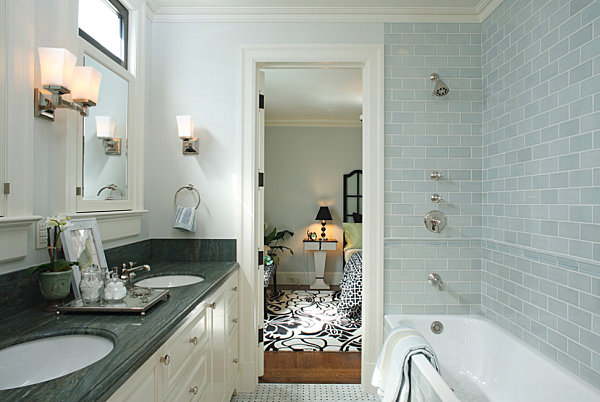 Marble gets a modern touch in the bathroom below, which features chandelier lighting, a clawfoot tub and a fireplace! Check out more pics and a video at Irwin Weiner Interiors…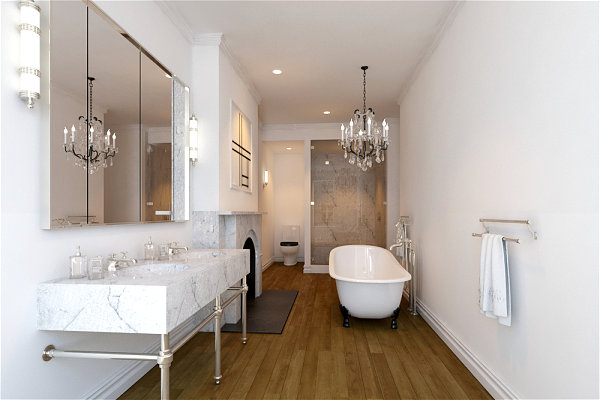 How can you get this look? It's amazing how apothecary jars filled with items such as sea sponges, soaps and bath salts create a spa atmosphere in any space. These PB Classic Glass Apothecary Jars from Pottery Barn are crafted of hand-blown glass…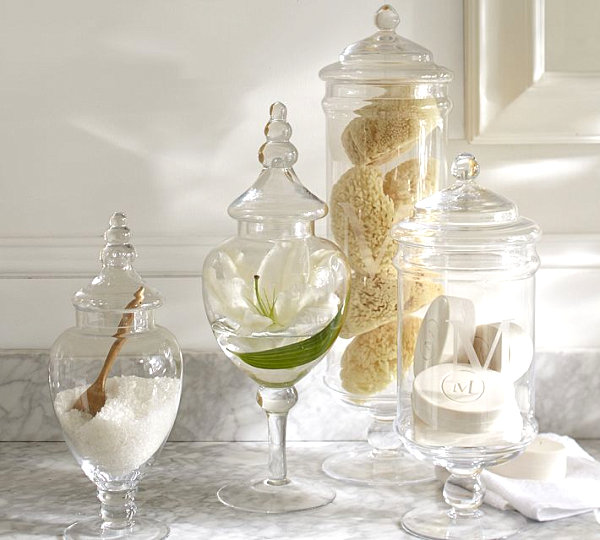 When it comes to modern townhouse design, is there a style that catches your eye? And even if your abode is not a townhome, would you ever consider decorating your living room artistically? Are you a fan of the minimalist kitchen? Is a whimsical dining room right up your alley? What about an elegant bedroom or a spa-like bathroom? Share your thoughts by leaving a comment below…