Some of the best creative projects are inspired by the things around us. Playing on this concept, a surge in the upcycling trend has taken hold of the DIY community. Commonly discarded items are now transformed into works or art, giving new meaning to the phrase "trash to treasure." One household item with a lot of design potential is the tin can. Whether left over from your morning coffee habit or a friendly reminder of last night's dinner, tin cans are a creative design lover's dream. Here are a few projects that use the kitchen favorite.
Lantern Love
Featured on Wedding Obsession, these love-themed lanterns are pretty in pastel hues. The mix and match design of numbers and words gives this DIY just the right amount of eclectic charm. You can easily adapt this project to any occasion. Use the lanterns for the date for a birthday bash or spell out a name for a baby shower.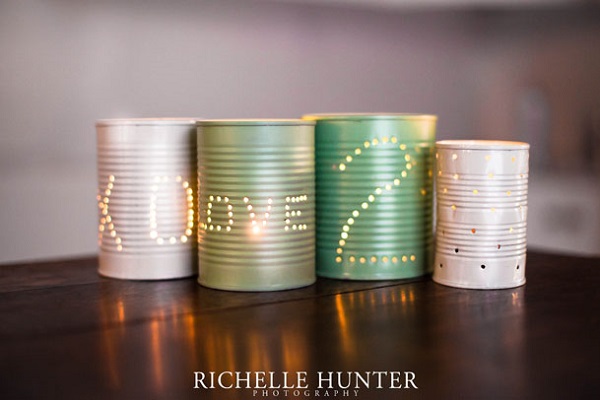 Coffee cans get a spooky makeover with this DIY by Piera of Jolly Mom. The black paint puts all visual attention on the light design, making the message really pop in the darkness of the night. Paint the inside of the can in gold or yellow for a traditional Halloween decor flair.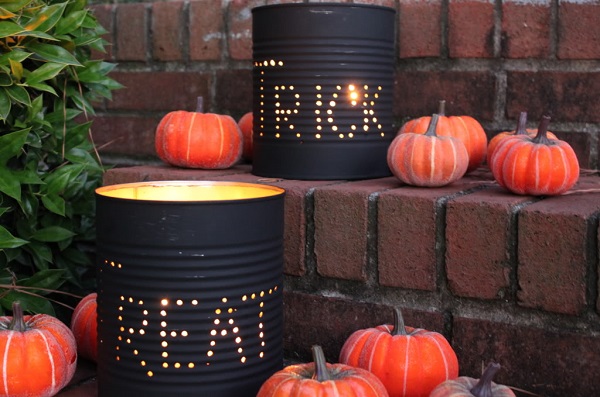 Looking for a stylish, green DIY? Emily of Inhabitat made a beautiful summer light display from a few upcycled cans. Left in their original metallic form, these lanterns will add glamour to your yard if lined along the sidewalk or edge of your porch.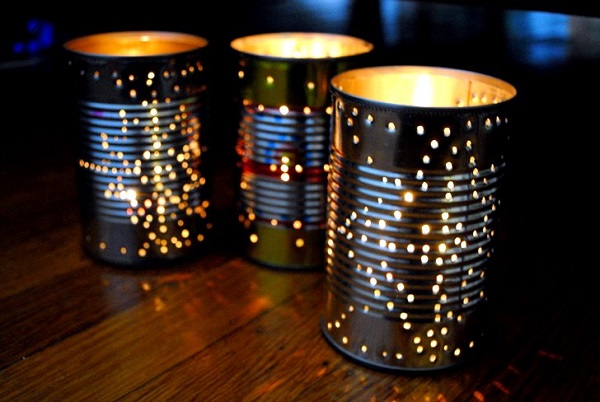 Flower Power
If you're looking for a fabulous tin can DIY, Brittni of Paper & Stitch has you covered- in fabric! This project is a great way to showcase fabric remnants that aren't big enough for a larger project, or to incorporate expensive material while sticking to a budget. Mix and match geometric and more classic patterns, like these triangles and polka dots, to liven up your work space.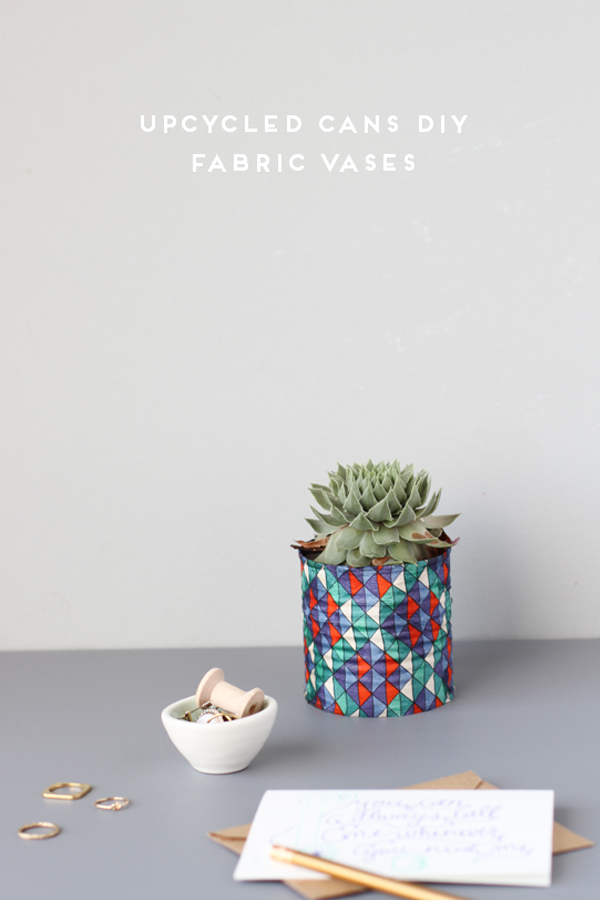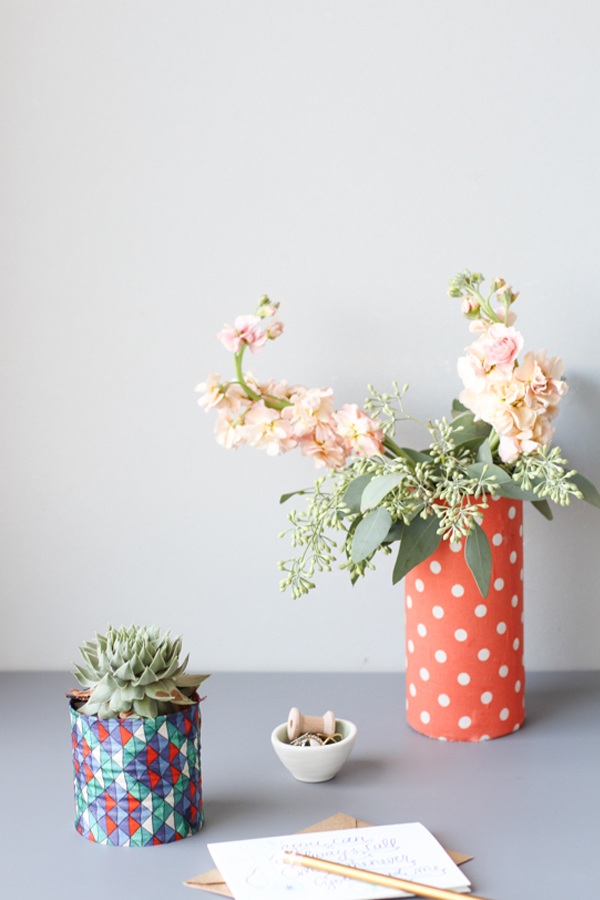 Love sea-inspired decor? Then jump aboard this project and take note. Bayside Bride took a nautical approach when transforming their tin cans into decor by wrapping it in rope. While simple in technique, this DIY is a great way to incorporate texture in a small space. If you're feeling extra crafty, spray paint your rope beforehand for a pop of color.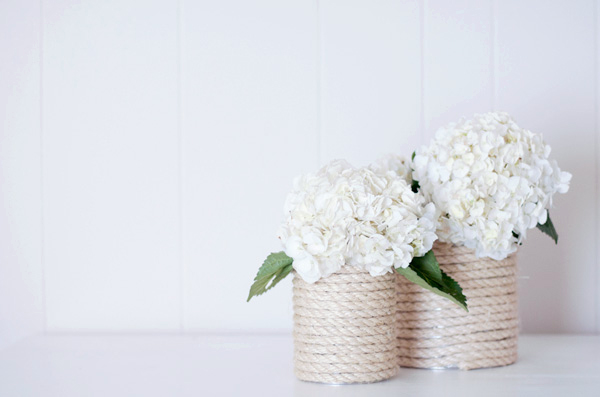 Crafty Organization
Get your office in tip-top shape with this organizer from Shelterness. Tin cans get a minimalistic treatment with a sheet metal backing. For extra gloss and to reflect light, spray your cans with a shiny top coat and admire its brilliance.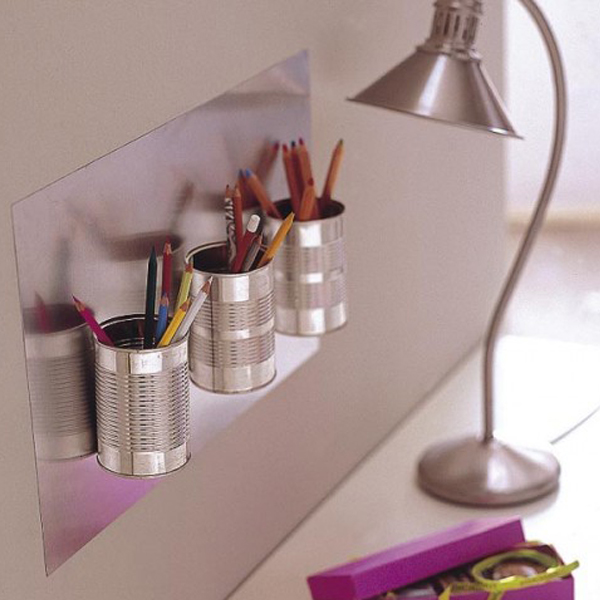 Who needs pets when you can have these four-legged desk buddies? Allison of The 3 R's Blog created charming desk organizers that will delight your inner animal lover. Aside from the aesthetics, the cork surface serves another purpose- a mini memo board. Use thumbtacks to stick memos to your cups- it's a super handy way to keep ideas right at your fingertips.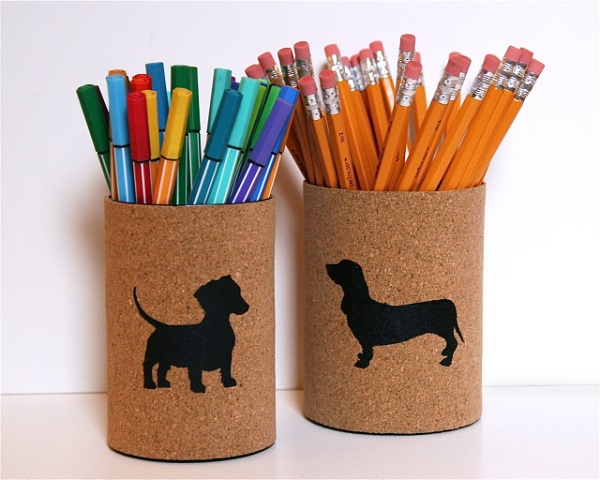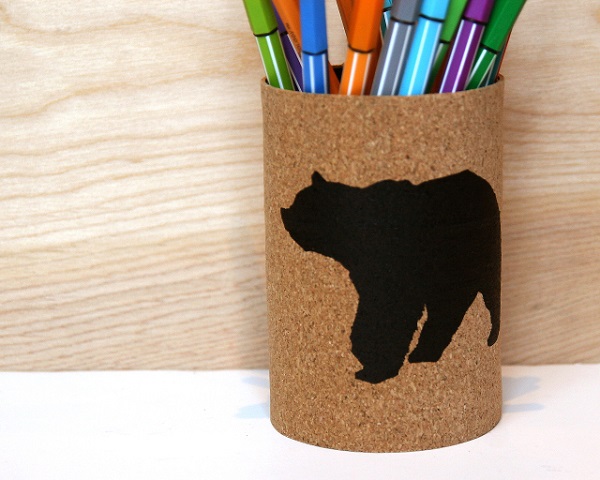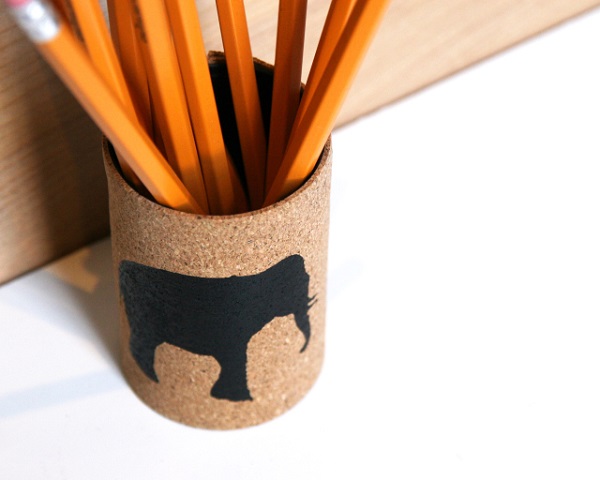 The next time you're about to toss out a tin can, think twice! The little metal cylinder could be the key to your next decor masterpiece. Have you ever used a tin can for a DIY? Fell free to tell us about your own project by leaving a comment below.