Landscaping isn't just for spring! As summer temperatures begin to drop and we spend more and more time outdoors, we're often left staring at our yards, noticing gaps in the landscaping as we make our "dream list" of improvements. I am one such dreamer. And if you're like me, your budget may not allow you to do everything at once. I have my plans for this fall, and I have my plans for this spring. But that doesn't mean I can't compile a big picture as we speak!
Today we celebrate the return of gorgeous weather by rounding up a slew of gorgeous spaces. Which one speaks to your style? Perhaps your dream yard is a composite that features a little of this and a little of that. Even better! Check out the pics that follow, then tell us about your favorites by leaving a comment at the end of the post…
Beautifying the Ground You Walk On
There's nothing more intimidating than staring at a big stretch of ground and wondering what to do with it. Even if you're lucky enough to move into a space where the major landscaping decisions have been made, you may still be stuck with certain plants that don't really work in the yard, or problem areas that just aren't your style. Good thing a range of possibilities awaits you! No matter how small the space, you can always define it with the help of a little gravel. Or pebbles, as shown below… [from Folia Horticultural + Design]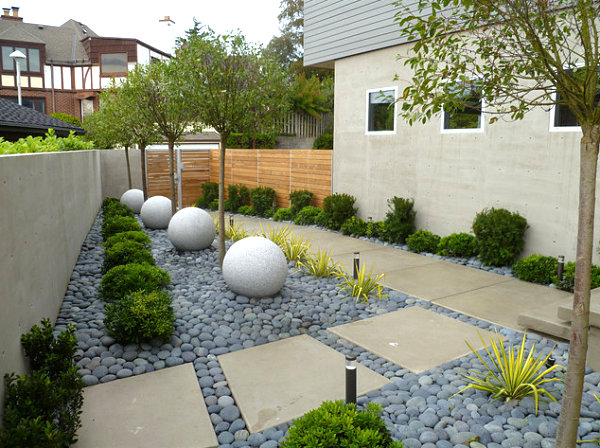 I'm a bit crazy about this next small space, which exemplifies modern chic. Basalt gravel? Check. Stepping stones in irregular formations? Check. Lush, unusual plants? Check! When can we move in?! [photo by Ciro Coehlo for Allen Associates]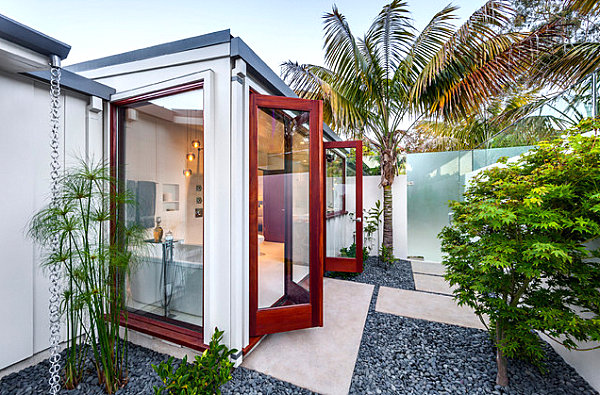 Remember that modern doesn't always equal stark. There's no rule stating you have to design a minimalist space in order to convey contemporary style. Mix ultra modern and traditional elements, such as a "lawn" of gravel bordered by boxwood edging and citrus trees. Don't forget the mirrored ball lawn ornament! [from AMS Landscape Design Studios]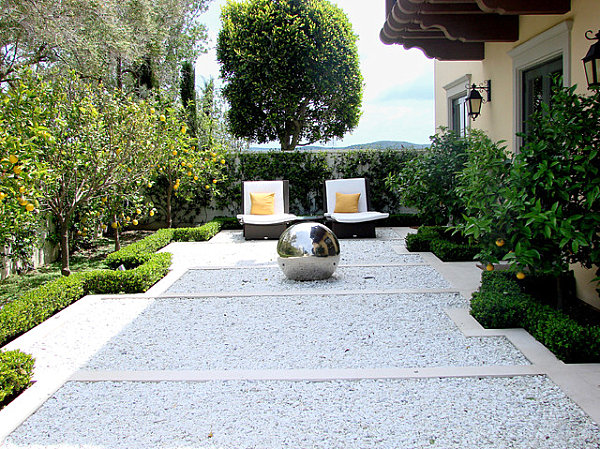 Speaking of gravel, this wonder substance can really help you define your space. Try using stepping stones to create a patio, and fill in the remaining ground with gravel. Add some retro-style seating for a bright pop of color. [photo by Lara Swimmer for Coates Design]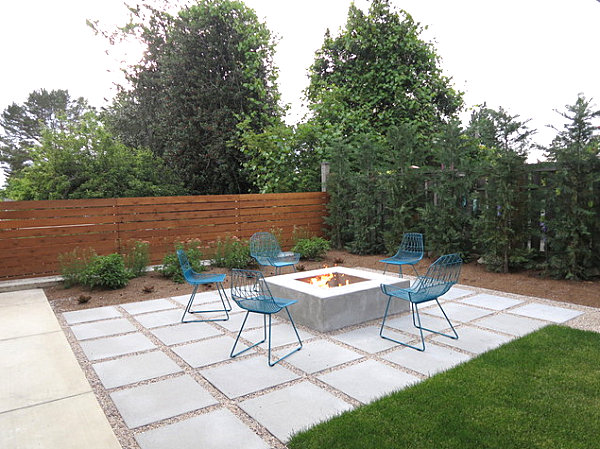 Then again, it's hard not to love the look of stepping stones surrounded by lush, mossy grass… [from John Maniscalco Architecture]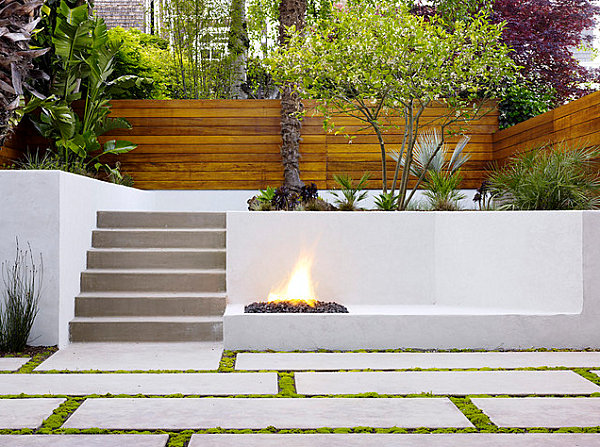 If the budget allows, consider adding a water feature, as shown below. In fact, this stunning outdoor space is centered around a modern" stream" that soothes and calms with its gentle, lapping water. [from KBC Developments]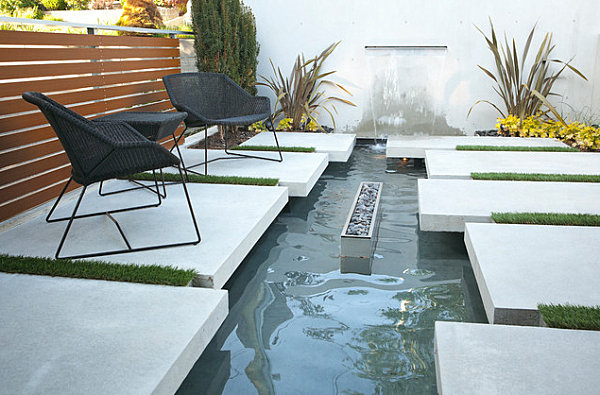 With all this talk of stepping stones, concrete tiles and water features, we can't forget about the beauty of a well-manicured green. Sure, it takes some work to maintain, but there's nothing more alluring than soft, carpet-like grass beckoning for you to remove your shoes go for a slow walk. [from Hill Mitchell Berry Architects]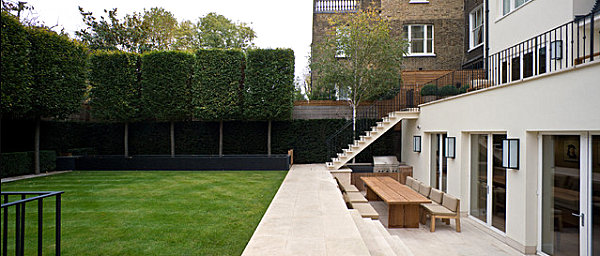 Don't be afraid to add some "wild" to your manicured modern space. Native plants and grasses are a great way to incorporate contemporary style. The best part: they require little maintenance. [from Arterra LLP Landscape Architects]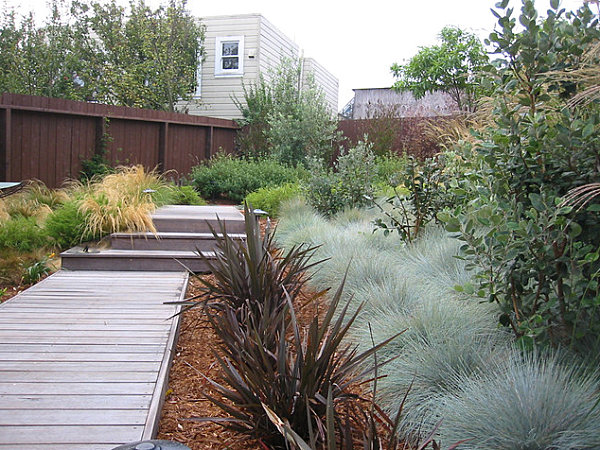 Allow a portion of the yard to stay truly wild if you're working with a large space. There's nothing more stunning than untamed landscape that gradually becomes more manicured, then culminates in a cement patio… [from Huettl Landscape Architecture]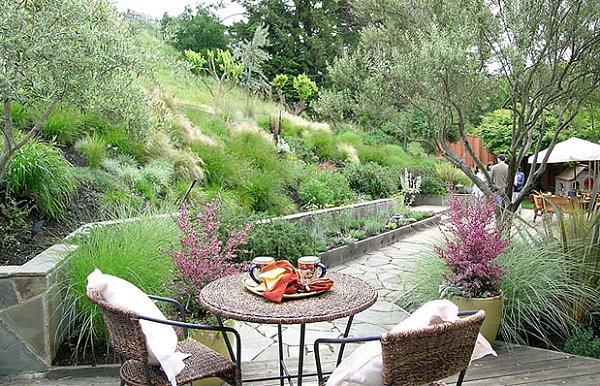 We see a similar look in the outdoor space below, which is heightened by the stunning architecture of the home… [from Huettl Landscape Architecture]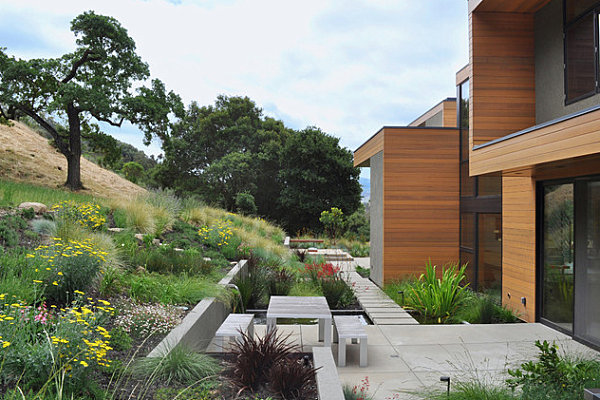 Outdoor Seating for Modern Spaces
With the ground under control, you can now turn your attention to the furnishings that adorn it. Outdoor seating–it's hard to know how much to spend, how weatherproof to make it, and how colorful to go. Obviously, if your yard includes a patio with an overhead covering, you have a bit more flexibility. Sure, the critters may find their way into the space, but the rain won't! [from Allen Bianchi Architects]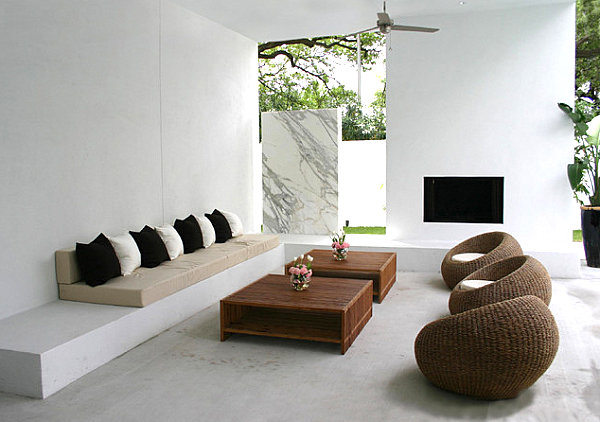 Seating can be as elaborate as a living room's worth of furnishings or as simple as a couple of benches at an outdoor table. Cushions can do wonders in adding color and style, as shown below… [photo by Kara Mosher]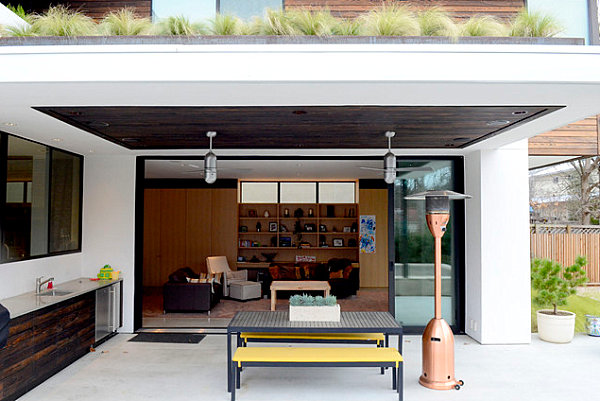 Don't hesitate to get creative with your seating. Below we see Seville Club Chairs from Babmar. Note how a mix of warm- and cool-toned pieces creates an interesting contrast that makes an artistic statement: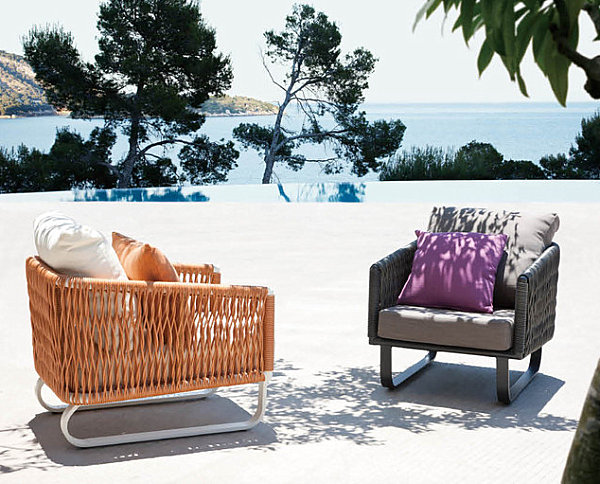 Ooh la la! The ample seating in the outdoor space below can accommodate a big group. Hey, if you have the room, why not?! This is one patio that's ready for a party. We also can't help but admire how the space mixes modern style with charming elements like manicured potted plants. Which brings us to our next section… [from Alex Amend Photography]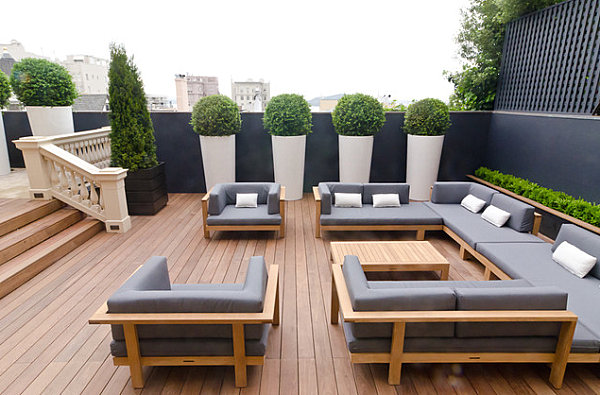 A Mix of Styles
Modern meets traditional. Manicured meets wild. There is true power in a blend of styles, and an overall contemporary look can be created by strategically mixing statements. Check out the next featured space, which showcases planters filled with topiaries. And wild grass. Interesting how a little bit of spiky greenery totally updates the look… [Folia Horticultural + Design]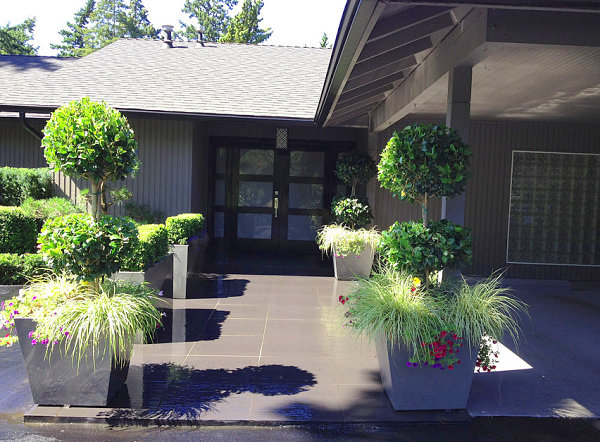 A gravel "lawn" is undeniably modern, while a boxwood border evokes the traditional style of English gardens. Together they make pure modern magic! [from Folia Horticultural + Design]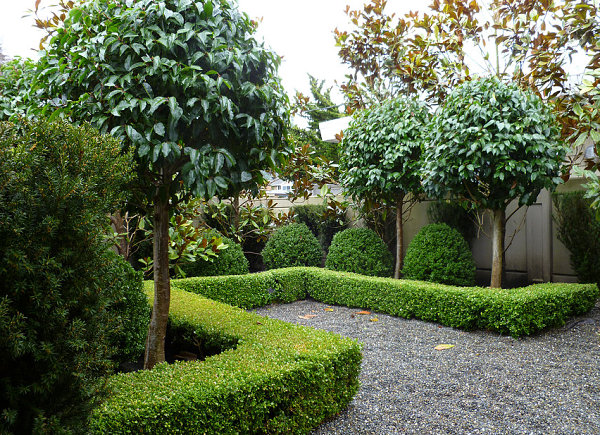 There's something so contemporary about the patio below. Yet the planters and the greenery they hold can't help but create an eclectic vibe. This is a space with a lived-in feel. Where pieces with a story come together to create an authentic space. [from Bagnato Architects]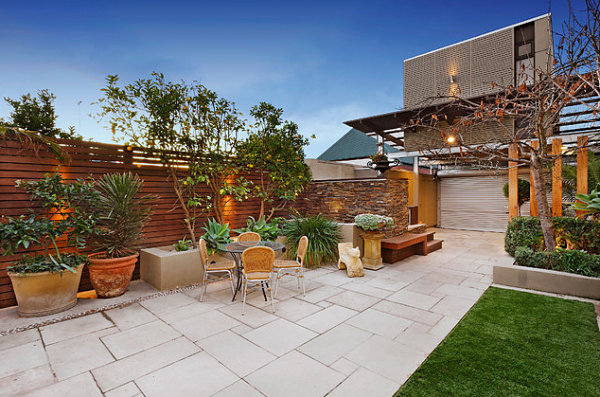 We end with an unforgettable yard that combines earthy chairs with colorful cushions and modern chaise lounge seating. The styles of the pieces may vary, but the vivid colors are the true uniting force in this outdoor space. [from Houzz]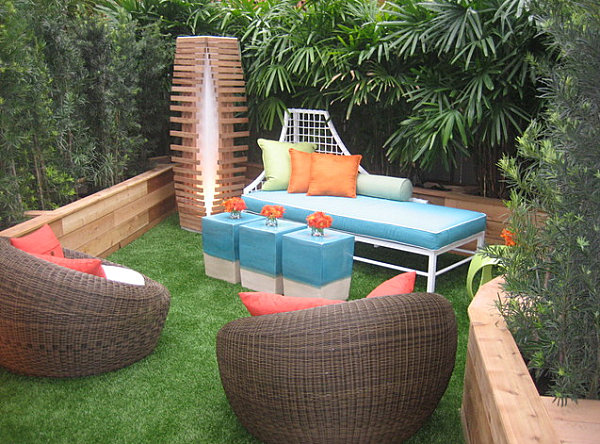 There's nothing like a little eye candy to get the creative juices flowing… Did any landscaping, gardening or outdoor design ideas enter your mind as you browsed the images in today's post? Share your thoughts by leaving a comment below!