The Hanging gardens of Babylon are dubbed as one of the seven wonders of the ancient world. Unfortunately for us, top-notch digital photography was just not available at the time to capture all its wonders. And while we may not replicate the grandeur of those hanging gardens, contemporary designers are bringing in the 'green' with their own unique designs. Most modern homes and apartments are often short on space. A beautiful wall of hanging planters instantly brings home the fresh garden vibe indoors. Elegant, ergonomic and stylish, these modern hanging gardens are all about form, functionality and space-consciousness.
Here are a few fabulous inspirations that instantly add life to a room. From DIY projects that involve mason jars to exquisite creations from innovative designers, there is a container garden idea for everyone. As these eco-friendly creations showcase, at times all you need is some ingenious inspiration!
Strung with Style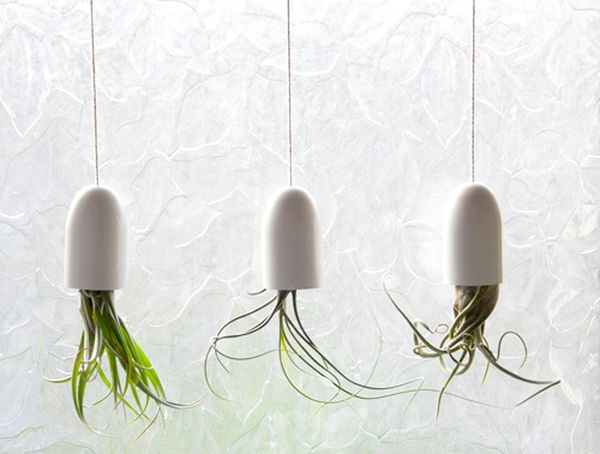 Air plants are simply perfect for a hanging container garden inside your home. This one though tops the list not just because of the cool aesthetics. These DIY planters are pretty easy to create and you will be amazed with the touch of contemporary panache they bring to your home. All you need is shampoo bottle tops (or any bullet-shaped containers), a bit of spray paint, nails and some rope.
Let you kids join in on the spray painting and you will have a fun and productive family weekend. Check out the complete step-by-step DIY guide for the hanging planters before you get started.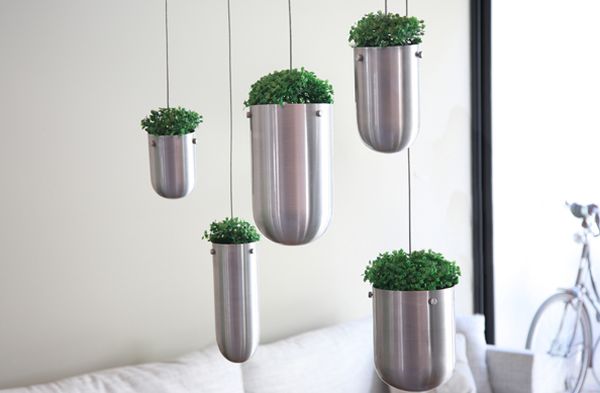 Designed by Gabriella Asztalos, the floating garden plant containers bring a dash of metallic glint along with their modern form. The minimalistic style of these planters ensures that you have a container garden that is not just cool but is also contemporary in style! You can mix and match planters in various sizes and shapes to create an exclusive look.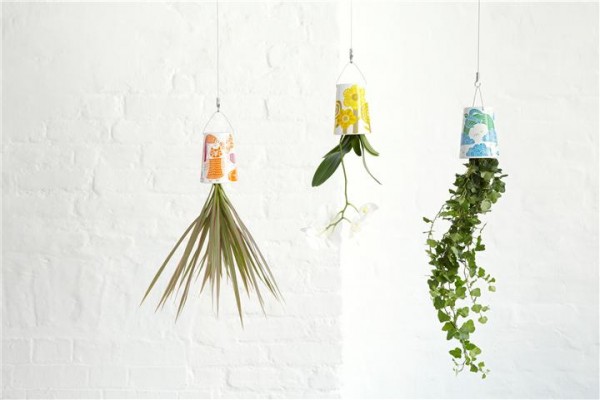 Coming from design house Boskke and Jaguarshoes Collective, these Sky Planters seem to defy gravity with astonishing ease! Our first instinct was to wonder whether standing under one of these was really safe. But it absolutely is. Coming in chic prints and vivid colors, these planters usher in accent shades with ease. Put together a few of these in a cool Scandinavian setting and you have an elegant floating container garden ready to steal the show.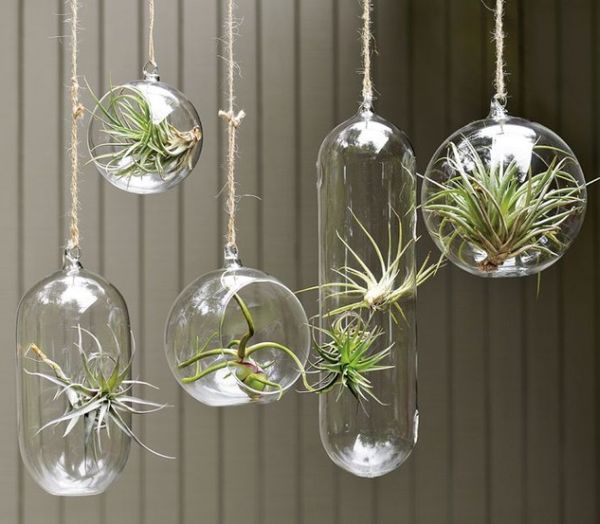 These hanging glass bubble terrariums are bound to be among the coolest decor that you ever brought into your home. Air plants are a perfect fit for hanging container gardens. With the necessity of soil being done away with, the open and transparent glass bubbles seem all the more appealing. Glass is an integral part of modern interiors. Impressive styling and ease of maintenance has made these hanging terrariums pretty popular. [from: West Elm]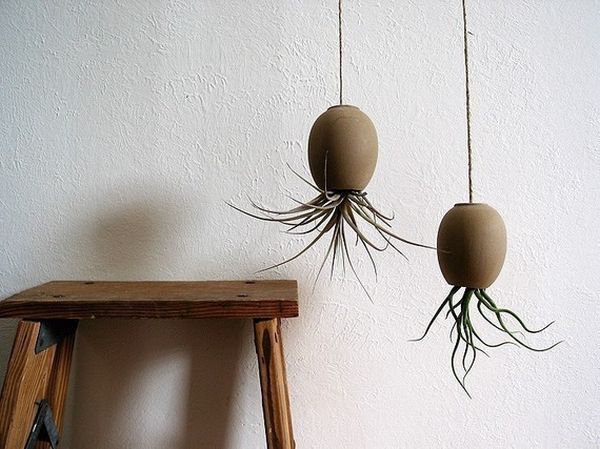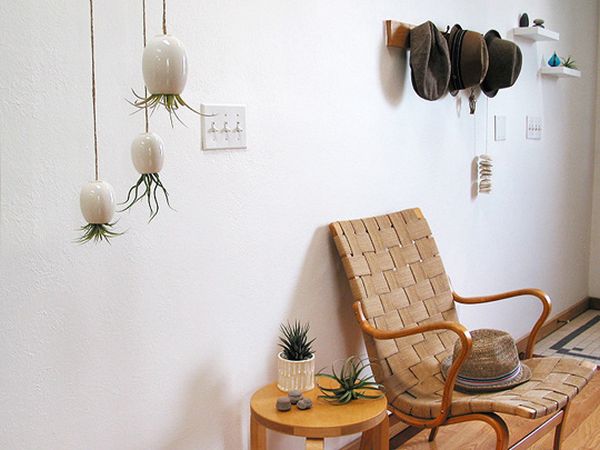 Looking to move away from the urbane prototypes and towards a more earthly look? Well, you are in luck as the air plant pods designed by Michael McDowell offer precised this. Made from natural Moroccan sand-colored clay, the pods have been custom designed for sensitive air plants that could decay in any stagnated water. Hung using a lovely natural hemp cord, they are a natural fit even for the outdoors.
Hang of few of these in your studio apartment and you will instantly feel closer to nature. The air plant pods are also available in several colors and finishes and are ideal for those who prefer a more modern and glossy look. [from: mudpuppy]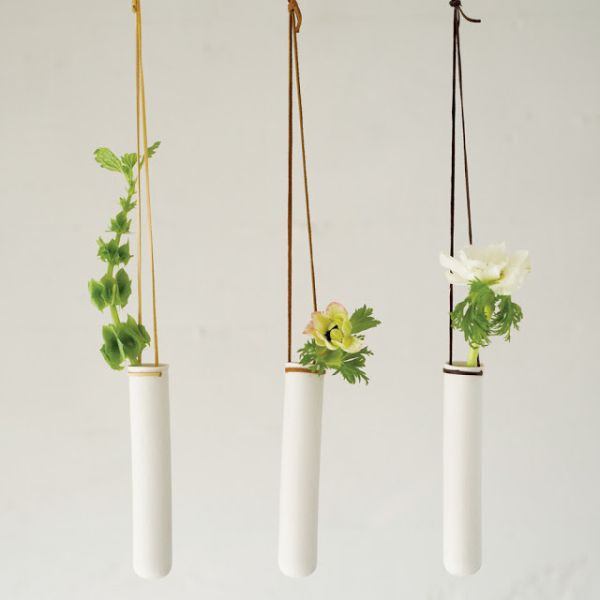 The Hanging Test Tube Vase is all about understated class and modern minimalism at its finest. Crafted in porcelain and sporting an unglazed exterior, they save up space with ease. You can get an army of these and create a hanging garden setup that is both vibrant and beautiful. Hang them by the window or in that forgotten corner and watch your interiors acquire a new lease of life!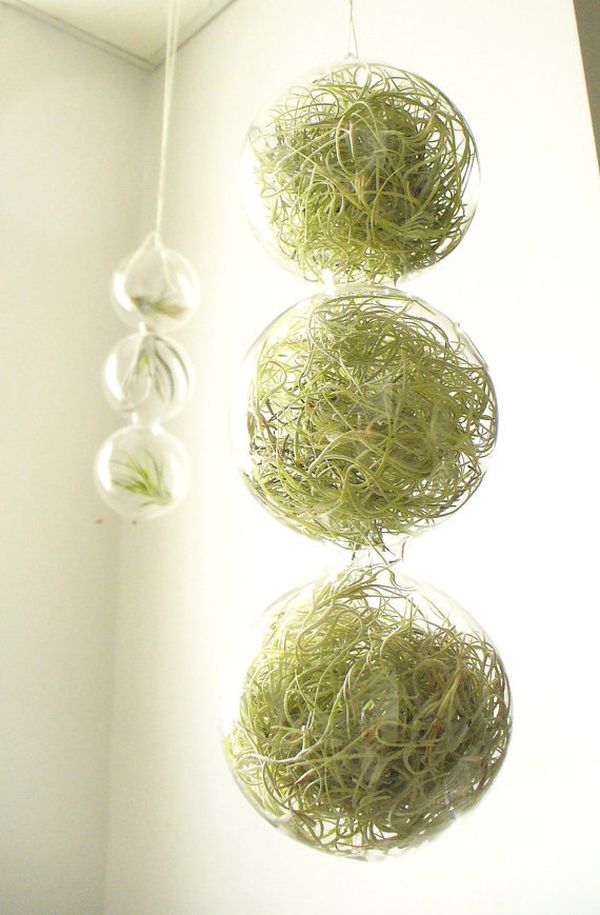 This is as much a sculptural addition as it is a beautiful hanging planter. Just one of these large globular glass structures filled with air plants feels like a garden in itself! The sheer magnitude and the design of this stunning planter make it a focal point in any room instantly. Obviously, the size and the density of green inside can vary depending on your own taste. [from: Wanelo]
Wonders on the Wall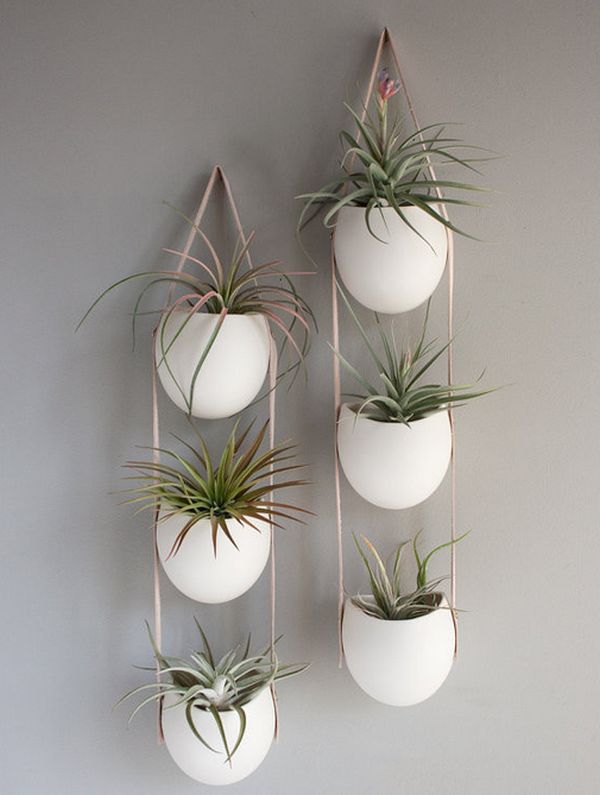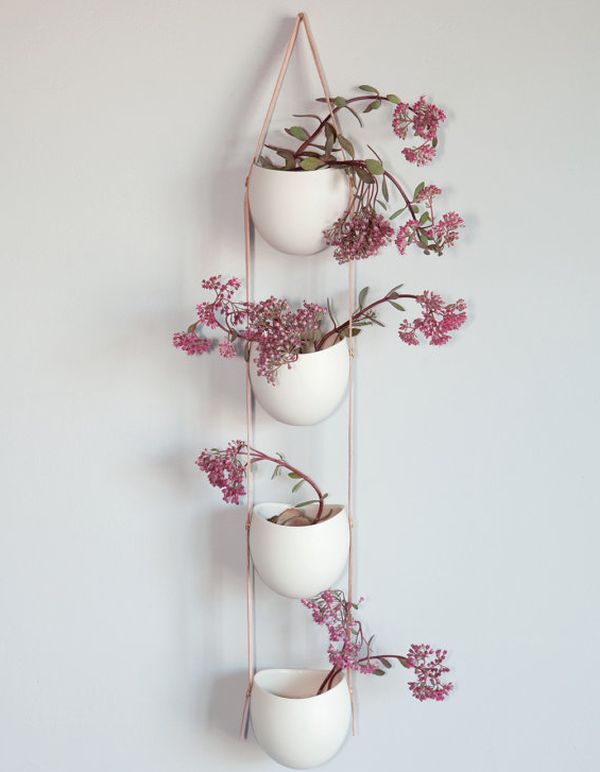 The porcelain and rope hanging planters a re pretty popular with home owners. Their clean and classy design allows them to blend in with almost any pre-set theme of the room. The rope that is used is often cotton or leather and you can open between individual planters or two-tiered and three-tiered planter sets. Setting you back by anything between $120 to $150 for each set, a beautiful niche filled with 3 three-tiered sets brings in both beauty and balance to the space around it.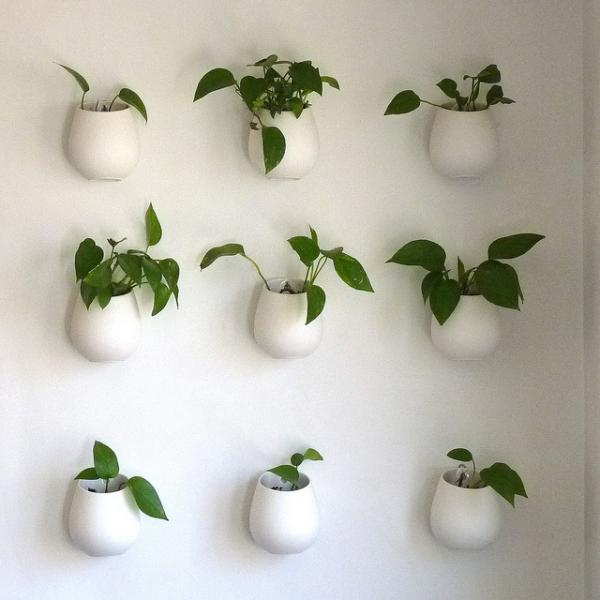 This particular design does away with the rope and is wall-mounted. The individual pot design offers far more flexibility when it comes to placement of the planters. You can even bring in an unconventional crisscross design to add geometric variation to the room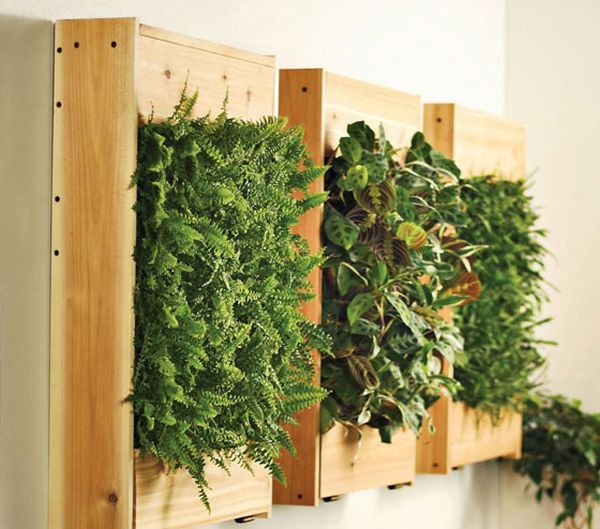 An indoor living wall is the best way to add some freshness to without having to worry about planters and container gardens. This beautiful living wall panel has the appearance of a container garden and yet allows you to add a lot more greenery with ease. The special indoor loving wall kit from gardeners is easy to install and takes care of all the watering needs and drainage issues with its unique design. The warm and natural wooden tones it brings along are an added bonus.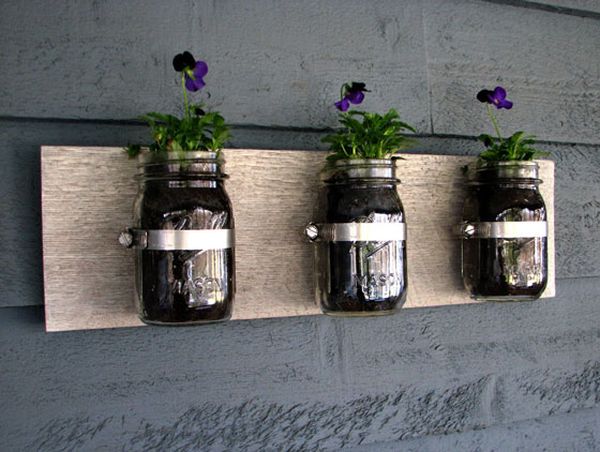 Turning those mason jars into useful and attractive planters is another perfect little task for the weekend. A few old jars, some pipe clamps to keep them in place and a simple wooden board will most often get the job done. If you have an old wooden crate, then it helps a great deal in enhancing the visual appeal! Put it up on the kitchen wall and start using some fresh home-grown herbs to spice up your tasty recipes. [from: the crafty collaborative]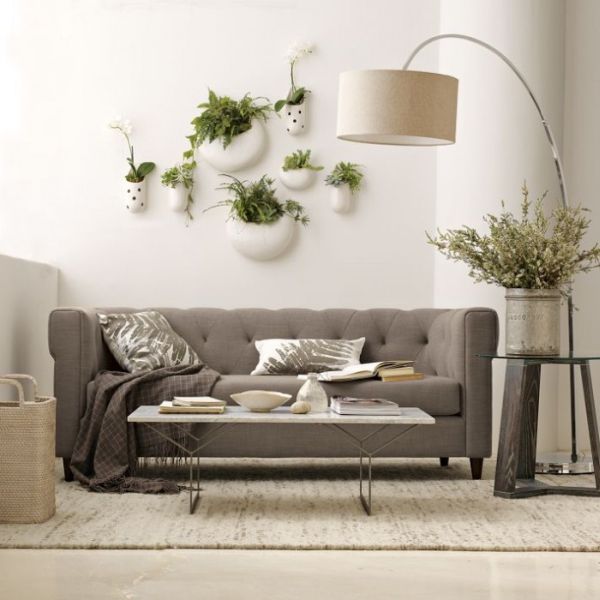 The Shane Powers Ceramic Wall Planters Collection is a perfect way to create a vibrant, inimitable and diverse hanging garden. Many of these planters double up as art installations thanks to their distinctive design. You can bring together a variety of plants, orchids and herbs by using the various different planters. Pick the planters you love the most, place them with care and then watch the magic unfold!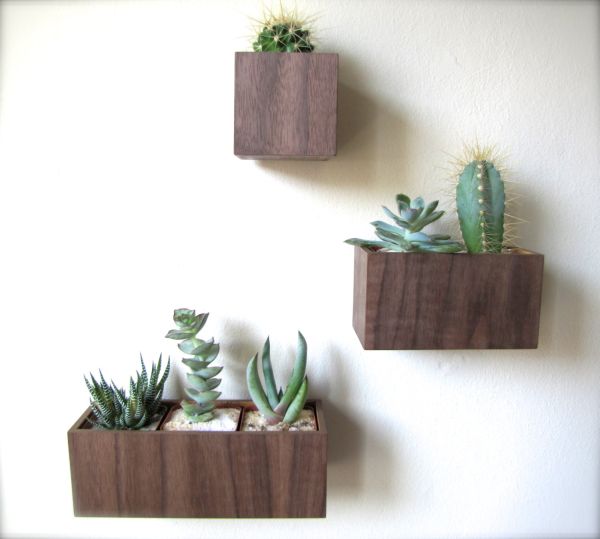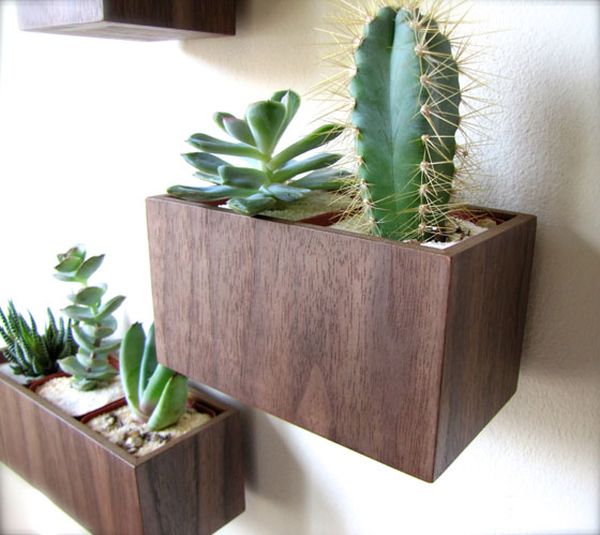 We are all in favor of adding a touch of wooden magic to a posh urban home that is often filled with concrete, stone and glass. The rich walnut wood planters do exactly that. A set of these will cost you around $80, depending on the finish that you opt for. But if you fancy yourself as a bit of an expert in crafts and DIY projects, then stitching these boxes together should not be all that hard. [from: etsy]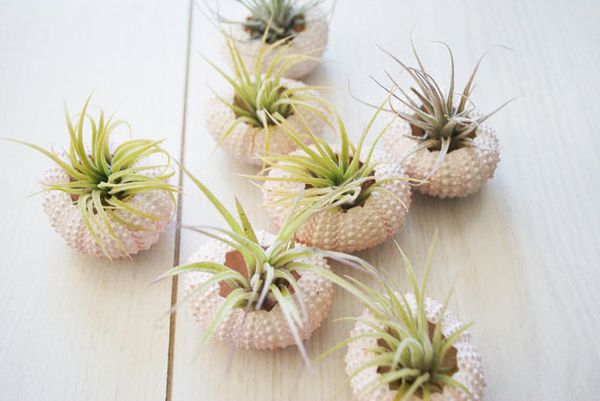 We all have our personal favorites and this is well and truly ours. Bringing together the spirit of the ocean with the container garden design, the air plants set in sea urchin shells are an instant hit almost anywhere. They seem all the more appropriate for modern homes that have a cool and breezy nautical theme going on. Refreshing and relaxing, they can also be hung from the ceiling using a cotton rope. [from: to Hold]
A Myriad of Styles and Hues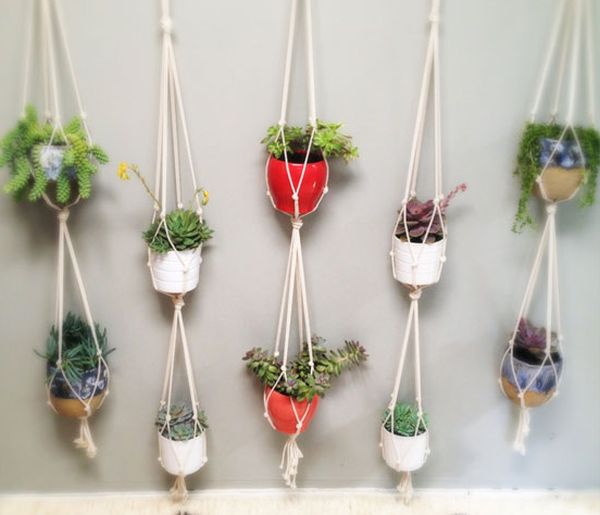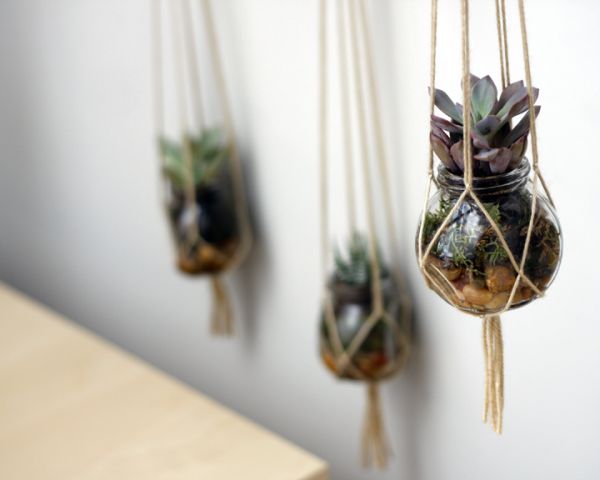 Simple and elegant, these strung planters are both cost effective and cool. All you need to get them done is some rope, glass jars, small rocks and the necessary green and you are good to go. Try to pick jars of different sizes to add style and contrast to the container garden on your wall. Strings in different colors also could do the trick. [from: apartment therapy / song and dance]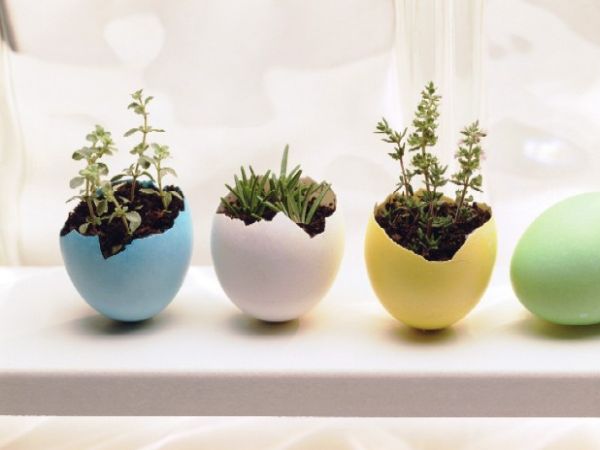 These made the list for the sheer 'cute factor' that they bring along. Painting the egg shells and turning them into daft little potters is a great idea for the holiday season. Be it Easter, Christmas or the New Year, this is a simple and fun idea that brings festive joy to your home. Sometimes the simplest DIY solutions are the best! [from: borokazselyke]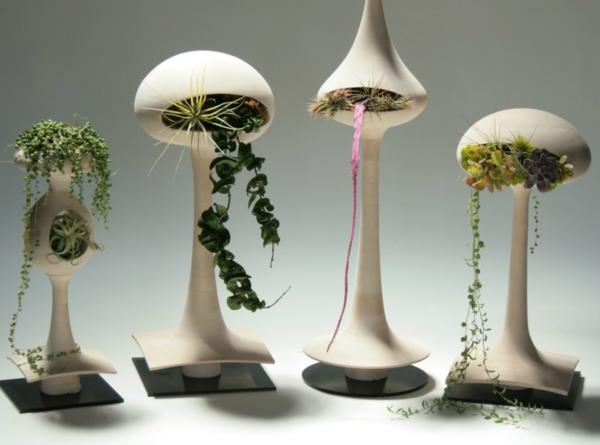 The Golly Pods from Tend also bring in potted green in a more terrestrial style. Yet, their amazing design and extra-terrestrial demeanor demanded our attention. Just line them up on your coffee table or your office desk and they are bound to be great conversation starters. These designer of Golly Pods apparently seems to be a big fan of the X-Files!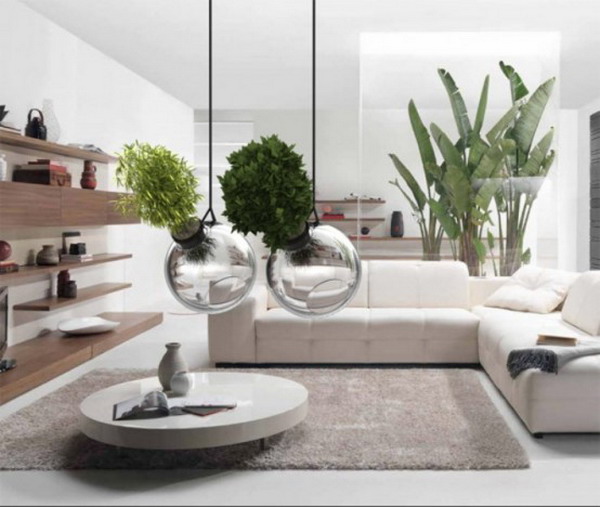 Suspended glass globes offer ample refinement and style. Add a bit of green to them and interiors simply come alive. Hung above the low coffee table in a sleek and stylish living space, this is a hanging container garden idea for those who place aesthetics well above ergonomics.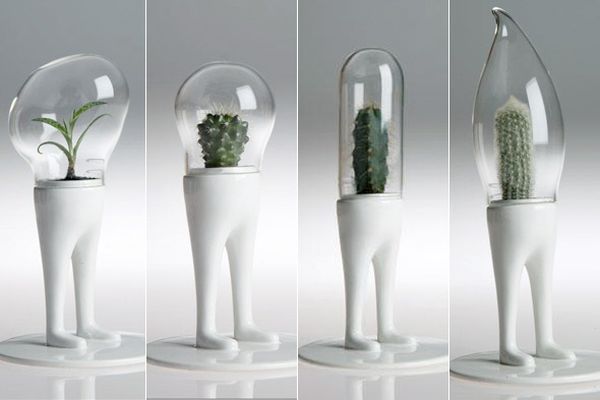 Love the different versions f the cactus and yet do not want to turn your home into a clip from an old western flick? Then, the Domsai Terrariums by Matteo Cibic could be your saviors. Each cactus has its own special dome crafted from hand blown glass. The base of the planter has a more human appeal to it! Costing $140 a piece, you can call them either 'abstract and contemporary' or just 'weird and wacky'. Irrespective of your perception, they simply do not take a backseat to anything else in the room.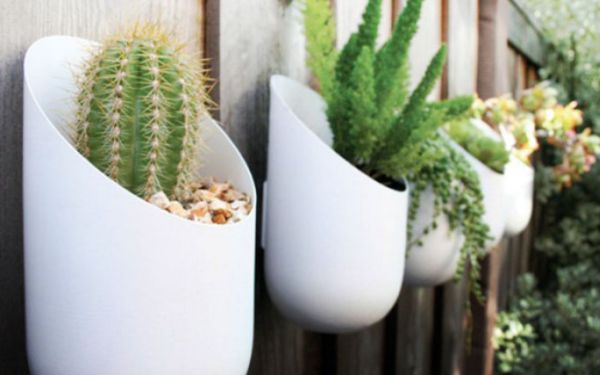 When we are filling up our homes with green, why should we leave behind the lonely fence outside? Designed to cheer up both indoors and outdoors alike, the aluminum Oval Planters bring in exclusive form and ample style. You can simply clamp on a series of these on the fence or even use them indoors with equal ease.