If you love kitchen gadgets as we do at Decoist, you will be sure to like this selection of unique kitchen gadgets. Additionally, if it makes my life in the kitchen easier, I just have to have it. Sit back and enjoy!
Food Preparation
When it comes to strawberries, a sharp knife and a keen, calibrated eye is all it takes for uniform slices to adorn your latest dessert. Unfortunately, not all of us have the eye of a five-star chef.
This strawberry slicer from Harriet Carter makes your strawberry garnishes perfectly uniform in thickness. This slicer, although designed for Strawberries, will work on any firm fruit that will fit in this tool. Imagine a beautiful fruit salad with perfect strawberry slices providing a colorful topping for your guests!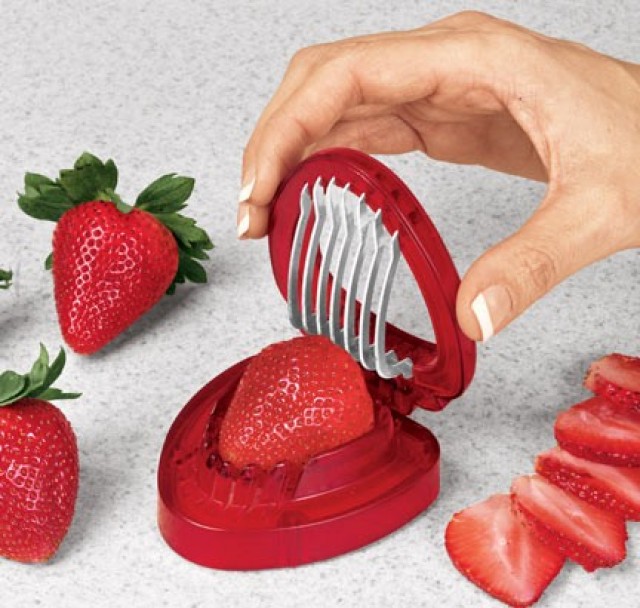 I love garlic. Being just a 20-minute drive from Gilroy, California, the Garlic Capital of the World, I have an endless fresh supply of aromatic flavoring for many different dishes. I also seemed to have fingers permanently infused with this great seasoning, as chopping the garlic allows you to enjoy bits of this herb as well as giving a pleasant tingle to your taste buds. The Chef'n GarlicZoom XL Rolling Garlic Chopper helps prepare my endless chopped supply.
Just put your whole cloves into the chopper and roll it along. This is a great time saver as you can process a lot more garlic with this gadget than you can by hand. I find this chopper a unique and indispensible gadget to have around. Just make sure you get the XL model!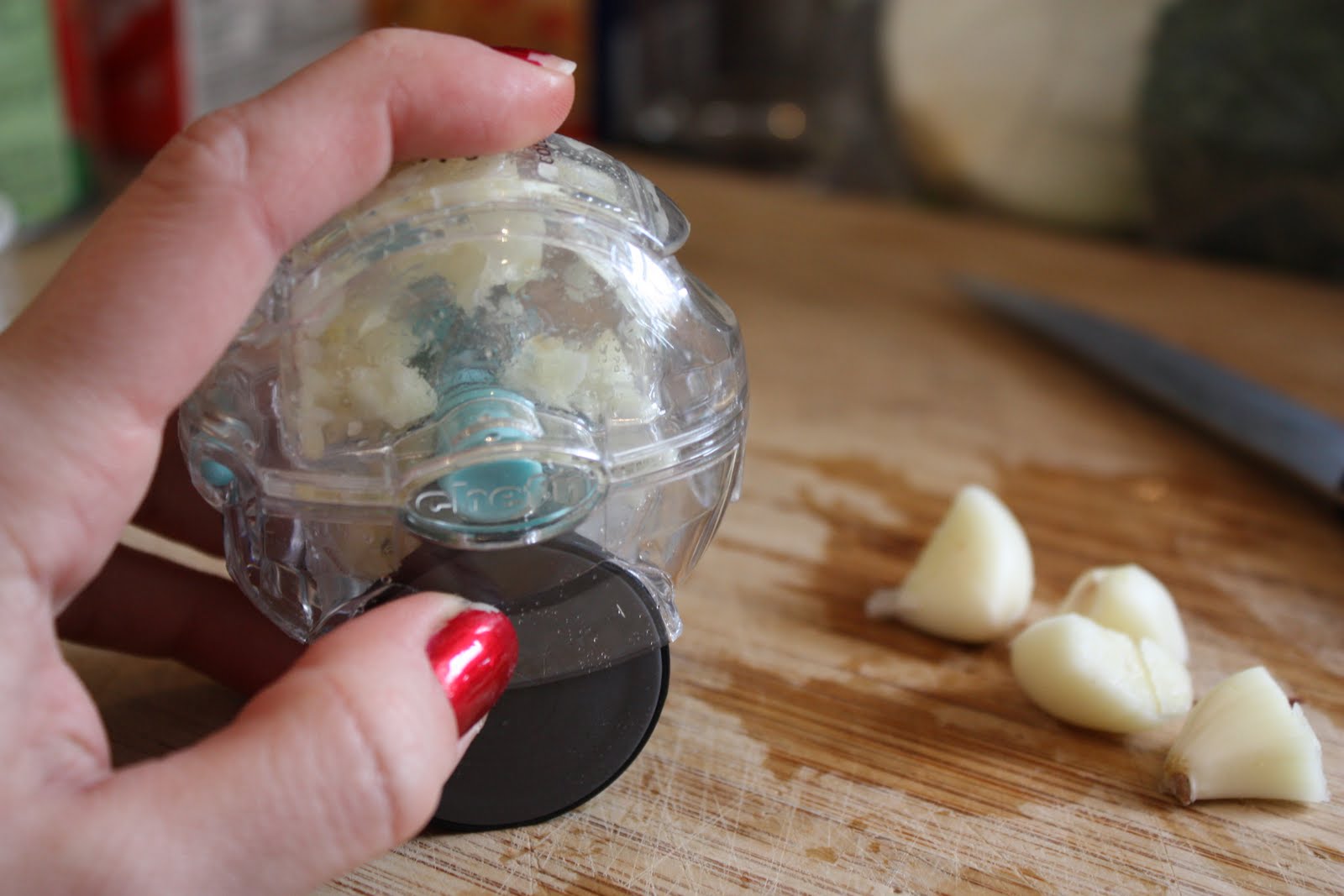 I love avocado – the fruit and not the color; I remember growing up and looking at an all-avocado kitchen. I have made my own guacamole for years and I make quick work of these delicious green gifts from God. Just slice around the oversized seed, twist the halves and then just unceremoniously scoop out the insides and crush it up in a bowl. No care was taken as I like quick food prep and it was going to be crushed up anyway.
My problem came from wanting to serve avocado pieces on toothpicks as a before-dinner snack. The pieces were all different sizes and someone even quipped that I forgot to finish my guacamole dip.
The Avocado Cuber saved me the next time. I found this gem at Williams-Sonoma. The first time I used it, I was pleased. You get a lot of like-sized cubes perfect to put on a plate and stick some toothpicks into them. You get some nice looking pieces and it is really quick. Prepare a dozen or so avocados and you are done in no time!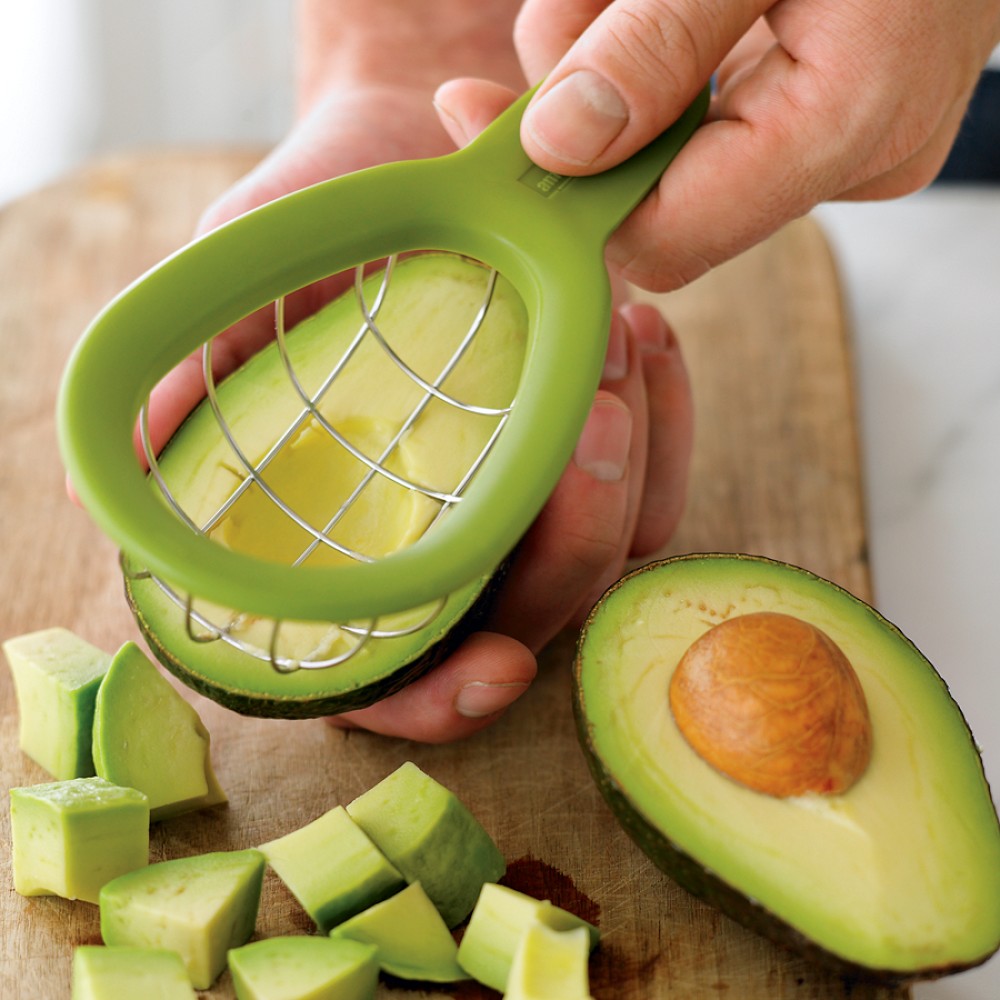 Onions are a staple in any kitchen. It seems like nearly any dish with the exception of desserts usually contains some onion. I use onion sliced, diced, chopped and just about every way you can imagine and all of these have one thing in common: tears.
I have tried cutting the ends off first, not cutting into the ends and even making the initial cuts under running water. I have tried cutting them with mu mouth open, mouth closed and all sorts of grandma tricks passed down through the family tree. All of this resulted in the same painful tears.
Then I saw that a solution was in sight (pun intended)! Onion Goggles will help abate those tears while you attend to processing the widely-used vegetable for your savory dishes. The goggles have foam on the inside edges that seal out those aromatic vapors that we love to smell but hate to experience in the eyes. They have an anti-fog coating on the inside of the lens. If you use glasses, don't try to wear the Onion Goggles over your eyewear as they will not seal properly.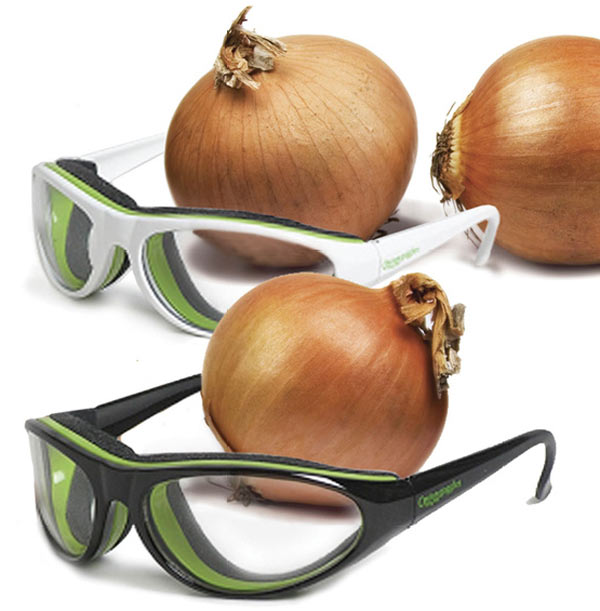 All too often you have to separate the yolk from the egg white. Making a lemon meringue pie requires a lot of egg whites. Looking at the TV chefs that make everything look easy, I studied their simple way of cracking an egg and using the egg shell halves to separate the yolk from the whites (which are really a clear, thick near-jelly liquid. I wind up with a mess and invariable pieces of shell mixed in.
Using an egg separator is a piece of cake (or pie, if you like the meringue as well as I do). This charming Ceramic Chick Egg White Separator performs very well and makes quick work of the separation process. It is also so endearing that you would want to set it next to your owl measuring cups we showed you previously. Outblush found this adorable chick.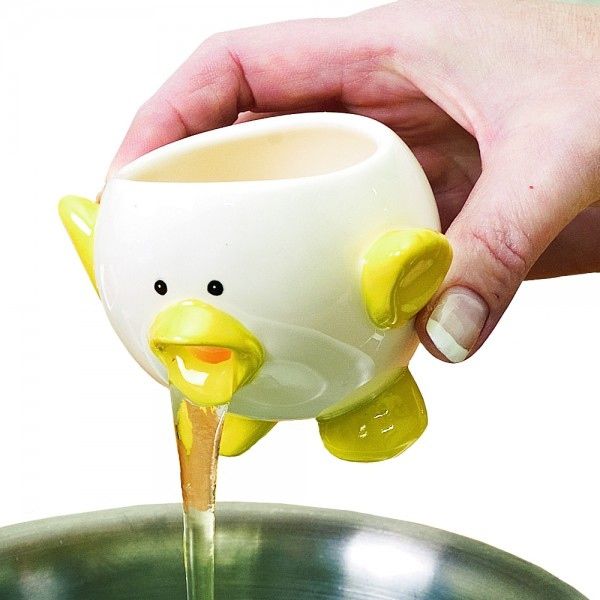 Utensils
Everyone I know has a drawer full of common utensils. Spoons, spatulas, pasta and other paraphernalia are all mixed up and tangled. Sorting through the drawer for the proper tool when you are in a hurry gets frustrating and has been the start of many a burnt or overcooked food. Suck items do not lend themselves to being left out on the counters. Not only do they take away from the carefully planned and executed kitchen décor, but they just take up a lot of space. A hot bowl of soup inadvertently set upon a spoon can lead to burns or just a mess to clean up at the minimum.
Joseph Joseph Nesting Utensils are now in the house! Their last name describes exactly what the do: nest together. What makes these particular birds of a feather unique is how they nest. They have a flat-bottomed ladle that acts as a vertical holder so they nest standing up, therefore taking up very little counter space. A magnet in every handle makes sure they all stay together. They are a colorful sight and should be a nice accent to any kitchen. They are available from Palmers Department Store in the UK and can be mail ordered.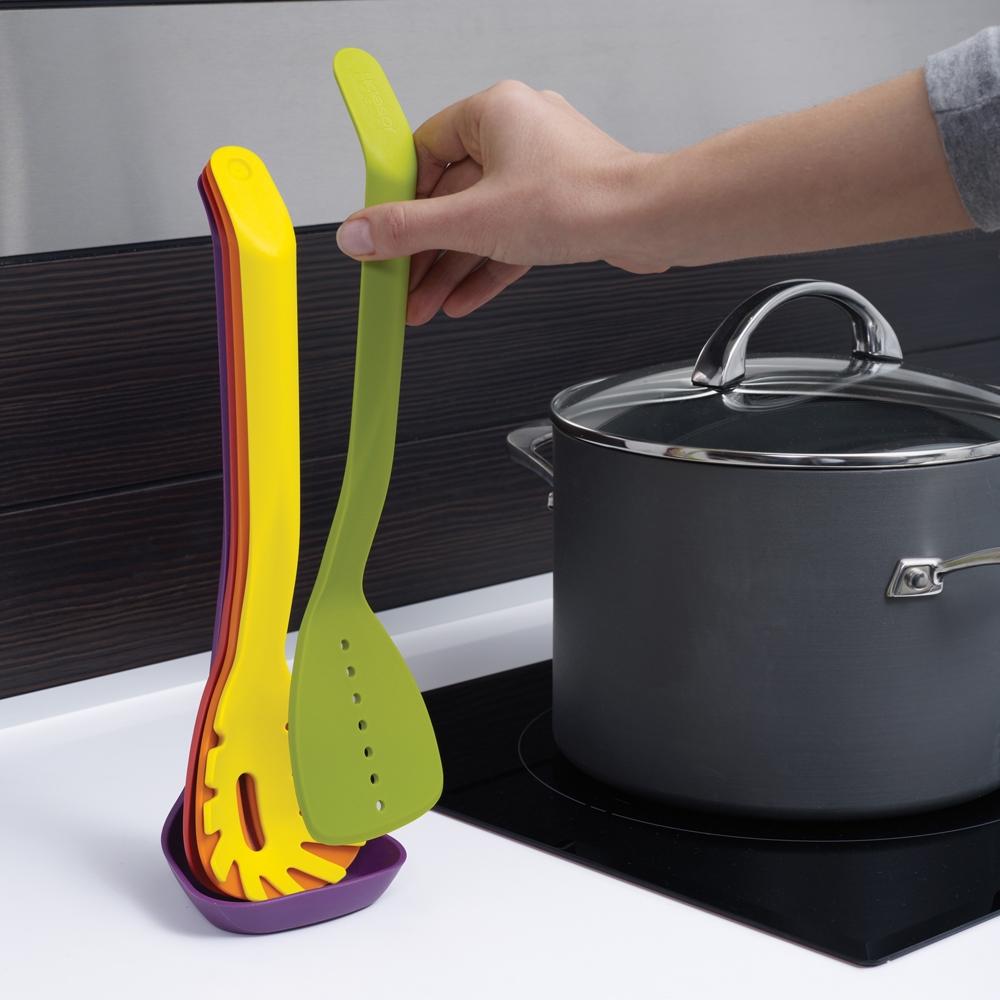 In my utensil drawer are also four or five sets of measuring cups. I don't know exactly as they are all mixed up with the other utensils, so grabbing the proper size cup on the first try is like winning the lottery.
Well, we can use nesting to solve this problem too! On top of that we can have some very cute works of art that should go along with your kitchen color palette. These cute owl measuring cups also nest and come in several colors, one of which is bound to fit your taste. Just nest these on your counter or on a shelf where you can easily reach them. You might even put up a small shelf on your backsplash. These Owl Measuring Cups are the cutest things imaginable and will be your ever-present companions.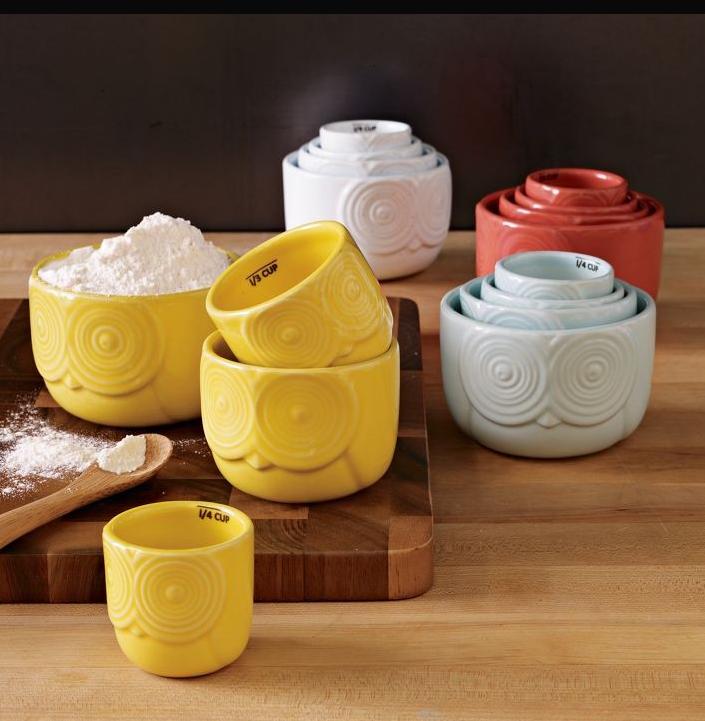 Cookie cutters are always favorites if you have children or even friends with a sweet tooth. However round cookies lack certain panache. How about your great-grandma's cookies? When it was raining cats and dogs outside, a day making cookies with grandma passed the time and kept you out of everyone's hair.
Old-fashioned cookie cutters I remembered the most were cats and dogs. I remember two different cats: one with a side view and one view of the back of a sitting cat with a curled tail. I remember the dog cookie cutter that looked just like spot when cooked to a golden brown. A chocolate chip was sometimes added for his eye.
You can find antique cookie cutters on auction and social web sites. Auction sites such as ebay may yield some childhood memories.. You might check yard sales and even estate sales for bargains.
Antique utensils are usually a welcomed sight to any kitchen. Back in the 1930s a lot of kitchen utensils were made out of aluminum because it would not rust. A lot of these utensils have lasted 80-plus years and are still in great shape and perfectly usable.
Again, yard and estate sales are your best bet for bargains. Flea markets are another place where you could find a treasure trove of antique kitchen utensils. Estate auctions are another source, but tend to be more expensive as the auctioneers probably realize what they have. Of course, you could luck out and pick some up for a reasonable price if not many knowledgeable people are in the audience.
If you want to get a head start, Etsy has a set consisting of an aluminum biscuit cutter and a set of four measuring spoons with the original aluminum ring still holding them together after all these years.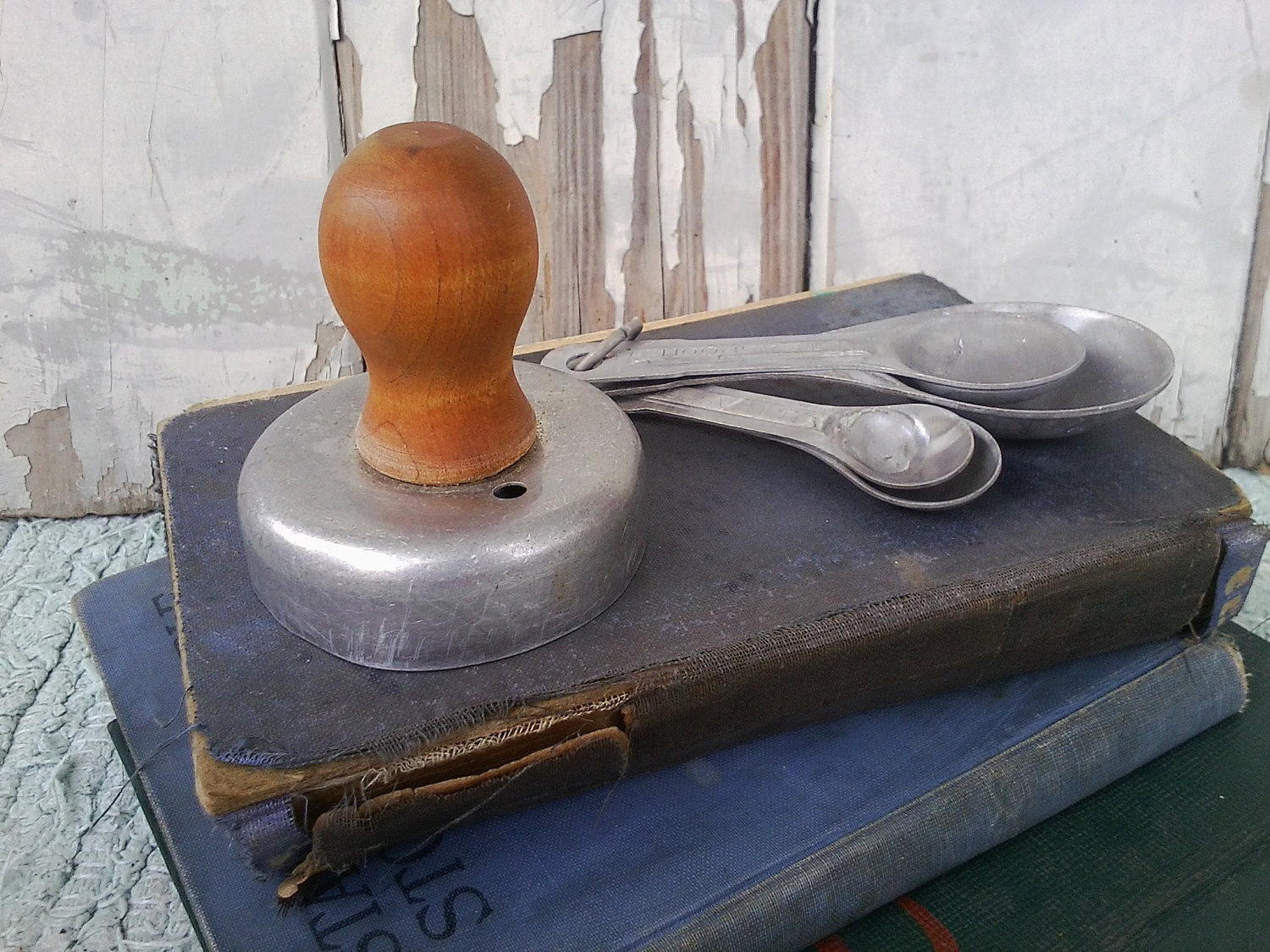 Do you have a penchant for pizza? Throwing a pizza party from friends and family is a real treat if you can bake our own custom-made pizzas. An infinite number of variations are at your fingertips.
If you love pizza as I do, you have probably tried every model pizza wheel made by man. They tend to work for a while but eventually wear out and your countertops probably have a few nicks and scratches attesting to the pressure you have to use to make the wheels do their job.
Here is a totally modern pizza cutter that has no wheel to wear out. In fact, it has no moving parts. The Rock'n Roll Pizza Cutter looks like the design that professional pizzerias use. Just rock (no roll necessary) this pizza cutter across your favorite pizza for a clean cut. If your pizza is larger than 12 inches, just pick it up and rock it across the rest of the diameter of your pie. You do not have to worry as the toppings and cheese will not stick to the blade.
The Rock'n Roll Pizza Cutter will not scratch your countertops or cookware. It is also dishwasher and child safe. Just make sure it gets the top rack in the dishwasher.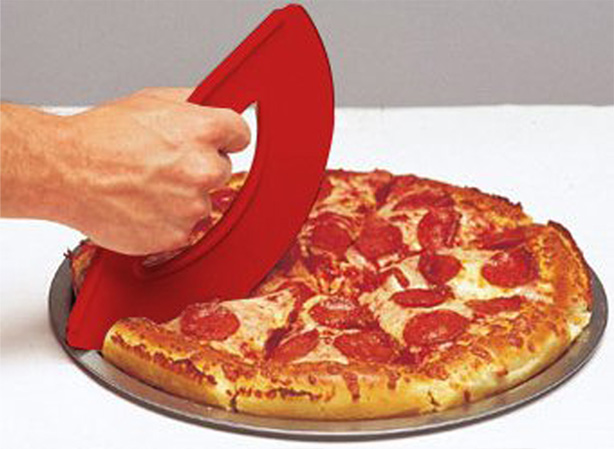 It is summertime and the heat wave across most of the United States leaves one to wish for some cool treats. You can make your own ice pops inexpensively. You can even make them healthy by using fruit juice. However you make them, it would be nice to be able to make a variety at the same time. Using the old plastic molds, you usually made them in groups of six and had to wait until you finished all six before you could make another batch.
The Onyx Ice Pop Molds solve this problem. They will also probably last a lifetime, unlike the plastic molds that fell apart after a few years of use. These molds are made of polished stainless steel and come with a rack to hold the six separate molds. As soon as you or your children eat one, you can fill it up and start freezing another one. On second thought, you may want to pick up several of these mold sets.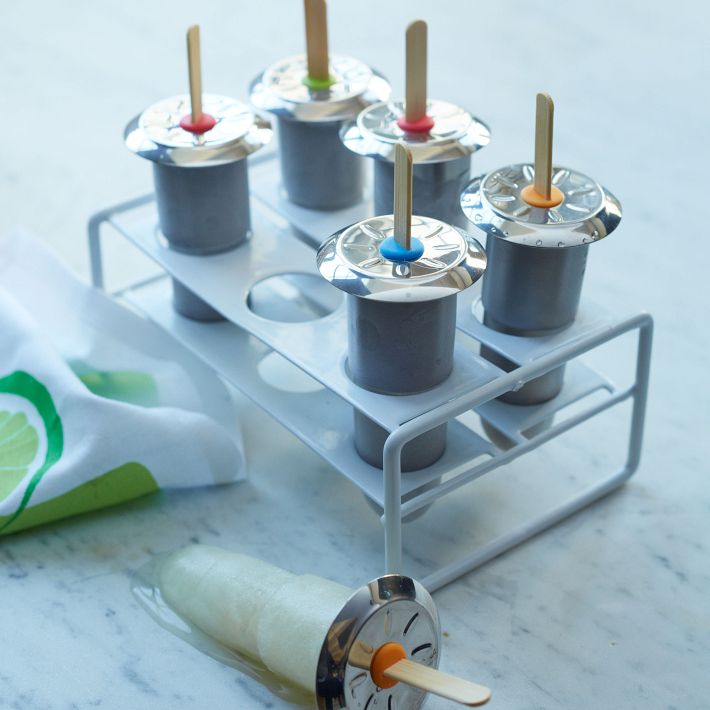 Miscellaneous
Getting out the juice of a lemon or lime usually involved slicing and the then squeezing out the fruit's nectar. Then half the lemon could wind up drying out in the refrigerator. I will not resort to bottled lemon or lime juice for my food; it has to be fresh.
The Quirky Stem Hand Juicer prevents waste and keeps your hands free from juice. Just push this unique and quirky gadget into your favorite citrus fruit and spray or spritz the juice directly from nature's own bottle!
Pick up a couple for just under $5 each.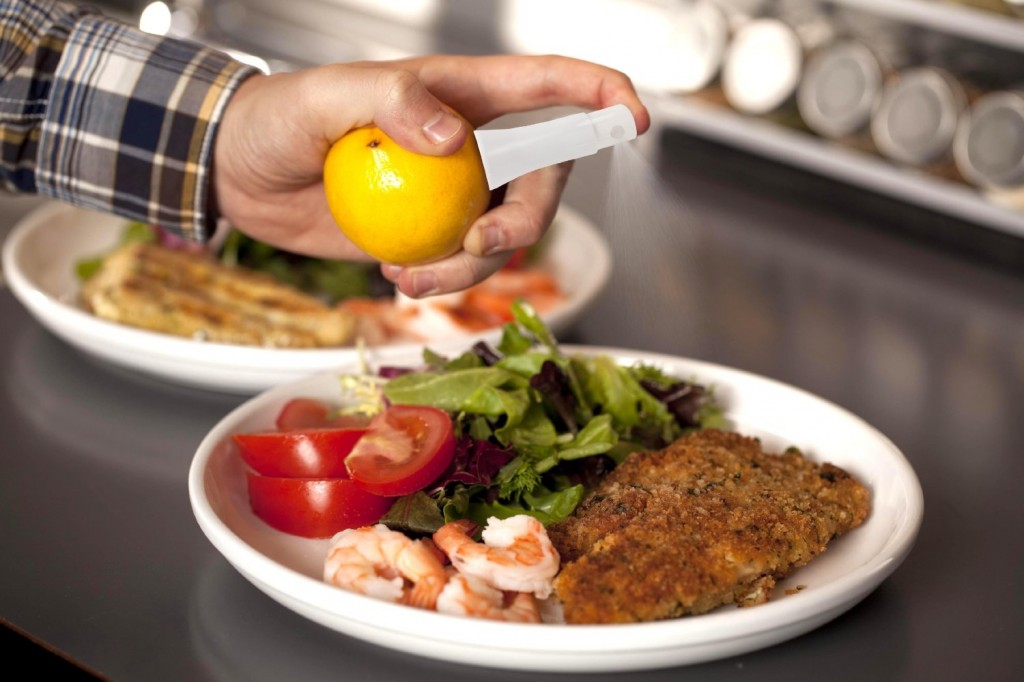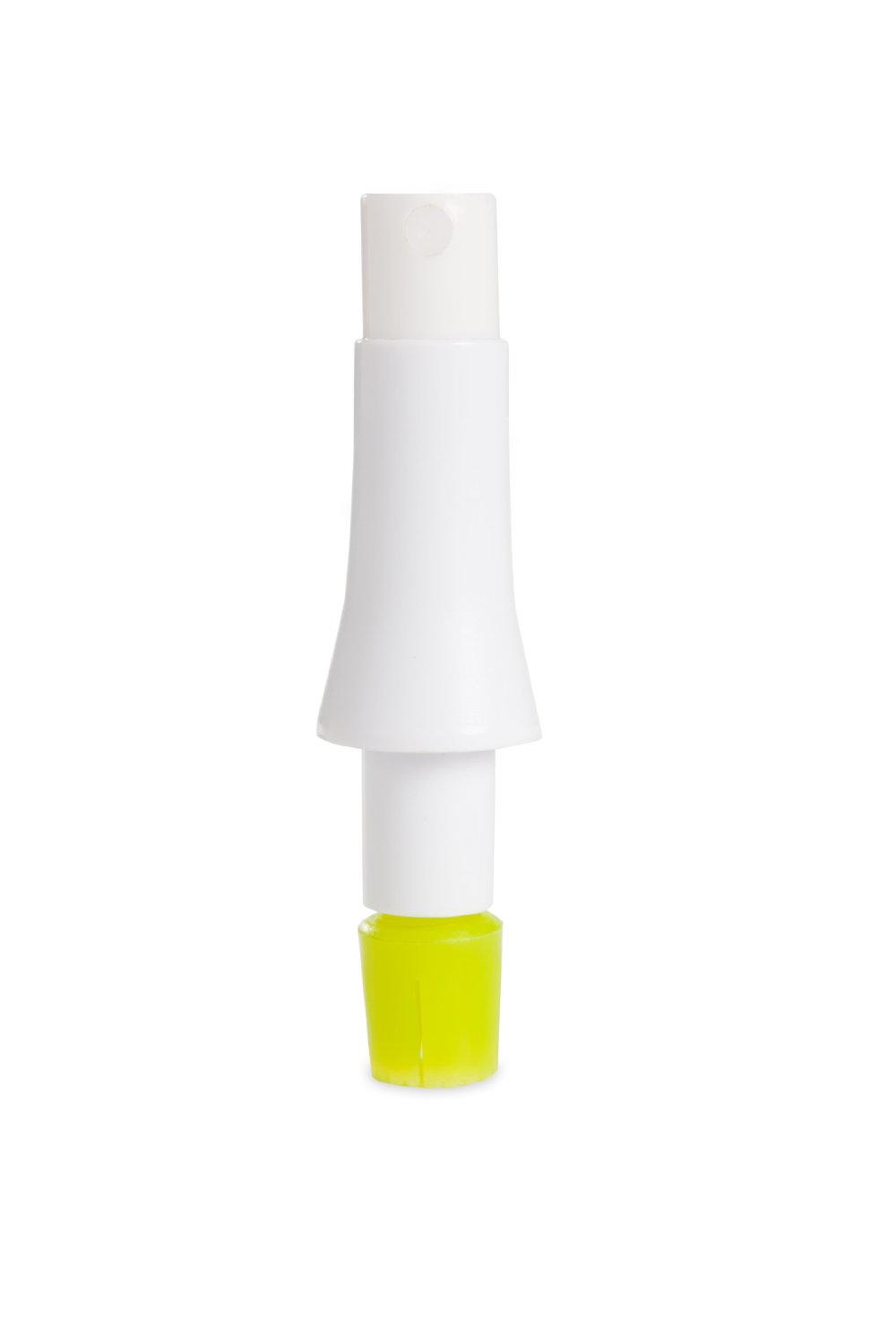 What unique and useful kitchen gadgets do you like and use at home? Tell us in the comments section below.