Beige. You won't see this hue on a "bold color" list. In fact, beige is often overlooked and under-appreciated. This neutral shade is frequently used as the default color for interiors as an option for color, carpet, cabinetry and tile. There's a reason for this–beige goes with almost everything. Yes, you are bound to encounter beige in one of your dwellings at some point in your lifetime. How do you maximize the effect of this shade?
For starters, begin by seeing beige as an asset. After all, this warm color is a wonderful complement to deep shades such as steel blue. Not to mention, there is something rich about its tone and the way it brings out the best in the decor that surrounds it. Today we present a variety of images that pay homage to beige in all of its glory. In the process, we reveal some hints and tips for getting the most out of this color. It's the new beige…
Modern Beige
Beige is a favorite in traditional spaces, but did you ever notice that this color can also be used splendidly in modern interiors? The bigger the design risks you're willing to take, the greater the payoff, as shown by our first featured space. Check out the unique details that fill this room, from animal sculptures to bold pendant lighting… [from Michael Abrams Limited]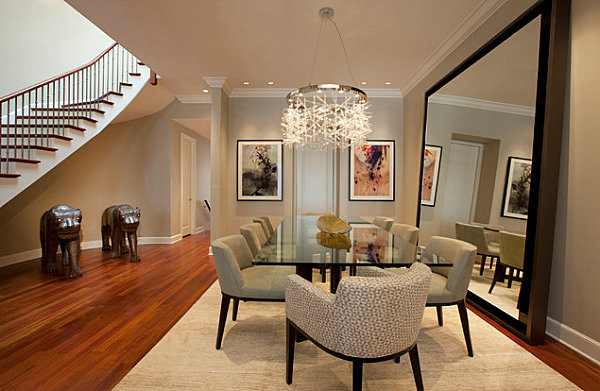 Instead of viewing beige as a "safe" hue that's the best option when you can't decide on a color, see this hue for what it truly is–a great way to accentuate a modern space! After all, beige is anything but distracting, adding rich color to an interior while keeping the palette understated enough to call attention to other elements (such as amazing modern architecture). Below we see a bright and airy space by Rossington Architecture: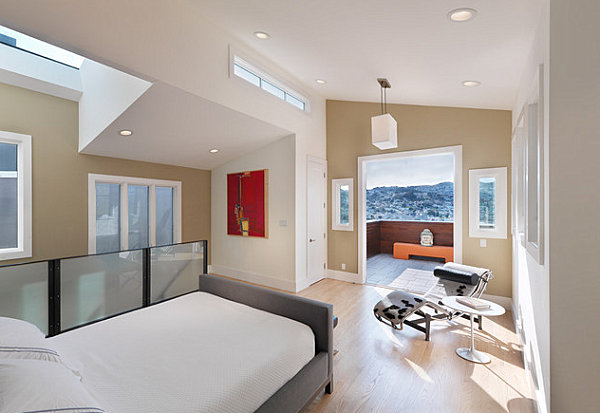 In the modern bedroom below, a beige palette serves as the perfect backdrop for a collection of books, which come alive against a wall color that doesn't fight their rainbow of shades. Also note how pops of orange make a strong statement. [image by Michael J. Lee Photography for Platemark Design]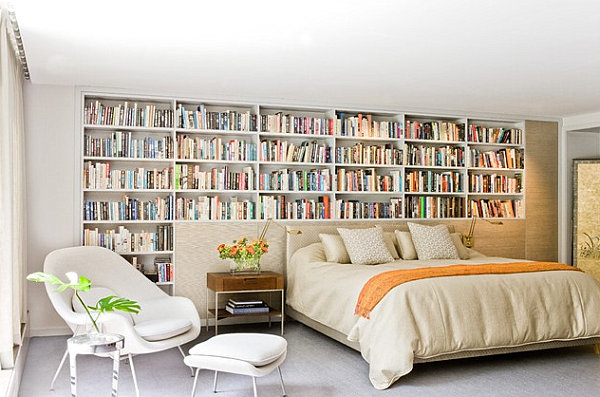 Next we see a cooler shade of beige in a contemporary entryway. Note the abundance of warm tones, including a vanilla-hued tile floor, a large mirror in a rich shade of brown and a chair of golden wood. [from Amoroso Design]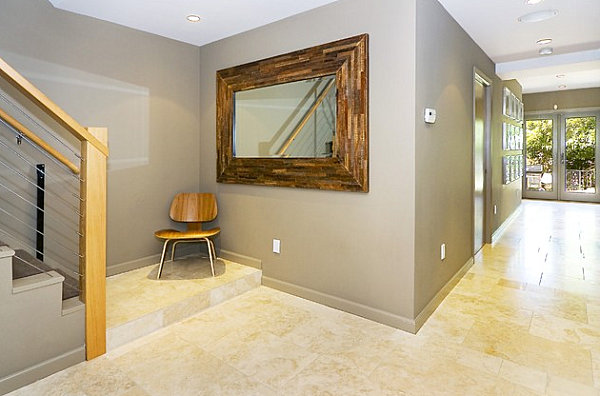 What's better than beige? Layers of beige! Draperies, seating, walls and rug combine in the traditional-meets-modern space below, along with contemp0rary artwork that adds color while reinforcing the neutral tones of the space. [from Michael Abrams Limited]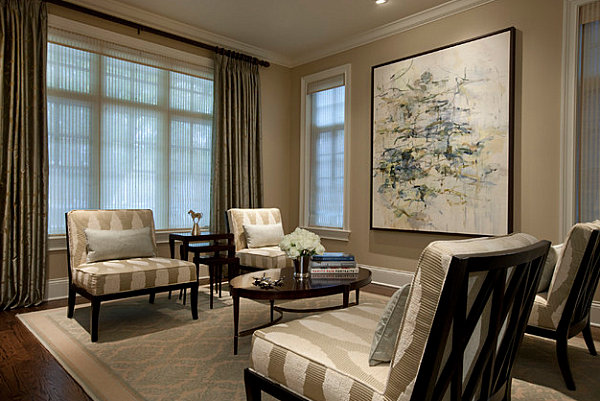 Again, we have a living room filled with beige-on-beige design decisions. The neutral palette puts the focus on the clean lines of the furniture, as well as the bright accents of the bookshelves [from Butler Armsden Architects]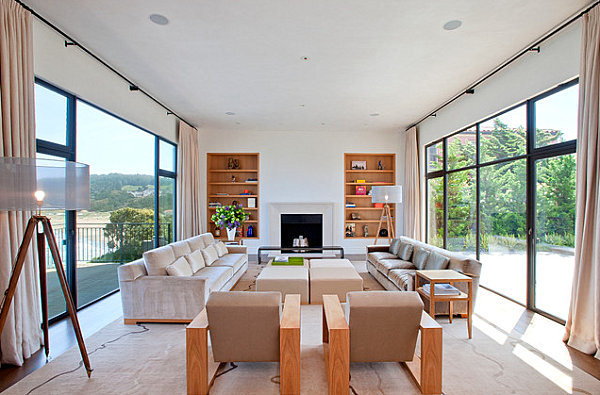 Beige is also a popular color for modern exteriors, as shown by the contemporary home below. Note the home itself, the gravel and the stepping stones all boast the shade. Also check out how the gold-toned lighting on the home's exterior helps illuminate the space, echoing the warm shades of the beige features. [from The Construction Zone]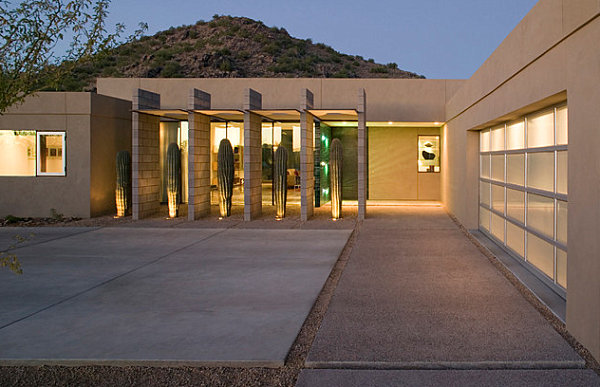 Beige, Green and Blue
Maybe it's the way these three colors evoke natural elements such as sand, grass and the sky. Or perhaps it's the way green and blue pop against a subtle yet rich backdrop. Whatever the appeal, beige, blue and green are frequently combined in various configurations to maximize style. And it's easy to see why! We begin with two shades: green and beige. Below is an image of a beige kitchen with verdant accents in the realm of food and drink. [from Claudia Martin, ASID]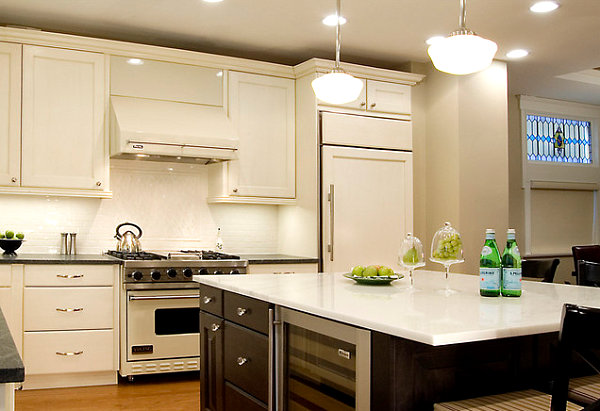 When beige, blue and green combine, the result is stunning, as shown in the modern living space below. Yellow-green foliage gives way to emerald green vases, which transition to teal blue pillows in this room from Positive Space Staging + Design Inc.: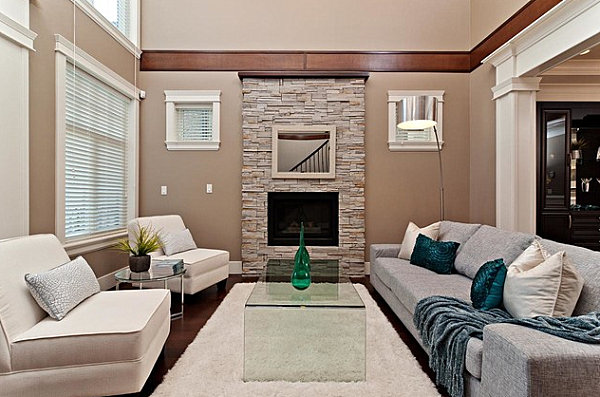 Blue and beige can be just as striking, as shown in the living room below. Note how a vivid vase serves as a focal point of the space, along with artwork featuring a range of round forms. And yes, both involve radiant shades of blue! That's one thing about featuring an accent color in a beige room—a little goes a long way. [from Michael J. Lee Photography]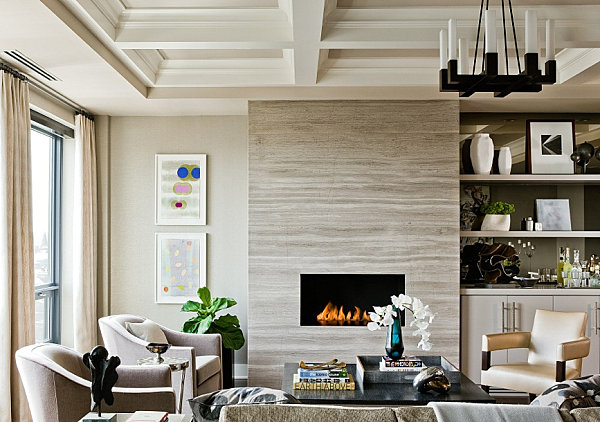 Blue pillows stand out in our next featured warm-toned space. And we can't take our eyes off the modern blue and cream artwork that hangs in the dining room past the arch… [from Amy Thomasson]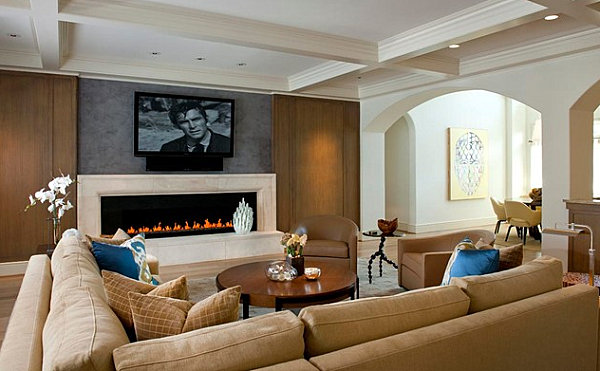 Beige and Violet
One combination that is undeniably interesting involves a blend of beige and purple shades. Yes, there is something natural and striking about this duo! And versatile! Below we see a traditional space by Eric Schmidt. [via The Lennoxx]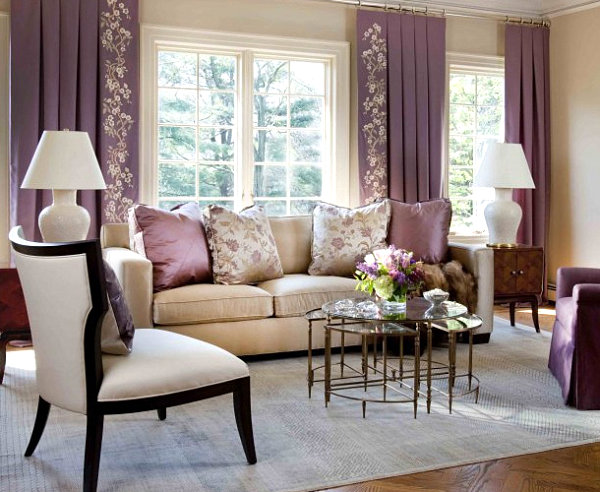 In fact, beige and violet tones also work well in modern spaces, such as nurseries. A purple teddy bear is a focal point of our next featured room. Note how a pillow in another shade of violet sits on the sofa/bed to the right of the crib, adding another dimension of color. When it comes to the beige and purple combo, varying the violets results in a stunning, rich space. [from Amy Thomasson]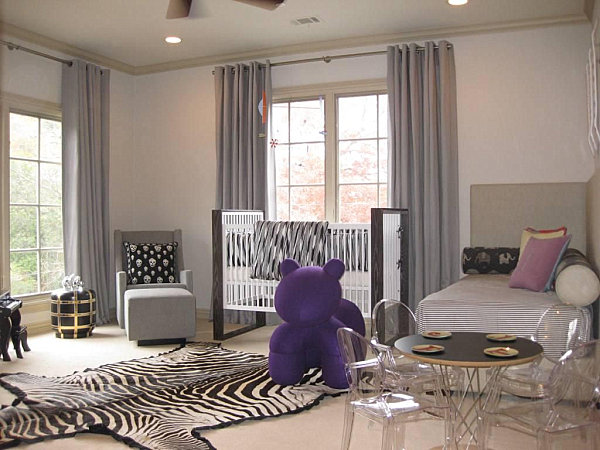 When the violet veers into magenta territory, the result is increasingly bold, as shown in the modern living room below. Once again, we get depth and interest by varying the violet shades. Pillows and glassware in slightly different hues combine in design perfection. [from ISeeCubed.com]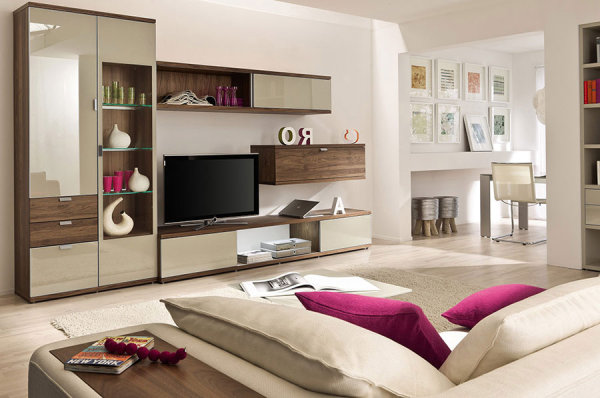 Bold Beige
There's just something about beige…especially when you combine it with a bold shade of red! Not only do vibrant hues pop against the background of beige, this color can add more drama than crisp shades such as stark white. Below we see coral on either side of a black mirror. It's hard to miss the red-orange shade, especially since it's echoed on the vibrant throw that rests on the armchair…
[from Burnham Design]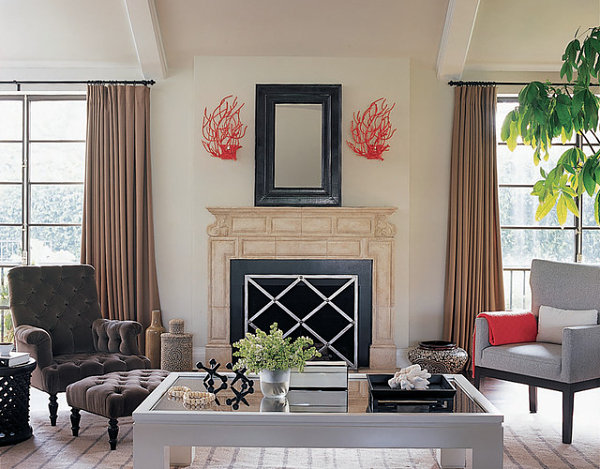 A little bit of bold can go a long way, as illustrated by the red touches on the artwork and plants below. Note how red combines with a shade of olive green to add even more contrast… [from Silvia Nayla]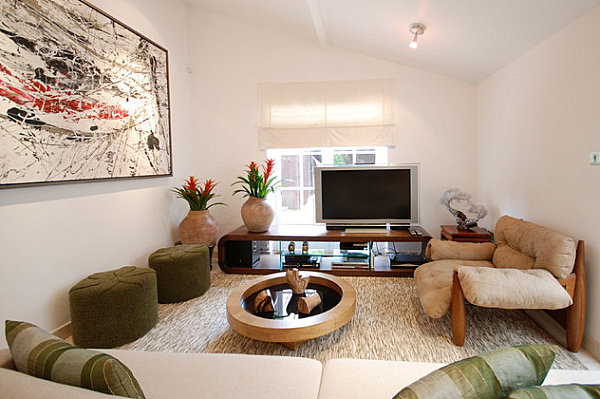 We end with a child-friendly space that showcases a rainbow of color, including strong doses of bright orange. In fact, orange is a natural fit for beige. The brighter you go with this hue, the bolder (and often the more modern). [from Amy Thomasson]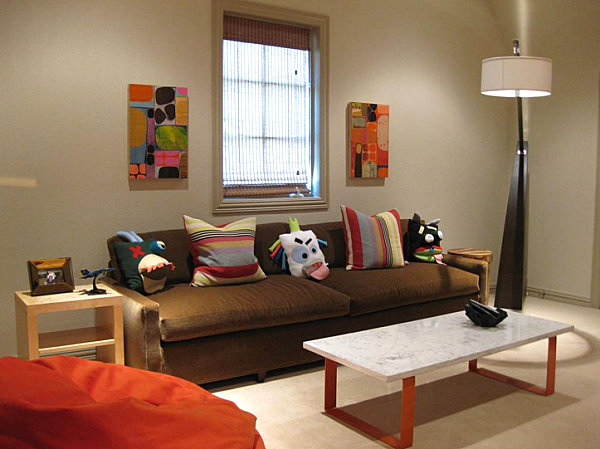 Would you paint a room in your home beige? Or perhaps you already have! Tell us about the other colors you used in order to bring out the best in this hue. Share your thoughts by leaving a comment below…
Liked the story? Share it with friends.