It's always nice to freshen things up! Perhaps you're moving to a new home and you're searching for easy ways to put your stamp on the place. Or maybe you're finishing up your spring cleaning and you're looking to add a big dose of style to your home before summer. Good news: You're in luck! Today at Decoist, we spotlight 10 easy ways to update your home, from the walls to the backyard. Many of these updates are DIY projects for an afternoon or a weekend!
However, don't be afraid to enlist the help of professionals, especially if you plan on doing more than one project. There's no shame in taking time to select what you want, then letting the experts give you a hand (especially if projects involve specialized areas such as plumbing or electrical wiring). At the same time, if you want to take a hands-on approach, many of these projects are well within your reach. And now for a little design inspiration…
A Fresh Coat of Paint
Let's start with a fun weekend project that can enliven any room–a fresh coat of paint! Now's the time to try that bold color you've been dying to apply to your walls. Bring on the teal, midnight blue or olive green… [from PaintColorHelp.com]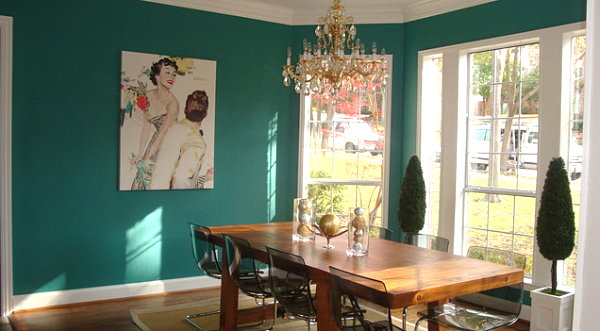 Don't forget that an accent wall is a great way to add color and style to a room. Painting an accent wall is not as involved as an entire room repaint, and it's a wonderful way to go bold with one hue, especially since the remaining three white walls will balance out the space. [from Terrat Elms Interior Design]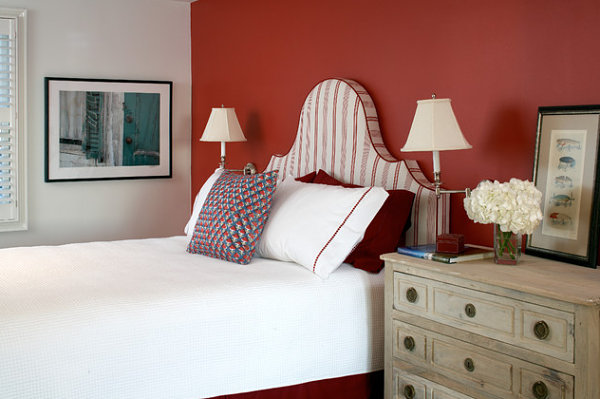 A Grout Clean-Up
As time goes on, your grout may become dirty and discolored, which can be troubling if certain parts of the tile seem to age faster than others. If you have a room that is filled with tile, a good grout clean-up can be a perfect way to brighten up the space. [from David Howell Design]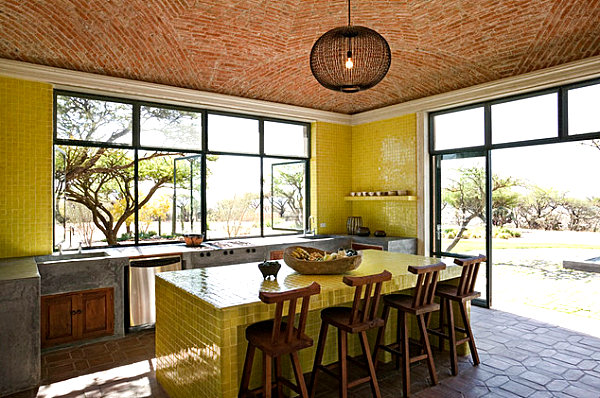 Some grout cleaning techniques involve the use of acid, which is why it may be a good idea to let the professionals handle this one. If your grout isn't sealed, this may also be a good time to explore that applying a sealer, especially since it can prevent further discoloration and the growth of mold. [from ACR Villa Skovly]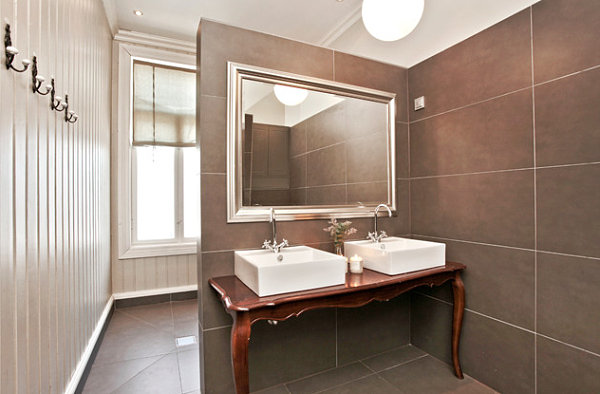 New Sink Faucets
Another great task for a professional: changing out the faucet in the kitchen or the bathroom. In fact, an interesting faucet is an effective way to make a statement and update your interior. For example, you can always go modern, especially if there are other clean-lined elements in the space. [from Mark Newman Design]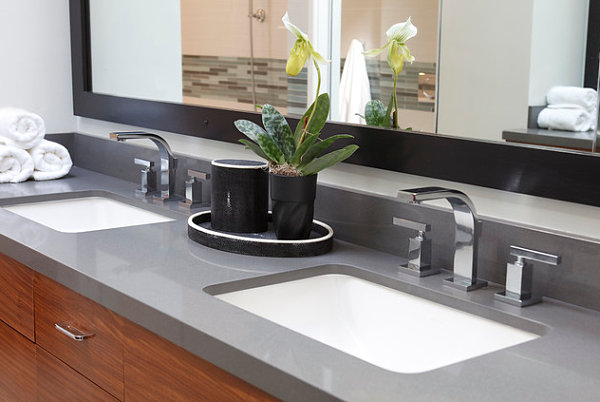 Also consider the shape and style of your sink. For example, a contemporary bowl can be beautifully paired with a sleek faucet. Perhaps this is a good time to consider changing out your sink or countertop as well… [from Remodel West General Contractors]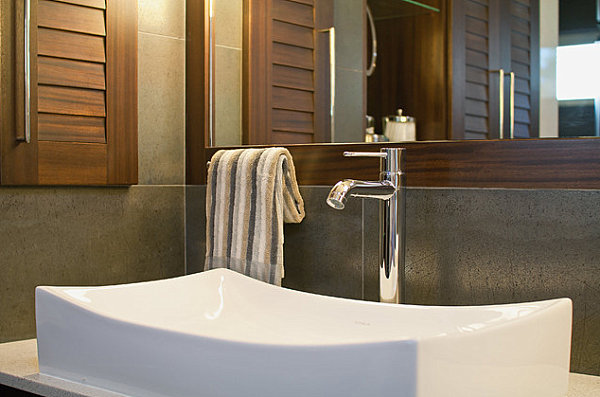 New Drawer Pulls
Want to give your favorite dresser a new look? Switch out the drawer pulls! This strategy is perfect for older pieces with hardware that's starting to bend or tarnish. Have you wanted to change those brass handles to silver-toned pieces? Now's your chance! [from Tuscan Blue Design]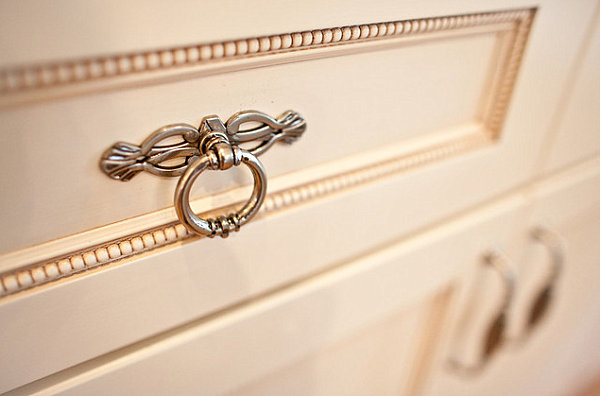 Or better yet, go with something totally unexpected–a selection that reinforces the other colors in the space. Below we see how shades of green give a a modern bathroom a playful yet contemporary look. [from Tamar Interior Designers & Decorators]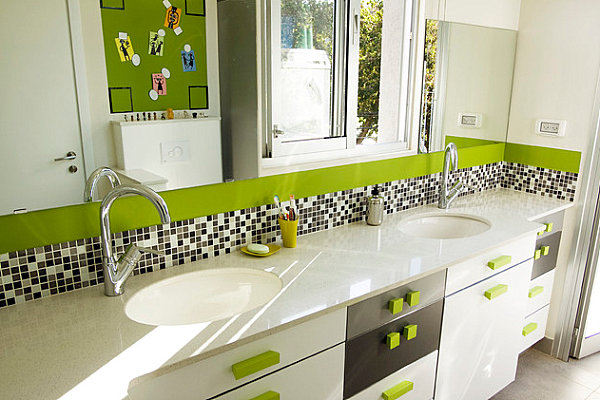 An Artwork Change-Up
Buying a new piece of artwork can be a style game-changer for a space, especially if you take the time to select colors that heighten the effect of the hue on your wall. Below we see artwork by Jennifer Sanchez from West Elm. Note how shades such as yellow and pink are a striking contrast to the olive green wall behind the frame…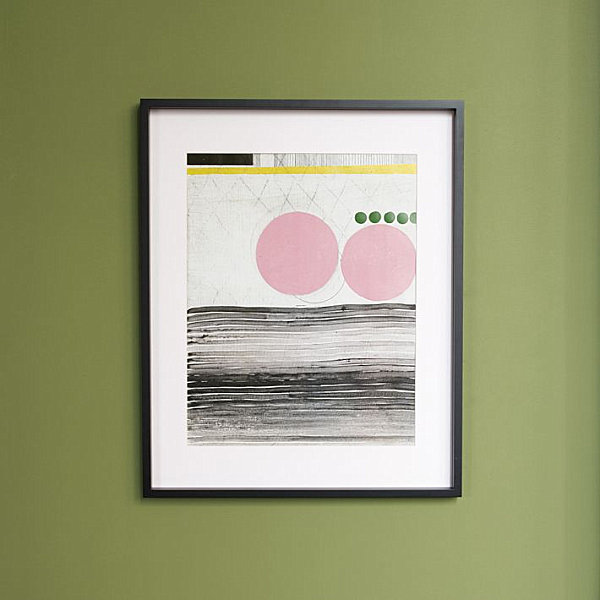 In fact, a striking piece of art has the power to be a focal point in your space, demanding attention in the most powerful of ways. Selecting colorful geometric artwork can be a great way to jazz up white or neutral walls and give your interior a gallery feel. [from Terrat Elms Interior Design]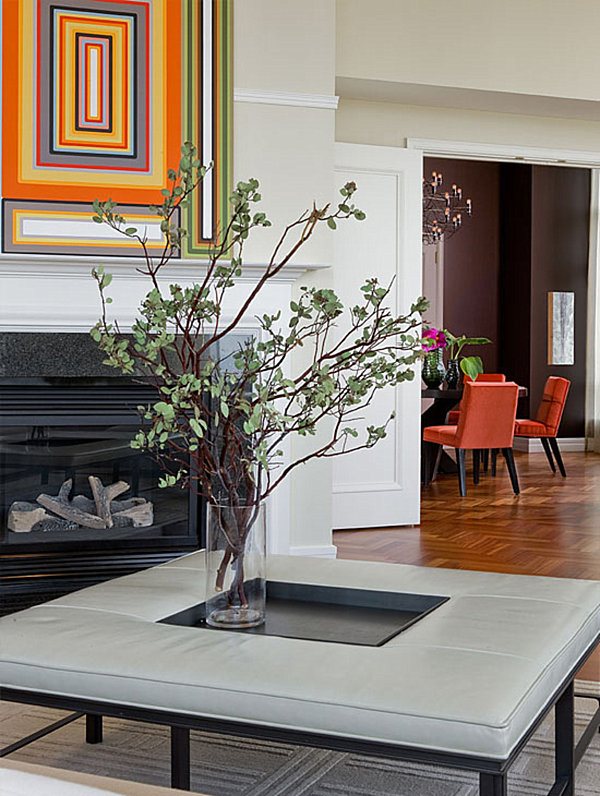 A Lighting Update
When it comes to brightening your space, a new pendant light is a great way to add shine. Especially when the light is as stunning as the whimsical selection below… [from Wheeler Kearns Architects]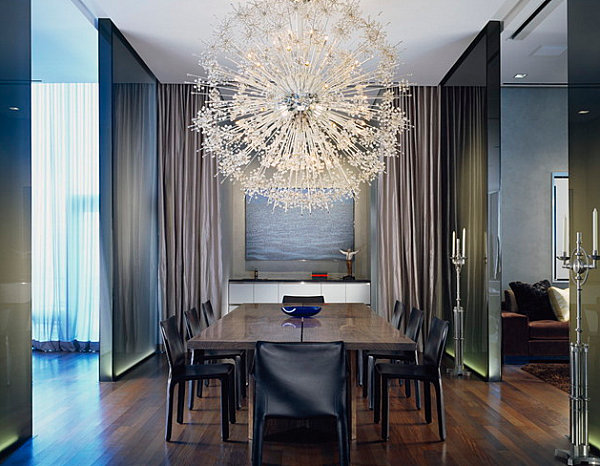 And don't forget about spaces such as the kitchen and bathroom. A bold lighting piece can transform a room in one powerful punch. Remember that installing lighting is a specialized task. Unless you know what you're doing when it comes to electrical wiring, this is a time to call the professionals. [from Terrat Elms Interior Design]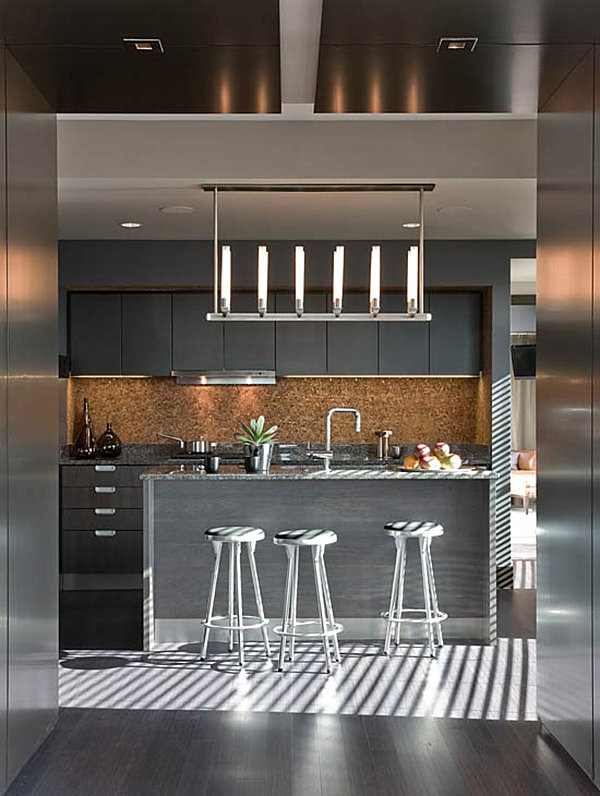 A Yard Clean-Out
As the weather gets warmer, it's time to focus on your exterior space as well. Yes, your yard is an important part of your home, and nothing makes it more beautiful than a good clean-out. Remove old leaves, pull weeds and clear out dead plants. That way, the yard's other features can truly shine! [from Allen Associates Construction]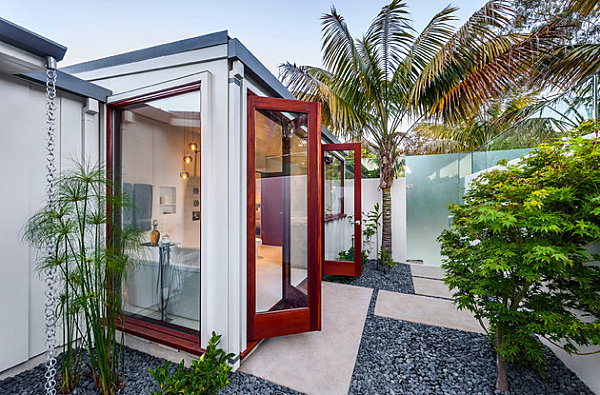 Remember that dead leaves and other remaining traces of winter can hide in your planters, especially in other foliage. Removing them will allow your healthy plants to truly thrive and take in the sunlight. [from Shades of Green Landscape Architecture]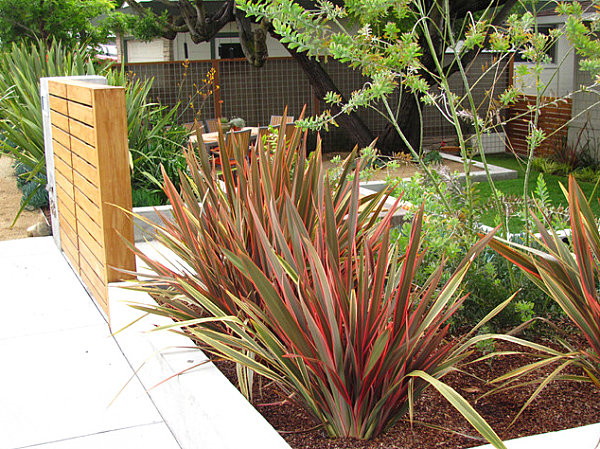 A Lawn Refresher
Got dead grass? Now's the time to fill in the gaps with seed or sod. Again, don't hesitate to call in a yard or landscaping crew. And it goes without saying, make sure any new grass you add matches your current selection, unless you're specifically looking to change it up. [from Entasis Group Architects & Designers]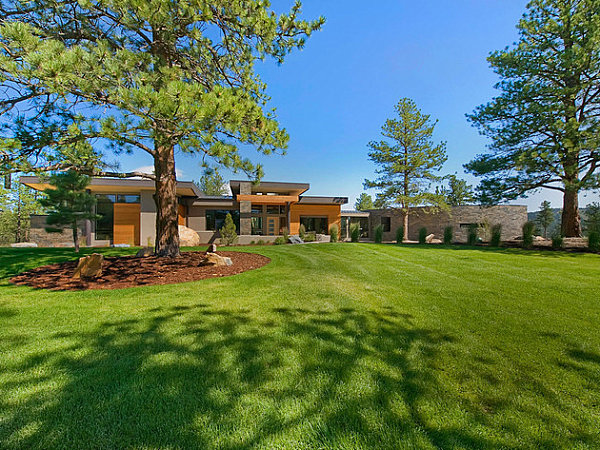 This is also the time to give the yard a good mow. Nothing can detract from the front of your home like an overgrown lawn. On the flip side, nothing can make architecture shine like a gorgeous yard! [from Bates Masi Architects]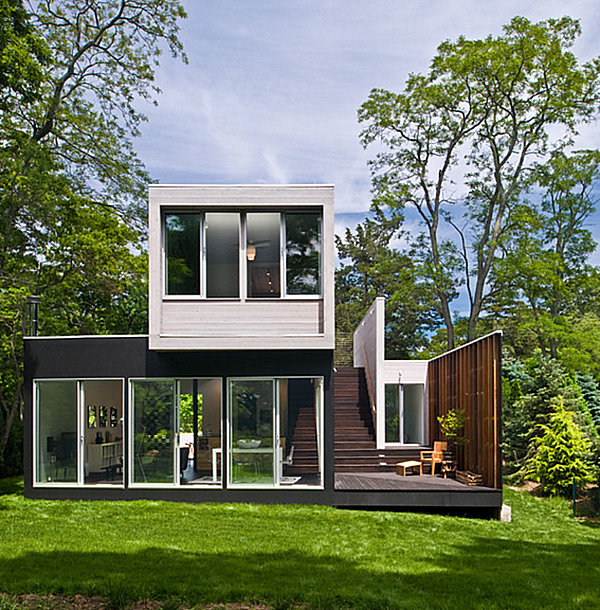 A Gravel Pathway
We at Decoist love a good gravel pathway! In fact, adding pebbles and stepping stones to your yard can create an instant modern look and help define your outdoor space. Below we see angled stones of different sizes in a sea of gray gravel. Design perfection! [from Frank & Grossman Landscape Contractors]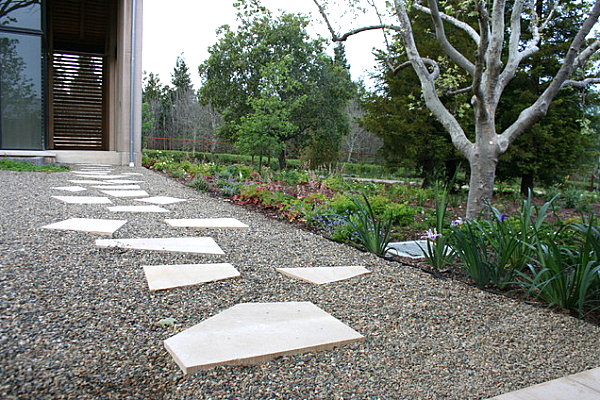 You can also go larger with pebbles rather than pea gravel. Remember that it can be stunning to choose contrasting colors for the stepping stones and filler rocks. Below we see round black stones and earth-toned pebbles. [from Sustainable Garden Design Perth]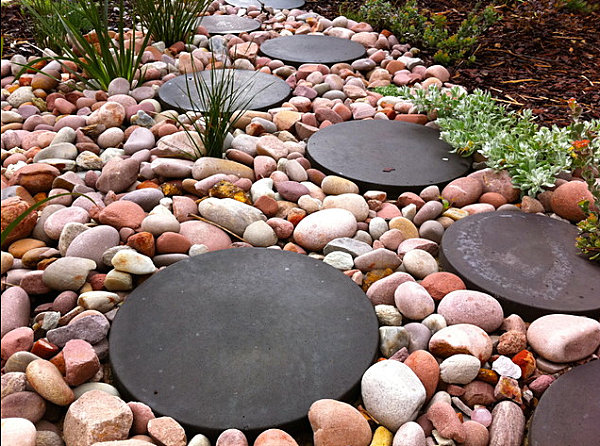 A Large Planter of Greenery
We end with one more powerful way to update your home–with a planter full of greenery! From large pots to planter boxes with clean lines, the possibilities are endless. Remember to choose plants that truly complement the shape of their containers. In the next featured image, we see spiky foliage in rectangular planters. [from Exteriorscapes, LLC]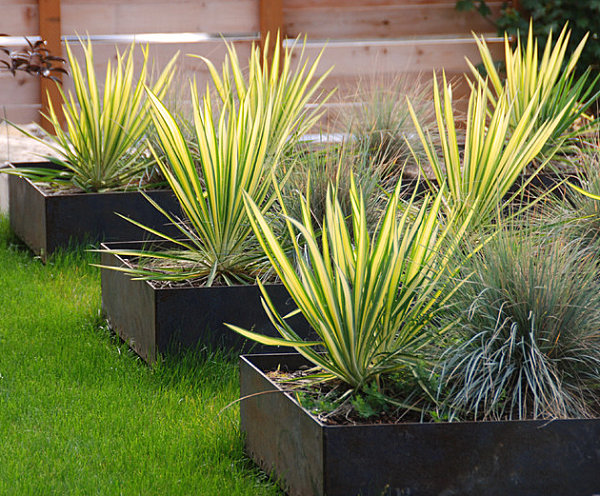 In fact, you may be tempted to go with more than one planter, as these receptacles are a great way to help landscape your yard and define your space… [from Madero Doors & Hardware]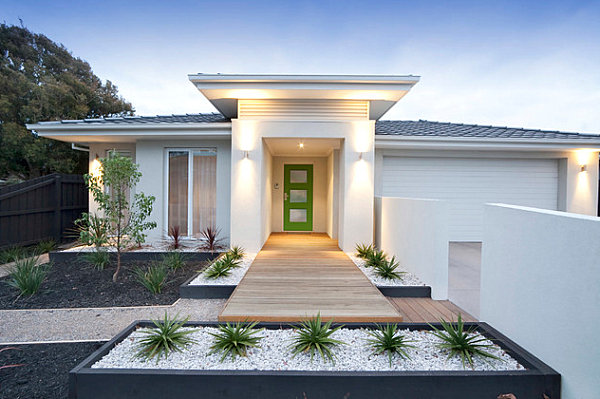 Tell us about your easy home update ideas. Whether you've found a great way to beautify the inside of your home or spruce up your yard, we'd love to hear your thoughts. Head to the comments section below!..
Liked the story? Share it with friends.