Today at Decoist we take a look at the versatility of the painted floor! In fact, more and more design enthusiasts are choosing this option as a way to add personality and style to their interiors. According to Elle Decor, painted wooden floors were staples of the American home in the 1700s, with colors such as red, white, yellow and green taking center stage. As clear finishes and carpeting then fell into favor, the painted floor grew less and less common. But lucky for us, painted floors are back!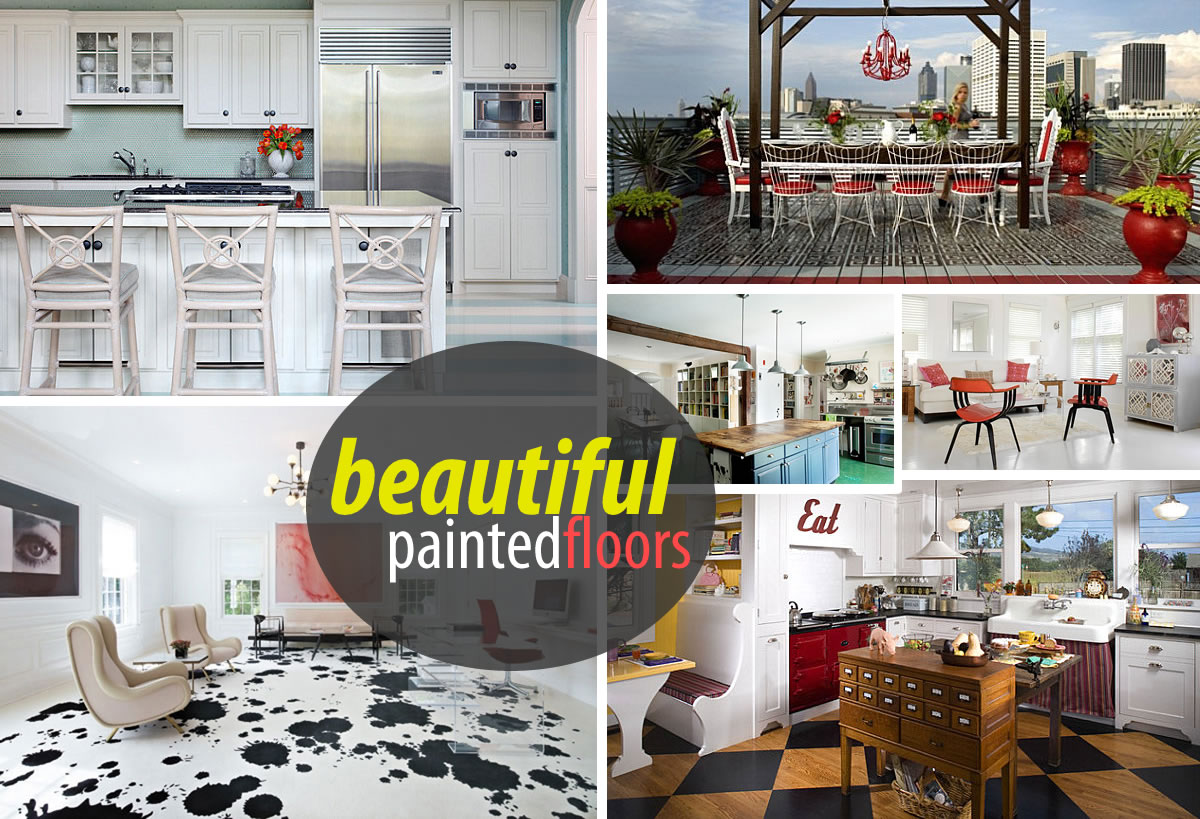 And they're not just for traditional homes… That's right, painted floors can make modern statements as well! The images below show that solid and patterned painted floors can add unexpected and delightful elements to contemporary interiors. If you don't hire a professional to do the job, make sure you at least consult a trusted resource or two. There are important steps, such as priming and sanding, that you don't want to skip. Not to mention, if you put too much wear and tear on the floor soon after the paint job, you risk damaging the fruits of your labor. With that said, we think you'll agree that painted floors are well worth the time and effort when you see the images below…
Solid Painted Floors
We begin with a series of floors painted in solid colors. Looking for a way to saturate the color in your space? Try painting your floor the same hue as the walls. While overwhelming with some palettes, this technique is clean and soothing with white, as shown with the eclectic living room below. [from Tara Seawright Interior Design]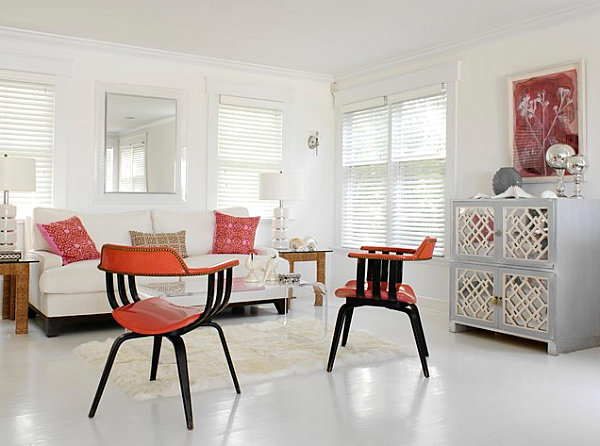 There's no better place for a pure palette than an ocean-front bedroom. This bright boudoir is as refreshing as the open sea outside. When a view is this exquisite, a white-on-white color scheme works wonders, creating a serene environment that doesn't overpower the blue of the water. [photo by Eric Roth via Andra Birkerts Interior Design]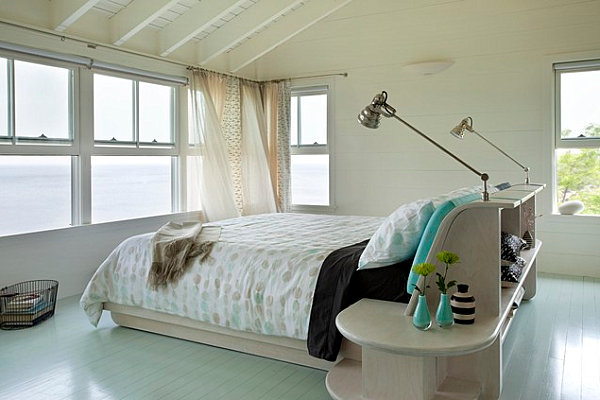 White is ideal for contemporary spaces, especially those that call attention to features such as corrugated metal walls and wooden cabinetry. In the basement bar and media area below, modern furniture and interior flourishes stand out against crisp white walls and painted flooring. [from Ryan Duebber Architect]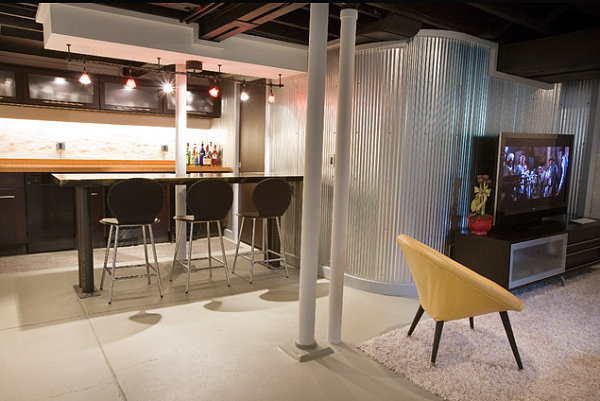 Don't think that white is the only color for painted flooring! In the space below, we see the power of gray, especially when gray walls combine with gray flooring. The neutral palette of this London living space and study allows the room's bright accents to pop. Note the fiery red task lamp and the teal blue table… [from Becky Smart Photography]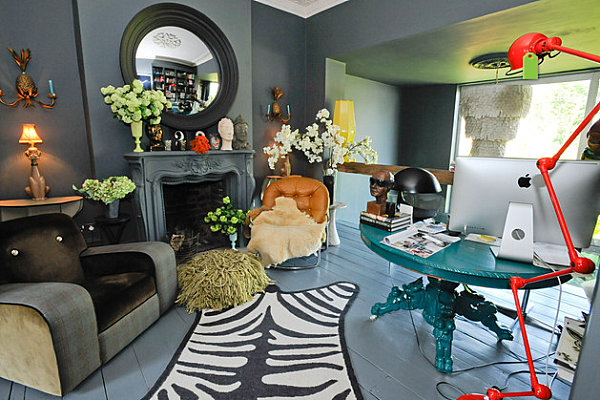 In another gray-on-gray space, we see a more minimalist and contemporary result, thanks to sleek furniture. A gray, white and silver palette is intensified by a painted the wooden floor. A black textured rug adds interest without covering too many of the wooden planks. [from Imagine Living]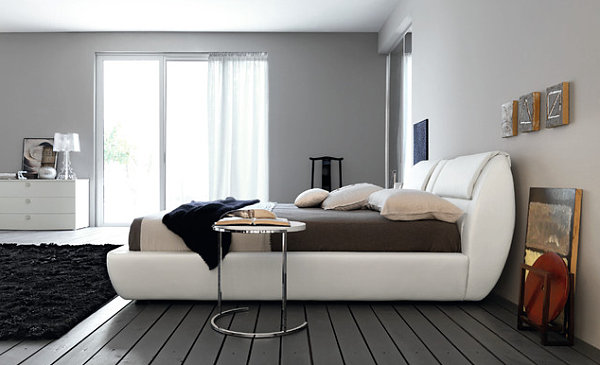 We now move into more colorful territory, thanks to a series of painted floors in vibrant hues. Unsure about painting your entire space red? Why not go with a red floor? In the Amsterdam kitchen below, bright flooring is complemented by modern artwork. Red and black are ideal counterpart colors, don't you think? [from Love, Thomas]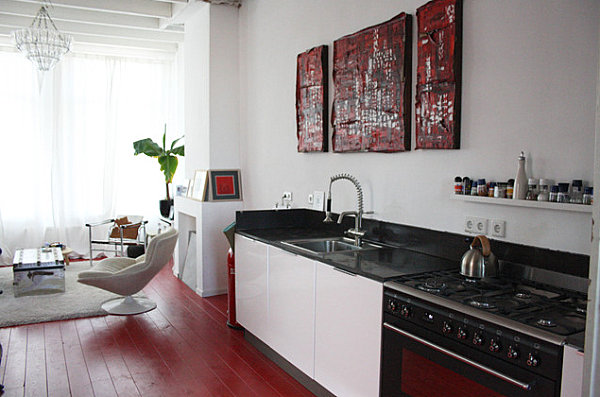 Bet you weren't expecting this next shade? No, you're eyes aren't fooling you–it's yellow! What you don't see is that this same yellow tone can be found on the outside of the home as well. We love the way it's carried indoors for an unexpected twist on the painted hardwood floor. Contemporary, stylish, and fun! [from Texas Construction Company]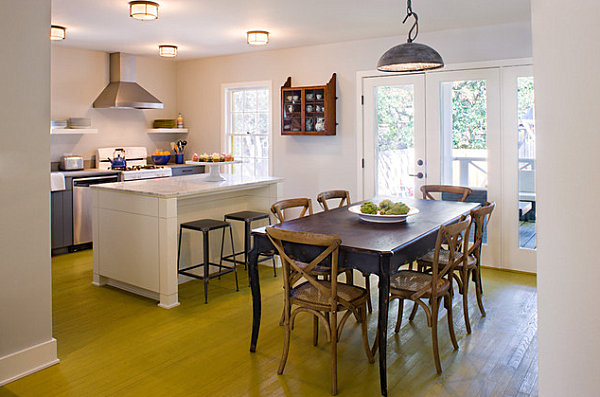 Better put some sunglasses on for this next image! This contemporary San Francisco home office features lime green flooring. It's the perfect jolt of color to complement the room's natural elements,such as strategically unfinished walls. Forest green door frames are a delightful counterpart. [from Ojanen_Chiou Architects LLP]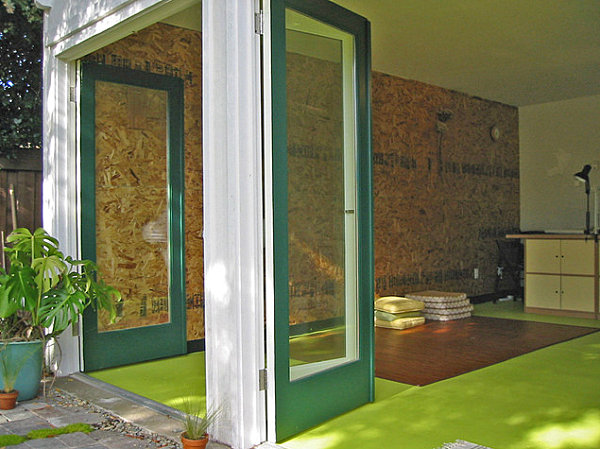 Speaking of green, the rustic yet modern kitchen below has a big dose of verdant flair, thanks to weathered green flooring. This space designed by Jennifer Clapp is kept simple and chic with the help of white walls, furniture and pendant lighting over the dining room table. [from Mary Prince Photography]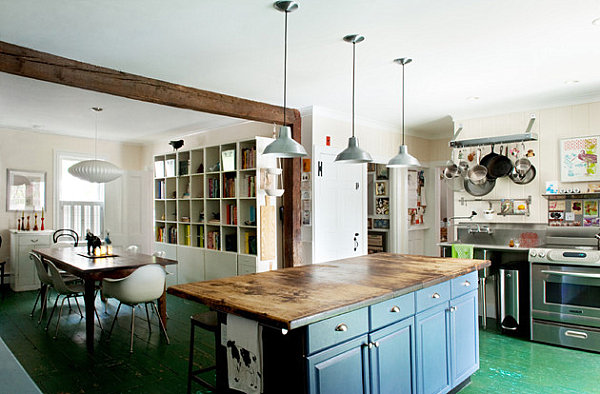 In fact, an aged look is one popular painted flooring approach. The white lacquered boards below add personality and depth to this dining room/library. An earthy, worn effect works nicely with the room's sleek contemporary features, creating an intriguing contrast. [from Isolina Mallon Interior Design]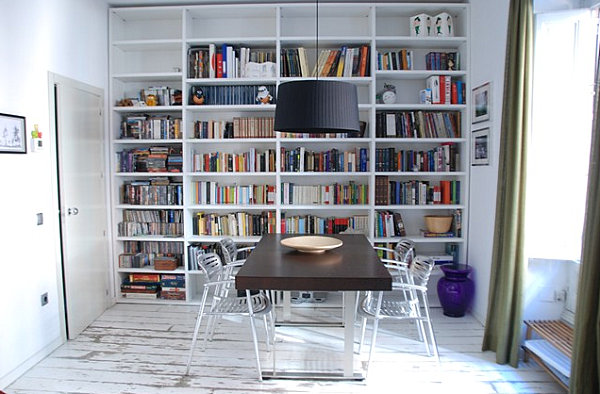 Patterned Painted Floors
We now move on to patterned painted flooring that adds an artistic element to the space it inhabits. In fact, sometimes going bold can be just the answer to your design dilemma. Check out the dalmatian spots in the room below. Red accents and modern touches stand out against the speckled palette. [from Freshome via The Improvised Life]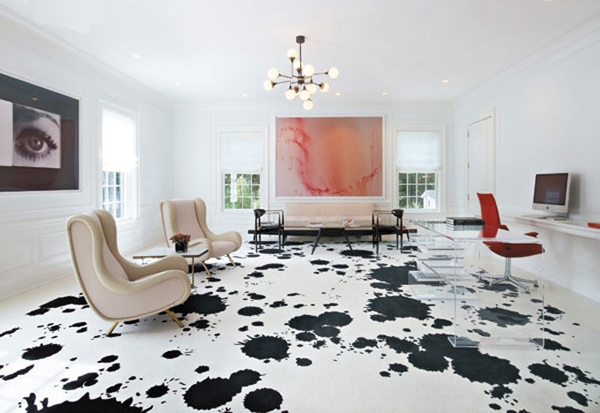 Stripes, anyone? They're elegant and chic, especially in the refreshing mint green kitchen below. Traditional and modern features combine to create a space that is comforting and chic. [from Tobi Fairley Interior Design]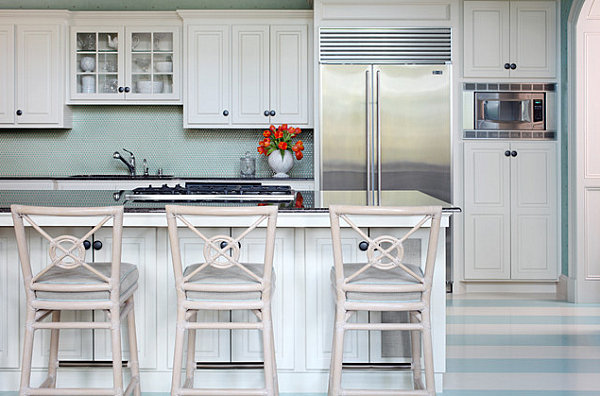 Next we see black and white stripes on the floor of an all-white space, resulting in a striking contrast that somehow makes this compact kitchen seem larger. The resulting look is modern, crisp and powerful. [from The Sweetest Digs]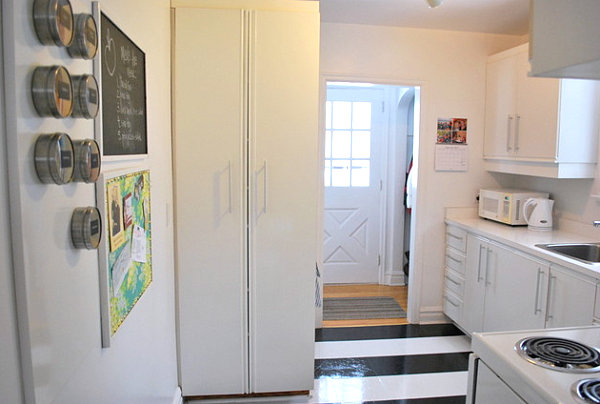 Another approach to striping involves creating a display of graduated color, as in the space below. Are the striped nightstands too much with the striped flooring? No–especially since a monochromatic look is achieved by blue-on-blue lines. [from House to Home]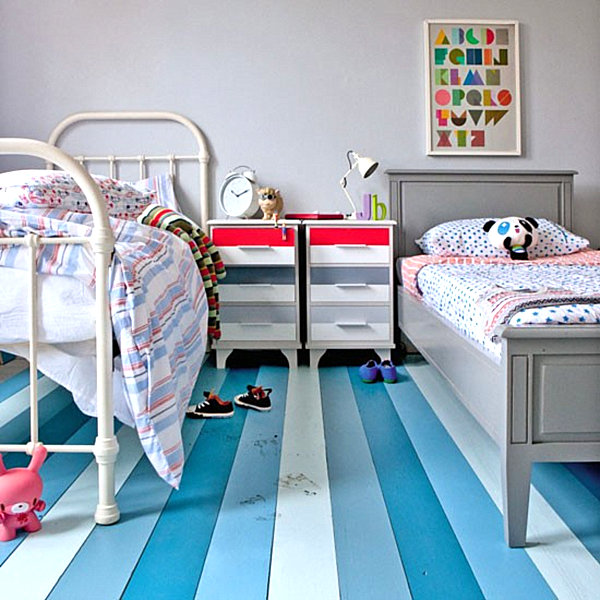 Checkered flooring is another popular painted choice. In the kitchen below designed by Niki Papadopoulos, gray and white diamonds anchor a mint green space that features stainless steel appliances and seating. [from Yummy Scrumptious]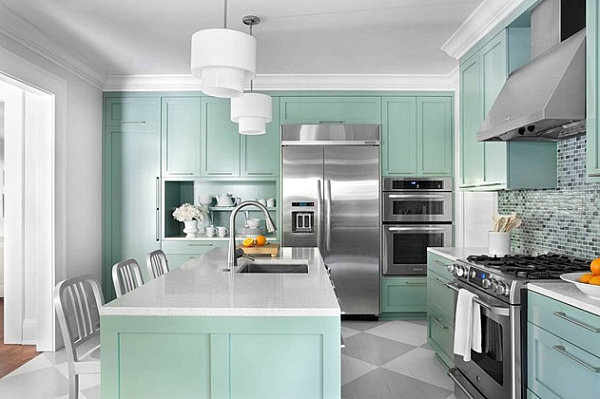 The next floor is partially painted, but the look is no less stunning. A pattern of black diamonds covers natural flooring in this vintage meets modern kitchen. Shades of red and yellow add colorful accents to the space. [from EASA Architecture]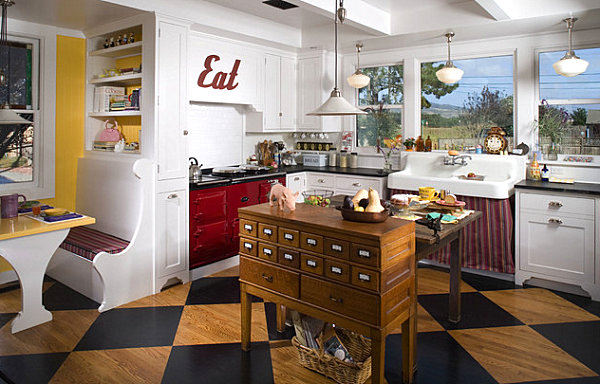 We now move from diamonds to squares… Green and white is the color combo of choice for the flooring below, which somehow works with black and white paisley wallpaper and peacock blue accents. A modern, elegant look is the result. [from Houzz user kellyt]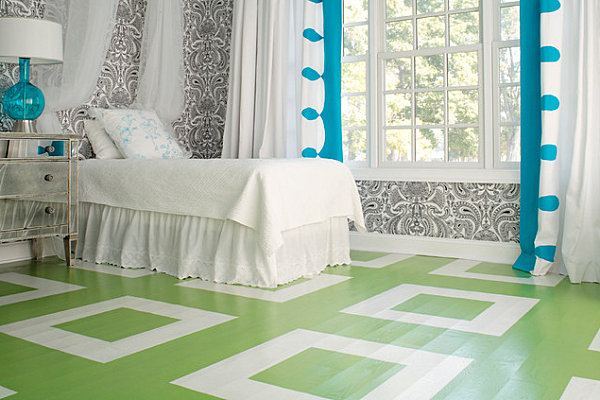 The floor in the next image evokes the colorful charm of tile work, thanks to decorative painting by Caroline Lizarraga. This Moroccan-style space would make any little girl feel like a princess. [from Catherine Nguyen Photography]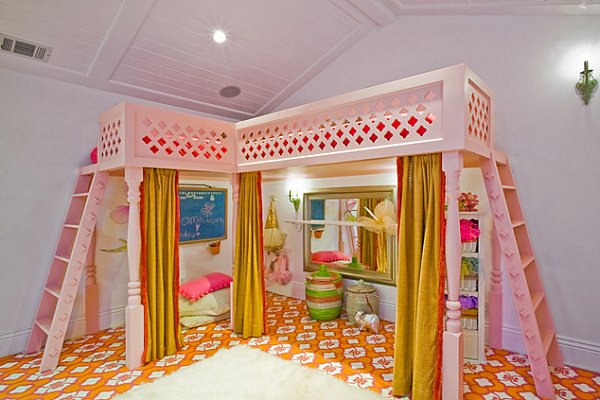 Speaking of tile, the painted floor in the next image is a rooftop design in a Greek key pattern. Red accents are the ideal counterpart to the black and white motif. If only all outdoor entertaining could be this magnificent… [from Decor Demon]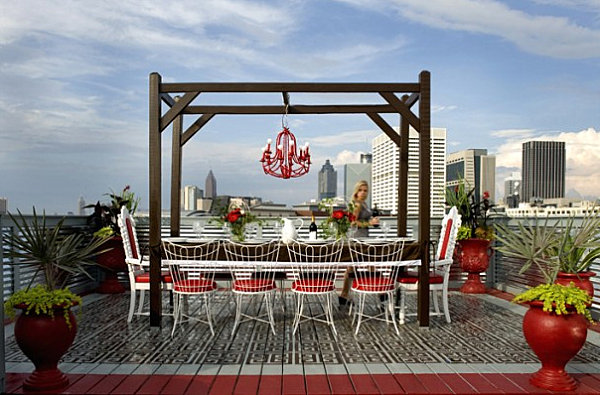 We end with a real showstopper. This painted concrete floor graces the interior of a Charleston, South Carolina modern garage and shed. The floor is divided into sections in hues like black, green, blue, red and yellow. The look is industrial and colorful, creating a vivid backdrop to the cars that occupy the space. [from Solaris Inc.]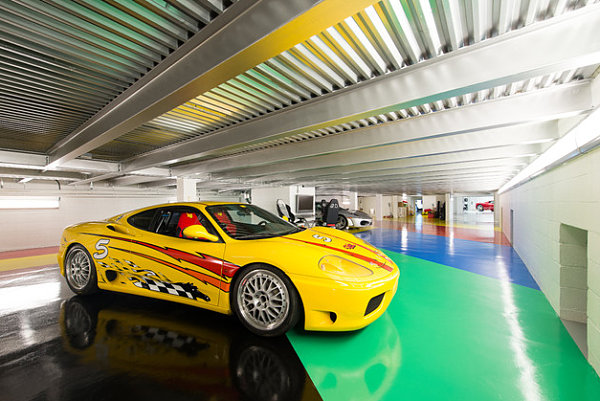 Would you consider painting the floors of your home? If so, would you go with a solid color or a pattern? Or perhaps you'd prefer a weathered look?! Share your thoughts by leaving a comment below…
Liked the story? Share it with friends.