While you may think of color when designing your living room or bedroom, your kitchen is often an unforgotten room when it comes to adding color. Kitchens can undoubtedly be called the heart of the home because of the spirit they lend to your home, and it's a focal point where your family gathers and eats.
If your kitchen appears to be uninspired or drab, here are some tips that you can apply to make the kitchen a joyful part of your home. Whether you want to add to your walls, cabinetry or decor, try these ideas for your kitchen inspiration.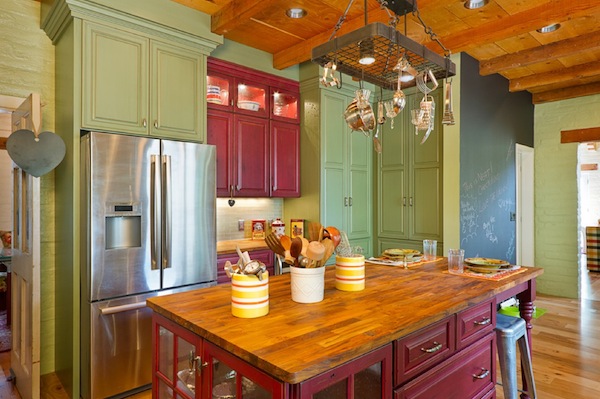 Image: Arizona Designs – via
Start with the Walls
In the course of transforming your kitchen, the first space to target is the walls. If the walls look dull and dingy, clean them at first and then repaint them. Just a gallon or two of paint and one of your weekends are enough to change the look of your kitchen.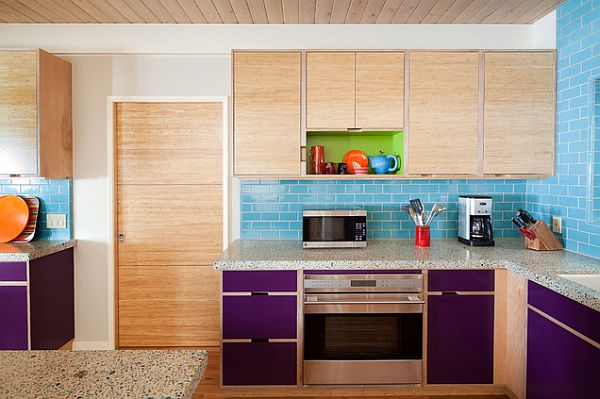 by Green Goods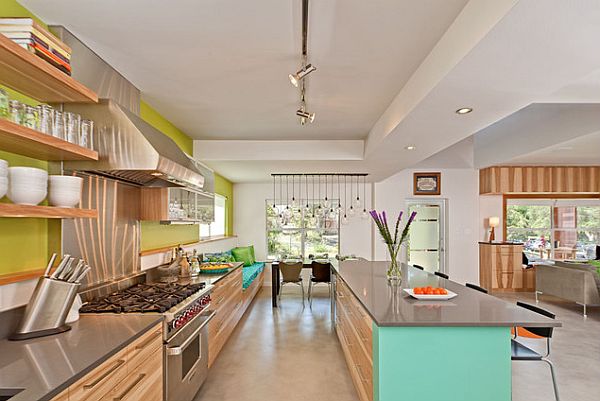 by Loop Design / Photography by Atelier Wong
Choose a light, airy color that will provide the background for adding colorful furniture and accessories in the kitchen. Avoid stark white, as it will show too much dirt. So, stick with cream, beige, or very light yellow color, which will give the place a homey and warm feeling. However, painting all the walls with same color can make the space appearing flat. So, you can apply bright colors like orange, turquoise, or green on one wall and use the lighter shade of that hue on the rest of the walls.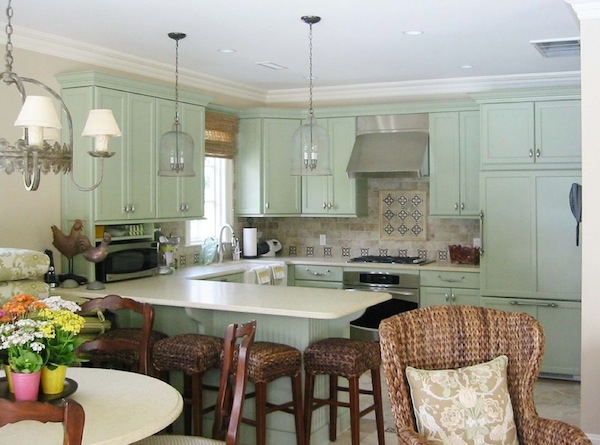 Image: Kitchen Interiors Inc. – via
Experiment with the Cabinetry
One effective way of adding color to kitchen is to paint the cabinetry. Painting the cabinet is a great way to spice up the kitchen décor as it occupies a major part of the kitchen. You can easily make your kitchen smile by choosing a monochromatic color scheme for cabinet and countertop and then creating a focal point in stenciled motifs or in bold contrasting colors.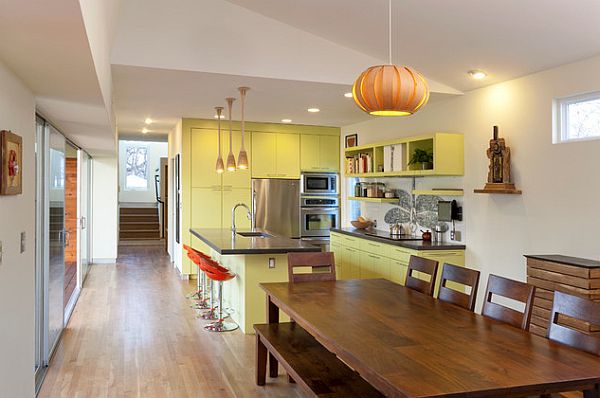 by Loop Design / Photography by Whit Preston
You can also add certain warmth to the place by mixing up yellow and brown and applying it to the cabinetry or any wood paneling.
Cabinets can also be made an eye-catching pop by using bright color on them and leaving the background in a delicate hue.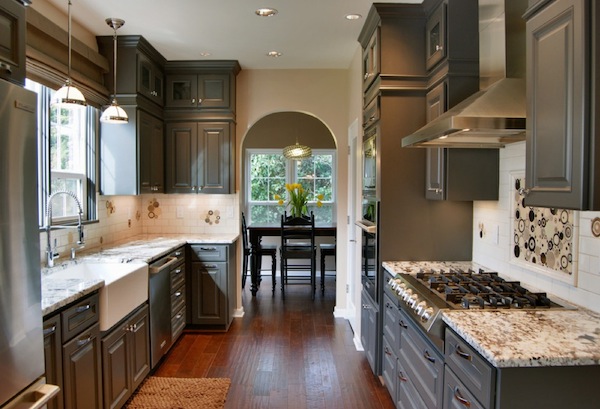 Image: Jason Ball Interiors – via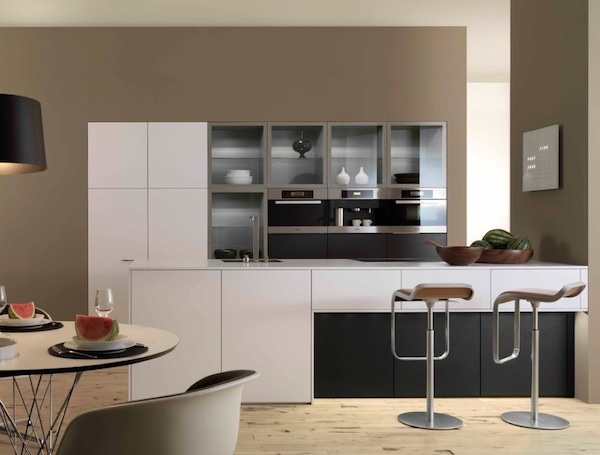 Image: Leicht Küchen AG – via
Mix Colors with Accessories
Kitchen appliances are usually come in dark colors. For example, dishwashers, cast iron pans, and coffeemakers are often gray or black. However, colorful appliances are also available now-a-days of which you can make a good use to brighten up the kitchen.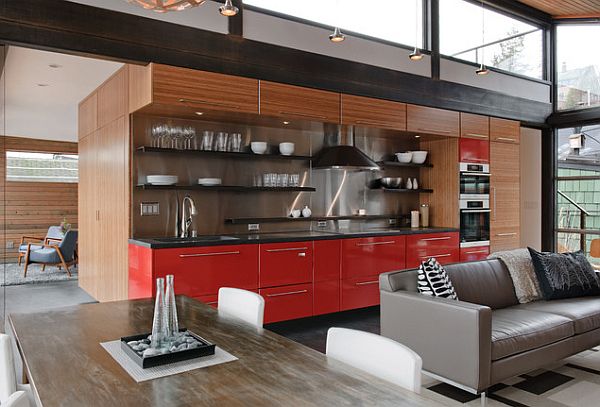 by Dyna Contracting
Another great way to provide pockets of color and creating focal points is to use colors in accessories, flower vases, jars, bar stools, pendant light shades, and so on. A colorful clock on a bare wall will also add to the beauty of the decor. If you have beautiful glassware to display, remove the cabinet door completely and replace it with transparent glass.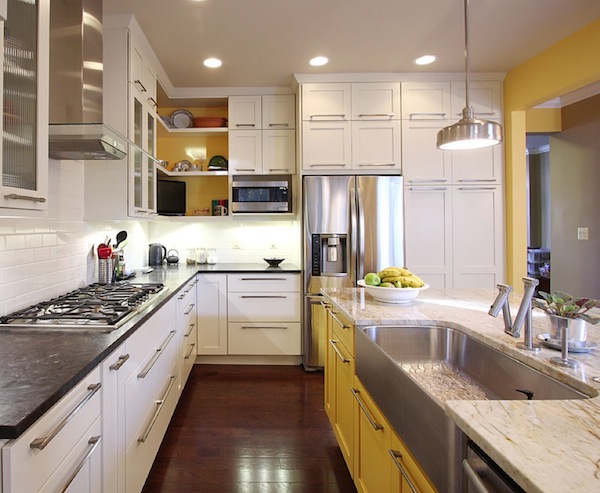 Image: NVS Remodeling & Design – via
Use Complementary Lights
Besides coloring the place, keep in mind that colors are hugely affected by lighting systems. The hue of the space can be transformed in a different fashion for using incandescent or fluorescent lighting. Instead of using a big, single light for the whole place, use multiple lighting systems like pendant lights for dining area, under cabinet lights for the workspaces, a spotlight for cooking area, and recessed lights for cabinets, as they will make the kitchen look brighter and appealing.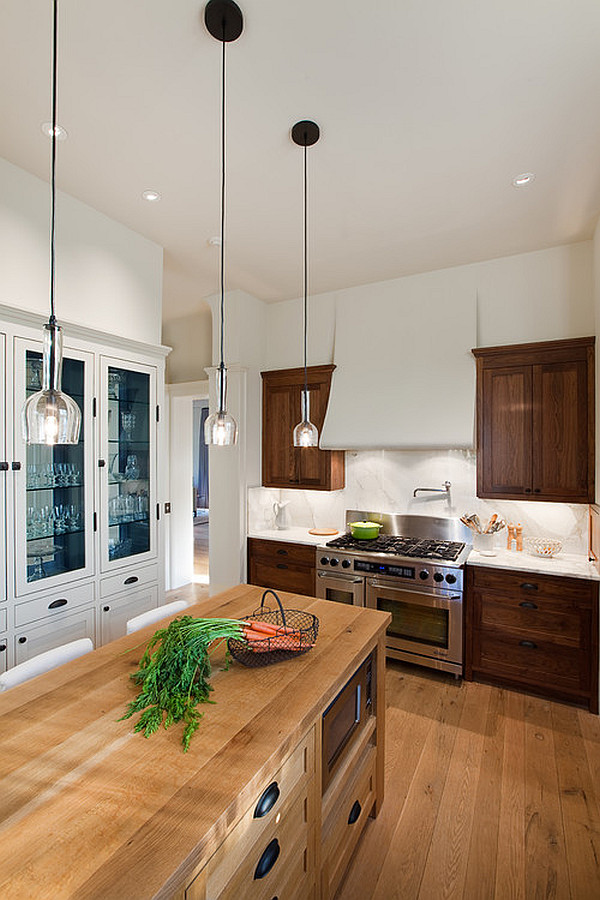 by Tim Cuppett Architects / Photography Paul Bardagjy & Jonathan Jackson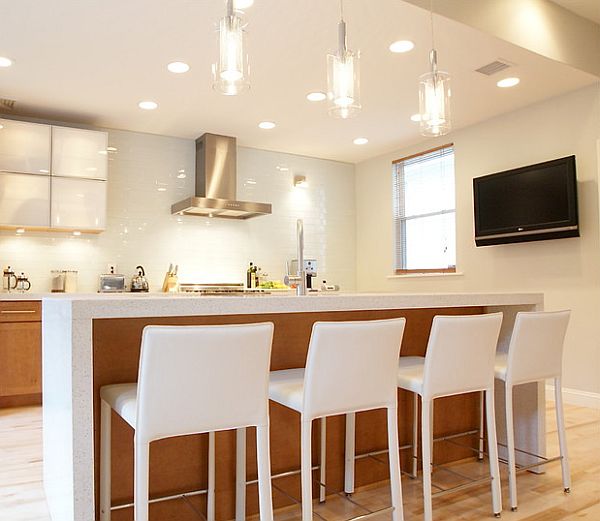 by Melissa Miranda Interior Design
Before plunging into the world of colors, be sure not to make a disaster by mixing as many colors as possible. Make sure that the colors do not clash with each other.