Tired of going into your cold home office each day and wondering how you can add some life back into it? Many homeowners are filled with positive and joyful feelings when snow starts melting and spring starts knocking at the door. This is the time to leave your winter clothes, enjoy the sun, and feel the fresh grass getting out, even if it's just in your head and in your home office for now!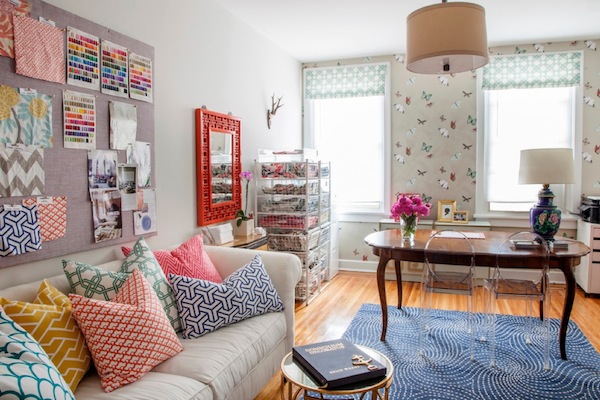 Image: Caitlin Wilson Design – via
This is also the time to re-energize your cold winter office space and bring the spring into it. Well, you can do it just by adopting these simple tips:
Let Natural Light In
Spring is the time to enjoy sunlight after a long time. So, letting natural light in will be a nice way to make the room light and spacious in contrast to the dismal feeling of winter. If you have a large window in your office, consider moving your desk in front of it so that you can enjoy beautiful scenery outside.
In order to make space for both natural light and privacy, you can use cellular blinds, French café style lace curtains, or neutral-colored linen blinds.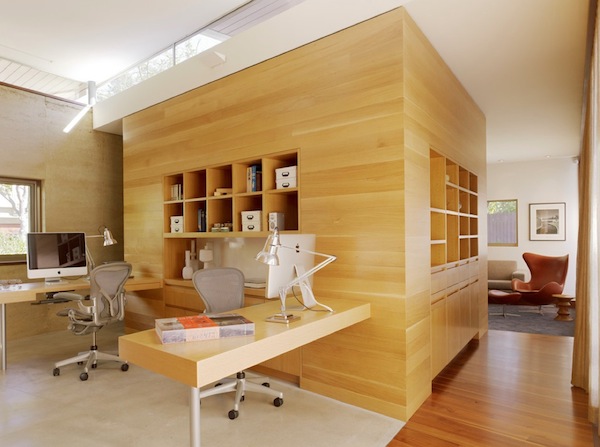 Image: CCS – Architecture – via
Do not worry if you do not have a big window or if the window faces a direction that does not allow much light. Paint the walls in light color or use mirrors on the walls will help reflecting and flowing natural light from one side of the room to the other.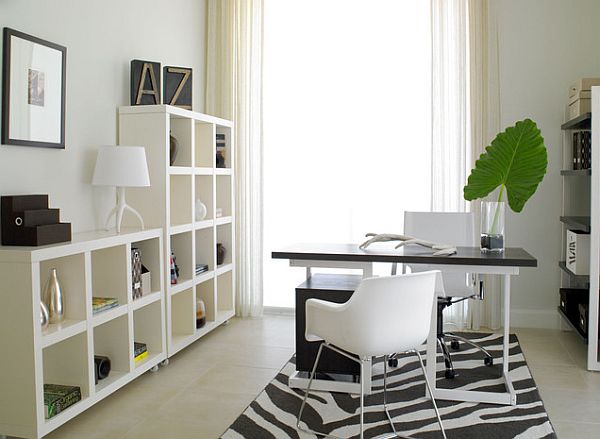 by Causa Design Group
Use Fresh Plants
Another good way to celebrate spring is to bring the outside greenery inside the office.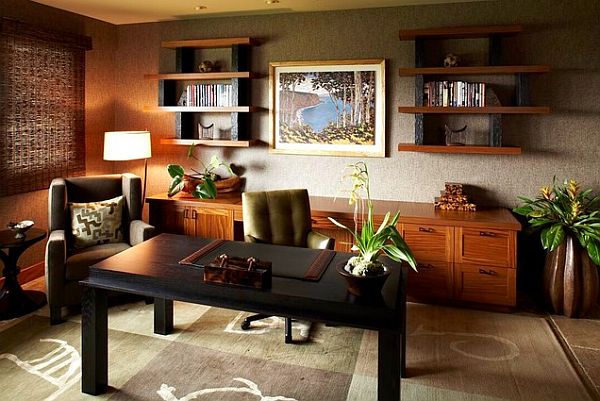 by Willman Interiors / Gina Willman
There must be a small place in the office to put a small, colorful plant. Besides bringing the spring view, bring the fresh smell too with varieties of flowers. You can use small teapots with potpourri or flowers to give the space a creative look. In fact, flowers quickly capture the essence of the season and add a cheerful element to the decor.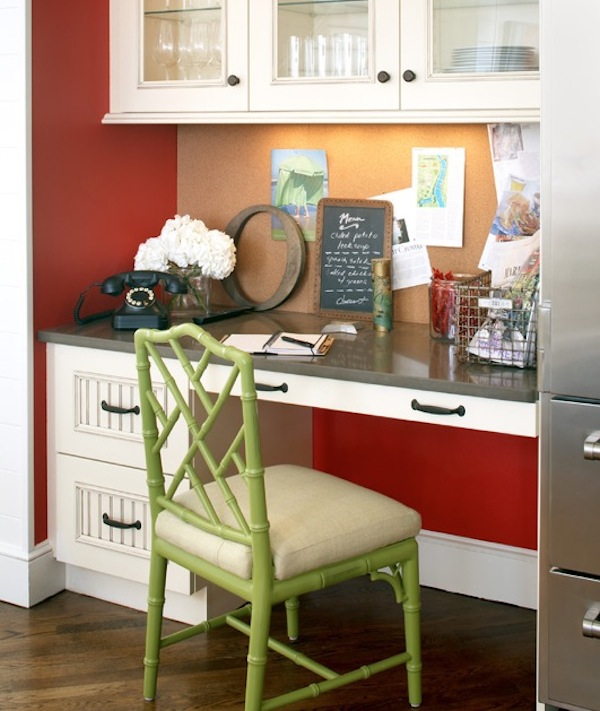 Image: Terrat Elms Interior Design – via
Fabrics & Accent Pieces
The fabrics can play a big role in making the feel of the room. You can replace heavy winter curtains with airy, light vibrant colored ones. Simple accent pieces can also enhance the decor of a place. Hanging a wreath on the office door, placing a spring-inspired clock on the wall, or a figurine perched on your desk can set the spring mood in an instant.
If budget allows, a topiary, which is a sculpture of any clipped dense foliage, standing in a corner can be a great accent piece. You can also create a custom topiary if you want to shape it in accordance with a personal theme.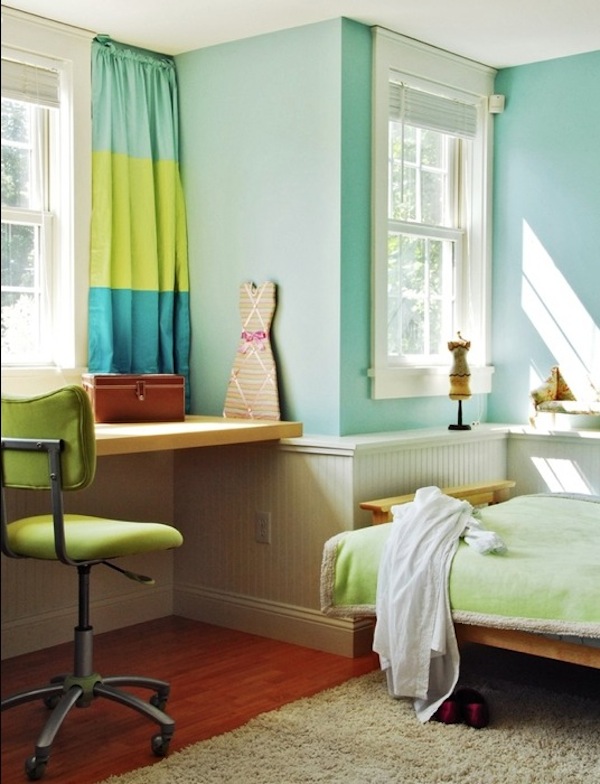 Image: Susan Teare – via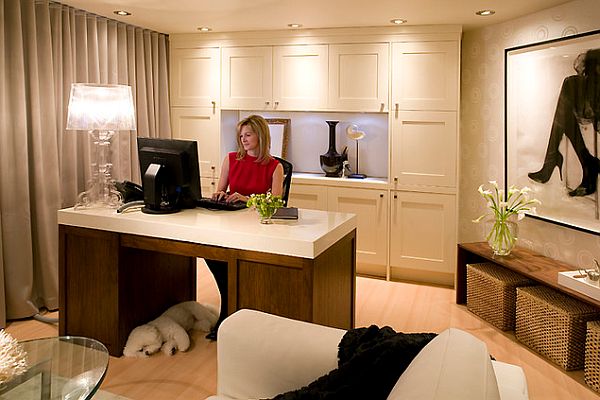 by Bruce Johnson & Associates
Add Accessories
The office can also be decorated by adding one or two bright furniture pieces with colorful accessories. A bright task chair, colorful wallpaper, and different type of accessories can change the place's look. You can decorate your desk with colorful pen holders, a small flower vase, a floral-printed mouse holder, and some small artwork pieces on the walls adjacent to the desk.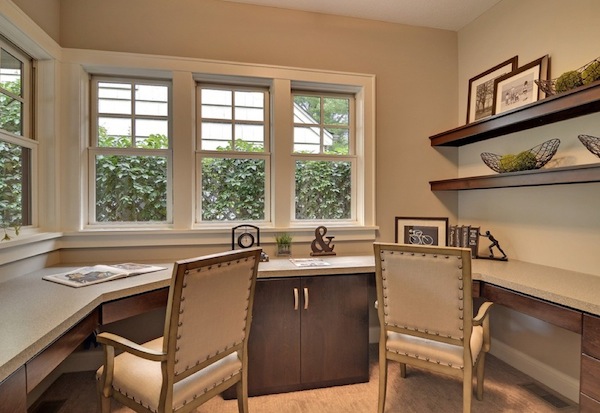 Image: Highmark – Builders – via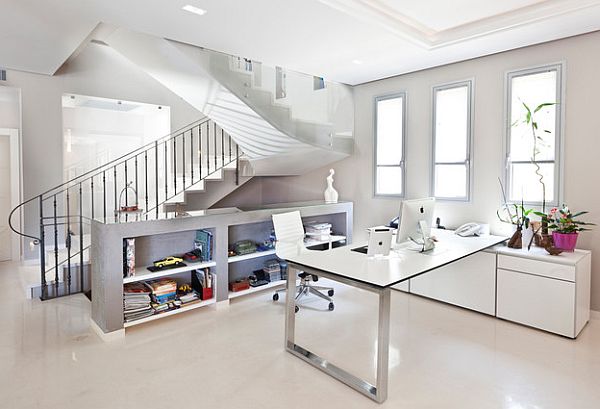 by Elad Gonen & Zeev Beech
Let your workplace smile with the bright sun of spring. It will also open up your mood and enhance your efficiency. Your winter home office doesn't have to reflect the temperature outside. Instead use these tips to bring in spring color, texture and inspiration to your office. You may even feel spring is coming just a little sooner after you try these ideas in your home office.