Those who see rain as a melancholic time and those who literary sing in the rain would equally see these next home items with admiration – as I see it, designers have been quite interested in rain, integrating its dynamic shapes, astounding force or rippling texture into fascinating home decor.
An emotional nature has made it possible for us to appreciate the beauty of our natural surroundings, while our creative mind has taken nature as inspiration for that skillfully crafted, functional and decorative cluster of items we refer to as "home". Our existence seems like an upgrade from the real natural surroundings up to the point that we needed to find ways to go back to pure nature. By imagining rain-showered wooden terraces and natural pools, we move our attention on the importance of shaping our homes and surroundings in nature, avoiding too much disturbance.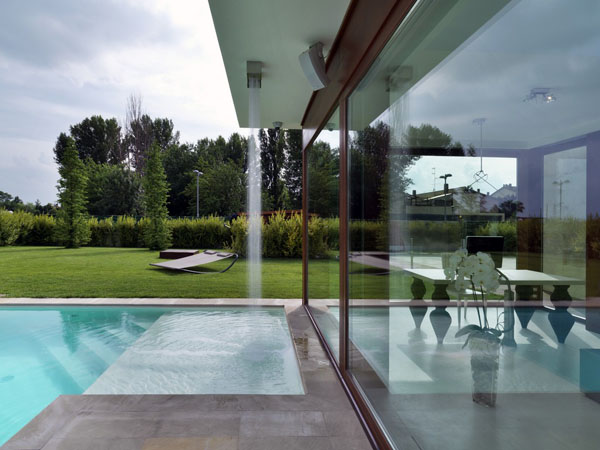 Functionality is a common feature, whether we're talking about a fabulous water feature or an ingenious umbrella stand.
Italian practice Damilano Studio Architects imagined this rain-inspired pool feature easy to enjoy from the pool or the home office glass cube. Part of the architecture of Maison de la Lumière, this illuminating cascade lamp sparkles in the dusk, creating a dynamic atmosphere outside and an entertaining visual continuity inside.
Going deeper into the structure of nature's inspiring elements, raindrops have long fascinated designers. Dedicating time and creativity to fabricating the Liquid_Lights, creative minds of Hopf & Wortmann turned a raindrop-inspired mini pendant lamp into a sculptural way of softly illuminating an interior. Visually enhancing the surroundings, these softly glowing raindrops seem to be floating, attached to the ceiling only by a thin cord.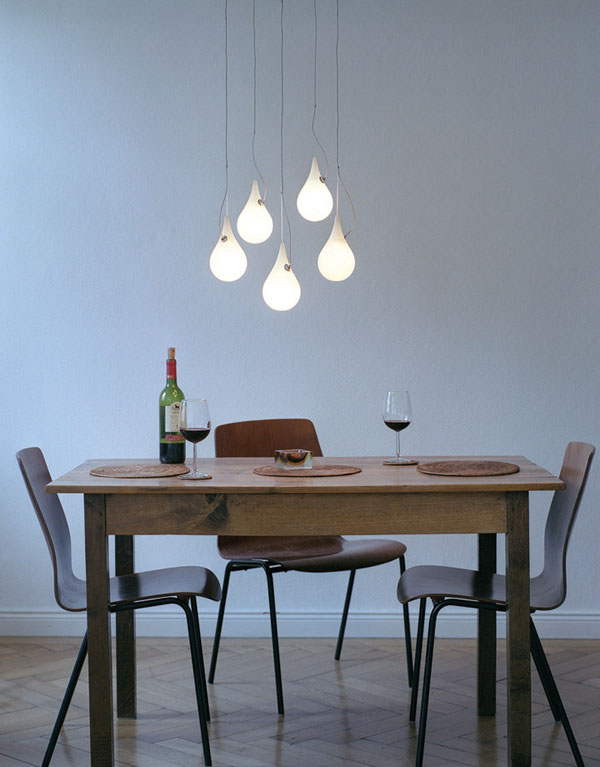 Raindrops gently trickling down the walls served as inspiration for this next collage of dark drops acting as wall hooks. These creative Wooden raindrop wall hooks were designed by Swedish design studio Jantze Brogård Asshoff. Hanging coats, umbrellas or bags from cute yet sturdy modern wall hooks will draw admiration from guests and remind them of the force nature holds above our heads.
The beautiful contrast between a white or colored wall and these dark raindrops will keep your entrance vibrating on the same level as the outdoors, reminding you to collect inspiration from each thing you choose to see.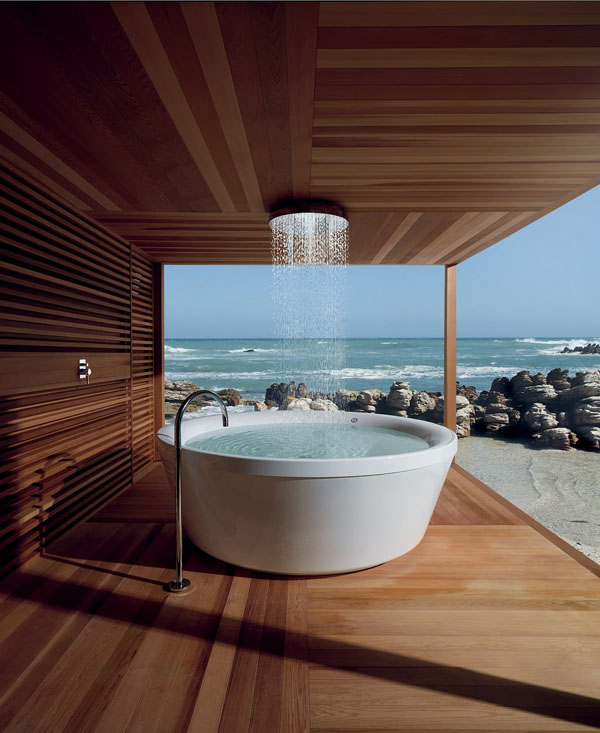 Besides finding inspiration in the shape of a raindrop or the curvature of the rainbow, designers have found other ways to transcript the feeling of touching rain with an astounding combination of rainfall shower heads and openness to the outdoors. This particular photo seen above paints the portrait of Zucchetti Kos Geo 180 freestanding bathtub being showered with a round shower head in a dreamy scenario – an inviting wooden terrace completely open to the fascinating sparkles of the sea beyond.
Captured in the frenzy of water movement, one design looks like it captures a stand-still moment in time, where dynamic shapes are surprised in a moment of clarity. Imagined by Min Day Architects and built by Colley Furniture Studio for a contemporary House on Lake Okoboji, Iowa, the fascinating bed took inspiration from the immediate surroundings.
Known as the Lake Bed, this undulating headboard's design was based on the ripples made by raindrops and their expansion into a fascinating collection of circles. This is how the studio explains their work on the project: "Studying the morphology of rippling water, we developed a range of parameters for a computer animation of the water's surface. We then optimized this surface for fabrication and output code for a 3-axis cnc-router to cut the wave-form into blank slabs of plywood prepared for the job. Here, the uniqueness of the supple surface is contrasted by the repetitive horizontality of the veneer layers."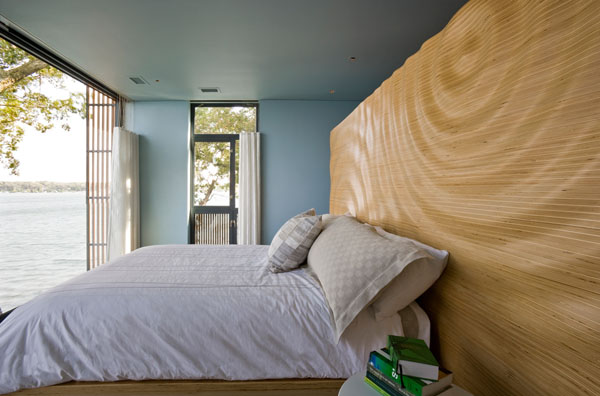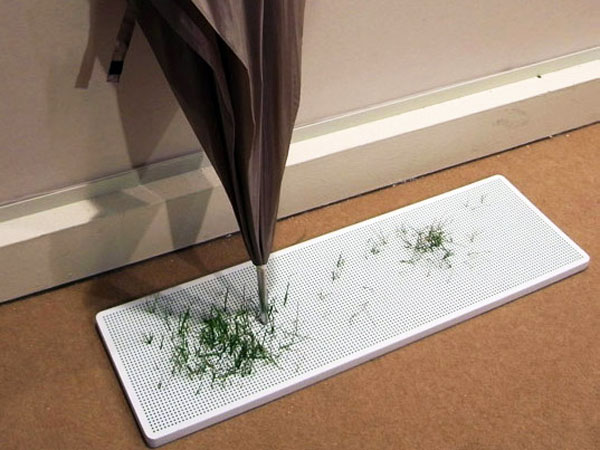 Much as we love rain, an umbrella helps keep away cold, so why not create a special place for it in your home, one that would not be just functional but also creatively smart. Unveiling an additional function, this modern umbrella stand design brings spring inside with its simple ingenuity.
Imagined by Chinese designers Innovo, the umbrella stand captures raindrops off wet umbrellas and utilizes them to grow grass rising from tiny holes in the stand. This reflection on everyday object interactions has paved the way to multiple functioning items that we use to create a pleasant environment in our home.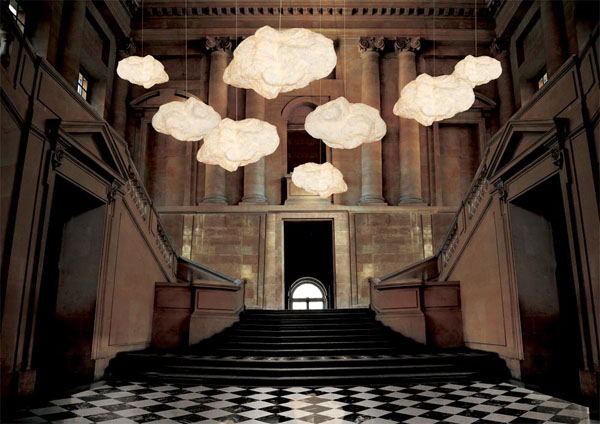 Clouds have been a fascinating inspiration for many designs, from floating lights like the Cloud suspension lamp pictured above to chairs and stools inviting to a comfortable seating experience. Designed by Kenneth Cobonpue for Hive, the playful cloud lamp could easily adorn an elegant interior as well as a minimalist space arrangement. Another way to embellish your home with a rain-reminiscent design is showcasing the softly-shaped Cloud Chair designed by Lisa Widén.
This curvaceous furniture item delicately adorns any interior with its subtle playfulness.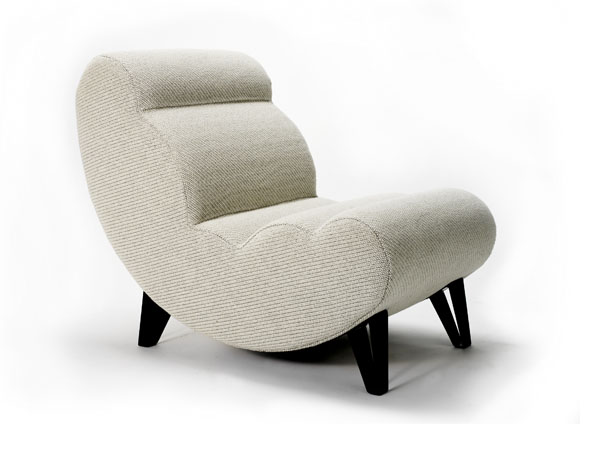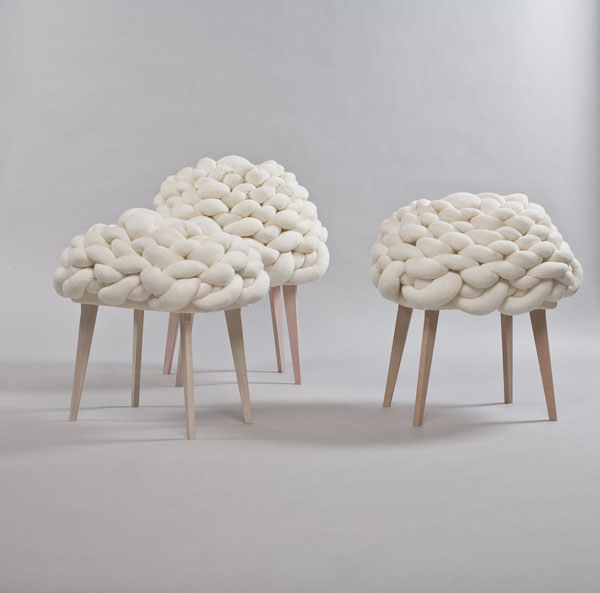 Another way to feel lifted up on the clouds is to indulge in a recreational activity with the fascinating Cloud Stool Design by Joon&Jung. Floating above wooden legs, a cluster of fluffy wool braids inspired by the flexibility and softness of the cloudscape offers an interesting approach to modern furniture. Inspired by the natural state of everything that surrounds us, by the dynamic nature of our world, the chair proves its qualities whether it stands alone or in a group, just like people.
Exploration of our world continuously broadens our understanding and helps us become more aware of our necessities and nature's power to provide what we need. We can not only draw inspiration from the shapes surroundings us, but we can also use natural forces in our daily routine. When the shape of a raindrop met the need for rainwater, the Pure Raindrop was born.
Resembling its inspiration, the rain barrel designed by dutch designer Bas van Der Veer fills up with rainwater, so you don't have to use tap water when watering the garden. Now, do you see how form, function and nature collide in a successful combination that shapes our present and future? The thing we have to take into consideration is nature's well being.
After all, if nature is healthy, we are too.