While all of us prefer to have a lavish modern home with ample space for all our needs, often we do have to work with what we have. But having a small studio apartment is not always necessarily a bad thing as this chic, stylish and sleek space in Taiwan designed ever so diligently by WCH Interior showcases. Organization, planning and multifunctional contemporary décor ensure that this otherwise cramped little home looks lovely and far more appealing than many other larger spaces.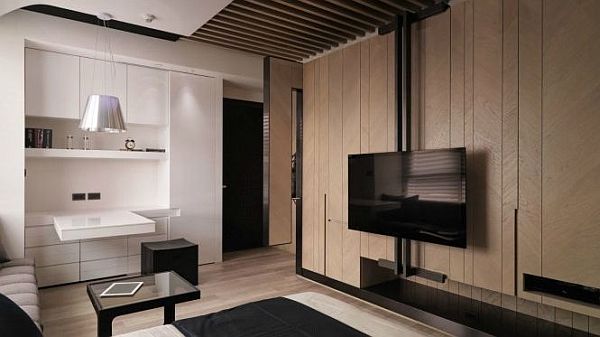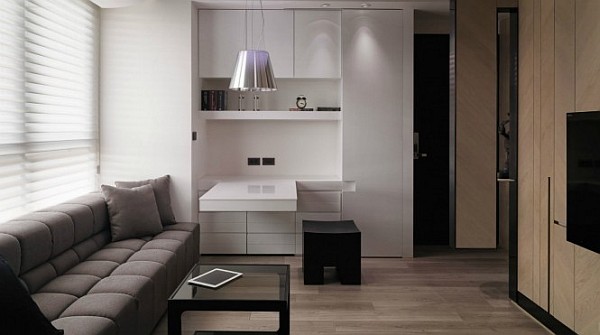 The idea was to bring in a light and airy feel throughout and that is achieved by largely using neutral shades and a cool color template that allows each section of the apartment to visually blend in with the next and create a flowing form. The light wooden panels behind the flat screen television double up as storage units, the white wall adjacent to the plush gray couch also acts as a sleek storage unit that does away with handles to blend in with the white wall next to it.
An extended worktop from the wall acts as both a home work station and a dining area, while the shelf above it allows the owner to display his most prized possessions with glee. One of the cool features is the entertainment wall which allows the flat screen TV to slide along its plane, ensuring that you can enjoy it from a perfect angle whether you are working or are cozily tucked away in your bed.
The luxurious white bed also makes for a fine addition and the wooden wall on behind it simply slides away when needed to present the gorgeously hidden bathroom. Elegant, exquisite and very well planned, this tiny Taiwanese apartment showcases how one needs to plan for a small and space-conscious home that maximizes what is on offer. Saving up on precious foot space is the essence of this pleasing little hub. [spotted on home-designing]