While most modern home seem to follow a set design pattern that uses a well-defined and cubic form for the exterior and sleek and stylish décor for the interior, the one designed by Dimit Architects in Shaker Heights, Ohio offers an interesting and improvised twist to the set template by incorporating unique and creative décor. The resultant home is a wonderful and effervescent structure that looks both inviting and lively and has been draped in luxurious comfort to offer its owners the very best of modern lifestyle.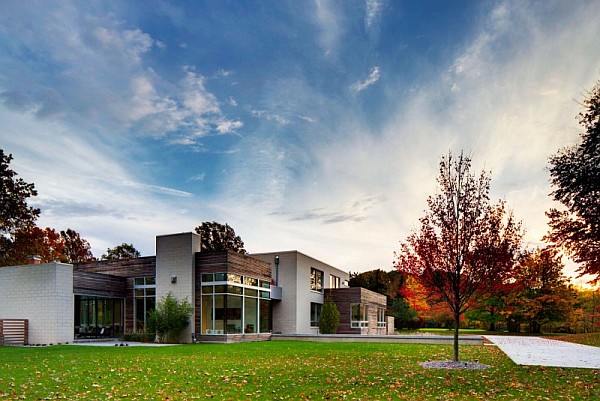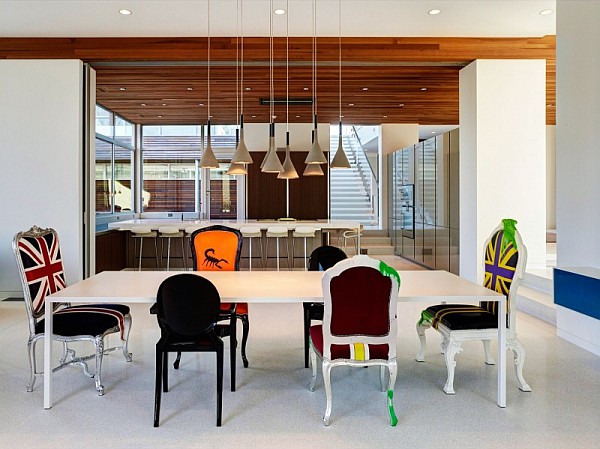 Set in the gorgeous natural suburbs of Cleveland, the Shaker Heights home is surrounded by ample green and the designers have ensured that those inside would always stay connected with the world outside by using floor to ceiling glass windows in a smart and savvy fashion. The basic structure of the house is itself divided into two separate wings, with one offering living, dining, and entertainment spaces that have a more open and public feel to them while the other houses the bedrooms, home office and exercise room and is designed to offer complete privacy.
The gorgeous open-kitchen that connects both the wings also employs glass in an extensive manner to ensure those inside stay visually connected with the beautiful backyard, the swimming pool and the reflective pool.
Exquisite bedrooms that pamper your senses, ample roof-decks, large courtyard with an open fireplace next to the pool, colorful and often audacious décor ensure that this chic home stays both stylish and inimitable at all times.