Oh how we love Scandinavian design! Perhaps it's the way the style combines sleek modern interiors with warm, welcoming touches. Or the way accents like bright, inviting textiles and cool metal accents perfectly combine to create neatly ordered rooms that are anything but stark. Today we explore ways to integrate Scandinavian style into the bedrooms of your home.
From master bedrooms to kids' rooms, below you'll find design ideas that focus on components such as wooden details, modern bedding and clean-lined furnishings. Some spaces even have an updated Mid-Century modern feel that integrates the best of past, present and future. Enjoy perusing the images, and start collecting your favorite tips for bringing Scandinavian design elements to your home!
Warm Wooden Details
One key feature of Scandinavian design is the use of wooden furnishings and interior details, such as flooring. In the image below we see how warm walls of natural wood contrast dark wooden bedroom furniture in a room that creates a welcoming golden glow. [from Margaret Donaldson Interiors]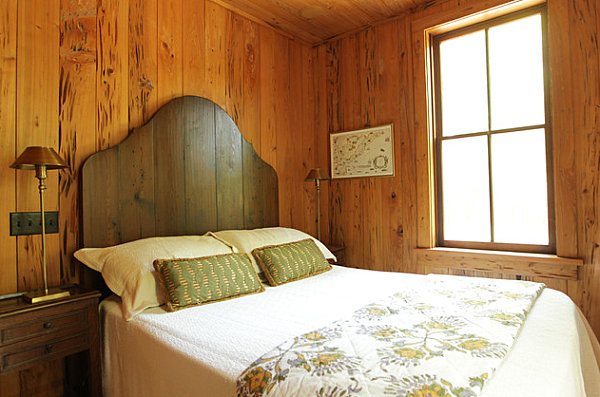 Wooden flooring in the next image is enhanced by a nightstand, headboard and wooden trim in contrasting tones. [from Sage Modern]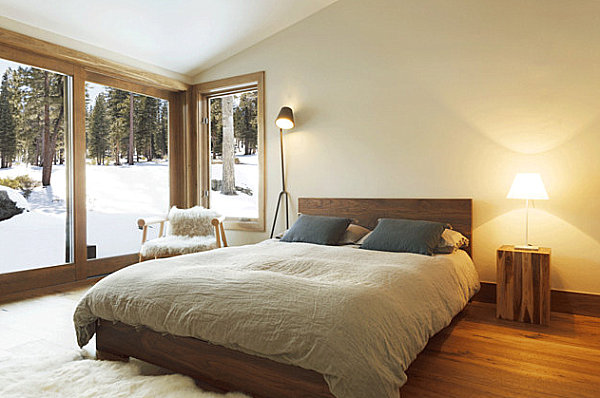 Even if flooring and walls don't showcase wooden building materials, you can add warmth with furnishings, such as the modern bed below. [from Soorikian Architecture]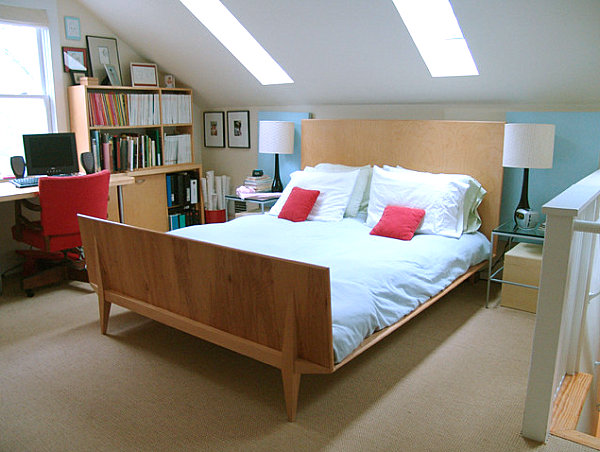 Keep it simple and serene by leaving doors and other interior features in their natural wooden state. Even for soft, bright spaces, there's no need to cover wooden pieces with white paint. Simply choose lighter-toned furnishings, as shown in the next image. [from IKEA]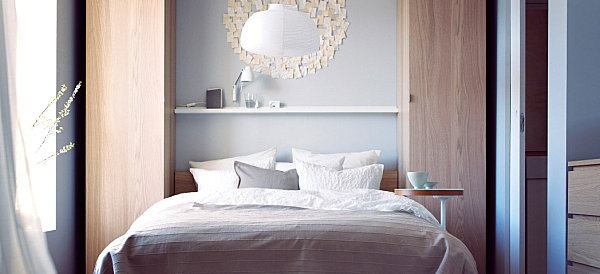 Note how the wooden bed and nightstands below create a clean-lined modern effect. Simple bedding and a few strategic pops of color complete the look. [from Alex Amend Photography]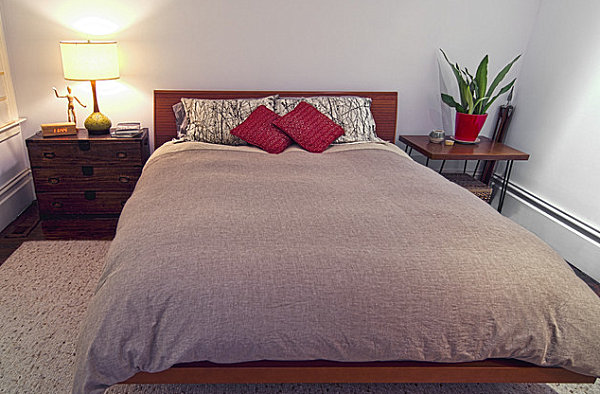 Clean-Lined Furnishings
Speaking of clean lines, one aspect of Scandinavian design involves the use of modern furnishings that celebrate lines, curves and other streamlined details. The room below has a retro vibe, channeling a contemporary version of Mid-Century style through seating and lighting. [from Dick Clark Architecture]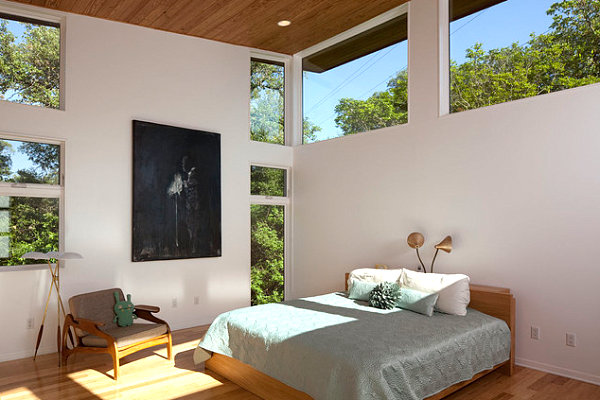 Note how the straight lines of the bed in the next image wonderfully contrast the round side table. A striped rug unifies the space. [from A Merry Mishap Blog]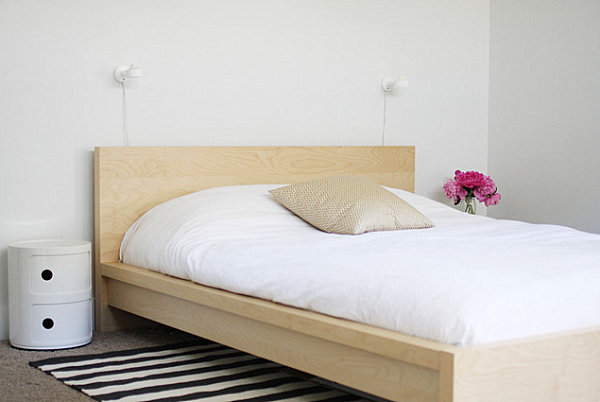 Modern chairs have a sculptural effect, along with the long, lean lines of the cabinet against the wall in the room below. By not overcrowding a room, you can call attention to each contemporary detail. [from Brad Ford ID, Inc.]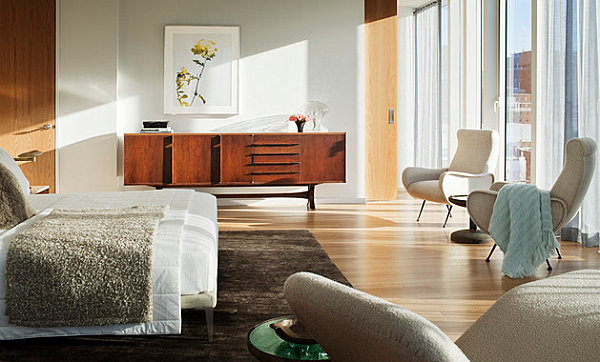 Metallic Accents
Looking for a way to add a little shine? Involve metallic accents, such as an industrial work lamp or closet trim in matte silver. Not only does metal catch the eye, it serves as a sleek contrast to the natural elements in a room. [from IKEA]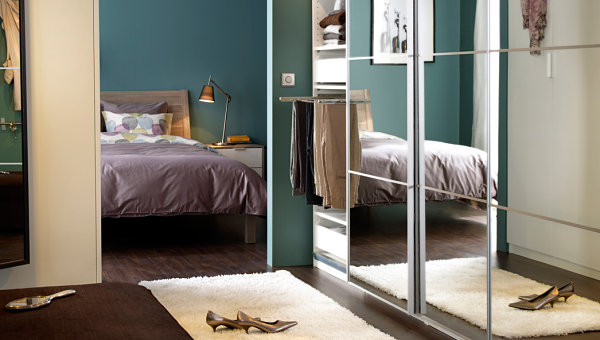 Sometimes one metal piece is all you need. Like an industrial chair in the corner of the room, as shown in the space below. [from homebloghouse.com]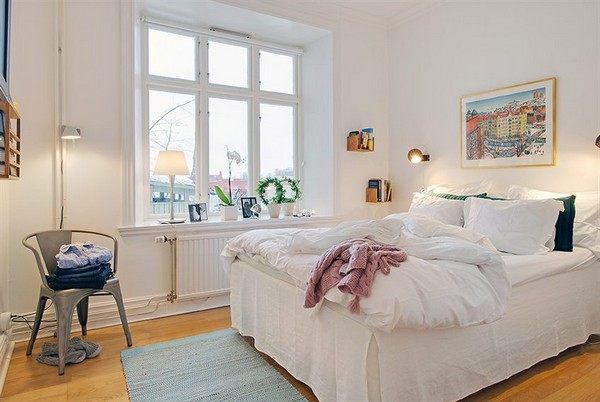 Eye-Catching Textiles
Scandinavian design often features vibrant textiles in bold shades. Sometimes modern and sometimes rustic, these patterned pieces can help define a room. For example, Finnish design company Marimekko is known for its striking bedding, as shown by the floral duvet cover below, which can be purchased at Crate & Barrel. [from Houzz user Becky Harris]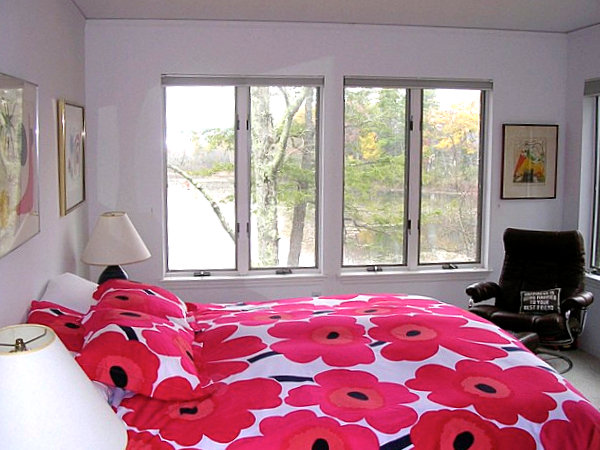 Lacy patterns often emerge on Scandinavian textiles, adding softness and charm to the rooms they inhabit. In the next featured space, lace-evoking bedding helps cast a rosy glow over the boudoir. [from IKEA]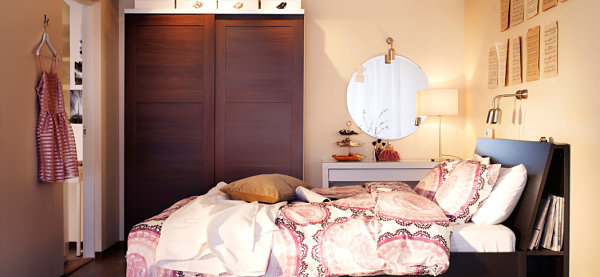 Warm touches such as floral patterns can give a room a crafty look, especially when combined with homemade-style details, such as the heart art below! [from IKEA]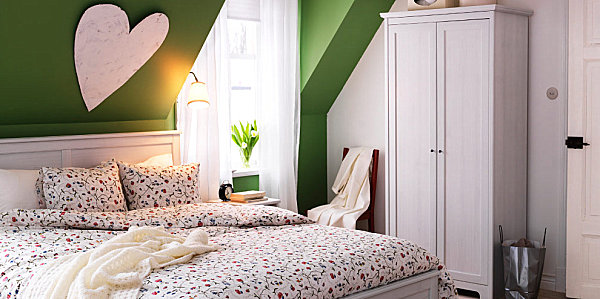 Or try going with a bold geometric in black and white! In the Scandinavian-style space in the next featured image, circles and diamonds leave their stylish mark. [from IKEA]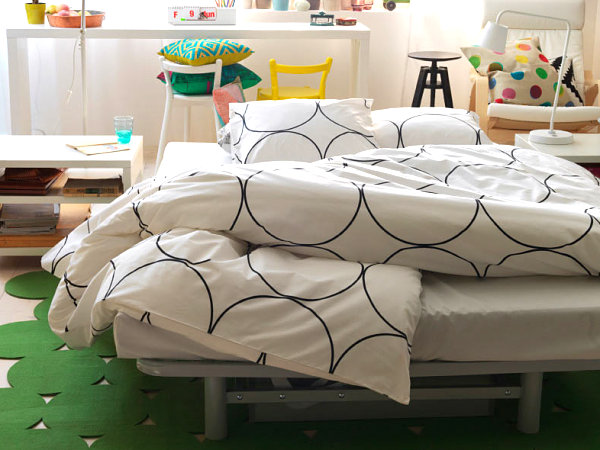 Below we see the same bedding, this time combined with more blatantly colorful accents, such as hanging fabric and striped pillows. Note the interplay of the black and white bedding with the ultra-vivid details in the room. Mixing the neutral with the colorful allows for a greater number of patterns in one space. [from IKEA via Female Ways]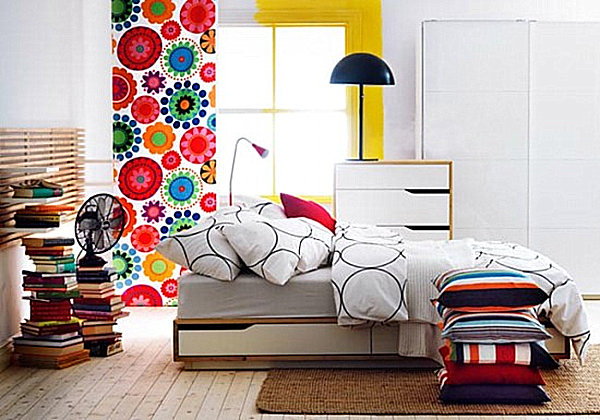 Sometimes keeping the color palate simple lets the patterns themselves take center stage, as with the black and white bedding from Marimekko shown below. [from Crate & Barrel]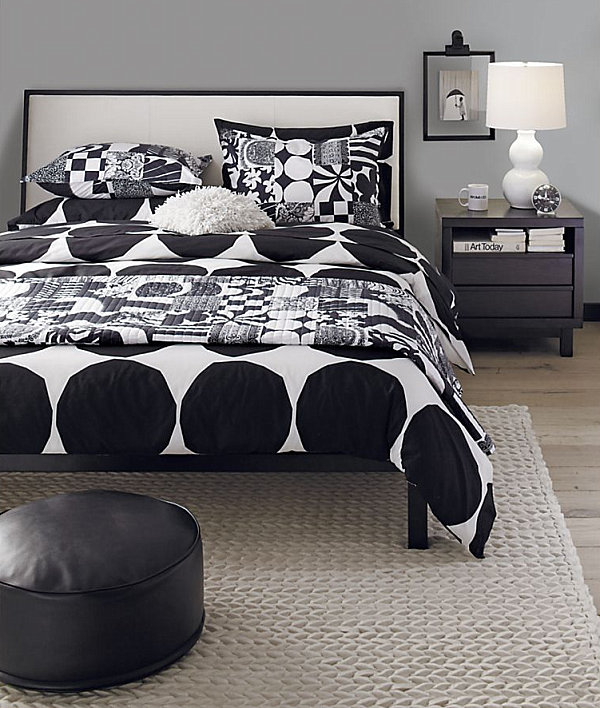 In addition to showcasing bold modern designs, Scandinavian textiles often feature more traditional patterns, such as the intersecting horizontal and vertical lines of the blanket in the next image. Comforting and cozy, this throw adds charm, along windowsill greenery. [from homebloghouse.com]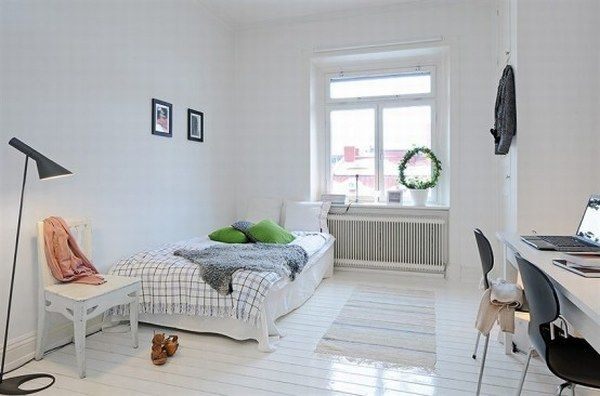 Scandinavian Design for Kids' Bedrooms
Our last featured group of images are for the kids! Crisp white walls and trim contrast colorful accents, such as whimsical patterning and bright toys. In the space below, the wonderfully quirky details include a flag banner and a hanging mushroom lantern! [from Damask & Dentelle]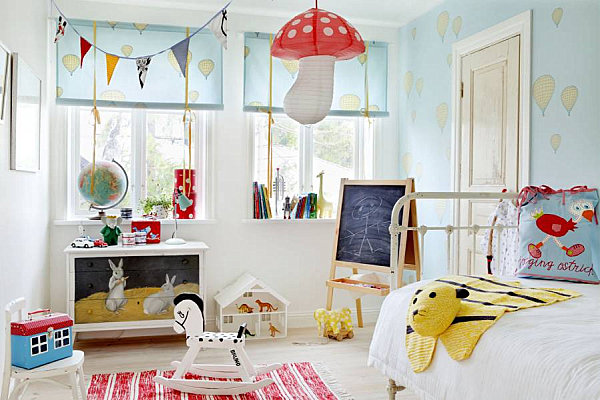 In a room for two, try mixing patterns with similar shades, as shown with the textiles on bedding and window treatments in the next featured image! [from IKEA]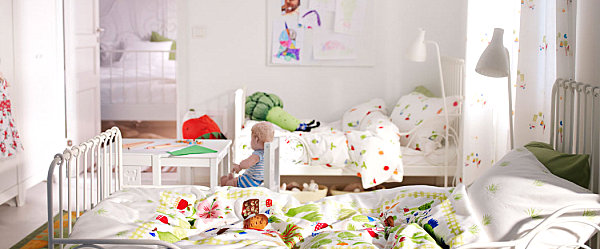 Our final featured space is a Swedish bedroom with soft wallpapered walls, vivid bedding, and a star-themed rug. Note the use of soothing green and blue shades as anchor colors, combined with brighter hues of yellow and red for eye-catching accents. [from Homedit]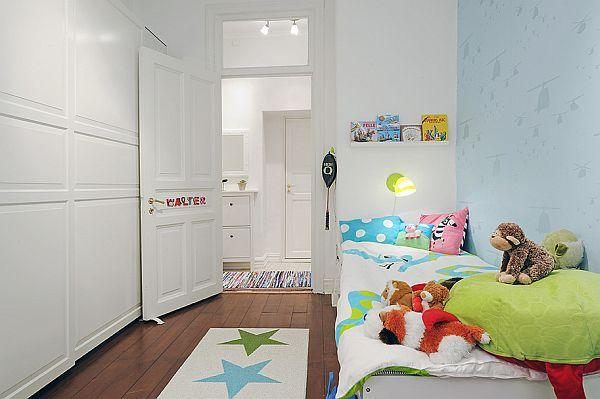 When adding Scandinavian details to your interior, consider the overall look that you'd like to implement. If color is important to you, add details with bedding, pillows or a vibrant paint color. If you like the light and airy feel of a white bedroom, keep the look crisp with clean-lined furniture, but add a touch of warmth with a patterned blanket or a houseplant. Most importantly, enjoy blending a variety of elements that celebrate the beauty of modern design!