Halloween is here and it is time to think out-of-the-box to create a unique and truly memorable experience that will enable your party to stand out from the crowd. This stylish, sophisticated and elegant Halloween party idea is all about going down the memory lane into a world of black and white to create a truly impactful canvas. The theme picked out by Debbie of Wants & Wishes is perfect for those whose memories of Halloween or anything scary are tied back to the black and white classic horror or suspense thrillers from the likes of Alfred Hitchcock!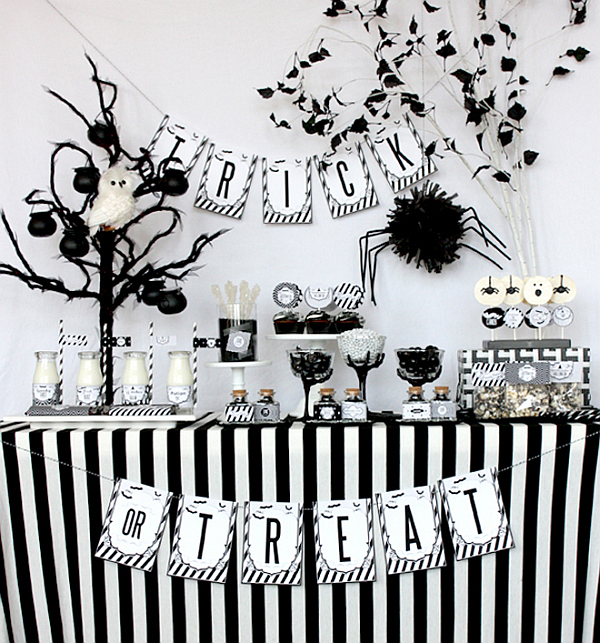 The black and white theme that we found on Pizzazzerie, certainly adds a certain extra creepiness to the party setting and should bring in an eerie sense of gloom that is an essential part of Halloween celebrations But apart from the sleek and aesthetic design, the color-less template allows the other vivid and bright objects laid out in the party like the orange pumpkins of the green and blue hues of various decorative appear all the more attractive and eye-catching.
Some lovely food items, plenty of chocolate and a touch of pink here and there make sure that there is loads of liveliness as well. If you wish to make it a bit scarier, then accentuated designs of dark red that are as close to blood as possible would surely help tip the scales even further. The stripes, shades and the plain canvas make the theme prefect for every house; be it classic or contemporary. A great idea for a crazy Halloween party!